7 Worst Breakfast Sandwiches on Fast-Food Menus, According to RDs
The breakfast sandwich category is a health minefield.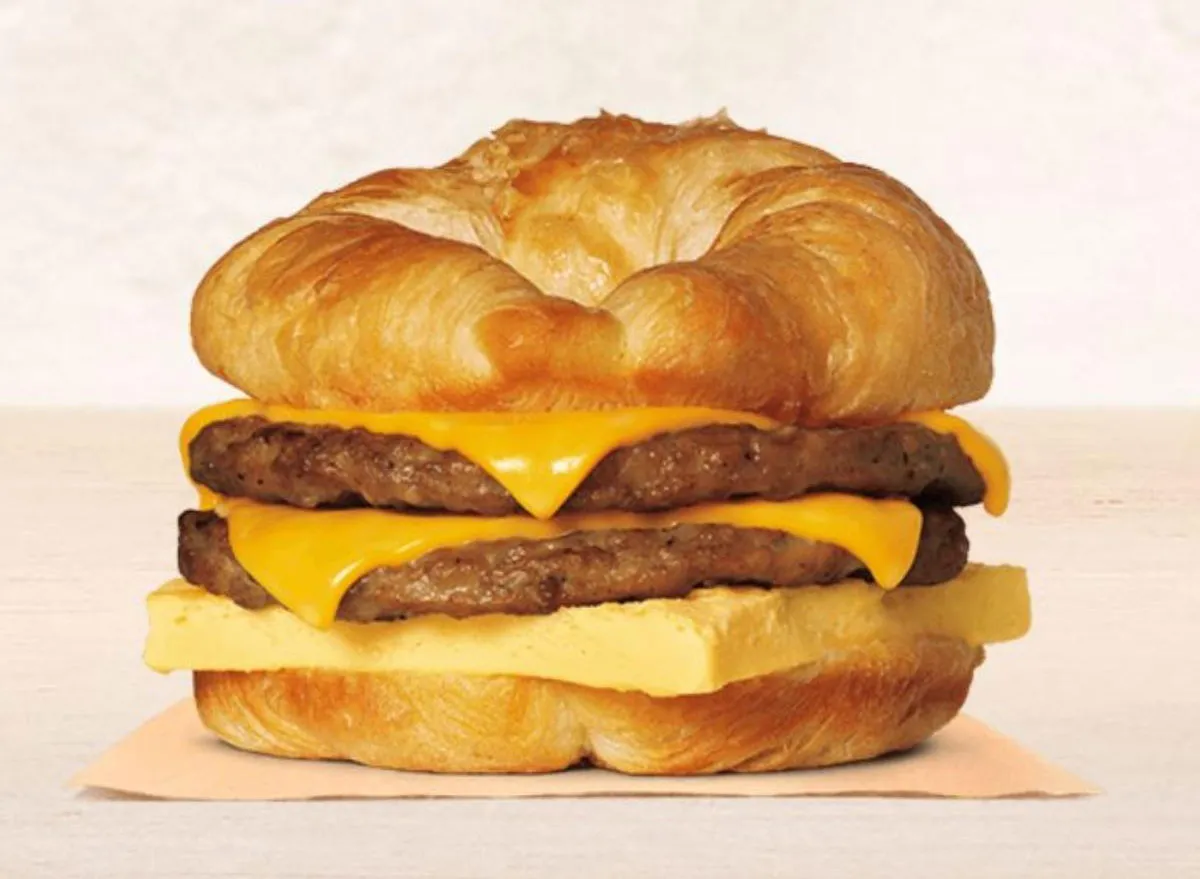 Breakfast can either set you up for success with the right set of nutrients or it can set you up to fail. Eating an unhealthy breakfast can cause a mid-morning slump thanks to the excess sugar, sodium, and carbs packed into your first meal. And fast-food breakfast sandwiches are especially tricky to get right.
You're not only getting a lot of carbs, sodium, and calories from the bread, but the fillings also tend to be fattening. These sandwiches are loaded up with cured or processed meats, cheeses, butter, and mysterious sauces that are not so diet-friendly.
While we understand you want to indulge from time to time, our dietitians recommend staying away from these worst offenders on fast-food breakfast menus. And for more, check out the 9 Best Limited-Time Fast Foods on Menus Right Now.
Wendy's Sausage Egg and Swiss Croissant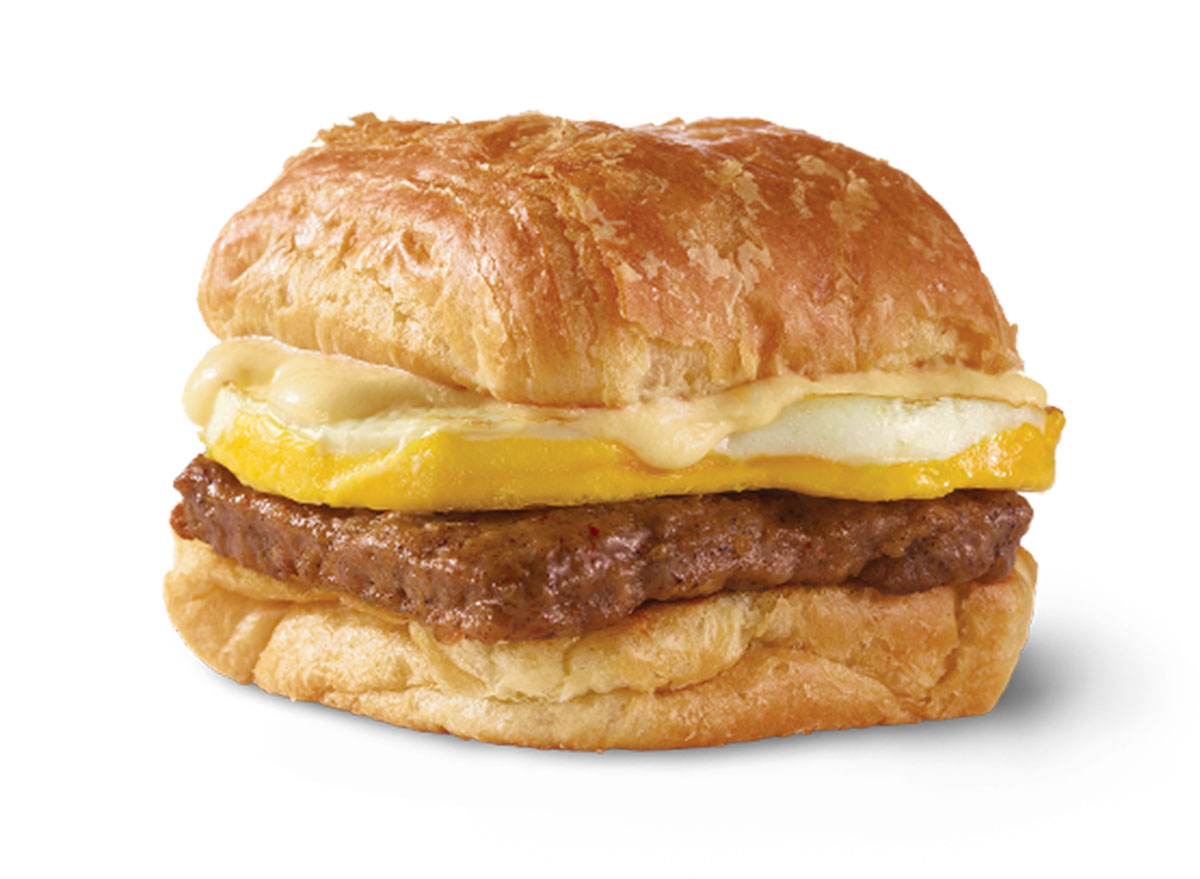 6254a4d1642c605c54bf1cab17d50f1e
Per sandwich
: 600 calories, 41 g fat (17 g saturated fat, 0 g trans fat), 1030 mg sodium, 34 g carbs (1 g fiber, 7 g sugar), 22 grams protein
A croissant is notoriously high in fat on its own, let alone when it's being used to sandwich a sausage patty, eggs, and swiss cheese sauce. "With 600 calories and 41 grams of total fat, you're better off eating almost anything else for breakfast. It also has about half of the daily recommended amount of sodium," says Beth Stark, RDN, LDN, a Pennsylvania-based nutrition communications consultant and recipe developer.
Chick-fil-A's Hash Brown Scramble Burrito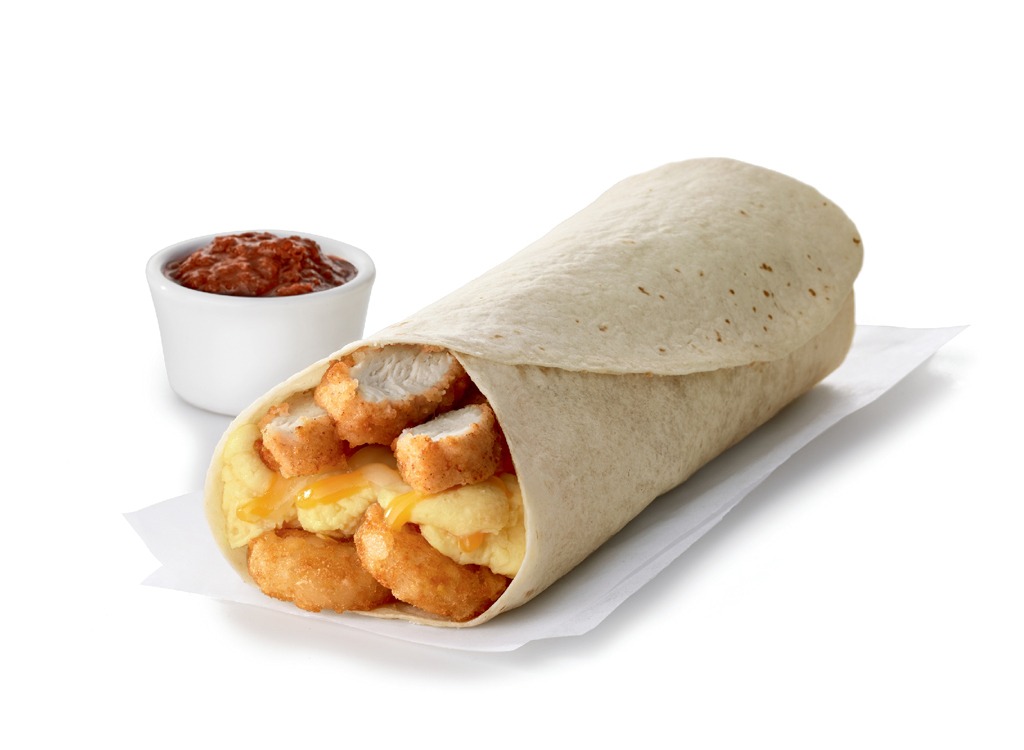 Per sandwich
: 700 calories, 40 g fat (12 g saturated fat, 5 g trans fat), 1750 mg sodium, 51 g carbs (3 g fiber, 2 g sugar), 34 grams protein
Chicken nuggets for breakfast? That's what the Chick-fil-A Hash Brown Scramble Burrito delivers. Not ideal. "A high-calorie and high-fat combination of nuggets, hash browns, eggs, and cheese all rolled into a flour tortilla [is what you're getting here]," says Stark. With over half the daily recommended amount of sodium, this is definitely not the breakfast of champions.
Burger King's Double Sausage Sourdough Breakfast King
Per sandwich
: 780 calories, 47 g fat (17 g saturated fat, 0 g trans fat), 1750 mg sodium, 46 g carbs (2 g fiber, 6 g sugar), 39 grams protein
The Sourdough Breakfast King may be one of the most popular breakfasts on Burger King's menu, but that doesn't mean you should indulge in it frequently. "With a name that includes 'Double Sausage,' you can guess the calories, fat, and sodium will be through the roof," says Stark. And they are, even without a side or drink, both of which you're probably getting. Skip this one, for sure!
McDonald's Bacon, Egg, and Cheese Bagel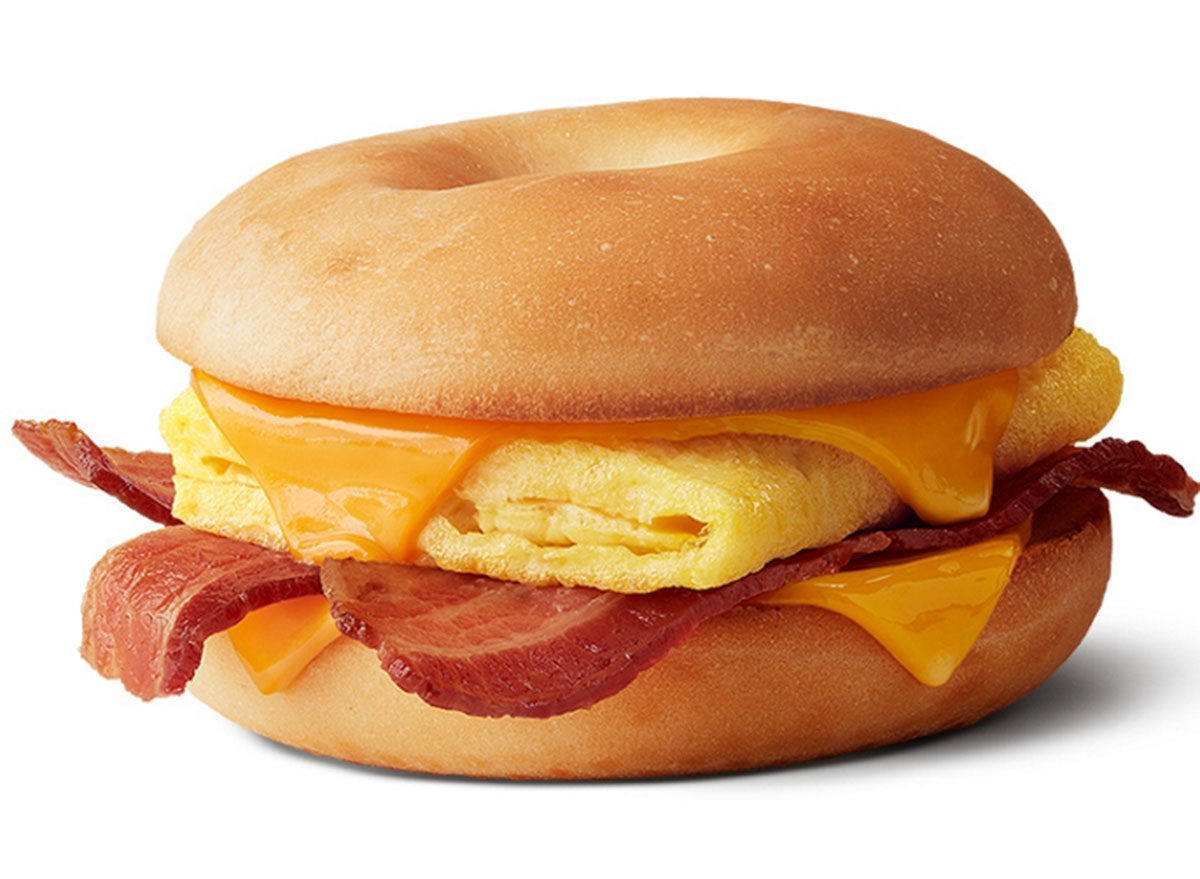 Per sandwich
: 590 calories, 30 g fat (12 g saturated fat, 0 g trans fat), 1320 mg sodium, 56 g carbs (2 g fiber, 7 g sugar), 25 grams protein
You can't go wrong with a classic bagel egg sandwich for breakfast. Or can you? Apparently yes! "While it's lower in calories and fat than other fast-food breakfast sandwiches, this one still contains an excessive amount of sodium," says Stark. Plus, the bagel has a lot of carbs and is refined, meaning there's no fiber. You're better off eating a whole-grain English muffin or toast with your sandwich.
McDonald's Sausage Egg & Cheese McGriddle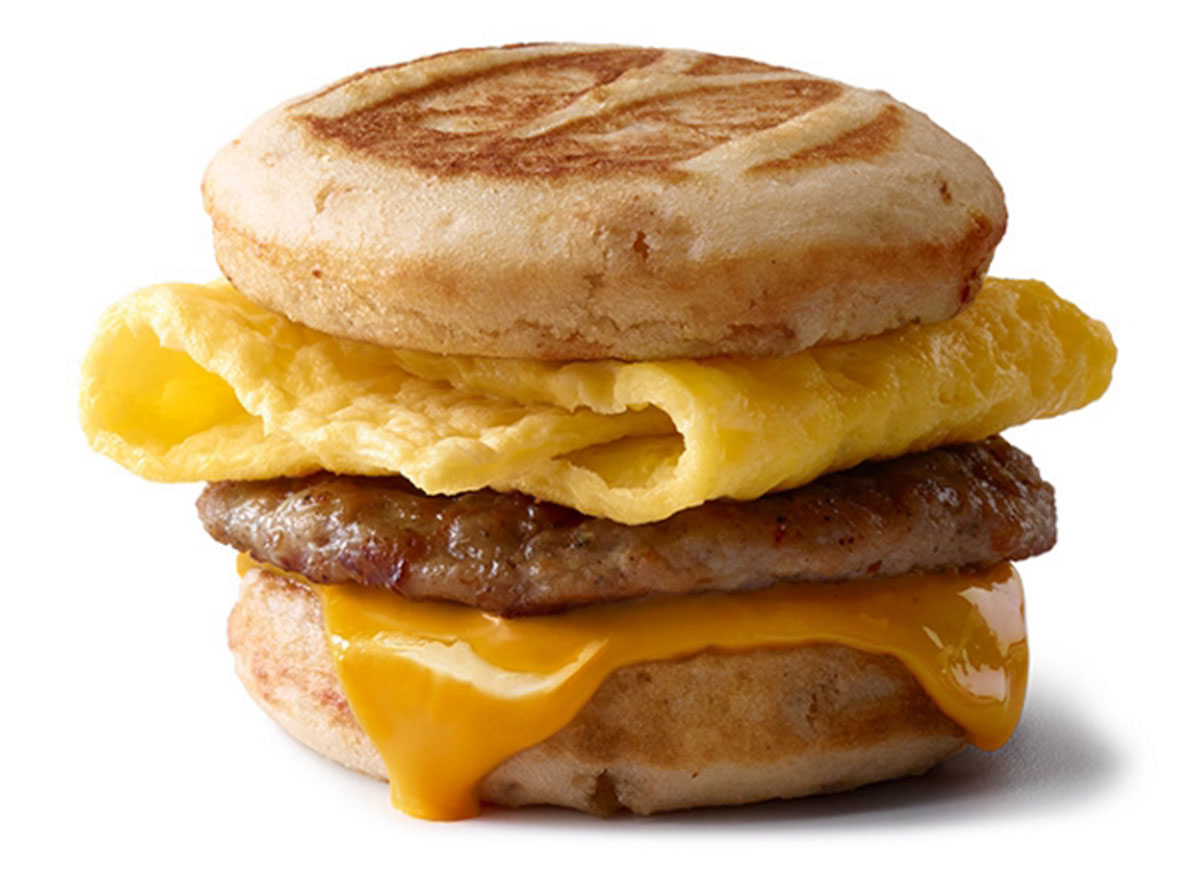 Per sandwich
: 550 calories, 33 grams fat (13 grams saturated fat, 0 grams trans fat), 1290 mg sodium, 44 grams carbs (2 grams fiber, 15 grams sugar)
"This sandwich is loaded with added sugar because the bread is a sweetened pancake. And 15 grams of added sugar is over 25% of the recommended amount of added sugar per day, according to the 2020-2025 Dietary Guidelines for Americans," says Diana Gariglio-Clelland, RD, registered dietitian and certified specialist in diabetes care and education with Next Luxury. Plus, it contains almost 70% of the daily recommended amount of saturated fat. Yikes!
Burger King's Double Croissan'Wich with Sausage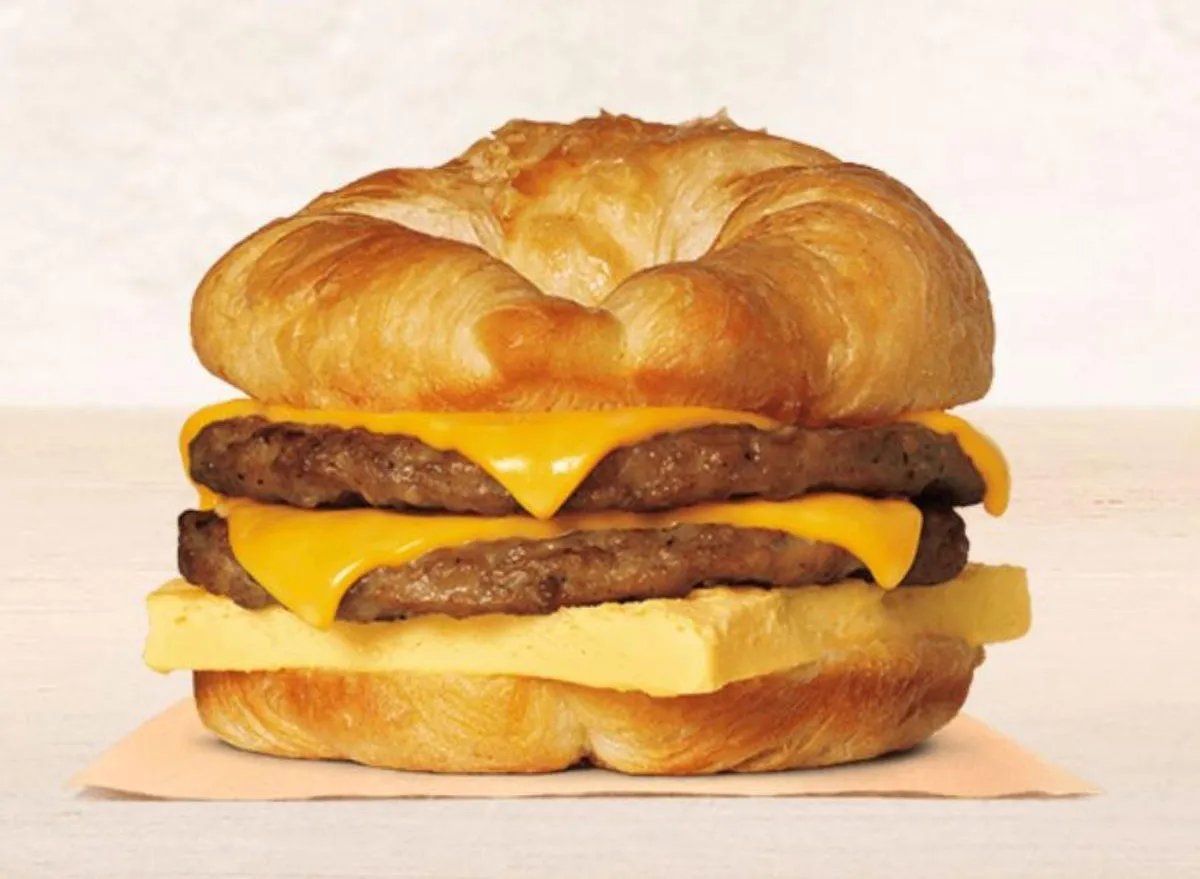 Per sandwich
: 710 calories, 52 g fat (20 g saturated fat, 0.5 g trans fat), 1,420 mg sodium, 31 g carbs (1 g fiber, 5 g sugar), 29 g protein
"With 20 grams of artery-clogging saturated fat, this sandwich contains an entire day's worth of the stuff," says Tammy Lakatos Shames, RDN, CDN, CFT. It also packs nearly 1,500 milligrams of sodium, which is the maximum amount that The American Heart Association recommends adults should consume daily, especially if they have high blood pressure. Definitely skip this salt bomb!
Wendy's Sausage, Egg & Cheese Biscuit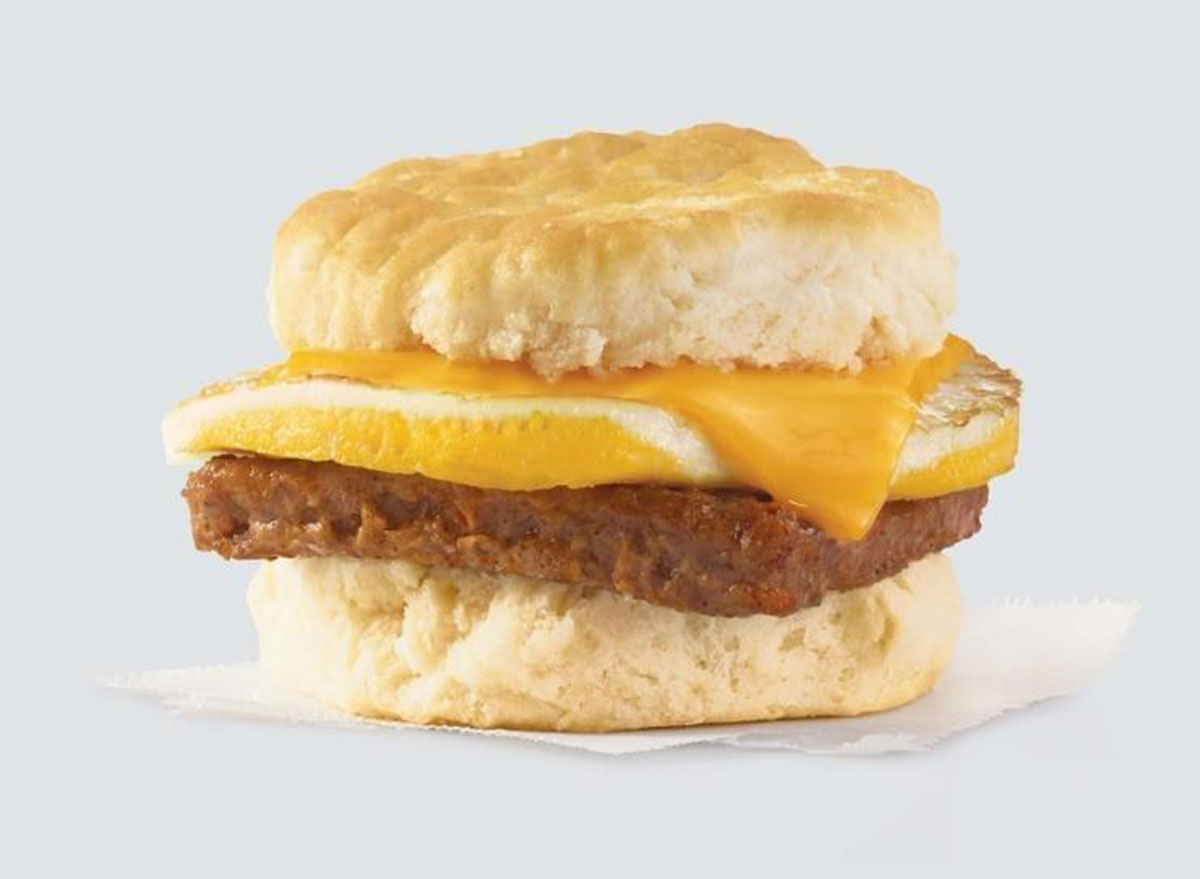 Per sandwich
: 610 calories, 45 g fat (17 g saturated fat, 0.5 g trans fat), 1,370 mg sodium, 28 g carbs (1 g fiber, 3 g sugar), 20 g protein
Don't think a biscuit is any healthier than a croissant, either. "With 610 calories and 410 of them coming from fat, you won't have room for any more saturated fat in the day, as you'll get 17 grams of your 16-22 gram limit," says Lakatos. And in a meal packing 610 calories, you'd hope to get some heart-healthy fiber, but this one just has one measly gram.
For more, check out the 108 Most Popular Sodas Ranked By How Toxic They Are.
Isadora Baum
Isadora Baum is a freelance writer, certified health coach, and author of 5-Minute Energy.
Read more about Isadora