The Worst New Summer Foods at Trader Joe's, According to an RD
They're hot and trendy, but not in a way that your health will appreciate.
Summer is a hot time for new and exciting items to pop up on grocery store shelves (right alongside your tried-and-true favorites). And beloved grocery store chain Trader Joe's has been busy releasing a bunch of fun and trendy products this season.
But, not all of these new grocery store goodies check the healthy box, which is why you should think twice before plopping them in your cart. Below are the unhealthiest new summer products at Trader Joe's, as judged by Toby Amidor, MS, RD, CDN, FAND, an Eat This, Not That! Medical Expert, award-winning nutrition expert, and Wall Street Journal bestselling author of The Family Immunity Cookbook.
And for more food shopping inspo, check out the  7 Healthiest Foods to Eat Right Now.
Sparkling Lemonade
It may be the newest beverage on Trader Joe's shelves, but it's not a nutrition winner. "Although it's only 70 calories per can, it's all added sugar with a whopping 17 grams!" Amidor says.6254a4d1642c605c54bf1cab17d50f1e
"You're better off with a glass of seltzer with lemon slices or making your own lemonade so you can best control the added sugar," she suggests.
Related: To get all the latest Trader Joe's news delivered right to your email inbox every day, sign up for our newsletter!
Tangerine Cream Bars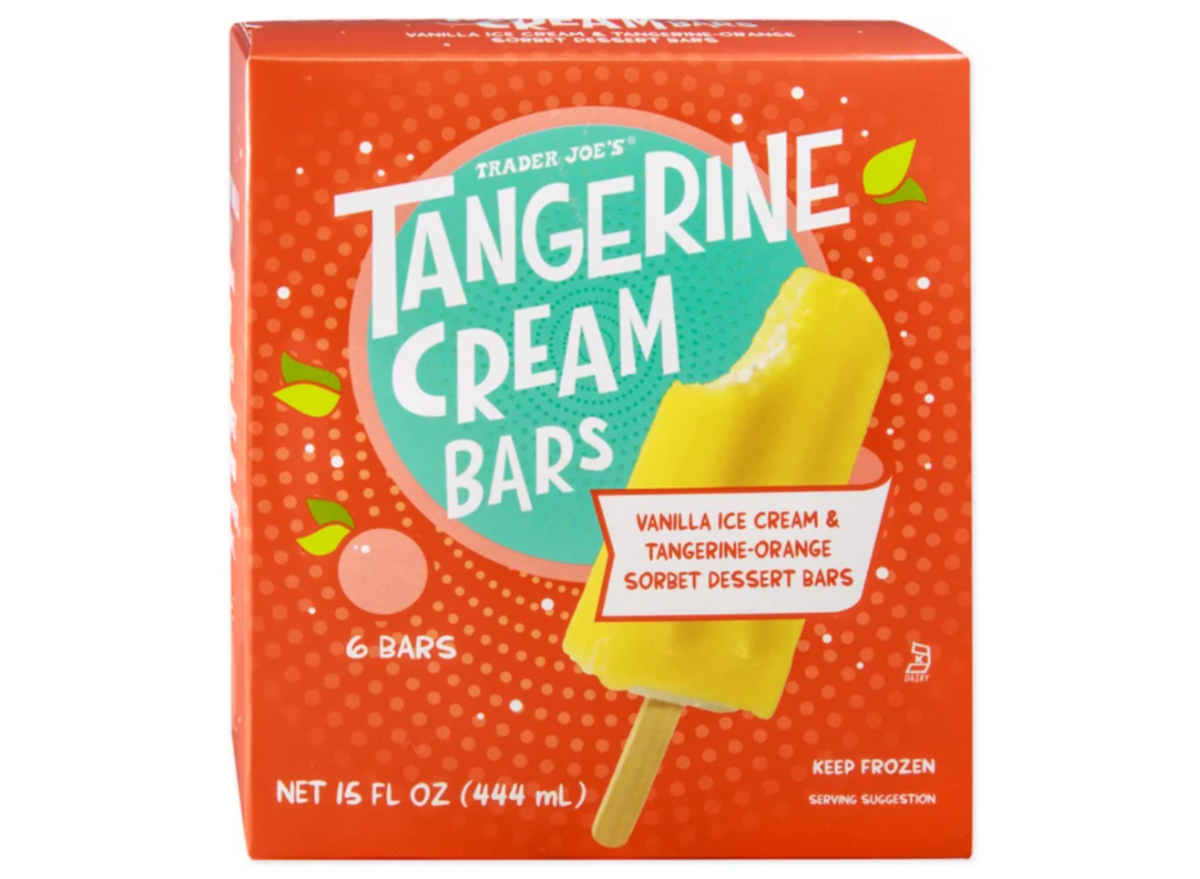 This nostalgic treat is everything you'd want from an ice cream truck but right in the freezer at Trader Joe's. That said, it's one of the worst new summer items at the grocery chain. (Luckily there is an ice cream dessert on the Eat This list.)
One serving (two bars) has 250 calories, 10 grams of fat, 6 grams of saturated fat, 40 milligrams of sodium, 34 grams of carbohydrates, 32 grams of sugars, and 3 grams of protein.
The added sugar content of 27 grams "is equivalent to close to 6.5 teaspoons of granulated sugar," Amidor says. With this in mind, only have one bar. Or, "opt for a scoop of real ice cream, or make your own ice pops with Greek yogurt and your favorite fruits."
Chile Lime Mayonnaise
Chili lime is a popular flavor at TJ's, and so it comes as no surprise that the grocery chain has a new version of it to enjoy this summer (the brand suggests putting it on buns, fish tacos, fresh corn, or in coleslaw). However, it's not nutrient-dense… and it's full of calories and fat.
One tablespoon of the mayo has 100 calories, 11 grams of fat, 1 gram of saturated fat, and 10 milligrams of sodium. "Although the chile lime flavor probably makes this mayo taste yummier than a regular version, it's still a ton of calories," Amidor says. Adding: "You can opt for healthier condiments like hummus, mustard, or mashed avocado." These will help keep you full while still adding flavor without all the extras.
Related: Ugly Side Effects of Eating Too Much Mayo
Mini French Baguettes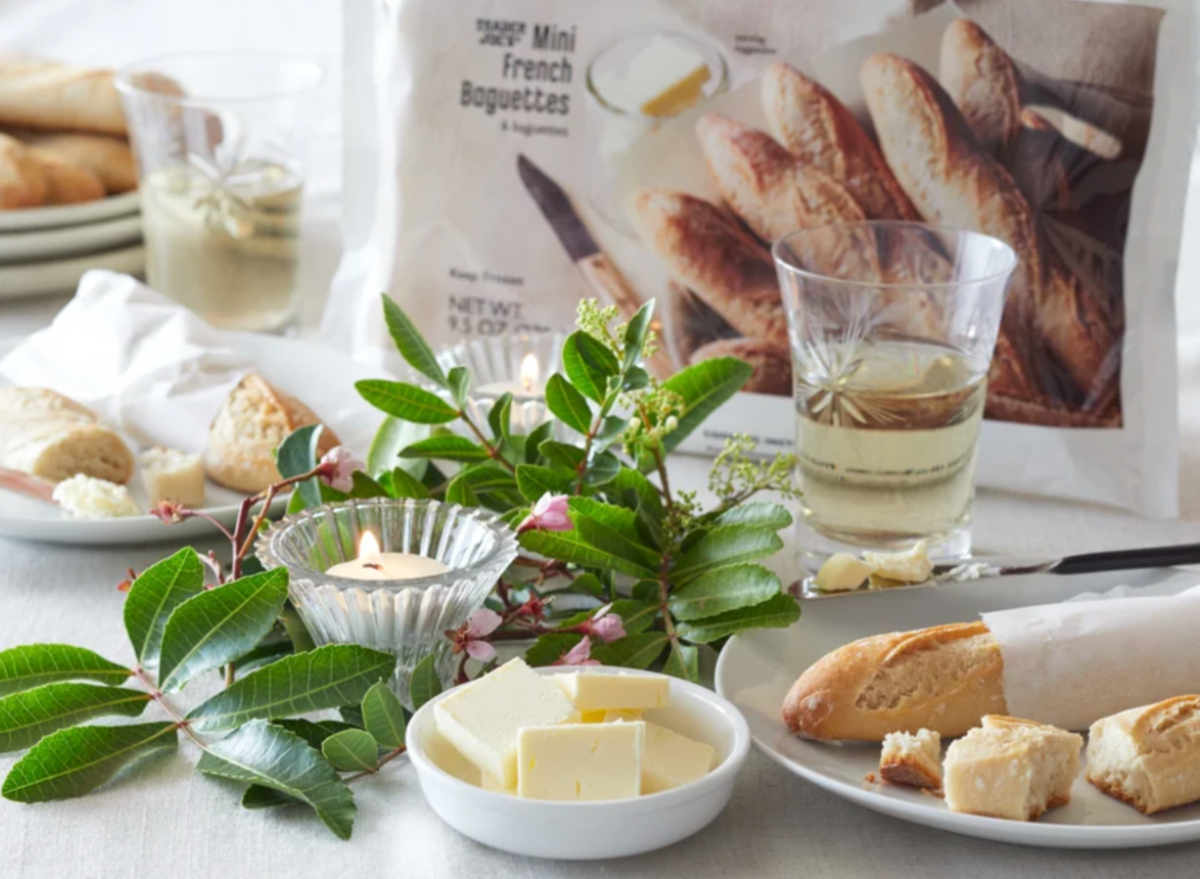 What looks like a perfect addition to any picnic basket is one of the new Trader Joe's items to skip, Amidor says.
"Bread isn't 'bad,' but according to the 2020-2025 dietary guidelines for Americans, most folks overdo it on the 'white' breads and don't get enough whole grains."
It's best to leave these in France—or, ahem—the TJ's freezer aisle and "opt for Trader Joe's 100% whole wheat bread instead," Amidor says.
For more on what to get and what not to get at the chain, check out:
Trader Joe's Just Added a New Flavor of This Healthy Dessert
Amanda McDonald
Amanda has a master's degree in journalism from Northwestern University and a bachelor's degree in digital journalism from Loyola University Chicago.
Read more about Amanda