17 Trader Joe's Foods You Should Never Buy
You can do better than these overpriced or less-than-delicious options.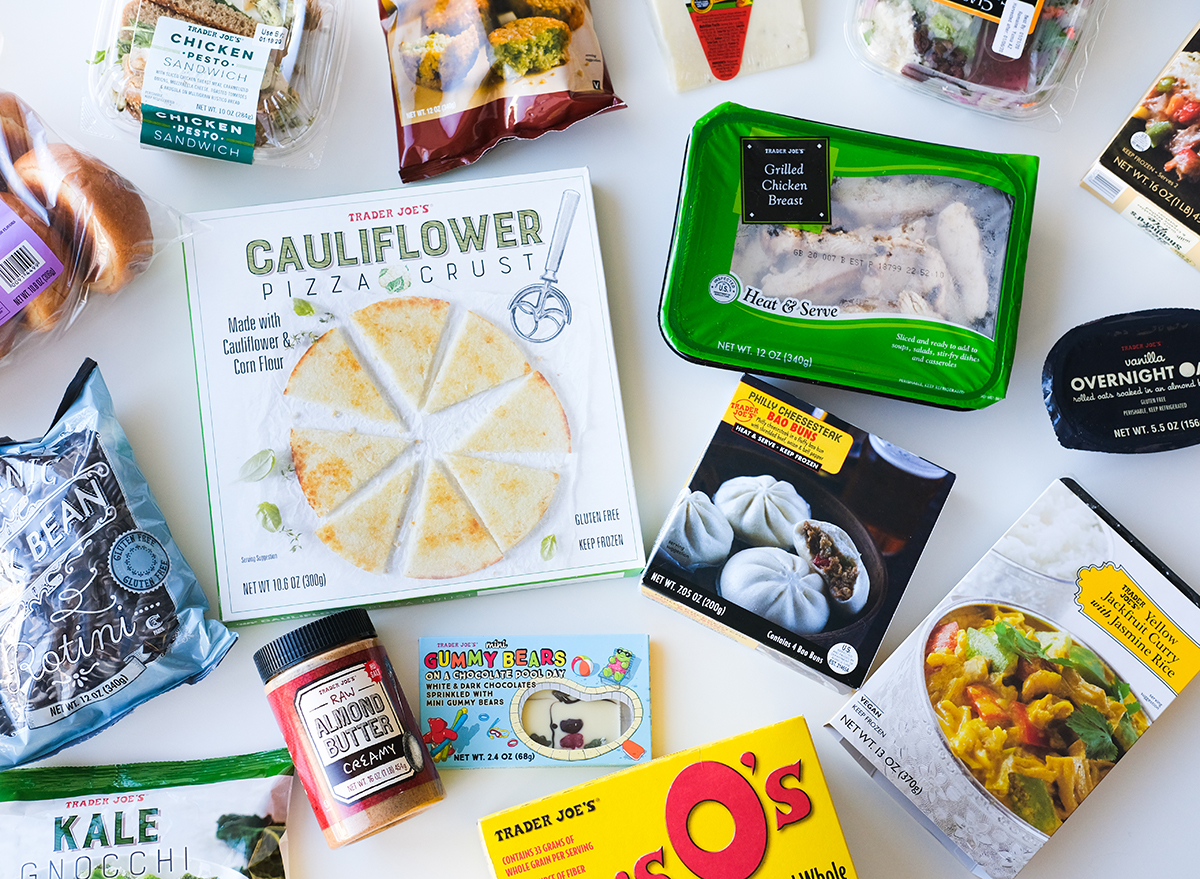 It's an undisputed fact that Trader Joe's was sent to us by the grocery gods (that's a thing, right?). There's a lot to love about the chain—healthy foods for affordable prices, cheap but delicious wines for under $10, eco-friendly policies, and some of the friendliest staffers you'll ever encounter.
But even the best companies falter from time to time. With its vast array of options, it's inevitable that some of Trader Joe's products are overpriced or simply not that tasty. To weed out the duds, we taste-tested everything from pre-made salads to candy so you don't have to. Next time you hit up Trader Joe's, here are 17 items to avoid.
And for more, check out these 15 Classic American Desserts That Deserve a Comeback.
Gummy Bear Chocolate Bars
We love gummy bears and chocolate bars so, in theory, these should be our new favorite sweet snack. But we regret to inform you that when these two delicious candies are combined, the taste is strange at best and gross at worst. Get gummy bears or chocolate bars (or both!) at TJ's, but avoid this odd combination. Ever wonder how foods that are as creative and unique as this can be so affordable at Trader Joe's? Well, This is Why Trader Joe's is So Cheap.
Vanilla Overnight Oats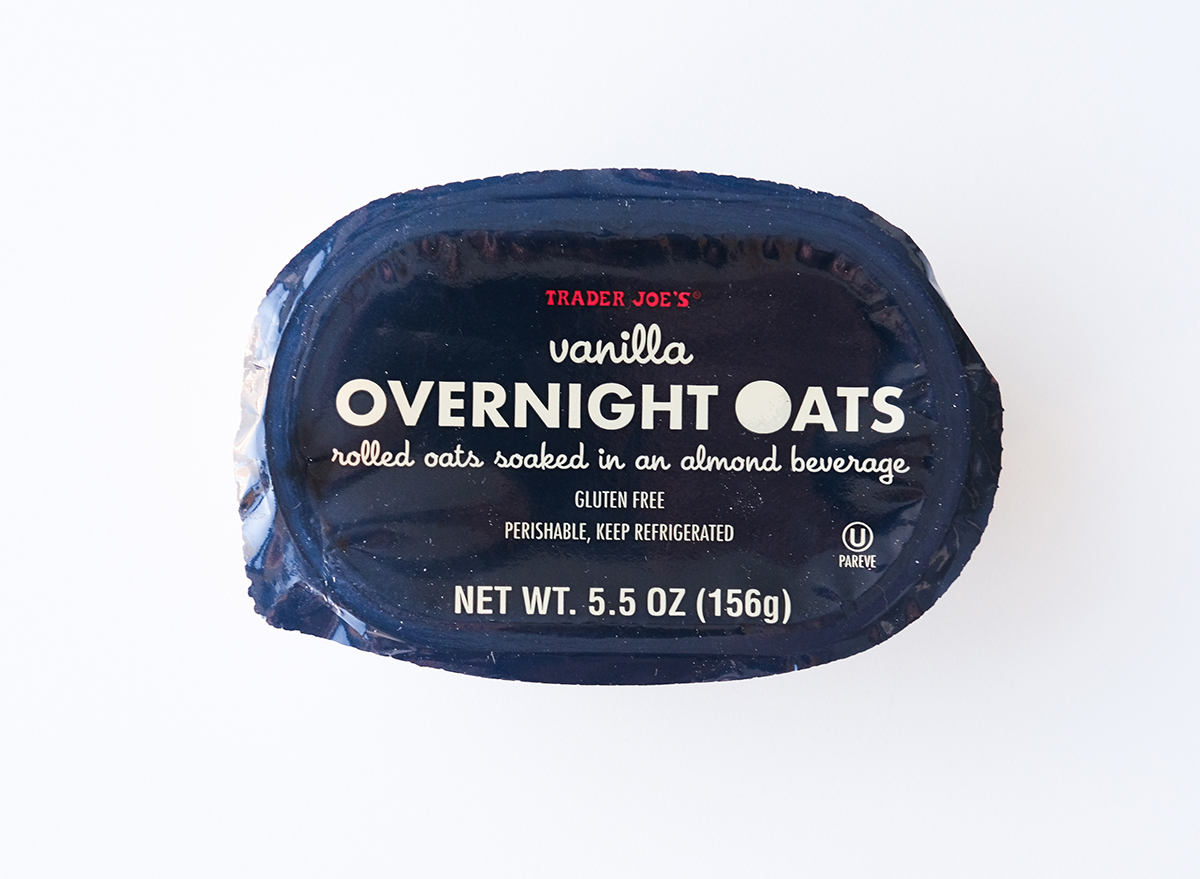 The overnight oats taste perfectly fine, but it's one of the few items at Trader Joe's that are simply not great deals. The $1.99 packets are small, and you could quickly and easily make your own overnight oats for a lot less money.
STAY INFORMED: Sign up for our newsletter to get the latest food news delivered straight to your inbox.
Brioche Rolls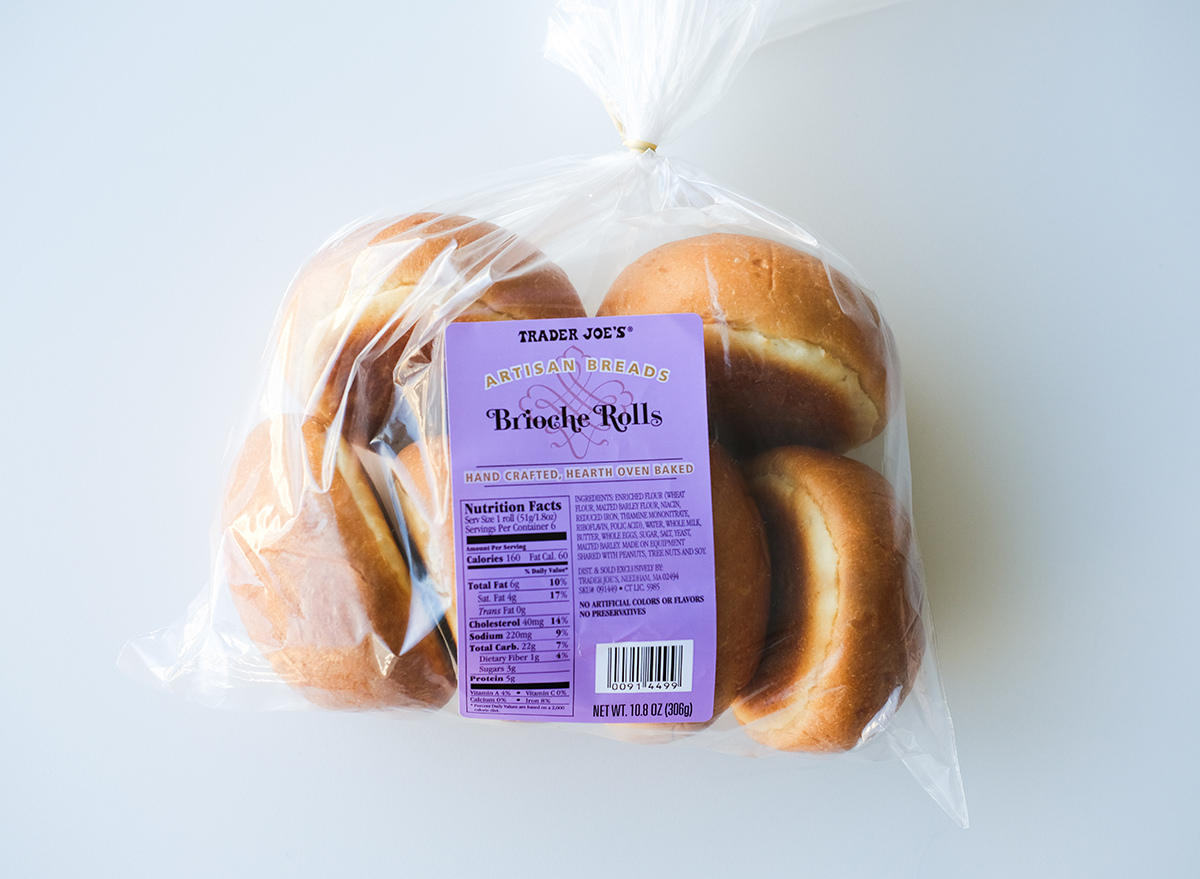 Right after a trip to TJ's, we made sandwiches with the brioche rolls and they were delicious—so imagine our disappointment when we discovered they became moldy within 24 hours. According to many Reddit users, this is a problem with most of the bread options at the store. However, you don't need to write off all bread at TJ's—just store it in the refrigerator and it'll last for a reasonable amount of time. For more TJ's info, don't miss these 15 Things You Never Knew About Trader Joe's.
Almond Butter
Trader Joe's almond butter is tasty, but it's not the best deal around. A 16-ounce jar costs $7.99, and it's a full dollar cheaper at Target. It's also quick, easy, and affordable to make it yourself.
Philly Cheesesteak Bao Buns
Adding a cheesesteak filling to traditional Chinese bao buns is an interesting concept, but there's a reason it hasn't been done before. These are two foods that should stay separate.
Organic Milk
According to Kiplinger, a gallon of organic milk at Trader Joe's is $2.30 more expensive than a gallon of organic milk at Whole Foods. Yikes!
To boot, many shoppers say that Trader Joe's milk spoils almost immediately. A TJ's employee tells us that the store's milk is pasteurized once, while other stores pasteurize milk multiple times. That may result in a fresher glass, but if you can't finish the whole carton in time, you're better off shopping elsewhere.
Italian Truffle Cheese
Truffle flavor can be pretty overwhelming, which is why it tends to come in small doses. This cheese has way too strong a truffle flavor, even for lovers of the expensive fungus.
Premade Sandwiches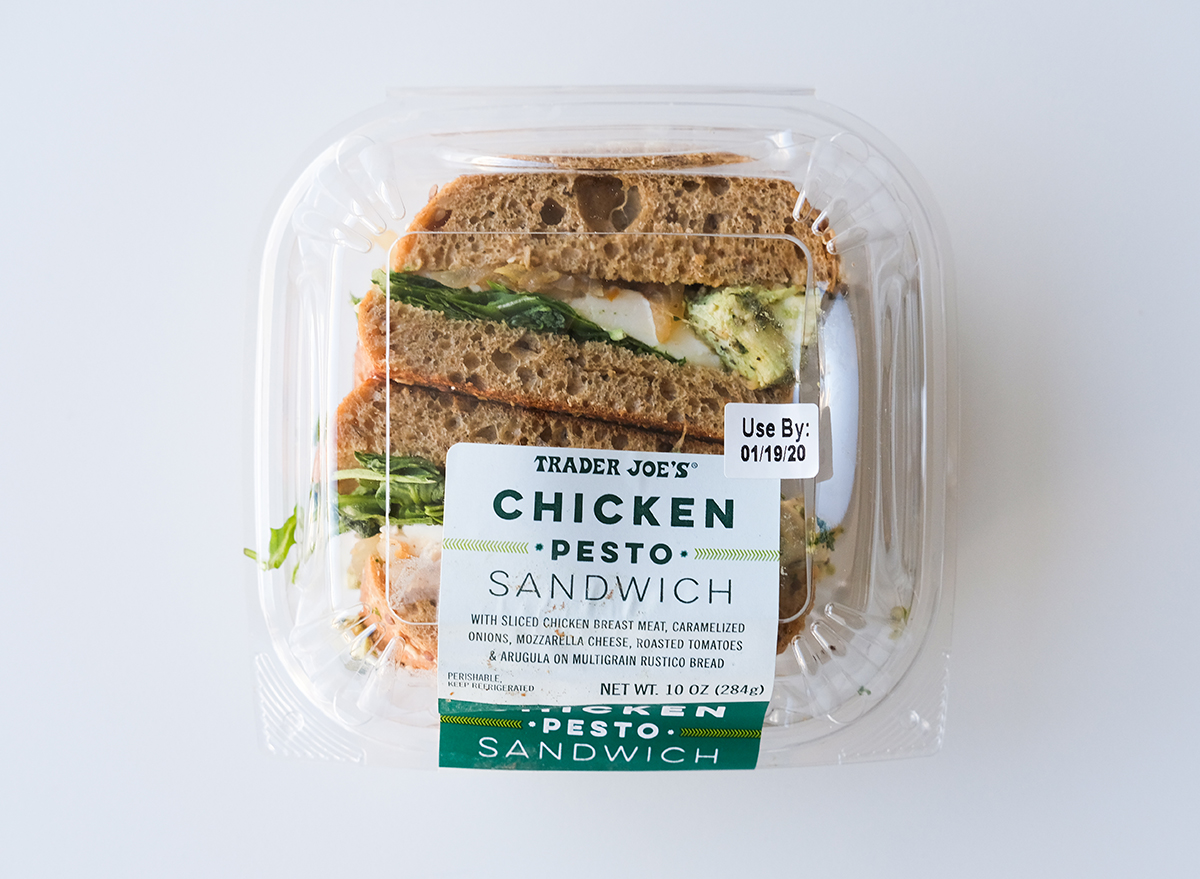 The premade sandwiches at Trader Joe's look enticing, but we tried several options and the consensus was that they're both bland and dry. The premade wraps have the exact same taste problem, so it's safe to say this isn't a good lunch option.
Premade Salads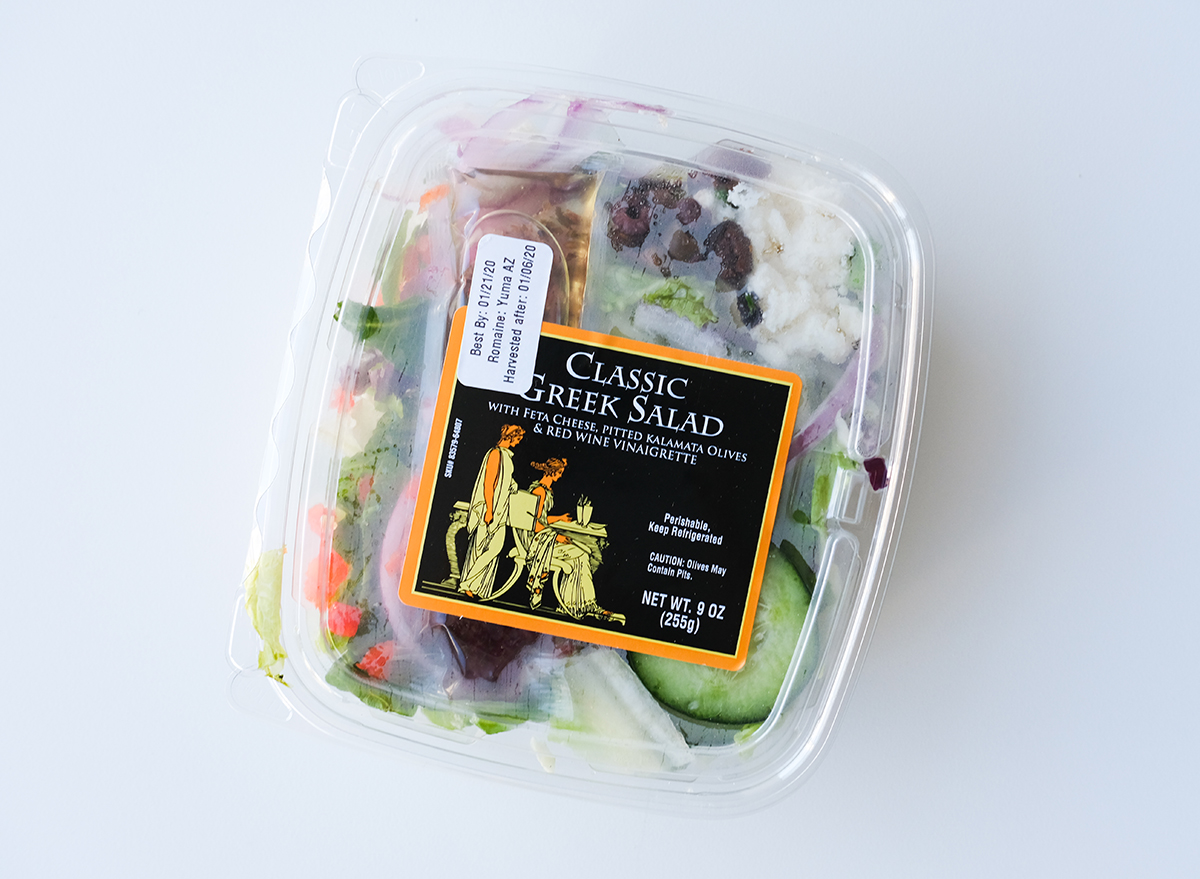 The greens aren't fresh, and any premade salad that contains meat or fish is questionable. When meat or fish taste weird, you know it's time to either head for the hills or to prepare yourself for a serious stomachache. We recommend the former.
Joe's O's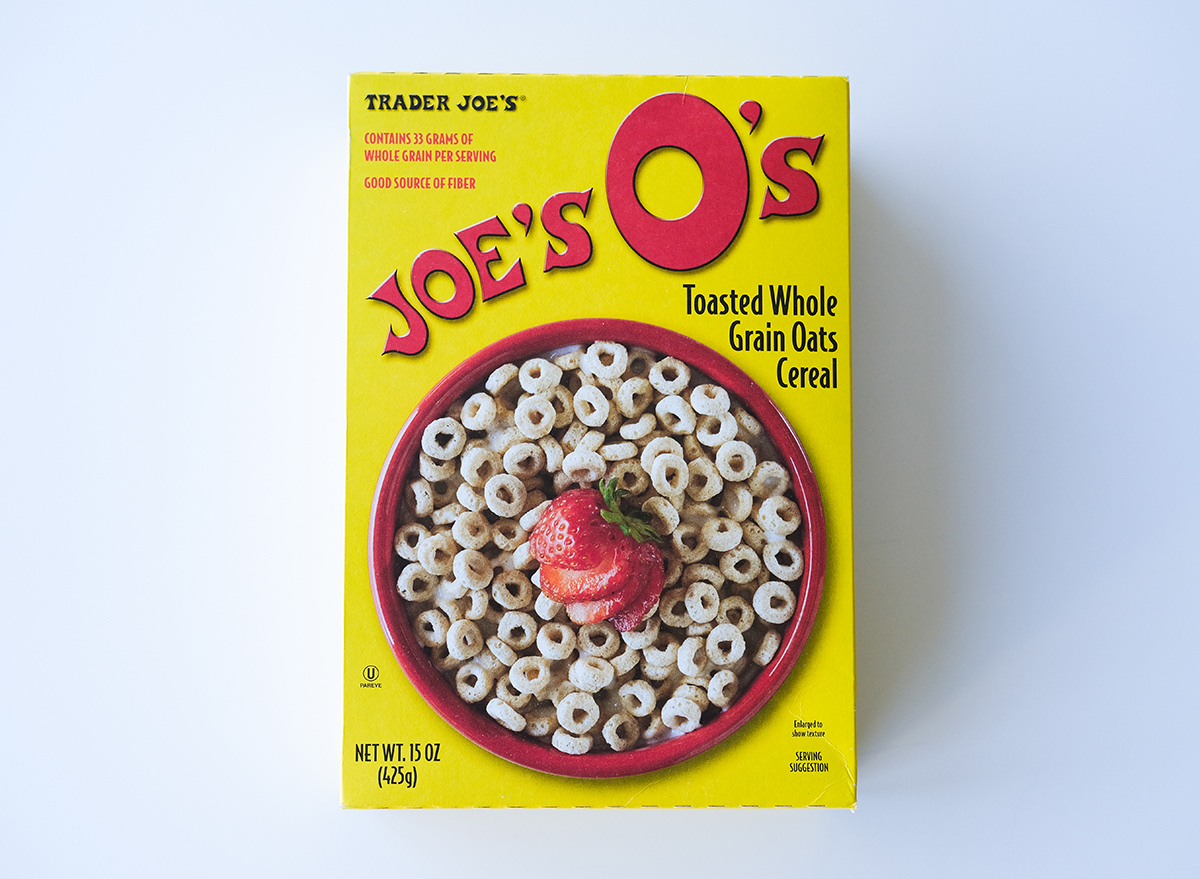 As you might guess from the name of this breakfast cereal, these are the Trader Joe's take on Cheerios. They're a bit bland, though, and the texture is off—you're better off with the name brand in this case.
Black Bean Rotini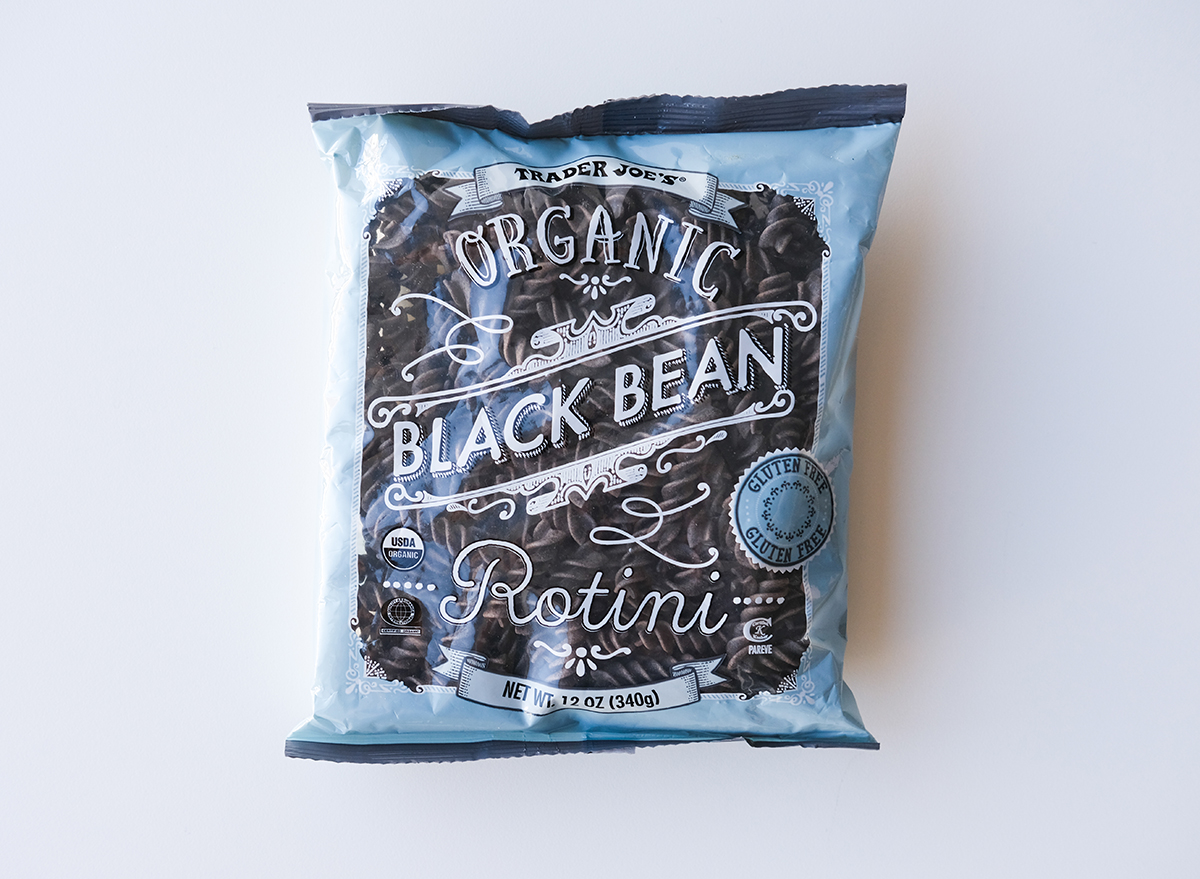 Yes, it's great to have so many pasta alternatives out there. But do you really want your pasta to taste like black beans? The flavor and texture of this pasta didn't sit well with us.
Cauliflower Pizza Crust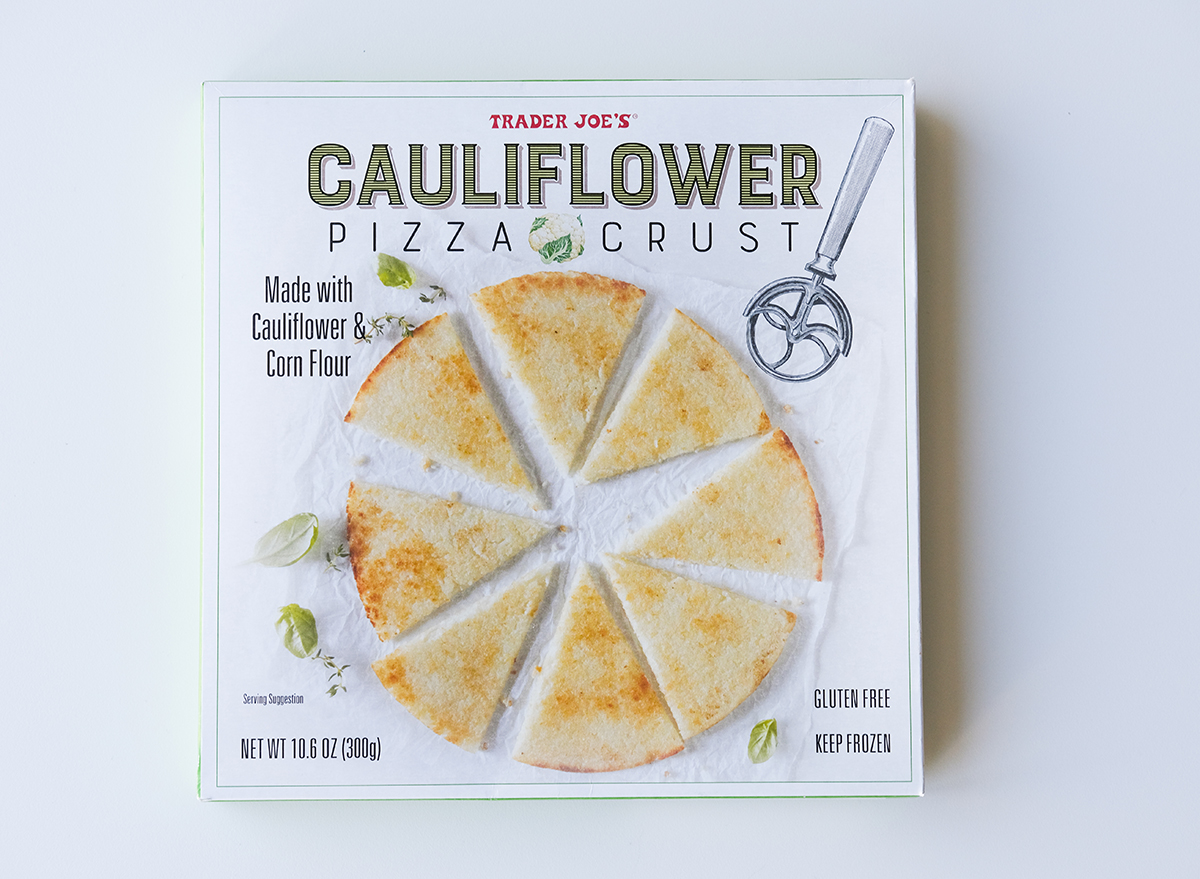 What's worse than making pizza with a crust that crumbles easily? Not much. Unfortunately, TJ's cauliflower pizza crust crumbles when it's in the oven. Following the directions on the package, we put it directly on the rack, and the rest is history. Instead of enjoying a homemade pizza, you might be scraping the bottom of your oven for at least ten minutes. If you want to use this gluten-free crust, we suggest using a pizza pan, rather than placing it straight on your oven rack.
Frozen Jackfruit Curry
The texture of the jackfruit gives this dish an unpleasant taste. And because the rice isn't seasoned, the dish ends up being bland and unsatisfying.6254a4d1642c605c54bf1cab17d50f1e
Frozen Falafel Balls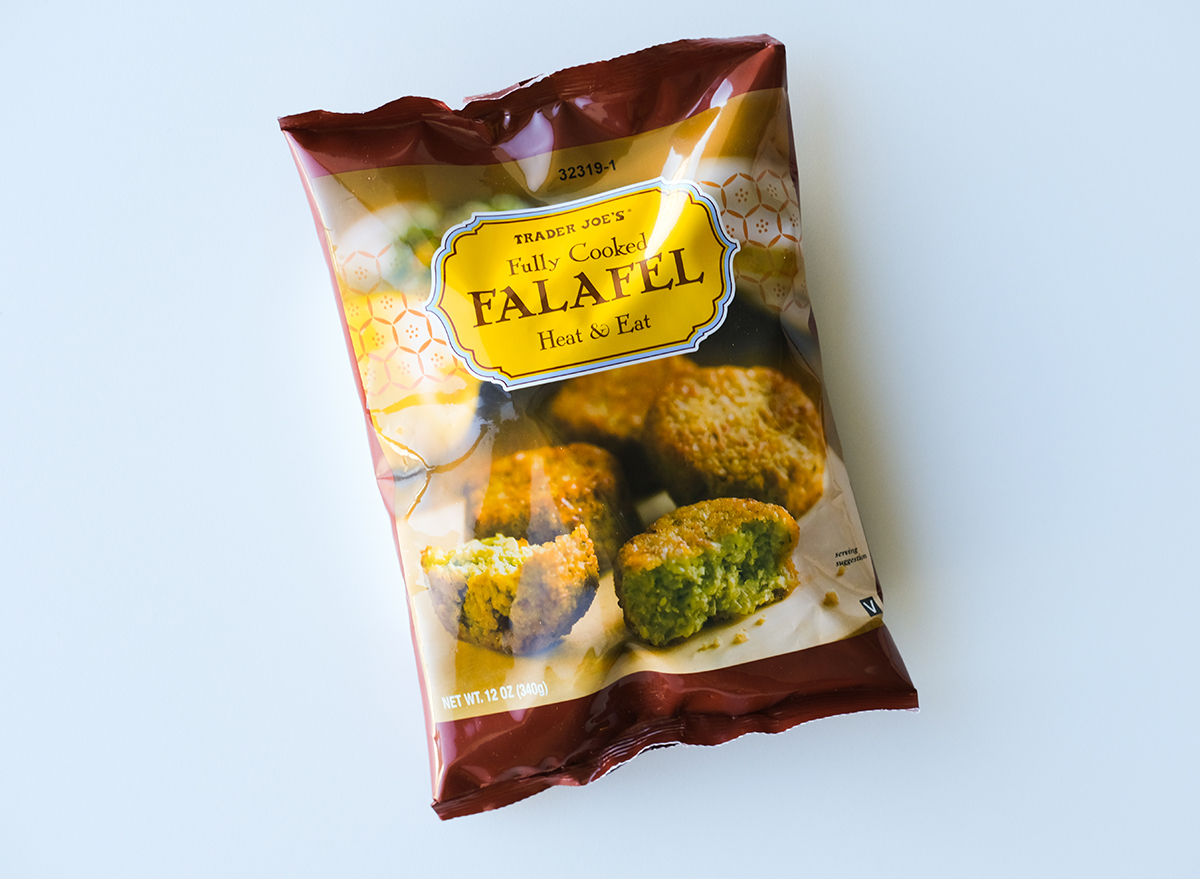 Alarm bells went off right away when we noticed the cooking instructions recommended microwaving the falafel balls. Falafel just doesn't seem like something that should be microwaved. Nevertheless, we followed the instructions and gave them a try. In addition to being bland and dry, they lack the crispy, crunchy texture that we love about falafel. These are a definite "skip" in the frozen foods section. Instead of buying these, try any of these 20 Must-Buy Trader Joe's Products For Quicker Dinners.
Beef Shepherd's Pie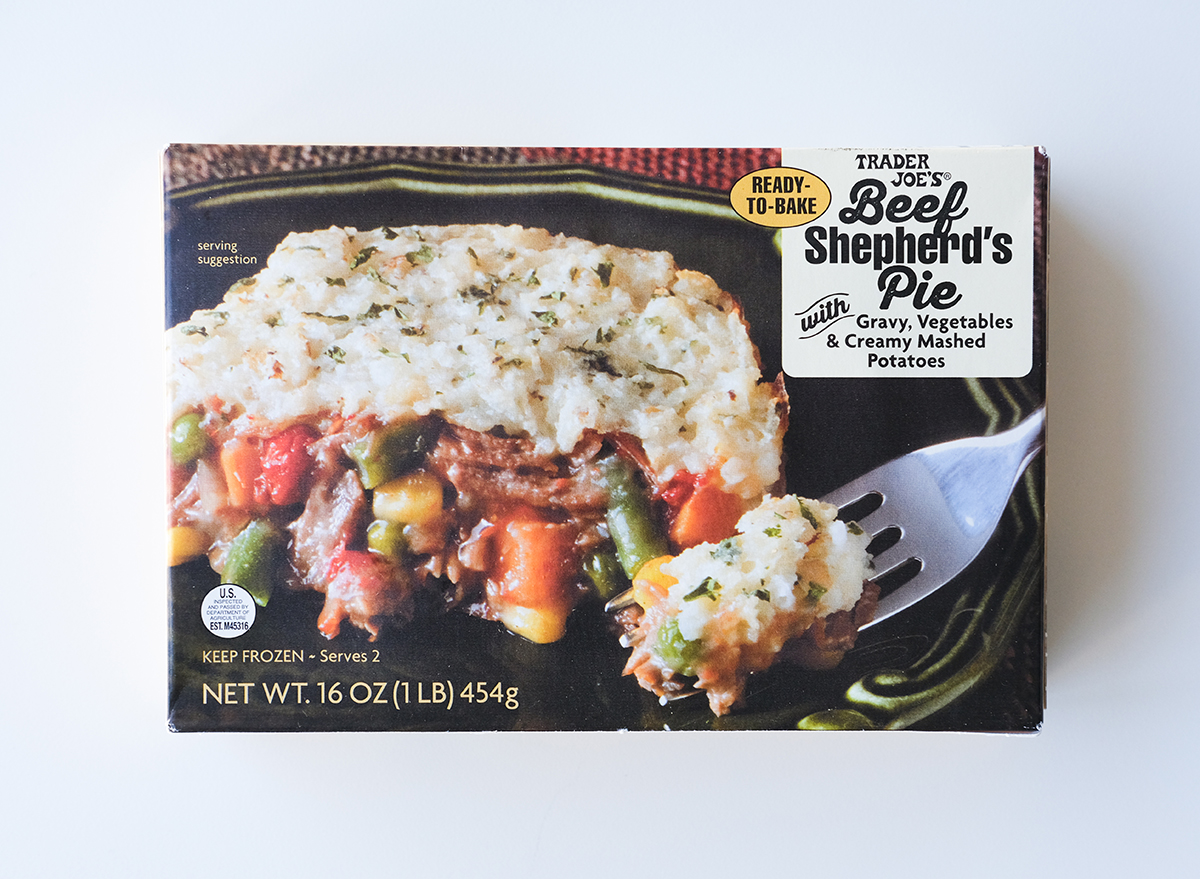 There are few things worse than a bad shepherd's pie, and we regret to inform you that Trader Joe's version falls into that category. In addition to this pie's being flavorless, the mushy texture makes this dish inedible. (Seriously—we couldn't finish it.)
Ready-To-Serve Grilled Chicken Breast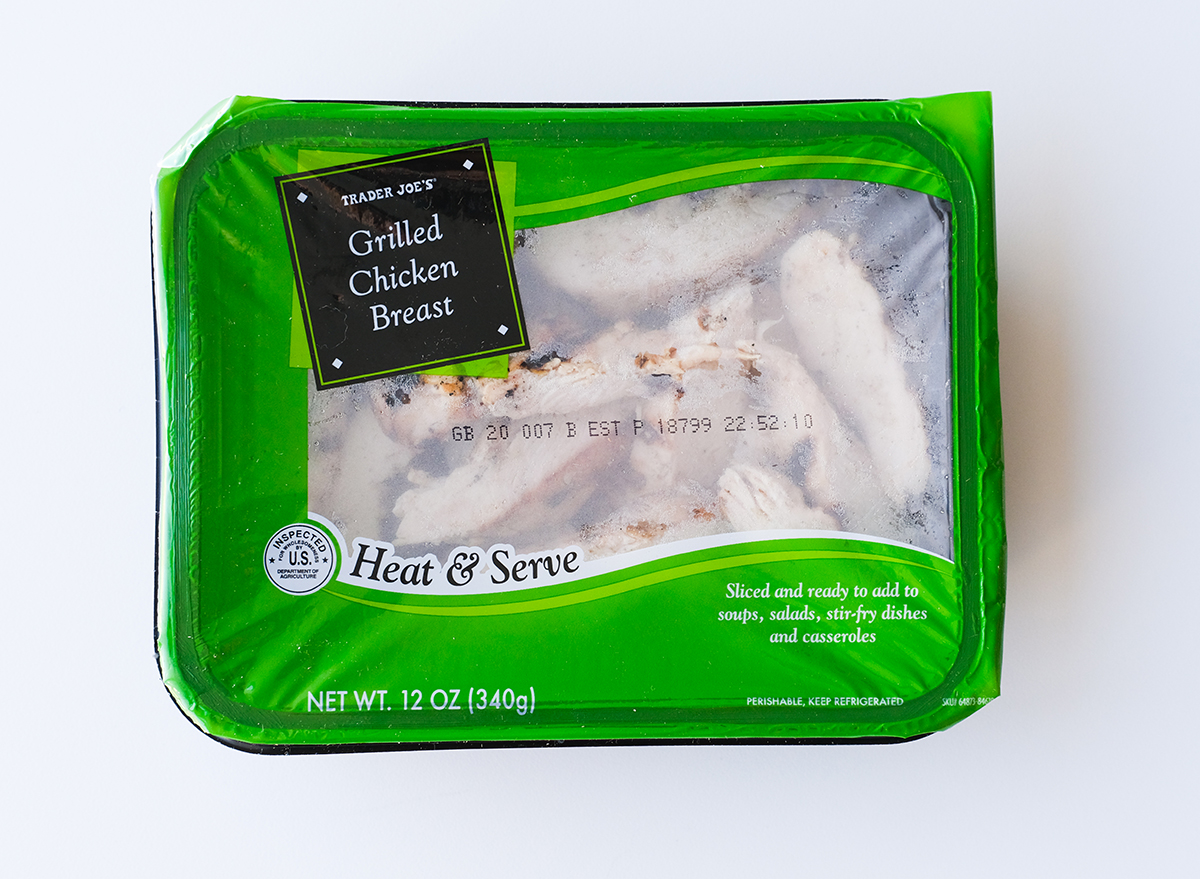 These are really dry and have an unappetizing texture. If you're looking for chicken options at TJ's, head to the "fresh" area and buy the Just Grilled Chicken Strips. The lemon chicken is especially good.
Kale Gnocchi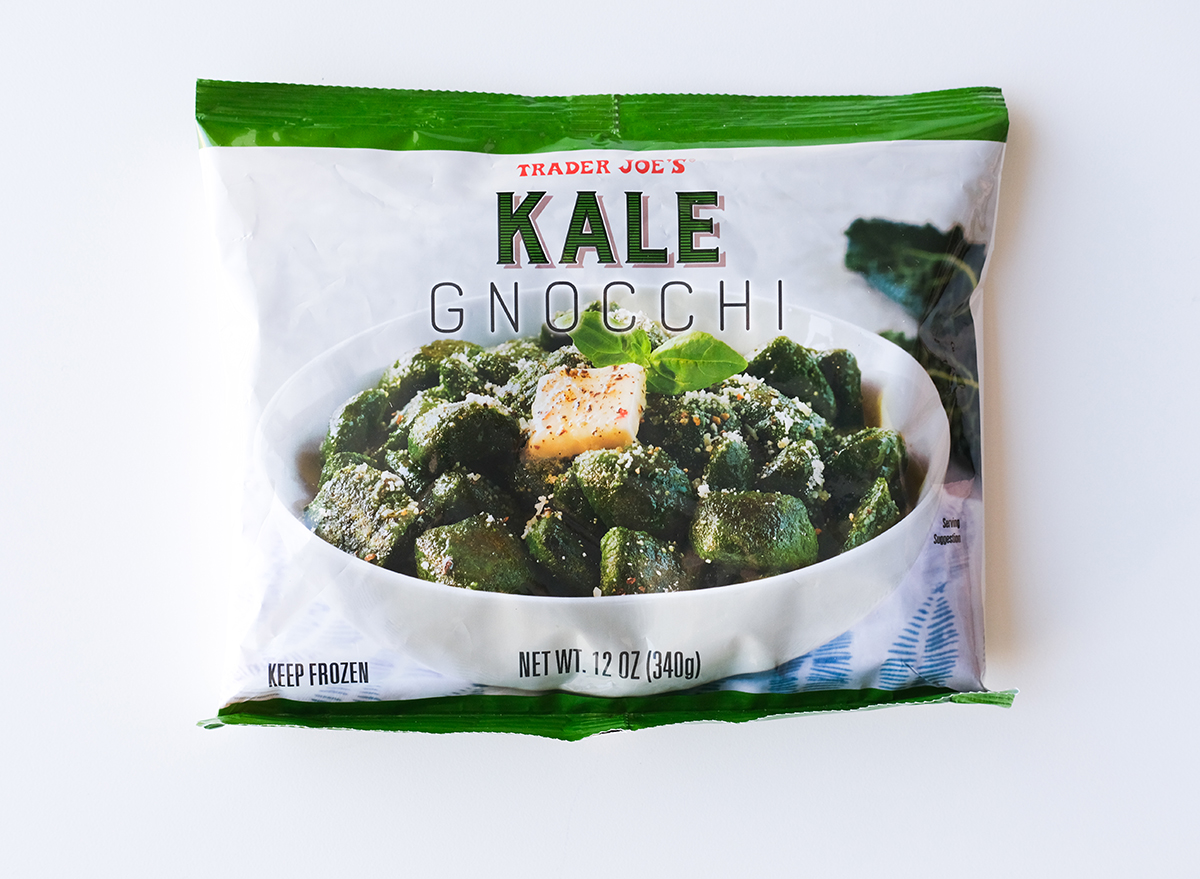 Sure, this is an easy way to add more vegetables to your diet. But it's also a way to ruin the wonderful, potato-filled taste of gnocchi. We'll be sticking with the traditional version. There are plenty of great foods at TJ's, so long as you stay away from these options. And while you're there, why not try one of the 25 Best Wines You Can Buy at Trader Joe's?
For more, check out these 108 most popular sodas ranked by how toxic they are.
Caitlin Flynn
Caitlin Flynn is an award-winning writer and reporter who experienced early age corporate burnout in 2015 and traded New York City for the misty air and superior coffee of Seattle.
Read more about Caitlin