Here's What Patrick Mahomes & Jalen Hurts Eat To Stay Super Bowl Ready
Before witnessing these two quarterbacks face off in the big game, learn more about their eating habits.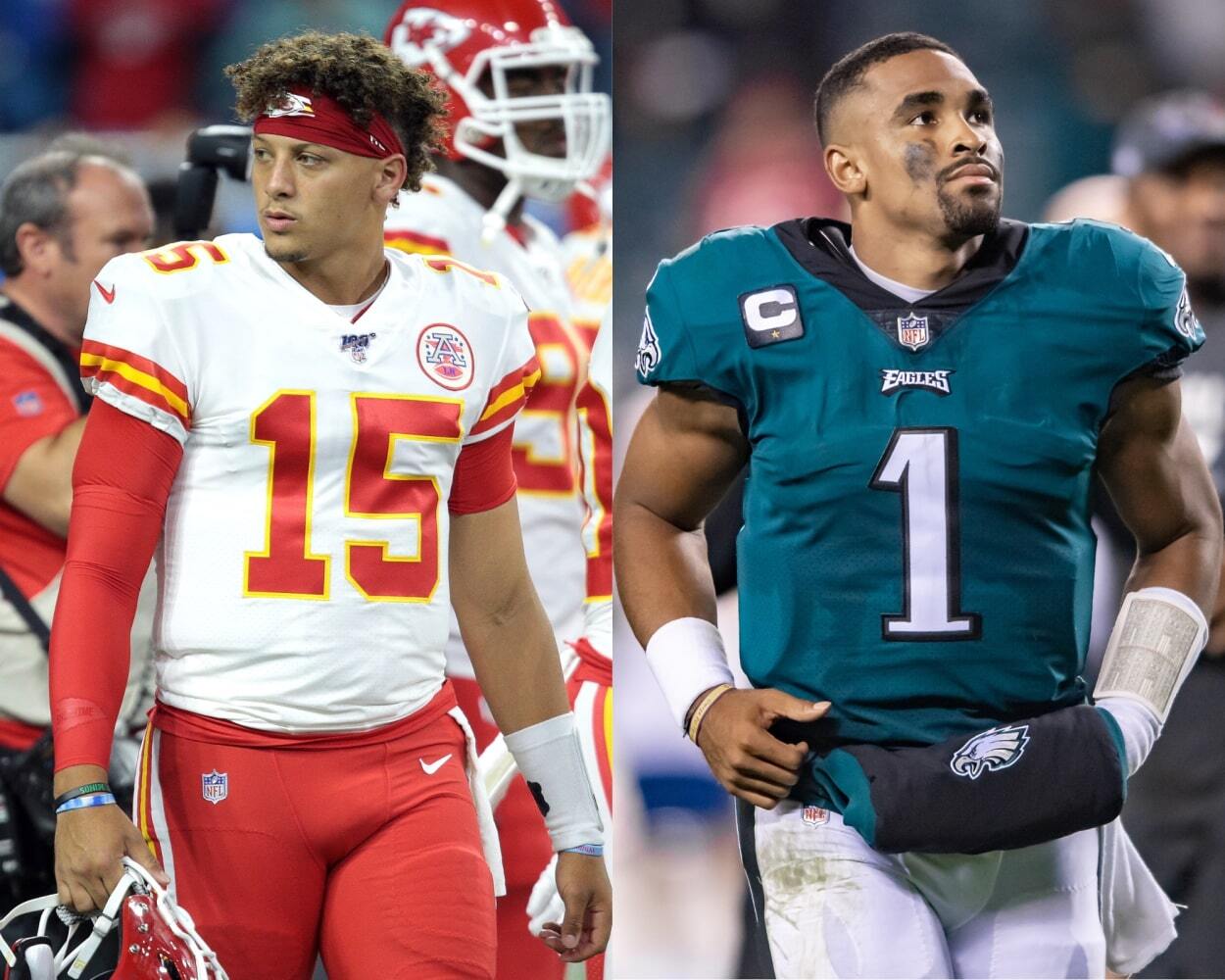 Super Bowl LVII is just around the corner, with the battle lines drawn between the American Football Conference (AFC) championship team, the Kansas City Chiefs, and the National Football Conference (NFC) championship team, Philadelphia Eagles. This is a historic year for the Bowl—for the first time in the franchise's 57-year long run, the game will feature two starting African American quarterbacks. However, Kansas City Chiefs starting QB Patrick Mahomes and Philadelphia Eagles starting QB Jalen Hurts are no strangers to breaking boundaries and records, with each achieving a slew of recognition and esteemed honors in their own right. But how do these powerhouse athletes stay in tip-top shape to ensure they're ready to compete on the gridiron come game day? More specifically, what eating habits do Patrick Mahomes and Jalen Hurts follow to help support and contribute to their athletic success?
To better understand these football titans' views on nutrition and how they manage their diets both on- and off-season, we took a deep dive into their respective backgrounds. Read on to learn more about the eating habits the quarterbacks for the Kansas City Chiefs and Philadelphia Eagles swear by—and for more healthy eating advice to help you plan your Super Bowl Sunday festivities, be sure to also check out 10 Healthy(ish) Game Day Recipes Perfect for Football Season.
Kansas City Chiefs Quarterback Patrick Mahomes, II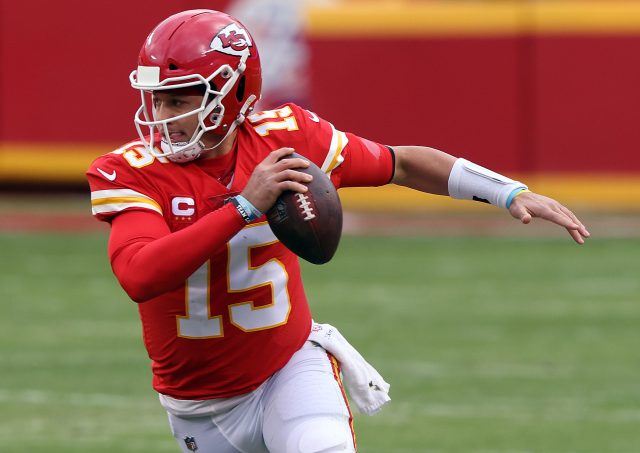 The son of former MLB pitcher Pat Mahomes, #15 Patrick Mahomes II, the quarterback of the Kansas City Chiefs, grew up with a sense of the discipline and commitment required to succeed as a pro athlete. After being a first-round pick by the Kansas City Chiefs in the 2017 NFL Draft, Mahomes wowed fans during his rookie season, passing over 5,000 yards and 50 touchdowns and earning himself his first MVP award. He quickly ascended to starter status as the team's quarterback following his first season and went on to lead the Chiefs to two Super Bowls, winning one—Super Bowl LIV against the San Francisco 49ers.
With Super Bowl LVII on the horizon, Mahomes has yet to rest on his laurels. Most recently, he's won the esteemed honor of being named an NFL MVP for a second time. Also, he joins Drew Brees and Tom Brady as one of the three quarterbacks in NFL history who has been able to claim they've had multiple 5,000-passing yards and 40-touchdown seasons.
On Mahomes' eating habits
When it comes to his approach to living a healthy lifestyle, Mahomes' focus on health and wellness transcends football season, following him on and off the field. And although he may occasionally indulge in Postmates orders from Chipotle and Chik-fil-A, the football powerhouse understands that balance and moderation are essential to staying in shape and game day-ready.
"For me, offseason-training wise, it's all about trying to define [my body] … trying to make sure I'm in the best shape possible, nutritionally and physically and mentally," Mahomes reportedly told Yahoo Sports' Terez Paylor. He also reflected on his evolving understanding of the role nutrition can play in his athletic performance.6254a4d1642c605c54bf1cab17d50f1e
"I mean, I've always been someone who trains hard, someone who works out hard, someone who goes out there every single day and doesn't feel complete until I get a workout in on any given day," Mahomes told Paylor. "I think the biggest thing for me [has been] learning how to eat better, learning how to take away the snacks, the candies, the desserts, all that stuff and just focus in on how I eat and how I take care of my body that way."
Although Mahomes is a disciplined athlete, when it comes to managing his diet, he takes a more intuitive approach. "I just try to eliminate some of the bad meals, the fast food, the foods that aren't great for your body and don't help you get the most out of it," he said during his interview with Yahoo Sports. Mahomes is also not one to count calories, and enjoys noshing on fruit like apples, oranges, and strawberries, sources say.
Mahomes also discussed how his views on nutrition had evolved since joining the NFL in an interview with Men's Journal. "I've gotten much better with my nutrition as of late," he said. "It's something you have to take care of when you get to the NFL to stay in the best shape possible. It's so important."
Additionally, Mahomes described the frequency at which he ate each day to keep his body well conditioned and energized for football season. "I usually eat four to five meals a day. I eat breakfast, then lunch and then spread out my dinners to make sure I'm not eating too much at any one time," Mahomes told Men's Journal.
Does Mahomes have a guilty pleasure?
A self-proclaimed "picky eater," Mahomes does his best to stay on course with a healthy diet, telling Yahoo Sports, "I still try to eat healthy stuff like chicken, salmon and all the [other] stuff I like a lot."
At the same time, we all have our vices—and Mahomes is no different. But while many of us may opt for a milkshake or French fries as our cheat treat, Mahomes' unique palate draws him to a condiment that reminds him of his childhood.
"It was a long time ago, but when I was a little kid, I used to just eat ketchup sandwiches that were just ketchup and bread," Mahomes reportedly told InsideHook. "I used to get teased about it all the time because people thought it was very strange that I didn't put any ham, turkey or anything else on it, just ketchup and bread. I grew out of it, so, I don't do that anymore."
While he may not appreciate ketchup sandwiches as much as he once did during his childhood, multiple sources allege that Mahomes' love affair with this tomato-based condiment that's also riddled with added sugars borders on "obsessive" and has yet to wane. From mac 'n' cheese to a ribeye steak, Mahomes is known to submerge his favorite comfort foods in ketchup. Although this obsession has led to criticism by many, including ESPN journalist Seth Wickersham, it also helped him land him an endorsement deal with Hunt's.
Philadelphia Eagles Quarterback Jalen Hurts
This year's Super Bowl is not only a huge opportunity for the Philadelphia Eagles, who are returning for the first time since triumphing over the New England Patriots five years ago in Super Bowl LII, but also for the team's quarterback, #1 Jalen Hurts. Originally joining the Eagles as a second-round draft pick during the 2020 NFL Draft and initially being named the third-string quarterback, Hurts put all potential doubts about his skill to bed when he later became starting QB for the Eagles in 2021 when he helped lead his team to the playoffs.
Today, Hurts continues to break barriers, most recently shattering the record for the greatest number of rushing touchdowns in a season by a quarterback, scoring his 15th in the NFC Championship win against the San Fransisco 49ers, CBS Sports reports. Now, as the Eagles starting quarterback, Hurts—considered the youngest starting quarterback in the team's history—enters Super Bowl LVII with 760 total rushing yards under his belt.
On Hurts' eating habits
Ahead of the 2022–2023 football season, NBC Sports reporters noted a difference in the quarterback's leaner, toned appearance and inquired about how he improved his nutrition during the offseason, and if he saw the benefit of these changes play out in his stamina and all-around physical performance on the field.
"I'm not necessarily lighter. I'm the same weight, about 220—consistently 220 throughout my days," Hurts told reporters in the post-practice press conference. "I just think it makes me feel cleaner—the importance of drinking water, laying off the sugary drinks," Hurts added.
As an avid lover of lemonade, Hurts also found creative ways to satisfy his cravings for the sweet yet tart beverage by hydrating with a cold-pressed lemon water product containing zero added sugars. "I got this new drink I drink […] It's like lemonade—I love lemonade—but it's a healthier option for it."
In terms of his overall approach to maintaining a healthy diet while boosting his strength on the field, Hurts credits the quality of his health to implementing small changes into his regular eating routine.
"Just changing things that I put in my body. I think it's really helped as far as my conditioning," Hurts continued. "How I feel when I wake up. Eating my greens, eating a lot of protein, and drinking a lot of water, so I think it's very beneficial."
Does Hurts have a guilty pleasure?
Much like Mahomes, Hurts also has a favorite condiment of choice. In a video clip for GQ detailing 10 essentials Hurts' can't live without, Hurts lists Louisiana hot sauce among his top must-haves.
"One of my big essentials, my hot sauce," Hurts explains while holding up a bottle of Louisiana hot sauce. "Being where I'm from, I mean, we put this on everything. […] Not to Tabasco, not nothing else, I need Louisiana's."
Though hot sauce generally isn't considered a major "healthy eating offense," Hurts admits that his love of throwing Louisiana hot sauce on most dishes stems from his childhood affinity for the fast-food chicken restaurant, Popeyes.
"One of my essentials would've been Popeyes—and it is an essential. You know, I grew up eating a two piece Tuesday special: Every Tuesday, you could get two pieces of chicken—a drum and a thigh—for 99 cents. It brings back so many childhood memories," Hurts explained to GQ. "But now that I'm taking things to the next level, in terms of my diet, I don't eat it as much."
Though he may not frequent Popeyes as much as he did before playing in the NFL, Hurts still doesn't deny himself an occasional fried chicken splurge."Every blue moon, I gotta get me a two piece or a three piece with a red bean, apple pie, grape jelly, lemonade—all that," he said. But on a regular day, Hurts helps satisfy these cravings with a little dash of Louisiana hot sauce. "For now, I just throw the hot sauce on whatever I can—try and keep it simple," he told GQ.
Whose respective eating habits will pay off big time, earning one of these quarterbacks another championship ring come Super Bowl Sunday? Watch the Chiefs and Eagles face off at the 57th Super Bowl, Sunday, February 12, 2023, at State Farm Stadium in Glendale, Arizona, to find out! Kickoff time at 6:30 p.m. EST/5:30 p.m. CST.