Here's How You've Been Making PB&Js Wrong Your Entire Life
Think there's nothing to throwing together a PB&J? Think again.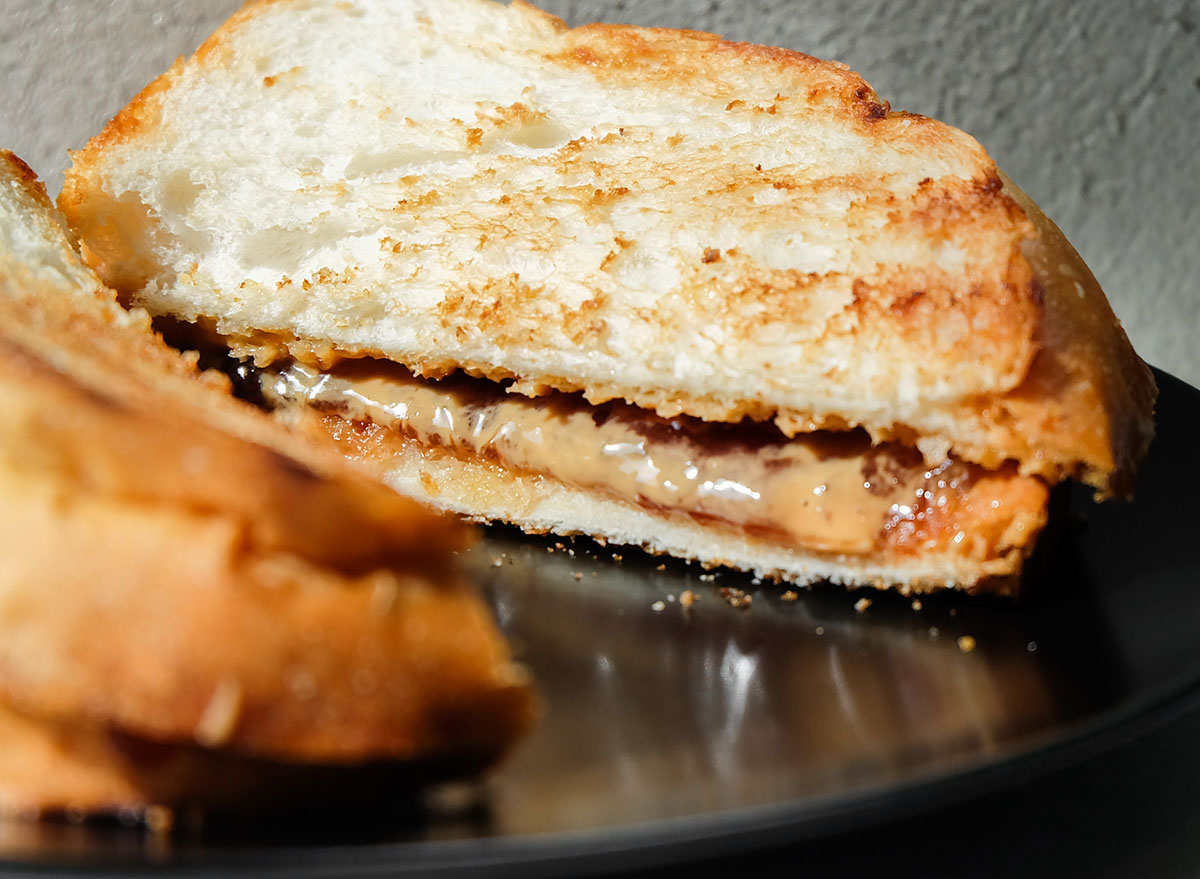 Peanut butter and jelly sandwiches are the ideal "any time of day" food. Hungry in the morning? PB&J is the perfect breakfast option. Need a quick packed lunch? PB&J can do the job. No matter if it's midday or midnight, peanut butter and jelly sandwiches seem to always be a great go-to. Not to mention, they're delicious. But do you know that there are quick and simple ways that you can take this trusty sandwich to the next level?
We got advice from 7 experts on how to upgrade your PB&J while also fixing some common (and often overlooked) prep mistakes. From adding fresh fruit to your PB&J to warming it up on the stovetop, these tips will help ensure that you make the best peanut butter and jelly sandwich every time. And for more fun facts, check out these 9 Things You Never Knew About Peanut Butter.
Mistake: Spreading the peanut butter on just one side
Spreading peanut butter on only one side of the bread can make your PB&J the last thing you want it to be—soggy. Thankfully, there is a quick fix to this common mistake.6254a4d1642c605c54bf1cab17d50f1e
How to fix it: When preparing your sandwich, always be sure to spread the nut butter first on both pieces of bread, says chef & founder Mee McCormick of Pinewood Kitchen & Mercantile in Nunnelly, Tennessee. "This keeps the bread from getting soggy," McCormick says. The chef also shares that pre-toasting the sandwich bread can help give it a good crunch while making for a more durable packed lunch.
Mistake: Not warming it up
If you've never made a warm PB&J sandwich, then you, my friend, are missing out. Sure, a room temperature PB&J sandwich can easily hit the spot, but turning up the temperature dial on this sandwich classic takes it to the next level.
How to fix it: Baker Chris Tucker of Betta with Butta and ABC's The Great American Baking Show advises introducing the sandwich to the stovetop to create a melt-in-your-mouth masterpiece. "If you're looking to upgrade the classic, butter the whole sandwich—like you would a grilled cheese—and slap that baby in a fry pan," Tucker says. "There's nothing better than a toasty, warm grilled PB&J!"
Mistake: Using the wrong jelly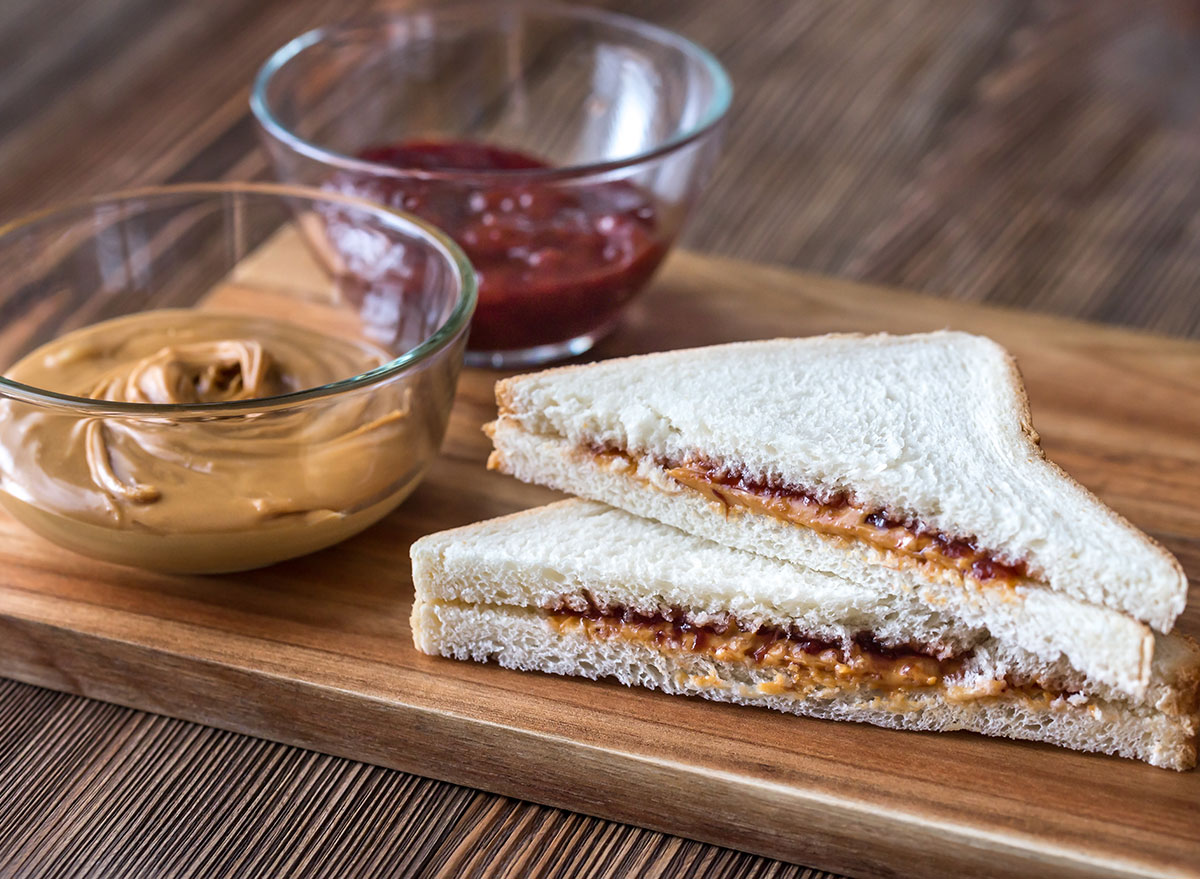 There's a laundry list of jellies available out there, but somehow we always opt for the plain old, sugar-filled grape one—what gives?
How to fix it: Ditch the store-bought jelly, which is packed with sugar and preservatives, for a simple homemade one, says Samah Dada, chef and founder of popular food blog Dada Eats. "Homemade raspberry chia seed jam is easy and simple to make, with no preservatives and [has] natural sugars," Dada says. Dada opts for raspberries when making jam, not only because they provide delicious flavor, but also because they're full of vitamins and are a great source of fiber.
And if you're curious, here are 27 Things That Happen to Your Body When You Eat Peanut Butter.
Mistake: Not adding fresh fruit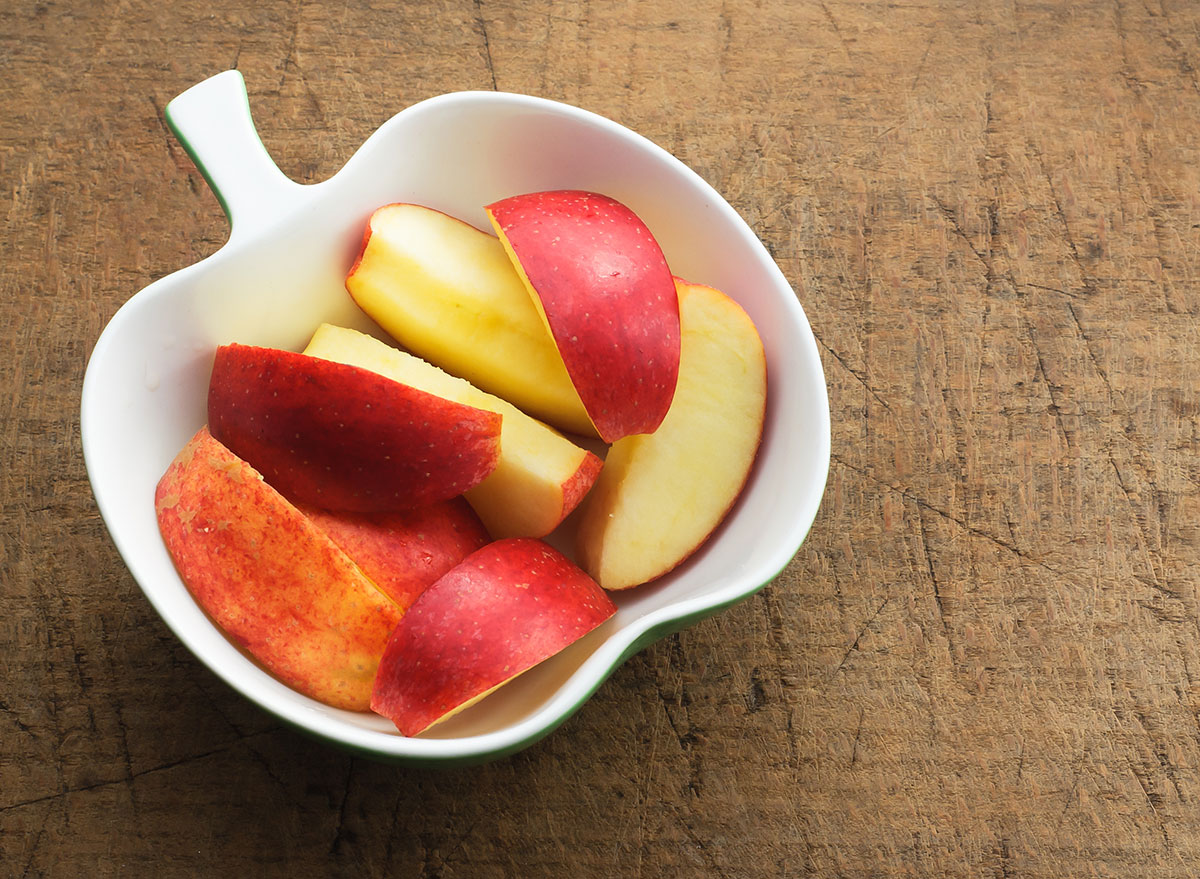 Bacon seems to be the go-to when the traditional PB&J needs a quick enhancement. But why not add in something that's a lot less work to prepare and a whole lot healthier, like fresh fruit?
How to fix it: Meredith Haaz, chef of The Ranch 4.0, recommends tossing some fresh fruit, such as sliced apples, chopped bananas, blueberries, or pomegranate seeds, into your sandwich to add a bit more complexity. The fresh fruit provides an extra layer of taste while helping you reach that daily suggested fruit intake. "Bonus points for sautéing the apple or banana slices before adding them to the sandwich," Haaz says.
Mistake: Only using sliced bread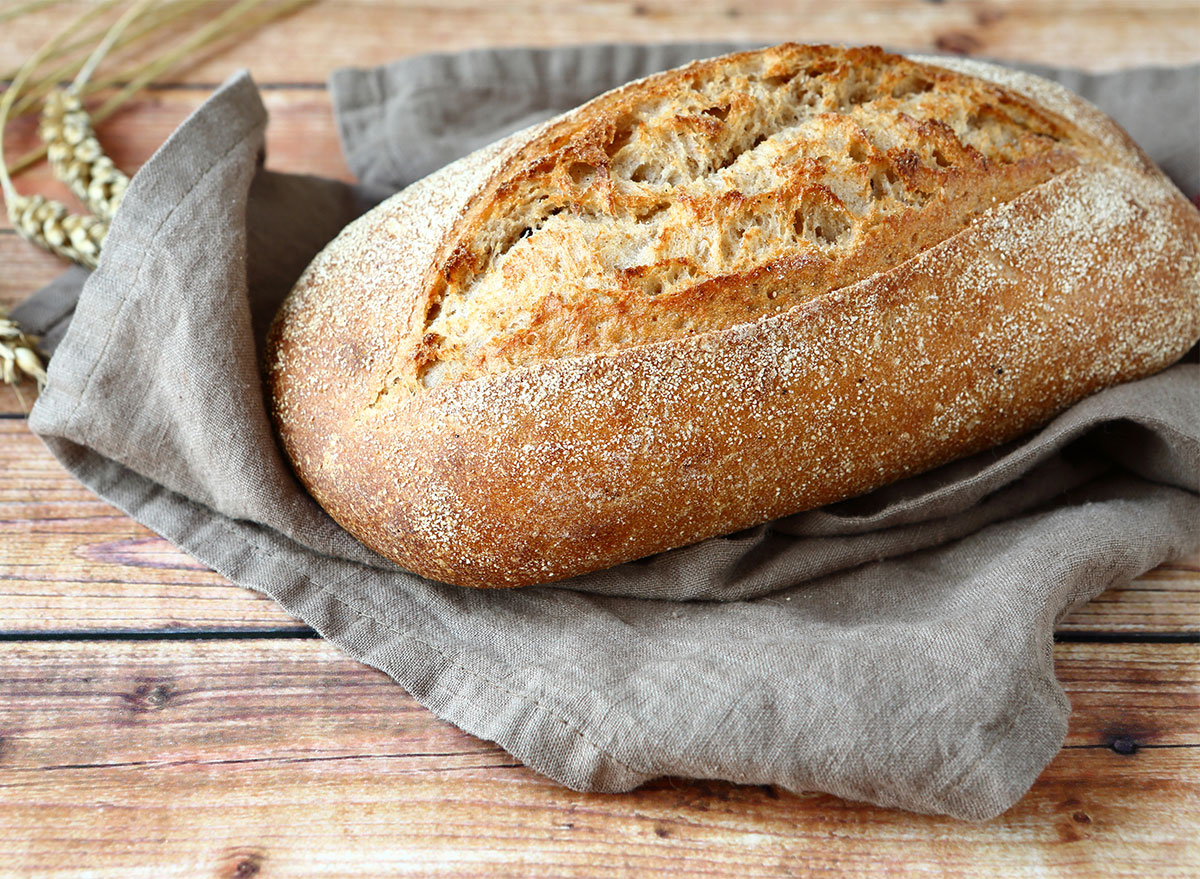 If you find yourself getting a little tired of your peanut butter and jelly sandwiches, it may be because you've been prepping them with the same bread over and over and over. Shake things up, and you'll find yourself falling in love with this timeless treat all over again.
How to fix it: "Skip the sliced bread and get creative," says Justin Gold, founder of Justin's. Gold recommends using rolled-up tortillas, waffles, and even pancakes in place of ho-hum sliced bread to add more excitement to your next PB&J. Extra points for turning your sandwich into an oatmeal dish or a breakfast smoothie.
And if you love peanut butter, don't miss these 11 Genius Peanut Butter Hacks You've Never Thought Of.
Mistake: Making PB&Js exclusively with smooth peanut butter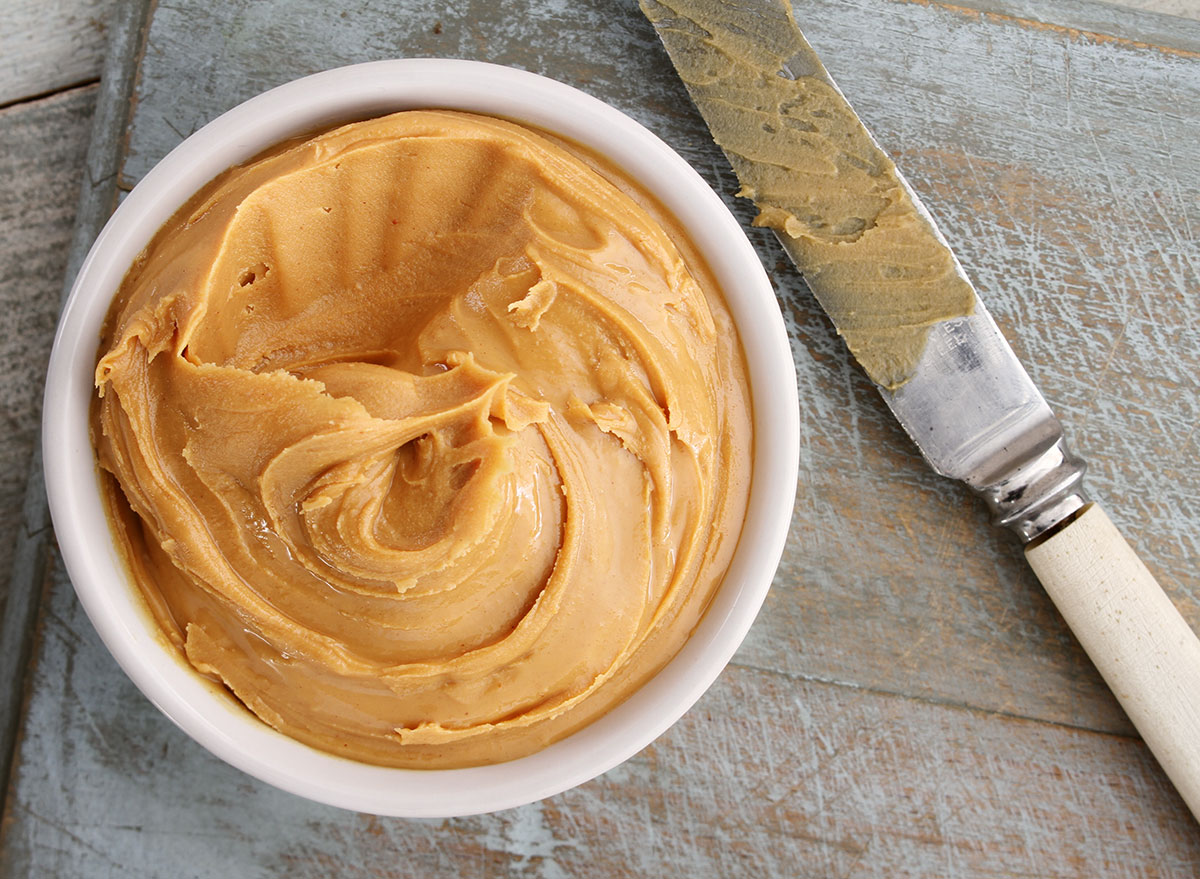 When was the last time you made a PB&J sandwich using chunky peanut butter? If your response is "never," then don't worry, you are not alone. According to a survey done by the National Peanut Board, 56% of people prefer smooth peanut butter over chunky. However, you may want to change that, as the chunky variation has a certain edge to it.
How to fix it: Switch out smooth and creamy peanut butter for the chunky variation to create the perfect balance of texture and taste. "I opt for a natural crunchy peanut butter, as they are less sweet than the processed variety and have more of a savory taste that beautifully contrasts the sweet jelly," says chef and food blogger Cilla Casey.
Mistake: Skimping on ingredients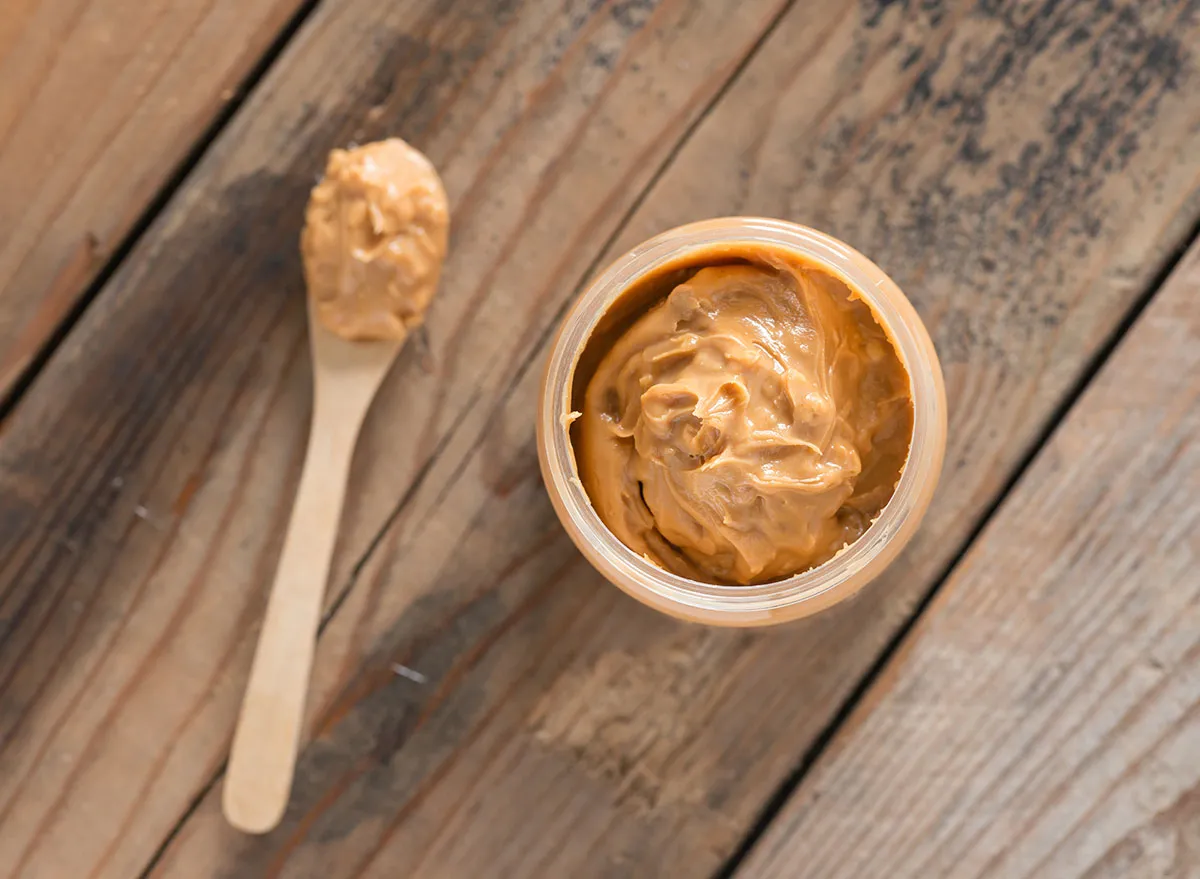 If you find that when you take a bite of your PB&J, you taste mostly bread, you may need to rethink the construction of your sandwich and exactly how much of each ingredient you are putting into it. It's important to use enough peanut butter and jelly so that you can not only taste it but also feel it, says Chef Matt Bolus of The 404 Kitchen in Nashville. "Don't just put enough of each to barely cook the bread and then slap those two pieces together because what you're getting is a piece of bread with a little coating of some flavor," he says.
How to fix it: Bolus suggests having an eighth of an inch to a quarter of an inch of each ingredient on each piece of bread before assembling.
Now that you know these PB&J hacks, you'll have the perfect sandwich every time.
For more, check out these 108 most popular sodas ranked by how toxic they are.