A Perfect Day of Eating for Weight Loss, According to a Celebrity Trainer
My menu will prove you don't have to give up your favorite foods to slim down.
If you love to eat like I do, you're going to love the recipes below. But before we start cooking, keep in mind this guiding principle that has helped me and my clients stay lean and healthy: You can't control everything in your life, but you can control what you put in your body. Control the size of your portions. Choose to avoid sugars and highly processed foods. Add healthy proteins, fats, and carbs in balanced proportions. And DO NOT deprive yourself.
You can do this. And here's proof—a menu of delicious recipes that look nothing remotely like they come from a deprivation-style diet. They were developed by my brother chef Bobby Calabrese, cohost of my cooking show Fixate on BeachbodyOnDemand.com. You'll find more of them and tips on how to use them with my portion control container system in my book Lose Weight Like Crazy Even if You Have a Crazy Life! But before you grab a copy, grab a fork and enjoy! Read on, and for more on healthy eating, don't miss 7 Healthiest Foods to Eat Right Now.
Breakfast: Breakfast Enchiladas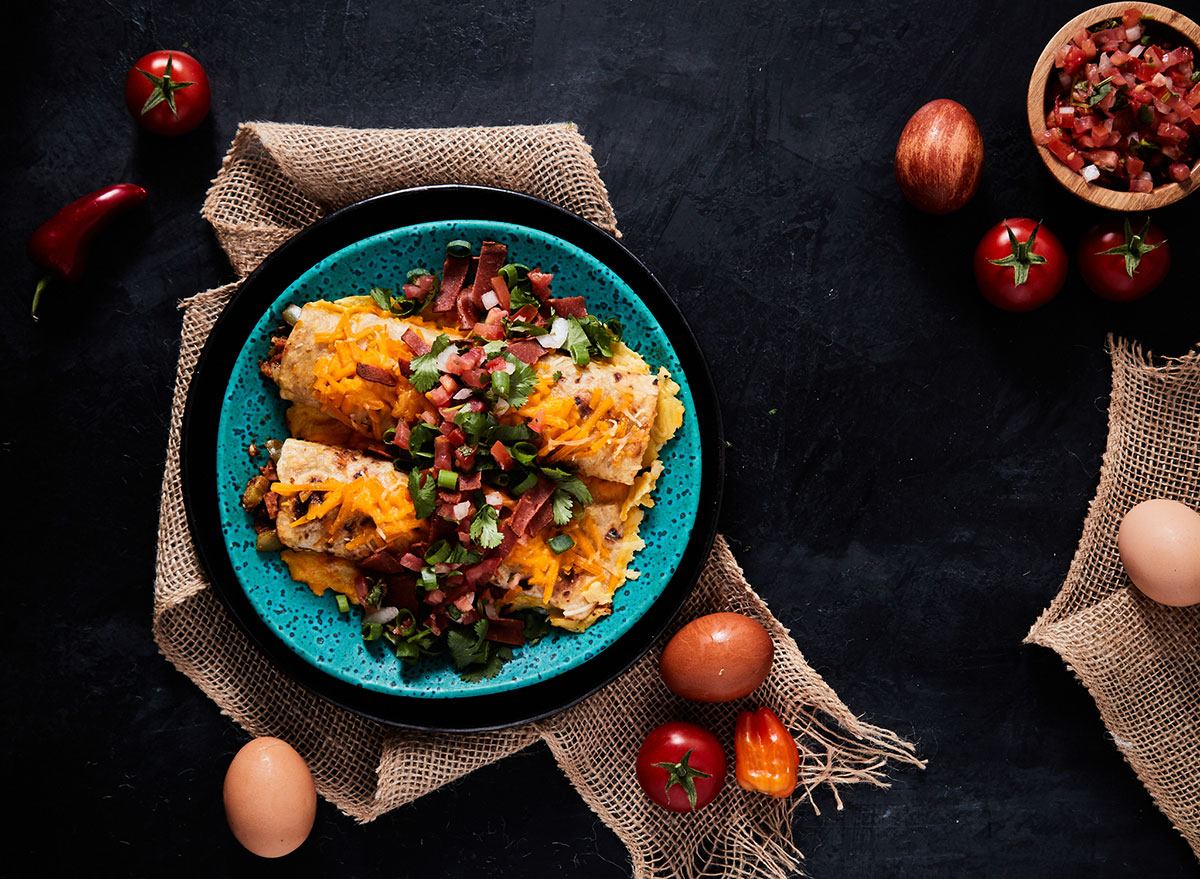 Sorry, but that veggie cream cheese you smear on your bagel does not count towards your daily recommended intake of veggies (which 1 in 10 Americans don't meet). These enchiladas, however, will surely help. In addition to the protein from low-fat turkey bacon and ham (which contribute to the 28 grams of protein per serving), Bobby also adds onion, bell pepper, tomatoes, and green onion to these breakfast wraps. Want more protein-rich ways to start your day? Check out these 19 High Protein Breakfasts That Keep You Full.
Get our recipe for Breakfast Enchiladas. 
Lunch: Cajun Sausage and Apple Skillet
Sick of bland salads and soups for lunch? So am I. So fry up this spicy, flavorful Cajun Sausage and Apple skillet. All it requires is sausage, cabbage, and apples, alongside some oils and seasonings. A meal with phytonutrients, antioxidant-rich purple cabbage, and apples that you can make in mere minutes? Where do we sign up?
Get our recipe for Cajun Sausage and Apple Skillet.
Snack: Individual 7-Layer Dip
Make it game day every day! While it may seem like an indulgence, 7-layer dip is actually very healthy when you think about it. Monosaturated-rich avocados? Check. Fiber-rich beans? Check. Lycopene-rich tomatoes, protein-rich cheese? Check and check.
Get our recipe for Individual 7-Layer Dip. 
Dinner: Healthy Burger Bowls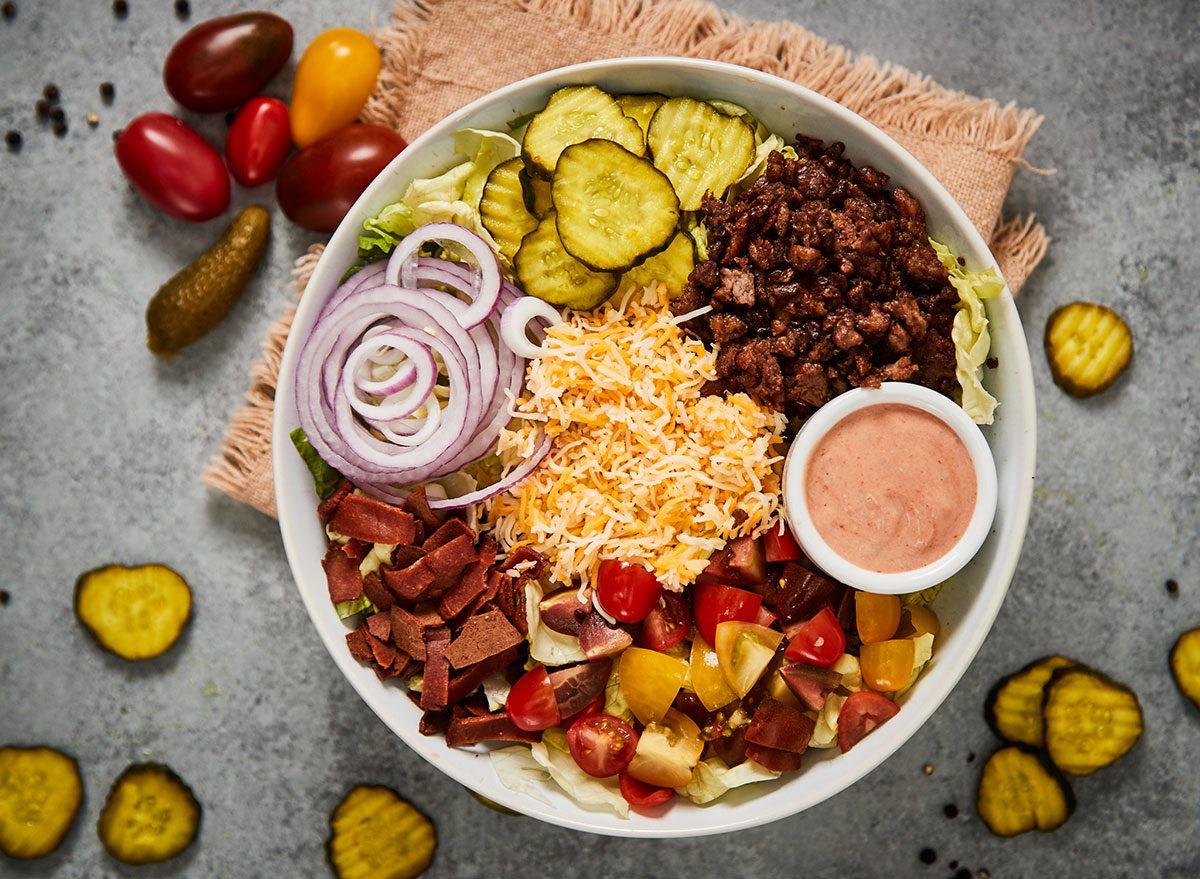 Have you ever had a burger that was more bun than anything else? I don't know about you, but I don't like feeling like I'm filling up because of a carb-heavy, nutrient-poor burger bun. So, why don't we just ditch it? You can get all the burger ingredients you love—cheese, special sauce, bacon, and pickles—in this burger salad without feeling like you're missing out. (Plus, I hate how you can only fit a couple pickles on a regular burger—now I can eat more of them!)6254a4d1642c605c54bf1cab17d50f1e
Get our recipe for Healthy Burger Bowls. 
Related: We Tried Every Burger at McDonald's, and This Was the Best
Dessert: Blondies
Just because you're on a diet doesn't mean you should avoid all indulgences. In fact, when you're restrictive with your diet and deprive yourself of foods you enjoy, you're more likely to feel guilty when you "cave" which may make you feel discouraged. Don't let it! One blondie isn't going to hurt anyone—especially if it's one of my low-carb blondies. Instead of using refined white flour, Bobby uses almond flour—a gluten-free flour alternative that's high in protein and fiber.
Get our recipe for Low-Carb Blondies.
Occasional Cocktail: Pomegranate Margarita
Cheers! While this is the last recipe on our list, I recommend pairing this cocktail with a meal. Having food in your stomach will slow digestion and absorption of alcohol into the bloodstream by keeping it in the stomach longer, which in turn keeps you from becoming intoxicated quickly. You'll also want to sip water alongside this fruity cocktail—made low-carb and low sugar by substituting refined sugar with antioxidant-rich pomegranate juice—to make sure you stay hydrated and don't get drunk! While drinking booze on a diet is completely ok, if you do want to cut back on alcohol, you'll certainly reap benefits: What Happens To Your Body When You Give Up Alcohol.
Get our recipe for Pomegranate Margaritas. 
Autumn Calabrese
Autumn Calabrese is Beachbody's top Super Trainer, author, and creator of the 21 Day Fix, and Ultimate Portion Fix, and host of the online cooking show FIXATE.
Read more about Autumn