7 Pizza Chains With the Most Unique Toppings
Layer up your cheesy masterpiece with whatever your heart desires!
If there is one food item that Americans can get behind, it is pizza. According to Statista, hungry customers turned to takeout pizza as a go-to meal solution during the COVID-19 pandemic, with consumer spending hitting a near-20-year high in 2020. Needless to say, pizza chains are a true staple in many communities across the country. Ask any pizza aficionado what their go-to order is, and they can quickly rattle off any number of toppings that are non-negotiable.
There are, of course, the usual suspects like cheese, pepperoni, mushroom, and olives. But some pizza chains have begun to think outside of the box when it comes to what can go on top of a delicious pie. In fact, there are several chains you can visit that will offer more than your garden variety toppings, in case you want to branch out and try something new. We know straying from your usual order can be tough, but we think some of these unique toppings will pique your interest.
One-of-a-kind pizza toppings can range from specialty meats to drizzles of different flavor sauces. Some chains have even constructed specialty pizzas built entirely around toppings you would not normally find. No matter how adventurous you are feeling the next time you want to order a pizza, keep these chains in mind for when you are ready to try something new.
Blaze Pizza follows a unique made-to-order business model, similar to how you would order a burrito at Chipotle. Because each pizza is specific to your order, you can customize your toppings however you like. And, luckily, there are over 35 unique toppings to go around, like goat cheese, artichokes, and garlic pesto sauce. If you want to take out the guesswork, there are a number of specialty pizzas with the toppings already picked out for you. Blaze Pizza fans love swapping their go-to orders, with Redditors sharing their favorite topping combos.
Papa Johns is one of the largest pizza chains in the country, with a decent-sized menu of options for your next pizza party. It recently went through a bit of a brand refresh as well in an effort to remain at the top of people's minds when choosing where to order their pizza from. When it comes time to build your order, you will discover that Papa Johns carries some interesting toppings, including Philly steak and beef for meat lovers. The more traditional toppings have also seemed to strike a chord with fans, with Redditors bonding over their mutual love for the Zesty Italian Trio, which comes with Italian sausage, salami, and pepperoni.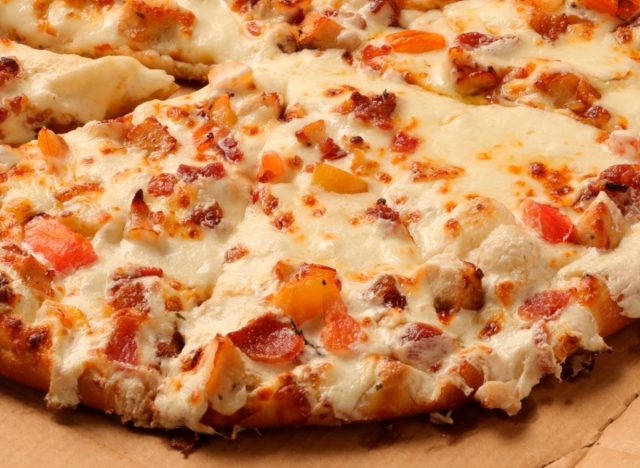 Domino's pizza probably came through for you at least once or twice during your college days, and for that, we thank them. There is something comforting about knowing you can pick up a pizza from Domino's at 11:30 p.m. for those late-night study sessions. When it comes time to order your pizza, it is worth pointing out that, in addition to the more familiar toppings, you can also spice things up with a drizzle of Alfredo sauce. It is one of the things that sets Domino's apart for customers, with one Redditor sharing "There's a lot of surprisingly good combos if you get non-traditional pizza sauce like Alfredo/bbq/buffalo."6254a4d1642c605c54bf1cab17d50f1e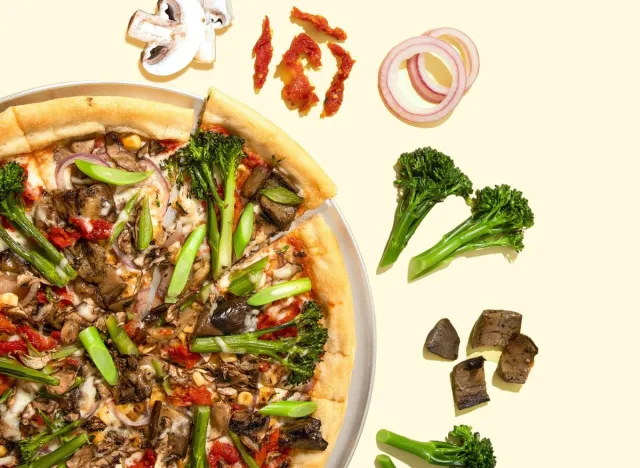 The casual restaurant chain California Pizza Kitchen is a great mid-tier pizza option when you want something that is one step up from delivery. Of course, you can find your usual suspect here like traditional cheese pizza as well as familiar toppings, but a lot of fans go to California Pizza Kitchen for its unique pies, like Thai Chicken which comes with peanut sauce, and California Club complete with avocado slices. Its Carne Asada pizza with salsa verde and thick-cut steak is also a top choice, ranking high on Thrillist's list of the best choices from California Pizza Kitchen.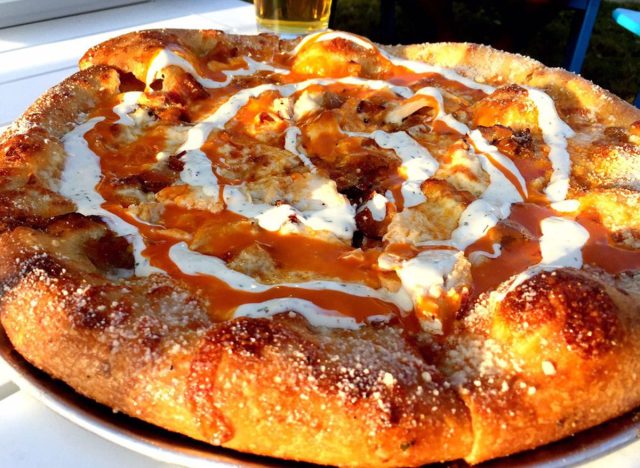 The regional pizza chain Mellow Mushroom has locations primarily in the southeastern United States. Its artisanal stone-baked pizzas can come with a wide array of unique toppings, including pesto sauce, avocado, grilled ribeye, and roasted red peppers. While its pies are known to be on the pricier side, the consensus seems to be that it is well worth the cost, with customers returning time and time again to order their favorite pizza.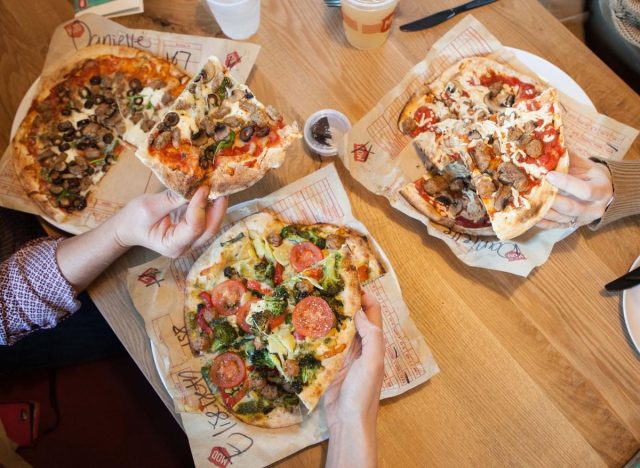 MOD Pizza boasts "over 30 craveable toppings" on its menu, which has in part led the chain to become one of the most highly-rated takeout options among customers. Even its selection of sauces is robust, including a Spicy Calabrian Chili Red Sauce. Unique toppings include plant-based Italian sausage, roasted corn, and roasted red peppers. The best part is that, no matter how many toppings you include, your pizza's price will remain the same. Add a drizzle of its unique sauces such as Sriracha, Balsamic Fig Glaze, or Mike's Hot Honey, and you are off to the races.
If Detroit-style pizza is what you are looking for, head to Jet's Pizza for some fan-favorite takeout pies. Before you go looking for one-of-a-kind toppings, you will be happy to know that you can still find all of your go-to favorites at Jet's, which fans are eager to share their picks on Reddit. If you really want to try something different on its menu, order a B.L.T Pizza, complete with lettuce, tomato, bacon, and yes, mayonnaise.
Carly Neil
Carly Neil is a freelance writer specializing in all things food, travel, Disney, and theme parks.
Read more about Carly