9 Delicious Plant-Based Dessert Recipes
Given their deliciously sweet taste, you won't even be able to tell that these are made using only plants!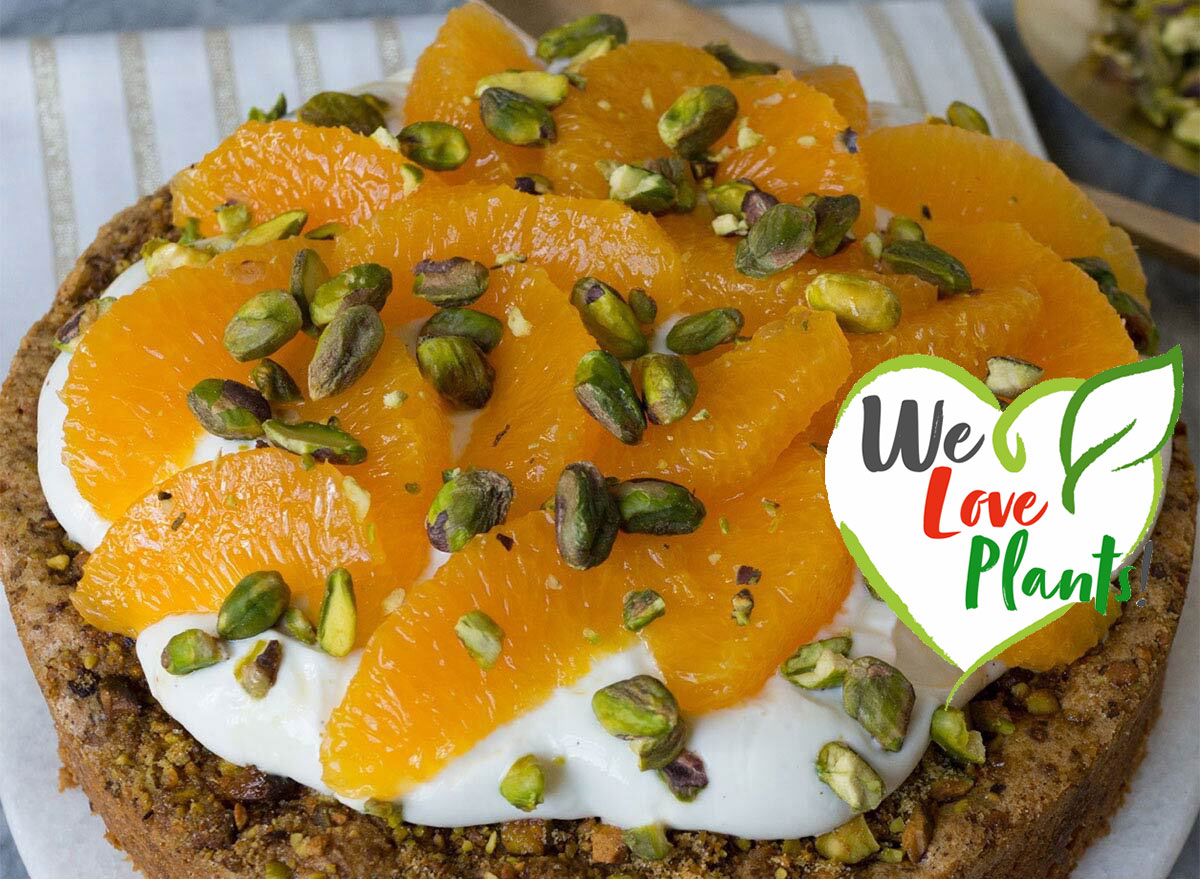 In Partnership with Wonderful® Pistachios.
Who said plants couldn't be dessert? While it may be difficult to imagine a dessert without butter and cream, there are countless desserts you can make that strictly use plant-based products. Sweet fruits, wholesome ingredients, and even some newer plant-based discoveries (like plant-based milk or yogurt) can all be used to make a decadent plant-based dessert right at home.
Here, we've rounded up some of our favorite plant-based dessert recipes you can indulge in when you're craving something sweet, but don't feel like completely overdoing it. From pudding and "nice" cream to chocolate dips and even a few baked treats, these are tasty plant-based dessert recipes that you'll definitely fall in love with.
Vegan Dark Chocolate & Pistachio Layered "Pudding"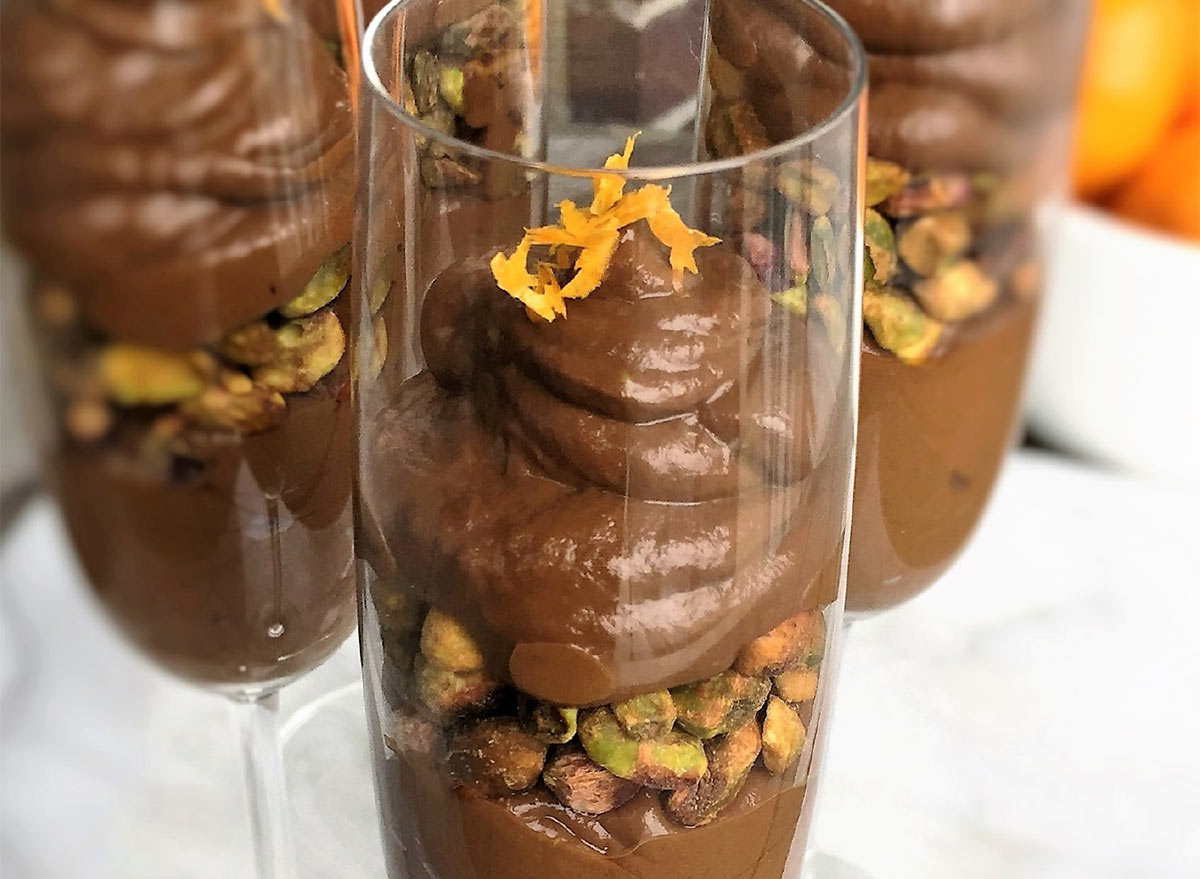 That's right—you can still have a delicious pudding on a plant-based diet! This recipe uses avocados to make it creamy and smooth. Topped with some Wonderful Pistachios Lightly Salted Shelled and zest of Wonderful Halos mandarin oranges, you're about to dig into one of the most decadent plant-based desserts you've ever had.
Ingredients
2 large fully-ripened Hass avocados, pitted, peeled, and cubed
3/4 cup mashed fully-ripened banana
1/4 cup unsweetened cocoa powder
3/4 tsp pure vanilla extract
1/4 tsp sea salt
Pinch of ground cinnamon
1/2 cup Wonderful Pistachios Lightly Salted Shelled
1/2 teaspoon grated Wonderful Halos mandarin (or orange) zest
Directions
Add the avocados, banana, cocoa powder, vanilla extract, salt, and cinnamon to a food processor. Cover and puree on high speed until velvety smooth, about 3 minutes, scraping down the sides as needed. Transfer to a container and chill for at least 1 hour.
Layer as desired with pistachios into four champagne flutes or small juice glasses. Sprinkle with zest and serve. Makes 2 "pudding" cups.
Dark Chocolate Dipped Bananas
Plant-based desserts can actually be quite simple—as simple as dipping half a banana into chocolate! Sprinkle on any toppings you desire for your chocolate-dipped banana pops, throw them in the freezer, and enjoy this plant-based dessert whenever you're craving something sweet.
Get our recipe for Dark Chocolate Dipped Bananas. 
Chai Poached Pears
If you're looking for a plant-based dessert that's a little more elegant, this poached pear recipe with chai and pistachios has your back! Between all of the spices in the recipe, it's one of our favorite perfect plant-based desserts to enjoy on those cooler fall days. The finished result will have you feeling like a five-star chef!
Get our recipe for Chai Poached Pears. 
Coconut Fruit Tart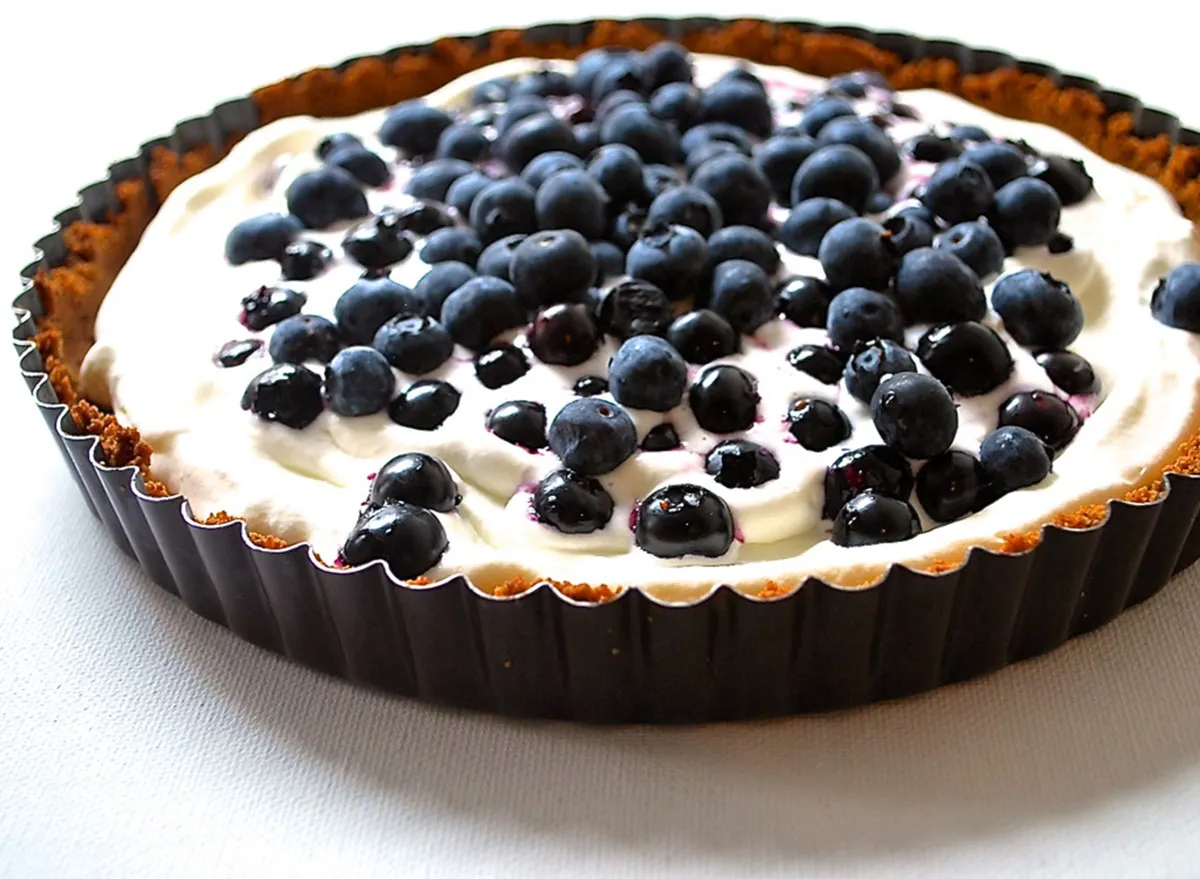 Another one of our favorite plant-based desserts made with fruit! The crust for this fruit tart is walnut and almond-flour based, and the filling is made with cashews and coconut cream. Top with blueberries, or whatever other berries you desire. We won't judge!6254a4d1642c605c54bf1cab17d50f1e
Get our recipe for Coconut Fruit Tart. 
Apple-Cranberry Crisp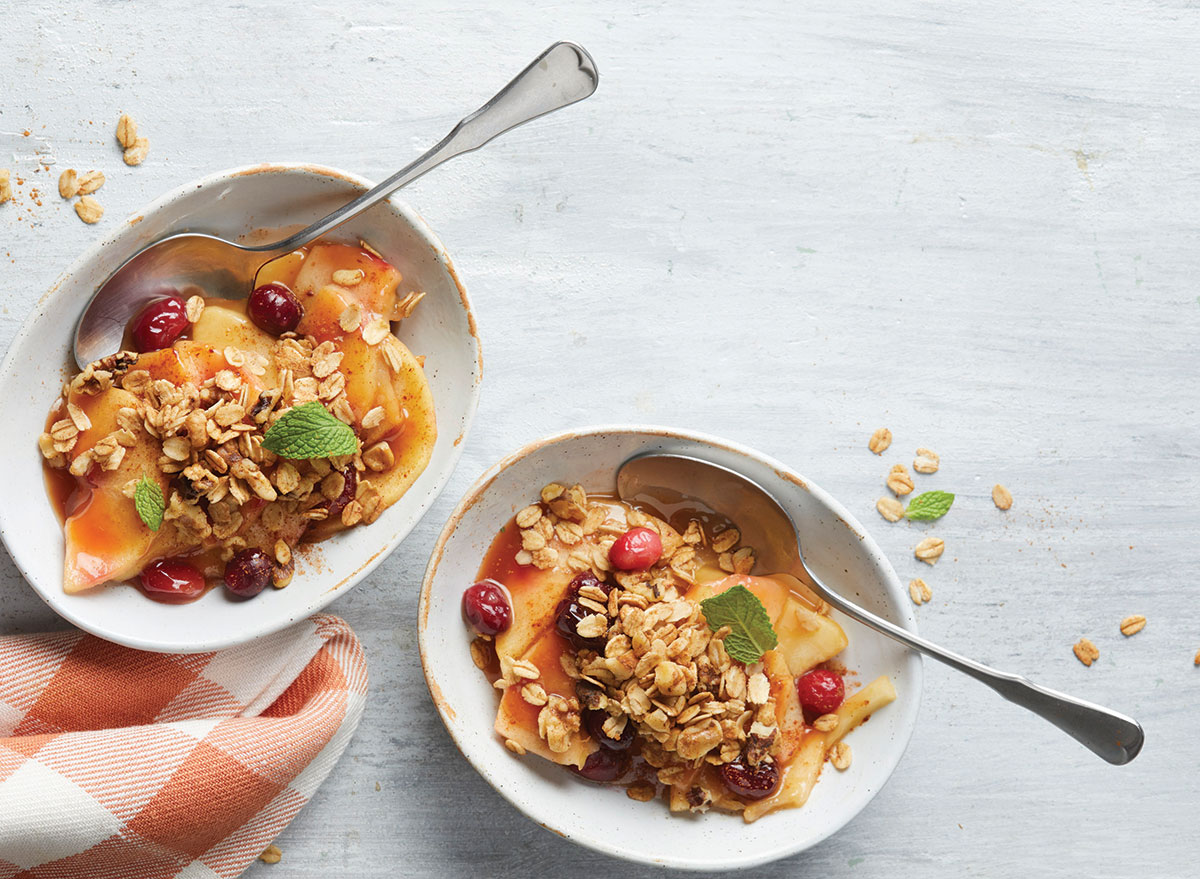 Crisp is a delightfully easy (and healthy!) dessert you can turn to, especially when you have fresh fruit that you need to use up. This apple-cranberry crisp calls for butter, but you can simply swap for a plant-based butter (or coconut oil) to make this into a plant-based dessert.
Get our recipe for Apple-Cranberry Crisp. 
Pistachio Cake with Winter Citrus
If you consider yourself plant-forward and indulge in some yogurt, butter, and eggs—particularly when baking dessert—then you're going to love this pistachio cake with winter citrus! Topped with vanilla yogurt, oranges, and salty pistachios, this decadent dessert will certainly please a crowd.
Ingredients
1 1/4 shelled Wonderful Pistachios Roasted & Salted
1 cup all-purpose flour, sifted
1/2 tsp baking powder
1/4 tsp nutmeg
1 cup granulated sugar, plus 1 Tbsp
1/2 cup unsalted butter
1 1/2 tsp vanilla extract
3 large eggs
3 oranges, segmented, 1/2 cup juice reserved
1 Tbsp honey
2 cups vanilla yogurt
Garnish with shelled Wonderful Pistachios Roasted & Salted, coarsely chopped
Directions
Heat oven to 325°F. Grease an 8-inch round cake pan with cooking spray and line the bottom with parchment paper.
Whisk together sifted all-purpose flour, baking powder, and nutmeg in a bowl. Set aside.
Combine 1⁄4 cup of Wonderful Pistachios and 1 tablespoon of sugar in a food processor until they are fine crumbs. Remove from food processor and set aside.
Pulse remaining 1 cup Wonderful Pistachios until finely chopped and some pea-sized pieces remain.
Beat butter and 1 cup sugar in the bowl of an electric mixer. Add the vanilla extract, then the eggs one at a time, beating to incorporate in the mixture between each egg. Beat for 1 minute after adding the last egg so the mixture is light and fluffy. Stir in flour mixture just until incorporated then stir in pulsed Wonderful Pistachios by hand.
Spread batter evenly in the prepared cake pan and sprinkle the finely processed sugar and Wonderful Pistachios crumb mixture on top.
Bake for about 1 hour and 20 minutes until a toothpick inserted in the center comes out clean. Let cool in pan, then gently remove.
Combine reserved orange juice and honey for glaze in a small saucepan and bring to a simmer. Remove from heat and cool.
Top cake with dollops of yogurt then orange segments. Garnish generously with extra coarsely chopped Wonderful Pistachios and drizzle glaze over the entire cake.
Pistachio Dark Chocolate "Nice Cream"
No cream? No problem! You can still enjoy a delicious frozen dessert on a hot day thanks to this plant-based pistachio "nice cream." Here's how to make it:
Ingredients
1 cup Wonderful Pistachios No Shells Lightly Salted
4 cups water. divided
1/4 cup agave syrup
1 teaspoon vanilla extract
1/2 cup dark chocolate, chopped into chunks
1/2 cup Wonderful Pistachios No Shells Lightly Salted, coarsely chopped
How to Make It
Place the ice cream machine bowl in the freezer (according to the manufacturer's directions) at least 24 hours prior to making the nice cream.
Add pistachios and 2 cups water to a medium bowl or jar. Cover with lid and refrigerate overnight or for at least 8 hours.
Rinse and drain soaked pistachios in a colander, removing any pistachio skins on the surface of softened pistachios by rubbing and peeling with your fingers.
Transfer pistachios to the container of a high-power blender with the remaining 2 cups fresh water along with the agave syrup and vanilla. Process until well blended and creamy, about 3 minutes.
Pour the pistachio milk through a fine-mesh strainer into a bowl. Cover and transfer to the refrigerator. Chill until mixture is completely cold, about 2 hours.
Freeze mixture in ice cream machine according to manufacturer's directions. Stir in dark chocolate chunks and ½ cup coarsely chopped pistachios and transfer to a shallow container or loaf pan. Freeze until firm, about 1-3 hours.
Plant-Based Strawberry "Milkshake"
Obviously, this isn't a real milkshake! If you're craving a strawberry milkshake but wanting to keep your diet plant-based, this smoothie is the perfect delicious treat to turn to. It's made with coconut milk and cashew milk to make it creamy and uses fresh fruit with just a sprinkle of coconut sugar to make it extra sweet.
Get our recipe for a Plant-Based Strawberry "Milkshake." 
Whipped Chocolate Coconut Pudding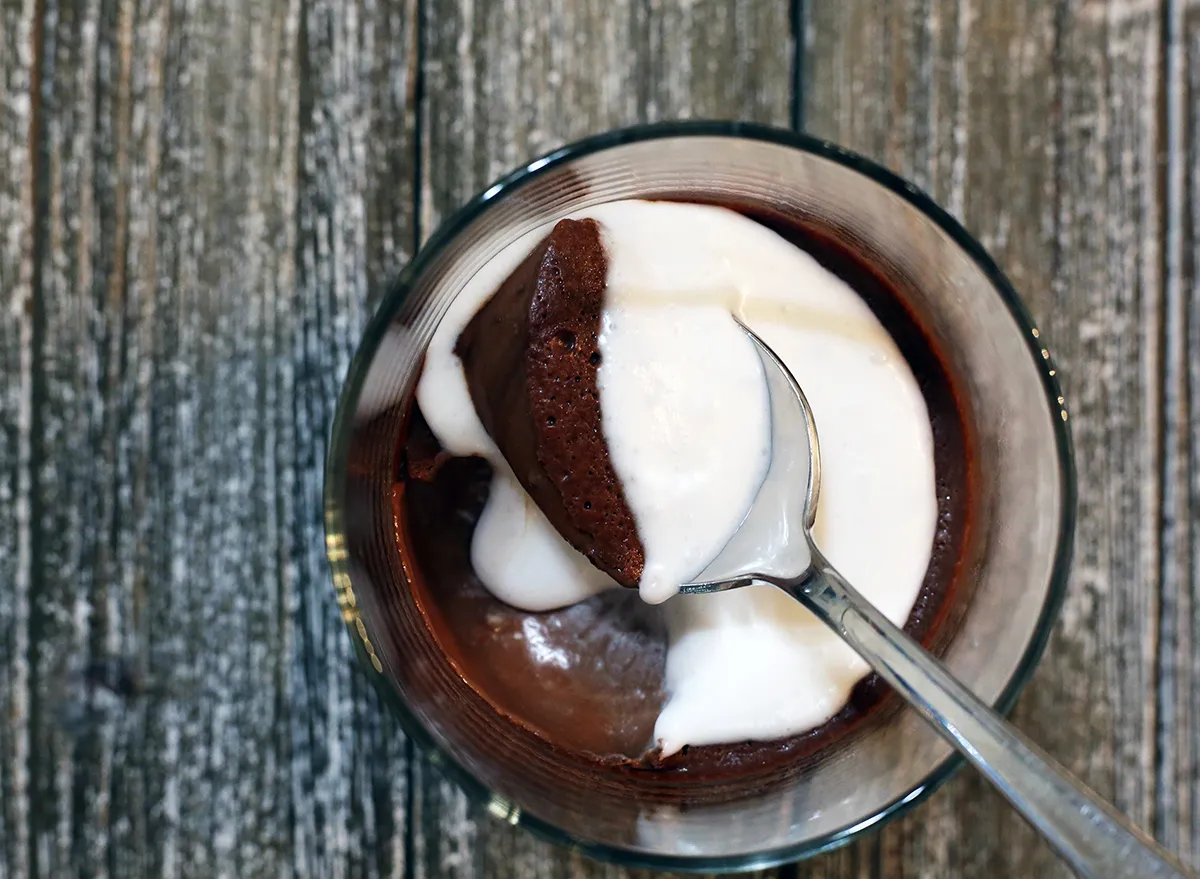 Another easy way to make a plant-based pudding is by using coconut cream! This simple recipe makes two decadent chocolate coconut puddings and only calls for six ingredients.
Get our recipe for Whipped Chocolate Coconut Pudding.