9 Plant-Based Seafood Recipes You'll Love
Here's how you can reinvent 'scallops' without the shellfish.
Curious about plant-based seafood? Thanks to some creative food bloggers, product developers, and recipe creators, there are many ways to enjoy the flavors of the ocean without consuming any fish or shellfish.
Cue in plant-based seafood alternatives. By using familiar seasonings like Old Bay, lemon juice, and fresh herbs; classic seafood-dipping sauces like cocktail sauce and tartar sauce; and briny umami-rich ingredients such as kelp, kombu, and nori, you can recreate the flavor, texture, and essence of the ocean.
Now, check out this list of plant-based recipes for decadent crab cakes, refreshing ceviches, spicy-sweet poke bowls, and a classic tuna fish sandwich, courtesy of our friends at Meatless Monday. Then, be sure to check out #1 Healthiest Plant-Based Fast-Food Item, According to a Nutritionist.
Chickpea Salad Niçoise Sandwiches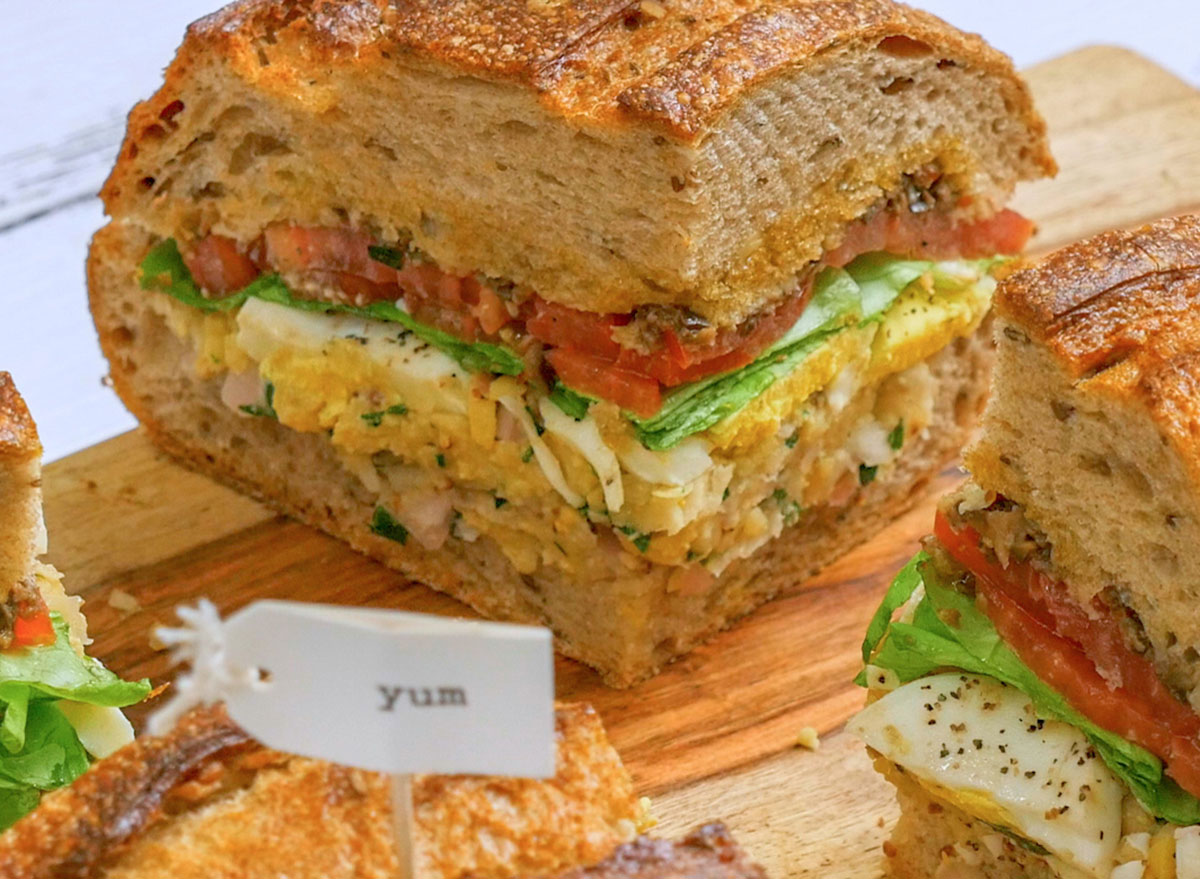 A traditional Niçoise salad is made with tuna, but this recipe calls for protein-packed chickpeas instead. Toss all the salad ingredients with a tangy tarragon-shallot dressing and add to some crusty sandwich bread for the perfect plant-based picnic lunch.6254a4d1642c605c54bf1cab17d50f1e
For the Chickpea Salad Niçoise Sandwiches, click here.
Check out 5 Ways Eating Chickpeas Can Help You Lose Weight, Say Dietitians.
Hearts of Palm Crab Cakes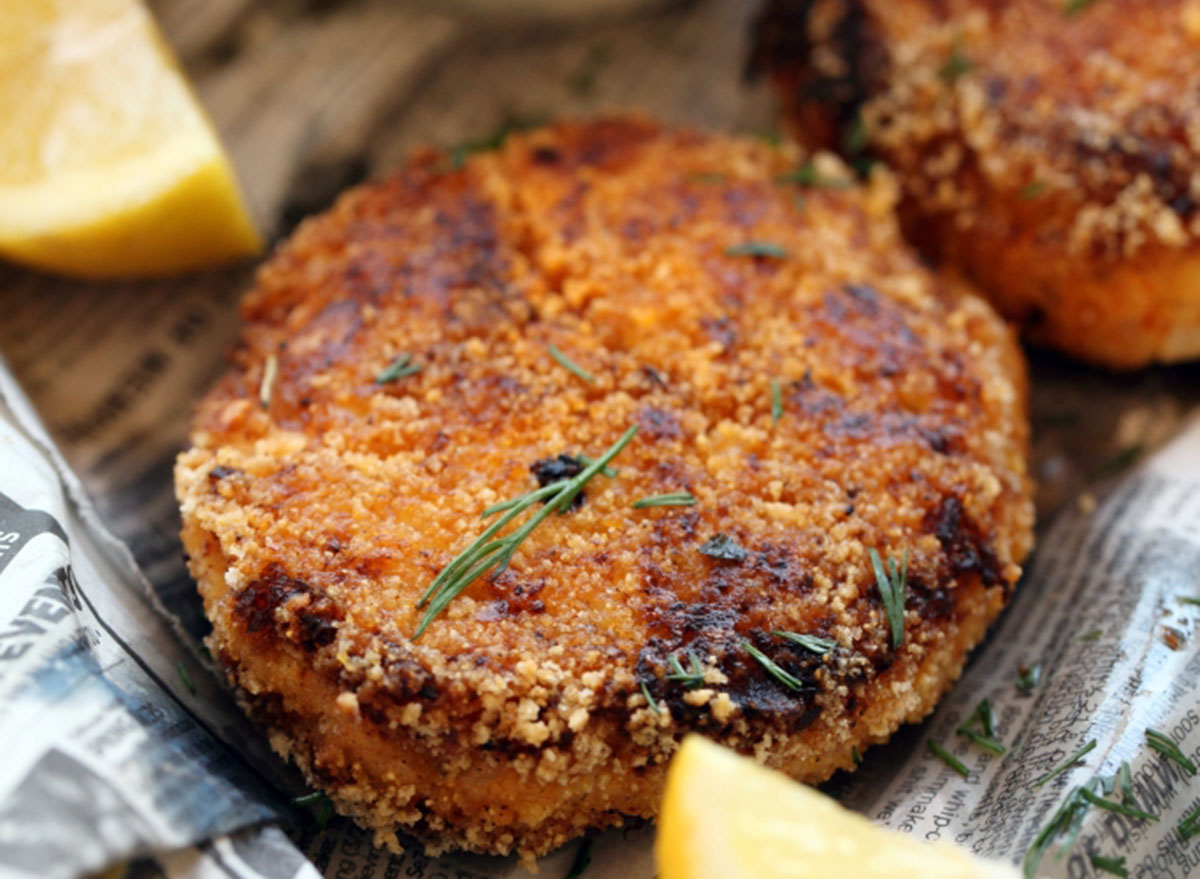 Crab cakes are easy to make plant-based. By using hearts of palm, diced peppers, seafood seasoning, and a proper garlicky dill aioli (you can also use vegan mayo), you can create a crispy and tender cake without having to shell out big money for fresh crab.
For the Hearts of Palm Crab Cakes recipe, click here.
Maple Miso Tofu Poke Bowl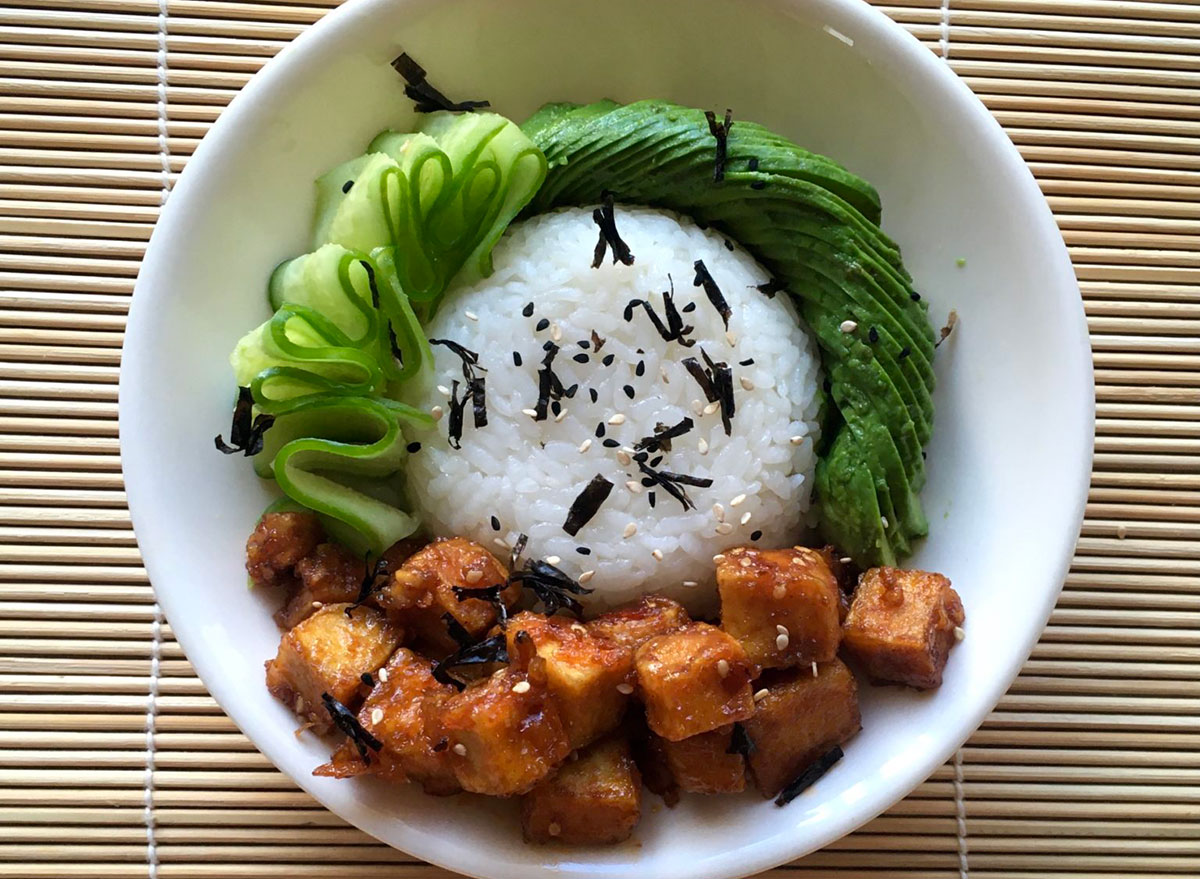 By now, many of us are familiar with the idea of poke: raw fish, rice, pickled vegetables, creamy or spicy sauce, all served conveniently in a bowl. But raw fish often has a mild taste, so substituting tofu for tuna (for example) isn't much of a stretch—especially when the meal is covered in a spicy-sweet miso glaze.
For the Maple Miso Tofu Poke Bowl, click here. Then, don't miss Subway Says "Outrageous" Allegations Are Hurting Sales of Its Tuna Sandwich.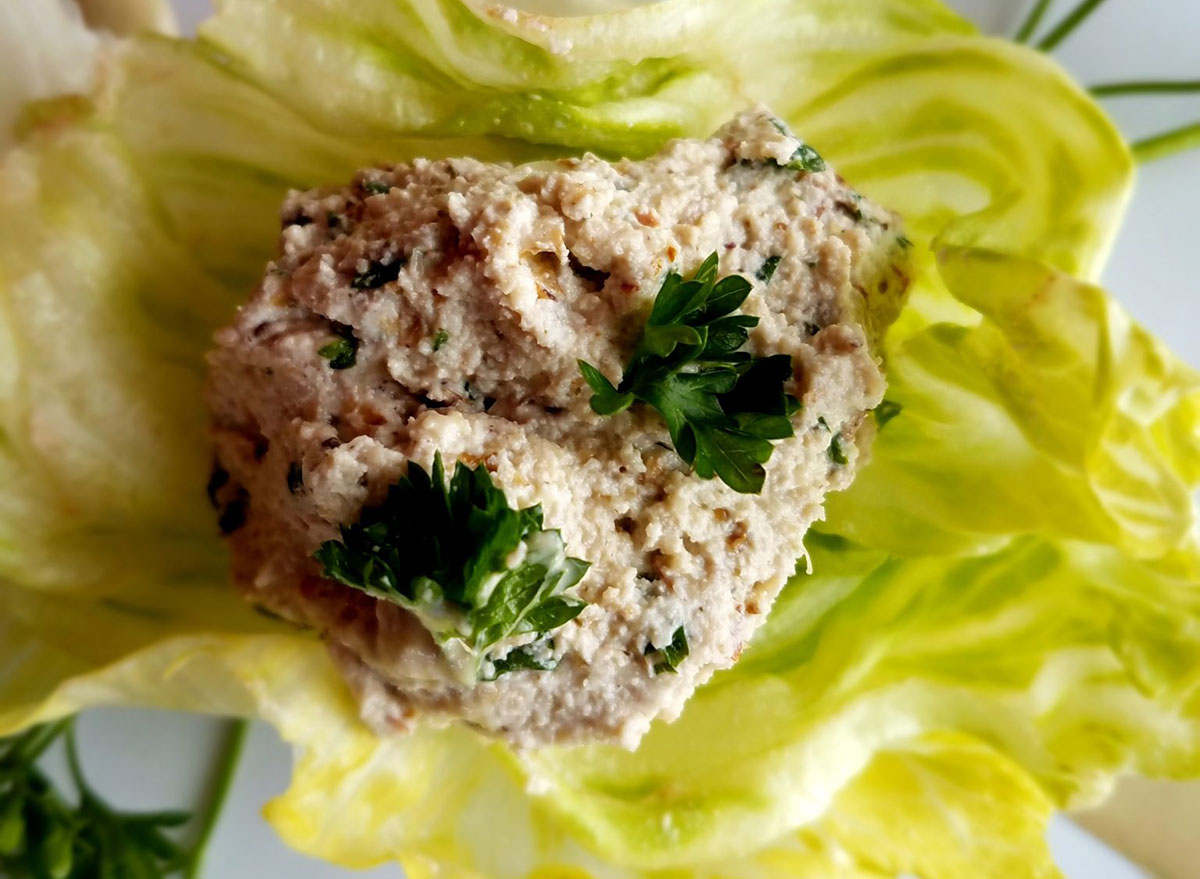 The tuna sandwich is iconic, but you don't have to crack open a can of fish to enjoy that creamy, mayo-y goodness. For example, blending together a variety of nuts and seeds such as sunflower seeds, almonds, cashews creates a slightly chunky texture. After adding in some seasoning like lemon juice, garlic, onion, celery, and vegan fish sauce (if you have it), you'll be pleasantly surprised to find that your plant-based concoction tastes surprisingly reminiscent of the original lunch-time classic.
For the Mock Tuna Fish Sandwich recipe, click here.
Smoky Red Lentil Nori Roll
Just because you're looking to cut down on your seafood consumption, doesn't mean you have to abandon sushi. As it turns out, sushi can be an excellent plant-based dinner option! Sure, you can go with the avocado roll or the cucumber roll, or the tempura sweet potato roll. But, you could also opt to create something more inventive, such as this smoky red lentil nori roll. The combination of spicy lentils and crisp veggies make for a delicious and refreshing roll that you won't be able to find at your local sushi spot.
For the Smoky Red Lentil Nori Roll, click here.
Vegan Ceviche Lettuce Cup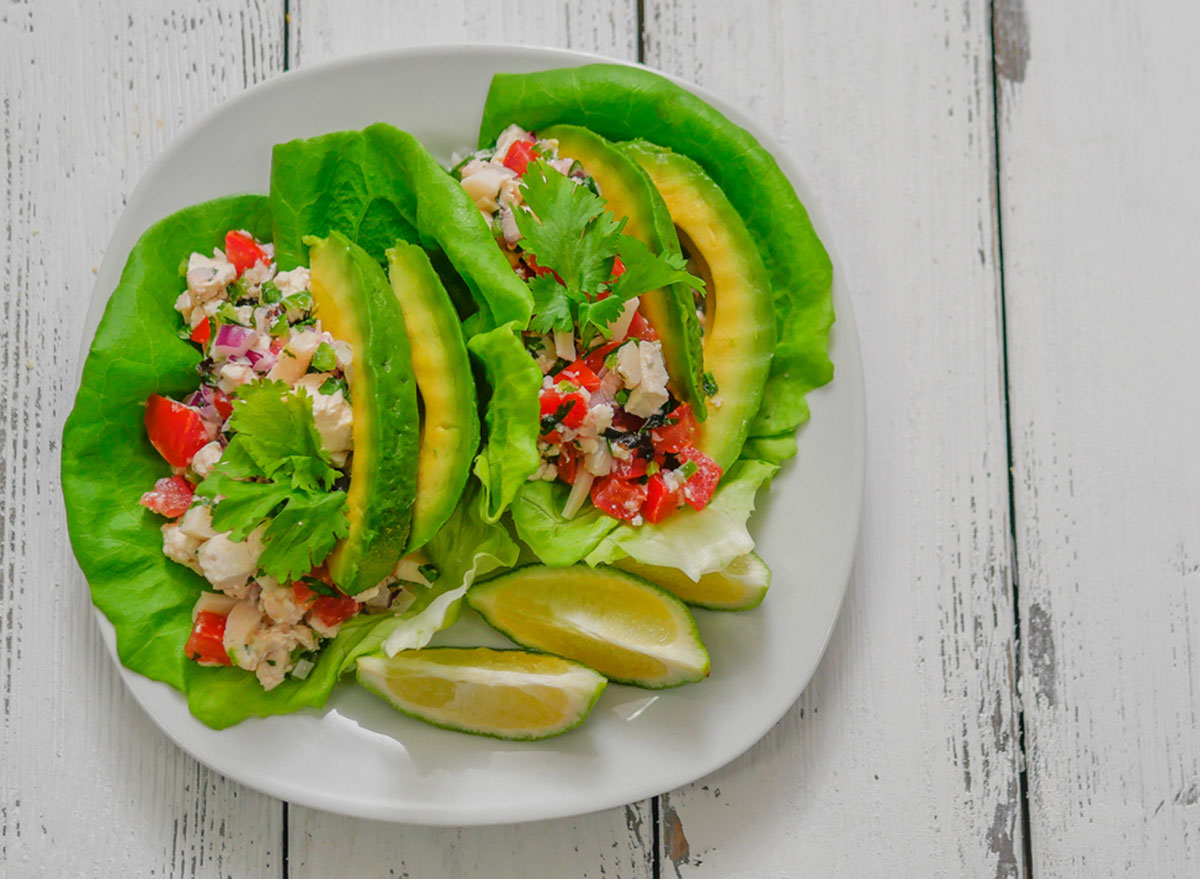 When you eat ceviche, the first flavor you pick up is the tart pop of citrus and cool hint of cilantro. By pairing lime juice and fresh herbs with chewy morsels like hearts of palm, tofu, and avocado, you can have a bright summer snack that's easy to whip up and totally plant-based.
For the Vegan Ceviche Lettuce Cup recipe, click here.
Check out What Happens to Your Body When You Eat Tofu.
A classic comfort food, clam chowder is creamy, warm, and decadent. This vegan version from Vegan Huggs calls for white button mushrooms, non-dairy milk, white wine, and tons of fresh herbs to mimic the feel and aroma of traditional clam chowder.
For the Vegan Clam Chowder, click here.
Vegan Buttermilk Air-Fried Oysters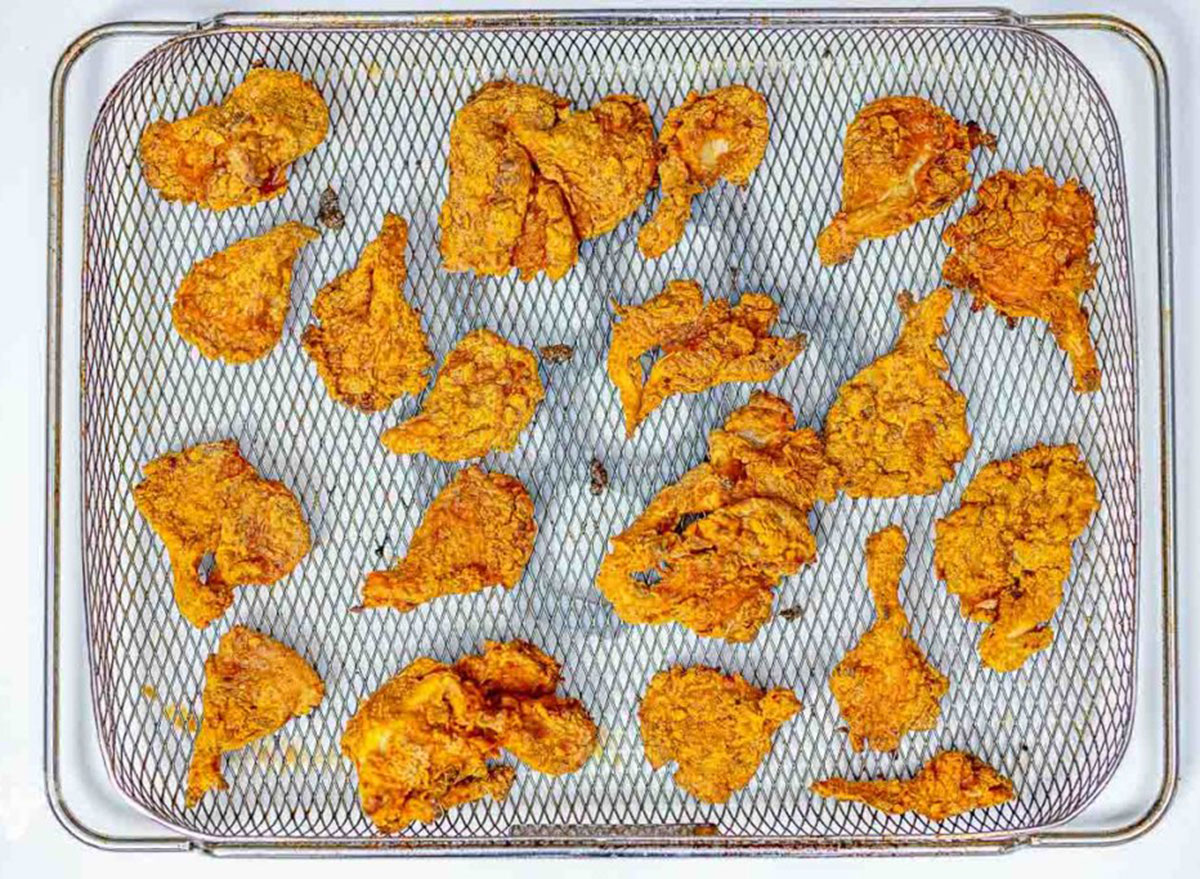 In this vegan version of fried oysters from Kevin Curry of Fit Men Cook, oyster mushrooms are coated with plant-based buttermilk (oat milk with a bit of apple cider vinegar) and flavored with Creole/Cajun seasonings to create a familiar fried oyster texture and flavor. Rather than the typical deep-fried recipe, these healthier oysters are air-fried until crisp and golden brown.
For the Vegan Buttermilk Air-Fried Oysters, click here.
Trumpet Mushroom 'Scallops'
Scallops are tender and succulent, but they're also pricey. Trumpet mushrooms are the perfect alternatives to scallops because they have a similar chew, mouthfeel, and appearance. This simple recipe from the Mushroom Council, calls for a quick sauté of the mushrooms in a cast-iron skillet with some herbs and butter (can be vegan butter). Plate with a pilaf or risotto, and wait for your guests to be impressed.
For the Trumpet Mushroom 'Scallops,' click here.
Now, be sure to check out 35 Best Cast-Iron Skillet Recipes.