13 Discontinued Breakfast Foods That You'll Sadly Never See Again
You can no longer find these foods in supermarkets.
While we understand why some foods get discontinued—low performance, changing trends, etc.—it doesn't mean we have to be happy about it. In fact, there are some discontinued foods that we are decidedly very unhappy about, specifically breakfast foods.
Over the years there have been some memorable breakfast treats, and yet so many of them have gone by the wayside. At this point, all we can do is reminisce about the good old days and maybe even try to figure out how to recreate some of them ourselves at home. (Looking at you, in particular, Oatmeal Swirlers!) Now, here are 13 of our favorite discontinued breakfast foods that you will likely never see on store shelves again. And don't miss 23 Discontinued Cereals That Deserve a Comeback.
Kellogg's used to make a delicious Cinnamon Mini Buns cereal that was exactly what it sounds like—bite-size cinnamon cereal shaped like little buns but crunchy. They burst with cinnamony flavor and when milk was poured on top, the whole bowl mirrored the taste of a sweet cinnamon bun. It makes us wonder why this cereal was ever discontinued?
Oatmeal Swirlers made breakfast interactive—which is so much fun as a kid. The concept was simple: You made the oatmeal and then you drew fun doodles on top with the flavor packet. Then, you would swirl in the syrupy concoction in with your spoon and dig in. Alas, the fun breakfast food didn't last, but this is one product you could easily figure out how to whip up yourself. For example, you could employ your favorite jelly or even fruit preserves!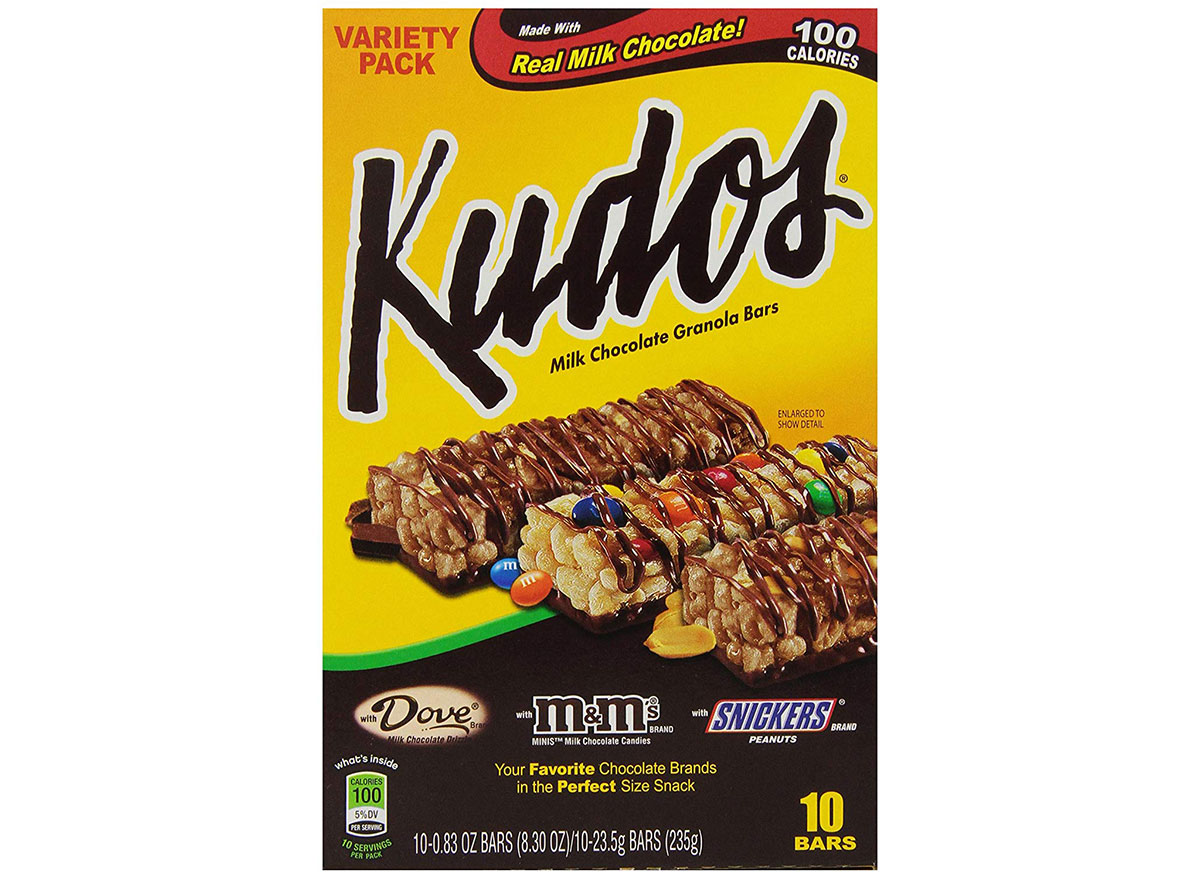 6254a4d1642c605c54bf1cab17d50f1e
Kudos Granola Bars may as well have been considered breakfast candy bars. The bars were not only dipped in chocolate on the bottom but they were also drizzled with the sweet stuff and topped with candy pieces. While they were billed as breakfast food (or even a midday snack), we would argue they probably should have been saved for dessert. Still, it didn't stop many of us from grabbing them on the way out the door for school in the morning. (Related: 7 Discontinued Desserts You'll Never See Again)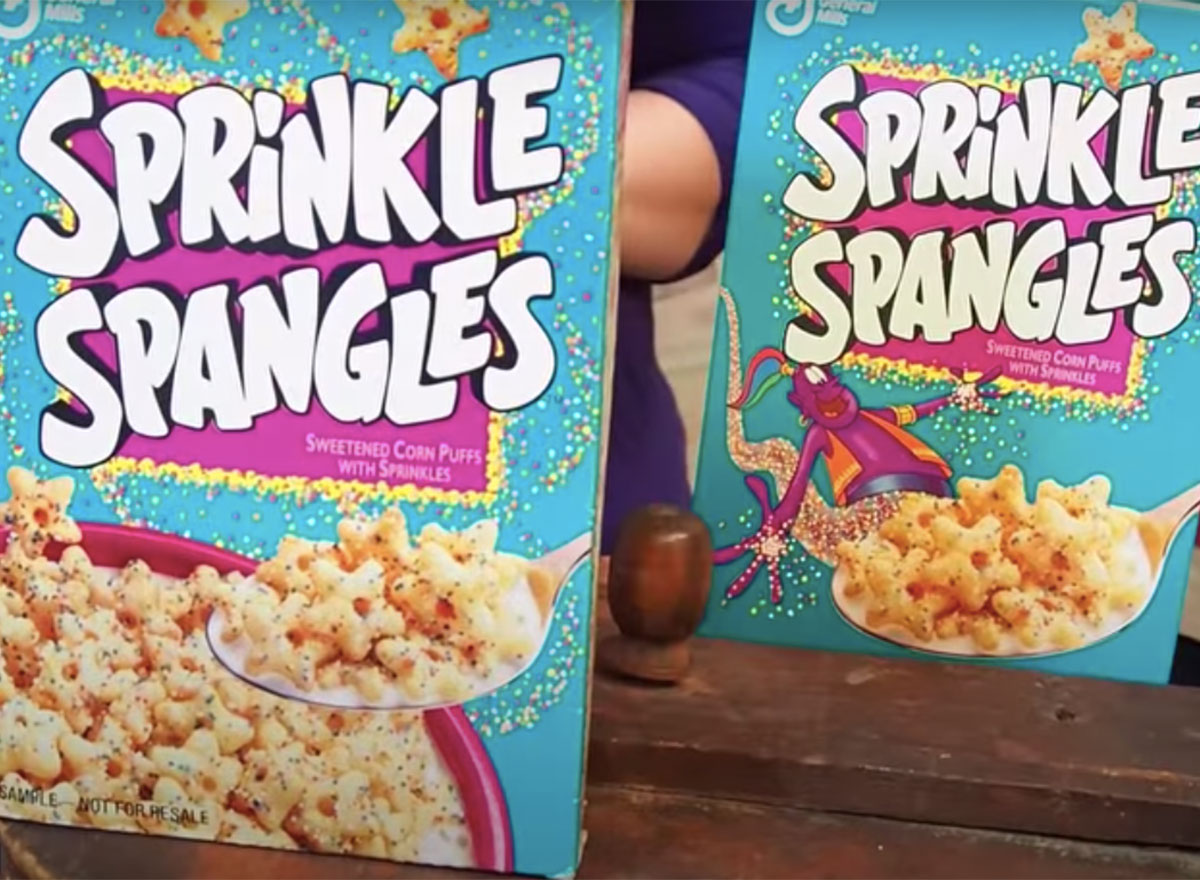 Who doesn't want to eat sprinkled cereal in the morning? With Sprinkle Spangles, you got just that. The '90s cereal was both colorful and sugary, so—like most items on the list—we can't imagine it provided much nutritional value. As children, we loved having a bowl of this cereal in the morning simply because of how entertaining it was to watch the sweet cereal burst with color when mixed with milk.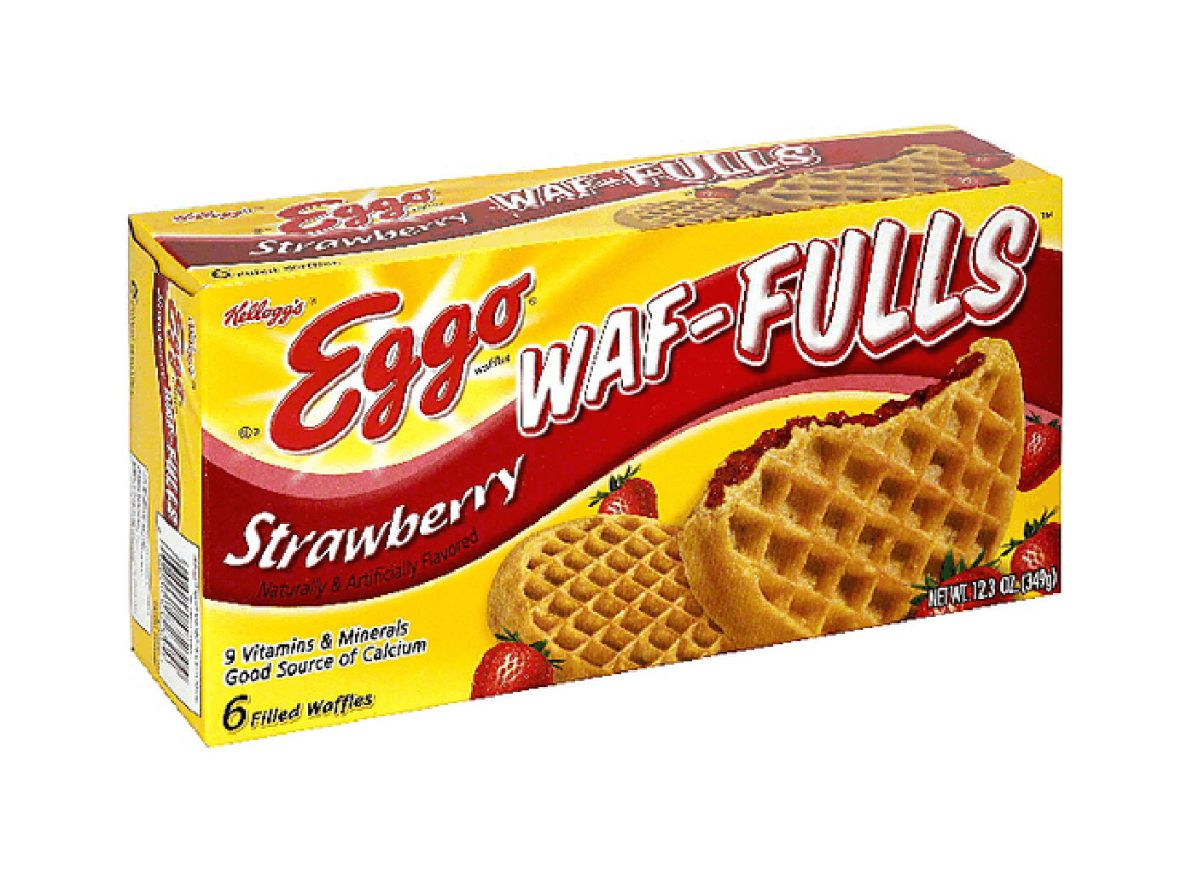 For a period of time, Kellogg's stuffed their iconic toaster waffles with strawberry jam to create Eggo Waf-fulls, and they were so delicious. While this is another discontinued breakfast food that would be easy to make right at home (just slather jam between two waffles?) there was something special about the waffle already being stuffed with the sweet fruit filling.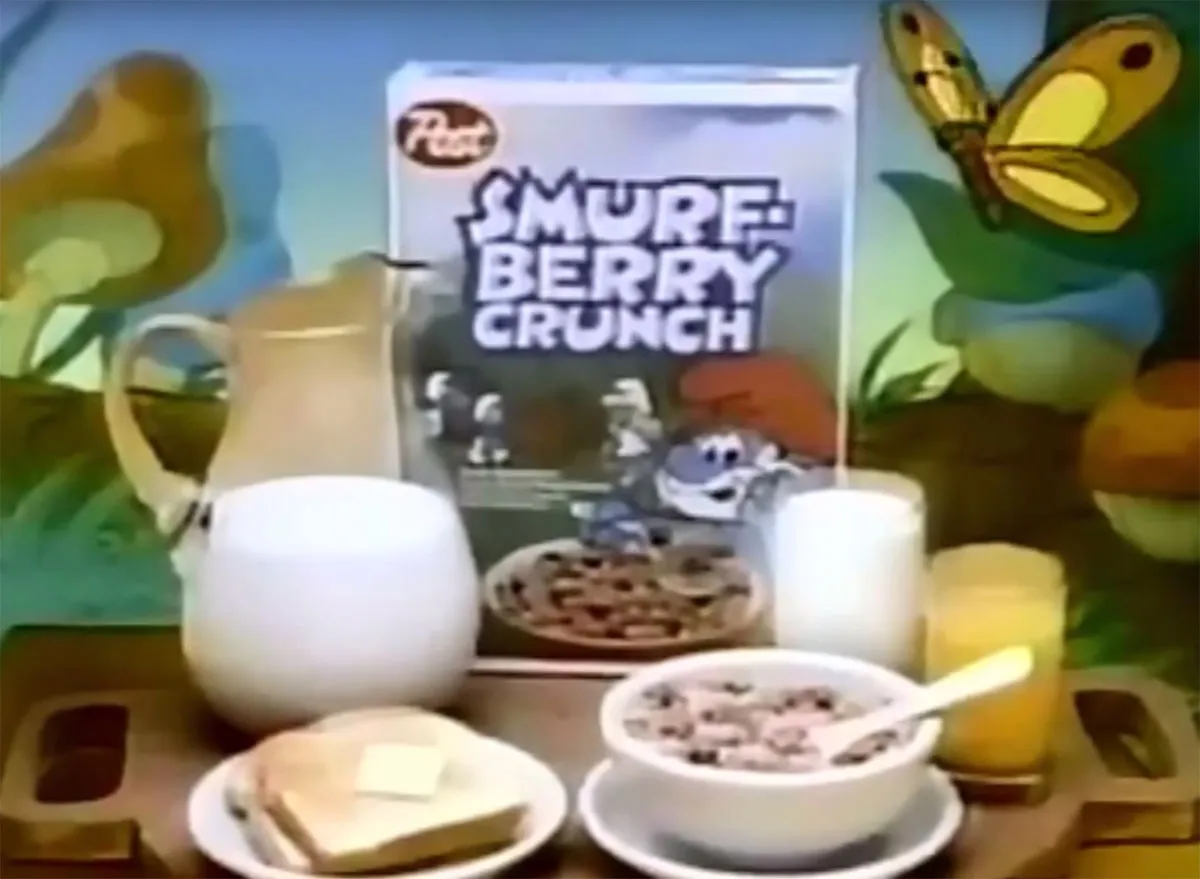 Back in the '80s, when there were practically endless fun cereals, we had Smurf-Berry Crunch. And yes, the cereal was primarily blue! It was a very thematic morning meal, but the product faded into obscurity as the Smurfs television show decreased in popularity. (Related: 23 Discontinued Kids' Cereals You'll Never See Again)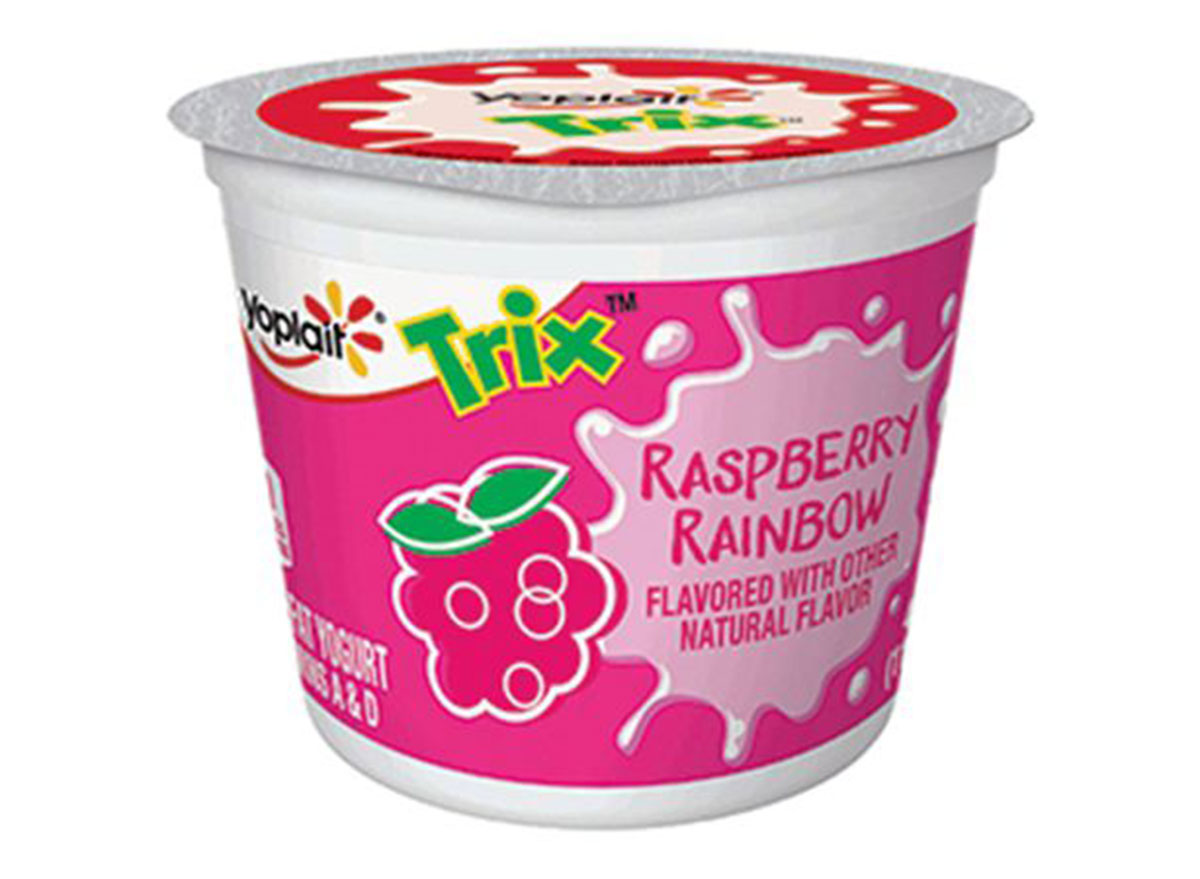 Trix Yogurt flavors are relatively similar to Go-Gurt's, but Trix came in a small cup instead of a plastic tube that almost always warranted a mess. What we appreciated about Trix? It combined two bright and colorful flavors in the same cup and paired well with Trix cereal. These also made a great addition to packed lunches.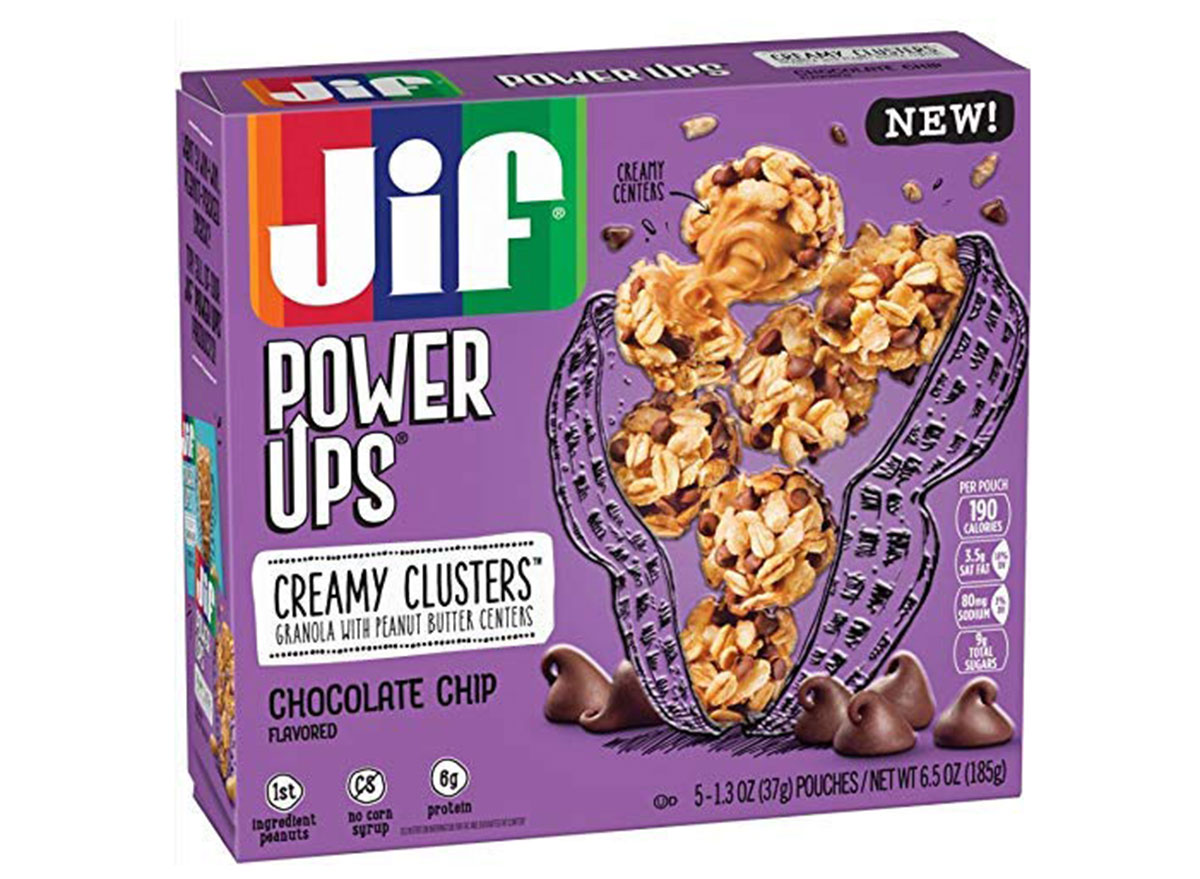 Introduced in 2018, Jif Power Ups are already on their way to being discontinued. These peanut butter-based snacks come in soft-baked and crunchy bars as well as bite-size pieces. While they weren't a hit among consumers, we did appreciate the portable element of this breakfast food, because kids running late for school could just take the packet to-go and munch on it while on the bus or in the car.
Entenmann's Butter Coffee Cake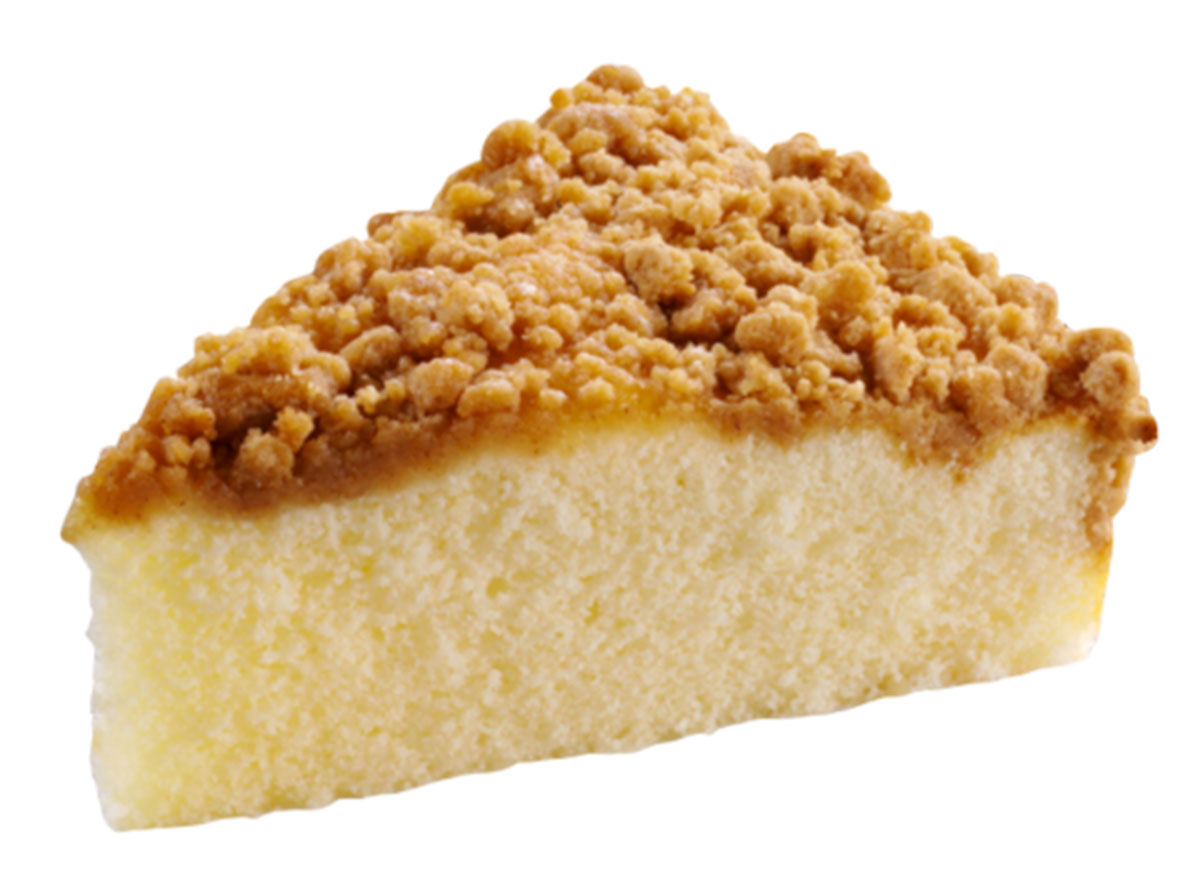 Entenmann's still offers many breakfast options, including a delicious crumb cake, but the brand's Butter Coffee Cake can no longer be found in stores. It was super rich and made for a wonderful morning indulgence. The cinnamon topping was like the icing on top of the cake because it added an extra kick of sweetness.
Waffles to-go, anyone? The Snack'n Waffle was already made with little bits of syrupy sweetness, so you had the full waffle experience right in your hand—no plate, silverware, or maple syrup necessary. After you popped the treat into the microwave, you could just wrap it up in a napkin and take it out the door with you. (Related: 19 Secret Things You Can Do with a Waffle Iron)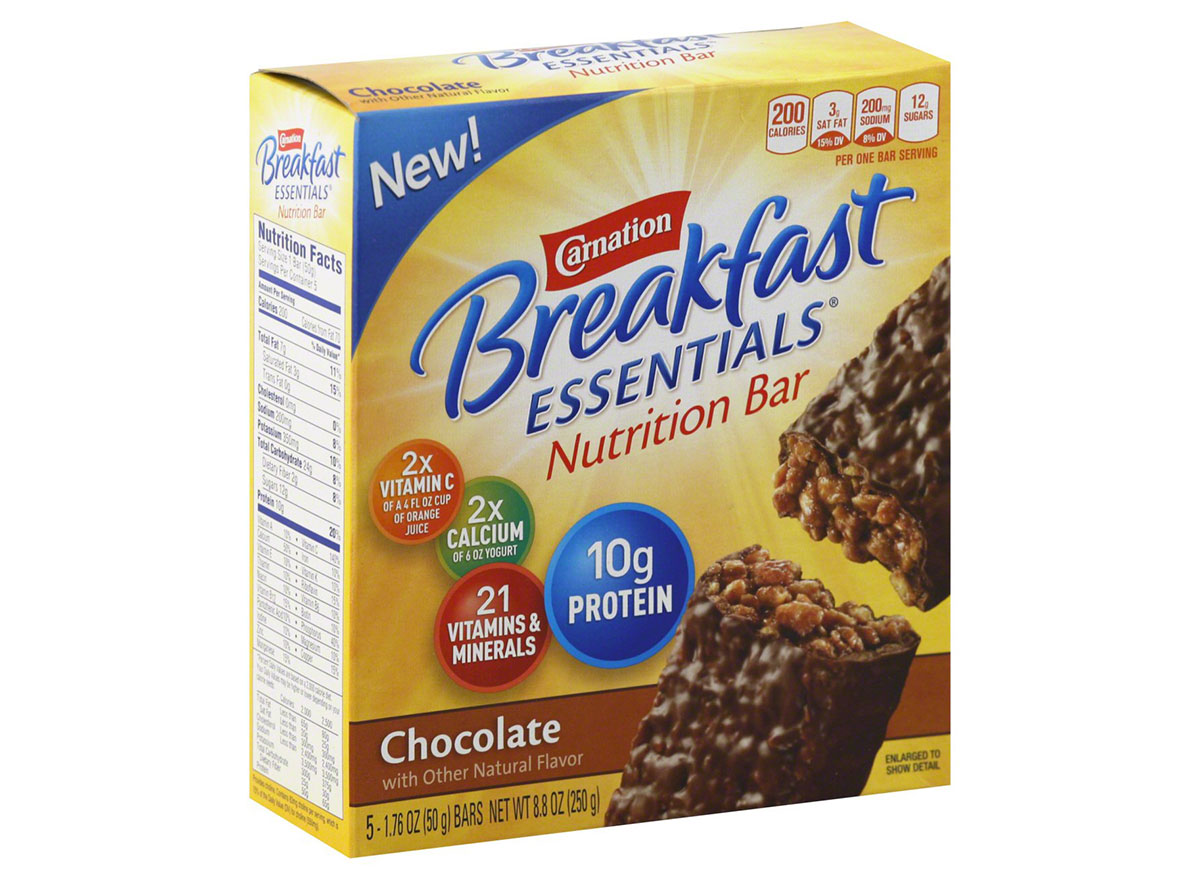 Carnation's Breakfast Bars were pretty indulgent for breakfast time, but many people still appreciated them. The nutty granola bar was fully dipped in chocolate, which gave you a much-needed dose of sweetness at 8 a.m. Unfortunately, they didn't last long on the market, but Carnation did roll out a similar (and slightly healthier) version shortly after.
This cereal from the '70s gave you your waffles in cereal form. The crunchy, ring-shaped cereal had the flavor of a waffle complete with butter and syrup but was instead doused in creamy milk. By the '80s, a blueberry flavor emerged but the whole line of cereal was eventually scrapped.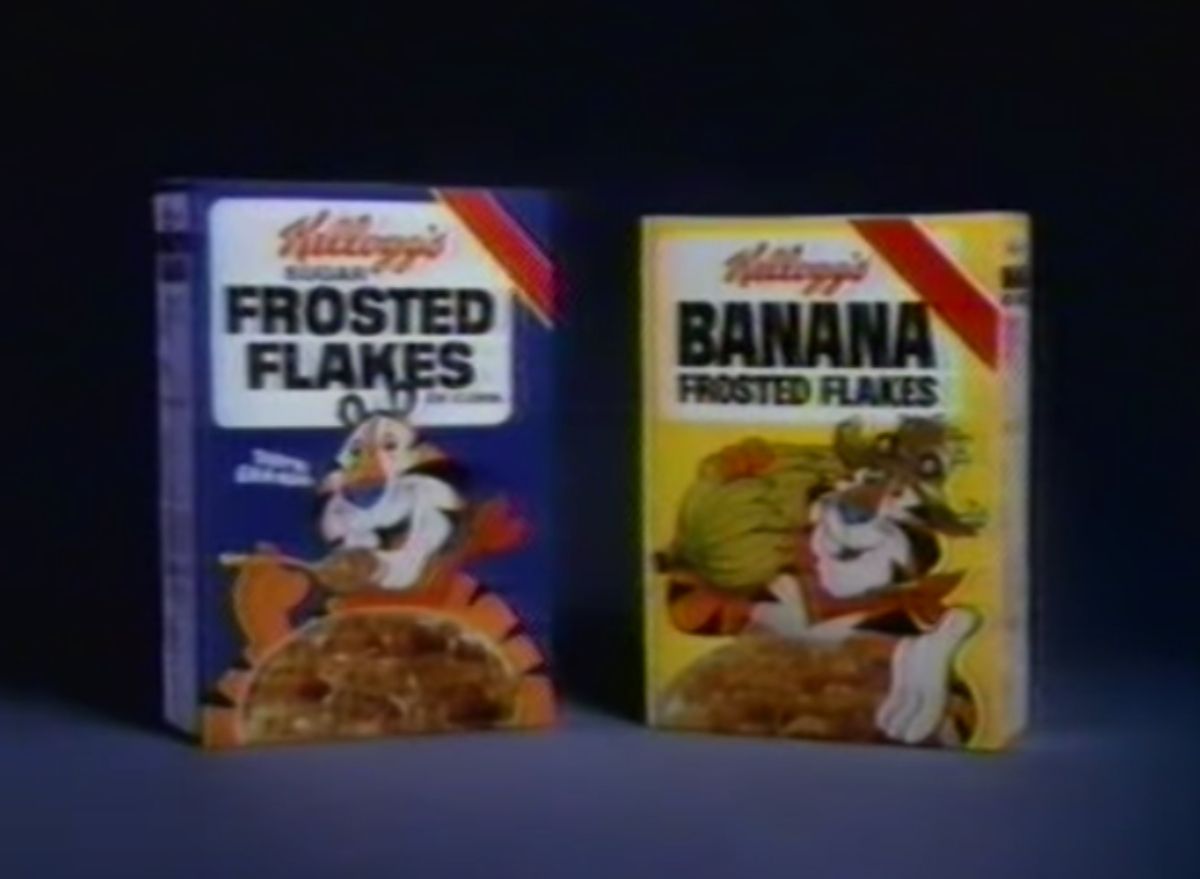 Did you ever add slices of banana to your bowl of Frosted Flakes? Back in the '80s, that flavor was achieved without the fresh fruit by way of Banana Frosted Flakes. The flakes were coated with banana flavoring and paired with dried banana pieces.
For more, check out:
50 Iconic Foods That Were Discontinued.
15 Discontinued McDonald's Items You'll Wish Still Existed
Hedy Phillips
Hedy is a freelance writer with years of experience covering buzzy food trends, wellness, and weight loss.
Read more about Hedy