These Are the Most Popular Dishes Everyone's Making During Lockdown
Is it just me, or is everyone baking banana bread?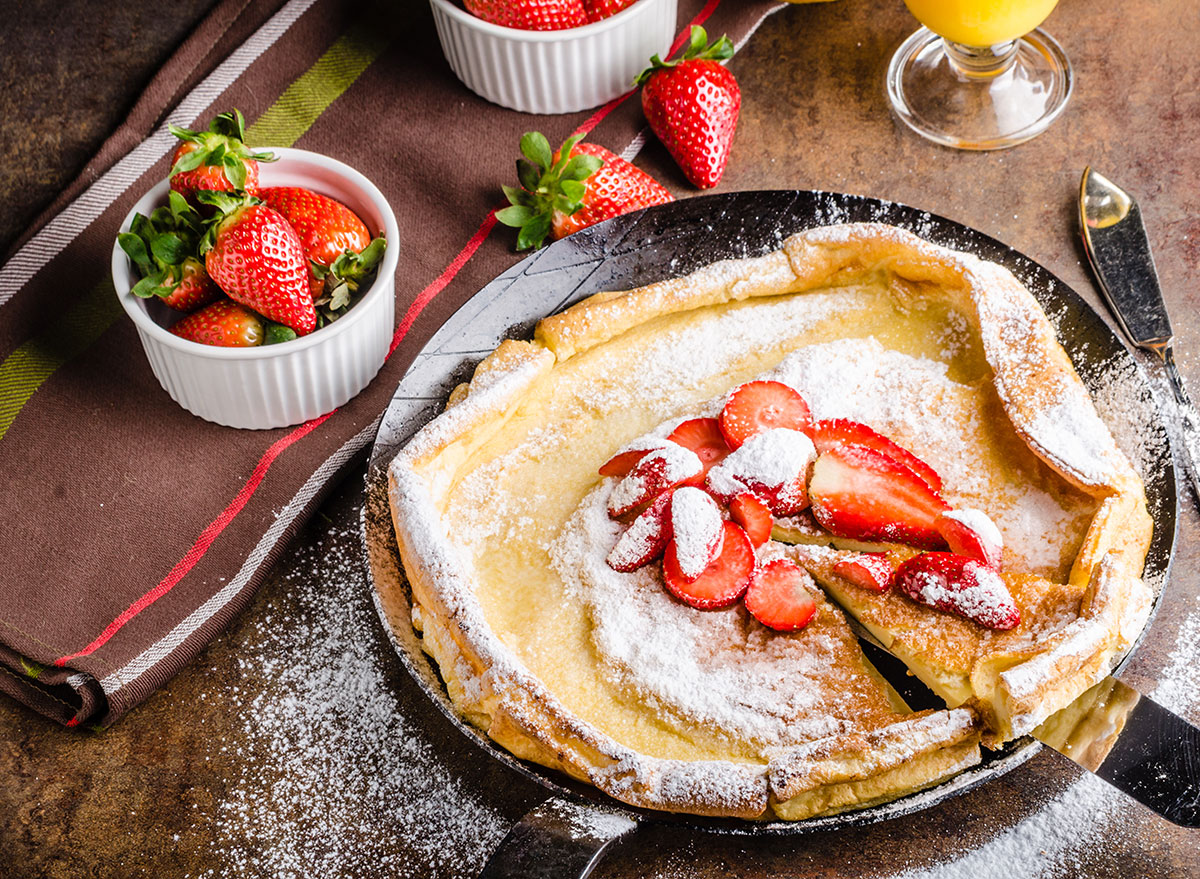 As numerous people worldwide continue to stay home during the pandemic, people are continually cooking and getting creative in the kitchen. And while finding new ways to cook chicken and ground beef are popular searches on Google and Pinterest, it seems there are particular niche dishes people are enjoying to cook. From different kinds of baked goods, sweets, and even creative dinner ideas, here are some of the food trends we're noticing while people are stuck at home in quarantine.
Did you know you could turn a pack of King's Hawaiin rolls into an easy pan of pull apart sliders? One viral TikTok video proved how easy this can be by simply adding some butter, garlic, meat, and cheese. While this video used simple slices of ham and swiss cheese, you could use any kind of combination you like! For some burger inspiration, here's our list of 13 burger recipes.
Why make a whole batch of pancakes when you can make one giant pancake to share? Along with baking bread and eating sliders, it seems people are obsessed with making large cast-iron skillet size pancakes lately. If you're not familiar, a dutch baby is similar to a large popover, and also commonly referred to as a German pancake. The texture of a dutch baby is similar to a Yorkshire pudding and typically served with powdered sugar and fresh fruit. It's the perfect weekend brunch food, or in quarantine, the perfect everyday kind of food.
Whether it's in the form of cookie dough balls, or simply eating some cookie dough by the spoon, people have been obsessed with enjoying their favorite sweet treat before even baking it! Not only that, but people love finding healthier spins to it! Blending a can of chickpeas with other natural sweeteners has been the most popular option for creating keeping this sweet treat healthy.
Sourdough Discard Recipes
Now that baking fanatics have mastered the art of the sourdough loaf, a new question has arised: What else do you make with your sourdough starter? Popularly known as "sourdough discard" recipes, these creations are made with the discarded sourdough starter that one would typically throw out during the process of feeding it. Some popular sourdough discard recipes include waffles, pancakes, pizza dough, bagels, and even crumpets.
READ MORE: Click here for all of our latest coronavirus coverage.
Dessert is certainly a comfort food most people are turning to these days, and it seems people are prepping desserts to go with their meals for the week. Just like this simple cake recipe, dessert bars—like brownies, lemon bars, blondies, coffee cake, even pie bars—are all easy to make with a simple 9×13" dish. Not only that, but dessert bars are easy to portion control when you're looking for a sweet treat to snack on! Enjoy that sweet treat with your afternoon tea as a pick-me-up to keep you going through the day.
People love whipping up fancy coffee drinks at home—literally! This whipped coffee trend has gone absolutely viral after one TikTok video, and it seems like everyone is making it. We even made our own versions of whipped coffee with three different flavors!
Get our recipe for Whipped Coffee.
Being stuck at home has fueled some serious amounts of creativity from people around the globe, and there are a lot of people challenging themselves to make new types of foods they haven't created before. Dumplings have turned out to be one of them, and people are making them in all kinds of forms! Pierogi, gnocchi, and pork dumplings have been some of the most popular dumplings to grace social media feeds over the last few weeks.
There are a lot of different clever quarantinis being made while stuck at home, but according to Google Trends, people are searching like crazy for the best mojito recipes. Even though people are stuck indoors, it seems they are craving refreshing beverages that reflect the weather that continues to get warmer day by day.