Popular Frozen Foods That Help You Lose Weight, Say Dietitians
Keep these on hand for easy weekday meals that keep the pounds off!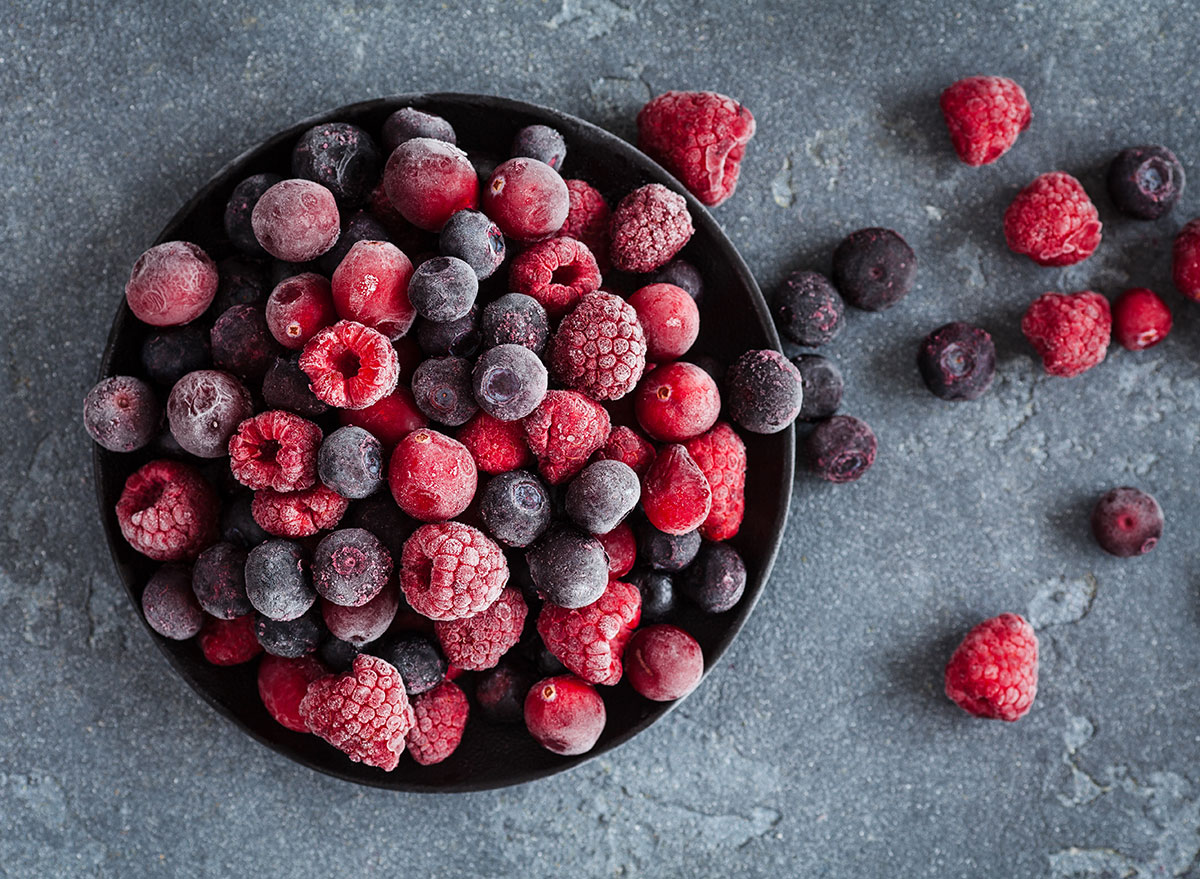 Stocking your freezer with healthy foods is one of the smartest strategies you can use when you're trying to shed some pounds. Think about it this way: if you keep frozen produce and lean protein around, you'll have a convenient, nutritious meal option—which means you're less likely to reach for those processed snacks or grab calorie-laden takeout.
Best of all, most foods don't lose any of their nutritional value when frozen, so you can rest assured that your body is reaping the benefits of those vitamins, minerals, and other important nutrients.
All that said, not all frozen foods are created equal—at least from a health standpoint. While some items can help you lose weight, others might do just the opposite thanks to high amounts of fat and sodium. So, if you're looking to slim down, here are a handful of popular frozen foods dietitians recommend adding to your grocery list.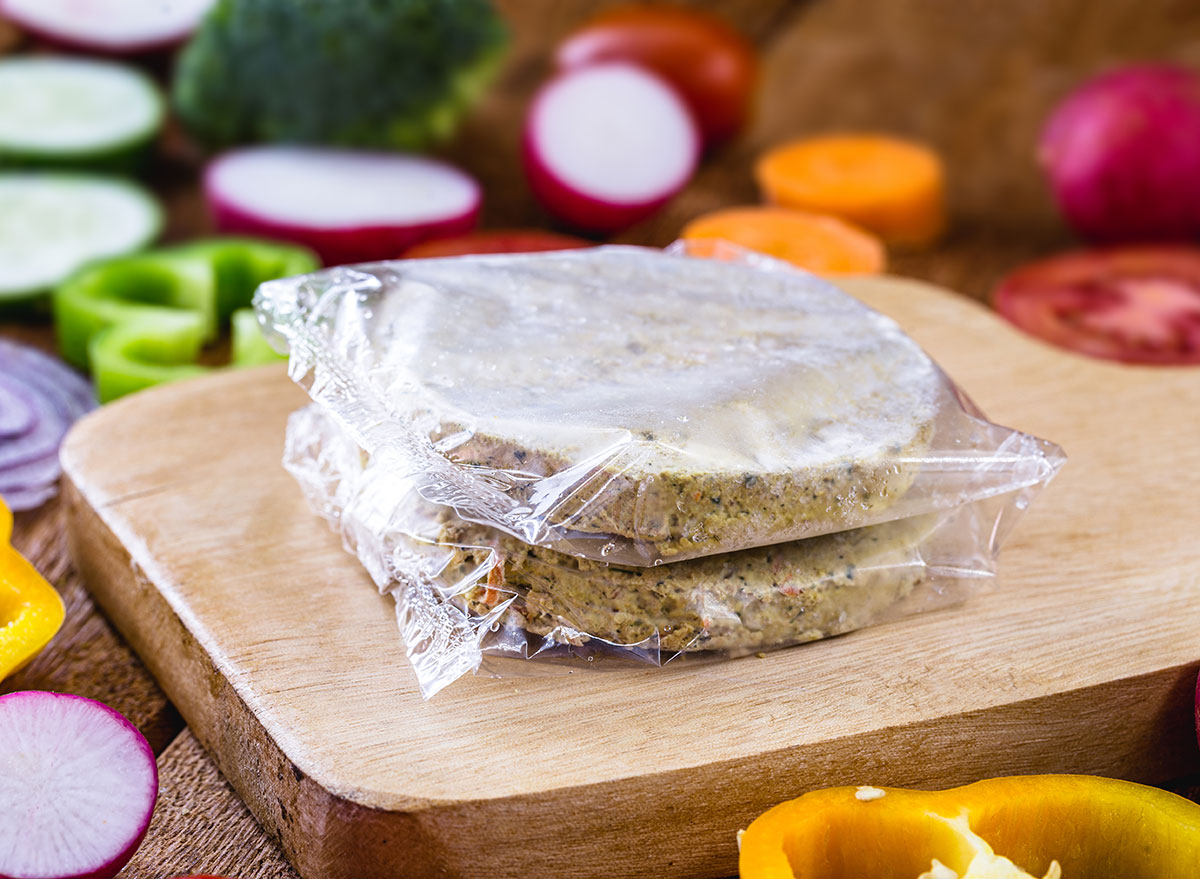 When you need an easy weeknight dinner after a long day's work, it's tough to beat a veggie burger. Many of them are chock full of fiber-rich vegetables and whole grains, and some even have a comparable protein content to meat. That means they'll keep you feeling full for hours, says Melissa Mitri, RD for Wellness Verge.
"They are typically only 150 calories or less, making them a solid choice for a weight loss plan," says Mitri. "Plus, research shows that eating more plant-based foods can support weight loss and overall health."
Frozen edamame serves as a phenomenal mid-afternoon snack, or high-fiber addition to stir-fries, grain bowls, and salads. And with about 17 grams of protein per one cup, it's one of the most satiating plant-based snacks around. That's what Gabbie Ricky, MS, RDN highly recommends keeping some edamame in your freezer. Did we mention that research shows protein-rich diets help manage your appetite and support sustainable weight loss?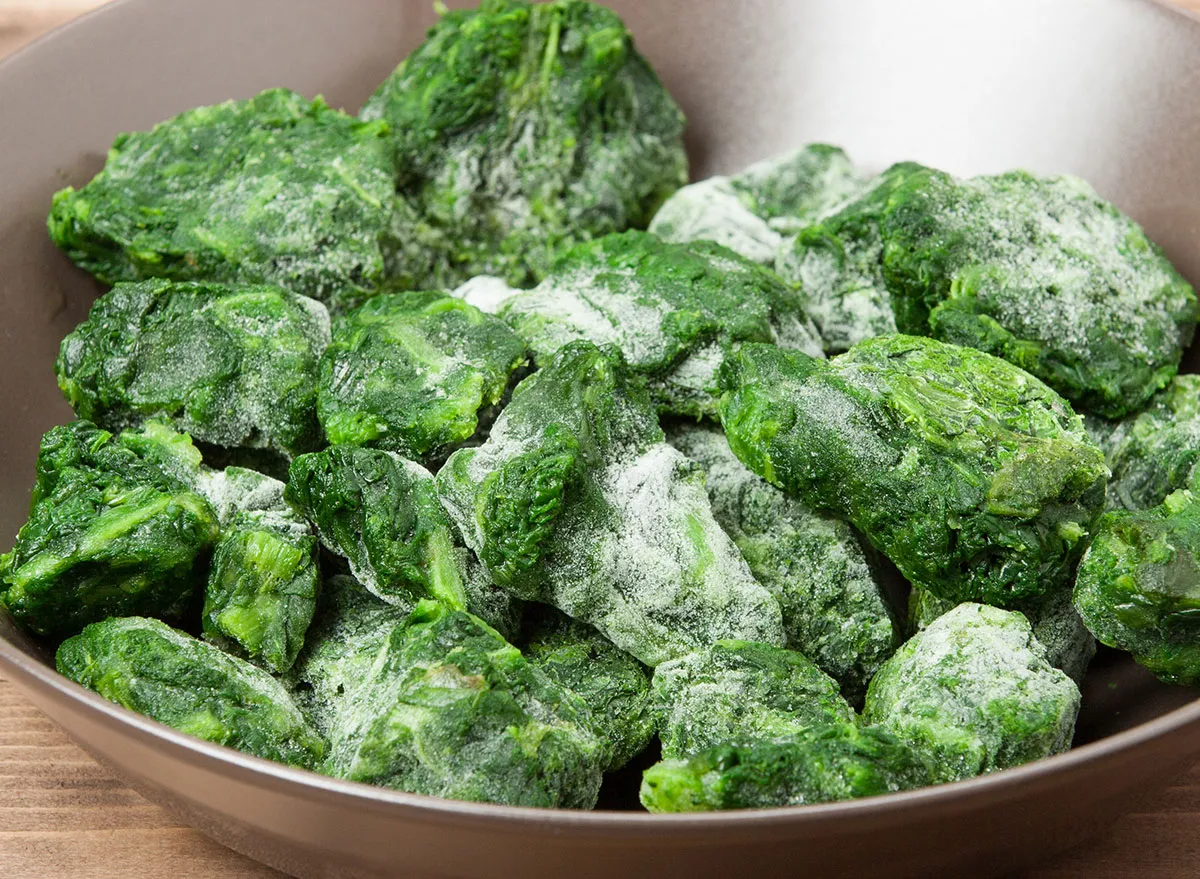 With little to no fat and high fiber content, it's no wonder why spinach is a popular weight-loss food. Fresh spinach can wilt in just a few days in the fridge, which is why it's a good idea to buy it frozen—that way, you always have some on hand for side dishes, casseroles, and more.6254a4d1642c605c54bf1cab17d50f1e
"Frozen spinach can easily be added to a number of dishes including pasta, smoothies, and soups," says Holly Klamer, MS, a registered dietitian nutritionist with MyCrohn'sandColitisTeam.
A 2015 study in the Journal of the American College of Nutrition revealed that when overweight adults added 5 grams of spinach extract to their meal, it reduced their appetite and longing for food for several hours. Another 2014 study in Appetite found that consuming 5 grams of spinach extract every day resulted in 43% greater weight loss than a placebo. This effect can likely be attributed to the thylakoids—plant membranes that are associated with greater feelings of satiety because they delay the digestion of fat.
In other words, by suppressing your appetite, spinach may help you to eat less, which can lead to weight loss in the long run. Here's One Major Effect of Eating Spinach, Says Science.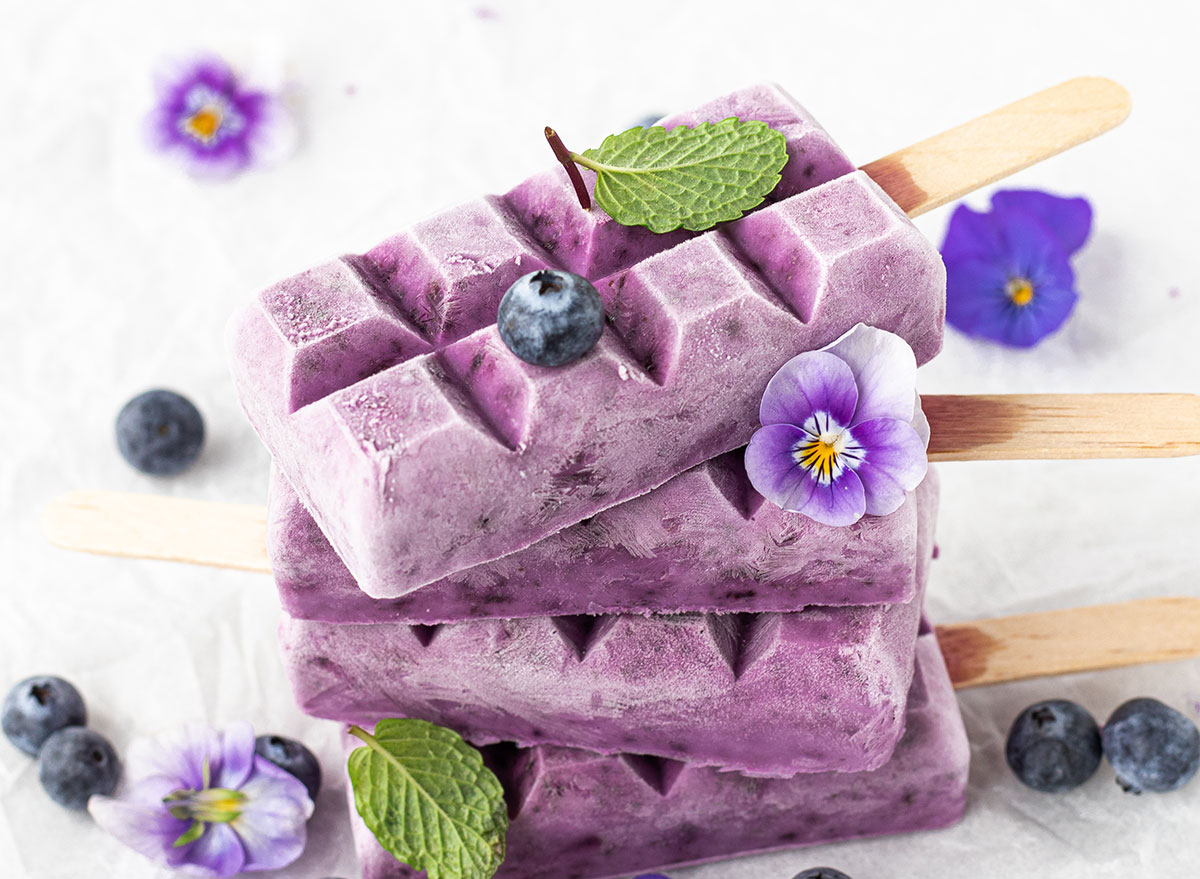 When your sweet tooth strikes, you'll definitely want to have a box of these creamy treats in your freezer, says Sweet Balance Nutrition founder Sarah Williams, MS, RD.
"Frozen Greek yogurt bars are a great low-calorie dessert option for weight loss," she explains. "Many times when people try to lose weight they cut out sweets completely—which usually leads to burnout. Instead, include small treats regularly to prevent feeling deprived during weight loss attempts."
As an added bonus, these frozen delights often have a healthy dose of protein and gut-enhancing probiotics since they're made from yogurt.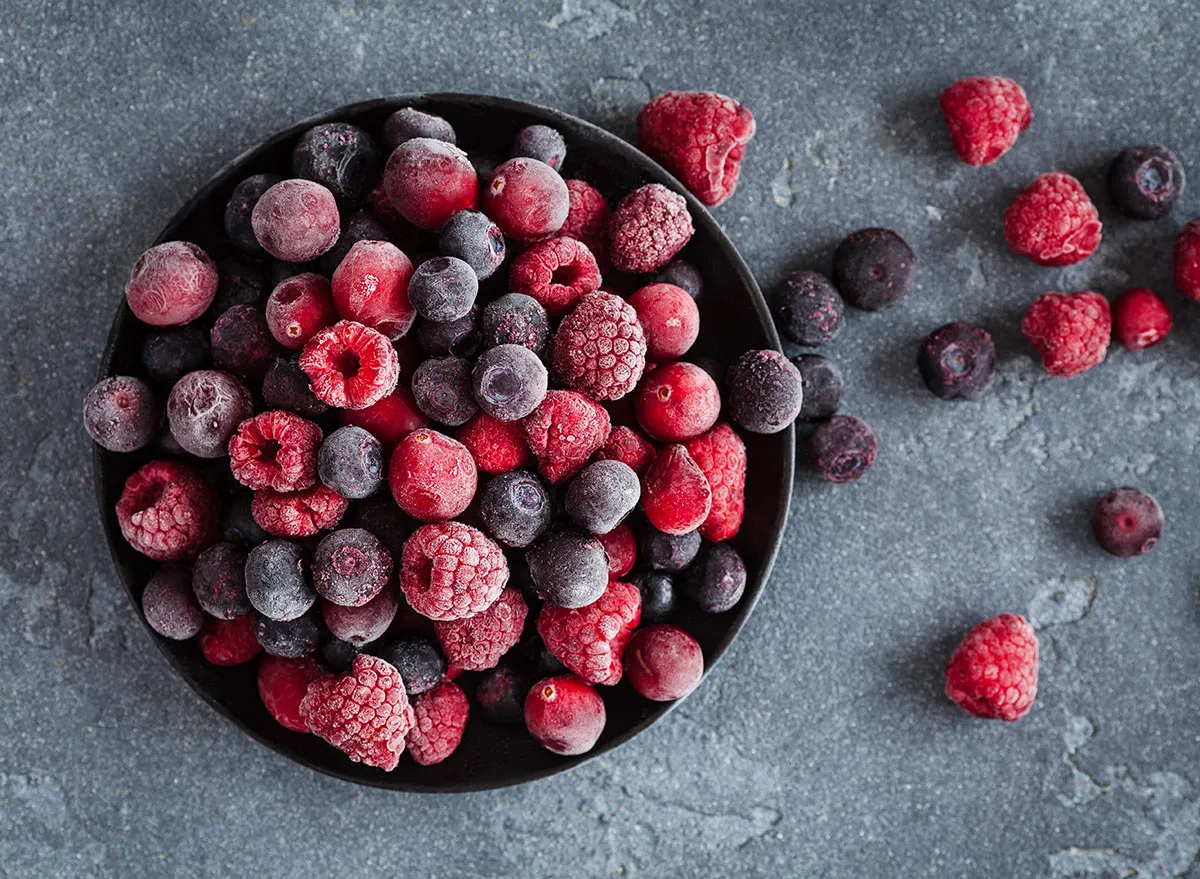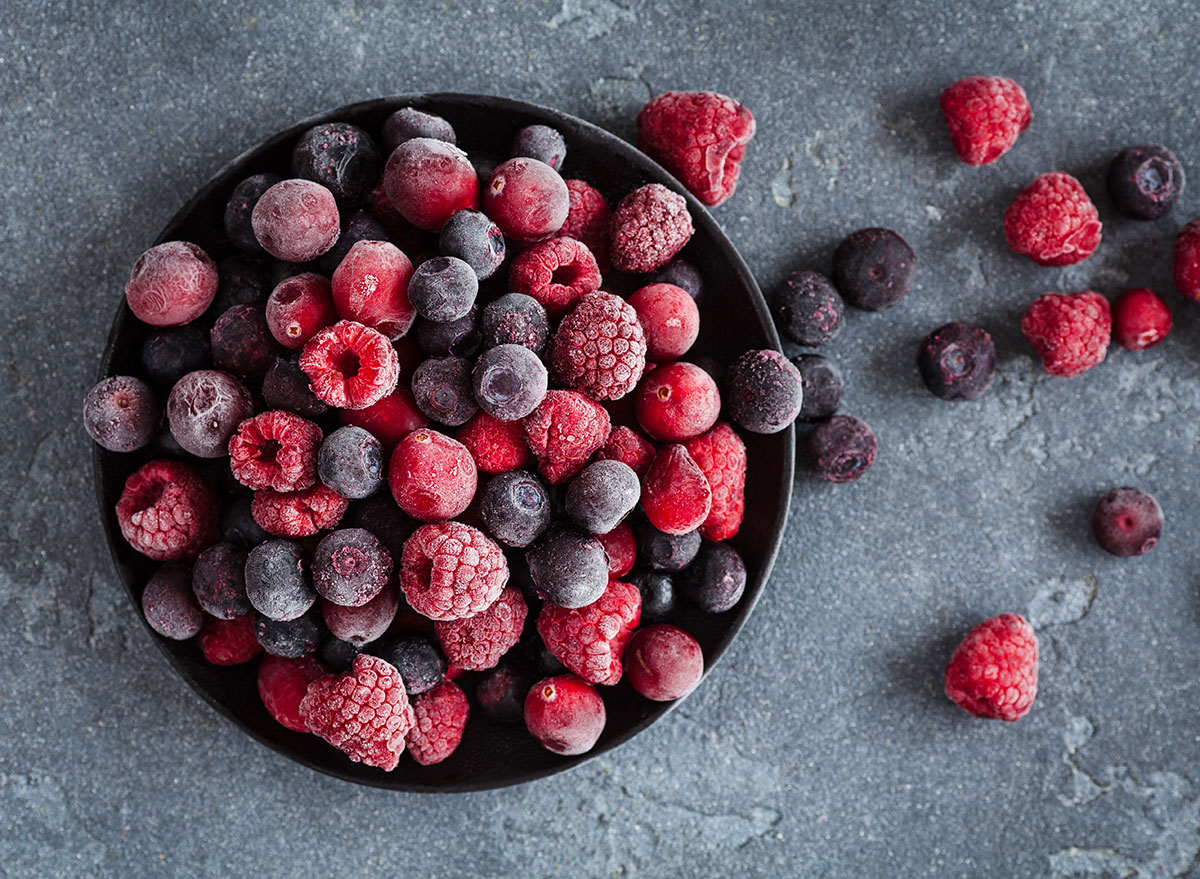 It's a good idea to keep berries in the freezer, according to Ricky, because you can add them to smoothies and baked goods without even having to defrost them.
Berries are lower in sugar than many other fruits and remarkably high in filling fiber. That might help to explain why a 2015 study in Appetite found that people who were given a 65-calorie berry snack ate less food at a subsequent meal than those given candy with the same calorie content.
"Frozen shrimp is a low-calorie, high-protein food that can help keep you feeling satisfied long after eating," says Klamer.
In fact, just a 3-ounce serving of shrimp contains a whopping 12 grams of protein and only 60 calories.
Try baking, sauteeing, or air frying frozen shrimp and adding it to tacos, salad, and pasta for a meal with more staying power.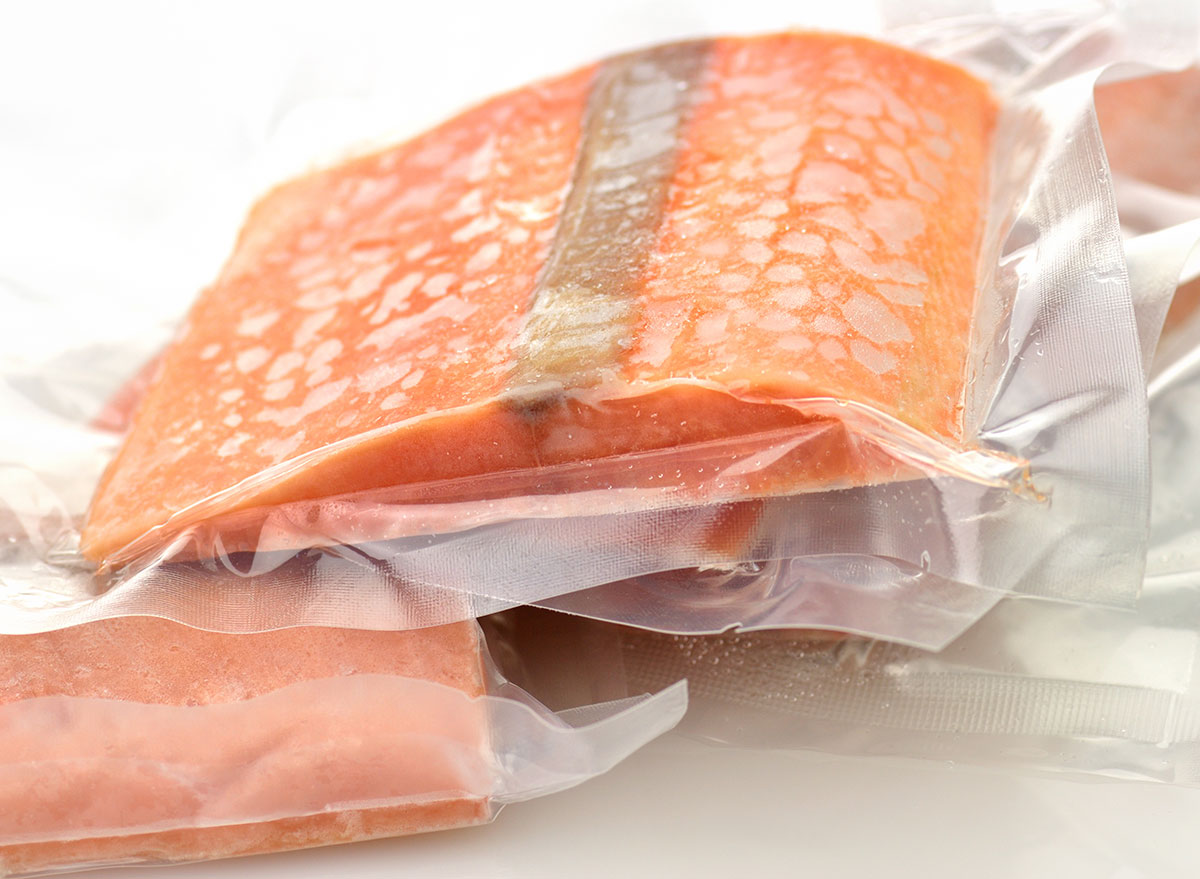 Speaking of seafood, Mitri says salmon is a nutritional powerhouse that's not only high in protein but also heart-healthy omega-3 fats. Omega-3 fats can have an anti-inflammatory effect in the body and have been shown to have a potential anti-obesity effect in a 2010 Nutrients study.
Whether you bake, pan-fry, or grill them, frozen salmon filets can make for a super filling salad topper or dinner entree. Pro tip: Sub salmon for beef for a healthier homemade burger.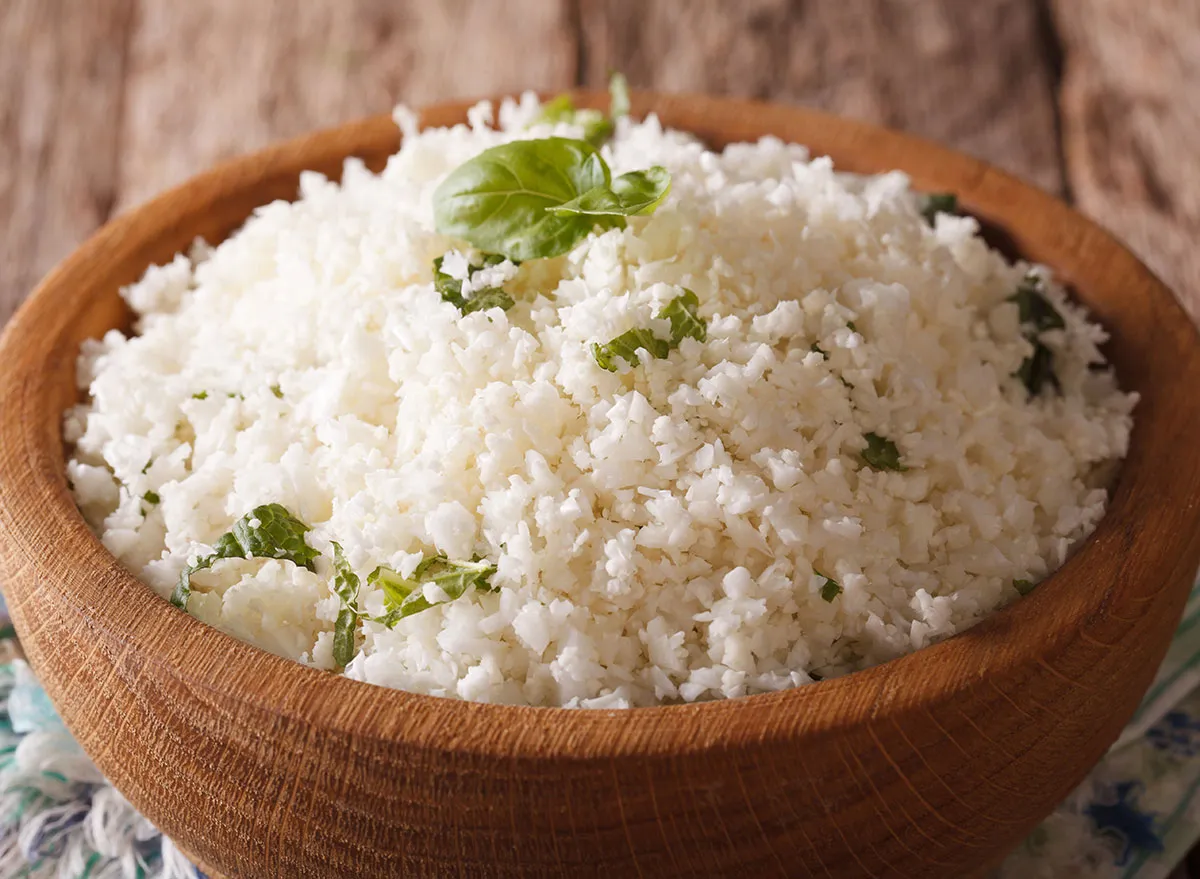 Cauliflower "rice" only has 29 calories and 4.7 grams of carbs per 100-gram serving, making it an excellent rice swap for weight loss.
"You can easily add cauliflower rice into stews, casseroles, and even as a replacement for traditional rice in any dish you'd typically serve," says Trista Best, RD at Balance One Supplements. "Frozen cauliflower rice is likely the most versatile and convenient of all. It cooks within minutes and provides nearly as many nutrients as its fresh counterpart."
If you're having trouble getting on board with the idea of riced cauliflower, Ricky suggests replacing half your traditional rice with this low-carb alternative.
For even more weight loss tips, read these next:
Rebecca Strong
Rebecca Strong is a Boston-based freelance health/wellness, lifestyle, and travel writer.
Read more about Rebecca