Why Your Post-Workout Protein Shake Is Causing Stomach Pain
Find out why your muscle-building post-gym protein shake is causing stomach aches.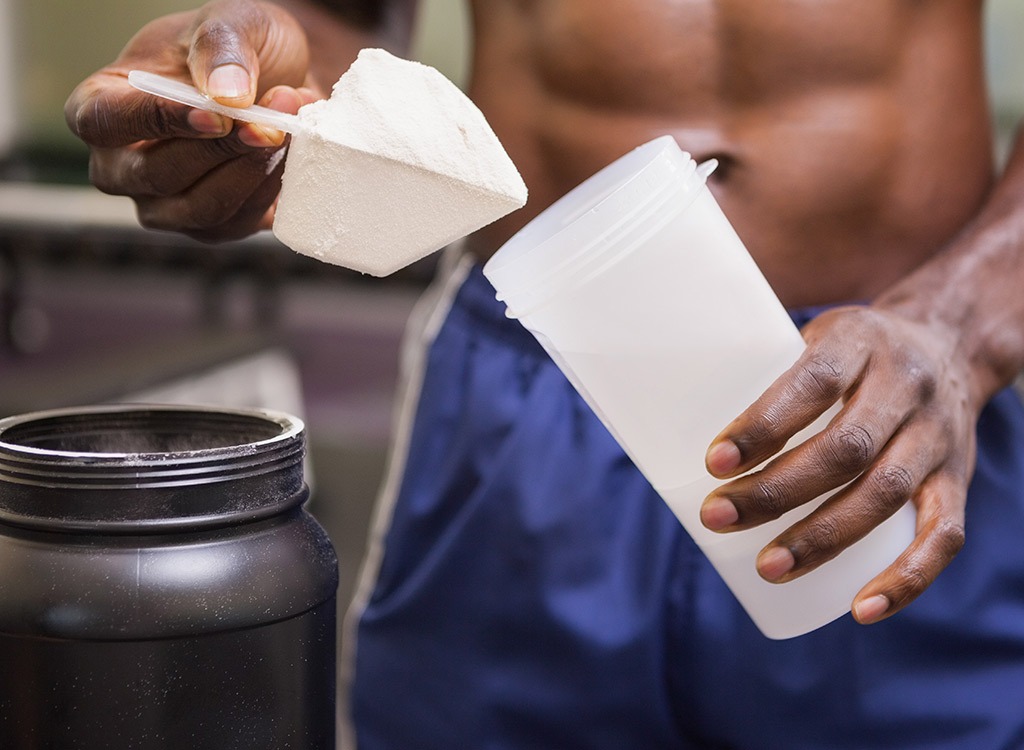 If done right, drinking one can help you reach your weight and fitness goals. But done wrong, pain is sure to follow. For many, shakes have a stomach-churning downside — and we mean that literally. Drinking the stuff causes stomach pain and nausea—and other unexpected protein powder side effects — in countless people. And oddly enough, it's not a problem that's often discussed.
While trading tips with fellow gym rats online has its benefits, the best way to remedy the issue is to seek out the advice of an expert — and that's exactly what we did. Here, what might be going wrong in your shaker bottle, plus, how to tweak your shake so that you're not left doubled-over in pain after you sip.
YOU'RE OVEREAGER TO REFUEL
You might have heard that consuming protein after a workout is necessary for optimal recovery, and that's true — but you don't need to start sipping your shake the second you get off the squat rack. In fact, if you down a shake too soon after your workout, it's bound to upset your stomach. This could make it harder for the body to absorb and utilize the shake's nutrients, explains Cassie Bjork, RD, LD of Healthy Simple Life.
Eat This! Tip
"Wait thirty to sixty minutes after your workout before consuming a protein shake," suggests Bjork. "This gives your body time to transition out of the workout-fueled 'fight or flight' mode and into 'rest and digest' mode, in which your body can efficiently absorb nutrients. That's why this is such an effective way to prevent stomach pain," explains Bjork. So take an extra ten minutes to cool down, take a shower, change and relax a bit before whipping up your shake. Your stomach and muscles will thank you!
YOU'RE SIPPING SWEETENERS & INULIN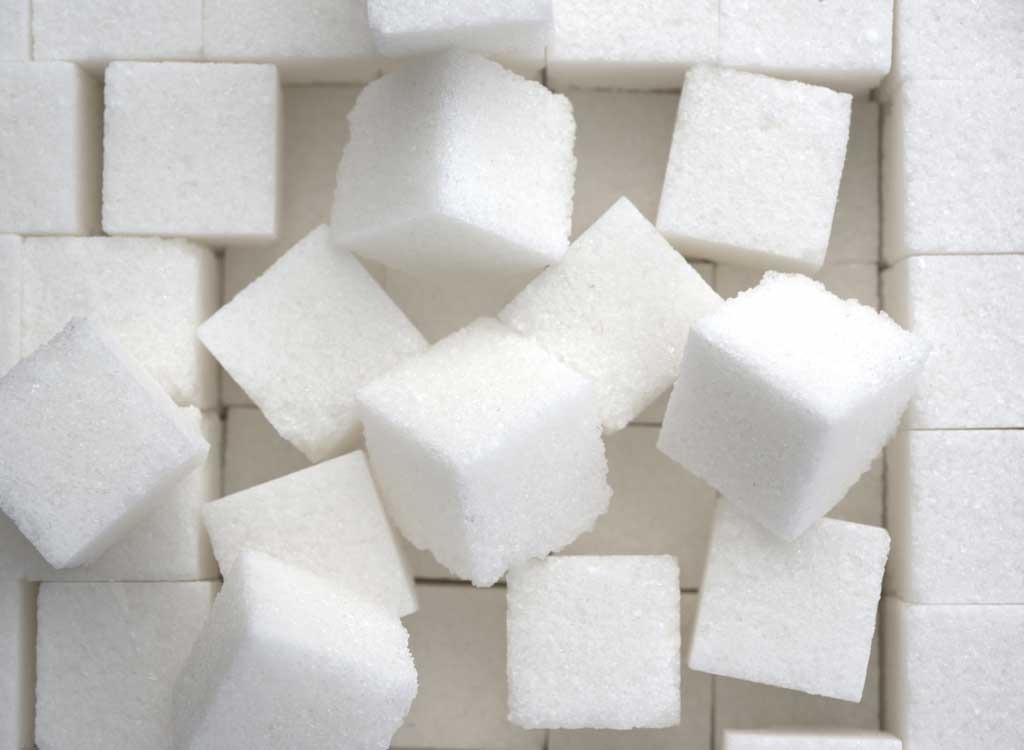 Artificial sweeteners and sugar alcohols may make your protein powder tasty, but the body can't absorb them very well. "Because they aren't completely digested, they hang out in our intestines where they become fermented by colonic bacteria," explains Bjork. "The by-products of fermentation include gastric distress, diarrhea, cramping, gas and bloating," she adds. And that's not the only cause of your uncomfortable side effects. "Inulin, a naturally occurring carbohydrate found in many fruits and vegetables, is sometimes added to protein supplements and is a prime offender of upset stomachs," explains Isabel Smith, MS, RD, CDN.
Eat This! Tip
Chuck any product that contains inulin and steer clear of powders that contain artificial sweeteners like Splenda (sucralose), acesulfame potassium (acesulfame-K or AceK), aspartame or saccharin. You'll also want to avoid sugar alcohols like erythritol, marital, sorbitol and xylitol. Too much to remember? These all-natural vegan protein powders fit the bill.
YOU'RE USING TOO MUCH POWDER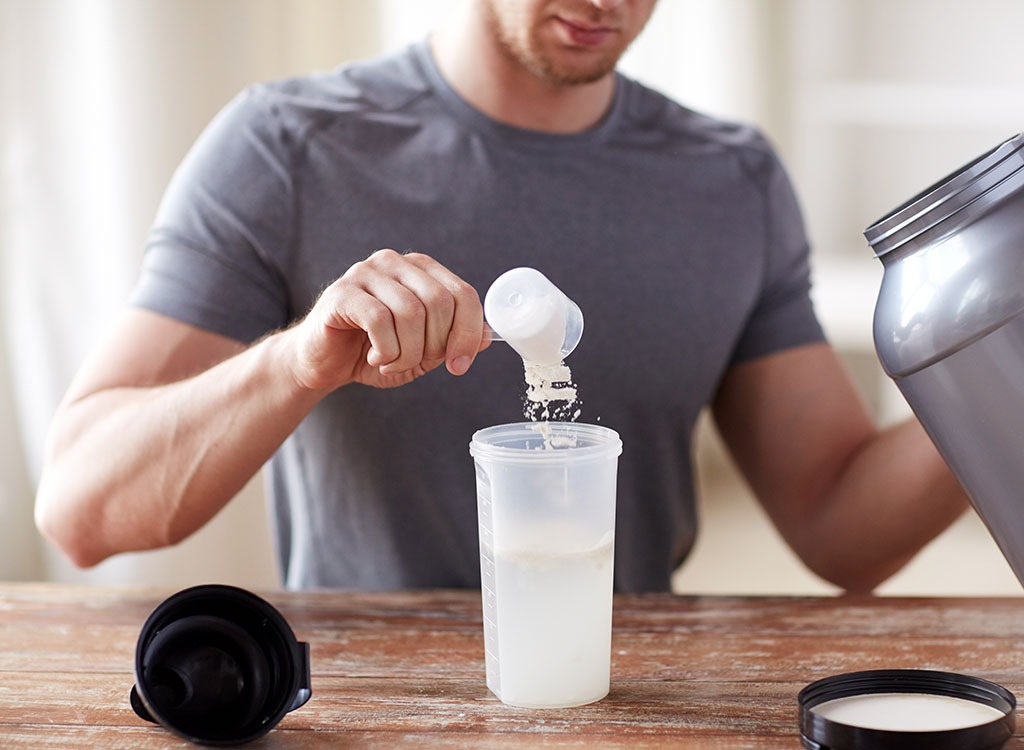 6254a4d1642c605c54bf1cab17d50f1e
If one scoop of protein is good, two or three is even better, right? Not in the least. "Protein is the most difficult macronutrient to digest, and because of that, consuming too much at once can cause indigestion," says Bjork. And you're not just getting more protein in those extra scoops, you're also getting additional carbs that will turn into sugar the instant they hit the bloodstream. "This can lead to nausea due to the blood sugar spikes and drops," Bjork explains.
Eat This! Tip
Post-workout, Bjork recommends that women consume between 20 and 25 grams of protein. Men should aim for 30 to 35. She also recommends blending avocado, coconut milk, coconut oil, or your favorite nut butter into your protein shake to slow the absorption of the carbohydrates. Adding one of these healthy fats will help ward off nausea and sugar cravings.
YOU'RE CHUGGING IT TOO QUICKLY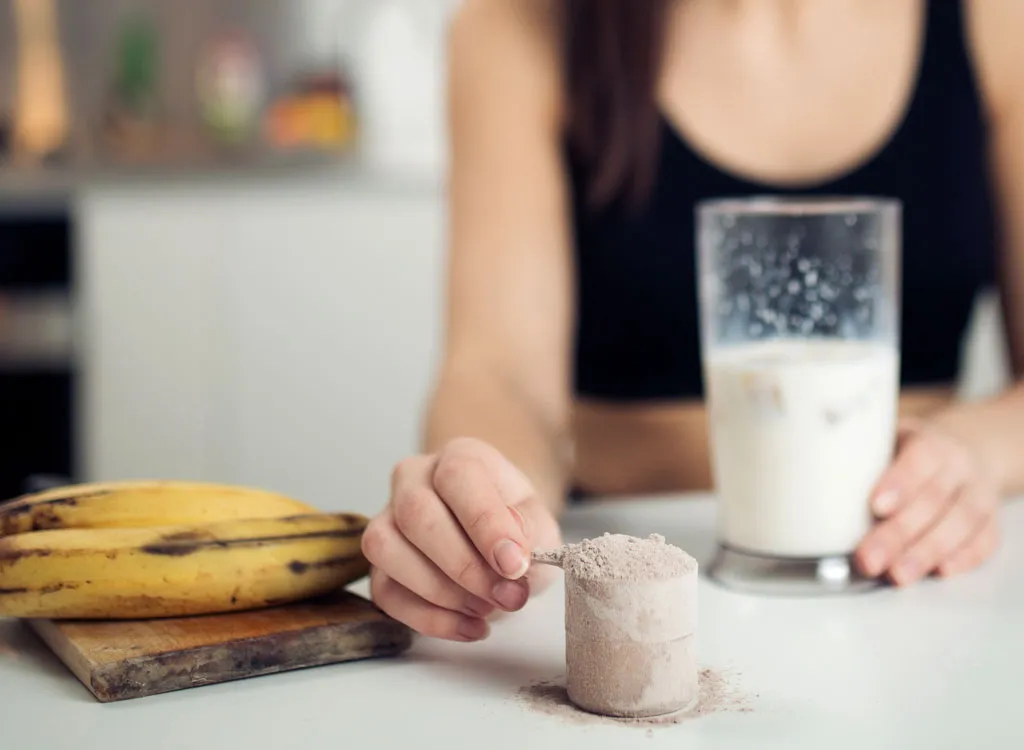 After a workout you're totally starving — we get it. But knocking back your shake like you're at a bar can make your stomach churn and bring on those nasty protein powder side effects. "Eating too quickly can promote overeating and, in some cases, swallowing extra air, both of which can contribute to bloating and stomach upset," says Smith.
Eat This! Tip
Nosh on a light pre-workout snack before hitting the gym so you aren't famished after you've finished up. Doing so should help to put a stop to the speed eating.
PLUS, don't miss out on these exciting protein shakes that will fuel your hunger and healthy goals.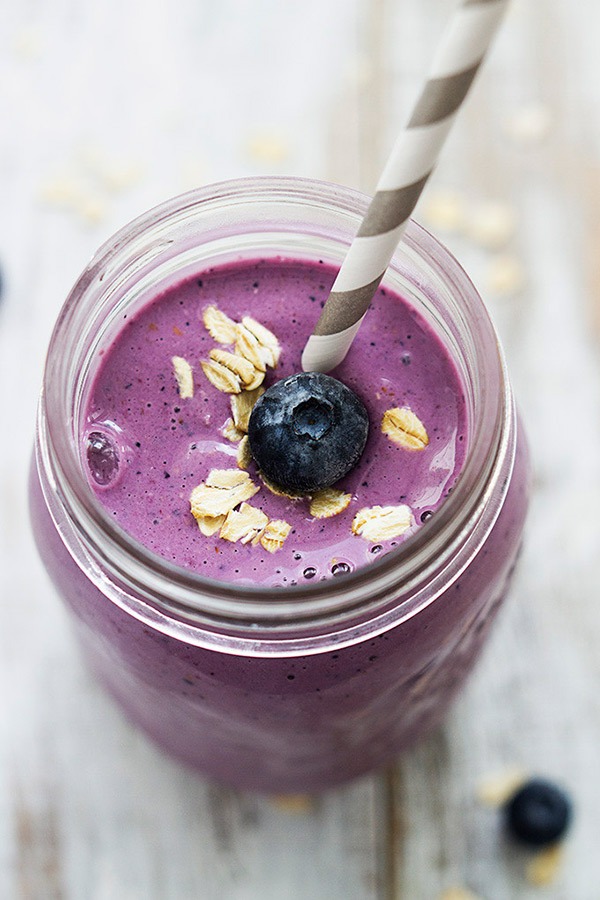 Serves: 2
Nutrition: 280 calories, 4.9 g fat (2.3 g sat fat), 3.3 g fiber, 35.9 g sugar, 10.6 g protein
Sometimes you're just not in the mood for oatmeal, no matter how good it is for you. This smoothie blends plenty of antioxidant-rich blueberries with oats to ensure you still get the benefits and stay full all the way through to lunchtime.
Get the recipe from Creme de la Crumb.
Chocolate Peanut Butter Banana Breakfast Shake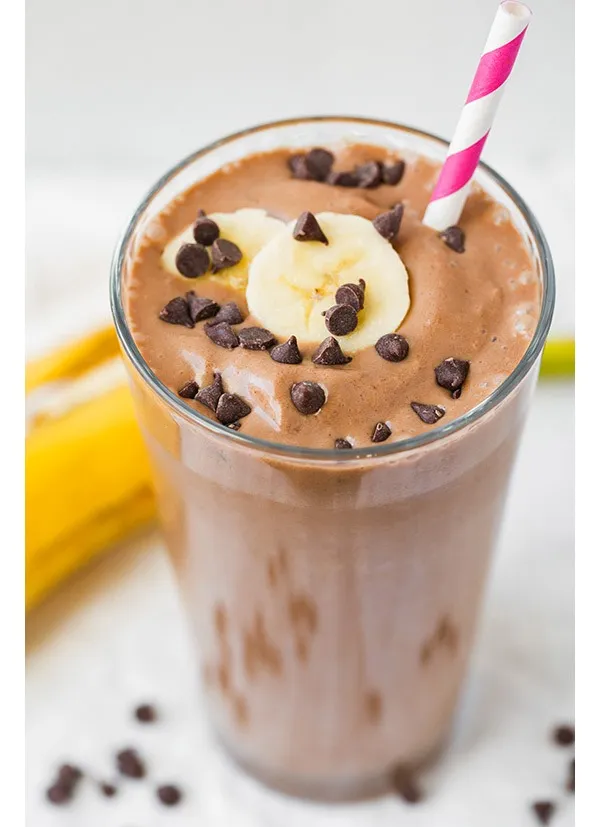 Serves: 2
Nutrition: 346 calories, 19.2 g fat (4.2 g sat fat), 7.8 g fiber, 19.9 g sugar, 11.1 g protein
Frozen bananas and peanut butter team up to give this smoothie a rich, milkshake-like consistency that will make you think it's sinful. When you use unsweetened almond milk, though, it has some protein without sky-high sugar counts found in other smoothies.
Get the recipe from Cooking Classy.
Serves: 1
Nutrition: 278 calories, 3.2 g fat (0.8 g sat fat), 15.3 g fiber, 26.5 g sugar, 8.3 g protein
We used the blogger's favorite combo of vibrant, fresh parsley and mint in our calculation, and ditched the coconut water for plain old H2O. You'll save over 15 grams of sugar by making the same swap. Start the day with this sip and you're well on your way to getting all your vitamins and minerals—deliciously.
Get the recipe from The First Mess.
Raspberry Coconut Smoothie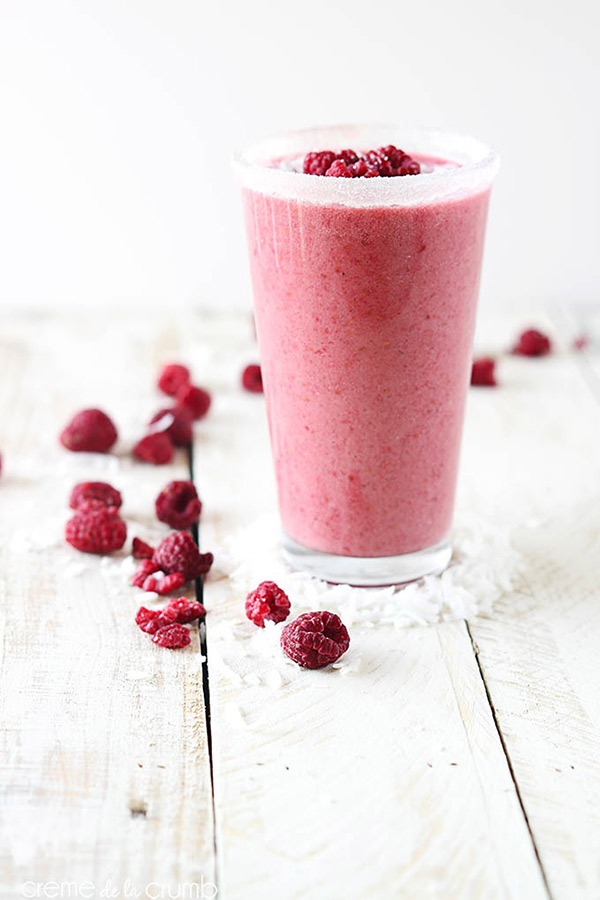 Serves: 1
Nutrition: 454 calories, 7.0 g fat (5.6 g sat fat), 15.1 g fiber, 70.4 g sugar, 3.5 g protein
Swapping in unsweetened coconut milk for the canned variety will save you over a day's worth of saturated fat without sacrificing the nutty, tropical flavor and creamy texture. The sugar in this drink comes entirely from raspberries and a banana, natural sources that are a healthy way to indulge. Top your drink with a tablespoon unsweetened shredded coconut (we calculated for it) and a drink umbrella for the full experience.
Get the recipe from Creme de la Crumb.
Serves: 2
Nutrition: 122 calories, 0.3 g fat (0 g sat fat), 6.2 g fiber, 10.9 g sugar, 4.9 g protein
Packed with essential vitamins and nutrients, this smoothie isn't meant to be a meal, just a health booster. Mint, pear and ginger keep the kale from being too bitter and blending it rather than juicing ensures you get a filling dose of fiber with your nutrients.
Get the recipe from Running to the Kitchen.
Serves: 2
Nutrition: 234 calories, 3.5 g fat (1.1 g sat fat), 8.0 g fiber, 32.7 g sugar, 7.5 g protein
This smoothie may taste like dessert, but it won't have the same waist-expanding effects. Frozen banana adds creamy texture without interfering in the classic dessert flavor you love. We suggest using Fage 2% Greek yogurt for this recipe for its pumped up protein count and low sugar. Want something a little more indulgent? Add a pitted date for natural sweetness and a richer texture.
Get the recipe from Gimme Some Oven.
Blueberry Almond Butter Smoothie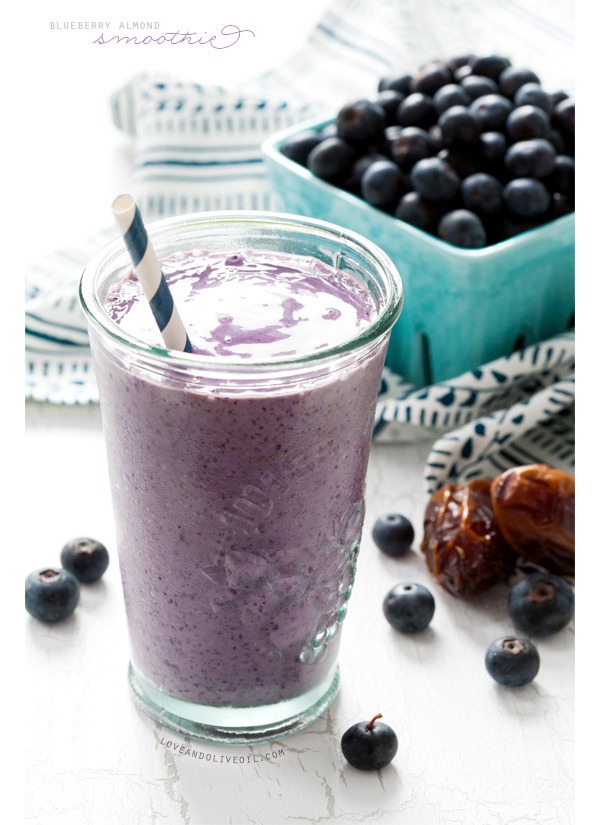 Serves: 2
Nutrition: 585 calories, 37.8 g fat (4.1 g sat fat), 7.0 g fiber, 26.6 g sugar, 18.6 g protein
If you're looking for meal-replacement smoothie, look no further. This one's overflowing with protein from rich almond butter and antioxidants from frozen blueberries. With over 18 grams of protein and a hefty dose of fiber, cravings won't come crawling back an hour later.
Get the recipe from Love and Olive Oil.
Chai Pumpkin Pie Smoothie
Serves: 1
Nutrition: 267 calories, 3.3 g fat (0.6 g sat fat), 8.3 g fiber, 31 g sugar, 3.8 g protein
For those of who choose pumpkin over apple when it comes to your holiday pie selection, there's a healthy smoothie recipe for you, too. The warm spices from chai tea infused pumpkin puree and bananas with the just-baked flavor you love without all the sugar and butter. The best part? You can have it way more than twice a year, guilt-free.
Get the recipe from One Ingredient Chef.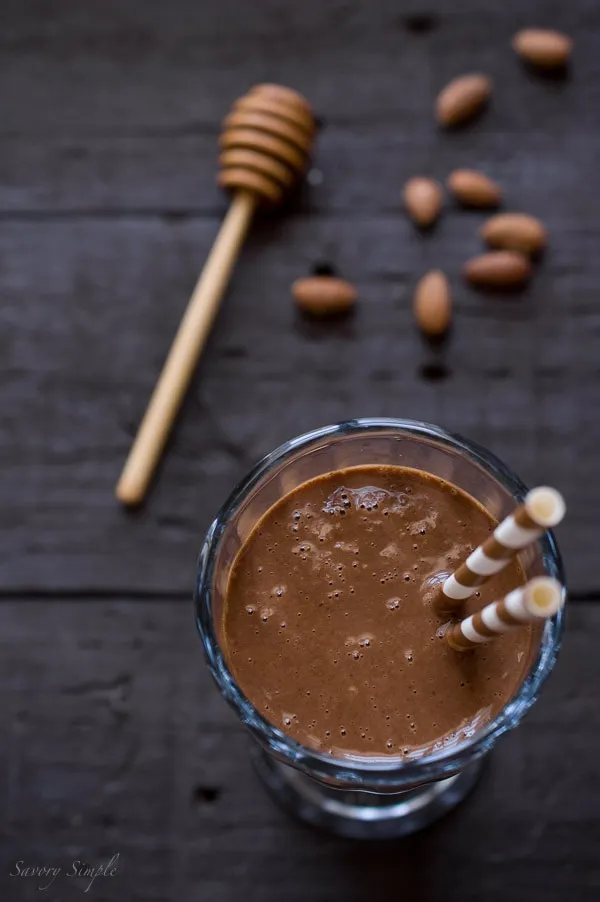 Serves: 1
Nutrition: 437 calories, 19.5 g fat (4.4 g sat fat), 11 g fiber, 34.7 g sugar, 12.4 g protein
Raw cacao is different from that supermarket chocolate in two very important ways: it's packed with powerful antioxidants and boasts a surprisingly high amount of fiber. Paired with a portioned amount of honey, it's as sweet and indulgent as what you're used to, except it's actually good for you.
Get the recipe from Savory Simple.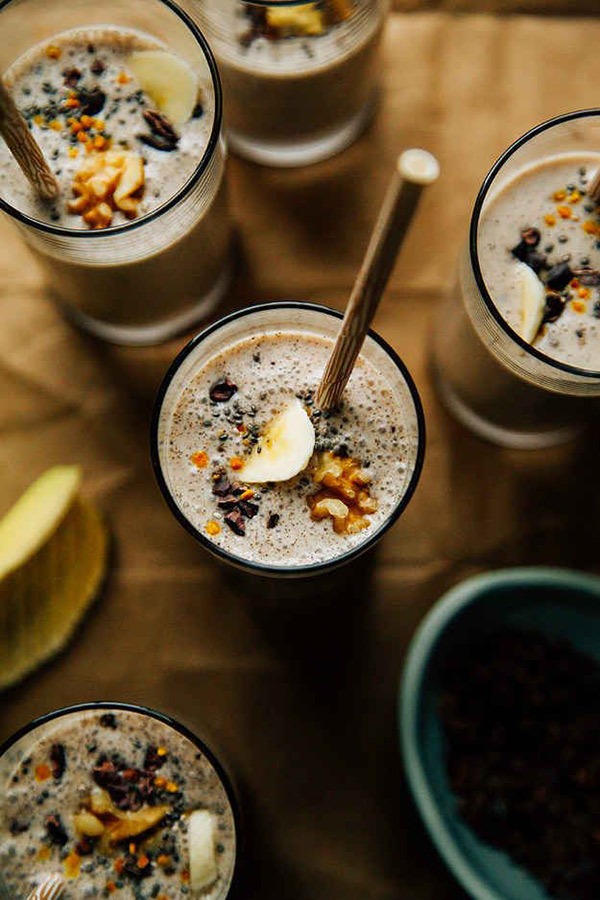 Serves: 4
Nutrition: 307 calories, 20.2 g fat (2 g sat fat), 6.9 g fiber, 12.6 g sugar, 9.3 g protein
You'll get all the warm, comforting flavor of the weekend breakfast staple without any of the flour or butter when you pick this smoothie. Plus, walnuts boast healthy omega-3s, protein and fiber to keep you satiated.
Get the recipe from The First Mess.
Serves: 2
Nutrition: 261 calories, 0 g fat (0 g saturated), 399 mg sodium, 54.3 g carbs, 1.1 g fiber, 31.5 g sugars, 12.1 g protein (Calculated with NF Plain Greek Yogurt, skim milk, and organic cake mix)
Cake and diet are two words you never hear together. The cake, for starters, is full of endless amounts of sugar and empty calories. And if that weren't enough, it's smothered in moussey or creamy fat-laden frosting. But luckily for you, we've found the skinny on cake, so next time those sugar cravings hit, blend this Cake Batter Smoothie instead. When prepared using nonfat Greek yogurt, skim milk and organic cake mix, it has just 261 calories, plus 12 grams of satiating protein and no fat in a one-cup serving. Just remember to consume this one in moderation and preferably not for breakfast—it's still a dessert!
Get the recipe from Le Creme De La Crumb.
POST HOLIDAY SPICY PINEAPPLE DETOX SMOOTHIE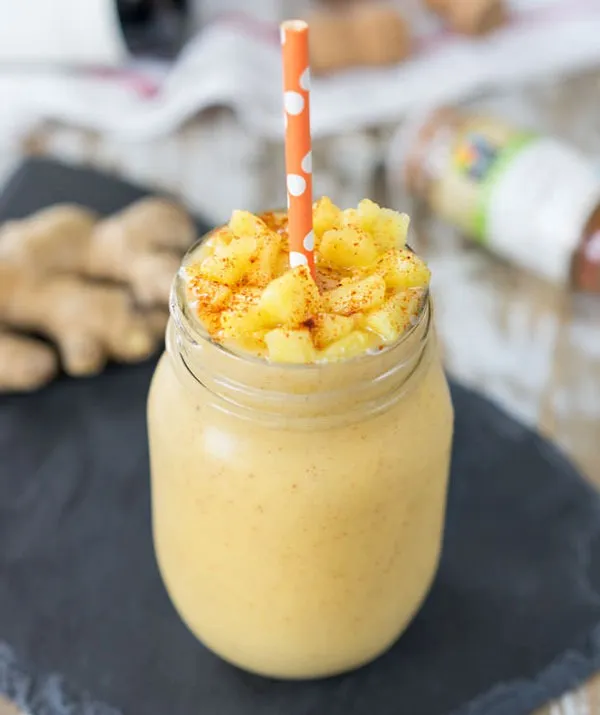 Serves: 1
Nutrition: 256 calories, 3.7 g fat (0.8 g saturated), 14 mg sodium, 56 g carbs, 8.6 g fiber, 31.8 g sugars, 4.4 g protein
Worried about all those holiday goodies? Banish bloat and fight abdominal fat with this detox smoothie. Banana, pineapple, lemon juice, fresh ginger, and cayenne pepper combine to create a lethal post-holiday fat loss weapon. The recipe calls for a frozen banana, but we suggest throwing it in the freezer before it's ripened. Why? Prior to ripening, bananas are rich in resistant starch, which literally resists digestion, passing through the small intestine without being digested causing to prolonged feelings of fullness and more efficient fat oxidation. In fact, one study found that replacing just 5 percent of the day's carbohydrates with a source of resistant starch can boost post-meal fat burn by up to 30 percent!
Get the recipe from One Ingredient Chef.