How Much Protein Is in a Potato? Here's the Spud-Tacular Truth
Potatoes often get a bad rap for their high carbohydrate levels, but they're actually nutritional powerhouses.
While delicious, potatoes often get a bad (nutritional) rap. They're relatively high in calories and are packed with carbohydrates. But potatoes also have a number of nutritional benefits, including protein⁠. Protein is sometimes called the "building block" of all of our bodies' crucial components, from blood and tissue to muscle and bone.
Potatoes are also typically loaded with nutrients like vitamin C, fiber, potassium, and vitamin B6, according to research in Advances in Nutrition. Remember, though, that while potatoes are high in many nutrients, you might want to pair them with another source of protein, like meat or legumes, for a fully balanced meal.
Potatoes aren't typically thought of as a protein source, but as part of a balanced overall diet, you can certainly get a protein boost from this starchy staple. But just how much? Without further ado, let's dig more deeply into the amount of protein in potatoes, according to the United States Department of Agriculture's Food Composition Databases.
Russet potatoes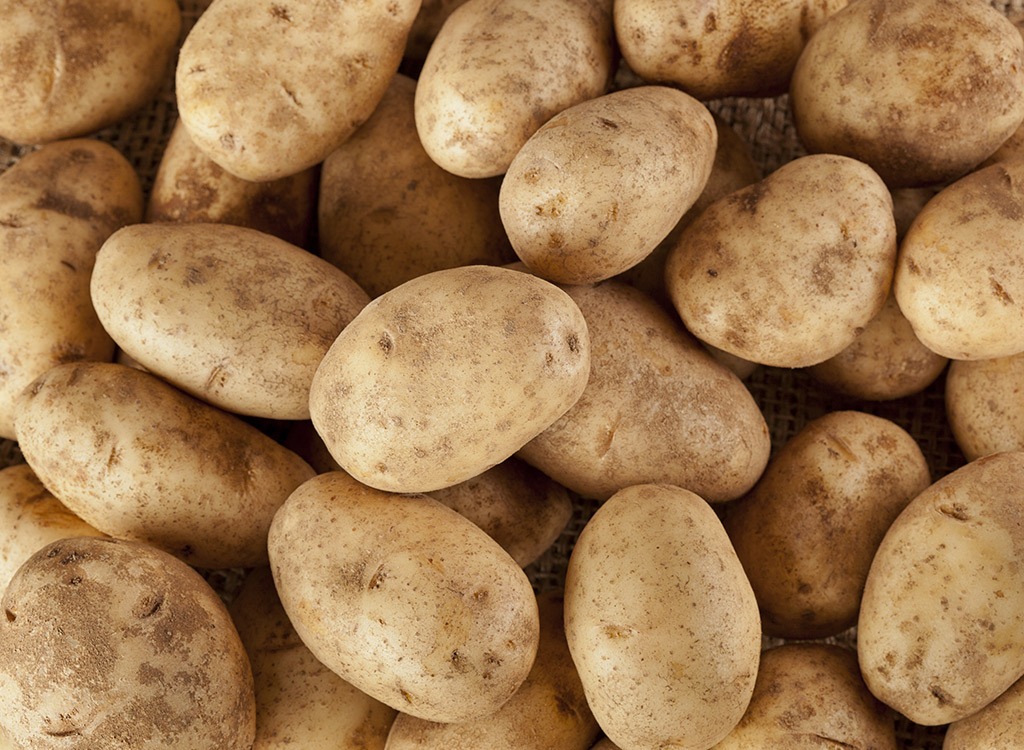 Protein in a Russet potato: 4.55 grams
Russet potatoes are the classic, starchy potatoes. Flaky and large, they're usually used for baking and mashing. Russet potatoes contain more protein than many other potato types; one medium Russet potato has 4.55 grams of protein.
Try Russet potatoes in this oven-baked French fries recipe.
Sweet potatoes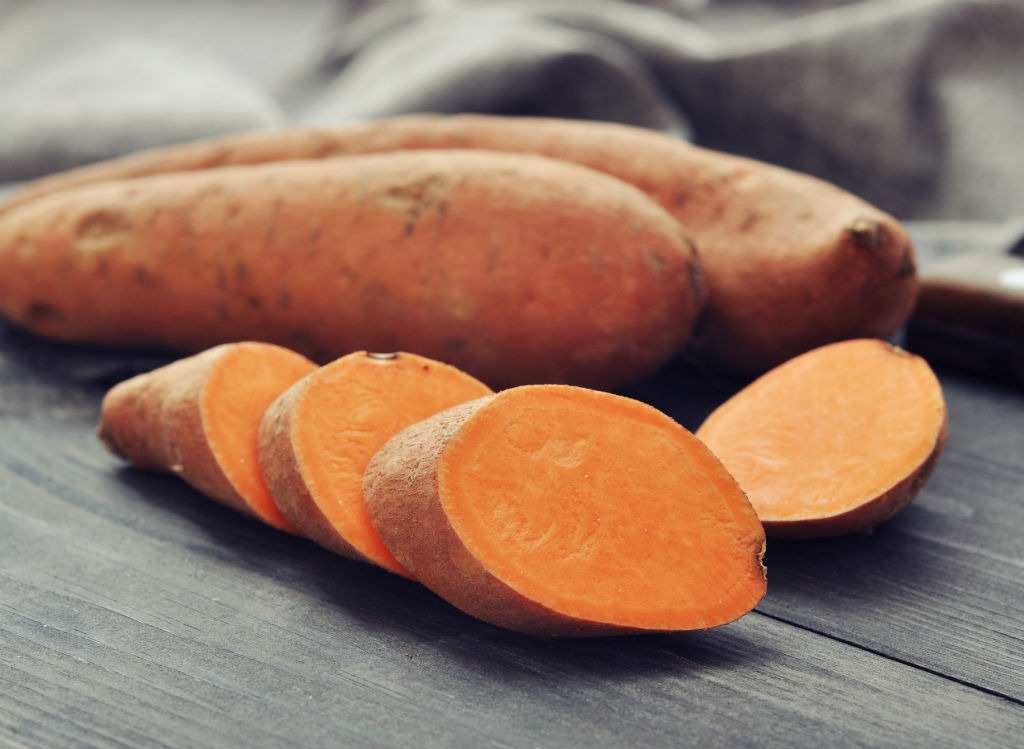 Protein in a sweet potato: 2.07 grams
Sweet potatoes are often hailed as the most nutrient-rich potato. While this potato type only has just above two grams of protein per one medium sweet potato serving, it contains plenty of other crucial nutrients. In addition to being high in vitamin C, vitamin B6, and fiber, sweet potatoes also contain choline, which helps to protect against inflammation, and beta-carotene, an antioxidant that gets converted to vitamin A in the body.
Try sweet potatoes in this sweet potato gratin recipe.
White potatoes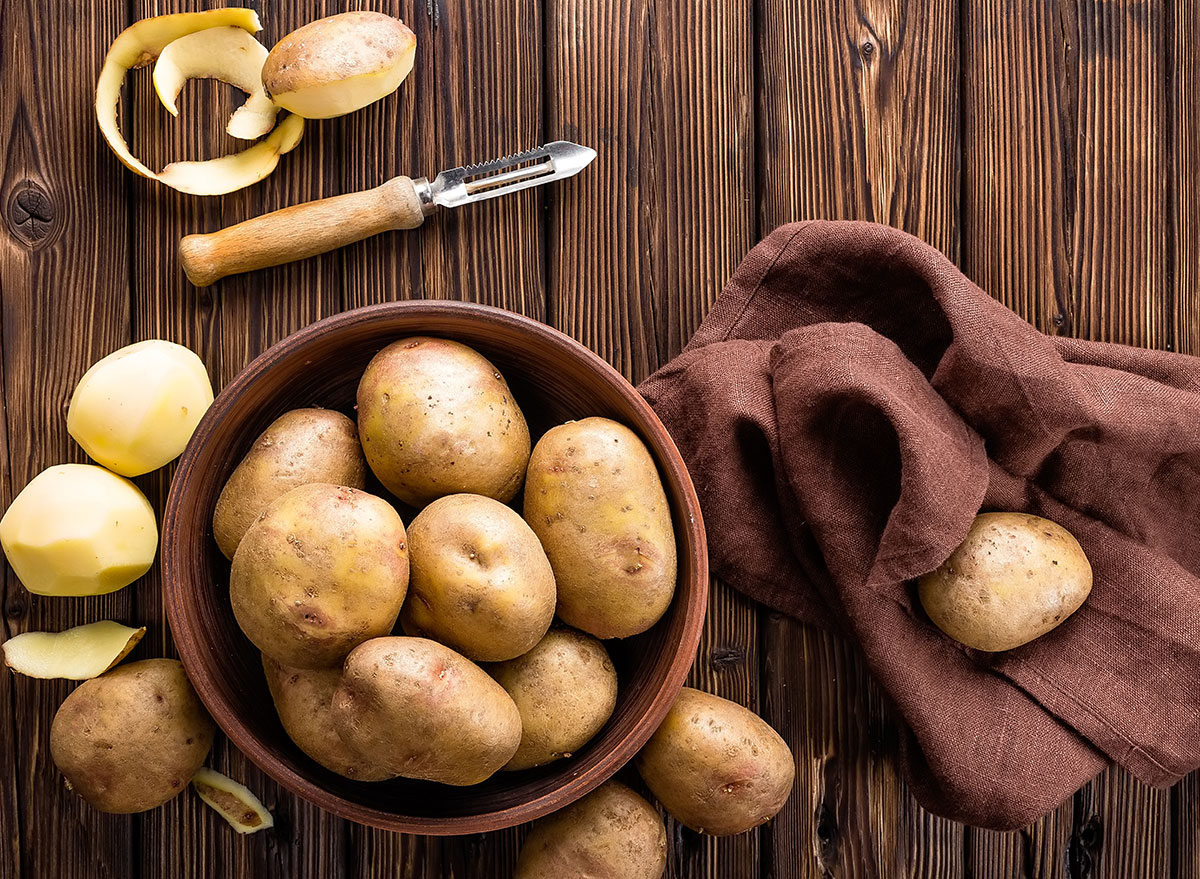 6254a4d1642c605c54bf1cab17d50f1e
Protein in a white potato: 2 grams
Though just as popular, white potatoes are creamier and a little sweeter than Russets. They're often used for boiling, steaming, and mashing, and hold their shape well in potato salads. Each medium white potato contains two grams of protein, as well as 271 milligrams of potassium and two grams of fiber.
Try white potatoes in this baked potato soup recipe.
Fingerling potatoes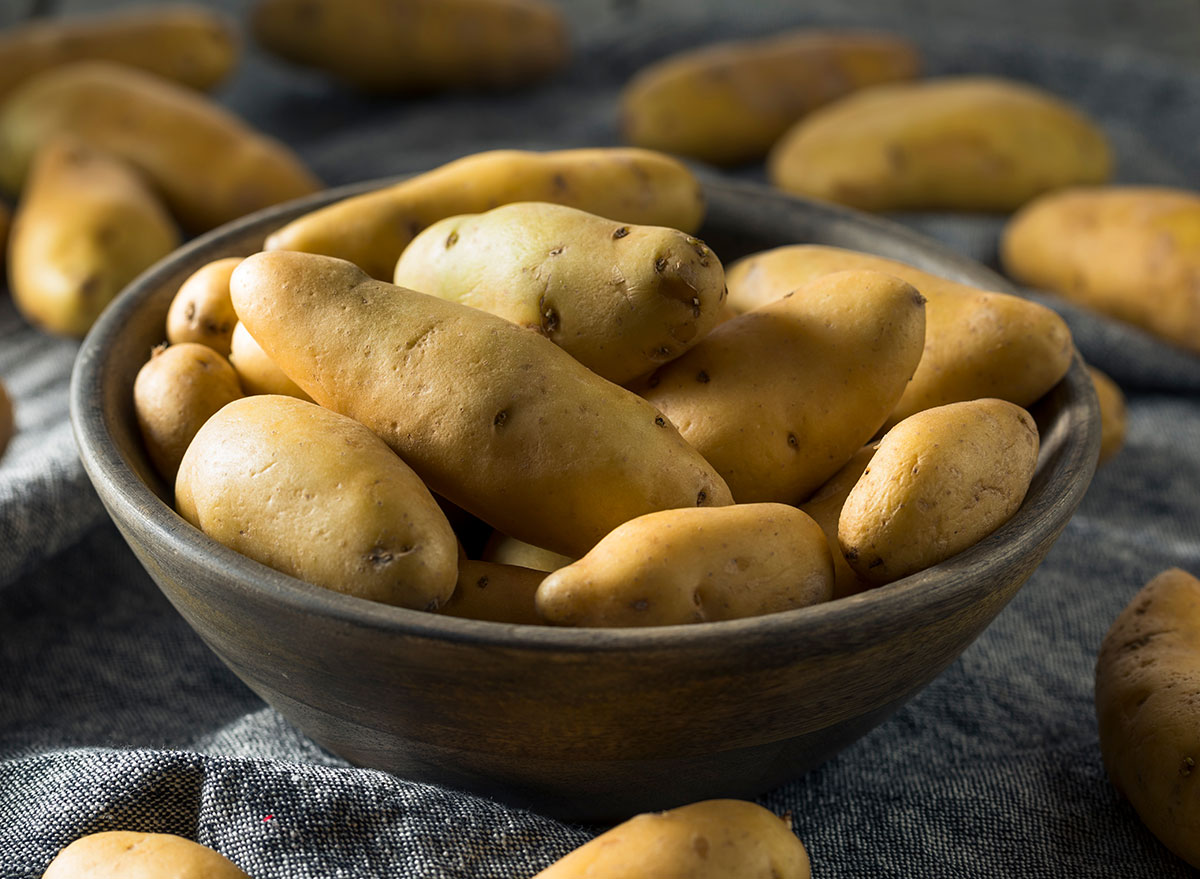 Protein in a 100-gram serving of fingerling potatoes: 2.35 grams
Fingerling potatoes are heirlooms of the waxy, firm variety. They tend to hold their shape when cooked, which makes them ideal to serve in soups, salads, and stews. They also have a delicious earthy flavor that makes them popular in rustic dishes and farm-to-table eateries.
While boasting sky-high levels of potassium and vitamin C, however, fingerlings have relatively little protein: only just above two grams in a 100-gram serving.
Try fingerling potatoes in this pork chile verde recipe.
Red potatoes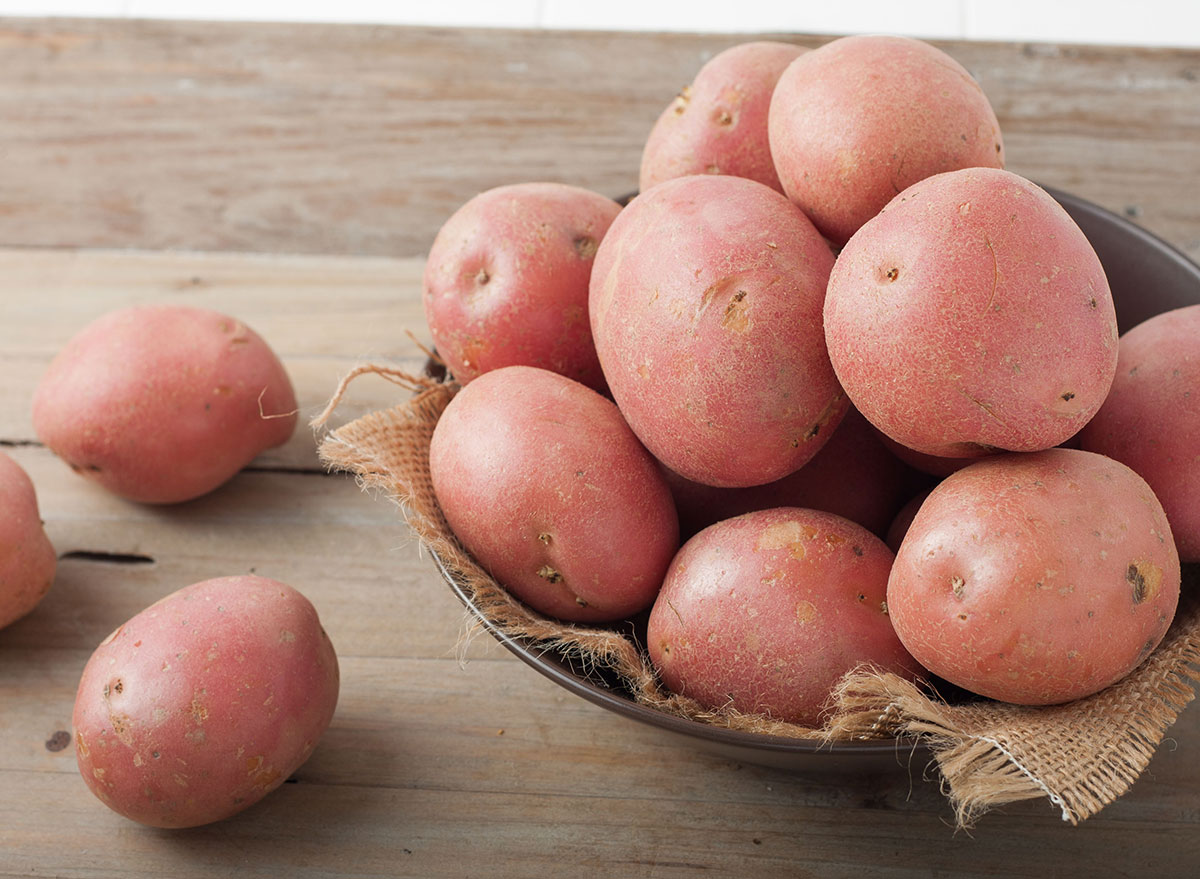 Protein in a 100-gram serving of red potatoes: 2.3 grams
Red potatoes are small, round, and waxy, with a creamy texture perfect for roasting and mashing. They have just over two grams of protein in each 100 gram-serving, along with high levels of vitamin C and potassium.
Try red potatoes in this crispy rosemary potatoes recipe.
Yukon gold potatoes
Protein in a Yukon gold potato: 3 grams
Yukon gold potatoes are "medium-starch" potatoes, meaning they're closer to buttery than flaky. Tasty and somewhat sweet whether boiled or baked, Yukon golds have three grams of protein on average, along with plenty of vitamin C, potassium, and calcium.
Like other potatoes, Yukon gold potatoes are also free of fat, cholesterol, and sodium.
Try Yukon gold potatoes in this garlic mashed potatoes recipe.
Now that you know more about protein in potatoes, as well as the spuds' many other nutritional benefits, you'll want to enjoy this starchy veggie even more often. Not sure where to start? You can't go wrong with these creative potato recipes.