Low-Calorie Yukon Gold and Sweet Potato Gratin Recipe
It's a slimmed-down version of the classic side dish.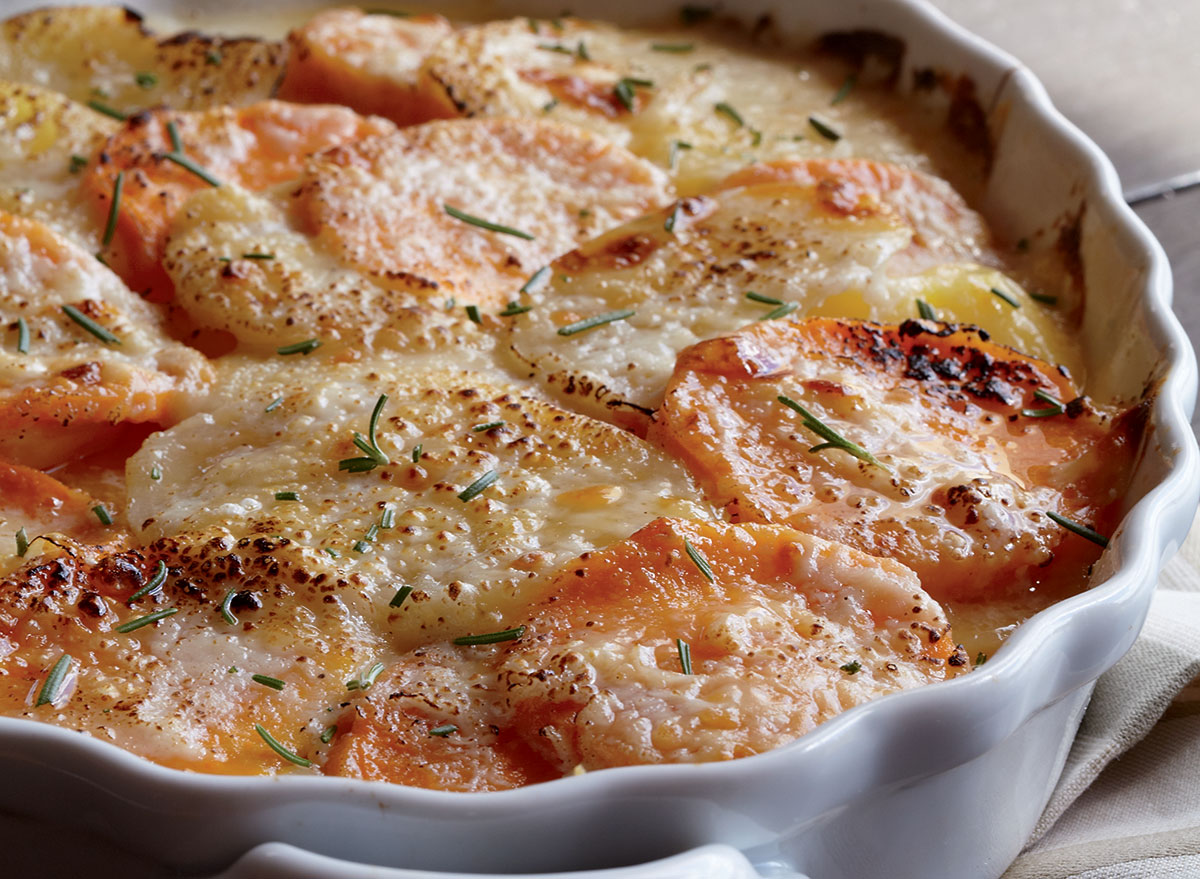 The basic idea behind a gratin (especially when ordered in most major restaurants) is to turn the potato into a vessel for heavy cream and butter, which explains why only a side portion of a restaurant gratin could have more calories than the entrée it accompanies. Let's make gratin the side dish it was meant to be and let the protein portion of the meal take center stage instead. In our version of potato gratin, we slim our recipe down by trading in a lower fat milk for the traditional cream and buffering the normal potatoes with nutrient dense, fiber loaded sweet potatoes rather than the heavy carb heavy alternative. Try pairing this as a side dish with a roasted chicken, a grilled steak, or even your next Thanksgiving turkey. Your guests will be thrilled to meet your new side dish.
Nutrition: 210 calories, 7 g fat (4.5 g saturated), 180 mg sodium
Serves 4
You'll Need
2 Tbsp butter
2 Tbsp flour
2 cups 2% milk
Pinch nutmeg
2 medium Yukon gold potatoes, peeled and sliced into 1⁄8"-thick slices
2 medium sweet potatoes, peeled and sliced into 1⁄8"-thick slices
Salt and black pepper to taste
1⁄2 cup grated Gruyère or other Swiss cheese
Fresh chopped rosemary for garnish (optional)
How to Make It
Preheat the oven to 375°F.
Melt the butter in a medium saucepan over medium heat.
Stir in the flour and cook, stirring, for 1 minute to help eliminate a bit of that raw flour taste.
Slowly add the milk, whisking to help prevent lumps from forming.
Simmer the béchamel for 5 minutes, until it begins to thicken to the consistency of heavy cream.
Season with the nutmeg.
Layer the potatoes in an overlapping pattern in the bottom of a 10" cast-iron skillet or 8" x 8" baking dish, alternating between regular and sweet potatoes and seasoning each layer with salt and black pepper. (You should have enough potatoes to make a 4-layer gratin.)
Pour over the béchamel, then top with the grated cheese.
Cover with foil and bake for 20 minutes.
Increase the temperature to 450°F.
Remove the foil and continue baking for about 20 minutes, until the surface of the gratin is nicely browned all over.
This recipe (and hundreds more!) came from one of our Cook This, Not That! books. For more easy cooking ideas, you can also buy the book!