Professional Chefs' 16 Quickest 5-Ingredient Summer Recipes
These are the summer meals that the pros really love to eat.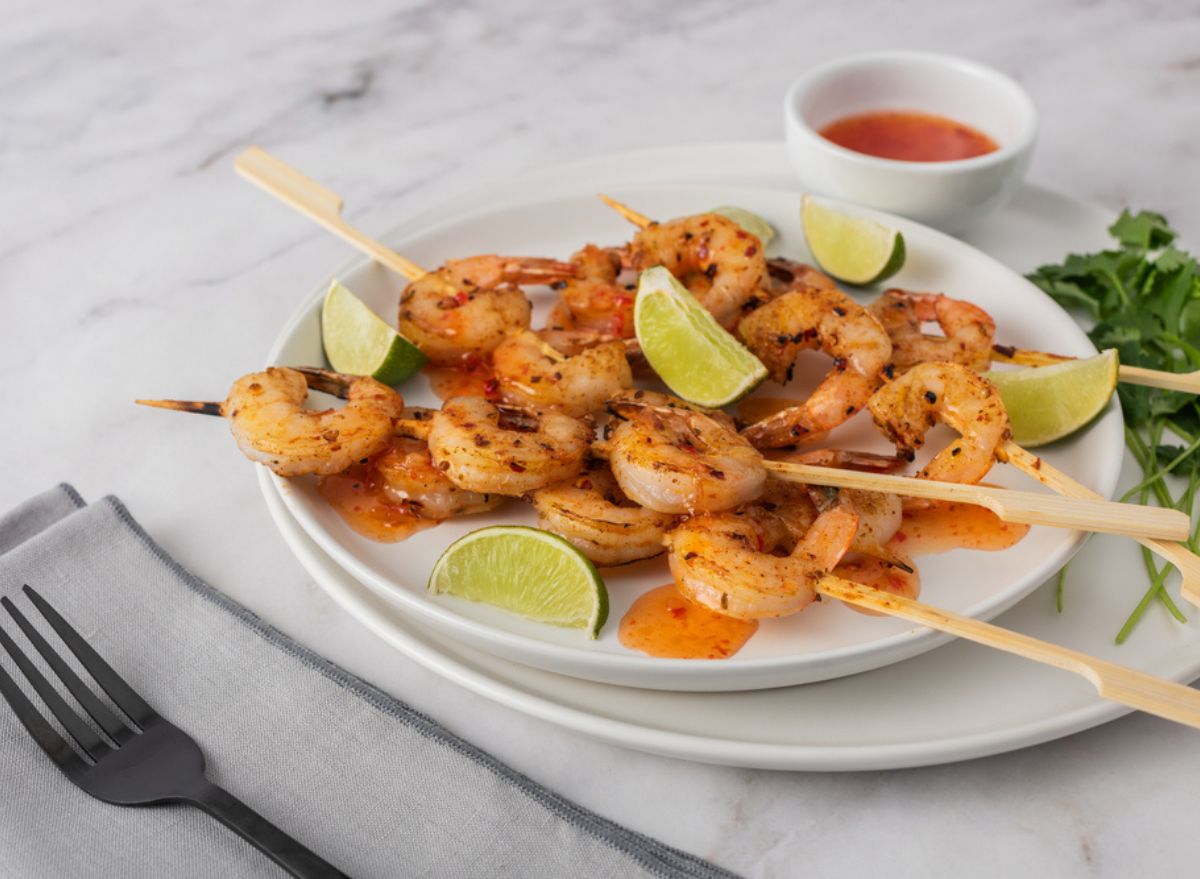 There's nothing worse after a day at work or out with your kids than trying to figure out what to make for dinner. And let's be honest, no one wants to make a meal that has dozens of ingredients every night. For those of us who are always on the go, but still want a satisfying and delicious meal, we've got you covered. We asked some professional chefs to share their quickest and healthiest five-ingredient summer recipes. Which one are you making first?
Tomato And Mozzarella Salad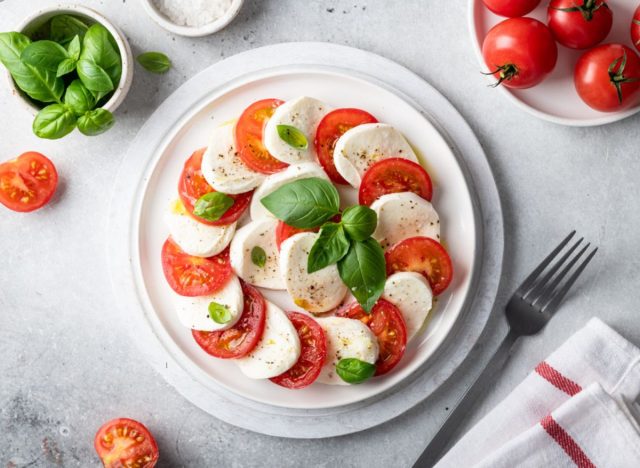 Chef Stephen Ennamorati, the executive chef of East Boston's Pazza on Porter and Next Door, whips this salad up in a pinch, and it's always a winner. "Depending on one's knife skills and presentation these ingredients can be chopped, halved, or served whole," he says. The recipe can also be made in large or small portions depending on how many people you're feeding.
Ingredients
Ciliegine Mozzarella ("cherry" size mozzarella)
Heirloom cherry tomato
Fresh basil
Olive oil
Red onion
How to Make It
Cut tomatoes in half, slice the red onion thinly and leave the mozzarella whole.
Place the tomatoes, onion, and mozzarella in a mixing bowl, generously coat them in olive oil, tear two or three leaves of basil (depending on the size of the leaves )and mix all of the ingredients together until everything is coated with olive oil.
Season the ingredients with salt and pepper to taste and place in a serving bowl.
Milk Chocolate Stuffed Figs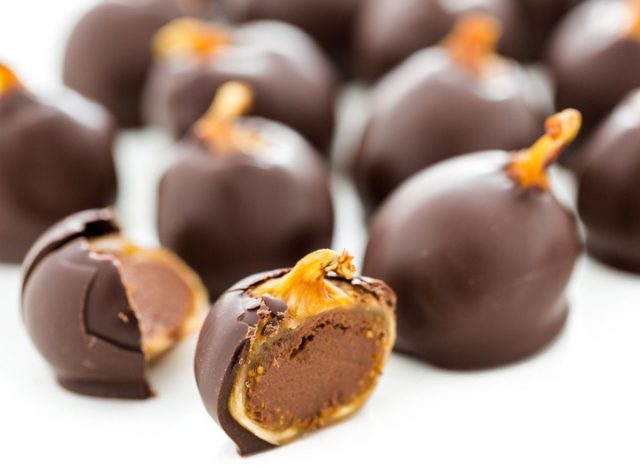 This is a sweet dessert that doesn't take long and doesn't take a lot of ingredients, from Arturo-Franco, executive chef and co-owner of Camacho Garage.
Ingredients
12 Mission Figs
6 oz Milk Chocolate
1 oz Balsamic Glaze (1 cup Balsamic Vinegar and 1/2 cup sugar, reduced to half)
Sea salt
How to Make It
Place figs on a baking sheet and cut figs in fourths to two-thirds to avoid cutting all the way down.
Stuff figs with chocolate (about one teaspoon).
Bake for 5 to 10 minutes or until chocolate is almost melted.
Let rest for 2 minutes.
Drizzle balsamic glaze on top and sprinkle with sea salt. Serve warm.
Evan LeRoy, chef, pitmaster and co-owner of lauded LeRoy and Lewis Barbecue in Austin, Texas is sharing his recipe for a hearty slaw that's great for a party or family dinner.
Ingredients
1 bunch kale, sliced into ribbons
1 head cabbage, shredded
1 bottle caesar dressing (store bought or homemade)
1 cup shredded parmesan
1 cup seasoned croutons
How to Make It
Combine all ingredients in a big mixing bowl and mix until thoroughly coated.
Blueberry Muffin Smoothie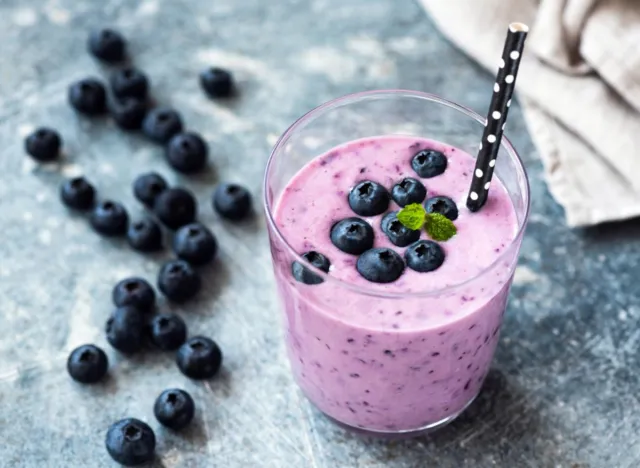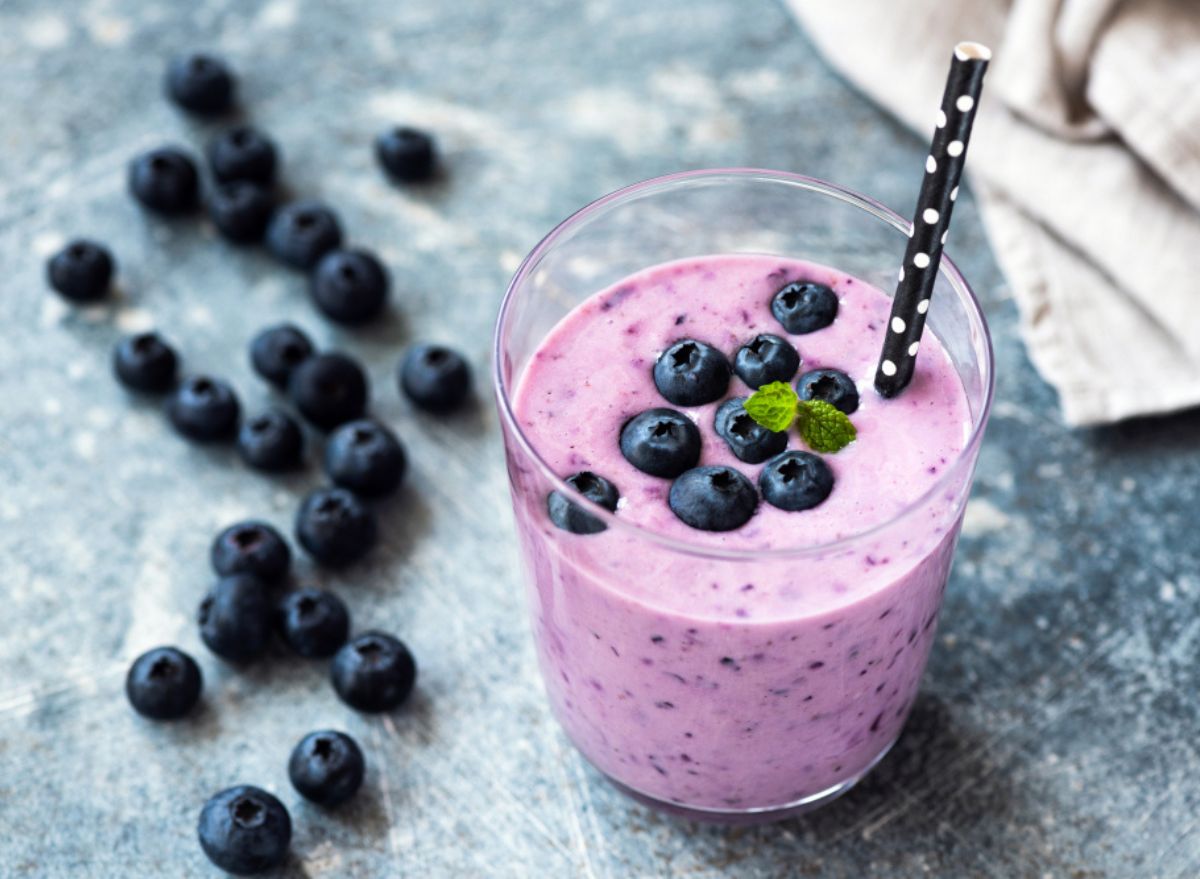 Kelsey Riley, the recipe developer and founder of Planted in the Kitchen, says this is the perfect vegan-friendly breakfast for people on the go, or even as a dessert. And the best part is that most of the work is done by the blender.
Get the recipe from Planted in the Kitchen.
Chimichurri Potato and Green Bean Salad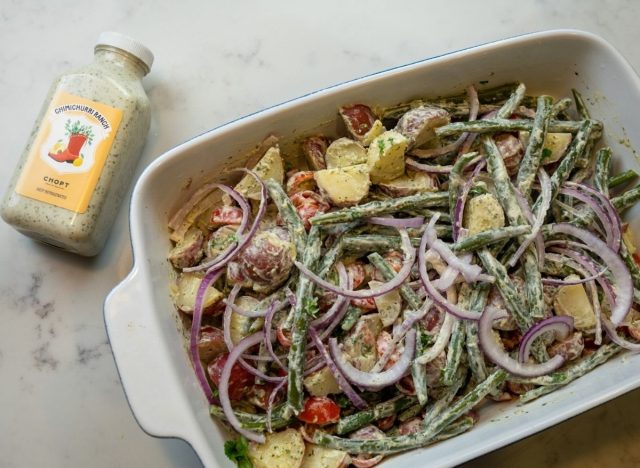 This salad from Ali Banks, Culinary Director at Founder's Table Restaurant Group, is a great way to use fresh green beans that are plentiful in the summer months. The tomatoes add a nice pop of acid while the potatoes add substance to the dish.
Ingredients
2 lbs red bliss or other small potatoes
1 bottle of Chopt Chimichurri Ranch dressing, divided
1 pint of dry grape tomatoes, cut into quarters
2 pounds of green beans, cut into 1-inch pieces
1/2 medium red onion, thinly sliced and rinsed
Kosher salt & freshly cracked pepper, to taste
How to Make It
Cover potatoes with cool water and bring to a boil. Simmer until fork tender.
Drain potatoes once cooked and gently smash or cut into approximately 1-inch chunks while warm.
Toss in about 1 cup of Chopt Chimichurri Ranch dressing. The potatoes will absorb the dressing as they cool.
Cool for at least 1 hour in the refrigerator or overnight.
In a small colander, lightly salt grape tomatoes and set aside to drain for 10 to 15 minutes.
Blanch green beans in salted, boiling water until tender. Shock in ice water to stop cooking. Drain and set aside.
Toss cooled, dressed potatoes with drained grape tomatoes, green beans, and thinly sliced onion until well incorporated.
Add additional dressing as desired. Season with salt and pepper as necessary.
Rice Noodles with Peanut Sauce
This easy dish from chef Nicole Guzman takes under 30 minutes to make and is a great way to use the last bit of peanut butter out of the jar.6254a4d1642c605c54bf1cab17d50f1e
Ingredients
8oz Rice Noodles of your choice
3 tbsp smooth or chunky peanut butter
1 1/2 to 2 tbsp soy sauce
2 tsp sesame oil
1 tbsp brown sugar
How to Make It
Boil the noodles according to the package directions and once cooked, rinse under cold water to prevent sticking unless you're going to use them right away.
In a bowl, whisk together the peanut butter, soy sauce, sesame oil, and brown sugar. You can add a splash of water if the sauce is too thick.
Once the sauce is well blended, pour over the noodles and mix together well, adding any additional garnishes or hot sauce that you fancy. I added some cucumber and Sambal Oelek for some heat and added crunch.
Avocado Filled With Turkey Bacon Crumbles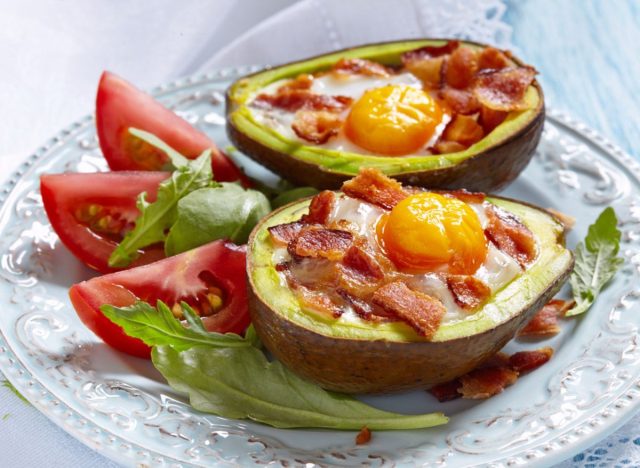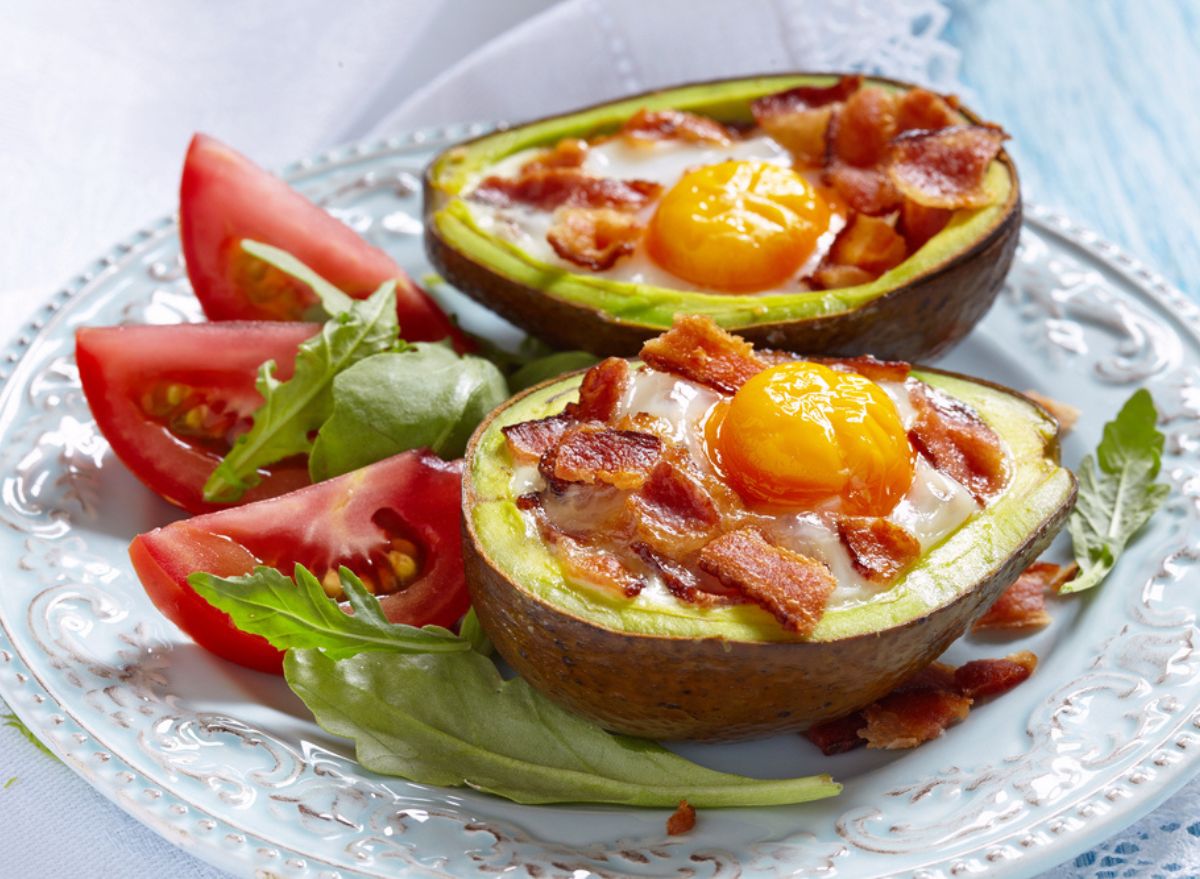 Cristie Besu, founder of Eat Me Guilt Free and registered nurse and certified sports nutritionist, shares her favorite recipe for a snack or dinner. According to Besu, the recipe is high in protein, and low carb with good fats, so it's great as a snack or meal.
Ingredients
1/2 of a Haas avocado
3 slices of nitrate-free turkey bacon
1 tbsp Lemon juice
How to Make It
Cook the nitrate-free turkey bacon for three minutes in the microwave on a plate until it's crunchy.
Cut up the bacon in small pieces or break up with hands once it is cooked.
Slice the avocado in half and spread lemon juice on the surface on it so it doesn't turn brown before you serve.
Remove the seed and replace it with the turkey crumbles.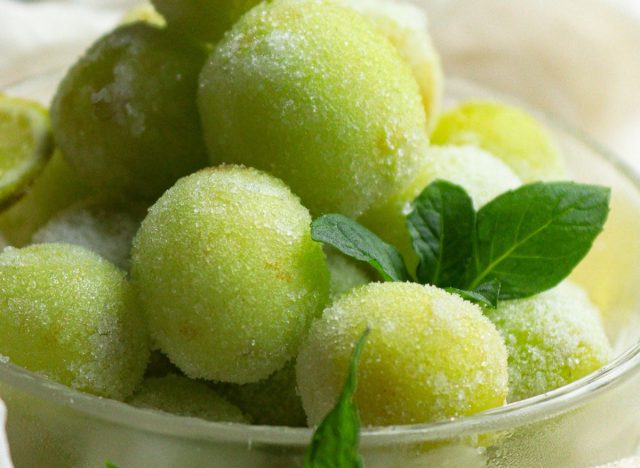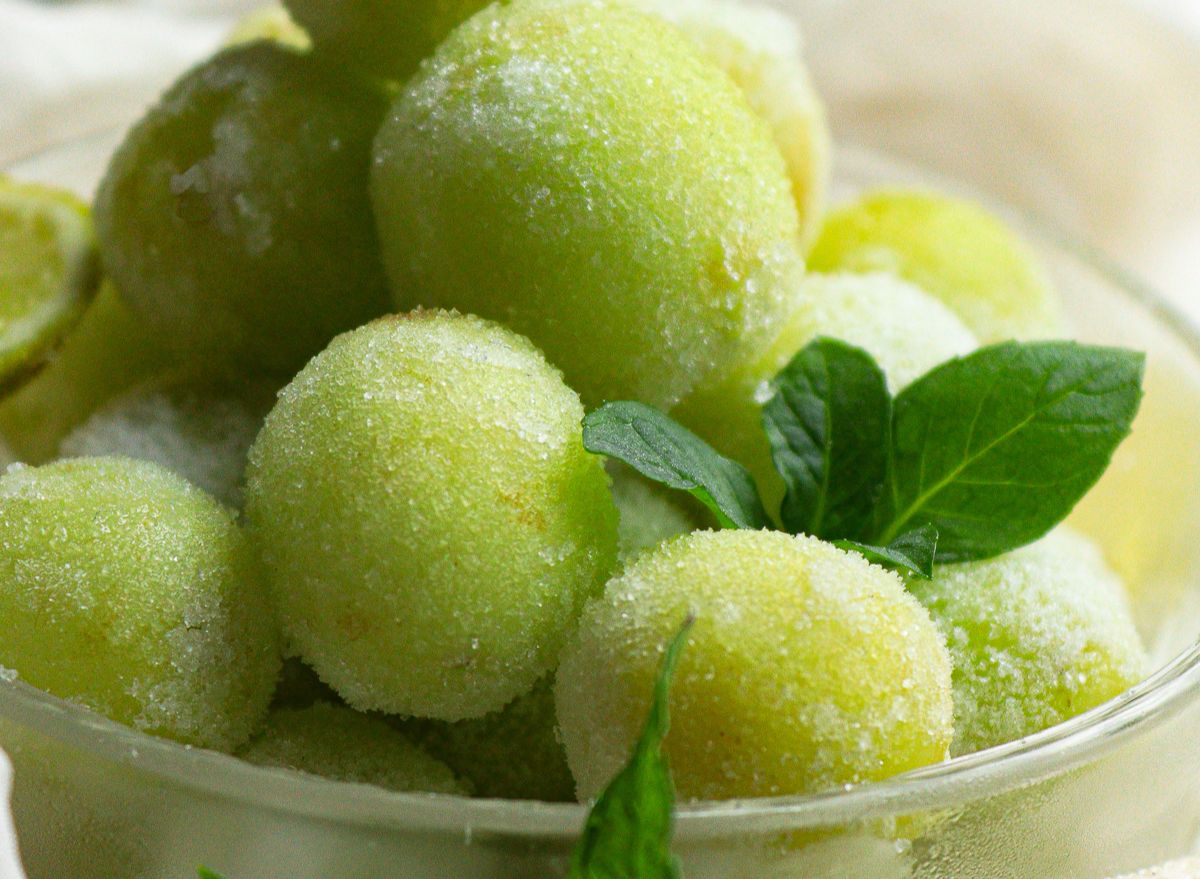 This recipe from Rosie Morgan, of Pink Haired Pastry Chef is an easy dessert or summer snack for kids.
Ingredients
200 g of washed grapes
Juice of 2 limes
100 g of caster sugar
1 tsp citric acid (optional)
How to Make It
Begin by washing and removing any stems from your grapes.
Place them into a bowl. Squeeze over the lime juice and stir to coat.
Pop them into the fridge for 10 minutes to help soak up the juice.
In a small bowl, mix together the sugar and citric acid. Once chilled, remove from the fridge and place a couple at a time into the sugar.
Roll them around the sugar until fully coated and place them onto a lined baking tray with plenty of space in between.
Freeze for at least 30 minutes and once solid, transfer into airtight containers or Ziploc bags.
Dairy and Gluten-Free Almond Cake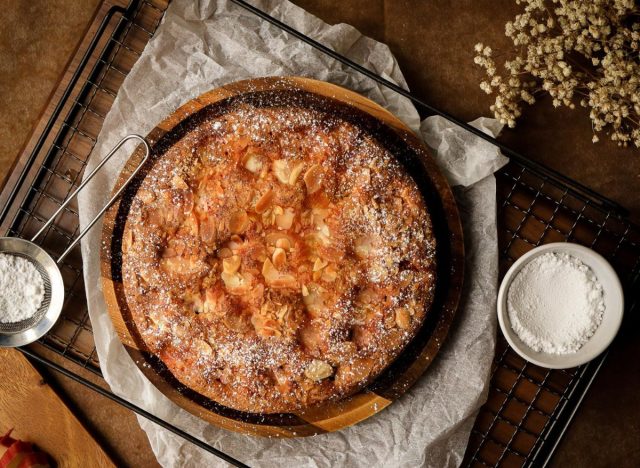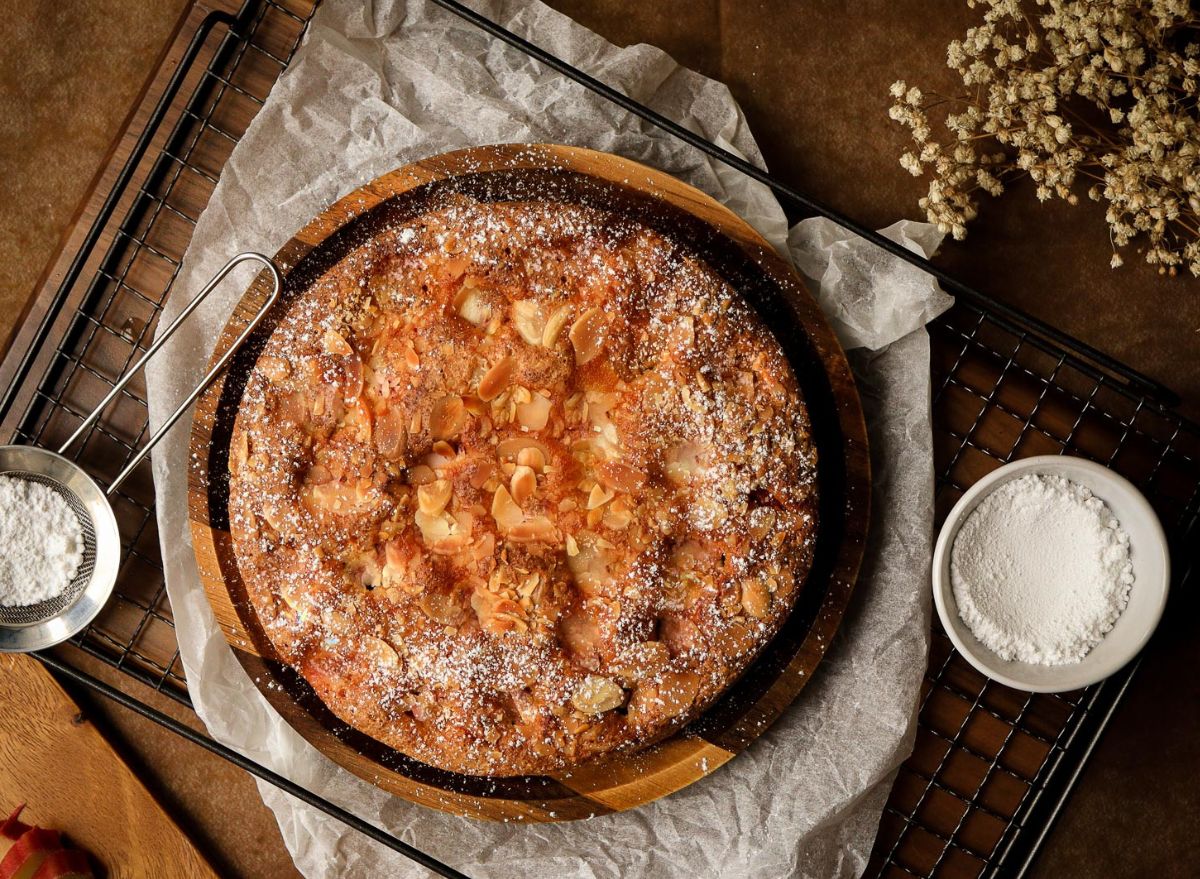 Rosie Morgan also shared her dairy and gluten-free almond cake, which is a nice dessert for those with food allergies or on a specific diet.
Ingredients
3 whole eggs
160 g of ground almonds
140 g caster sugar
1/2 tsp of baking powder
1 tsp of almond essence
How to Make It
In a large mixing bowl, add the eggs, ground almonds, sugar, baking powder, and almond essence. Whisk together until a smooth batter has been formed.
Pour into a greased and lined 10-inch round cake tin.
Bake for 30-40 minutes at 340°F until a skewer inserted into the middle comes out clean.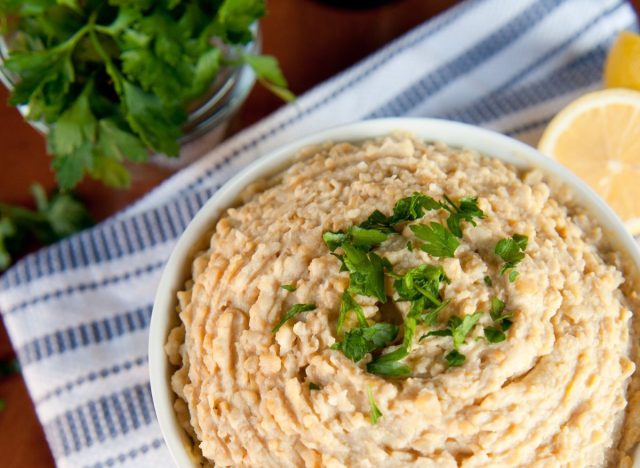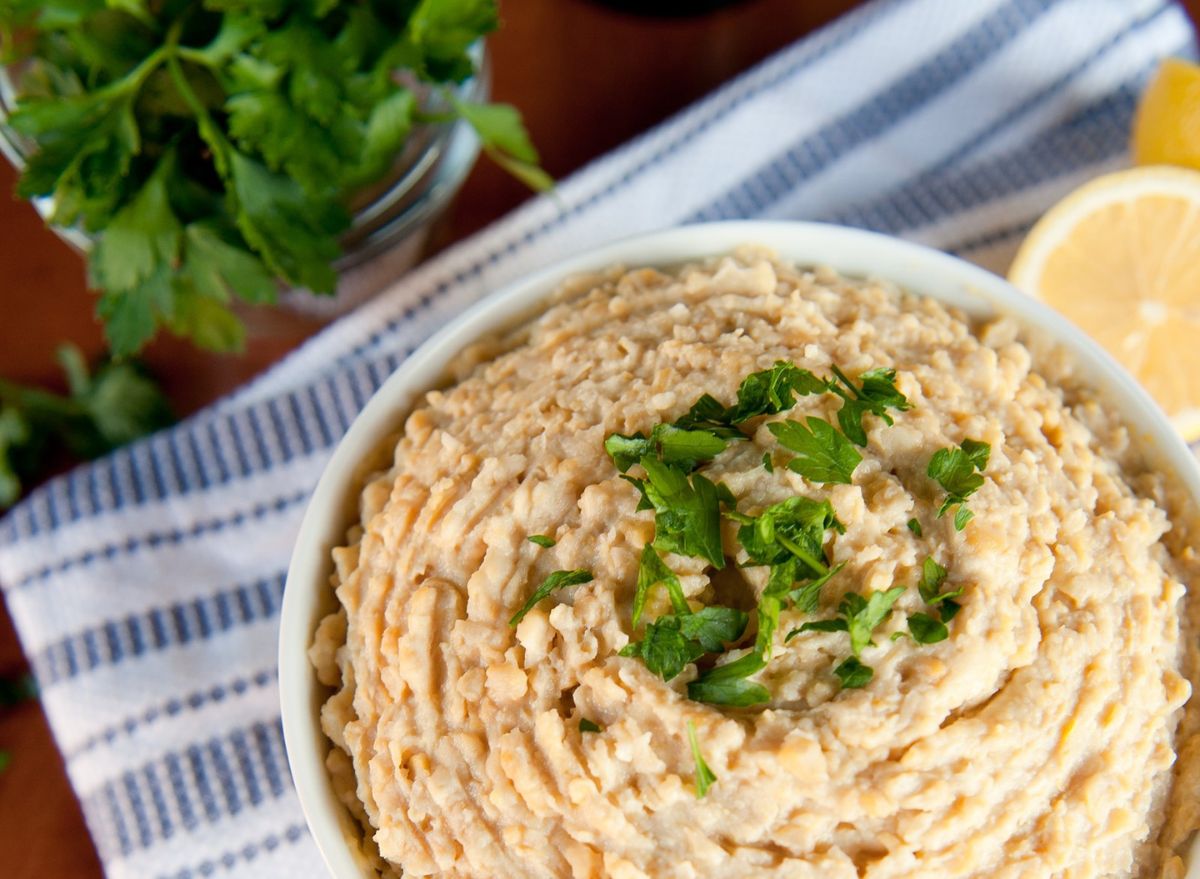 Hummus is an easy side or snack that can be made with just a few ingredients. Chef Vassilis Coumbaros of Taverna Opa Orlando shared their iconic hummus recipe that will keep you coming back to the dip bowl for more.
Ingredients
1 cup of canned chickpeas
3 tbsp of extra virgin olive oil
1/2 cup of garlic, chopped
1 pinch of salt and pepper
How to Make It
Combine all ingredients in a mortar and pestle and ground to the desired consistency.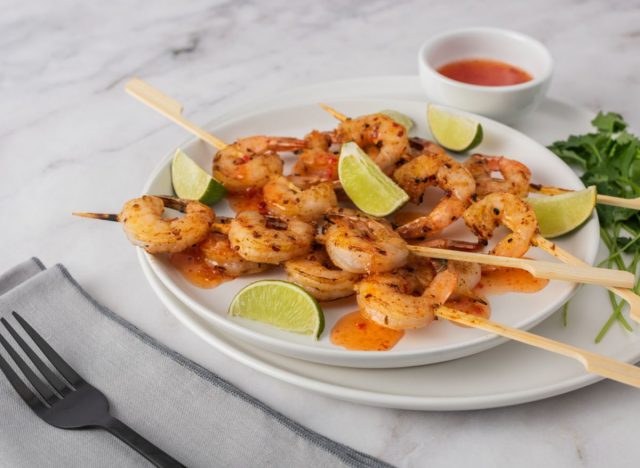 Shrimp is one of the easier seafood to acquire and cook at home. This recipe for BBQ shrimp from Sizzlefish's team of chefs comes complete with grilled pineapple and two sides to make a complete meal.
Get the recipe from Sizzlefish.
Super Easy Peanut Butter Oat Bars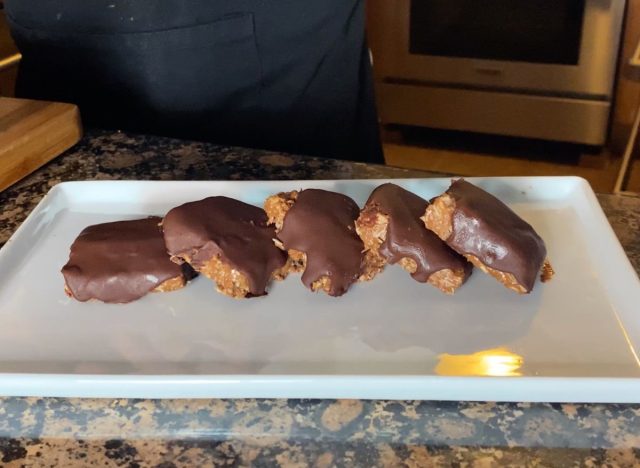 This recipe comes from Chef Derrick Fox, who was the runner-up on Season 6 of MasterChef and is currently a professional private chef and brand ambassador for THOR Kitchen. The bars have a nice mix of chocolate and peanut butter thanks to the addition of chocolate hazelnut spread.
Get the recipe from THOR Kitchen.
Chef Matt's California Quesadillas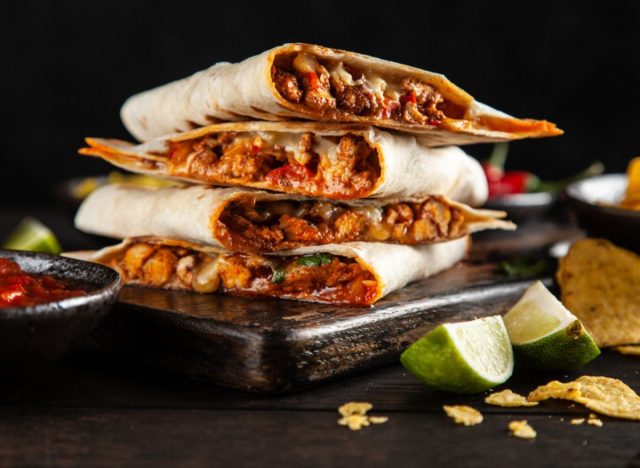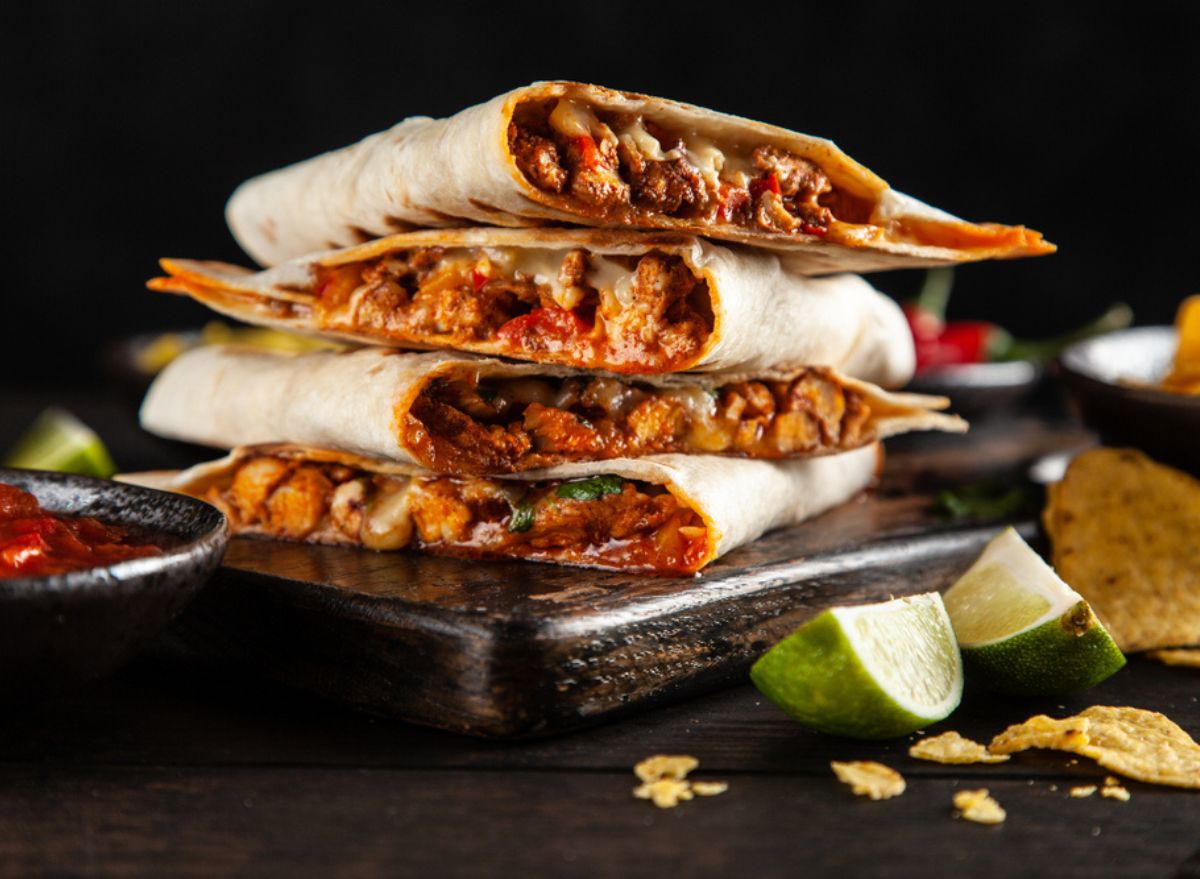 Quesadillas are an instant crowd pleaser. This take on the cheesy dish comes from Chef Matt Steffen, executive chef of Temecula Creek Inn. He mentions the ingredients in this quesadilla are all healthy and non-processed, but will leave eaters satisfied and definitely not feeling hungry for at least a few hours.
Ingredients
1 small sweet potato, shredded with cheese grater OR 2 cups of mashed or small cubed butternut squash
1 can (15-ounce) of pinto or black beans, rinsed and drained
1 lb of grilled and shredded chicken
4–6 large flour tortillas
3–4 cups shredded Mexican-blend cheese
How to Make It
Heat a sauté pan to the stove, and reduce heat to medium.
Place a tortilla* in the center of the pan and immediately sprinkle your desired amount of cheese evenly over the surface of the tortilla.
Add a few large spoonfuls (about 1 cup) of the sweet potato or squash on one half of the tortilla, followed by ¼ lb of shredded chicken and a tablespoon of black beans.
Fold the other side of the tortilla over to create a half-moon.
Continue cooking for another 30 seconds or so, or until the bottom of the tortilla is crisp and golden (lift it up and take a peek to see when it's ready to go).
Carefully flip the tortilla over and cook for an additional 30-60 seconds on the second side.
Transfer to a serving plate, slice into triangles, then repeat with the remaining ingredients.
Serve warm and top with guacamole and cilantro if desired.
Grilled Peach & Tomato Salad with Feta & Herbs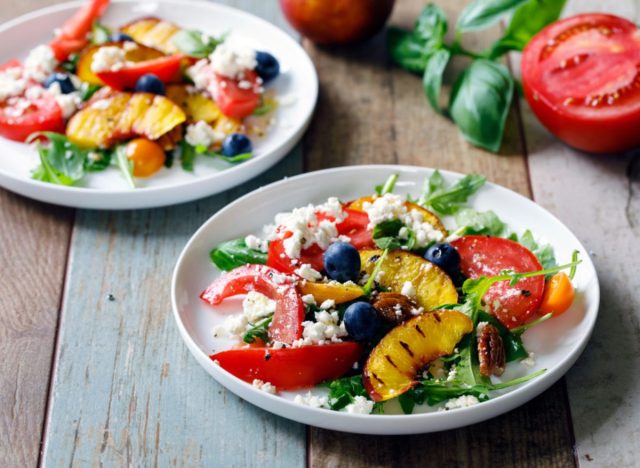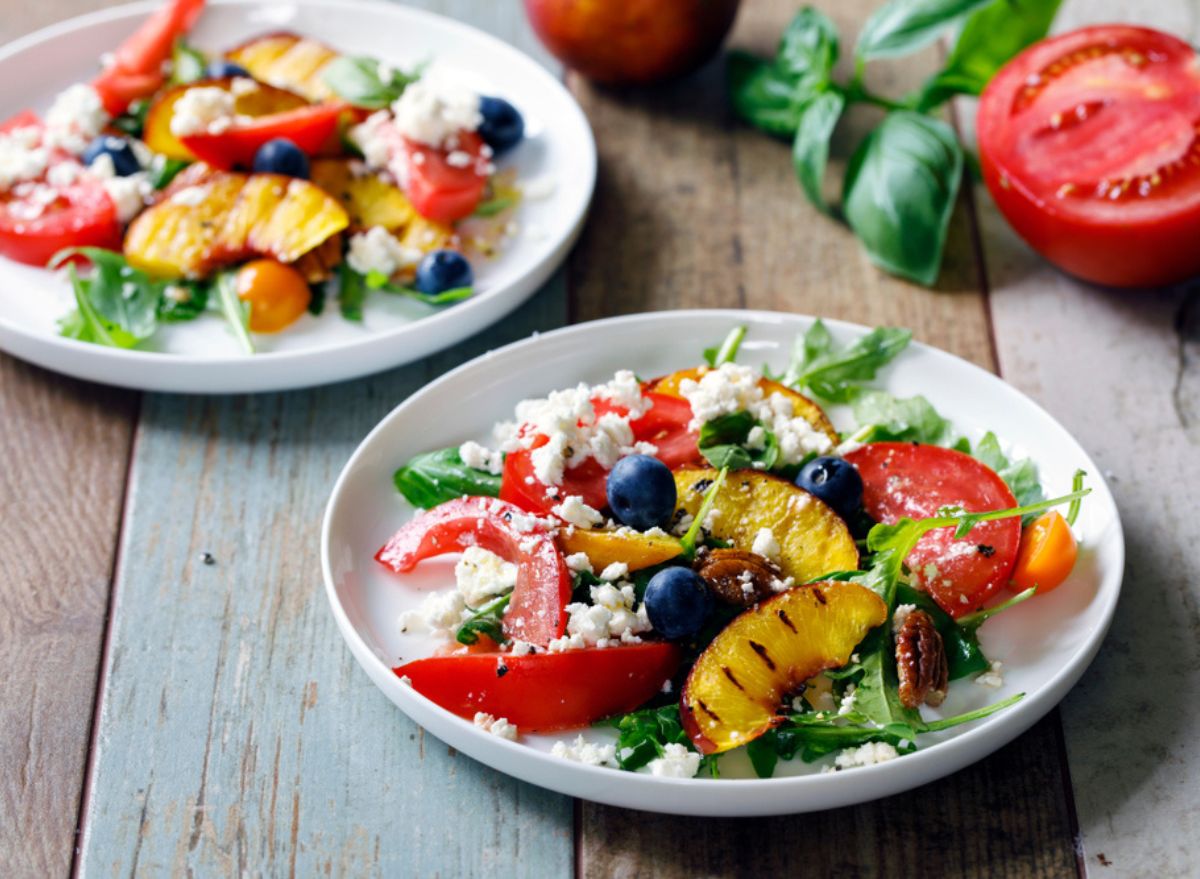 The Eat This, Not That! resident board chef, Claudia Sidoti, shared her perfect summer salad that uses ripe peaches and cherry tomatoes.
Ingredients
2 very ripe peaches
1 tbsp olive oil
8 ounces tricolor cherry tomatoes, halved
1/4 cup torn basil and or mint leaves or a mixture of both
1/2 cup crumbled feta cheese
Kosher salt and freshly ground black pepper
How to Make It
Heat a grill pan over medium-high heat. Cut peaches into quarters, moving the knife around the seed in the middle. Rub peaches with 1 teaspoon olive oil. Grill peaches on the two cut-sides until grill marks appear, about 4 to 5 minutes, turning occasionally.
Add peaches to a large bowl and mix with tomatoes and herbs. Drizzle with some additional olive oil and season with salt and pepper to taste. Transfer to a serving bowl and top with crumbled feta.
5 Ingredient Peanut Butter Kiss Cookies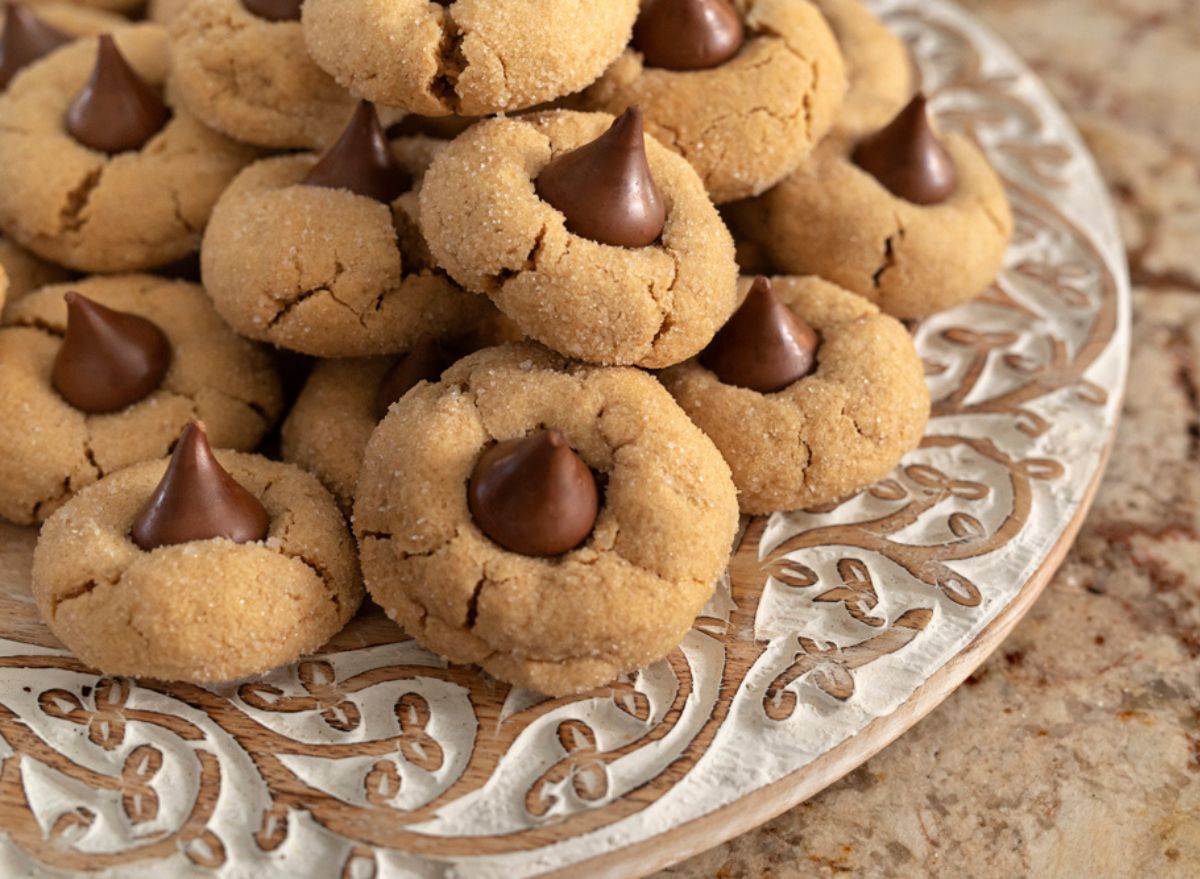 These peanut butter cookies from Eat This, Not That! resident board chef, Claudia Sidoti, might be the easiest cookies in your recipe box after making them.
Ingredients
1 cup smooth peanut butter
1 cup granulated sugar
1 large egg
Maldon Sea Salt for Sprinkling
20 chocolate kiss candies, such as Hersey's
How to Make It
Preheat the oven to 350 degrees. Line 2 sheet pans with parchment paper or silicone baking mats.
Using an electric mixer, beat the peanut butter, sugar and egg together until smooth.
Drop about 1 tablespoon at a time onto the prepared cookie sheet and press down gently to flatten then using a fork, press in the center with a criss-cross pattern.
Sprinkle each lightly with a pinch of Maldon sea salt. Place a chocolate kiss candy in the middle. Repeat with the remaining dough.
Bake until slightly golden around the edges, about 14-16 minutes.
Let cool on a baking sheet for about 10 minutes, then transfer to a cooling rack and continue to cool.
Lemon Pepper & Parmesan Zucchini Noodles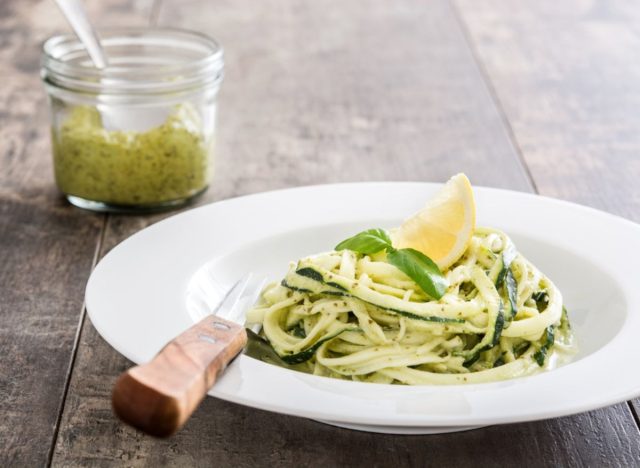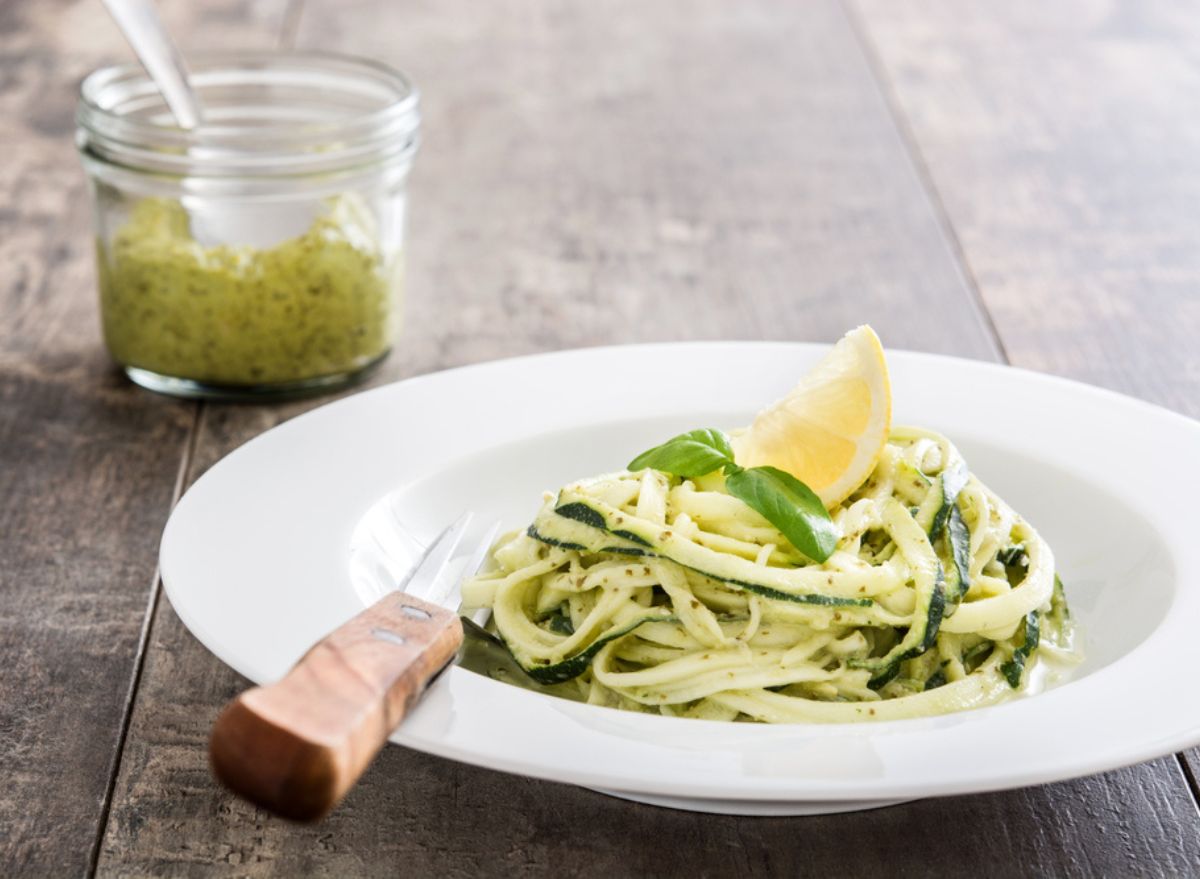 A healthy meal is just a few minutes away with this dish from Eat This, Not That! resident board chef, Claudia Sidoti. If you don't have a spiralizer, most grocery stores sell zucchini noodles in the produce section.
Ingredients
2 medium zucchini
3 tbsp of unsalted butter
3 large cloves of garlic, minced (or to taste)
3/4 cup of grated parmesan cheese
1 Lemon, zest & juice
Kosher salt & freshly ground black pepper
How to Make It
Cut zucchini into spirals or noodle strands using the vegetable spiralizer or julienne peeler. Set aside noodles.
Heat a large pan on medium-high heat. Melt 2 tablespoons of butter, then add garlic. Cook garlic until fragrant and translucent, about 30 seconds, stirring constantly and being careful not to let the garlic burn.
Add zucchini noodles and cook, stirring until tender,( Don't overcook the zucchini noodles or else they'll become mush), about 3-5 minutes. * Cook's tip: Add a few splashes of water to help loosen.
Remove the pan from the heat, add the zest and lemon juice, remaining butter, and parmesan cheese. Season generously with salt and freshly ground pepper. Transfer to a serving bowl and top with additional parmesan and freshly ground black pepper.
Megan duBois
Megan duBois is a travel and lifestyle journalist with bylines across the internet and in print at Delish, Conde Nast Traveler, Travel + Leisure, Yahoo Lifestyle, and more.
Read more about Megan