The Unhealthiest Meals on Kids' Menus
These are the dishes you don't want to serve up to the little ones in your life.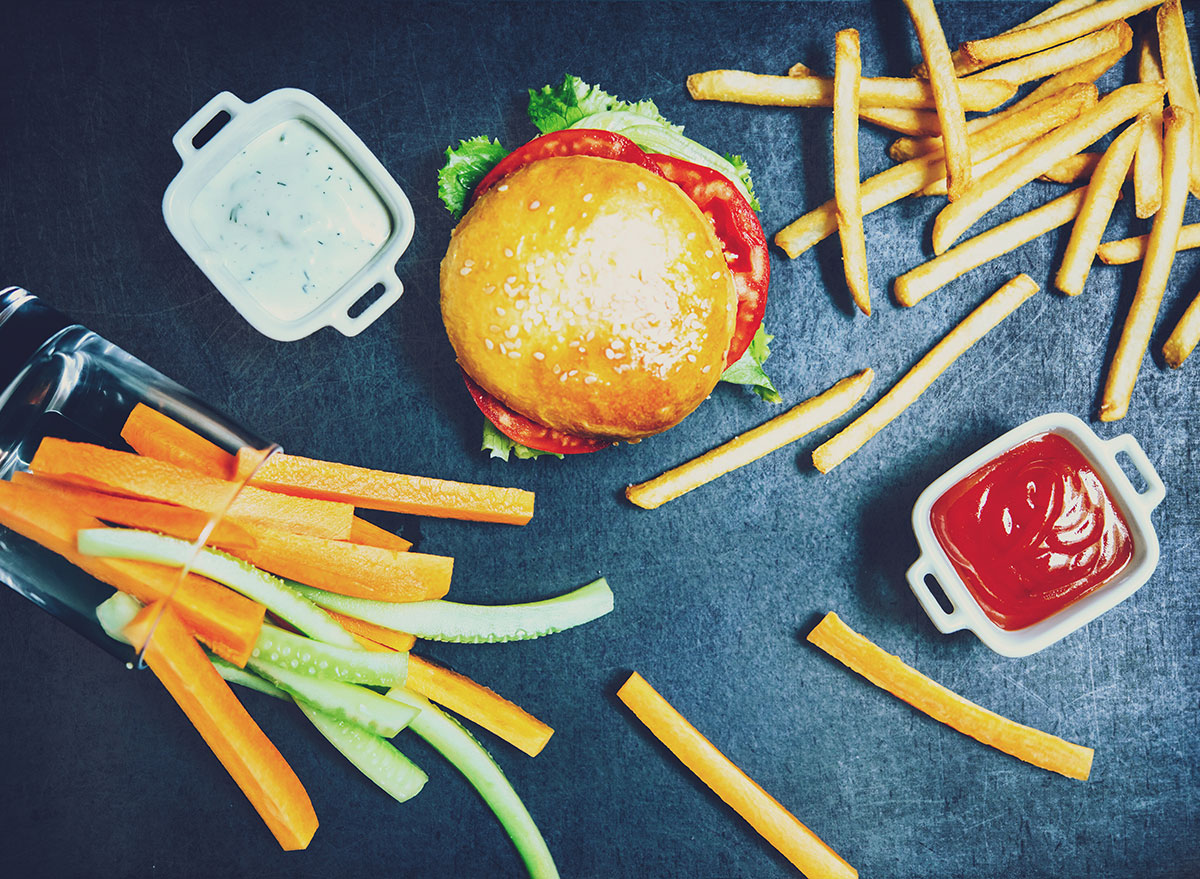 Whether you're treating your family to an evening out, or you're all deciding to order in a meal from your favorite restaurant, you want to make sure the little ones in your life are able to enjoy a well-balanced, yet tasty meal, too. We know how picky kids can be when it comes to food! But there are some meal options on kids' menus that are just downright terrible, as they're high in calories, fat, sodium, and sugar.
It's obviously super important for children to learn healthy eating habits, so you'll want to make sure they don't choose the menu items that are going to do them harm. We took look at the kids' meals offered up from popular chain restaurants and uncovered the worst kids' meals. Be sure to avoid having the children in your life order these dishes! And while you're practicing better habits as a family, be sure to check out these 21 Best Healthy Cooking Hacks of All Time.
The Cheesecake Factory Kids' Macaroni and Cheese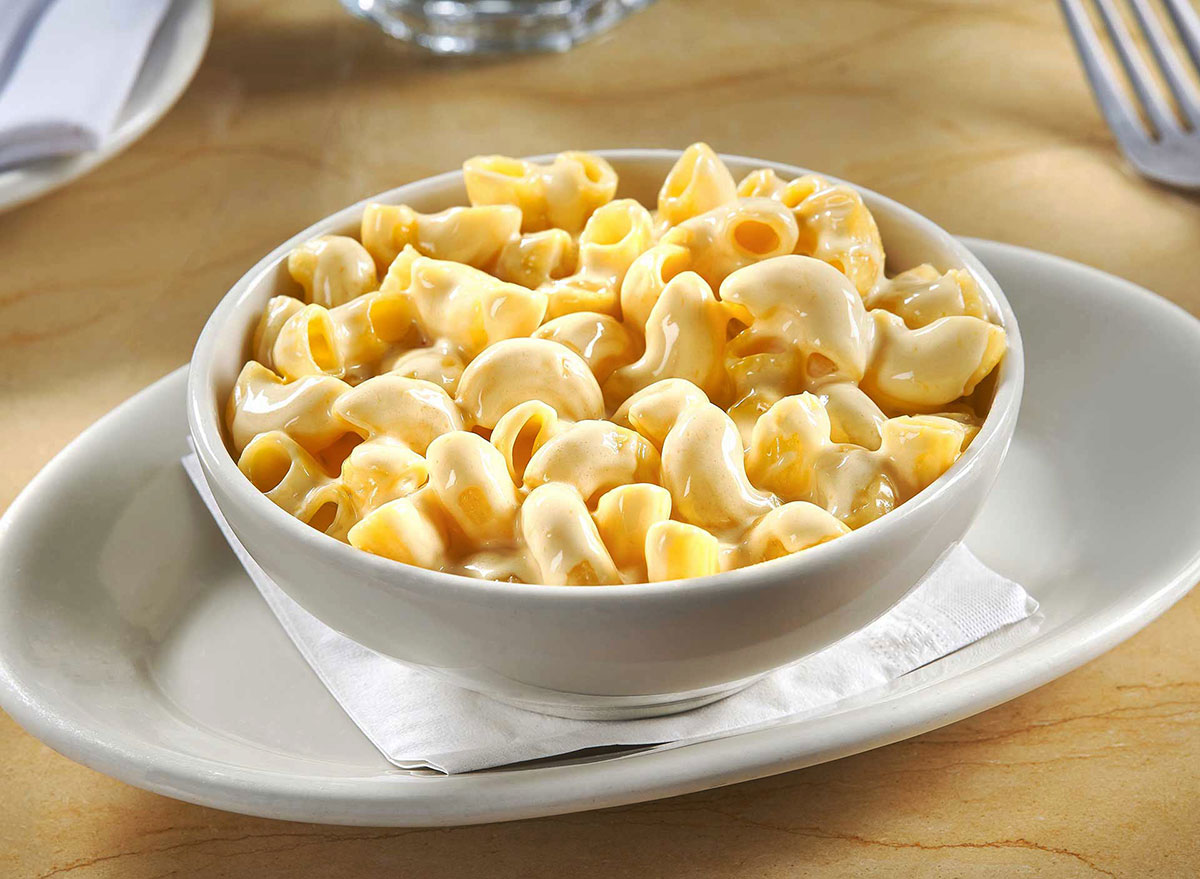 1,160 calories, 79 g fat (48 g saturated fat, 3 g trans fat), 2,040 mg sodium, 84 g carbs (5 g fiber, 9 g sugar), 29 g protein
By now, it's no secret that just about every pasta option from The Cheesecake Factory is a high-calorie meal. And that logic applies to a kids' order of macaroni and cheese, too. This one meal comes it at more than 1,000 calories and has an insane amount of sodium. It's recommended that children eat less than 2,300 milligrams of sodium per day and this one meal nearly wipes that entire allotment out.
Applebee's Kids Cheesy Pizza
680 calories, 29 g fat (13 g saturated fat, 0 g trans fat), 1,160 mg sodium, 83 g carbs (4 g fiber, 12 g sugar), 25 g protein
As a kid, having an entire pizza to yourself sounds like a dream come true. But this mini-sized pizza from Applebee's is just bad news. It has as much sodium as you would get from 12 pretzel rods. Yikes.
TGI Fridays Kid's Sliders with Cheese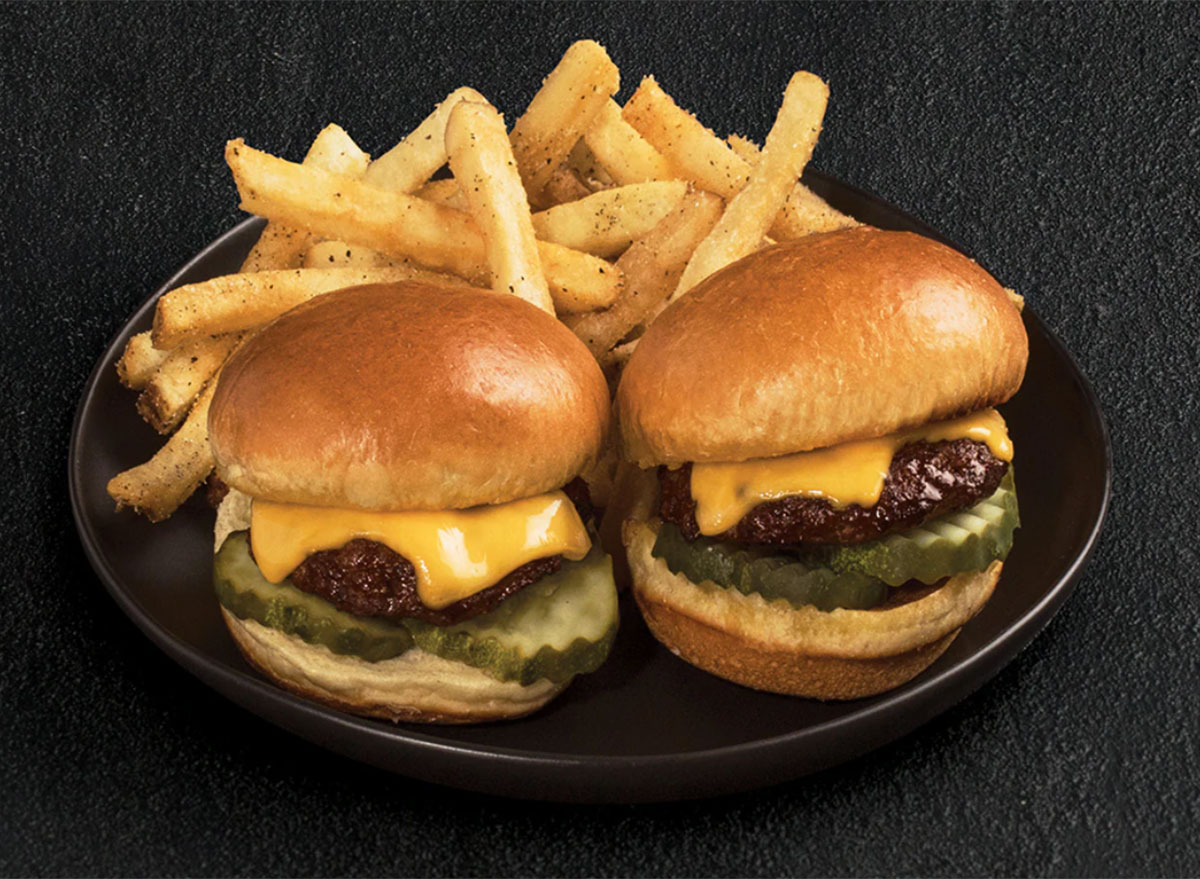 Served with Seasoned Fries
: 930 calories, 54 g fat (19 g saturated fat, 0 g trans fat), 2,490 mg sodium, 78 g carbs (6 g fiber, 8 g sugar), 39 g protein
Mini burgers can't be so bad, right? Well, at TGI Fridays, if you top them with cheese and choose the side order of fries, you're looking at a meal that is more than 900 calories and has more than a full day's worth of sodium. If your little one really wants the sliders, be sure to choose the side of fresh fruit and not the order of fries.
Looking for more tips? Your ultimate restaurant and supermarket survival guide is here!
Friendly's Tie Dyed Pancakes with M&M's
709 calories, 16 g fat (8.7 g saturated fat, 0 g trans fat), 594 mg sodium, 131 g carbs (<1 g fiber, 76 g sugar), 6.5 g protein
Friendly's is known for its sweet treats, so the fact that "tie dyed" buttermilk pancakes that are made with M&M's exist on the menu shouldn't be all that shocking. But what is? The fact that this dish is packing 76 grams of sugar. That's more than you would get if you let your child have seven Original Glazed Krispy Kreme Donuts in one sitting. Easy to see why this menu option gets a big skip!
Chili's Kids Crispy Crispers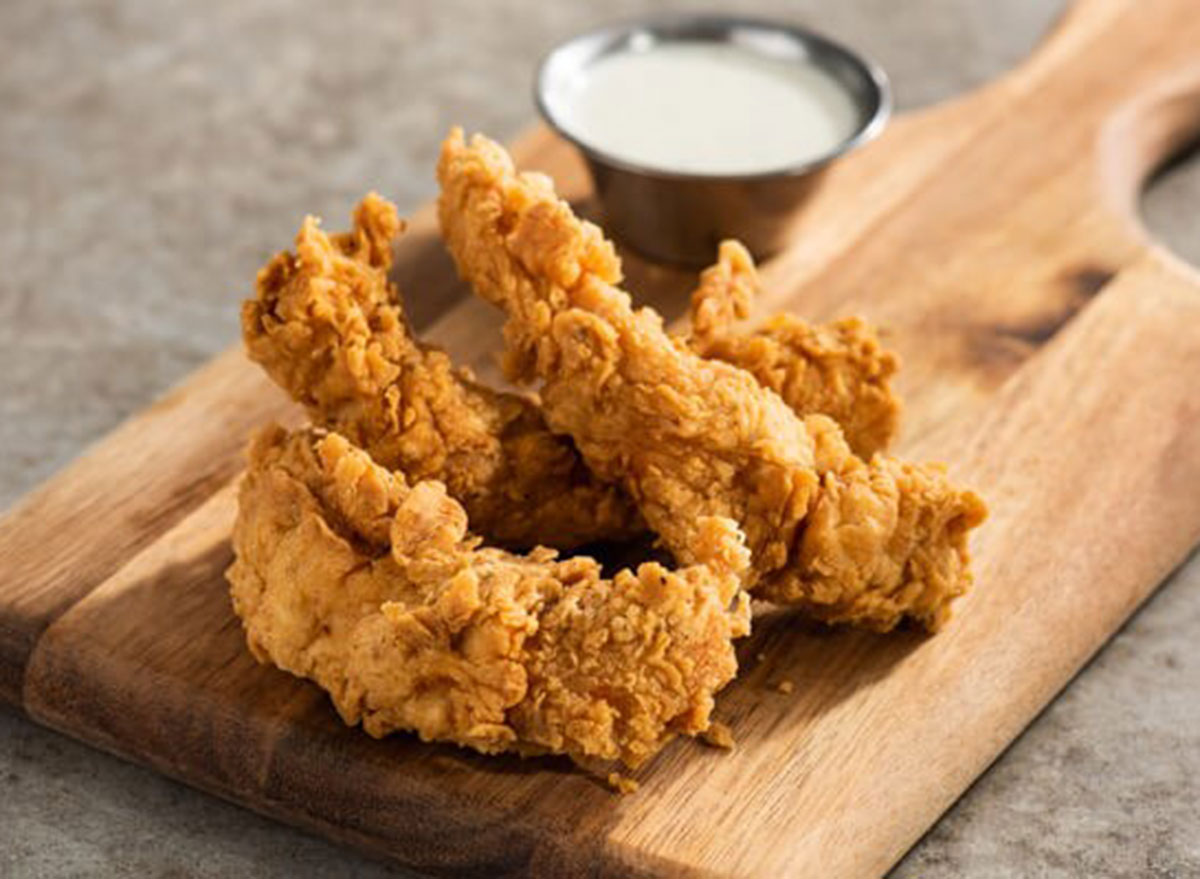 Served with a side salad with Ranch
: 880 calories, 68 g fat (8.5 g saturated fat, 0 g trans fat), 1,970 mg sodium, 35 g carbs (4 g fiber, 5 g sugar), 32 g protein
A kids' order of Chili's Crispy Crispers comes with just three pieces of chicken, and already is packing 1,530 milligrams of sodium. Then, you tack on a side salad, which you would think would be harmless, but the Ranch dressing doens't help in the slightest. Instead, going for the steamed broccoli, corn on the cob, or fresh pineapple is a much better option if these chicken tenders are the only thing that catches their eye.
Outback Steakhouse Grilled Cheese-A-Roo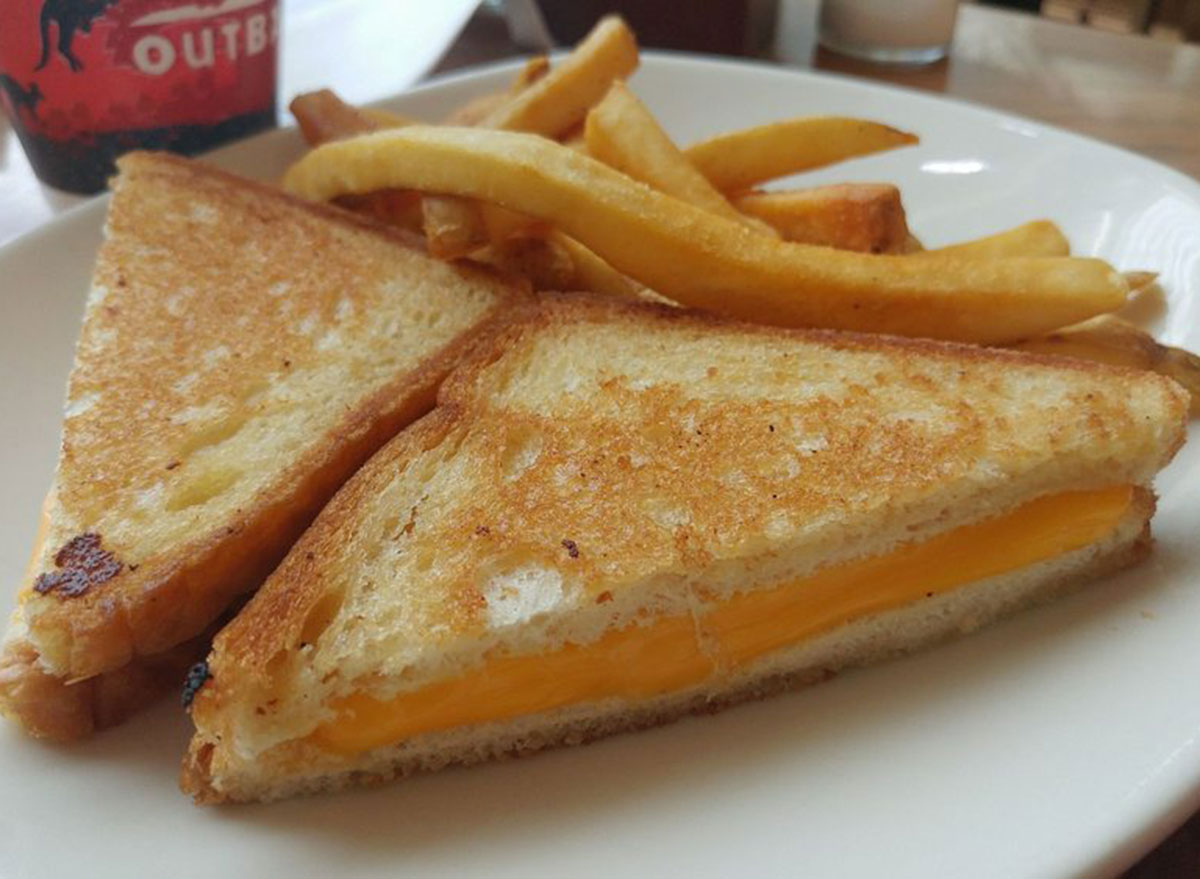 580 calories, 21 g fat (12 g saturated fat, 0 g trans fat), 1,700 mg sodium, 77 g carbs (3 g fiber, 3 g sugar), 22 g protein
A grilled cheese sandwich is a childhood staple. But you're much better off making one yourself at home for the kid in your life, as this version from Outback Steakhouse has 1,700 milligrams of sodium. And that's without any side dishes…
Olive Garden Kids Pepperoni Pizza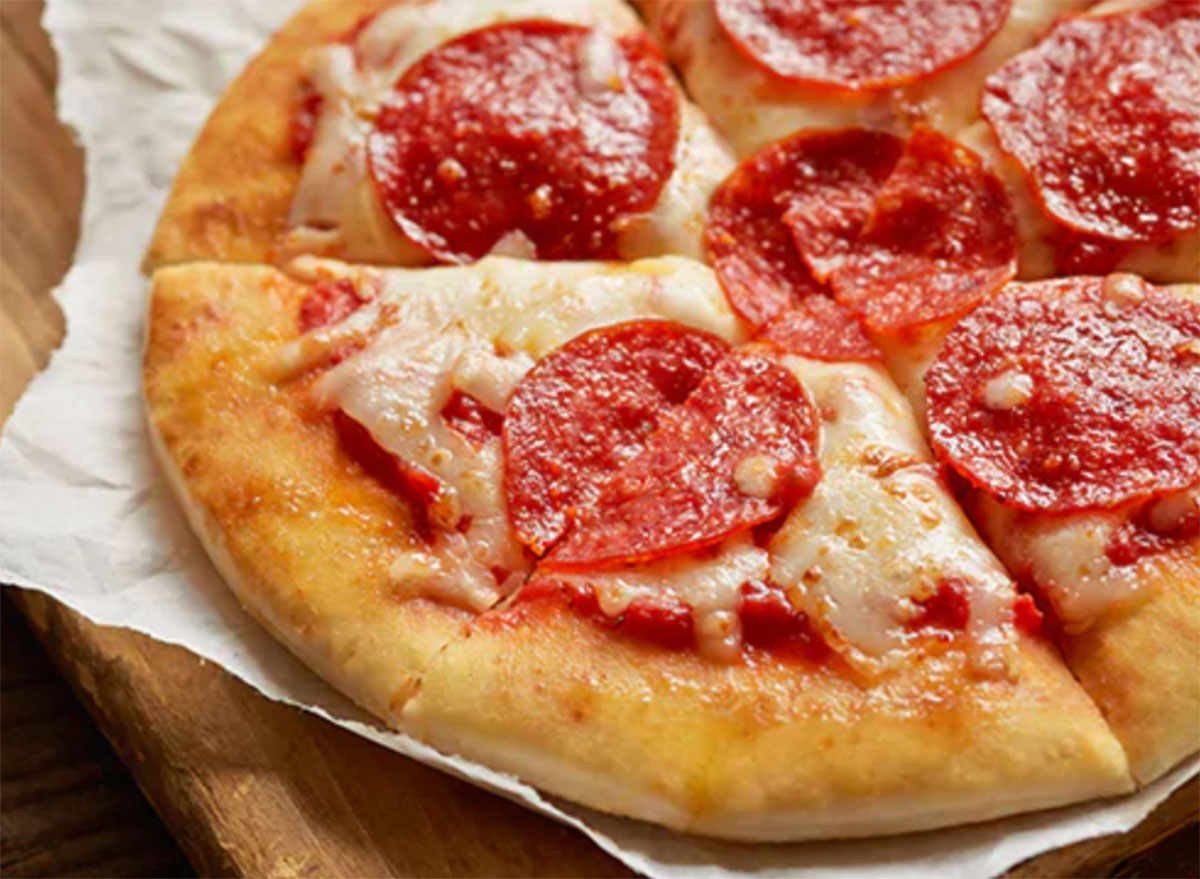 Served with French Fries
: 720 calories, 31 g fat (10.5 g saturated fat, 0 g trans fat), 1,360 mg sodium, 86 g carbs (8 g fiber, 4 g sugar), 24 g protein
Pepperoni pizza and French fries is never a heathy combo, no matter how old you are. We know, it's a sad reality. The good thing about Olive Garden's kids' menu is that you can get grapes or steamed broccoli as a side. If you can, negotiate with your child to choose one of those as the side, if you let them indulge in the pizza. (And skip the pepperoni!)
IHOP Jr. Chicken Strips Dinner
Served with Seasoned Fries
: 840 calories, 57 g fat (10 g saturated fat, 0.5 g trans fat), 2,120 mg sodium, 59 g carbs (5 g fiber, 1 g sugar), 22 g protein
At IHOP, the kids' version of the chicken strips dinner is made up of two buttermilk crispy chicken breast strips that is served with buttered corn or French fries. Going for the fries side results in another high fat and sodium-filled meal.6254a4d1642c605c54bf1cab17d50f1e
Buffalo Wild Wings Mac and Cheese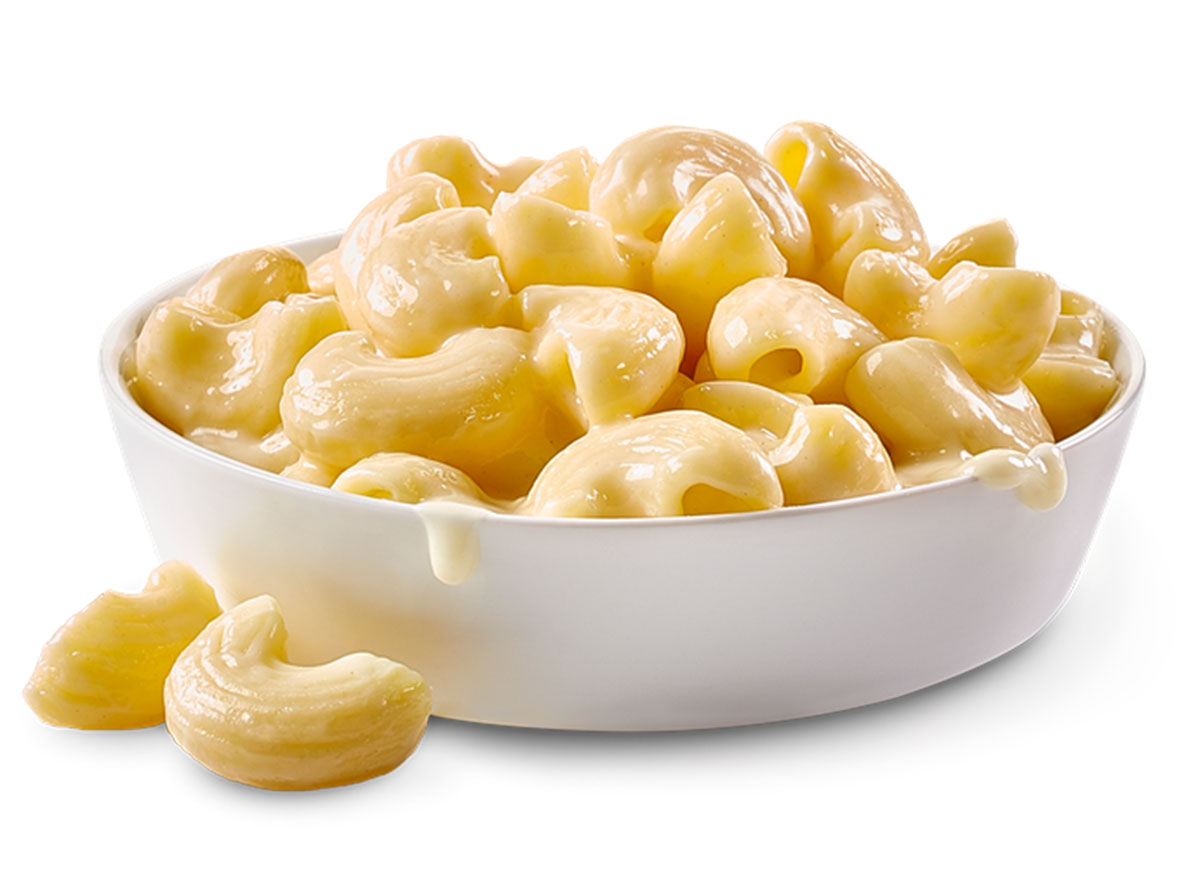 Served with French Fries
: 960 calories, 39 g fat (21.5 g saturated fat, 1 g trans fat), 1,860 mg sodium, 130 g carbs (10 g fiber, 1 g sugar), 23 g protein
The macaroni and cheese curse strikes again! This time, it's the pairing of this dish with a side order of French fries that makes it the worst option from Buffalo Wild Wing's kids' menu.
Sonic Wacky Pack Kids Meal with a Jr. Burger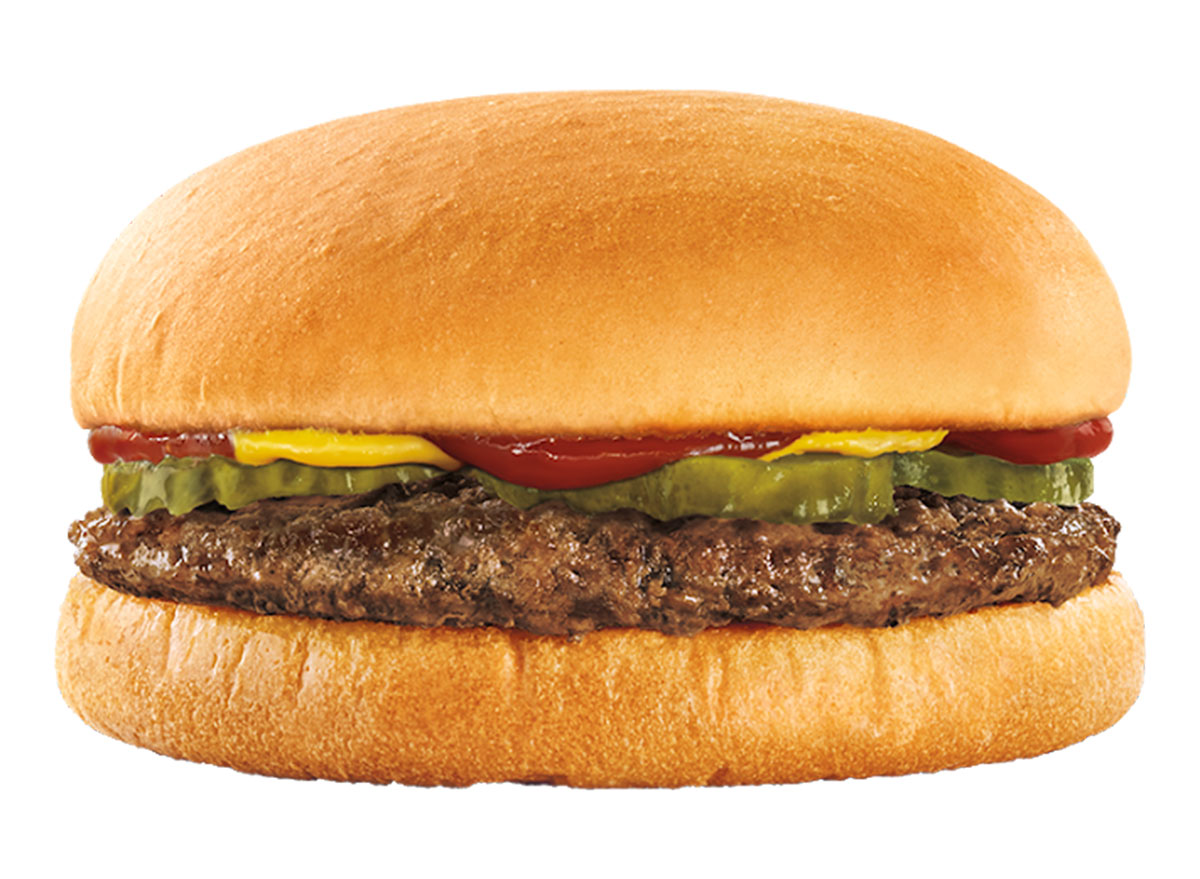 Served with small tots and 1% milk
: 710 calories, 31.5 g fat (8.5 g saturated fat, 0.5 g trans fat), 1,390 mg sodium, 78 g carbs (5 g fiber, 36 g sugar), 27 g protein
So we know Sonic is a fast-food restaurant, but we wanted to include one in our list, as Sonic does have the drive-in option, setting it a bit apart from the standard drive-thru experience. The kids' meal option here that comes with a junior burger with fries and milk is not only a high-calories option, but it has half a gram of trans fat, and 36 grams of sugar. Along with nearly 1,400 milligrams of sodium. There really is nothing healthy here!
Jennifer Maldonado
Jennifer Maldonado is a senior editor at Eat This, Not That!, specializing in food and health content.
Read more about Jennifer