35 Easy Chicken Recipes You Can Make in 15 Minutes
Save time and effort with these easy and delicious chicken recipes.
As the week goes on, obligations pile up, plans get made, and time to make a satisfying and healthy dinner every night begins to feel smaller and smaller. If you feel as though you've been spending too much money eating out on busy nights and want to try to attempt cooking more meals at home, having some easy recipes on hand can be helpful. That's why we've put together a roundup of easy chicken recipes you can make in 15 minutes or less for a satisfying dinner (or lunch!) in a flash.
Not only are these recipes quick, but including chicken in your meals can provide your body with a handful of health benefits, too. For one, chicken is considered a lean protein, with a 4-ounce serving of chicken breast providing 26 grams of protein for less than one gram of fat. This poultry product also provides a wide range of vitamins and minerals, with high counts of niacin, selenium, and B vitamins (B6, B12, and riboflavin).
If you want to take care of your body with a boost of nutrients while also reducing the time and energy you spend on cooking, try one of these 35 easy chicken recipes. Read on, and for more cooking tips, make sure to check out 50 Best Healthy Ground Beef Recipes for Weight Loss.
Asian-Inspired Chicken Meatballs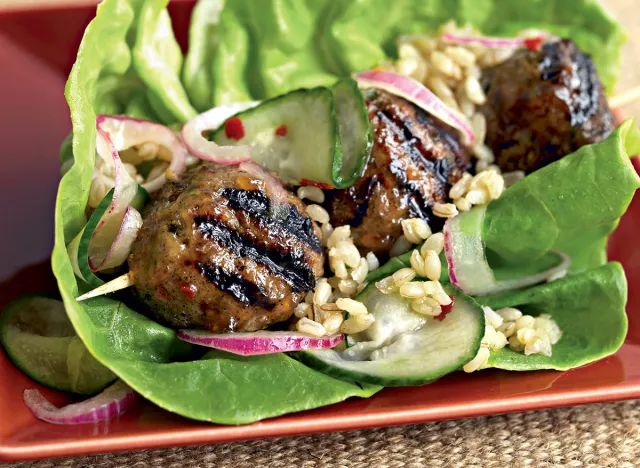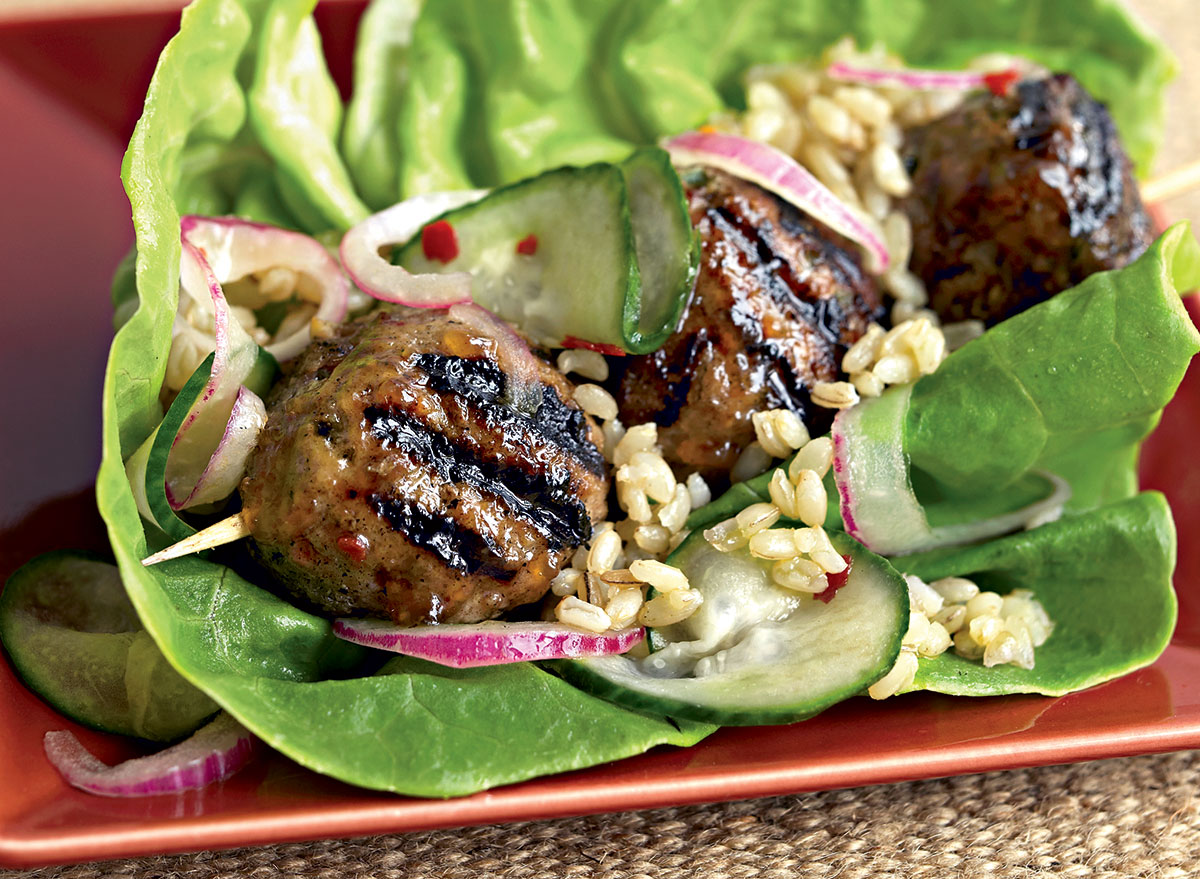 All you need to make these tasty chicken meatballs is ground chicken, a few of your favorite spices, and something like lettuce or rice (or both!) to serve with. Want to make this meal even easier for yourself as the week goes on? Make them ahead of time and freeze or refrigerate them for nights when you need something even quicker.
Get our recipe for Chicken Meatballs.
Chicken Mole Enchiladas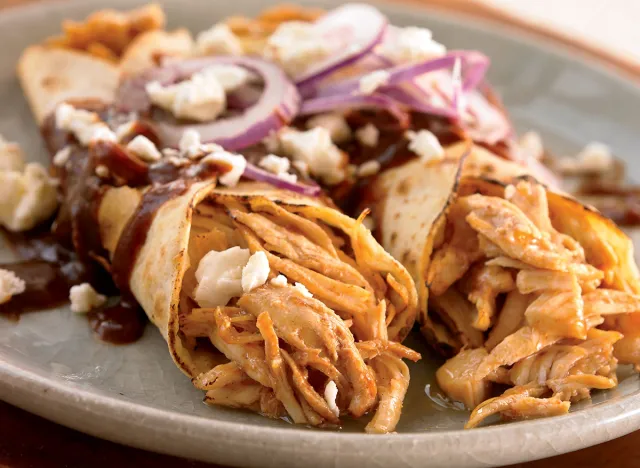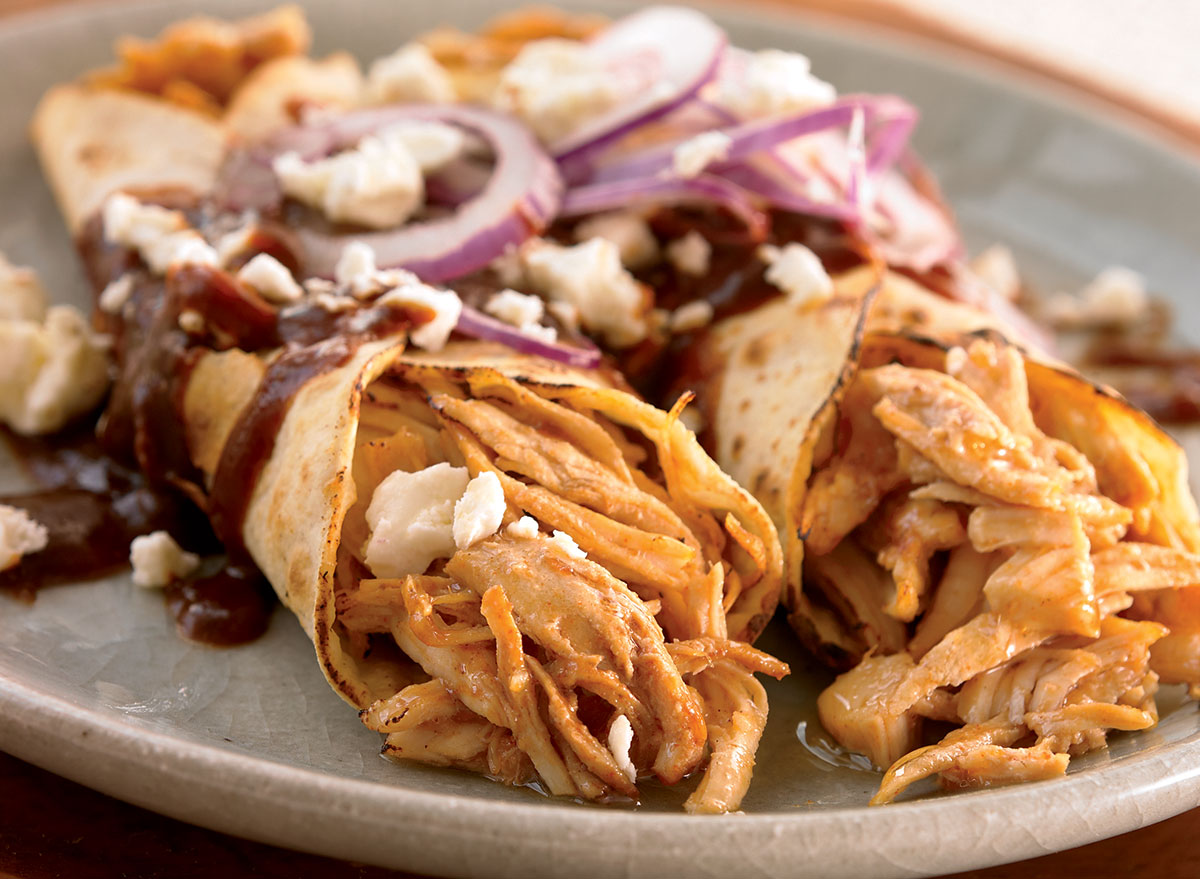 When you're in need of a quick chicken dinner, enchiladas are always a great option because you can shred chicken that has already been cooked, which will save you time when you're hungry and need a fast meal. You can also use a store-bought rotisserie chicken to make your process even simpler.
Get our recipe for Chicken Mole Enchiladas.
Takeout-Level Chicken Fried Rice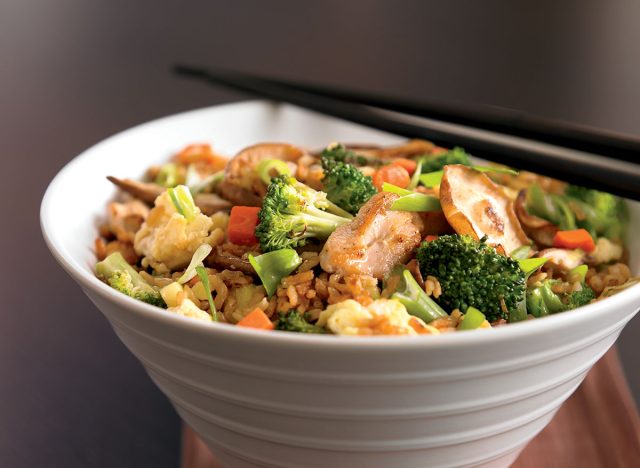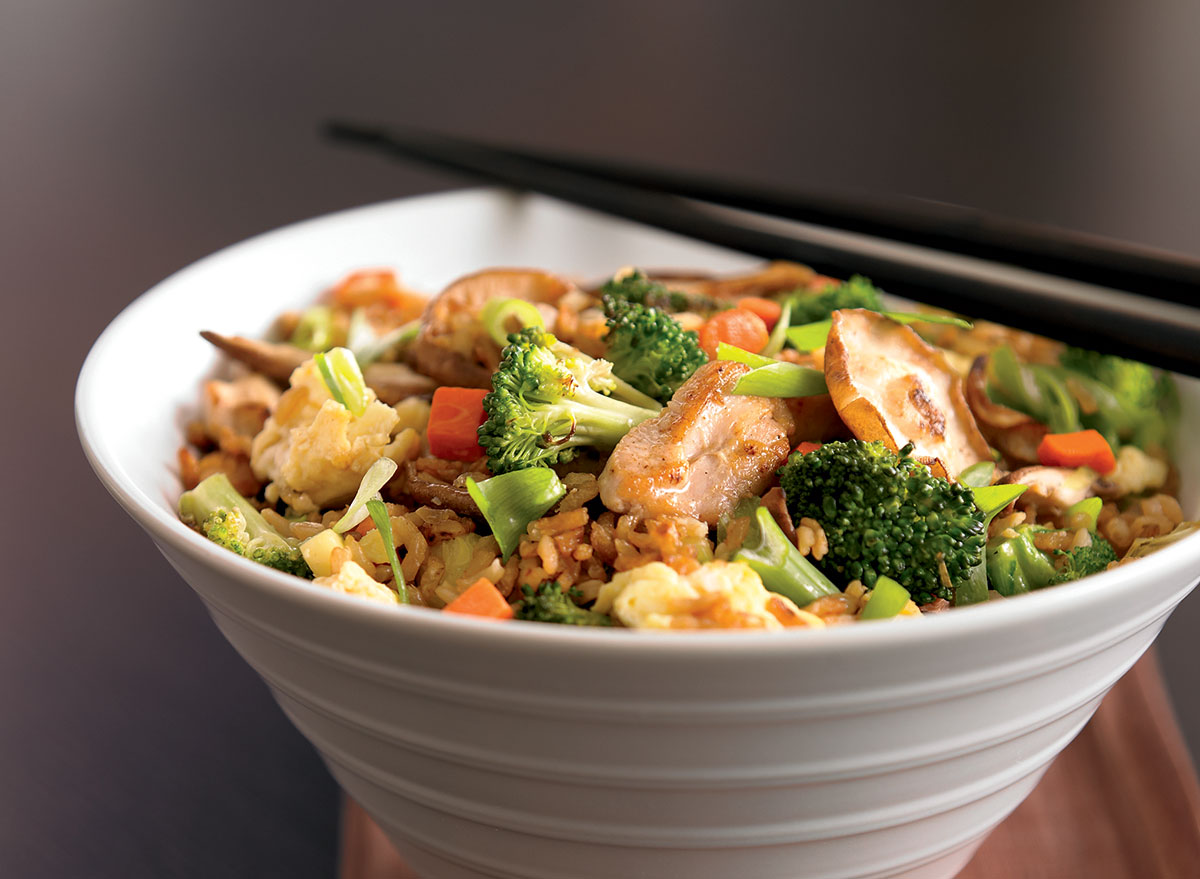 This meal is only under 15 minutes if you're using rice that is already cooked. If you're using a rice cooker to make fresh rice for this Chicken Fried Rice, you'll need to tack on about 30 more minutes. But for those with some leftover rice in the fridge that they need to eat before it goes bad, this is the perfect 15-minute dinner for you.
Get our recipe for Chicken Fried Rice.
Appetizer-Worthy Chicken Pot Stickers
Do you have some frozen pot stickers but are tired of just heating them up and eating them plain? This recipe takes chicken pot stickers and adds vegetables and tons of flavor, so you can feel like you're eating a more balanced meal—all for under 15 minutes.
Get our recipe for Chicken Pot Stickers.
Grilled Chicken and Avocado Salad.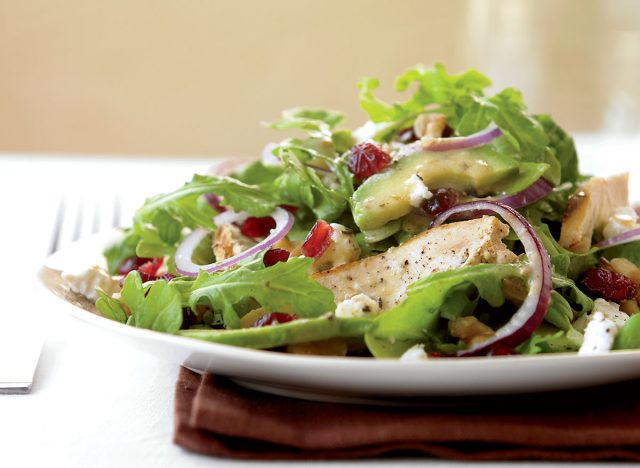 For a light and healthy meal that is going to keep you feeling full and satisfied, all while keeping your prep time under 15 minutes, try this Chicken and Avocado Salad. It packs in a ton of protein, healthy fats, and fiber, and throwing it together couldn't be much easier.
Get our recipe for Chicken and Avocado Salad. 
Asian-Inspired Sesame Noodles with Chicken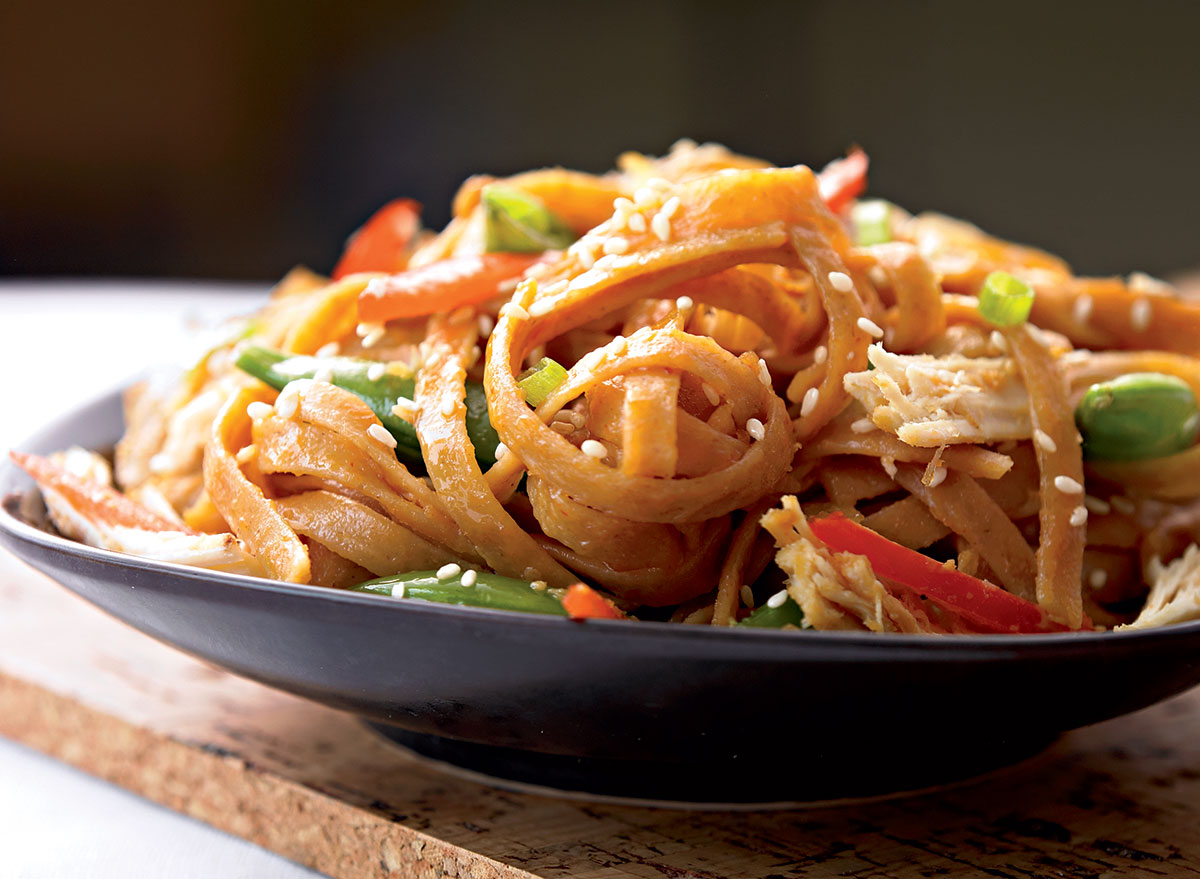 One of the best things about these sesame noodles—aside from the fact that you can make them so quickly—is that you can get by with using many ingredients that you most likely already have in your kitchen, like peanut butter, dried pasta, soy sauce, and peppers.
Get our recipe for Sesame Noodles with Chicken.
Chili-Mango Chicken Stir Fry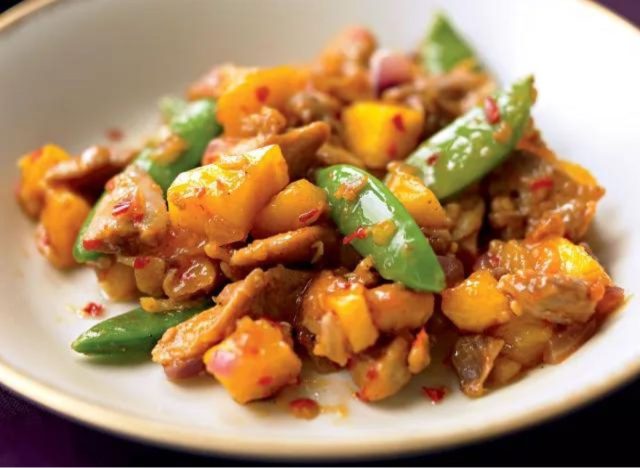 Any type of stir fry works when you need to put together a quick and easy chicken dinner, but this Chili-Mango Stir Fry adds an extra heat of flavor, all while helping to keep your time and energy at a minimum for those extra-busy weeknights.
Get our recipe for Chicken Stir Fry.
Easiest Margarita Chicken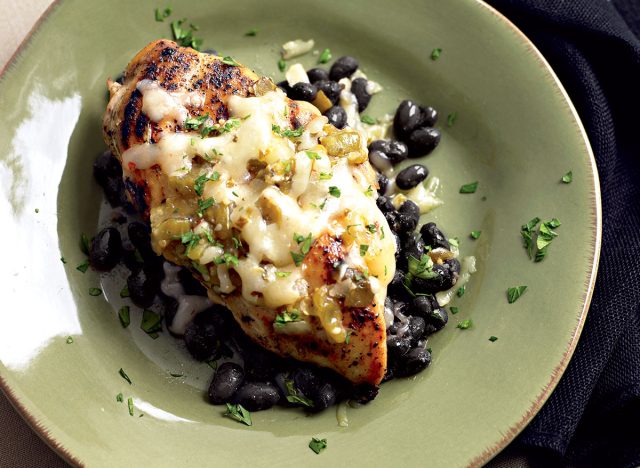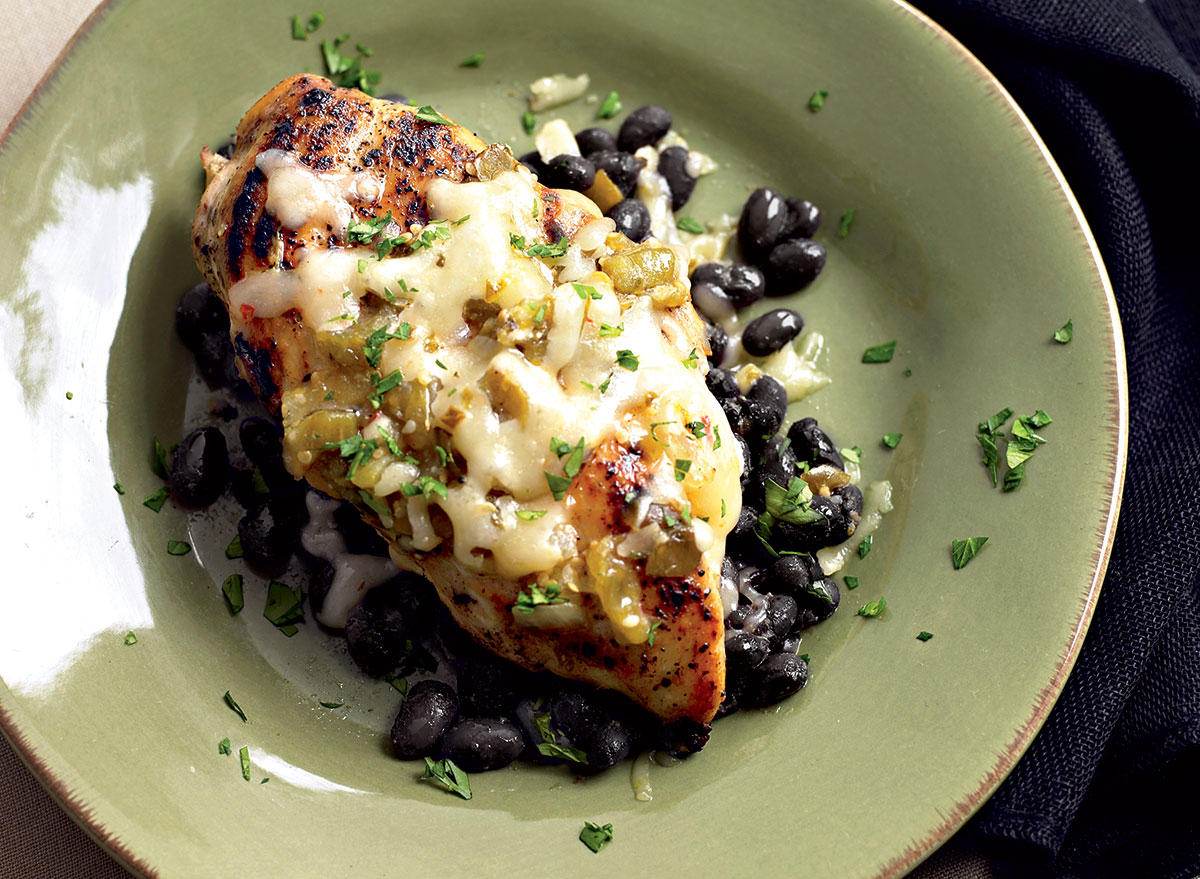 It doesn't get much easier than baked chicken, and with the added black beans, salsa, and herbs, this easy chicken dish becomes a balanced meal full of protein, fiber, and antioxidants. To save extra time, make sure to use canned black beans and store-bought salsa that is already prepared.
Get our recipe for Margarita Chicken.
Chicken Panini with Pesto and Peppers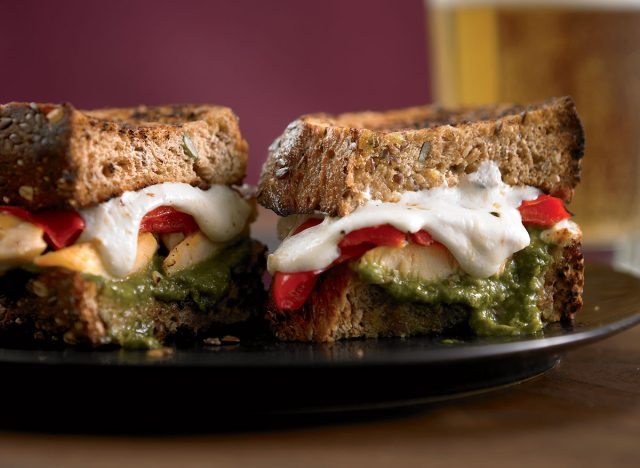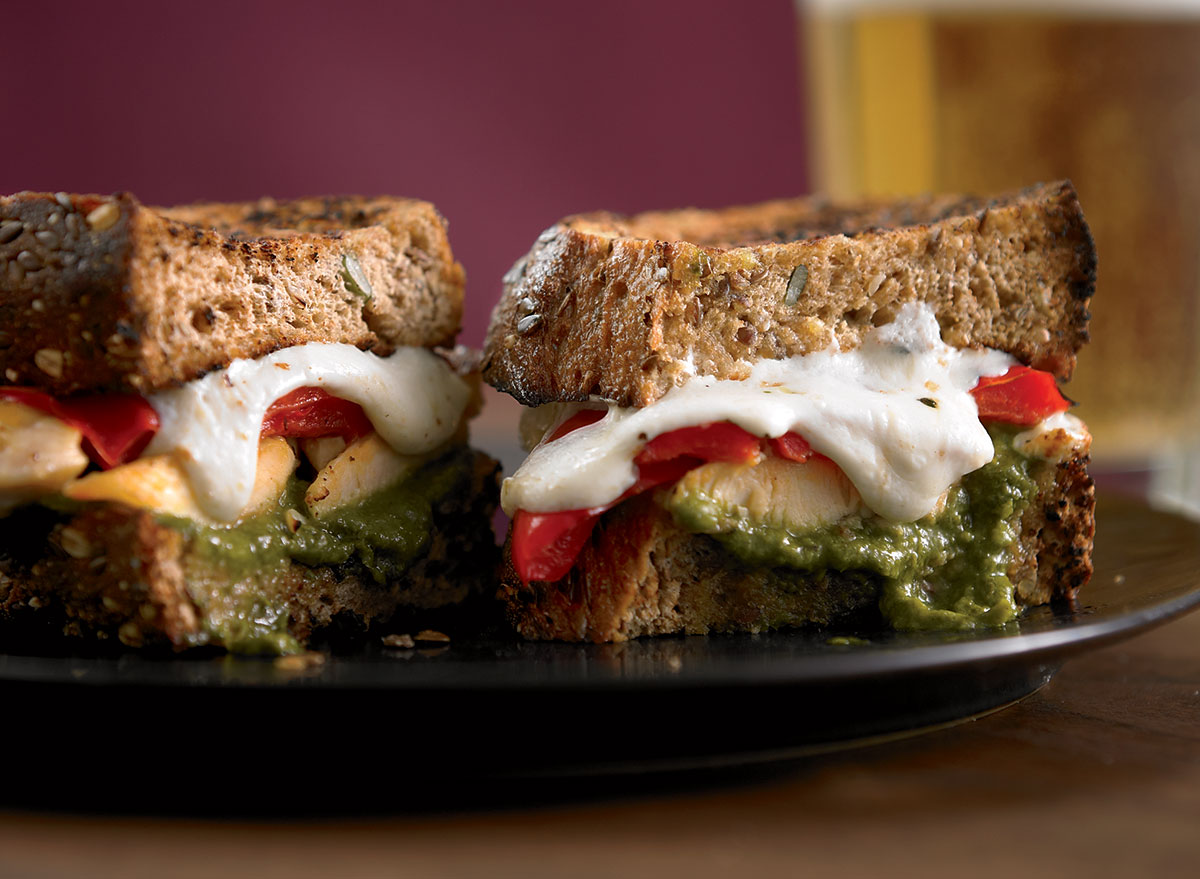 When looking for instant flavor with very little effort, store-bought pesto is the perfect way to go. Combine it with chicken, peppers, mozzarella, and sourdough bread for a delicious panini you can whip up on your lunch break in less than 15 minutes.
Get our recipe for Chicken Panini.
Chicken Salad Sandwich with Raisins and Curry Powder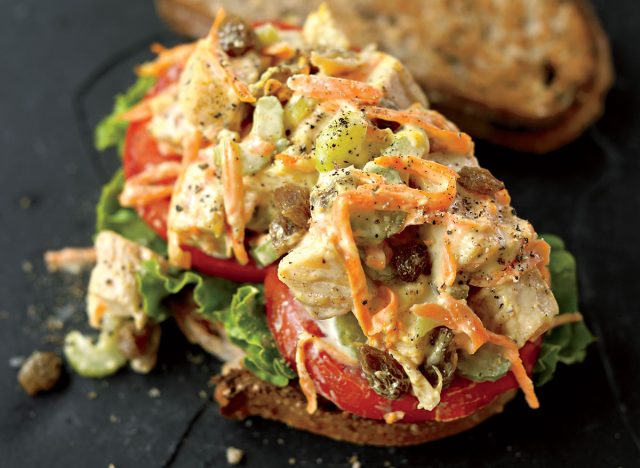 When you have leftover chicken in the fridge that you need to eat, making a creamy chicken salad can be the perfect solution. If you're tired of plain ol' regular chicken salad that can oftentimes lack flavor, try this twist on the original made with curry powder and raisins.
Get our recipe for Chicken Salad Sandwich.
Low-Calorie Chicken and Black Bean Nachos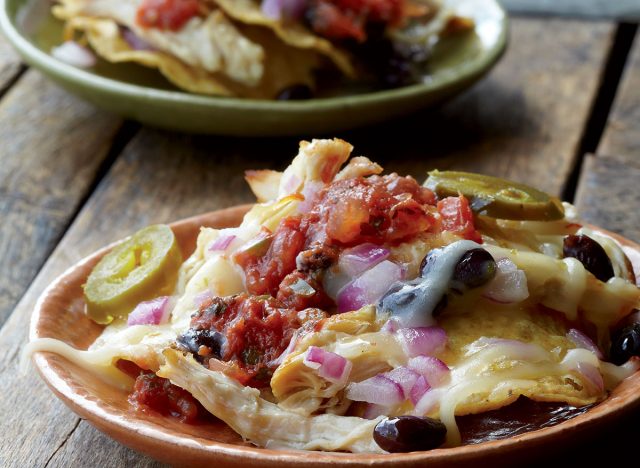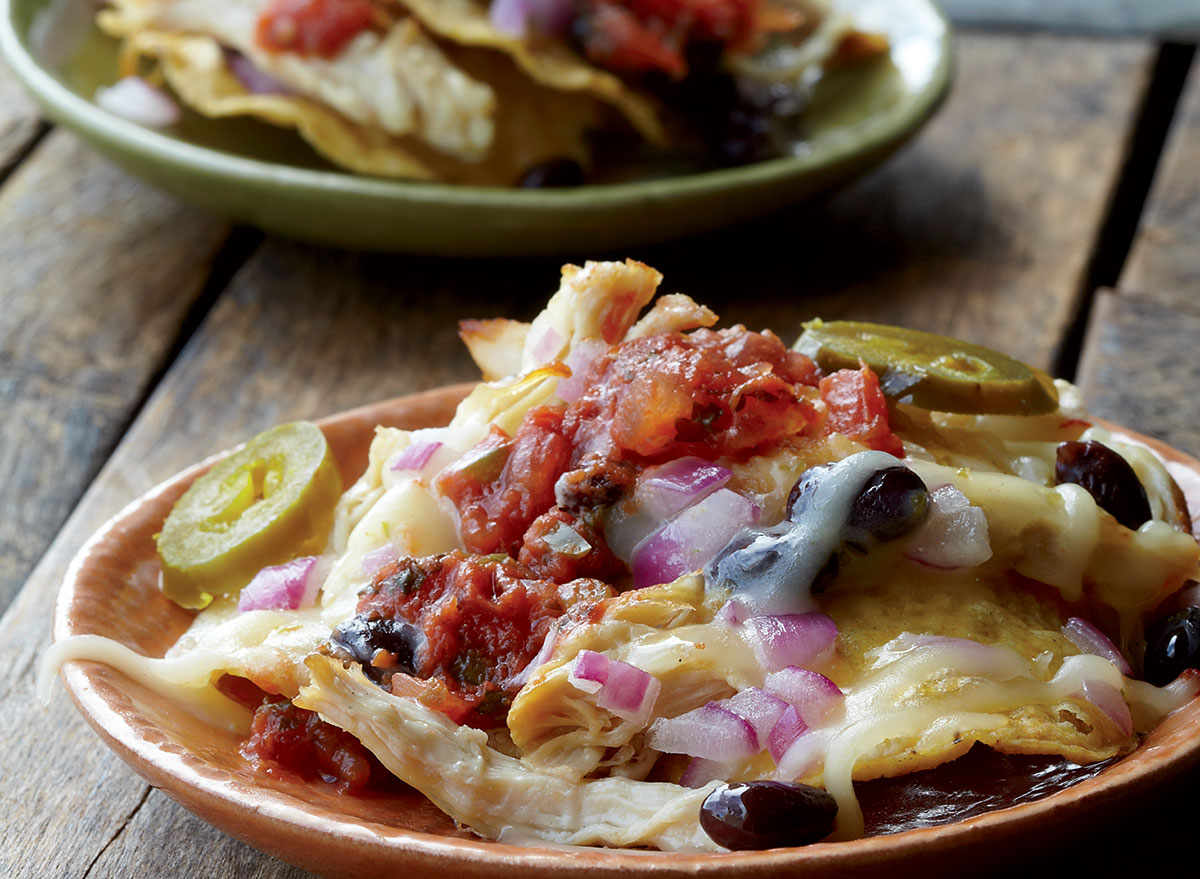 If you're craving some cheesy, delicious nachos that you can make quickly, this recipe is perfect. You'll get a healthy dose of protein with the chicken and black beans, and you can top it off with whatever you're craving.
Get our recipe for Chicken Nachos.
Grilled Chicken and Pineapple Sandwich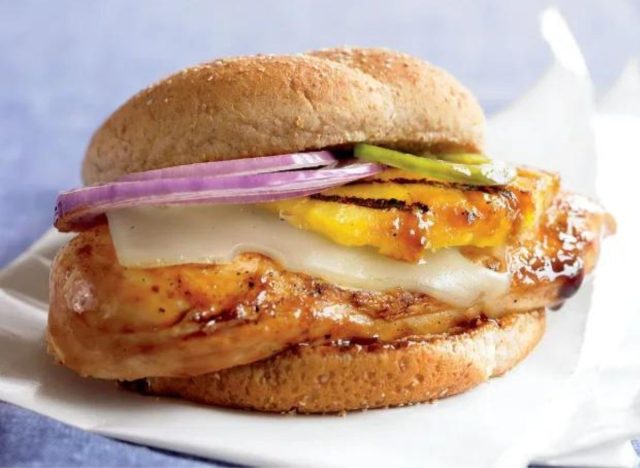 You'll love the flavors of this pineapple sandwich. Cooking the chicken and preparing the sandwich takes under 15 minutes, but you'll want to make sure you marinate the chicken beforehand to let it soak up the flavors.
Get our recipe for Chicken and Pineapple Sandwich.
Chicken Scaloppine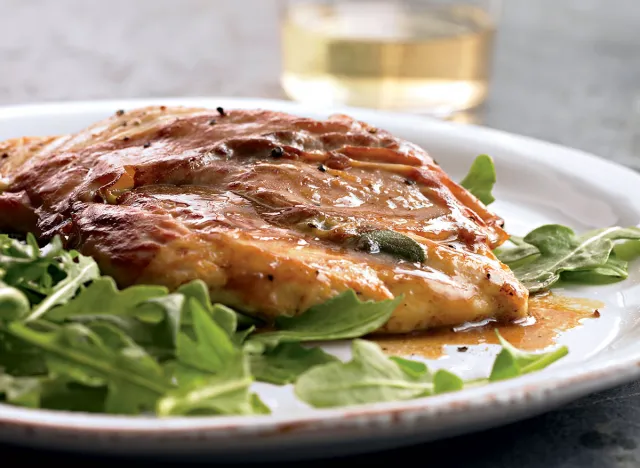 This chicken scaloppine is a classic Italian recipe that's super simple to make. It's also packed with nutritional value and flavor, making it a great recipe to enjoy on your own or share with others.
Get our recipe for Chicken Scaloppine.
Breakfast Hash with Chicken Sausage and Sweet Potatoes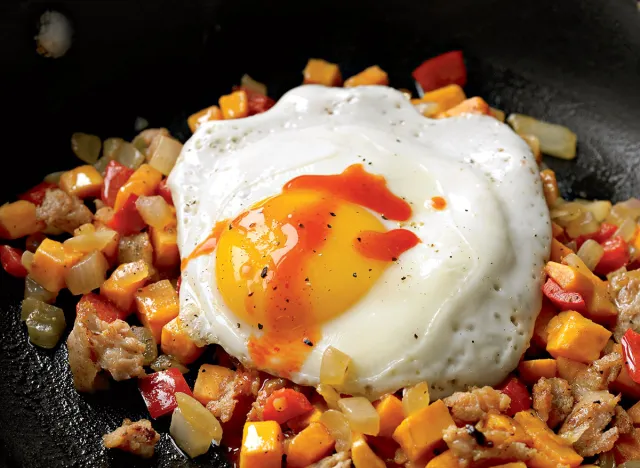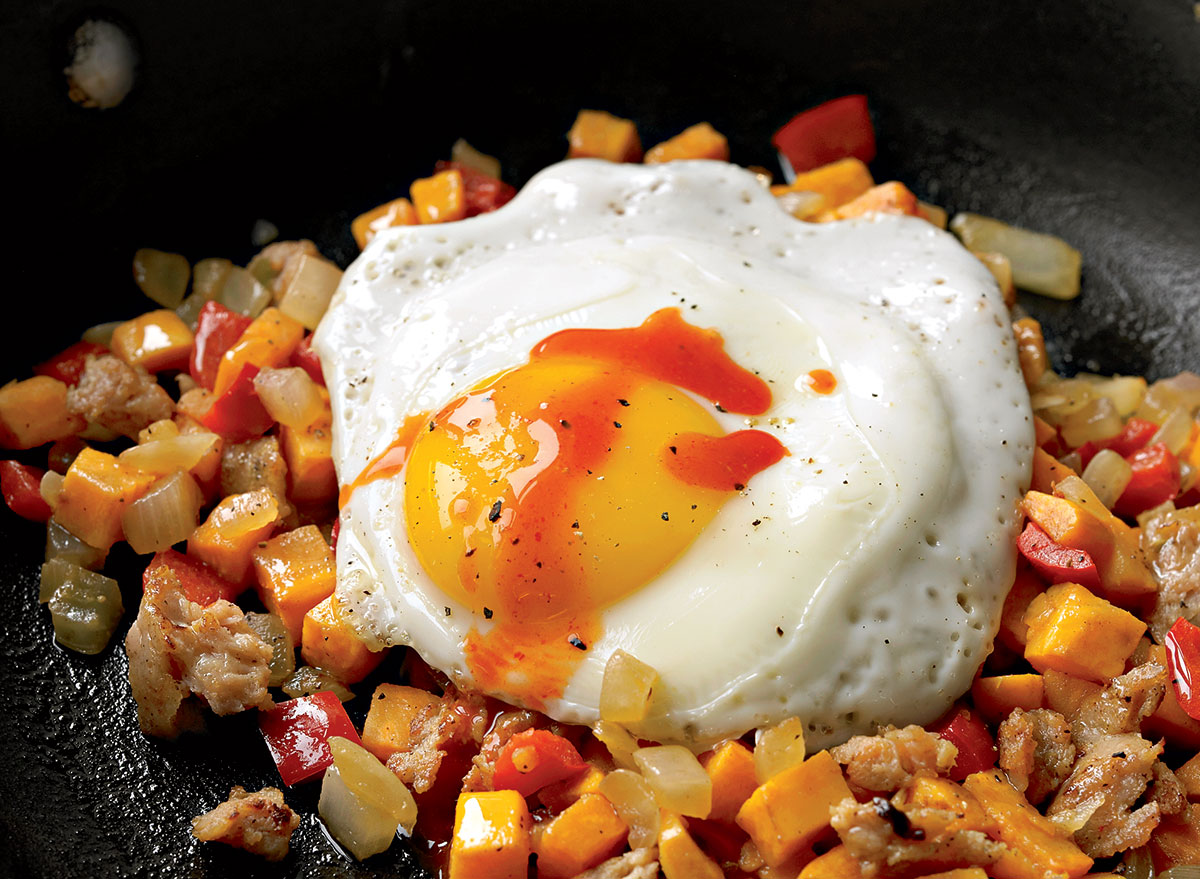 This breakfast hash gives you a nice protein boost, whether you enjoy it in the morning or for a breakfast-themed dinner. The combination of sweet potatoes, eggs, and chicken sausage keeps your protein count high but your calorie count low. And just because it has breakfast in the name doesn't mean you can't have it for lunch or dinner!
Get our recipe for Breakfast Hash.
Chicken Fajita Burritos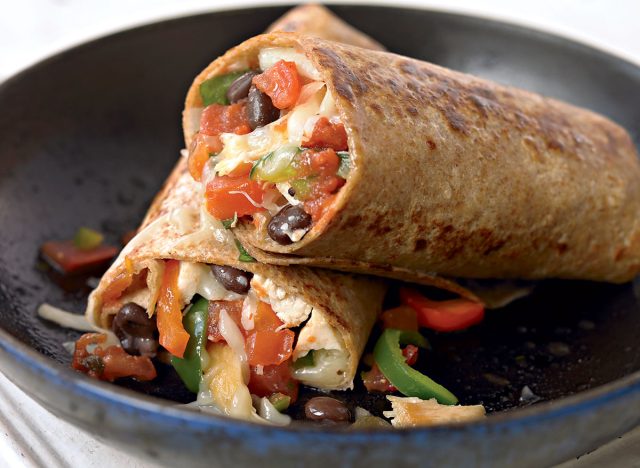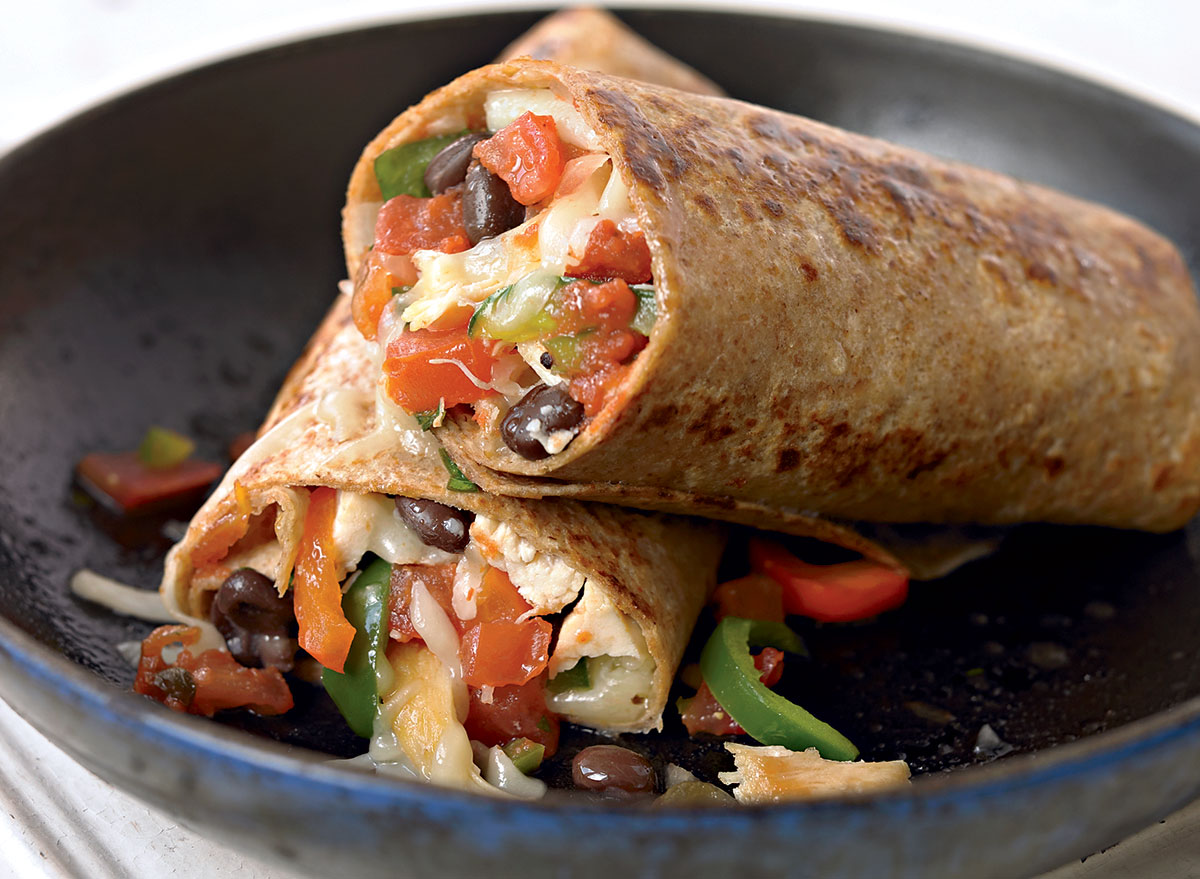 The secret behind these easy-to-make chicken fajita burritos? Shredded rotisserie chicken! Stuffed with sliced bell peppers, black beans, and low-fat Jack cheese, these burritos are the perfect meal to quickly whip up during those busy weeknights.
Get our recipe for Chicken Fajita Burrito.
Chicken Burgers With Sun-Dried Tomato Aioli
If you're looking for a healthier alternative to beef burgers and are tired of ho-hum turkey variations, then this delicious chicken burger recipe has your name all over it. Made using chopped sun-dried tomatoes, minced garlic, and fresh rosemary, these burgers will only taste like they took hours to make.
Get our recipe for Chicken Burgers With Sun-Dried Tomato Aioli.
Chinese Chicken Salad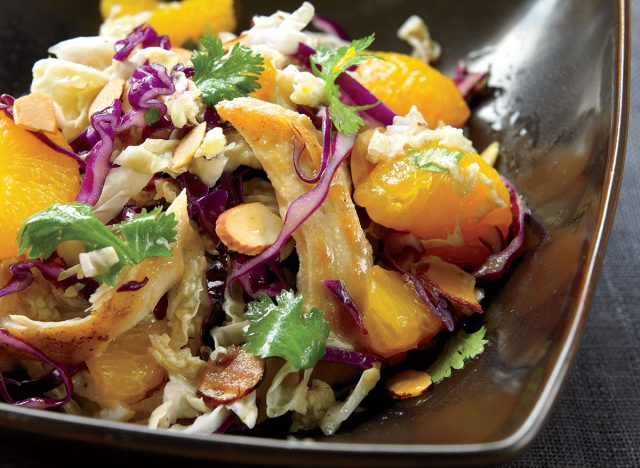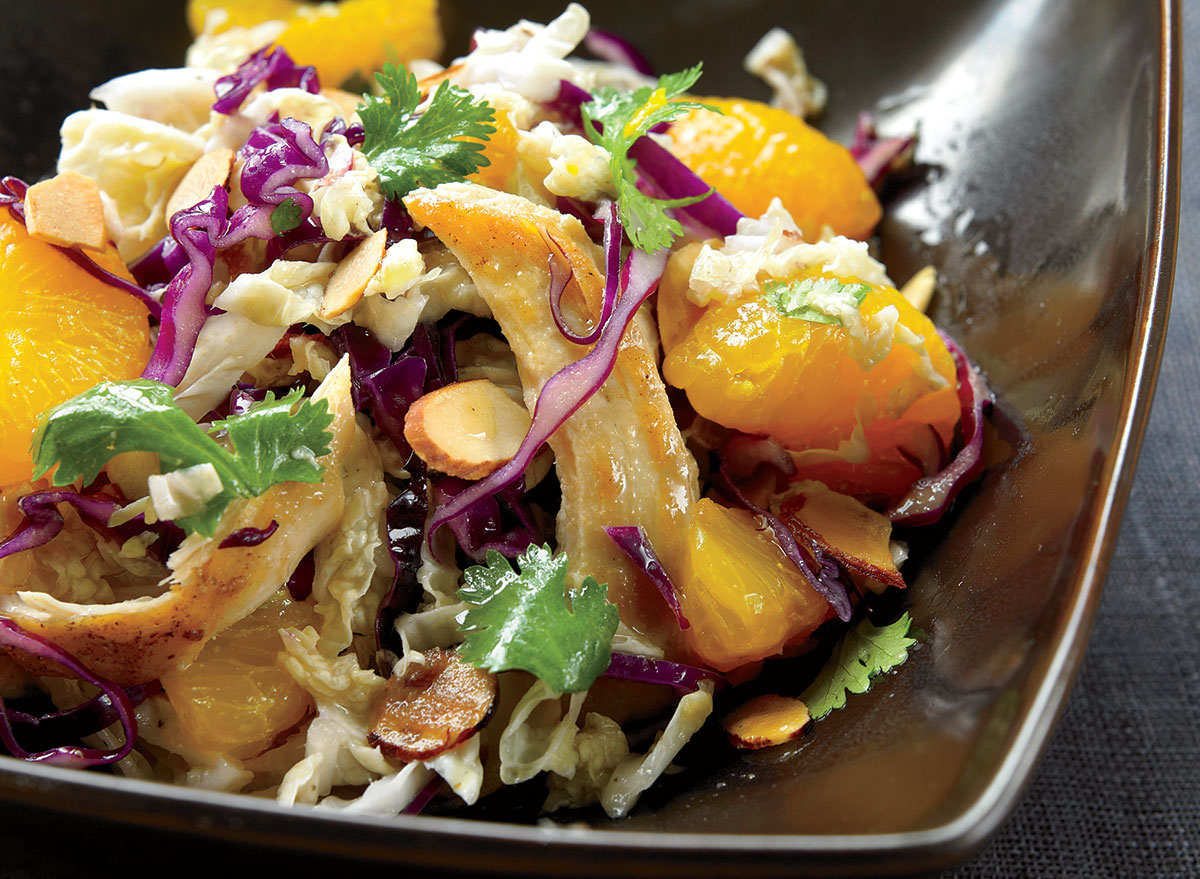 This Chinese-inspired chicken salad recipe proves that salad definitely does not have to be boring. Full of chopped cabbage, toasted almonds, shredded rotisserie chicken, and juicy Mandarin oranges, this recipe may just become your lunchtime go-to. Hint: If you're not buying Mandarin oranges fresh, be sure to pick up a canned version that is stored in water, not syrup, to keep the added sugar low.
Get our recipe for Chinese Chicken Salad.
Grilled Chicken Sandwich With Chimichurri Sauce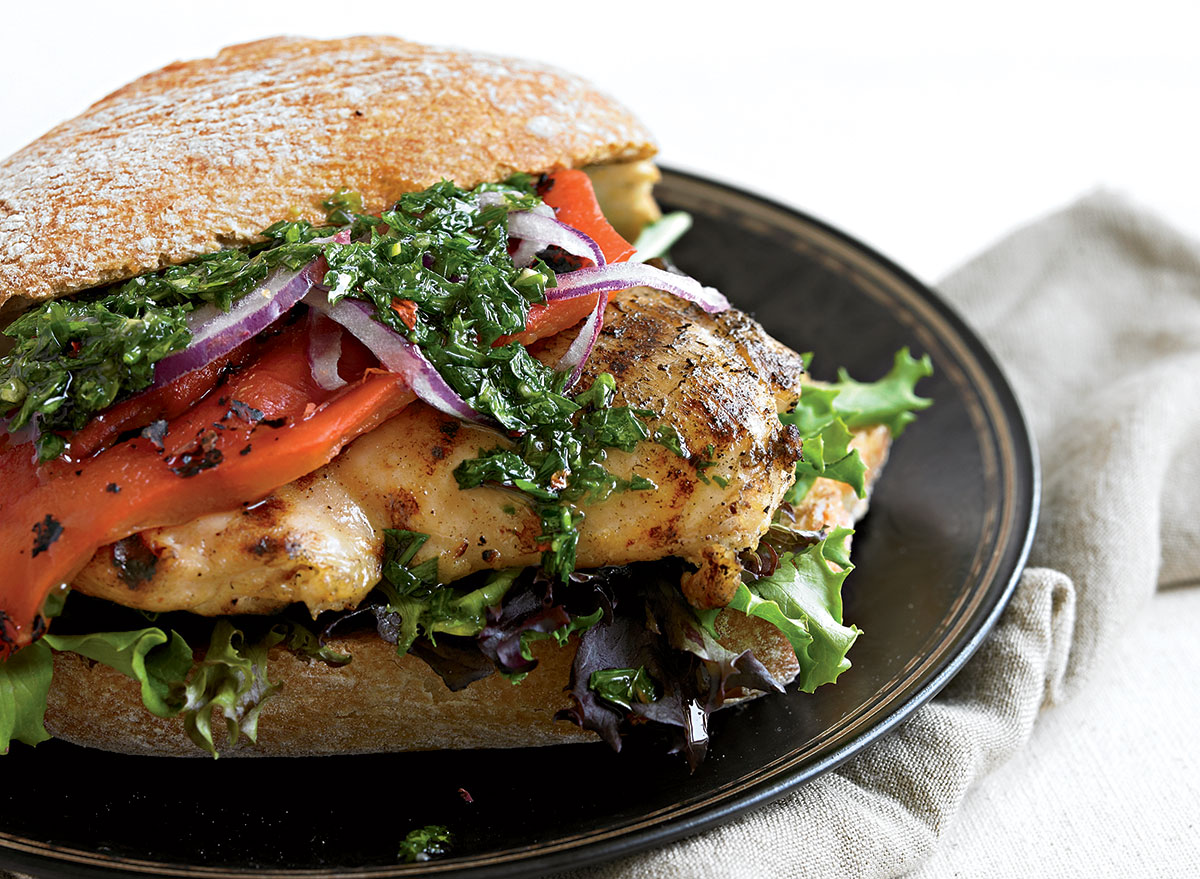 Ah, the grilled chicken sandwich: A simple meal option that works well for either lunch or dinner. In this version, the grilled chicken is dressed in a zesty chimichurri sauce that adds both flavor and color to this healthy dish.
Get our recipe for Grilled Chicken Sandwich With Chimichurri Sauce.
Easy Rotisserie Chicken Tacos With Salsa Verde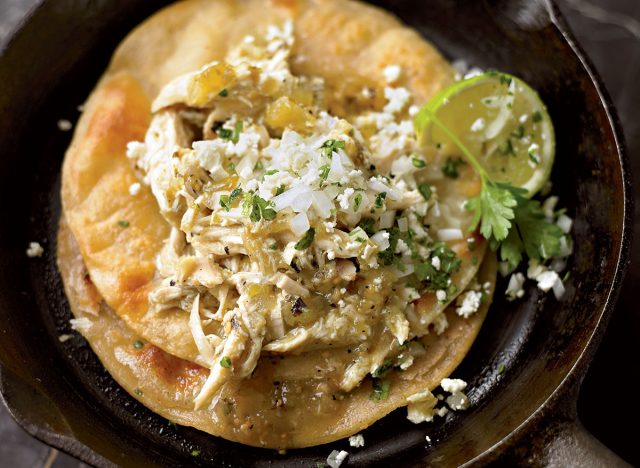 This incredibly easy recipe will have you wishing that every night was Taco Tuesday. Made using crumbled Cotija cheese, minced onion, fresh cilantro, and shredded rotisserie chicken, this scrumptious dinner dish takes mere minutes to put together.
Get our recipe for Easy Rotisserie Chicken Tacos With Salsa Verde.
Chicken Teriyaki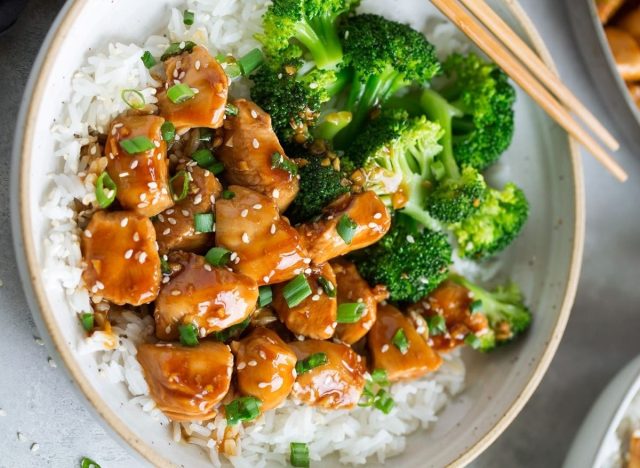 Sauteed to perfection and dressed in a mouthwatering teriyaki sauce, this chicken teriyaki dish is one you will definitely want to add to your recipe arsenal. Serve it with steamed broccoli and white rice for a satisfying meal.
Get the recipe from Cooking Classy.
Garlic Butter Chicken Bites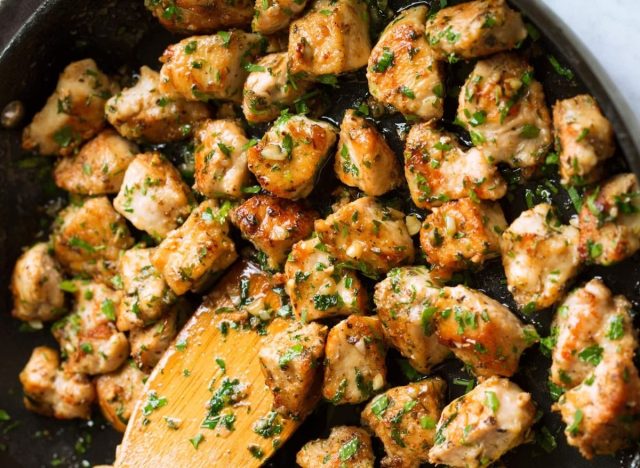 With this tasty garlic butter chicken bites recipe, you're just a few ingredients and a few minutes away from a delectable dish that will impress the whole family. Serve with sautéed vegetables and lightly seasoned rice for a perfect at-home meal.
Get the recipe from Cooking Classy.
Chicken and Vegetable Ramen Stir Fry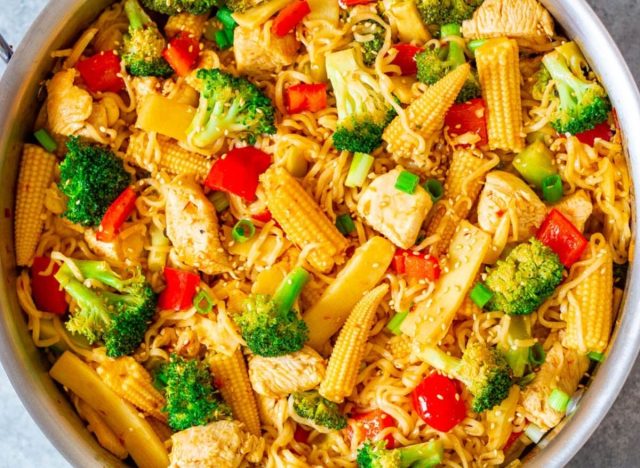 This delicious chicken and vegetable ramen stir fry recipe is not only convenient but may also be a whole lot healthier than takeout variations. Chock full of baby corn, bamboo shoots, broccoli florets, and red bell peppers, this colorful dish works well for either lunch or dinner.
Get the recipe from Averie Cooks.
Honey Mustard Chicken Skillet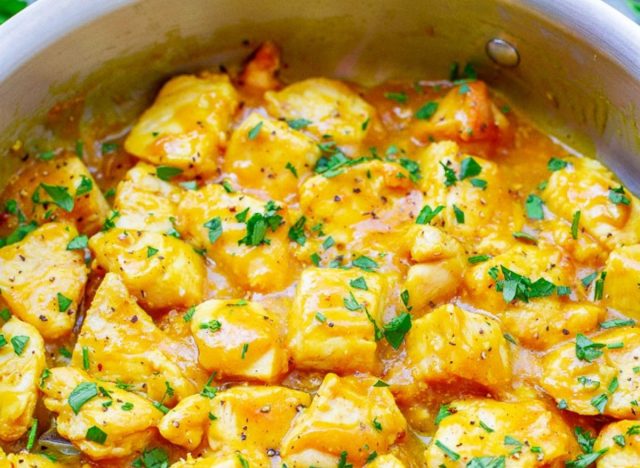 If you're a fan of honey mustard then you're going to absolutely love this honey mustard chicken skillet recipe that can be thrown together in under 15 minutes. All you need is boneless chicken, tangy dijon mustard, and some sweet honey to make this finger-licking meal. This recipe pairs well with garlicky rice or alongside some homemade mac and cheese.
Get the recipe from Averie Cooks.
Miso Coconut Chicken Ramen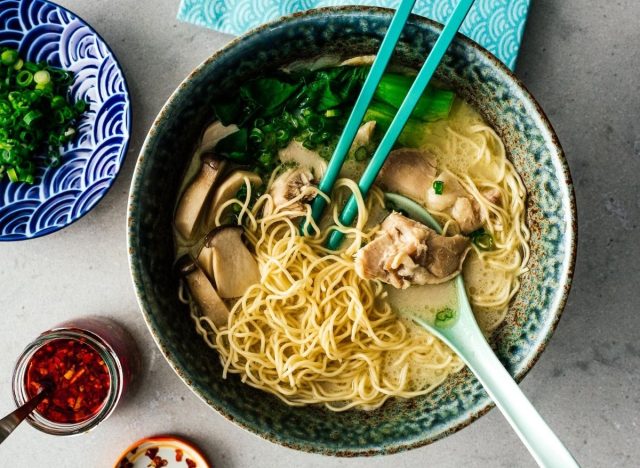 What's cozier than a steamy bowl of warm ramen? Made using an irresistible mixture of ginger, white miso paste, mushrooms, and coconut milk, this quick recipe uses an Instant Pot to help cut down cooking time.6254a4d1642c605c54bf1cab17d50f1e
Get the recipe from I Am A Food Blog.
Chicken Pesto Quesadilla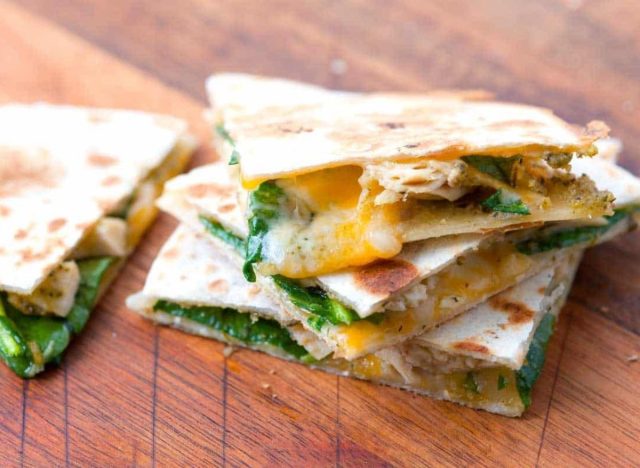 Can't decide whether or not you want Italian or Mexican food for dinner? Well, why not have both!? This chicken pesto quesadilla, which is packed with shredded rotisserie chicken, fresh spinach, and creamy melted cheddar, is the perfect combination of bright flavors mixed with comforting textures. The quesadilla pairs wonderfully with a bowl of homemade chicken noodle soup or a side of lemon rice.
Get the recipe from Inspired Taste.
Buffalo Chicken Wraps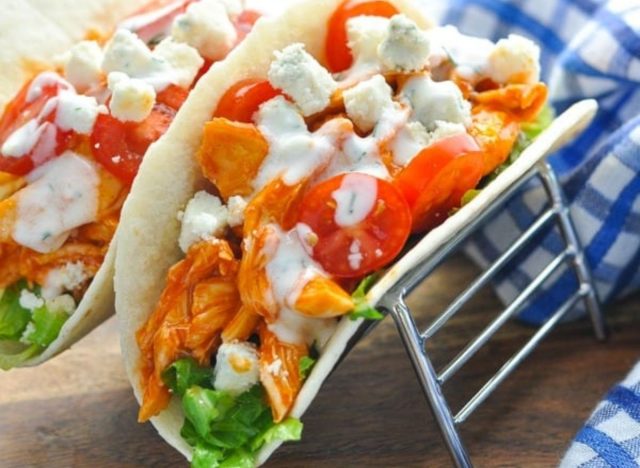 All you need is shredded rotisserie chicken, buffalo sauce, and tortillas to make this easy recipe that's sure to hit the spot. We love this dish not only because it takes only a handful of minutes to make, but also because it is so customizable. Feel free to get creative and add tasty toppings, such as crumbled feta, sliced avocado, and chopped spinach.
Get the recipe from The Seasoned Mom.
Creamy Lemon Chicken Breast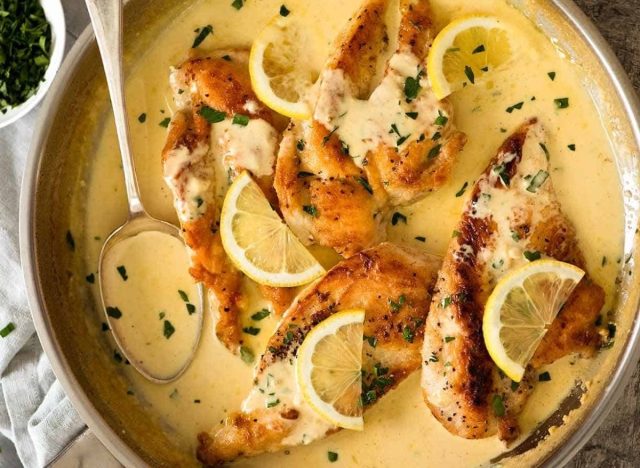 No, you're not dreaming—this chicken recipe really only takes 10 minutes to make. This dish's delicate lemon sauce, made using lemon juice, dijon mustard, and parmesan cheese, couples wonderfully with spaghetti or a side of sauteed string beans. Hint: Boil your pasta while the chicken is pan-frying to really cut down on time in the kitchen.
Get the recipe from Recipe Tin Eats.
Cowboy Caviar Chicken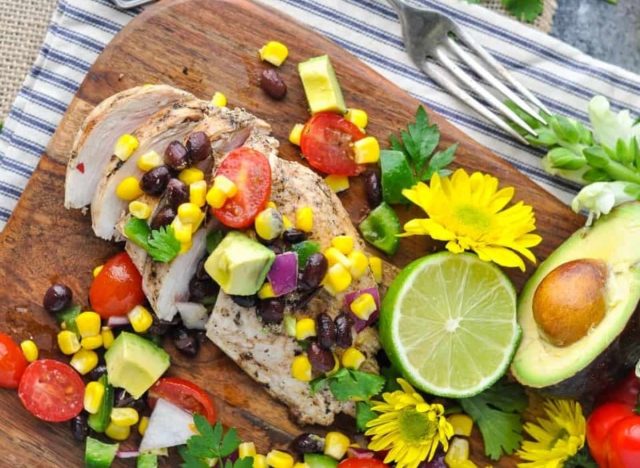 For a quick and healthy meal when you're low on time, be sure to try this cowboy caviar chicken recipe, which can be made in the blink of an eye. This dish doesn't have any actual caviar in it, but instead features rotisserie chicken topped with a zesty mixture of canned corn, black beans, and diced red onion. Serve with a side of microwave-steamed baby potatoes and you are good to go!
Get the recipe from The Seasoned Mom.
Air Fryer Chicken Parmesan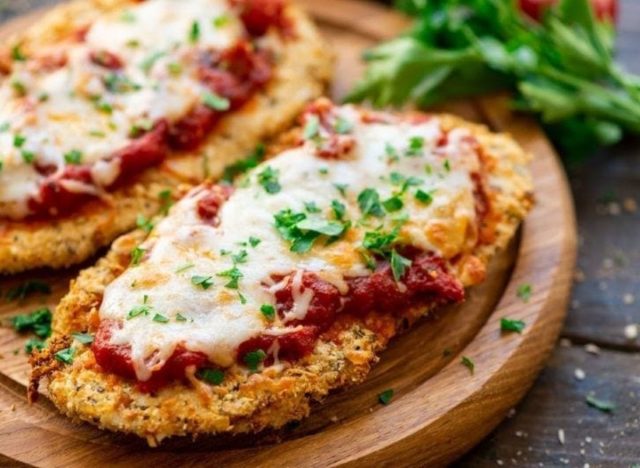 Oh, air fryers, how we love you so! Use this handy kitchen tool to create a famous Italian-American dish that tastes like it came right out of the restaurant kitchen. Hint: Homemade who? Opt for store-bought tomato sauce and pre-shredded cheese to help make this recipe a breeze.
Get the recipe from Julie's Eats and Treats.
Mango Lime Chicken with Rice and Beans
Mango is one of those ingredients that can help liven up any meal. In this specific recipe, juicy mango, lime, and garlic come together to create a seriously tasty dish. You'll never have to eat boring chicken again.
Get the recipe from Averie Cooks.
Chicken Tostadas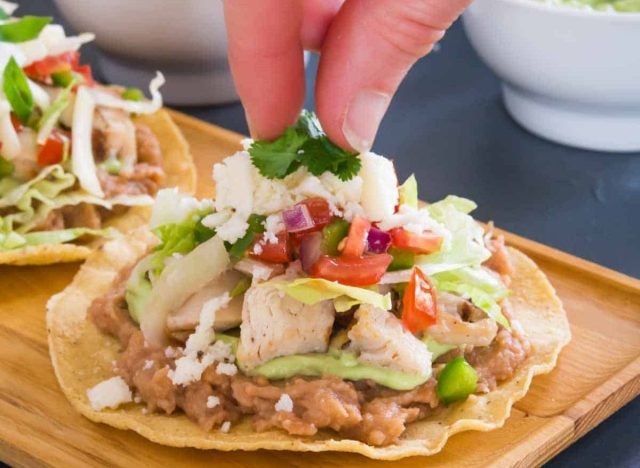 This recipe, which requires minimal prep time and virtually no cooking, is a perfect dinner dish to whip up when you are low on time. Just set out your cooked chicken (shredded rotisserie chicken or pre-cooked strips work great!) along with an array of tasty toppings, such as shredded cheese, refried beans, and sliced avocado, to create a DIY tostada bar, and you're good to go!
Get the recipe from Cupcakes and Kale.
Cashew Chicken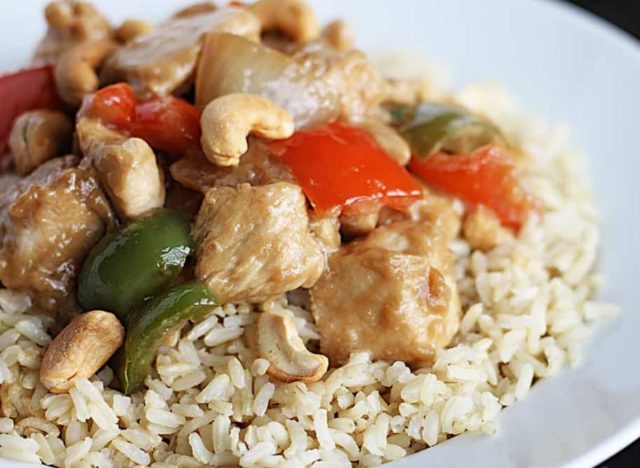 Serve this cashew chicken dish over a bed of brown rice for a meal that is not only easy to make but is also packed with flavor and nutrients.
Get the recipe from Le Creme De La Crumb.
Thai Chicken Peanut Noodles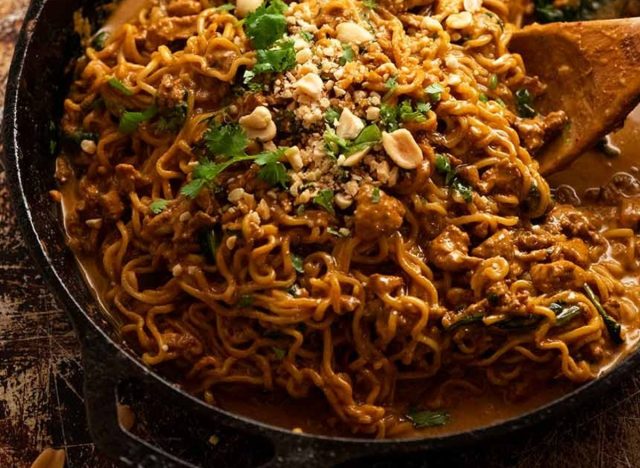 This one-pan, 12-minute recipe for Thai-inspired chicken peanut noodles may just become your next dinner recipe go-to. Made using minced chicken meat, red curry paste, soy sauce, peanut butter, coconut milk, and instant noodles, this filling dish is sure to impress.
Get the recipe from Recipe Tin Eats.
Chicken Tortilla Soup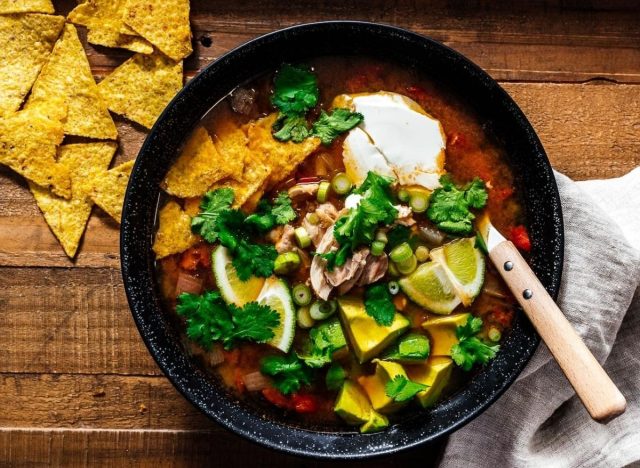 What we love so much about this Instant Pot chicken tortilla soup is not only that it can be made in just 15 minutes, but also that it is so wonderfully customizable. Feel free to let loose and top your soup with shredded cheese, sliced avocado, chopped green onion, and a dollop of sour cream.
Get the recipe from I Am A Food Blog.
Spicy Korean Chicken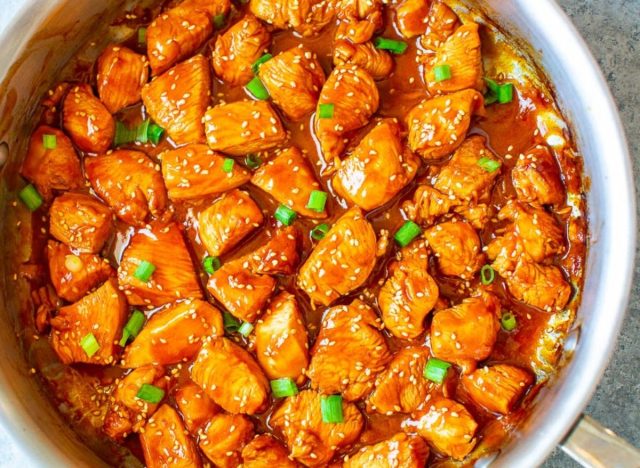 Dazzle your taste buds with this effortless spicy Korean chicken recipe that can be made in just 15 minutes. Served over rice or alongside steamed vegetables, this easy chicken dish is sure to blow you away. (Hint: If you like your sauce a little thinner, skip the corn starch.)
Get the recipe from Avery Cooks.
A previous version of this article was originally published on November 5, 2022. It has been updated to include additional entries and proofreading revisions, additional research, and updated contextual links.
Sources referenced in this article