10 Weight Loss Dinners That Actually Satisfy, Say Dietitians
You'll feel full for the rest of the night with these delicious meals!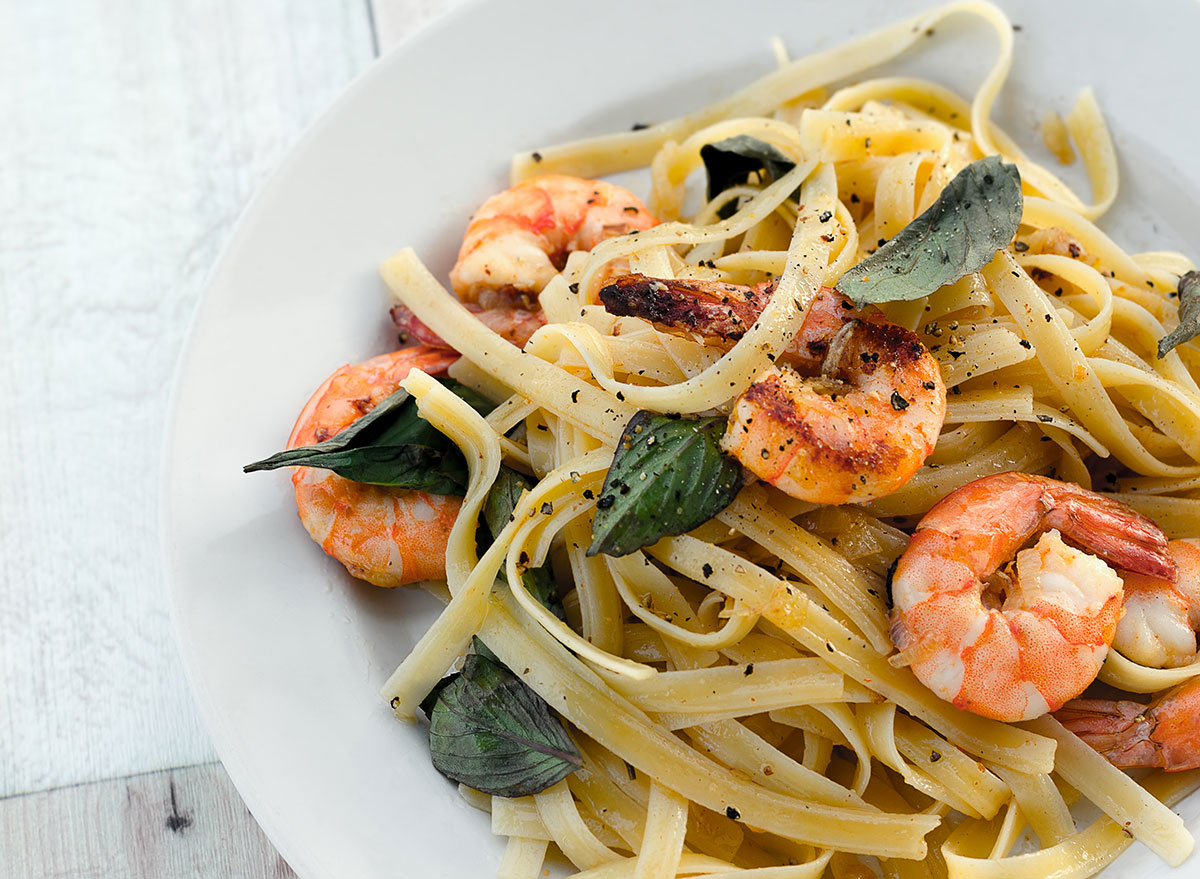 When you're trying to shed pounds, the smartest mealtime strategy you can adopt is eating foods that are going to fill you up. Needless to say, a plate of undressed salad simply isn't going to cut it—but fortunately, we rounded up a bevy of dietitian-approved weight loss dinners that actually satisfy. Not only are they tasty enough to squash any craving, but they're packed with all the nutrients your body needs for energy: protein, fiber, and healthy fats.
"Protein and fiber take longer to digest so you feel full longer, which translates to less snacking between meals, and thus, fewer calories overall for the day," says Deborah Malkoff-Cohen, MS, RD, and certified nutritionist at NYC Eat Well. "They also keep your blood sugar steady and you avoid the drastic blood sugar spikes and crashes that happen when you eat a carb-heavy meal like regular pasta or a bagel."
According to a 20-year Harvard study of over 120,000 healthy women and men, certain foods are proven to be associated with weight loss. Unsurprisingly, those include vegetables, whole grains, fruits, nuts, and yogurt.
"When you're looking to get full from a dinner and lose weight there are three things that your meals must have fat, fiber, and volume," says Gina Keatley, a certified dietitian, and nutritionist at Keatley Medical Nutrition Therapy in New York City. "If you're excluding one of these from your plate you run the risk of leaning harder on another category to get full and that one is usually fat—which can blow up a diet very quickly since it has 225% more calories than protein or carbohydrates. But the last key to the satiety puzzle is taste. You want it to taste good, so picking flavors you enjoy is crucial."
With all of that in mind, here are some super simple yet satiating weight loss dinners you can whip up at home that are sure to keep hunger pangs at bay. And for more healthy eating tips, be sure to check out our list of The 7 Healthiest Foods to Eat Right Now.
Grilled Fish Tacos + Mango Salsa + Lime Sauce
Taco Tuesday gets a healthy twist with this flavorful recipe, which is packed with vitamins, minerals, omega-3 fatty acids, and other important nutrients.
"The protein from the grilled fish (19 grams per serving) will help keep you full and the creamy sauce makes this the perfect summer dinner," says Anika Christ, RD at Life Time.
Christ recommends marinating halibut or tilapia in lime juice, olive oil, and soy sauce or coconut aminos. For the sauce, combine unsweetened almond milk, plain Greek yogurt, fresh lime juice, chipotle chile in adobo sauce, garlic, and salt. Then toss together diced bell pepper, onion, and jalapeño pepper, as well as chopped mango, cilantro, garlic, lime juice, and salt to make the salsa.
After grilling the fish and flaking it into bite-sized chunks, assemble the tacos onto gluten-free corn tortillas or lettuce wraps (depending on your preferred carb count) and top with mango salsa and a drizzle of lime sauce.
Don't have a grill? Try making these Healthier Fish Tacos with Tilapia and Avocado Recipe.
Quinoa, Green Chile & Cheddar Burgers + Broccoli Slaw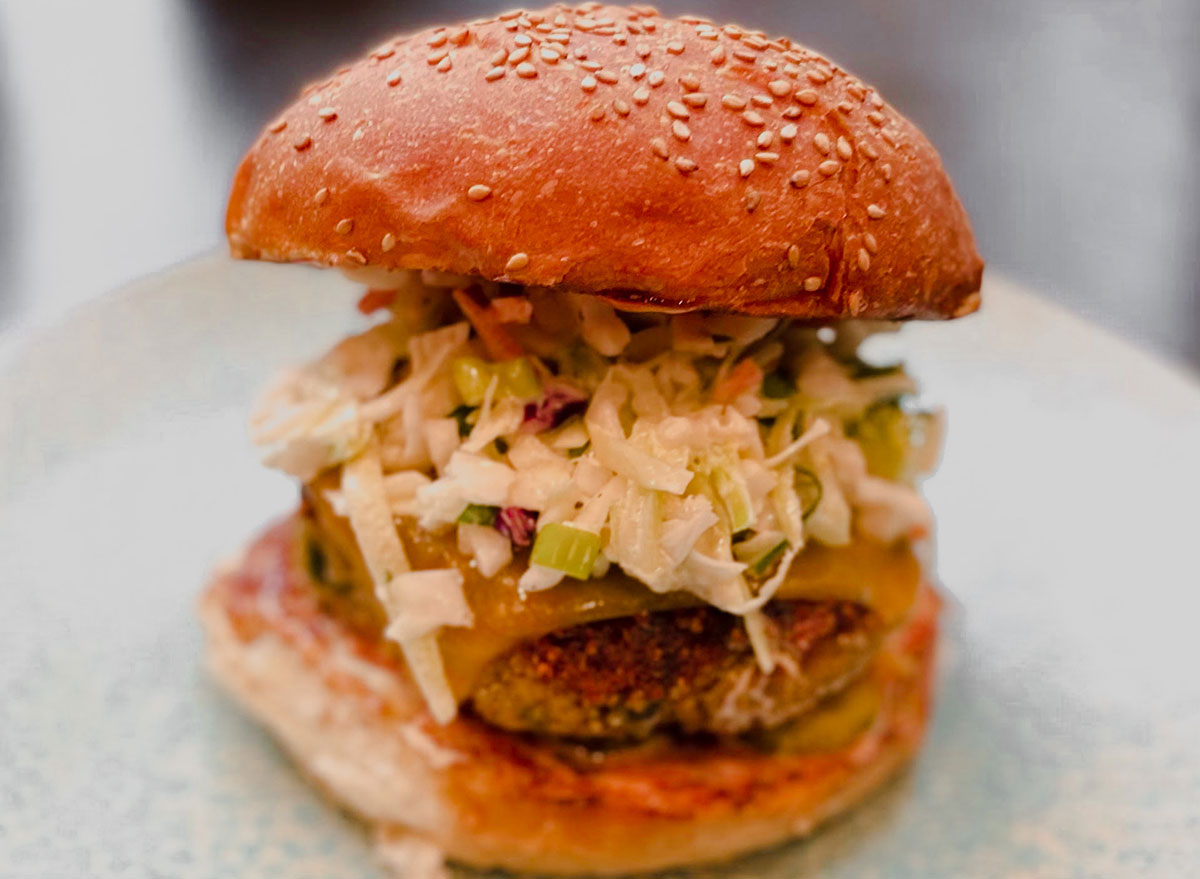 You'll be hard-pressed to find a better pick for home cookouts than this fiber-rich vegetarian meal, which is a far healthier option than the preservative-laden frozen veggie burgers you'll find at your local supermarket.
Quinoa is considered a complete protein, meaning it contains all the essential amino acids—which makes it a stellar base for a meatless burger. This recipe also incorporates chickpeas for some additional protein, as well as egg and oats to hold the patty together, and plenty of onion, garlic, poblano pepper, and sharp cheddar for flavor. Better yet, the broccoli slaw—which includes Chipotle hot sauce, cilantro, scallions, and lime juice—gives you a serving of veggies to round out the meal. If you're looking to slash calories even further, Keatley recommends choosing between the mayo or sour cream rather than adding both.
"The quinoa is providing the bulk of the fiber at 5 grams per cup but the herbs, spices, veggies, and chickpeas are giving you another 3 to 4 grams," says Keatley. "If you opt for a whole-wheat bun, you'll increase the calories a bit but the added fiber is totally worth it."
Get the full recipe here.
Garlic Shrimp + Soy Fettucini + Green Beans
Did you know that one medium shrimp only has about 6 calories—but also has 1 gram of protein? You can easily fill up on these tasty crustaceans without compromising your weight—which is why they make for great weight loss dinners, according to Malkoff-Cohen.
Malkoff-Cohen advises simmering the shrimp in just a dash of butter (or olive oil), lemon zest, garlic, crushed red pepper flakes, and lemon juice. She also likes using Seapoint Farms Organic Soy Pasta, not only because it's gluten-free, low in carbs, and high in protein, but also because it only contains one ingredient (soybeans) and packs 12 grams of satiating fiber per 2 oz. serving.
"With soy products, I recommend my clients only eat organic, as 90% of the soy in the USA is genetically modified and contains high residues of glyphosate," she says.
After tossing the shrimp with the pasta, consider adding a side of steaming or blanched green beans to round out the meal.
Orange Chicken + Stir-fried Vegetables + Cauliflower Rice
Chinese takeout may get a bad rap for being loaded with sodium and saturated fat (especially fried dishes)—but this delicious dinner recipe is hardly bad for your waistline. Bonus: it just so happens to be gluten-free.
"The vegetables in this dish will help keep you full with fiber," says Christ.
Start by cooking chicken breasts in coconut oil, and then sautéeing bell pepper, onion, broccoli, and zucchini in the same pan. In a separate pan, sautée riced cauliflower until it's slightly browned," says Christ. "To make the sauce, combine the juice of half an orange, chicken stock, minced garlic cloves, orange zest, ground ginger, and coconut aminos. Pour the sauce into the chicken and veggie mixture and simmer until the sauce reduces, then pour it over the riced cauliflower."
Or, try our Healthier Orange Chicken Recipe!
Sweet Potatoes + Brussels Sprouts + Apple + Turkey Bacon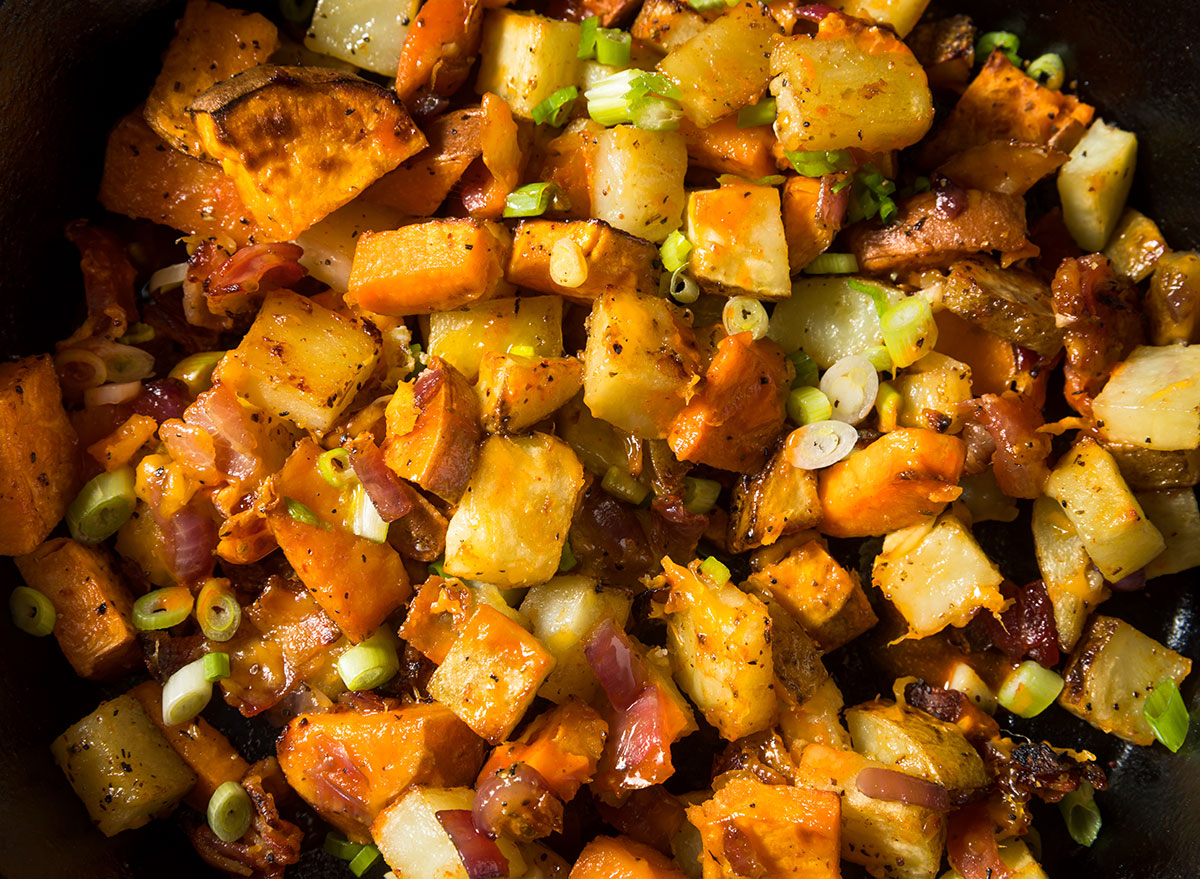 With a combination of both sweet and savory flavors and a variety of textures, this Harvest Hash recipe is satisfying in more ways than one.
Start by roasting sweet potatoes and Brussels sprouts until soft, and cooking the turkey bacon until it's crisp. Then, sauté chopped yellow onion, diced apple, and pecans until tender and lightly browned. Add the turkey bacon back into the pan and season with salt, pepper, and cinnamon to taste. Then add unsweetened dried cranberries and cook briefly. Toss the mixture with the sweet potatoes and Brussels sprouts, and top with a Dijon mustard and apple cider vinaigrette.
"This simple, delicious dish features all your favorite fall flavors and comes together quickly in just 25 minutes," says Christ. "It's high in fiber and has 19 grams of protein."
Here's What Happens to Your Body When You Eat Sweet Potatoes.
Salmon Burger + Dill Sauce + Side Salad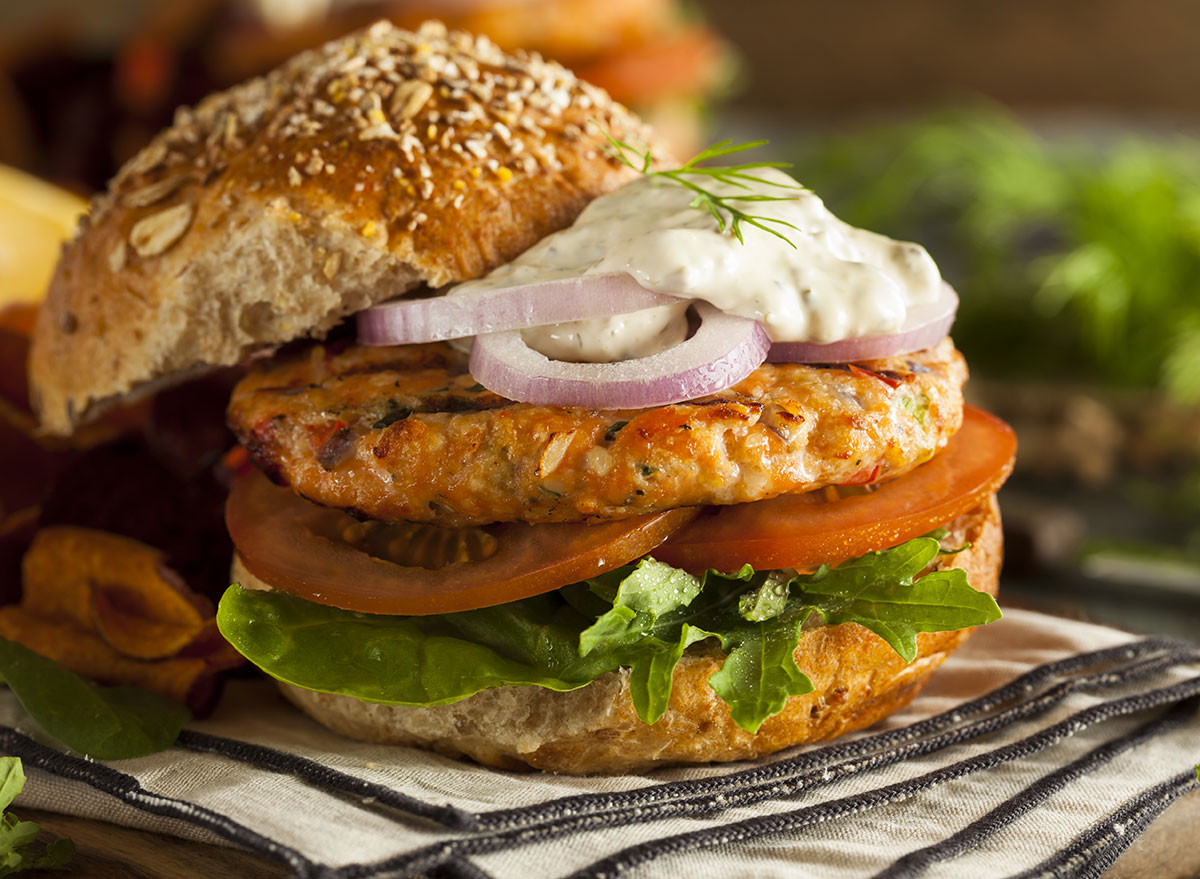 According to Malkoff-Cohen 6 ounces of salmon contains a whopping 37 grams of protein, along with plenty of omega-4 fatty acids—add in a low-calorie side salad for a boost of fiber and you've got a meal that'll keep you satisfied for hours.
To make the salmon burgers, Malkoff-Cohen recommends using wild-caught fish. After removing the bones and cutting the salmon into chunks, use a food processor to coarsely chop it further. For a healthier alternative to breadcrumbs, you can use red lentils, quinoa, or almond flour as a binder—then season the salmon with lemon juice, salt, pepper, and green onions, garlic, or chives. Grill the burger and serve on lettuce cups or a toasted whole-grain bun—then top with a dill sauce made with Greek yogurt, garlic, lemon juice, garlic, and dill. For a low-calorie side, Malkoff-Cohen suggests serving the burger with a salad containing mixed greens, carrots, tomatoes, cucumber, and mushrooms to get a diverse serving of veggies in.
"My favorite light dressing is just a teaspoon of olive oil (40 calories) and balsamic vinegar or squeeze of lemon or lime juice," she says.
Lemon Sole + Fingerling Potatoes + Roasted Veggies
Fish is a great lean source of protein, and one of the best weight loss dinners to whip up in a short amount of time!
"Fish and shellfish should be a go-to for those looking to lose weight," says Keatley. "Aside from the myriad of micronutrients they offer, they are very low in calories, coming in at under 120 calories for a 3-ounce serving. There is a little bit of fat in the fish (about 2 grams per serving) but it's also packed with protein, which takes a lot more energy for your body to break down."
According to Keatley, the variety of veggies in this recipe provide plenty of fiber and volume to send fullness signals to your brain. Plus, a small serving of potatoes adds some healthy carbs to ensure your body doesn't burn through muscle for energy.
To make this dish, roast the sole in a combination of lemon juice, garlic, and olive oil. Meanwhile, toss fingerling potatoes in olive oil, fresh herbs, and salt and pepper to taste, and roast on a separate pan. You can either sauté or roast the veggies—a combination of roasted carrots, beets, and Swiss chard—in olive oil and your preferred seasonings.
Here are 6 Ways Eating Fish Can Help You Lose Weight, Say Dietitians.
Cauliflower Rice + Chickpeas + Hummus + Pumpkin Seeds
"This easy-to-assemble bowl is built on a base of veggies and provides ample plant-based protein," says Christ.6254a4d1642c605c54bf1cab17d50f1e
To make this cauliflower rice bowl, all you have to do is toss rinsed and drained chickpeas with olive oil, paprika, chili powder, and sea salt and bake until crisp—while also sautéeing riced cauliflower and kale in coconut oil until tender. Blend hummus and unsweetened almond milk and drizzle it over the top of the "rice," chickpeas, and veggies before sprinkling on some pumpkin seeds for added crunch.
Sirloin Skewers + Edamame + Seaweed Salad + Grilled Kambocha
"Inspired by Japanese bar foods; this is a great dish for the summer that involves the grill," says Keatley. "The yakitori skewers can be beef, chicken, or another type of lean meat—but the most important part of the yakitori is the cooking technique: grilling. The edamame is a low-calorie starch that has about 5 grams of fiber per 3 ounces, and the veggies fill out your fiber needs for the meal while providing few calories and a bunch of volume."
For the marinade, try combining soy sauce, ground ginger, lemon juice, vegetable oil, green onion or scallion, and minced garlic. Grill the meat on kabobs while steaming frozen or fresh edamame in the shells until tender, and then sprinkling the pods with sea salt. Keatley recommends serving the skewers with grilled kabocha, a squash otherwise known as Japanese pumpkin—which has a naturally sweet and nutty flavor but is remarkably low in carbs.
Now that you have quite a few weight loss dinners you can whip up, start your day off right as well with these 10 Weight Loss Breakfasts That Actually Satisfy, Say Dietitians.
Rebecca Strong
Rebecca Strong is a Boston-based freelance health/wellness, lifestyle, and travel writer.
Read more about Rebecca