5 Protein Powders With the Best Reviews on Amazon
Customers say these protein powders dissolve easily and taste delicious.
We are newly into 2023, which for some may mean a New Year's resolution of hitting the gym or going on more morning runs. If you have a personal goal related to increasing your daily movement or changing up your exercise routine, you'll want to make sure you're getting enough protein. And to help make it one step easier to achieve your resolutions, we've gathered a list of the protein powders with the best Amazon reviews.
"The recommendation is to consume 15–25 grams of high-quality protein in the immediate post-workout window to provide your body with the essential amino acids it needs to start repairing and rebuilding muscle," says Amy Goodson, MS, RD, CSSD, LD, sports dietitian, author of The Sports Nutrition Playbook, and member of our Medical Expert Board.
While there are certainly plenty of protein-heavy foods you can enjoy to boost your levels of this nutrient, protein powders and shakes are a good option if you're struggling to meet the recommended amounts through the food you consume.
"Is protein powder required to build muscle or support a fitness routine? No," says Goodson. "Can it be a convenient way to help people meet protein needs both post-workout and throughout the day? Yes."
"With about 20–25 grams of protein in most scoops, protein powder can be a great base for smoothies, mixed into foods like oatmeal and overnight oats, and can even be used to amp up the protein in baked goods that would naturally be lower in protein," Goodson adds.
But how can someone know where to start if they've never purchased a protein powder? Well, there's no better way to choose a product then to hear what real customers have to say. This is why we've made a list of five protein powders with the best Amazon reviews while also consulting Goodson for her expert opinion on each one. Read on to learn more about these top-notch protein powders, and for more helpful information on health food products to buy, check out These Healthy Pantry Staples for 2023.
Gold Standard Whey Protein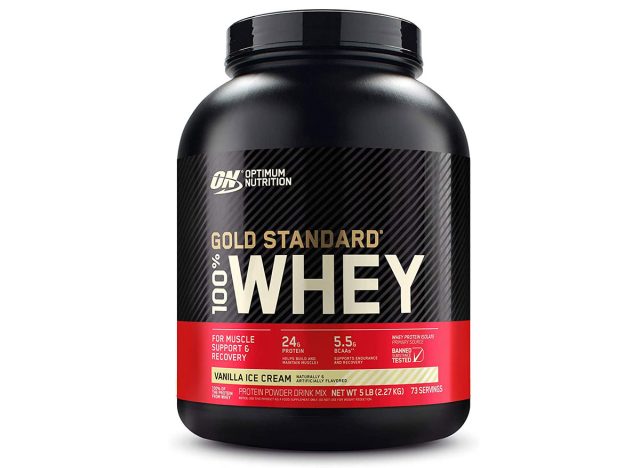 Per serving of Vanilla Ice Cream
: 120 calories, 1 g fat (0.5 g saturated fat), 105 mg sodium, 4 g carbs (1 g sugar), 24 g protein
One of the most highly rated protein powders on Amazon, with 4.7 stars out of five and over 200,000 ratings is the Optimum Nutrition Gold Standard Whey Protein.
"I found the flavor to be good, and mixability was crazy good. After shaking in a regular shaker for 20–30 seconds, no chunks or gritty texture whatsoever," says Amazon customer Andre in review of the product.
"This stuff is great: tasty, filling, mixes easily, and has no crazy 'best protein out there' claims," Amazon shopper Ren adds in another review.
And according to Goodson, the praise for this powder is well warranted.
"Certified by Informed Choice, the Gold Standard is made from whey, and each serving provides 24 grams of protein, including 5.5 grams of branched chain amino acids," Goodson says. "It also provides 4 grams of glutamine, which is the most abundant amino acid in the body, and one that plays a role in helping keep the immune system strong."
Dymatize Elite Whey Protein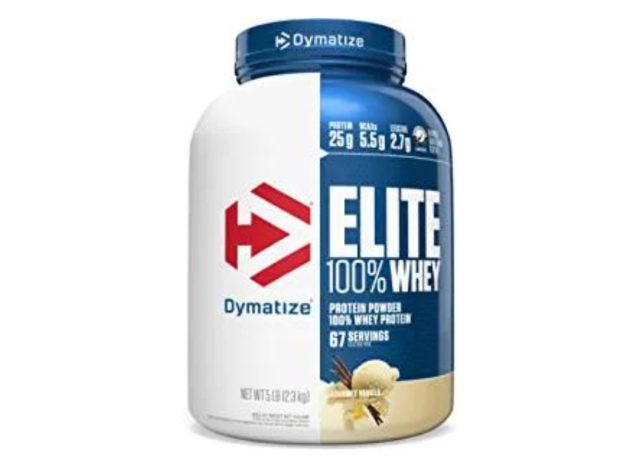 Per serving of Gourmet Vanilla
: 140 calories, 3 g fat (1.5 g saturated fat), 95 mg sodium, 2 g carbs (0 g fiber, 2 g sugar), 25 g protein
Another popular whey protein that Amazon customers seem to love is the Dymatize Elite 100% Whey. This protein powder has 4.7 stars out of five, and over 4,800 users have given their ratings.6254a4d1642c605c54bf1cab17d50f1e
"I don't know how many brands of protein I've tried over the years but somehow never tried Dymatize," Amazon customer Sean raves in a review of this protein powder. "This is by far the best tasting protein I've ever used. The nutrient and AA profile is great, too. Excellent stuff!"
Not only do people love the flavor, but some customers even left reviews about how their body feels after using Dymatize.
"Finding protein powders is never easy, especially with a semi-sensitive stomach. I've tried at least 5 brands before being completely happy with this one," Amazon customer Rachel explains in a review of the product. "I initially bought a smaller container from my local grocery store and once I knew it was fine with my stomach and taste buds, I ended up buying this huge container here and just refilling my smaller container. The price on Amazon is a huge value for this size too. It mixes easily into liquid (I use almond milk) and I also use a high speed blender with ice and a frozen banana. […] Getting more protein daily into my diet has been much easier with the help of this powder. I'd highly recommend trying if you haven't found one you like yet. Also, there is stevia along with other 'natural' artificial flavors. But their whey protein isolate has been working for me so far with no tummy troubles!"
Goodson adds that the nutritional value of Dymatize makes it great for after your gym session.
"Dymatize Elite is a top pick for whey protein because it is certified by Informed Choice and contains 25 grams of protein per scoop," Goodson claims. "Whey protein is naturally the highest in branched chain amino acids and has 2.7 grams of leucine, making it great for a post-workout shake."
Orgain Organic Vegan Protein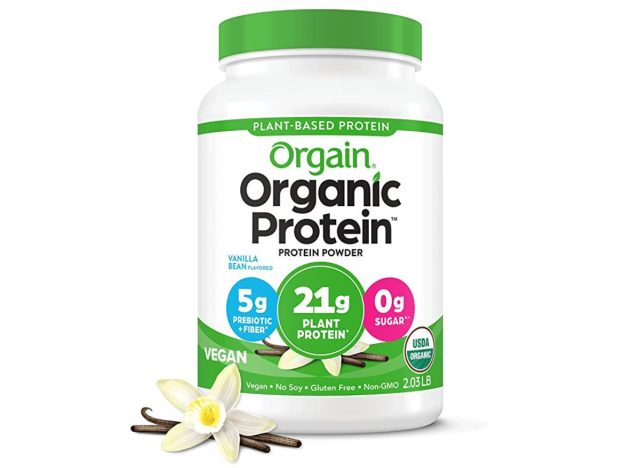 Per serving of Vanilla Bean
: 160 calories, 4.5 g fat (0.5 g saturated fat), 310 mg sodium, 21 g carbs (1 g fiber, 1 g sugar), 21 g protein
"For those that prefer a plant-based protein, Orgain is a great pick," says Goodson. "It provides 21 grams of plant-based protein. Because this protein is fairly allergy-friendly—no lactose or gluten, and it's vegan as well as organic—it likely appeals to a wide group of individuals."
With over 40,000 ratings on Amazon, Orgain Organic Protein has 4.6 out of five stars and plenty of rave reviews about the taste and dissolubility.
"I've been taking this supplement for 3 or 4 months. It's very tasty and dissolves well in juice. I will continue to purchase as long as they make it," writes Amazon customer MsTecky Lyn.
"This is my favorite protein powder. Quality. Flavor. Blending," Amazon customer Jason also notes in the reviews for this product.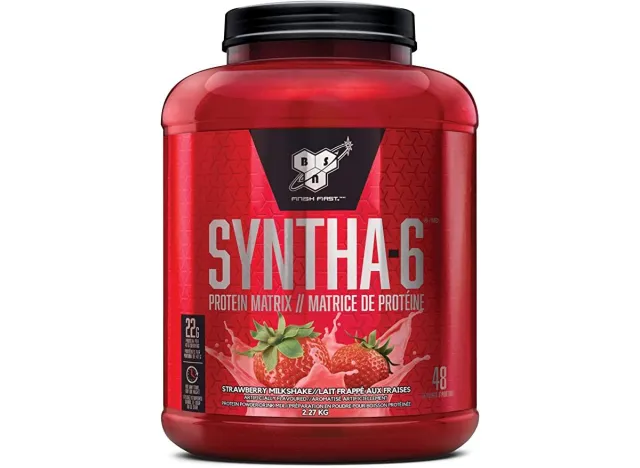 Per serving of Strawberry Milkshake
: 200 calories, 6 g fat (2 g saturated fat), 160 mg sodium, 15 g carbs (6 g fiber, 4 g sugar), 22 g protein
Syntha-6 Strawberry Milkshake Protein will give you a severe case of nostalgia, as many Amazon customers claim it tastes just like strawberry milk.
"I've tried many protein powders before but this one is by far the best. It's not like the regular protein powders that are thick and chalky, this protein powder is smooth and light I got the strawberry one and it tastes like strawberry milk," writes Sofiia, an Amazon customer.
We can see why this is one of the protein powders with the best Amazon reviews, but Goodson notes it is higher in calories than the others on the list.
"Syntha-6 is a little higher in calories per scoop than traditional whey protein powders. But it also contains 22 grams of protein, including 10 grams of essential amino acids, which are necessary for post-workout recovery," says Goodson. "It also has 6 grams of fiber and 200 milligrams of calcium, due to its protein blend of whey, casein, and milk protein."
So, if you're fine with dairy and a few extra calories, this powder seems to provide a deliciously satisfying experience.
Gold Standard Plant Protein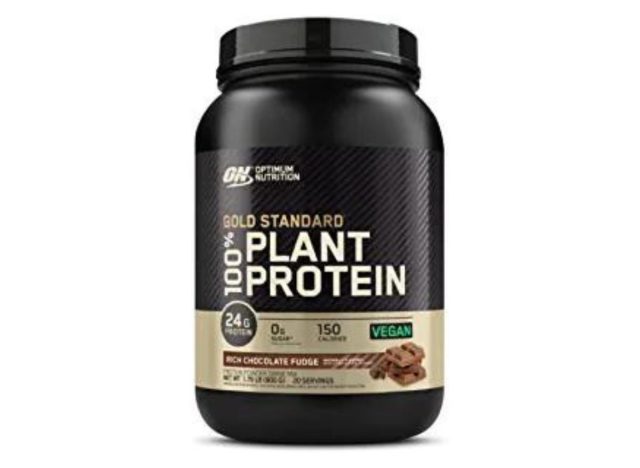 Per serving of Rich Chocolate Fudge
: 390 calories, 9 g fat (2 g saturated fat), 550 mg sodium, 63 g carbs (3 g fiber, 22 g sugar), 12 g protein
We've already established that Optimum Nutrition Gold Standard is popular among Amazon users, but if you aren't a fan of whey protein or don't consume dairy or animal products, Gold Standard offers a plant-based option as well.
"This vegan plant-based powder provides 24 grams of protein per scoop with 9 grams of essential amino acids," says Goodson. "It's protein blend comes from pea, rice, and fava bean protein, which is also where this powder's 2 grams of fiber come from."
And with 4.7 stars out of five, customers seem to love how well it mixes into their shakes or smoothies:
"It blends wonderfully in my almond milk and a plain shaker bottle," says an Amazon user Ava M. "The taste was great, I got vanilla ice cream flavor and it tasted like any healthy version of vanilla ice cream would. I felt full past my normal point of hunger, so that was a huge bonus. I definitely will continue buying this one now, for the flavor vs. sugar idk if it can be beat!"