I Tried Pumpkin Spice Lattes At 5 Chains & One Had Superb Fall Flavors
The pumpkin spice latte wars are raging, but which brand serves the best version of this fall beverage?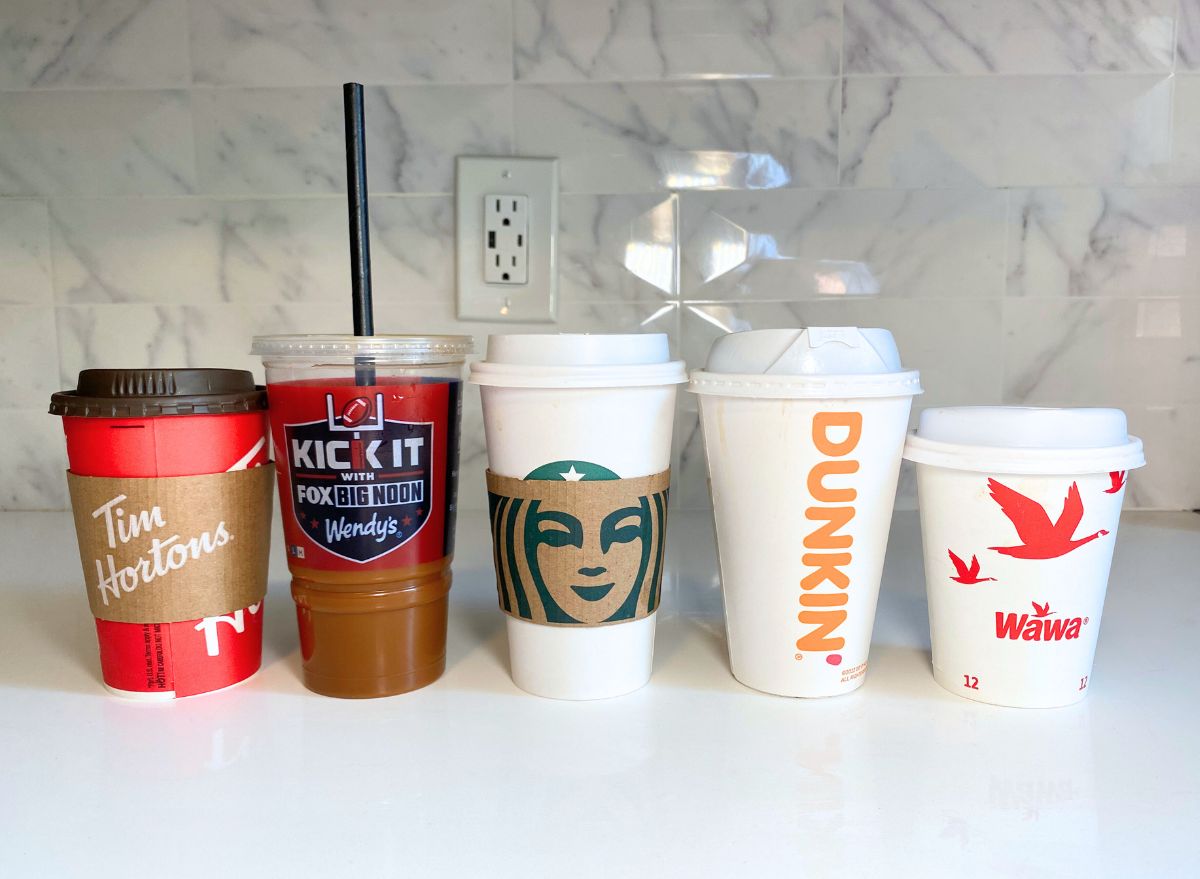 The product recommendations in this post are recommendations by the writer and/or expert(s) interviewed and do not contain affiliate links. Meaning: If you use these links to buy something, we will not earn a commission.
There's truly no better hallmark for the start of fall than the annual return of pumpkin spice lattes—Americans' love for these popular seasonal drinks seems to grow more and more with every passing year. Shortly after Starbucks brought back its Pumpkin Spice Latte in August, for example, analytics firm Placer reported that the drink's return drove the largest spike in customer traffic for the chain in recent years.
Sure, some may dismiss pumpkin spice lattes as "basic" just because everyone and their mother is drinking them. However, I'd argue that the immense popularity of the drink doesn't detract from its merits, but instead underscores just how good it really is. It's fun. It's festive. It's packed with comforting fall flavors. And it's something that pumpkin lovers, myself included, can look forward to every year and savor for those fleeting moments when it's available. 
Starbucks probably has the most famous PSL on the market right now, which makes sense considering it has been a seasonal staple at the chain for 20 years now. But now that plenty of other chains have entered the pumpkin spice latte wars, is Starbucks' rendition truly the best? I recently set out to answer that question for myself by trying the PSLs from five major chains: Starbucks, Dunkin', Tim Hortons, Wendy's, and Wawa.
I judged each chain's latte on overall flavor, as well as whether they actually tasted like pumpkin and spice. Some of the lattes missed the mark on this measure, but my favorite absolutely knocked it out the park.
Here's what I thought of each chain's pumpkin spice latte, ranked from my least favorite to the hands-down winner!
Wawa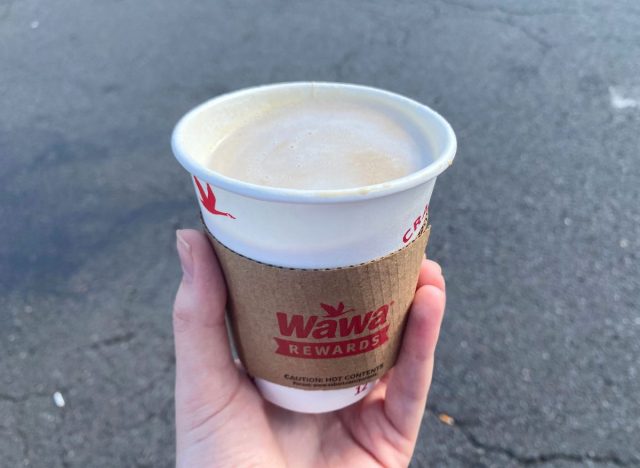 Per 12-ounce latte (with whole milk)
: 200 cal, 6 g fat (3.5 g saturated fat), 130 mg sodium, 32 g carbs (0 g fiber, 30 g sugar), 6 g protein
Wawa's Pumpkin Spice Latte is made with the customer's choice of dairy and an optional whipped cream topping. A 12-ounce cup cost me $3.72.
The look: Surprisingly light in color for a pumpkin spice latte. I'm used to pumpkin spice lattes with at least a tinge of orange color, whereas this one looked pretty pale and milky.
The taste: No pumpkin or spice to be found. I took a good deal of sips from this latte just to try to find any semblance of pumpkin spice flavors—but I was unsuccessful. The ratio of espresso to milk also felt super off in this latte since I barely tasted the espresso. I don't generally order coffee from Wawa so it is possible that I got an unusually bad cup. Still, I felt it was fitting to put this latte in last place since it didn't fulfill the "pumpkin spice" brief and was pretty undrinkable to boot.
Tim Hortons
Per medium-sized iced latte
: 257 cal, 97.6 g fat (58 g saturated fat, 0.2 g trans fat), 170 mg sodium, 29.7 g carbs (0 g fiber, 27.6 g sugar), 15.5 g protein
Tim Hortons' Pumpkin Spice Latte is a creamy espresso-based beverage flavored with pumpkin spice syrup and topped with whipped cream. I got a medium cup for $4.68.
The look: This looked like a pretty standard latte elevated with a hint of that orange color you'll typically find in a pumpkin spice latte. While the swirls of whipped cream and syrup on top looked attractive, I couldn't help but notice that the topping took up a lot of real estate in the cup, leaving much less room for the actual latte.
The taste: The first few sips of this latte tasted strongly of whipped cream and pure sugar because of the super thick and sweet topping. But even as I got further into the latte, I had trouble detecting anything that reminded me of pumpkin or spice aside from a couple of weak, earthy notes, which I suspected were supposed to be pumpkin. Mostly, I tasted lots of sugar, lots of coffee, lots of dairy, and even a subtle savory flavor that I found sort of unpleasant. This was an improvement over Wawa's latte because I could actually taste the coffee this time. However, it just didn't taste like a pumpkin spice latte to me, especially in comparison to the higher ranking options.
Wendy's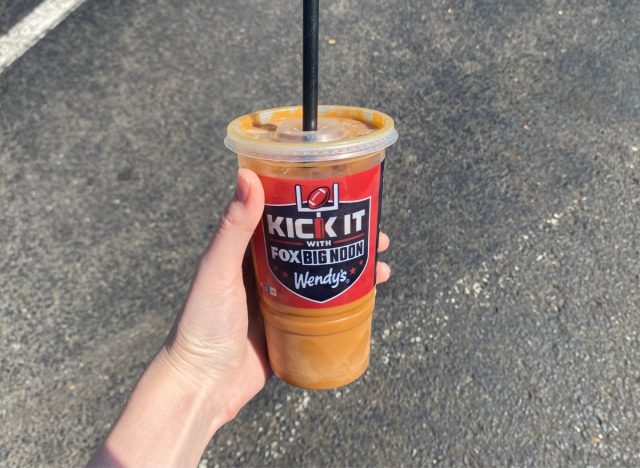 Per medium-sized drink
: 200 cal, 3.5 g fat (2 g saturated fat), 85 mg sodium, 36 g carbs (0 g fiber, 31 g sugar), 4 g protein
Wendy's Pumpkin Spice Frosty Cream Cold Brew is a recent addition to the chain's menu. It features a blend of cold brew coffee, vanilla Frosty mix, and pumpkin spice syrup served over ice. Wendy's doesn't have a hot latte option like the other chains, so I went with the only one that was available to gauge its pumpkin spice prowess. A medium cup cost me $2.13.
The look: I was actually shocked at just how pumpkin-orange this drink appeared when the Wendy's worker handed it over. It was almost like cracking open a can of real pumpkin purée from the grocery store. The actual cold brew also looked very creamy and a little thicker than expected.
The taste: Let's start with the positives. Miraculously, I could actually taste pumpkin and spice in Wendy's coffee, so that alone put it above Wawa and Tim Hortons. The cold brew itself was also very creamy, smooth, and cool, perfectly refreshing on a late summer afternoon. On the other hand, it was a bit too sweet for my liking and the spice flavor so overwhelming that it actually tasted a little bitter. I'd have trouble finishing a full cup of this, but I commend Wendy's for actually delivering the pumpkin and spice flavors it promised.6254a4d1642c605c54bf1cab17d50f1e
Dunkin'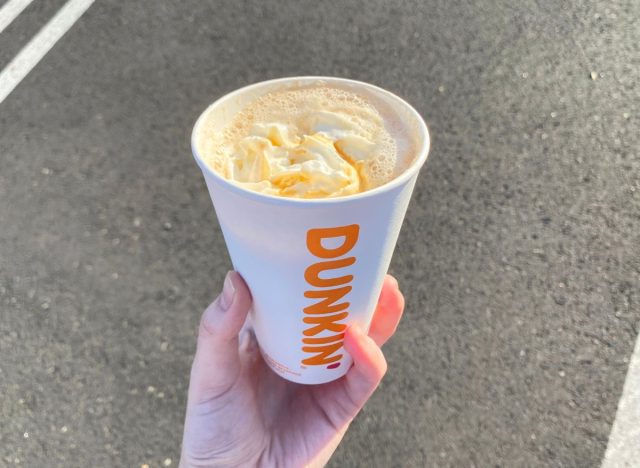 Per medium-sized latte (with whole milk)
: 420 cal, 14 g fat (8 g saturated fat), 220 mg sodium, 59 g carbs (2 g fiber, 55 g sugar), 12 g protein
Dunkin's Pumpkin Spice Signature Latte features notes of pumpkin, vanilla, and fall spices blended with espresso and milk. The drink is also topped with whipped cream, a caramel drizzle, and a dusting of cinnamon sugar. A medium cup cost me $4.79.
The look: Foamy, melty, and a little less full than I expected. The top of the orange-tinted drink was covered in a luscious layer of whipped cream and caramel.
The taste: Not outstanding, but really, really solid. The pumpkin flavor was definitely there, albeit not super strong. The spice flavor was also noticeable and really pleasant—I detected lots of sweet, warm cinnamon. My biggest complaint about this drink was that it was too sweet for me (probably because of all that whipped cream and caramel on top). Still, I could actually see myself finishing this drink, unlike any of the lower-ranking options.
Starbucks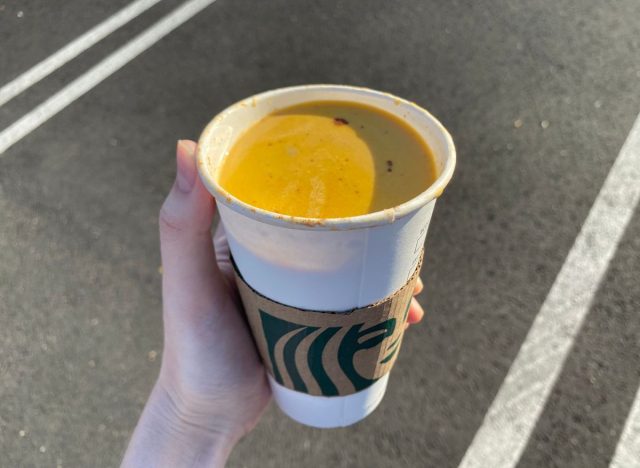 Per grande latte
: 390 cal, 14 g fat (9 g saturated fat, 0.5 g trans fat), 230 mg sodium, 52 g carbs (0 g fiber, 50 g sugar), 14 g protein
Starbucks' Pumpkin Spice Latte is made with the chain's signature espresso, steamed milk, and a combination of pumpkin, cinnamon, nutmeg, and clove flavors. It's also topped with whipped cream and pumpkin pie spices. A grande-sized cup cost me $6.13.
The look: I love that Starbucks doesn't overload these pumpkin-colored lattes with too much whipped cream and caramel that it distracts from the key flavors (there was whipped cream on mine, but it rapidly melted into the coffee). There were some oily spots on top that made it look a little less appetizing, but they didn't affect the taste at all.
The taste: Kind of like a candle, and I mean that in the most complementary way possible. The pumpkin flavor was strong, sweet, and earthy, while the spices were like a warm and comforting hug. Altogether, it tasted like sipping fall—my favorite season of all—straight from a cup.
I've been drinking this latte for close to a decade now and admittedly went into this taste test with a strong suspicion that it would win. Putting it up against all of the other major chains only reaffirmed that Starbucks makes a stellar pumpkin spice latte, while its rivals have quite a bit of room for improvement. I'm going to savor the Starbucks' PSL season as much as I can this fall—and I'll be back again and again every autumn moving forward.
Zoe Strozewski
Zoe Strozewski is a News Writer for Eat This, Not That! A Chicago native who now lives in New Jersey, she graduated from Kean University in 2020 with a bachelor's degree in journalism.
Read more about Zoe