Trader Joe's Just Announced 19 Exciting New & Returning Fall Items
From pumpkin pastries to maple confections, fall has arrived at Trader Joe's.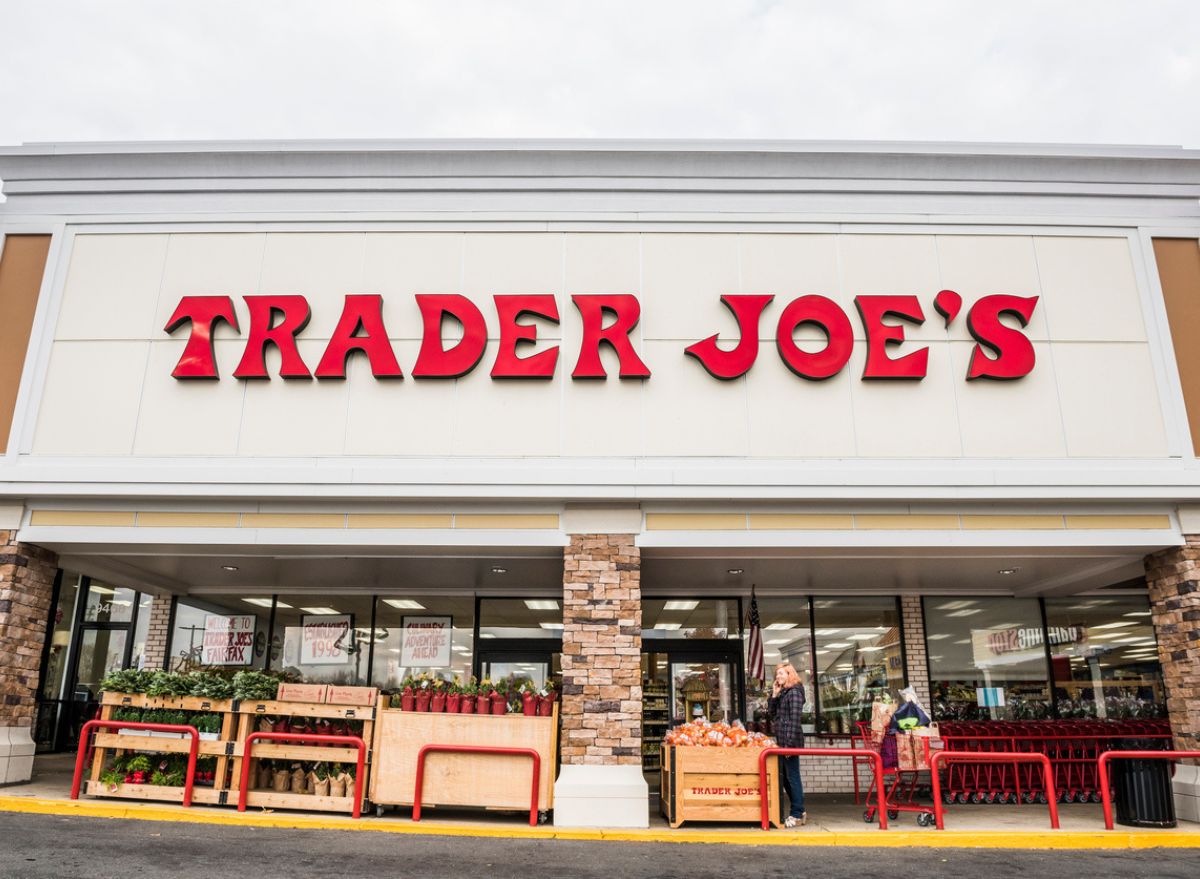 The product recommendations in this post are recommendations by the writer and/or expert(s) interviewed and do not contain affiliate links. Meaning: If you use these links to buy something, we will not earn a commission.
Brace yourselves, autumn lovers! The fall season is fast approaching, bringing promises of cozy cool weather, pumpkin products galore, crunchy leaves, and a massive collection of seasonal items at your local Trader Joe's.
While there are plenty of grocery products you can find at Trader Joe's year-round, the retailer always updates its food and drink lineup to highlight the best flavors from each season. Fall 2023 is no exception.
In a new episode of the Inside Trader Joe's podcast that dropped this week, marketing executives and hosts Tara Miller and Matt Sloan revealed some of the most exciting items that are hitting shelves this autumn. This includes returning items that shoppers have already grown to love, plus some brand-new products that customers will be able to sample for the first time.
Just take note: Miller and Sloan didn't cover every single fall product that customers will see in stores this year, so it's worth perusing your local Trader Joe's to find any other exciting fall items available right now.
Here are the 19 new and returning food items unveiled in the latest Inside Trader Joe's episode.
Mini Maple-Flavored Marshmallows
A fall twist on a classic marshmallow, these Mini Maple-Flavored Marshmallows are a new, vegan item at Trader Joe's. Miller and Sloan suggested using them to top a cup of hot cocoa or swapping them for the regular marshmallows in a batch of crispy rice treats. This item hit stores in early September, but they'll only be available for a limited time.
Double Fold Bourbon Vanilla Extract
Not to be confused with Trader Joe's Organic Pure Bourbon Vanilla Extract, the new Double Fold Bourbon Vanilla Extract is an extra flavorful, intense version of the traditional baking ingredient. Not only does Trader Joe's supplier use twice the amount of vanilla in crafting this extract, but they also fortify it with actual vanilla bean seeds. Available in 3.55-ounce bottles, the new vanilla extract has already launched at Trader Joe's stores. It will only be available for a limited time and while supplies last.
Wicked Good Mini Chocolate Bars
After years of requests from fans, Trader Joe's is finally launching its own Halloween candy assortment. The new Wicked Good Mini Chocolate Bars come in 24-piece packs with four flavors: nougat, nougat & caramel, peanut & caramel, and caramel & wafer. These should already be landing in stores, so stock up while you can.
Butternut Squash Mac & Cheese
One Trader Joe's most beloved and highly-requested fall dishes of all, the Butternut Squash Mac & Cheese landed back in stores last week to the delight of shoppers. Miller said that when they first debuted the product in 2017, they didn't expect it to become the hit that it is today. To meet the high demand, Trader Joe's is working to provide more packages of the popular item than ever before in 2023, according to Sloan.
"I'm not sure it's enough still, but we'll see," he added.
Organic Bourbon Barrel Aged Vermont Maple Syrup
This returning product isn't your average maple syrup. Despite its name, the Organic Bourbon Barrel Aged Vermont Maple Syrup doesn't contain any alcohol, but it does contain some notes of bourbon from the repurposed barrels that it's aged in. Pour it over a stack of pancakes, or take a cue from Sloan and Miller, who suggested drizzling it over vanilla ice cream or turning it into a glaze for ham. The item already hit shelves at Trader Joe's stores.
Fall Harvest Salsa
This returning favorite is a fun fall twist on a classic salsa. Rather than tomatoes, the Fall Harvest Salsa features fire-roasted tomatillos, honey-roasted pumpkin chunks, diced butternut squash, jalapeños, chopped sweet apples, honey, vinegar, and lime. Miller and Sloan suggested eating it with chips, or getting creative by using it to top fish or pork tenderloin.
Gluten Free Pumpkin Ravioli
Trader Joe's has sold a classic Pumpkin Ravioli every fall for years, but this time around, the retailer is also offering a gluten-free version. The new Gluten Free Pumpkin Ravioli features gluten-free pasta stuffed with pumpkin purée, kabocha squash, a blend of three cheeses, honey, brown sugar, and several fall spices. Miller noted that this option might appeal to customers who'd like "a more savory take on a pumpkin ravioli."
Honeycrisp Apple Granola
Apples are the star ingredient in some of the most quintessential fall foods, from apple pie to apple cider donuts. Trader Joe's item broke away from the traditional apple fall treats by featuring the fruit in the new Honeycrisp Apple Granola. The item features rolled oats, dried Honeycrisp apple slices, cane sugar, honey, molasses, and various fall spices. This item has already been spotted in stores, but it will only be here for a limited time.
RELATED: Everyone Is Making This "10/10" Trader Joe's Pizza6254a4d1642c605c54bf1cab17d50f1e
Maple Flavored Fudge
Maple Flavored Fudge isn't exactly a new innovation, but it is new to Trader Joe's! A English supplier crafts these confections using salted butter, sweetened condensed milk, sugar, and maple syrup, all of which are cooked in traditional copper pans. The podcast hosts suggested pairing the fudge with a savory snack to balance out the sweetness. This limited edition item has already been spotted in stores.
Cinnamon Sugar Toffee Trio
The same supplier behind Trader Joe's English Toffee crafted this new fall-themed candy. The Cinnamon Sugar Toffee Trio features pieces of buttery, crunchy toffee covered in either milk, dark, or white chocolate, plus a coating of cinnamon sugar. Sloan described it as a "snickerdoodle take on a toffee candy." The podcast hosts didn't mention when the product will hit stores, so make sure to keep an eye out for its debut!
12 Mini Pumpkin Ginger Scones
You can find this new item in the frozen section rather than the baked goods section at your local Trader Joe's. The 12 Mini Pumpkin Ginger Scones get their titular flavors from pumpkin purée and crystallized ginger. They come ready to bake, so you can pop a few in the oven whenever you're craving a tasty fall baked good. This limited edition item has already been hitting Trader Joe's shelves.
Avocado Ranch Salad Kit
A new salad is coming to Trader Joe's refrigerated aisle. The Avocado Ranch Salad kit includes chopped veggies, corn chips, cheese cheese, "crunchy bits," and an avocado ranch dressing, according to Sloan. While the salad can be enjoyed as is, the podcasters suggested turning it into a full meal by adding chicken, steak, or even tofu.
All-Butter Sugar Cookie Dough
Trader Joe's is keeping it simple with its new All-Butter Sugar Cookie Dough. According to Miller, the ingredients are limited to just flour, sugar, butter, water, eggs, vanilla extract, vanilla bean, leavening, and sea salt—so it's remarkably similar to what you might make at home. This limited edition item should be hitting stores right about now.
Garlic and Asiago Cheese Dip
Unlike the many Trader Joe's dips that are meant to be enjoyed cold, this new dip is actually supposed to be enjoyed hot. Miller called it "delightfully cheesy," while Sloan said it's like "all the goodness of garlic bread as a dip." Customers can find it in stores around the end of September.
Chocolate Hazelnut Ground Coffee
If you were craving a hot cup of coffee to pair with one of your seasonal Trader Joe's treats, the new Chocolate Hazelnut Ground Coffee might suit your fancy. The supplier sources 100% Arabica coffee beans from a renowned coffee-growing region in Brazil, lightly roasts them, and then uses a natural flavor oil to add notes of chocolate and hazelnut. The new coffee has already started arriving in stores.
Roasted Hatch Chili and Jalapeño Cheese Dip
Like the Garlic and Asiago Cheese Dip, the new Roasted Hatch Chili and Jalapeño Cheese Dip is also meant to be enjoyed hot. Even though there are sliced jalapeños on top and diced jalapeños throughout the dip, both Miller and Sloan said it wasn't overly spicy. This item is slated to arrive at stores in early or mid-October.
Halloween Gummies
After a multi-year hiatus due to production issues, Trader Joe's Halloween Gummies are finally back for the 2023 fall season. Miller described them as soft, juicy, and full of flavor. The hosts didn't say when to expect to see the Halloween Gummies back on shelves, but considering that Halloween is only about a month away now, it likely won't be too long.
Organic Maple Vinaigrette Dressing
Shoppers can experience the savory sides of those classic fall maple flavors with the returning Organic Maple Vinaigrette Dressing. The condiment includes apple cider vinegar, Dijon mustard, lemon juice, orange juice, and a touch of organic maple syrup, to create a sweet, savory, and vehemently versatile Vinaigrette. Sloan stressed the versatility of the dressing, saying it works great as a marinade or as a flavor boost for a stir fry.
Organic Clove Powder
Trader Joe's already adds this warm fall spice to plenty of its seasonal goodies, but you can also grab a jar for your own baking needs this season. While you can find ground cloves at pretty much any major grocery store year-round, Trader Joe's Organic Clove Powder is only available on a seasonal basis. The podcast hosts didn't say if the Organic Clove Powder was arriving at stores yet, so any interested shoppers should keep an eye out for it during their next Trader Joe's run.
Zoe Strozewski
Zoe Strozewski is a News Writer for Eat This, Not That! A Chicago native who now lives in New Jersey, she graduated from Kean University in 2020 with a bachelor's degree in journalism.
Read more about Zoe