How I'm Still Having Dinner Dates During Quarantine
Even when the world feels chaotic, there are ways to keep the romance alive.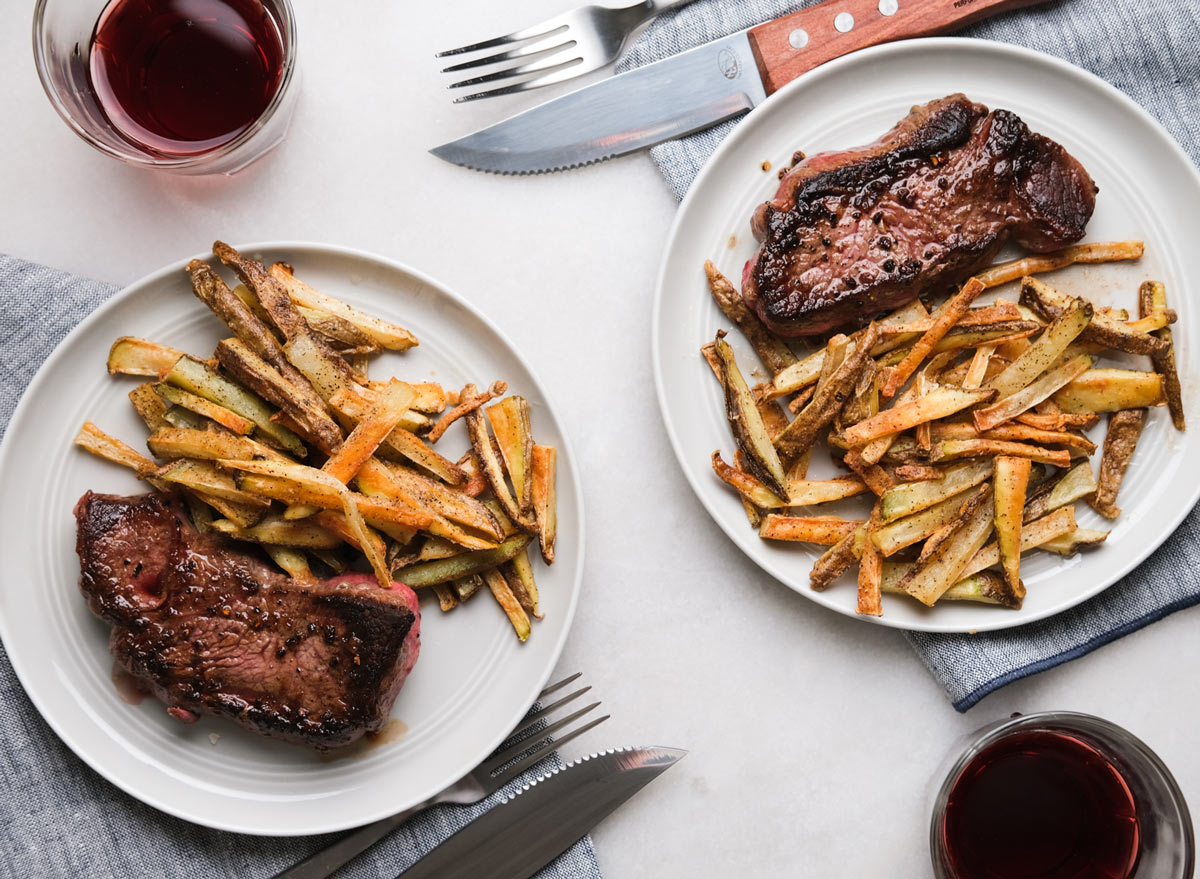 I've always loved to cook. I grew up with many incredible cooks in my family (like my grandmother, who's known for her famous Italian meatballs), so it's in my blood.
And yet, cooking has always been the last thing I've wanted to do after a long day at work and a tiring commute on the subway. Before the coronavirus outbreak, I'd usually just throw together a quick sheet-pan dinner or order takeout for me and my husband so I could put my feet up on the couch and read a book (I'm sure others can relate).
But that was then, and this is now. With no commute or days spent at the office in sight, I now feel a lot different by the time 6 p.m. hits. In fact, I'm immediately in my kitchen, tying on my apron, and getting ready to whip up a feast for me and my quarantine partner for—get this—a dinner date night.
Now, I know that's not the energy a lot of people have right now. With so much heightened anxiety because of this pandemic, curling up under a blanket and binging a new show sounds more like common "quarantine-energy" than cooking every night. But, personally, over the past two weeks of being stuck at home, I've found that cooking dinner is not only a necessity for me, but a sanctuary of peace and comfort for me and my husband in a chaotic world.
One night, as I was whisking a roux together in my skillet, I let my mind get completely lost in the process as Sara Bareilles softly played on our speaker. I threw in three different kinds of cheeses, a handful of fresh spinach, a can of artichokes, and some cooked pasta to make a decadent macaroni and cheese topped with panko breadcrumbs that I then baked in the oven.
My husband and I felt giddy as we gobbled it down at our table. We laughed a lot and didn't talk about the virus once. Cooking and eating together, it seems, has become our happy place—free of stress and worry.
Sure, we can't go to our favorite wing place down the street or sip on whiskey at the tavern around the corner. But we have each other, and we have the table. And when you're stuck together in a tiny one-bedroom apartment in Brooklyn with absolutely nowhere to go and no idea of when you'll be free to go out again, it's nice to sit down every night and have a dinner date together. At least this one thing makes sense in a world where, right now, nothing else does.
If you're also currently quarantined with your partner, I have a few tips that can give you the same kind of cooking energy that will keep your dinner dates going strong at home:
I leave my phone in the other room.
Yes, your phone connects you to the outside world. But it can also be a source of stress if it's the place where you consume most of your news. Don't allow for any of that tension to join you in the kitchen or at the dinner table. Leave it behind in another room, or if you need it to read a recipe, turn your phone on airplane mode and don't turn it off until dinner is done and the dishes are clean.
I cook something easy.
You don't have to make a complicated recipe in order for it to feel like a fancy dinner for date night. Even some of the simplest recipes can feel decadent! I made some oven-baked fries and seared some steaks for an easy steak frites dinner, and it tasted like a million bucks. To get some ideas, dig for something in this list of easy dinner recipes.6254a4d1642c605c54bf1cab17d50f1e
We eat at the table, free of distractions.
Turning on the TV can immediately kill the vibe. Enjoy some time together and don't let the outside world steal that time from you. Instead, light a candle and put on some music to make your space feel a lot different. And romantic.
We do the dishes together.
Not the kind of date night activity you'd expect, but trust me on this one. If you hate to do the dishes as much as me, then you'll want to find every possible way to make the task somewhat enjoyable. Doing the dishes together speeds up the cleanup time and gives you more time to connect. Win-win.
By yourself? Take yourself on a date.
If you're quarantined by yourself, or with a furry friend, make dinner special and have a date with yourself anyway. You deserve to be treated well, and that includes treating yourself with some love and affection, too.
Maybe the idea of cooking a meal every night feels overwhelming, but I'm going to challenge you to try a dinner date this week at least once. I'm almost positive you'll feel at peace when the last dish is put away, because you did something for yourself (and for your relationship) that the stress of the world couldn't touch.