8 Best Barbecue Chains in America
Good barbecue takes time and these chains are all-in.
Right up there with burgers, hot dogs, and pizza, barbecue reigns among the most iconic Americana comfort foods. Whether chopped, pulled, smoked, or slathered, the wide world of barbecue varies in flavor and style, not to mention the myriad regional riffs on the tradition. While Southern states can proudly lay claim to the tradition, good 'cue can be found all over the country, in all 50 states.
But as with other cuisines and comfort foods, not all barbecue is worth the indulgence—from "craveable" excess to unnecessary fast-food creations (looking at you, McDonalds), some barbecue can be downright bizarre. That's why it's important, when that barbecue craving hits, to prioritize quality over quantity.
Spoiler alert: of all the barbecue chains out there, the ones with the most amount of storefronts aren't necessarily the best. Fortunately, though, there are plenty of chains across the country putting in the extra time and effort to do it right, whether they have just a few units or a few hundred. These are the eight best barbecue chains in America.
Mighty Quinn's
When it comes to determining the best barbecue chains in America, your best bet is to ask the experts—and few have quite the expertise as a barbecue chef short-listed for a James Beard Foundation Award. Said expert is Rick Mace, pitmaster/chef/owner of Tropical Smokehouse in West Palm Beach, and a savant who knows a thing or two about good 'cue. His pick for the best barbecue chain in the nation is Mighty Quinn's, a New York-based chain with locations up and down the East Coast—and, umm, Dubai.
"Most outstanding in the category in my experience is Mighty Quinn's," raves Mace. "They set themselves apart by being chef-directed and quality-oriented while incorporating more contemporary touches into their menus, like rice bowls and seasonal sides."
Mace also says they up the stakes with fresh-cut fries and huge beef ribs, the latter of which he describes as "a high-cost item in any quick-service context, yet was tender, delicious and a decent value compared to others in the market." Lauding the chain's unique mix of chef-driven creativity and barbecue tradition, Mace commends the brand for its thoughtful expansion—and thanks them for expanding to his state of Florida recently.
Indeed, the chain has seen a large increase in customer traffic of late. Co-CEO Micha Magid recently proclaimed that the chain was poised for a "market explosion," earning a key investment that's fueled the chain's expansion and allowed the company to add corporate and franchised stores, as well as start a line of packaged products.
Without overextending itself, though, Mighty Quinn's still maintains a "quality over quantity" ethos, as evidenced by its mission statement of sourcing the best quality ingredients, taking the time to cook the old-fashioned way, and serving it in a quick-service format that' at once comfortable and affordable.
4 Rivers Smokehouse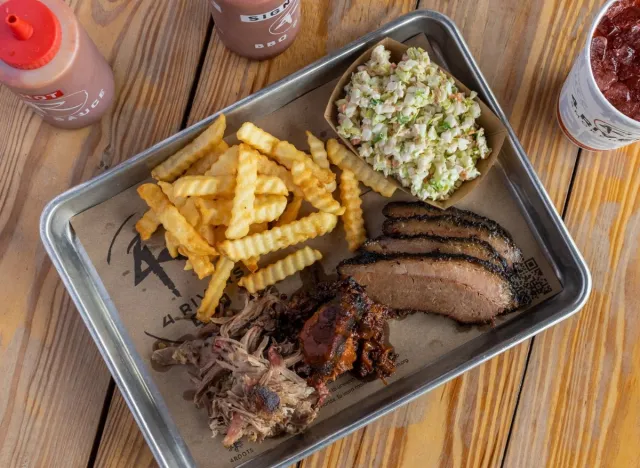 While Mighty Quinn's only recently made inroads into Florida, another prolific chain has emerged as the barbecue star in the Sunshine State. At 4 Rivers Smokehouse, a Floridian chain with locations scattered throughout the state, the "Art of Cooking" is what fuels success and reputation, adhering to a quality ethos that emphasizes 30-day wet-aged beef brisket, smoked chicken, and classic pulled pork made from bone-in pork shoulder.
After starting in a garage, as a fundraiser for a local family battling cancer, the altruistic company has since spread, with locations in cities like Orlando, Tallahassee, Tampa, Jacksonville, Kissimmee, and Daytona Beach.
Now widely considered the "king of barbecue" in Florida, the company has been heralded by organizations like the James Beard House, USA Today, Food & Wine, and the South Beach Wine & Food Festival. That success can be attested to the modernity and distinction of its storefronts, its quality commitment, and its creative menu options like burnt ends melts, BBQ quesadillas, and something called the Six Shooter, a heap of pulled pork and coleslaw over baked cheese grits. Most recently, the company announced four additional leadership roles, to help the brand's growth plans.
L&L Hawaiian BBQ
When most folks think of barbecue, they probably think of states like Tennessee, Texas, and the Carolinas. Hawaii? Not so much. But Troy Guard is not most folks—he's a seasoned chef, the owner of Denver's TAG Restaurant Group, and he is well-versed in the art of stellar barbecue.
A native Hawaiian, the chef raves about a now-prolific Hawaiian barbecue chain, L&L Hawaiian BBQ, saying "I'll always have a nostalgic soft spot for the unique and delicious style of barbecue I grew up with and think is the ultimate comfort food." A Hawaii original, which now boasts numerous locations on the islands as well as across the globe today, Guard says you can't beat their plate lunch, with two scoops of rice, Hawaiian macaroni salad, and three different types of meat.
In business for more than 70 years, with a proven track record of success, Guard clearly isn't the only one who thinks highly of the chain. After successfully weathering the pandemic, the innovative company's continued growth is right on track, offering thoughtful and cultural cuisine that puts an "aloha" riff on regional barbecue as far and wide as North Carolina, Virginia, Washington, and Colorado.
Each location, most of which are franchised by second-generation Asian Americans sharing their love for a cuisine as comforting as it is nostalgic, serves vibrant and authentic island-style barbecue like grilled barbecue chicken, crispy chicken katsu, fried shrimp, kalua pork, and loco moco, a Hawaiian staple made with gravy-slathered hamburger patties over rice with eggs.
Dickey's Barbecue Pit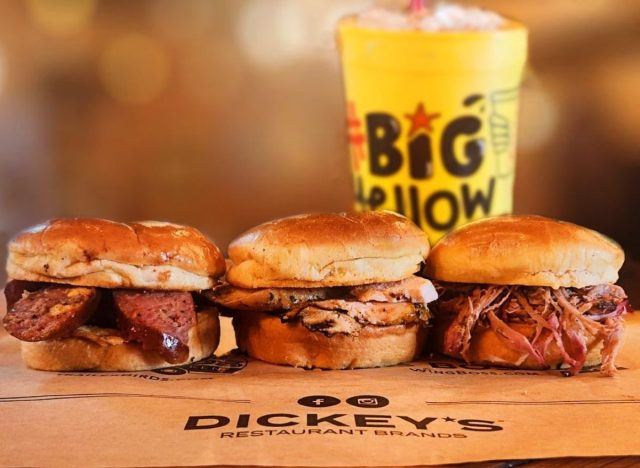 The largest barbecue franchise in America is doing something right. Born in Dallas in 1941, and swiftly expanded throughout the state by brothers Roland and T.D. Dickey, franchising began in 1994 to meet customer demand. Today, the company known for its hickory-smoked meats has more than 650 locations—making it the most widespread barbecue chain in the country, and one of the fastest-growing chains in general.
But all that expansion didn't sacrifice quality. Despite the fact that Dickey's has grown exponentially, the company still cooks the low-and-slow way, smoking all meats—like St. Louis-style ribs, beef brisket, and spicy cheddar sausage—on-site with care and palpable passion. Loyalty programs, an app, and nationwide shipping have helped expand the gospel of Dickey's barbecue, and after ending 2022 with record sales, international growth in 2023 promises to bring pit ham and barbecued beans across the globe.
Famous Dave's
Another widespread barbecue chain, boasting more than 300 locations, is Famous Dave's, a popular brand that more than lives up to its name.
Following family tradition and a shared love for barbecue, the company got its start in Wisconsin in 1994, courtesy of "famous" Dave Anderson, who has long maintained a commitment to quality sourcing and authentic cookery—this includes starting the hickory-fueled fires at 4 a.m. every morning and hand-rubbing meats with fresh spices.
It's this diligent commitment that's allowed the fast-casual brand to boom, reporting record same-store sales in recent years and experiencing massive success since the pandemic. Now with locations across the country, there's something so comforting about knowing you're never far from a consistent quality product at a good price, like award-winning ribs, fried chicken, chopped pork sandwiches, and banana pudding.
Moe's Original BBQ
The future looks bright for Moe's Original BBQ, a real-deal Alabama-born barbecue chain that's been on quite an expansion tear lately. Since 1988, the company has been smoking, slicing, and chopping perfectly cooked meats, amassing enough diehard fans that the brand has expanded to more than 50 locations in states like Ohio, Virginia, Florida, and Colorado.
Food has always been prepared the old-fashioned way, doled out in comfy, rustic-chic dining rooms. In addition to classic menu items like pulled pork and smoked chicken, Moe's also offers more atypical options, like fried shrimp "Moe Boy" sandwiches and Southern fried catfish, which is not something commonly seen on fast-casual menus. Part of Moe's success is also rooted in its spirit—this is a company that cares as much about its employees as its customers, inspiring the former to become entrepreneurs and truly believe in the brand.
Mission BBQ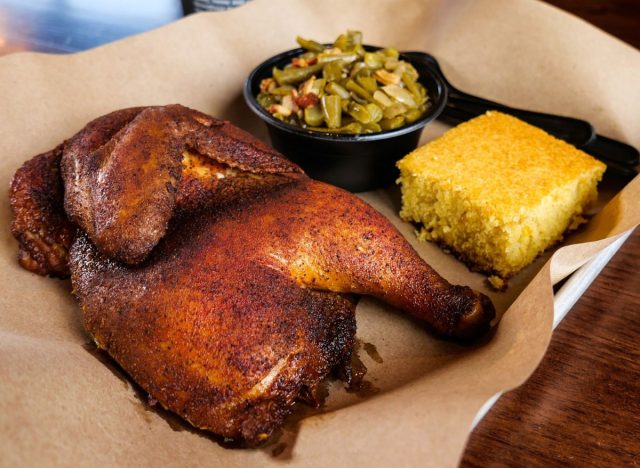 It's time to get to know the "fastest-growing chain you might not know about." Started in 2011 near Baltimore, and with locations as far and wide as Connecticut, Florida, Illinois, and New Jersey, the quietly prolific chain has seen sales growth continue year over year since 2017, when annual sales leapt by a whopping 61%.6254a4d1642c605c54bf1cab17d50f1e
All locations are spacious, sleek, and patriotic, outfitted with proud patriotic ephemera and vintage photography and posters, creating a consistent ambience of warmth, nostalgia, and welcome. The menu is just as comforting and consistent—look for oak-smoked brisket, hand-pulled pork, snappy jalapeño sausage, and St. Louis-style spare ribs, as well as broader options like salmon, brisket baked beans, and entree salads.
Joe's Kansas City Bar-B-Cue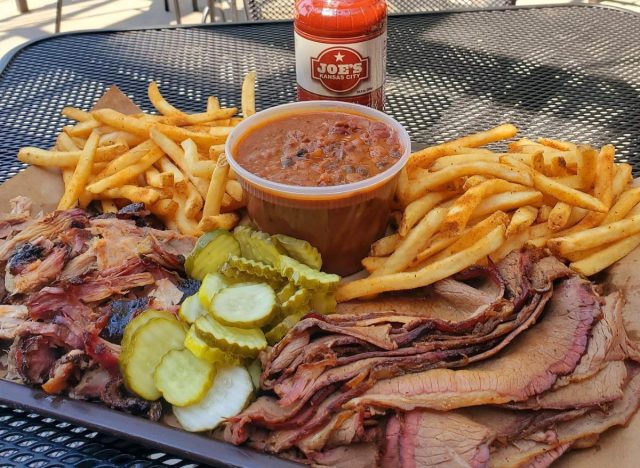 In the land of hallowed barbecue, Joe's Kansas City Bar-B-Cue is veritable holy ground. One of the most iconic and bucket list-worthy barbecue mini-chains in the country, it all started from a frills-free vintage gas station in 1996, when the company originally known as Oklahoma Joe's quickly amassed fanfare and a reputation for real-deal Kansas City-style barbecue.
While not nearly as prolific or widespread as some other chains on this list, the revered brand has left a significant imprint on the country's barbecue scene. The name was officially changed to Joe's Kansas City Bar-B-Que in 2014, reflective of the company's roots and culinary inspiration, and it now boasts Kansas locations in Olathe and Leawood, along with its original gas station hub.
To this day, folks come from near and far to feast on smoked ham, beef brisket, burnt ends, and unique offerings, especially the unique sandwiches. The Rocket Pig sandwich is made with pulled pork tossed in sweet-hot barbecue glaze with bacon, pepper Jack cheese, and barbecue mayo. The Z-Man sandwich features slow-smoked beef brisket, smoked provolone, crispy onion rings, and a Kaiser roll.
Matt Kirouac
Matt Kirouac is a travel and food writer and culinary school graduate, with a passion for national parks, all things Disney, and road trip restaurants.
Read more about Matt