10 Restaurant Chains That Serve the Best Steak Sandwiches
From casual sit-down chains to fancy steakhouses, these restaurants make flavor magic with beef on bread.
The product recommendations in this post are recommendations by the writer and/or expert(s) interviewed and do not contain affiliate links. Meaning: If you use these links to buy something, we will not earn a commission.
What's just as tasty (if not tastier) than a steak? A steak sandwich. This handheld meal comes packed with juicy, thinly sliced beef and other lip-smackingly good ingredients, like creamy melted cheese, sautéed peppers and onions, mushrooms, and more. Some restaurants will get creative and even add unexpected touches, like jalapeños or béarnaise sauce.
It's no surprise that sandwiches, in general, are so popular, especially in the United States. Nearly half of all American adult eat a sandwich on any given day, according to research from the U.S. Department of Agriculture. Now that's a lot of bread! From tasty deli sandwiches packed with ham, turkey, and various cheeses to, you guessed it, steak sandwiches expertly prepared with top-notch meat and sautéed vegetables, sandwiches are the simple yet tasty meal that always hits the spot.
Steak sandwiches may require a bit more elbow grease to make compared to simple cold-cut sandwiches, but the good news is that plenty of popular restaurant chains carry this tasty option. If you're looking for the best steak sandwiches to pick up from your local restaurant chain, you've come to the right place. From mouth-watering versions that are fun spins on the classic Philly cheesesteak to more inventive options that integrate exciting details like artisanal bread and horseradish sauce, here are some favorites:
Outback Steakhouse Prime Rib Sandwich
Per Serving
: 2090 cal, 146 g fat (61 g saturated fat), 5040 mg sodium, 124 g carbs (15 g fiber, 12 g sugar), 56 g protein
Outback Steakhouse is perhaps best known for much-discussed appetizer, the Bloomin' Onion, but the popular chain also makes a pretty stellar prime rib sandwich. Outback takes a toasted baguette and piles it high with tender slow-roasted prime rib, grilled onions, mushrooms, and melted provolone cheese. The piece de resistance is a slather of Outback's signature spicy bloom sauce. Even better? This tasty lunch item also comes with French onion au jus and creamy horseradish for dipping.
Applebee's The Prime Rib Dipper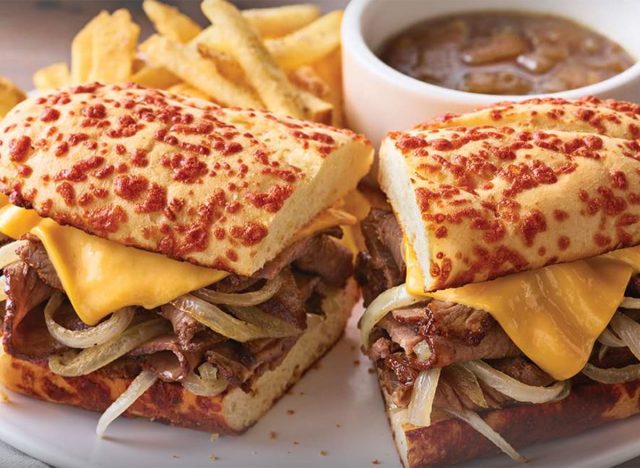 Per Serving (1 tbsp)
: 1390 cal, 72 g fat (22 g saturated fat), 4050 mg sodium, 123 g carbs (9 g fiber, 14 g sugar), 64 g protein
You can always count on Applebee's, the ultra-popular restaurant chain with nearly 2,000 locations worldwide, for a delicious steak sandwich that doesn't skimp on taste or texture. The chain's Prime Rib Dipper combines thinly sliced prime rib and grilled onions with melted American cheese. This delectable meal, which comes with a side of crispy French fries, is served on a toasted cheddar roll and slathered with Applebee's house-made herb mayo. It also comes with a savory French onion au jus that works perfectly for dipping (or pouring on, if you want more of that rich taste). Customizations are available if you want to switch anything up.6254a4d1642c605c54bf1cab17d50f1e
Chili's Philly Steak Sandwich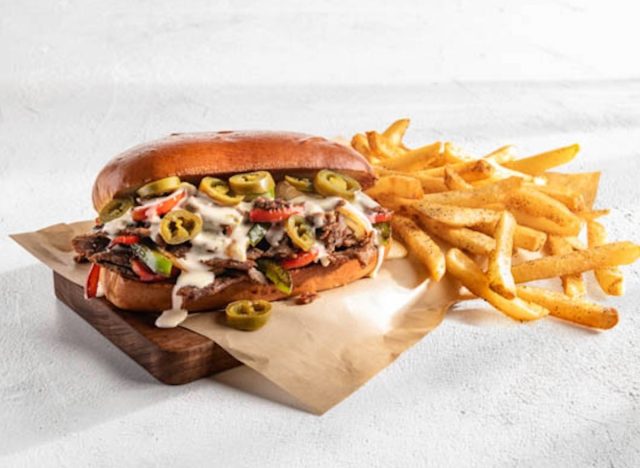 Per Serving
: 1070 cal, 54 g fat (20 g saturated fat), 3790 mg sodium, 80 g carbs (6 g fiber, 20 g sugar), 66 g protein
Founded in 1975, Chili's currently has over 1,500 locations worldwide, giving you ample opportunity to trying its tasty steak sandwich, a spin on the famous Philly cheesesteak. Chili's version comes with thinly sliced steak, grilled bell peppers, onions, jalapeños, and white queso, all stuffed into a toasted buttered roll. Is your mouth watering yet?
Panera Bread Toasted Steak and White Cheddar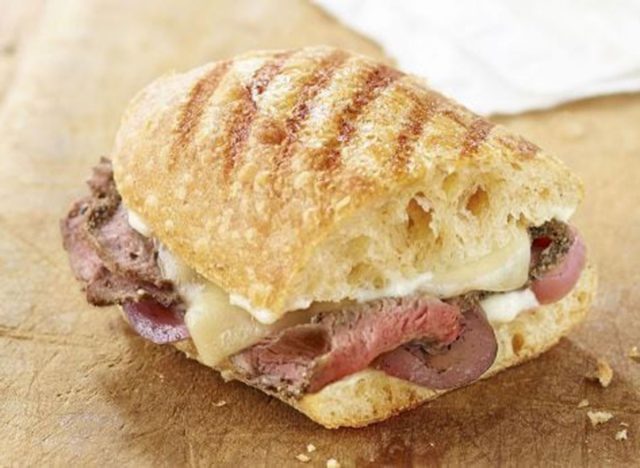 Per Serving
: 950 cal, 47 g fat (15 g saturated fat), 1550 mg sodium, 87 g carbs (4 g fiber, 7 g sugar), 44 g protein
The menu at Panera Bread is filled with many delicious options—broccoli cheddar bread bowl, anyone?—so it's no big surprise to learn that the chain also makes a pretty good steak sandwich. Its Toasted Steak & White Cheddar Sandwich is made with grass-fed beef, aged white cheddar, tangy pickled red onions, and a zesty horseradish sauce, all served on artisan ciabatta bread. Like other Panera dishes, you can add on a side, such as an apple, potato chips, seasonal fruit salad, and more.
Ruth's Chris Steakhouse Steak Sandwich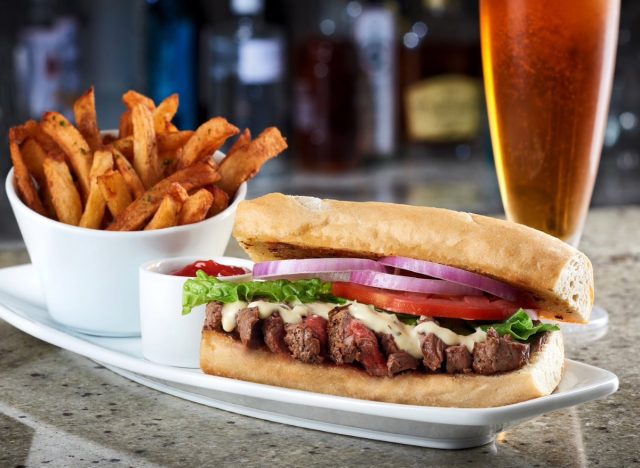 Steak Sandwich
: Nutrition information unavailable
Sure, Ruth's Chris Steakhouse has a menu boasting plenty of mouth-watering entrees—Filet! New York strip! Porterhouse for two! Sizzling crab cakes!—but don't overlook the chain's fantastic steak sandwich that's priced at under $20. It's made with a tender sliced filet and béarnaise sauce, layered on warm garlic bread. Each sandwich is served with crunchy hand-cut potato chips to seal the deal.
Del Frisco's Grille Shaved Steak Sandwich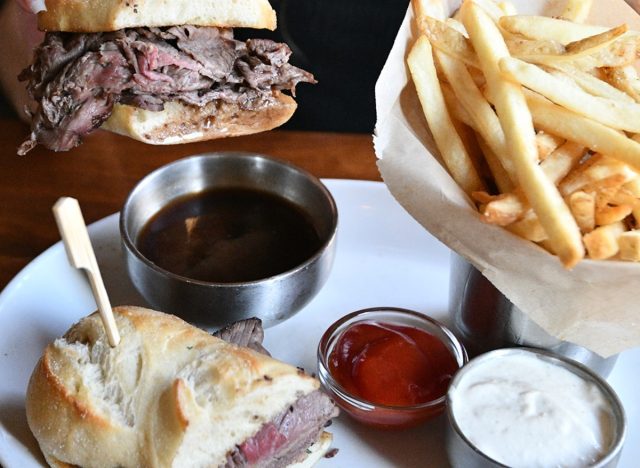 SHAVED STEAK SANDWICH
: Nutrition information unavailable
Award-winning American grill and bar chain Del Frisco's excels in making great steaks, juicy burgers, and mouth-watering cocktails. Another must-try on its menu is the shaved steak sandwich, prepared using USDA Prime top round, slathered with creamy horseradish sauce and served on a soft French roll. Each is served with au jus on the side for dipping, and the bread can be subbed out for a lettuce wrap if you're looking for a dish with fewer carbs. Order this with the New England clam chowder or Caesar salad, and you have a meal you'll be thinking about for days after.
Friendly's Philly Steak and Cheese SuperMelt
Per Serving
: 830 cal, 48 g fat (24 g saturated fat), 2210 mg sodium, 61 g carbs (2 g fiber, 6 g sugar), 37 g protein
You can always count on Friendly's, the iconic American restaurant chain that got its start in 1935, for a good meal. One menu item you should try is the Philly Steak and Cheese Supermelt. This undeniably delicious handheld is made with savory grilled sirloin steak that's thinly sliced and paired with sautéed green peppers and onions and then topped with melted American cheese. This is all served on fresh grilled sourdough bread and comes with a side of crispy golden fries.
IHOP Philly Cheesesteak Stacker
Per Serving
: 820 cal, 47 g fat (18 g saturated fat), 2140 mg sodium, 55 g carbs (3 g fiber, 8 g sugar), 47 g protein
IHOP may be famous for its pancakes, waffles, and egg dishes, but it also offers some great lunch and dinner options, too, like its Philly Cheesesteak Stacker. Inspired by Philadelphia's iconic sandwich, this version features grilled sirloin steak and onions topped with creamy melted American cheese on a grilled roll. Even better, you can customize this dish to your liking—add avocado or order it with fun sides, including macaroni and cheese, French fries, onion rings, fresh fruit, and more.
The Capital Grille Ribeye Steak Sandwich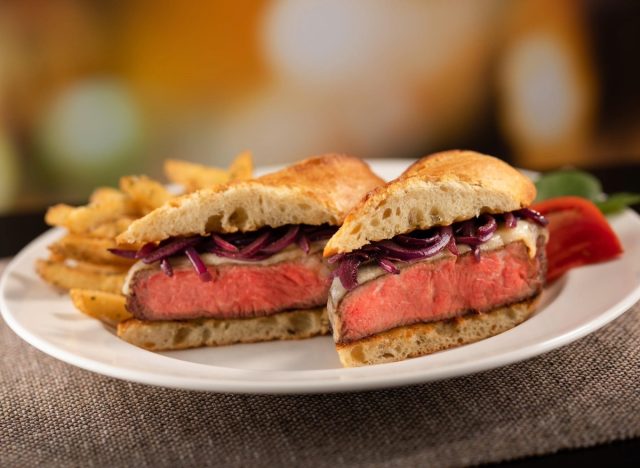 Ribeye Steak Sandwich
: Nutrition information unavailable
The Capital Grille, which has over 65 locations throughout the country, is known for its next-level steaks and chops, so it only makes sense that its steak sandwich is also out of this world. For starters, this innovative dish is made with juicy ribeye steak, caramelized onions, and havarti cheese served on a grilled French loaf. This dish pairs exceptionally well with the chain's fresh field greens salad, made with butter leaf lettuce, heirloom tomatoes, and parmesan vinaigrette, and the parmesan truffle fries, which boast freshly grated cheese and white truffle oil.
Fleming's Steakhouse and Wine Bar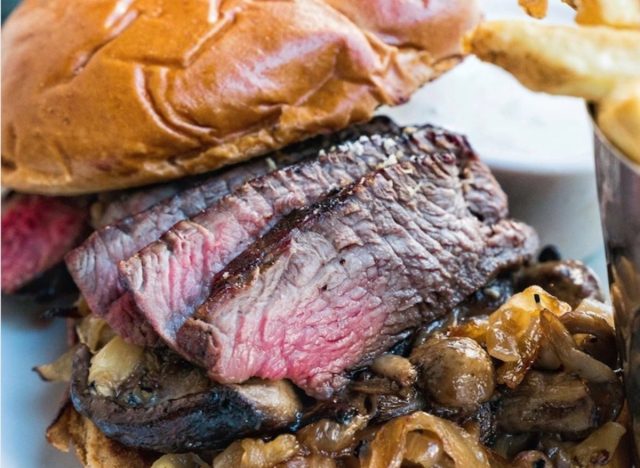 Per Serving
: 1970 calories (additional nutrition information unavailable)
Fleming's, the steakhouse chain founded over 20 years ago in Newport Beach, Calif., makes a steak sandwich that you'll want to order repeatedly. Dubbed the "cheesesteak sandwich" in the menu, this pick is perfectly prepared with mushrooms, caramelized onions, and Wisconsin cheddar cheese, all piled high on potato bread and plated with a side of crispy French fries. This menu option pairs wonderfully with the chain's seasonal pickled nectarine salad that's packed with fresh roasted corn, burrata, arugula, and red onion, dressed in an agave vinaigrette.
Sources referenced in this article