9 Steakhouse Chains That Serve the Best Caesar Salads
Potatoes and meat are incomplete without the classic green, crouton-topped medley. Hail, Caesar!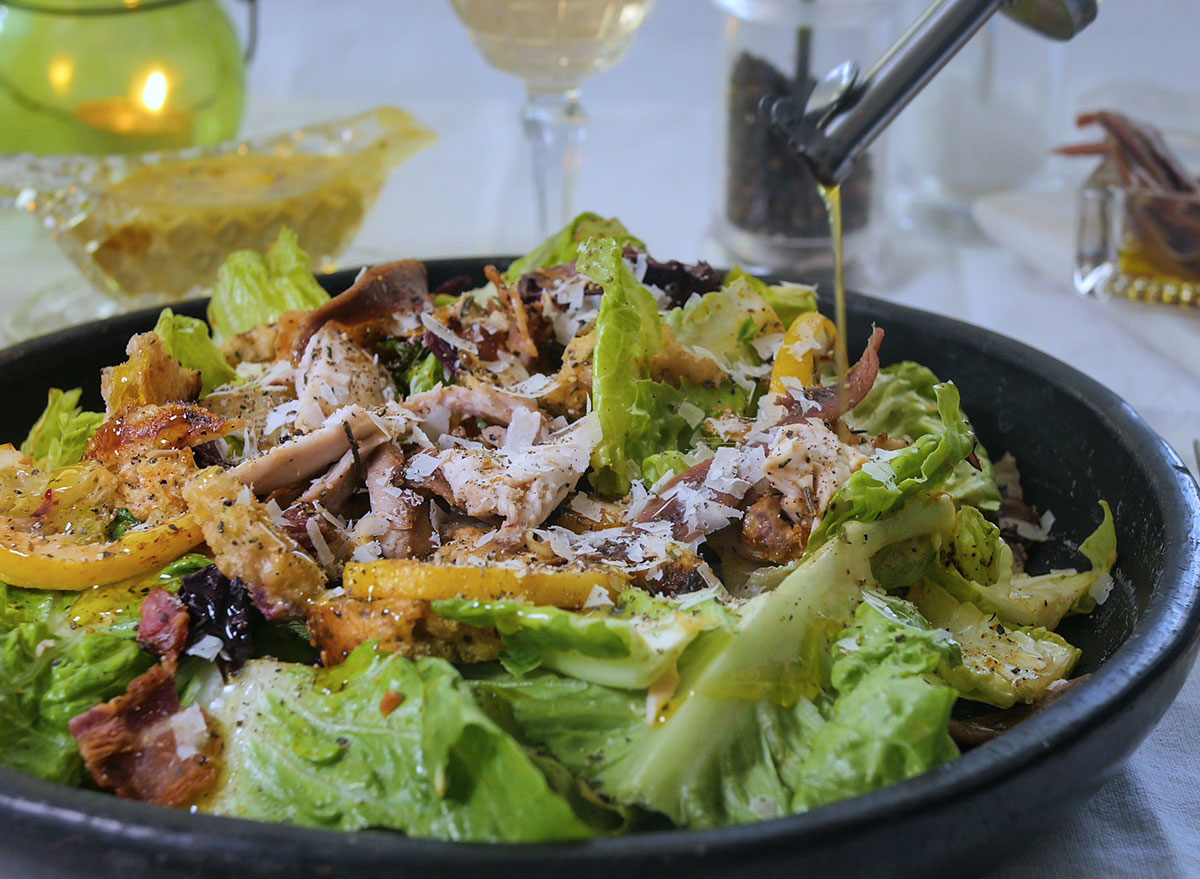 The product recommendations in this post are recommendations by the writer and/or expert(s) interviewed and do not contain affiliate links. Meaning: If you use these links to buy something, we will not earn a commission.
Sure, the baked potato is perhaps the most famous steakhouse side, but the Caesar salad is a close second. And truth be told, Caesar salads are highly popular for a reason. Not only are these salads bursting with flavor and texture—creamy Caesar dressing paired with crunchy croutons, need we say more?—but they also seamlessly complement heavier, savory steakhouse dishes, such as bone-in ribeyes, filet mignons, and porterhouse steaks.
It's believed that the Caesar salad got its start nearly 100 years ago when it was invented by Caesar Cardini, an Italian immigrant in San Diego who ran restaurants in California and Mexico. As the story goes, his Tijuana restaurant ran out of ingredients during the Fourth of July holiday, so Cardini decided to whip up what he had available to him. Et voilà! The Caesar salad was born. The salad, of course, has evolved over the years, but one thing remains the same—it's freaking delicious.
Luckily, there are many steakhouse chains out there that not only serve top-notch steak dishes but prepare some amazing Caesar salads, too. From popular steakhouses that excel at making traditional Caesar salads to others that feature ones that are a bit more exciting and embrace unexpected ingredients like lemon pepper emulsion, fried capers, and crispy prosciutto, here are nine steakhouse chains that serve the best Caesar salads.
Morton's The Steakhouse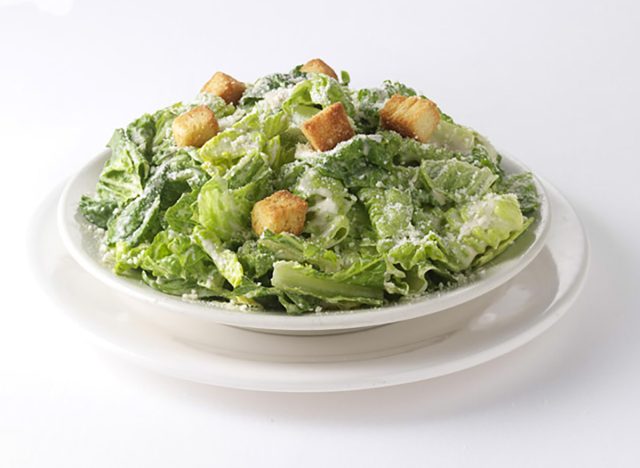 Ceasar Salad
:
480 calories (additional nutrition information unavailable)
If you're in the mood for a classic steakhouse Caesar salad, ordering one from Morton's The Steakhouse is a good move. The well-loved chain, which has over 50 locations throughout the country, prepares a delicious Caesar salad using fresh romaine lettuce, grated parmesan cheese, and house-made egg and onion croutons. The restaurant also gives you an option to add protein to it, too, like grilled shrimp, grilled chicken, and steak, which comes in handy if you'd like to enjoy this dish as an entrée. This salad goes great with the steakhouse's dry-aged New York strip steak, filet mignon, or Maine lobster ravioli.
Ruth's Chris Steakhouse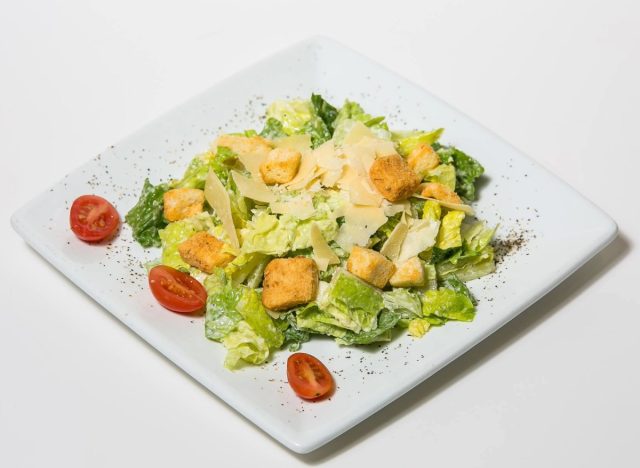 Caesar salad
: Nutrition information unavailable
Perhaps one of the most well-known steakhouse chains, Ruth's Chris Steakhouse prepares a classic Caesar salad you'll be thinking about for days later. It's made with crisp romaine hearts and a generous sprinkling of parmesan and romano cheeses, all then tossed in a smooth and creamy Caesar dressing that's made in-house.
Actually, all of the chain's salad dressings are made fresh from scratch using exclusive recipes. Beyond great Caesar salads, Ruth's Chris offers a stacked menu featuring excellent items like bone-in filets, garlic-crusted sea bass, and garlic mashed potatoes. It's a great place to enjoy lunch or dinner with friends and family.
The Palm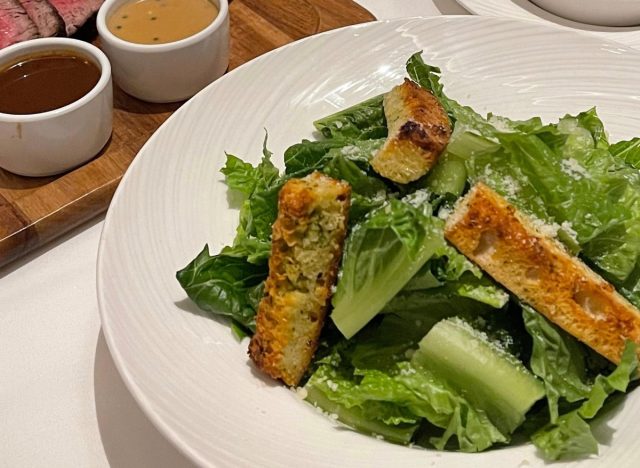 Classic Caesar salad
: Nutrition information unavailable
There's a reason why The Palm is so iconic—its history goes back nearly a century. Started in New York City in 1926, the buzzy upscale steakhouse chain has been the go-to for celebs, including George Clooney, Reese Witherspoon, and Leonardo DiCaprio, through the years.
Sure, it has excellent steak and side options, but one standout dish is its classic Caesar salad, which will set you back around $15 (but check with the location nearest to you before you head out). Made with crisp romaine lettuce, this delectable salad boasts crunchy croutons and lip-smackingly good parmesan shavings, all coated in a creamy Caesar dressing. Superb.
The Capital Grille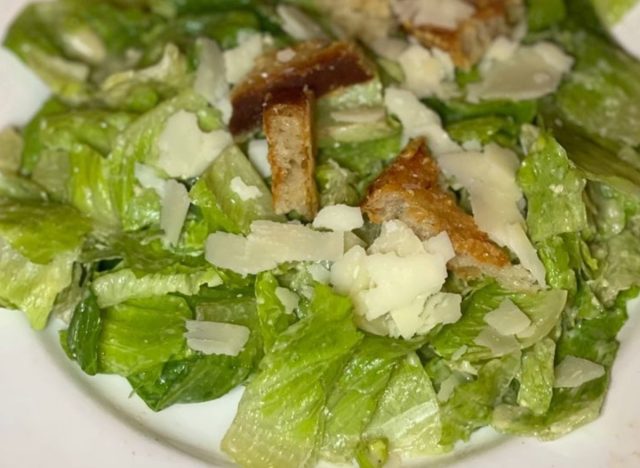 Caesar Salad with Grana Padano Croutons
: Nutrition information unavailable
Founded over 30 years ago in Providence, R.I., The Capital Grille is one of the most famous steakhouse chains in the country, with over 60 locations throughout. Sure, the chain's dishes, such as sliced filet mignon with cipollini onions, seared tenderloin with butter-poached lobster tails, bone-in ribeye, and lobster mac 'n cheese, sound incredible, but it's the Caesar salad you need to try.
For starters, it's freshly prepared with chopped romaine lettuce and thick parmesan shavings. The best part? It's croutons are made with grana padano, the beloved crumbly cheese of northern Italy, which is a nice touch. Those looking to include more protein in their meal will also be happy to hear that Capital Grille allows you to add meat, such as grilled shrimp, grilled chicken, or steak, to its salads.
Del Frisco's Double Eagle Steakhouse
Classic Caesar
: Nutrition information unavailable
Between the food and the atmosphere, the beloved steakhouse chain Del Frisco's is a great place to hit up for a top-notch lunch or dinner. Next time you visit one of its locations, be sure to order the Caesar salad. It's made with crisp romaine leaves, a generous amount of shaved Parmesan, chunky, crunchy croutons, and a mouth-watering Caesar dressing. For a truly memorable meal, get this salad with prime ribeye or filet mignon.
Fleming's Prime Steakhouse and Wine Bar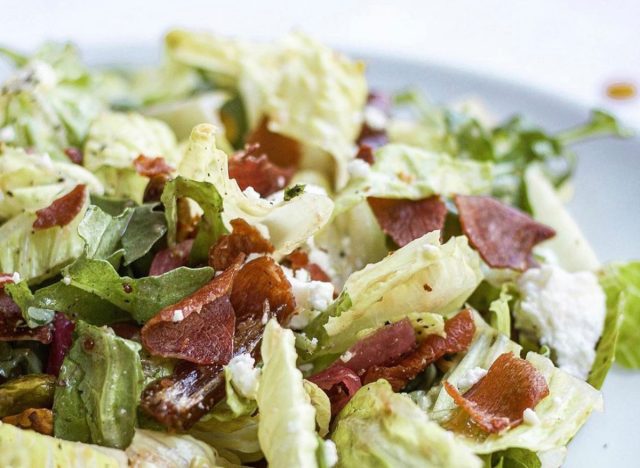 Caesar salad
: 300 calories (additional nutrition information unavailable)
If you're looking for an innovative Caesar salad or would like to enjoy one that's a bit unexpected, give the Caesar salad at Fleming's Prime Steakhouse and Wine Bar a try. The Caesar salad from here is unlike any you've had before. Sure, it's made with fresh romaine lettuce and grated parmesan, too, but it's also topped with fried capers and crispy prosciutto.6254a4d1642c605c54bf1cab17d50f1e
Founded in 1998 in Newport Beach, Calif., Fleming's currently has over 60 locations nationwide. Besides Caesar salad, its menu features delectable dishes, including prime bone-in ribeye, crispy maitake mushroom, truffle-poached lobster, loaded baked potatoes, and much more.
STK Steakhouse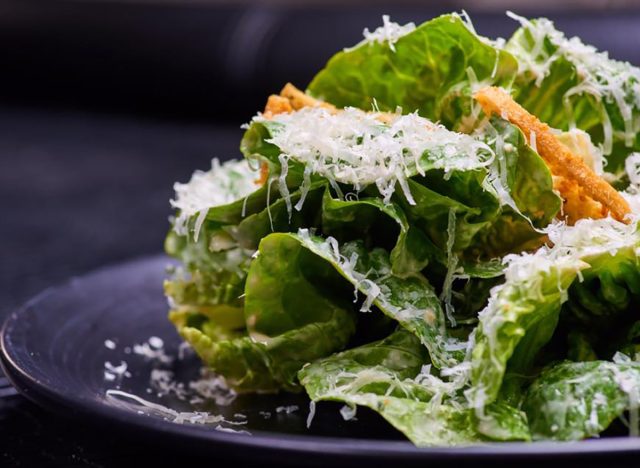 Baby Gem Caesar
: Nutrition information unavailable
Consider yourself lucky if you live near an STK Steakhouse. The upscale restaurant chain, which has over a dozen locations in cities like Atlanta, Chicago, Denver, and New York, makes a baby gem Caesar salad that you'll want to tell everyone about. The tasty dish is loaded with Parmigiano-Reggiano, lemon black pepper emulsion, and crunchy herb croutons. It pairs wonderfully with the braised beef short rib, roasted lamb rack, and ribeye filet, or it can even be enjoyed alone if you're in the mood for lighter fare.
Longhorn Steakhouse
Caesar Side Salad with Caesar Dressing
: 250 cal, 19 g fat (5 g saturated fat), 600 mg sodium, 12 g carbs (2 g fiber, 1 g sugar), 6 g protein
One of the country's largest steakhouse chains, Longhorn Steakhouse is the kind of place you can visit over and over again and never get tired of it. The restaurant was established in 1981 in Atlanta, Ga., and ever since then, it has been whipping up excellent steak cuts, tasty appetizers, and, you guessed it, deliciously good Caesar side salads.
Its Caesar side salads are prepared with fresh hand-chopped romaine lettuce tossed in a creamy Caesar dressing and then piled high with crisp croutons and shaved parmesan cheese. Even better? Longhorn's side Caesar salads are much more affordable than other steakhouse variations—a Caesar salad from Longhorn will cost you around $5 (but make sure to check with your local restaurant first for pricing).
Ocean Prime
Caesar salad
: Nutrition information unavailable
Steak and seafood—what more could you want? This nationally acclaimed steak and seafood restaurant was established three decades ago and is known for its ritzy atmosphere, delicious menu options, and innovative cocktails that always hit the spot. Whether you need a place to celebrate a birthday with friends and family or would like to book a reservation for a lunch meeting, Ocean Prime is the way to go.
Of course, the chain's menu is filled with tasty surf and turf options, like 16-ounce ribeye, blackened snapper, and eight-ounce filet mignon, but it's the Caesar salads you also can't pass up. The restaurant offers two: the smaller side salad is made with crisp romaine lettuce, a creamy parmesan garlic dressing, and out-of-this-world brioche croutons. If you want a heartier salad, there's the parmesan-crusted chicken Caesar salad prepared with chopped romaine, parmesan garlic dressing, and smooth extra virgin olive oil.