6 Steakhouse Chains That Serve the Best Fries
These crispy, salty spuds need to be your side dish of choice.
When you're enjoying a great steak, you often pair it with some sort of potato. So, naturally, Steakhouse chains have always included several potato sides on their menus. And while creamy garlic mashed potatoes or fully loaded baked potatoes are great, the most popular potato side at a steakhouse chain is often a simple order of fries, and some steakhouse chains are well known for having some of the best fries around.
Steak and fries, a.k.a. steak frites, is a match made in heaven! While many associate the classic dish with France, Belgium also claims to have innovated this perfect pairing. You do not, however, have to travel across the pond to indulge in this delicious meal. Many popular steakhouse chains do steak and french fries justice right here in America.
The types of fries you can get at popular steakhouse chains can vary widely from crispy shoestring fries to big thick-cut steak fries. And while most take a dip in the usual fryer and are showered with salt, some are fried in duck fat or drizzled with aromatic truffle oil. Here are some beloved steakhouse chain fries that are destined to bring even the best of steaks to the next level.
Texas Roadhouse
Texas Roadhouse is a national chain based in Louisville, Kentucky, with over 600 locations and the current fastest-growing restaurant chain in America. Its fries are a classic, and exactly what you picture when you think of a steak fry. And chefs agree. "Texas Roadhouse takes the lead with their steak fries," said Robbie Shoults, celebrity chef and owner of the award-winning hotspot Bear Creek Smokehouse in Texas. "These fries live up to their name; they are thick, cut, and full potato-length. You don't have to eat a handful of these at a time to know you're eating fries; one at a time will do ya!" said Shoults.
Ruth's Chris Steak House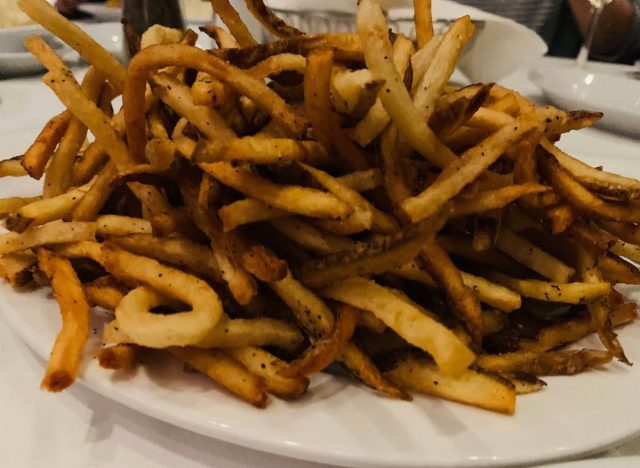 Ruth's Chris is a high-end steakhouse with origins in New Orleans and over 100 locations nationwide. This spot may have delectable cuts of steak, but very often it's the fries that have people coming back time and again. These hand-cut fries are served skin-on and seasoned with salt, black pepper and dried mustard. Social media users rave about these fries, calling them "the best they have ever eaten," "awesome," and simply "the best."6254a4d1642c605c54bf1cab17d50f1e
STK Steakhouse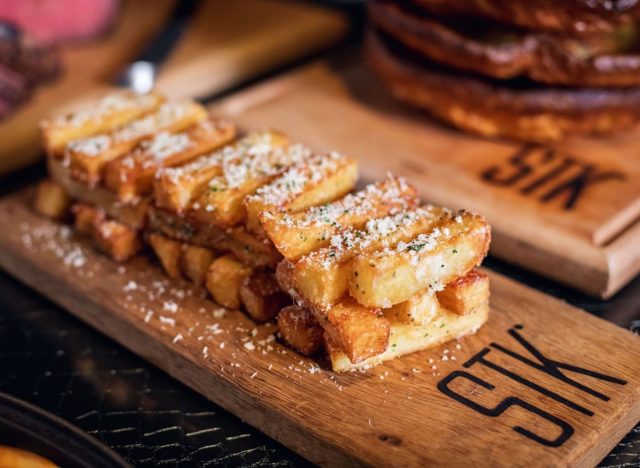 STK attracts a fun and lively crowd due to its very modern and upscale take on the traditional old-school steakhouse and has locations across major metropolitan cities throughout the U.S., Canada, Europe, and the Middle East. These spots are known for their sexy lighting and music, but their food offers a lot of appeal as well.
Aside from its glorious steaks and beloved martinis, the STK chunky cut truffle fries are a crowd-favorite. These thick-cut potatoes are slightly crispy on the outside and fluffy on the inside with a finish of truffle oil for a rich elevation of flavor that is then topped with parmesan cheese and fresh herbs.
"STK's truffle fries are to dieeee for…" said one fan on social media, while others say it's something they crave. In fact, Guest of a Guest referred to it as the best truffle fry in NYC–that's a big deal! A Reddit user strongly agrees, calling them "the best truffle fries in the city."
Bourbon Steak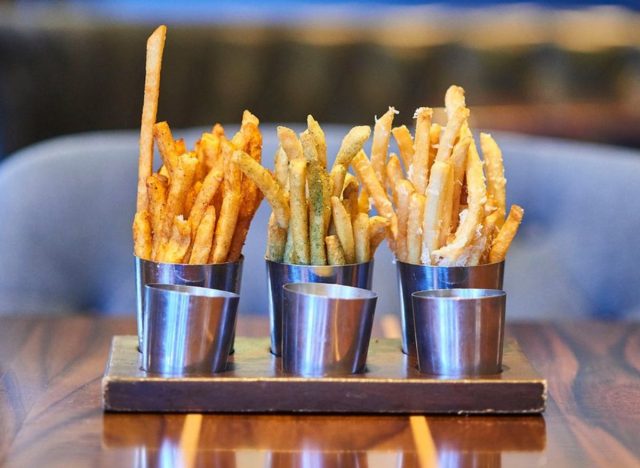 French fry enthusiasts often strongly agree that Bourbon Steak, which has over a half dozen locations in cities ranging from Miami to Scottsdale, has some of the best fries around, and for good reason: It's a trio of duck fat fries. The trio comes with a variety of dips (aioli, truffle, spicy mayo, etc.) and the only debate here is which combination is the best.
"My personal favorite combinations are the dill spiced fries with pickled ketchup, the malt vinegar fries with tartar sauce and the cumin-coriander fries with a whipped feta and Greek yogurt sauce. But we encourage guests to mix and match. Try all the fries with all the sauces! There are no rules!" said celebrity chef Michael Mina, who owns the chain. "What makes them special is that we double fry them so they are extra crispy. Also, they come in a trio, each seasoned differently and with 3 different accompanying sauces so guests can try a variety of flavor combinations."
Fogo de Chão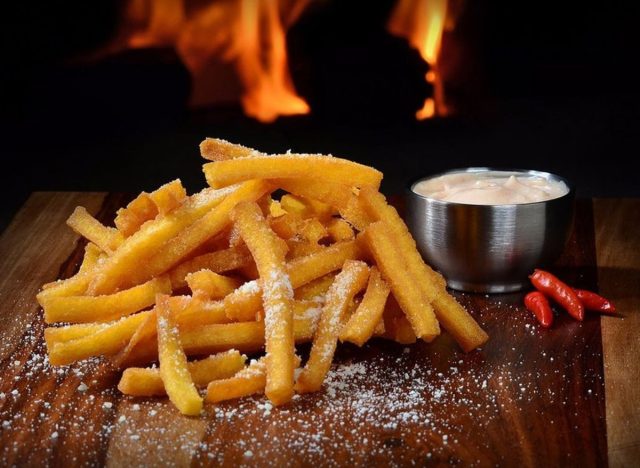 Sometimes a fry favorite at a steakhouse chain isn't even made with potatoes. The polenta fries at this upscale Brazilian-style steakhouse, which has dozens of locations nationwide as well as international spots in Mexico, Brazil, and the Middle East, are beloved. They are made from ground yellow cornmeal and topped with grated parmesan cheese. This fried polenta is made to complement the flavors of the grilled meat and be a unique spin on traditional fries and they totally deliver. In fact, one Reddit user referred to these polenta fries as their "new favorite snack!"
Outback Steakhouse Aussie Fries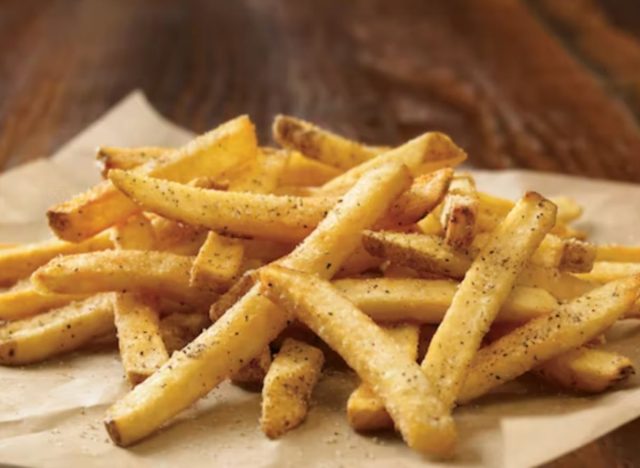 The Aussie Fries from Outback Steakhouse, which has around 700 locations nationwide as well as hundreds of additional international locations, are a next-level take on cheese fries, and they are so epic, they made our list of best chain restaurant fries.
While they are available as traditional seasoned fries, and those are absolutely delicious, the way to go is topped with loads of melted cheese and bacon bits. This hearty option is more than a side of fries, but a sharable app in its own right—though we hate to share. According to Reddit users, ask for these fries "layered" to get them extra cheesy. Fun fact: Outback cooks its fries using beef tallow, which McDonald's used to do before changing the recipe for its fries.