7 Restaurant Chains That Serve the Most Over-the-Top Pizzas
These chains concoct unique pizza flavors and pile on tons of interesting toppings.
The product recommendations in this post are recommendations by the writer and/or expert(s) interviewed and do not contain affiliate links. Meaning: If you use these links to buy something, we will not earn a commission.
Most pizza lovers probably fall into one of two camps. You could be a hardline purist who sticks to the tried-and-true combination of crust, cheese, and tomato sauce. Or, you could be a little more open-minded about what does and what doesn't belong on a pizza, willing to sample pies that break from tradition with unique ingredients and flavors.
If you fall in the latter category, the good news is that some of the biggest pizza chains in the United States currently offer some extremely over-the-top options that are perfect for adventurous eaters. Of course, any customer does have the freedom to customize pizzas in order to make them more extravagant and interesting. But some chains are taking the time to conjure up and develop their own grandiose pizzas with unique flavors and loads of interesting toppings.
Here are seven restaurant chains serving up some of the most over-the-top pizzas right now.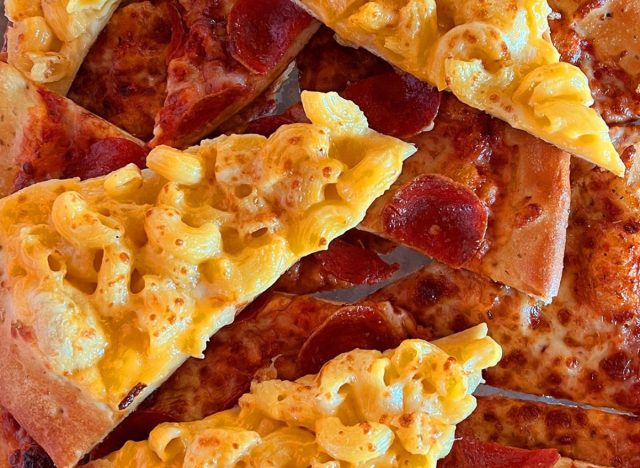 If you ever experienced dual cravings for pizza and mac and cheese, then you can cure both by heading to you nearest Cicis. The Mac & Cheese Pizza is one of several over-the-top pizza creations to come out of the pizza chain's kitchens.
The Cicis menu boasts a range of different pies with indulgent, unique flavors and toppings. Think Spinach Alfredo, Zesty Ham and Cheddar, BBQ Pork, and Buffalo Chicken. One of the most grandiose options, however, is the Pepperoni Stuffed Crust pizza with oozing cheese packed directly into the border of dough.
Of course, Cicis also offers more traditional pizzas like cheese and sausage for the purists, but the more adventurous pizza fans evidently have options too.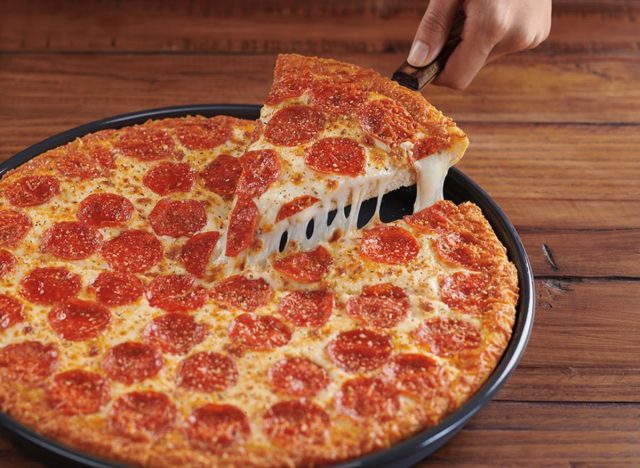 As the brand often credited with inventing the iconic stuffed crust, no list of chains known for over-the-top pizza options would be complete without Pizza Hut.
You can order practically any Pizza Hut pie with these cheesy, melty rings of dough whenever you're craving something a little more extravagant. Other over-the-top options right now include the Cheesesteak Pizza that's topped with grilled sirloin steak, green bell peppers, onions, plus the sizable Big New Yorker that features a double portion of pepperoni on six oversized, foldable slices.
While they're not currently available, Pizza Hut also offered several especially wild pizza options in the past, like pies bordered by a ring of hot dog bites or mini cheeseburgers. Only Pizza Hut knows what other innovations are in the pipeline, but fans may want to keep an eye out for more head-turning pizza launches in the future.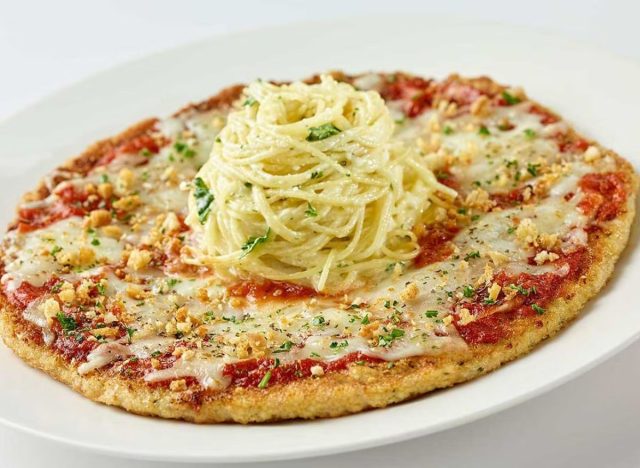 Cheesecake Factory's menu is about as long as a short novel, so it's really no surprise that several over-the-top pizzas are featured in those pages. The chain offers a handful of flatbread pizzas, including a novel Cacio e Pepe Flatbread Pizza inspired by the beloved pasta dish and a Bee Sting Flatbread Pizza topped with three different meats, cheese, Calabrian chiles, and honey.
However, the most outrageous pizza available at Cheesecake Factory right now isn't actually a pizza at all. The Chicken Parmesan "Pizza Style" replaces the traditional pizza crust with a massive round of chicken parmesan topped with marinara and lots of melted cheese. The pizza also comes with a pile of angel hair pasta tossed with an Alfredo cream sauce. In other words, definitely bring a major appetite if you want to chow down on this extravagant menu item.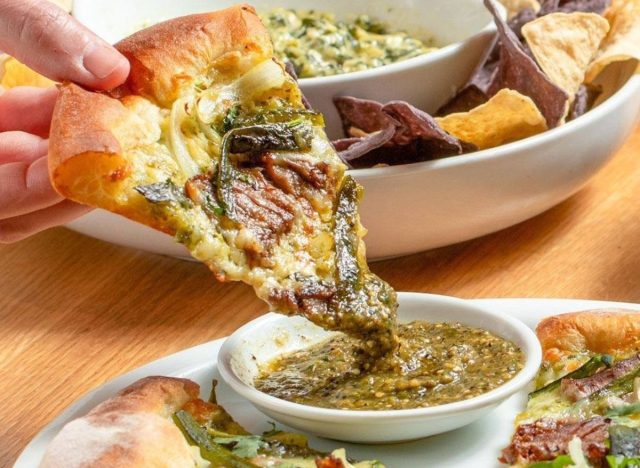 If you've ever eaten at a California Pizza Kitchen before, you surely know that this isn't your average pizza chain. In fact, classic pizza varieties like cheese and pepperoni only represent a small portion of the pizza menu at CPK.
One of the most extreme options currently available at the chain is the Carne Asada Pizza. Not only does CPK completely forgo traditional pizza toppings by loading this pizza with marinated steak and shaved poblano, but it also goes even further by serving the pizza with a homemade salsa verde as a dipping sauce.
Some of the other notably unique options at CPK include the Thai Chicken Pizza topped with Thai peanut sauce and veggies and the California Club loaded with bacon, grilled chicken, mozzarella, avocado, tomato, basil, lettuce, and mayo.
If you can't possibly choose between all of CPK's uncommon pizza creations, you can sample nearly 10 different CPK toppings just by ordering The Works. This dressed-up pizza packs on spicy Italian sausage, rustic pepperoni, Cremini mushrooms, mozzarella, red onions, green peppers, olives, and wild Greek oregano.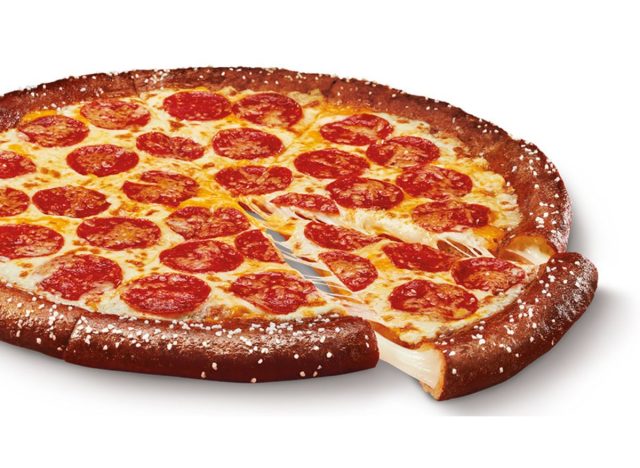 Out of all the major pizza chains, Little Caesars has carved out one of the biggest reputations for concocting unique (and sometimes eyebrow raising) spins on classic pies.
The chain's Pretzel Crust Pizzas, for example, completely throw pizza tradition out the window with buttery-flavored soft pretzel crusts, creamy cheddar cheese sauce, mozzarella cheese, and pepperoni. Customers can swap the cheddar cheese sauce with a classic pizza sauce or dial up the madness even more by ordering the stuffed crust version of those pretzel pies.
These Pretzel Crust Pizzas are only a mere taste of the innovative, wacky pizza concoctions that Little Caesar's has crafted over the years. One of the most over-the-top options ever offered at Little Caesars is the Detroit-style deep dish pie wrapped in bacon, sold as a limited time offer in the past. The chain also announced a Corncob Crust Pizza earlier this year that supposedly came with a whopping two liters of liquefied butter, but it turned out to be a joke. Still, some customers actually seemed to be unsure if the joke pizza was real, perhaps because Little Caesars has been so unafraid to go where other pizza places haven't gone before in the past.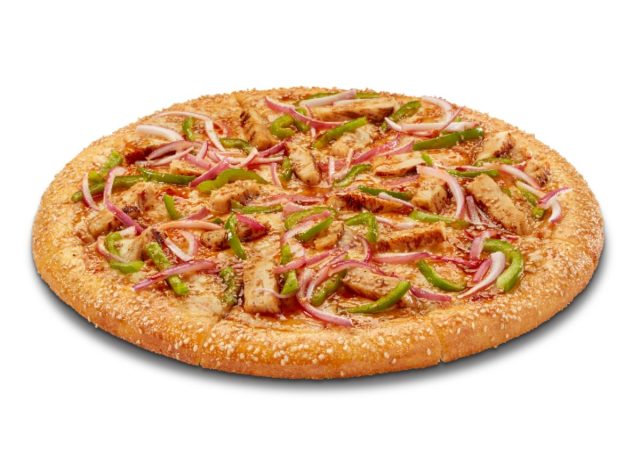 Hungry Howie's isn't afraid to look in unexpected places to get inspiration for its inventive pies. Look no further than the indulgent Bacon Cheddar Cheeseburger Pizza. Topped with ground beef, bacon, mozzarella cheese, and cheddar cheese, this pizza could fit in seamlessly at both summer barbecues and pizza parties.
Another signature Hungry Howie's option, the Asian Chicken Pizza, could potentially cure your cravings for pizza and veggie-packed stir fry all in one go. It features a tangy Asian sauce, grilled chicken breast, red onions, green peppers, sesame seeds, and mozzarella cheese.
Chicken Bacon Ranch, BBQ Chicken, and Buffalo Chicken are some of the other unique standouts at Hungry Howie's. Customers can also infuse extra flavor into these over-the-top pizzas by opting for one of Hungry Howie's special flavored crusts, which range from cajun to ranch.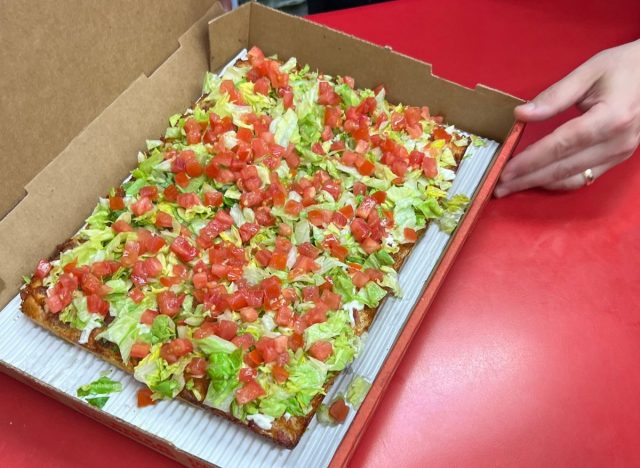 Jet's Pizza already stands out in the pool of major pizza chains because it specializes in Detroit-style pies, but it stands out even more when you peruse its full menu. The chain's lineup of signature pies includes several unique options with loads of toppings you'd be hard-pressed to find at any other chain.6254a4d1642c605c54bf1cab17d50f1e
The BLT Pizza, for example, evokes all the flavors of the classic sandwich by piling on bacon, lettuce, tomatoes, and premium mozzarella. Other extravagant offerings at Jet's Pizza include the Aloha BBQ Chicken, Buffalo Ranch Chicken, and the Jet 10, which features an absolute boatload of toppings between the pepperoni, ham, hamburger, Italian sausage, bacon, mushrooms, onions, green peppers, black olives.
Jet's customers can boost the flavor on these rare pizzas even more by opting for one of the chain's flavored crust options, which include butter, garlic, romano, cajun, and sesame seed.
Zoe Strozewski
Zoe Strozewski is a News Writer for Eat This, Not That! A Chicago native who now lives in New Jersey, she graduated from Kean University in 2020 with a bachelor's degree in journalism.
Read more about Zoe