12 Subtle Changes Restaurants Are Making That You Won't Notice
Next time you dine out at your favorite restaurant, you may notice a few small, subtle changes.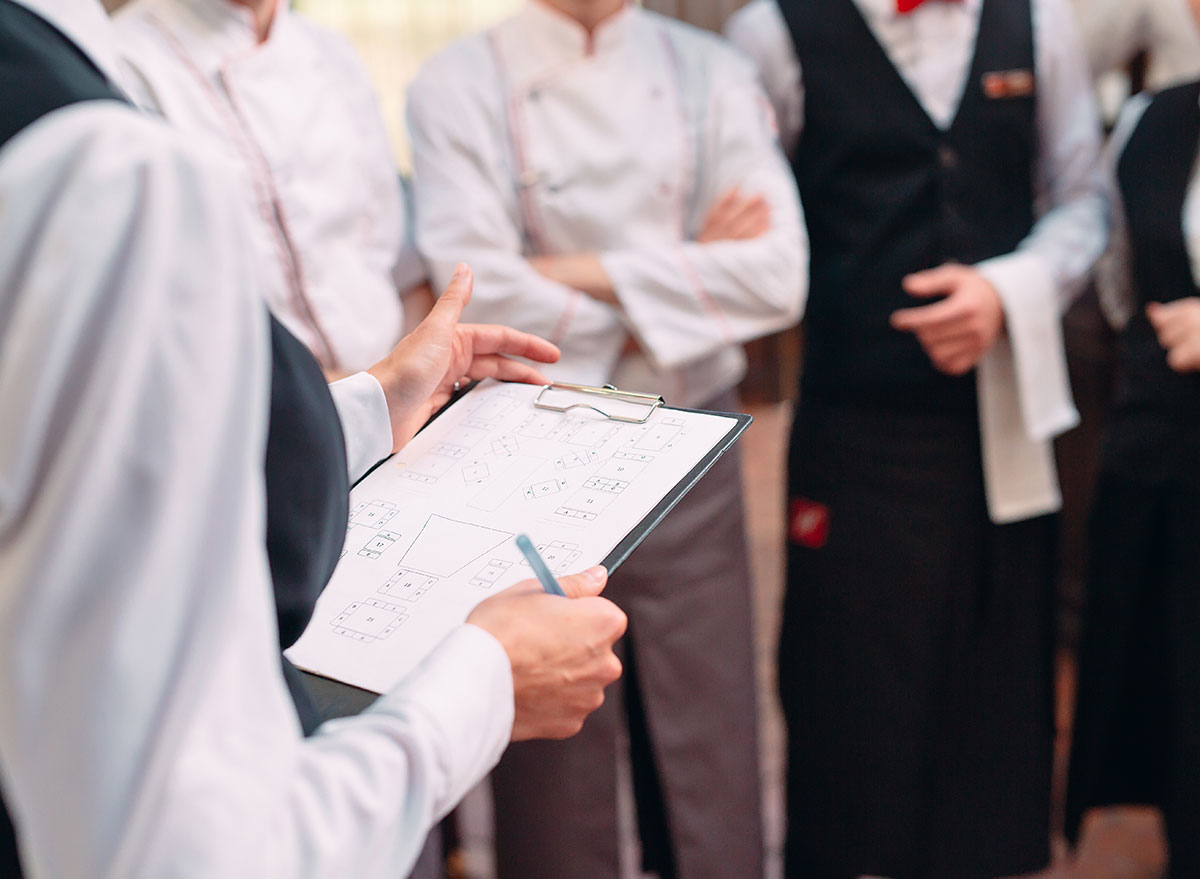 Though we may have picked up a few cooking skills during the lockdown, many counted down the days until they could return to their beloved restaurants. Out of all the industries hit the hardest due to the pandemic, restaurants are among the highest. While some eateries kept their kitchen open to meet takeout orders, others temporarily closed so they could furlough employees. As states around the country navigating re-opening measures, they all must adhere to the stipulations of local governments, as well as the recommendations from the CDC, and have to make some subtle changes in restaurants because of it.
In addition to placing six feet between tables and disinfecting regularly, there may be health precautions your go-to restaurant is taking that is so subtle that you don't notice them. Look closely for these significant, yet subtle changes in restaurants to keep staff and patrons safe.
Staggered reservation times.
Most restaurants have adopted a reservations-only policy for dining, even if that wasn't part of their operating plan pre-pandemic. This allows them to have control over crowds, as well as allow extra time to clean between parties. Nick Wilson, the owner of 1618 West in Greensboro, NC, has created a staggering reservations system in five-minute increments to prevent too many guests gathered at the front door. "We're asking if you're early or late that you text before getting out of your car and coming in," he says.
For more news on restaurants reopening, be sure to sign up for our newsletter.
Host seating for bar guests.
Urban Wren Winery has one of the largest bars in Greenville, SC. For this reason (and others!), it's a popular spot for locals and visitors. In fact, their executive director Nick Lincoln says it's a big part of their culture. Typically, anyone over the age of 21 can walk in, take a seat, and order whatever wets their whistle. Since this isn't a safe tactic during COVID-19, they've changed the process by having a host seat bar patrons. "Our hosts try to make this as seamless as possible by greeting guests at the door and walking them to seats at the bar," he says. "It fits our service style very well, and we may continue this after social distancing guidelines disappear. It engages our guests with a warm welcome and kick-starts their dining experience."
Plexiglass barriers between tables and booths.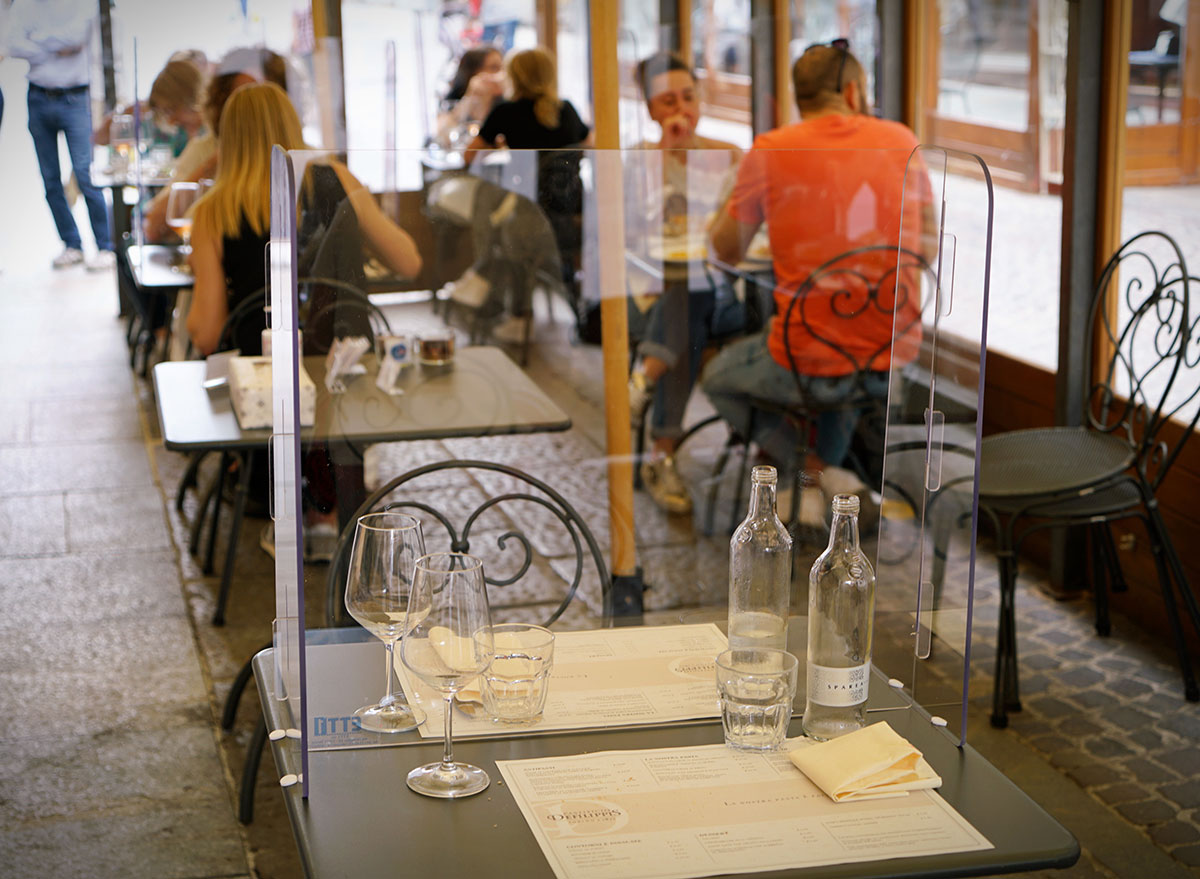 Sure, plexiglass is a bit more evident than other measures, but once you get used to it, it's easy to forget there is a partition at all. At the New York Deli and Coffee Shop in Houston, Texas, as well as many other restaurants, this installation goes a long way in reassuring guests and staff alike of management's commitment to health. "The ones between the booths sit booth to the ceiling to alleviate the spread of germs. The ones between tables are on wheels and can be adjusted and moved throughout our restaurant to aid in the comfort level of our patrons," says the managing partner, Michael Saghian.
Wellness check-ins for employees.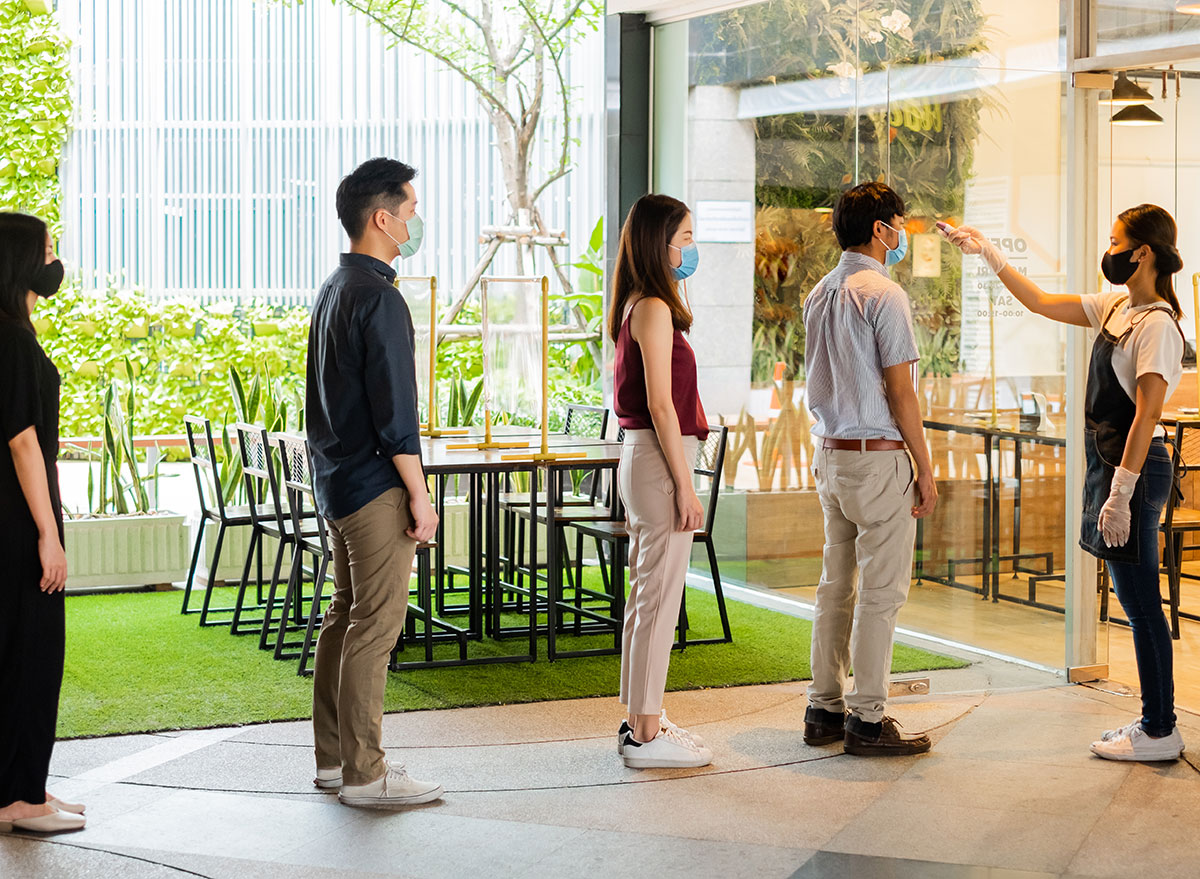 Managers, wait staff, bartenders, hostess, and all other restaurant staff members put their own health at risk when they come in for their shift. Since they come in direct contact with customers, their vitality is of utmost importance. To ensure everyone follows the same procedures, employees at Stoner's Pizza Joint and Fort Lauderdale, FL, go through a wellness check-in when they arrive. As the owner John Stetson shares, this includes a temperature check and a candid conversion logged by the manager on duty.
QR code contactless ordering system.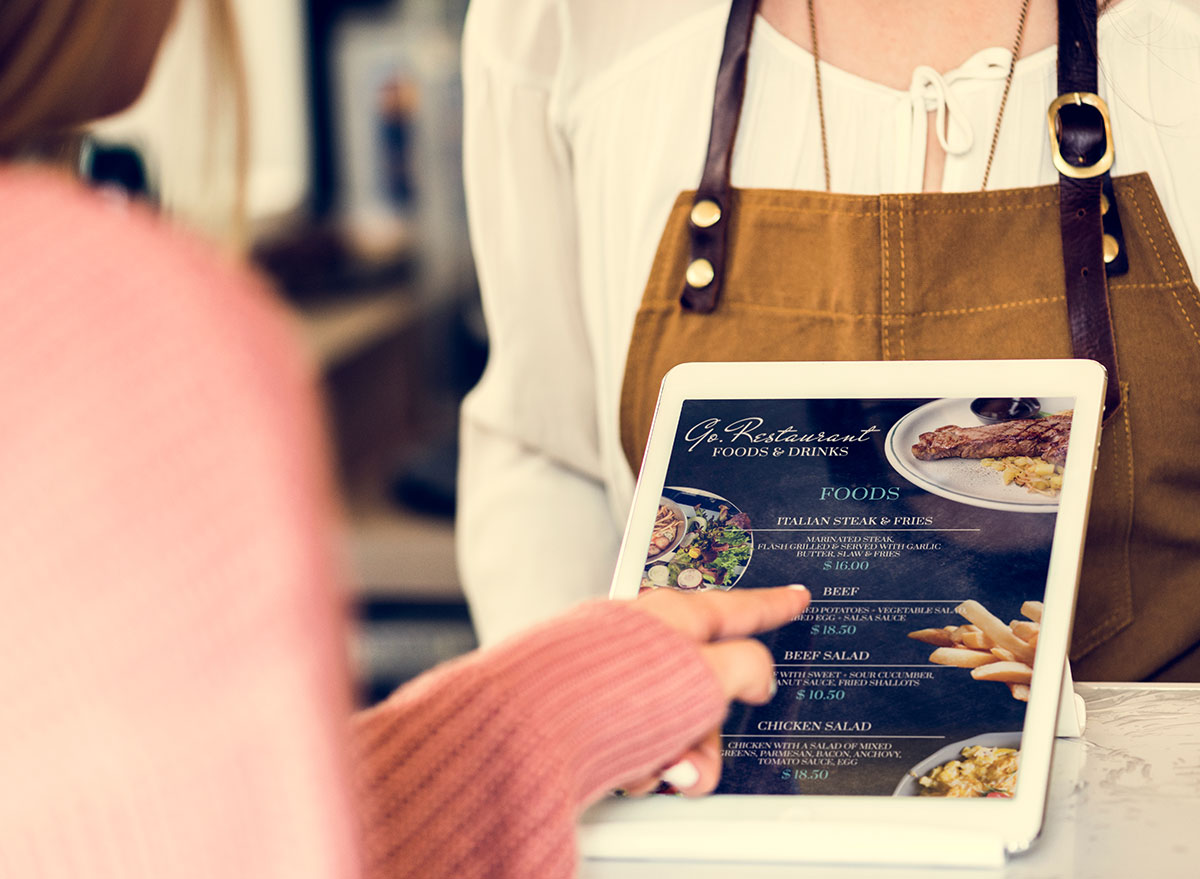 Some restaurants are creating one-time use or lamented menus that can be wiped down to stop the spread of germs, and others are going fully digital. Take, for instance, JaJaJa Plantas Mexicana and Gelso & Grand in New York City. Both are founded and co-owned by Koorosh Bakhtiar, and he explains the decision to introduce a QR-code contactless ordering system. "It links you directly to our ordering site and prints your order directly into the kitchen," he says. "We did this to provide an option for those living with an immune-deficient person and to make our guests personally feel safe while dining."
Installing UV lights in the silverware and glassware cabinets.
When you're drinking out of a glass, using utensils to eat, and so on, your bodily fluids are transferring to these items. While all restaurants are dutifully washing their silverware, glassware, and flatware, others go a step above. For example, ThinkFoodGroup in Washington, D.C. installed UV lights inside the cabinets where these goods are stored. "Each item going to and from these cabinets is cleaned extensively with an antimicrobial polishing towel by our trained staff. Then, it is exposed to UV lights while stored inside the cabinets, adding an extra layer of sanitation," says Eric Martino, COO of ThinkFoodGroup.
Designated disinfector.
Hash Kitchen eateries in Scottsdale and Phoenix, AZ, were among the first to identify a COVID exposure at one of their locations. Because of this, the co-founder and executives chef Joey Maggiore immediately closed down and implemented weekly testing for all employees and a weekly Virus Vaporizer disinfectant service. This disinfects everything living on surfaces for 30 days using a food-grade, non-toxic spray.
As they now return to business operations, they've designated a certified 'disinfector' for all shifts at each of their restaurants. This person is responsible for constant cleaning, monitoring mask and glove-usage, and maintaining social-distancing procedures in the restaurants. "Every day, we are acclimating to the new normal we are faced with. It can be a challenge to keep track of all new safety procedures, so we have created a new position at the restaurant, the 'disinfector,'" Maggiore says. "We hope that by designating this staff member, we can do our part to keep our restaurant as clean as possible while monitoring groups and all other new safety protocols."
Staffing bubbles.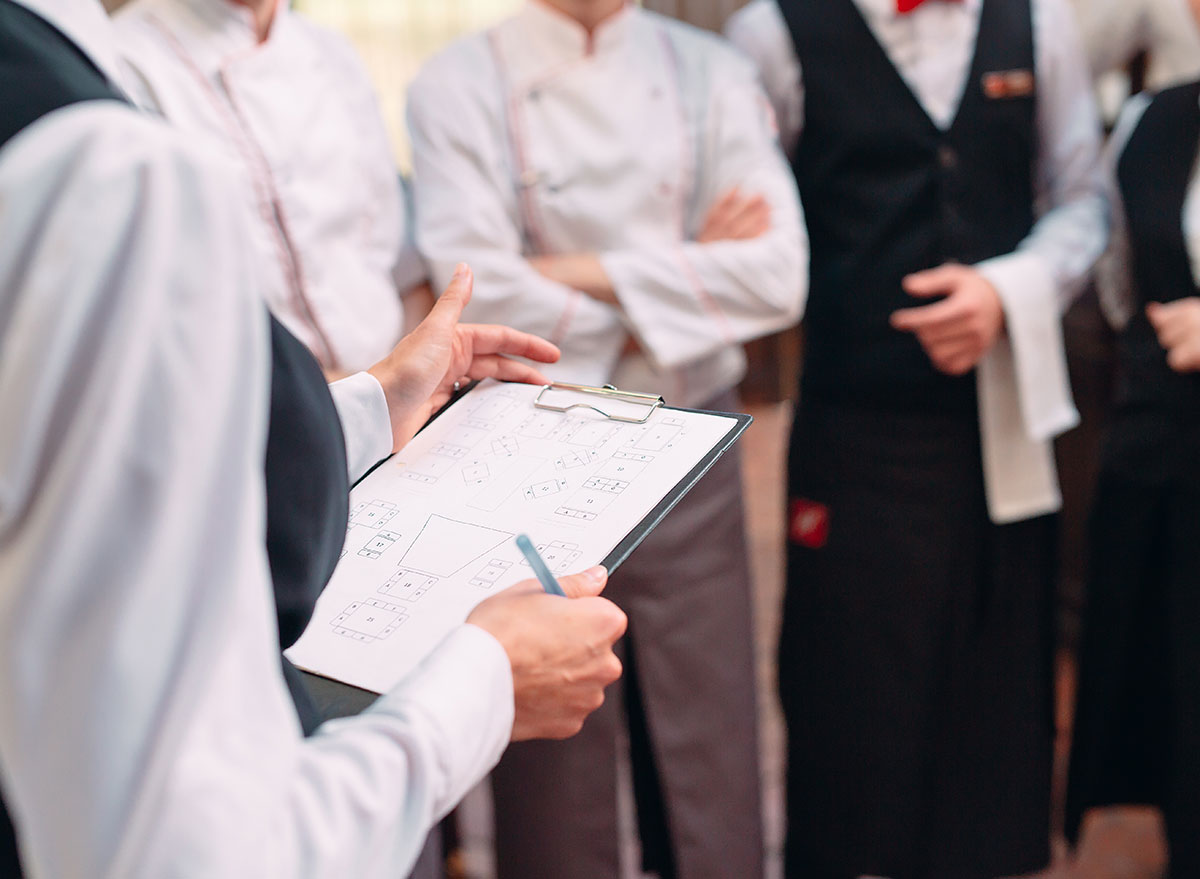 Justin Jones, the co-owner of Bovaconti Coffee in Indianapolis, IN, not only wants his customers to feel safe but his team, too. To limit the amount of risk his employees take on their shoulders, they have created staffing bubbles. "We're intentional about who is staffed when, and with whom, to ensure that the same group of people always works together to limit exposure across the entire staff," he says.6254a4d1642c605c54bf1cab17d50f1e
Contactless doors.
Over the past several months, you've likely become more familiar with how many surfaces you touch throughout the day. Restaurant owners have experienced this same knowledge, and they've adopted the learning into their re-opening strategies. In addition to sanitizer spray and wipes on tables, Almond Restaurants, with two locations in New York and one in Florida, has added door kicks and paper towels, so you don't need to touch anything to pass through.
Scaled-down menus.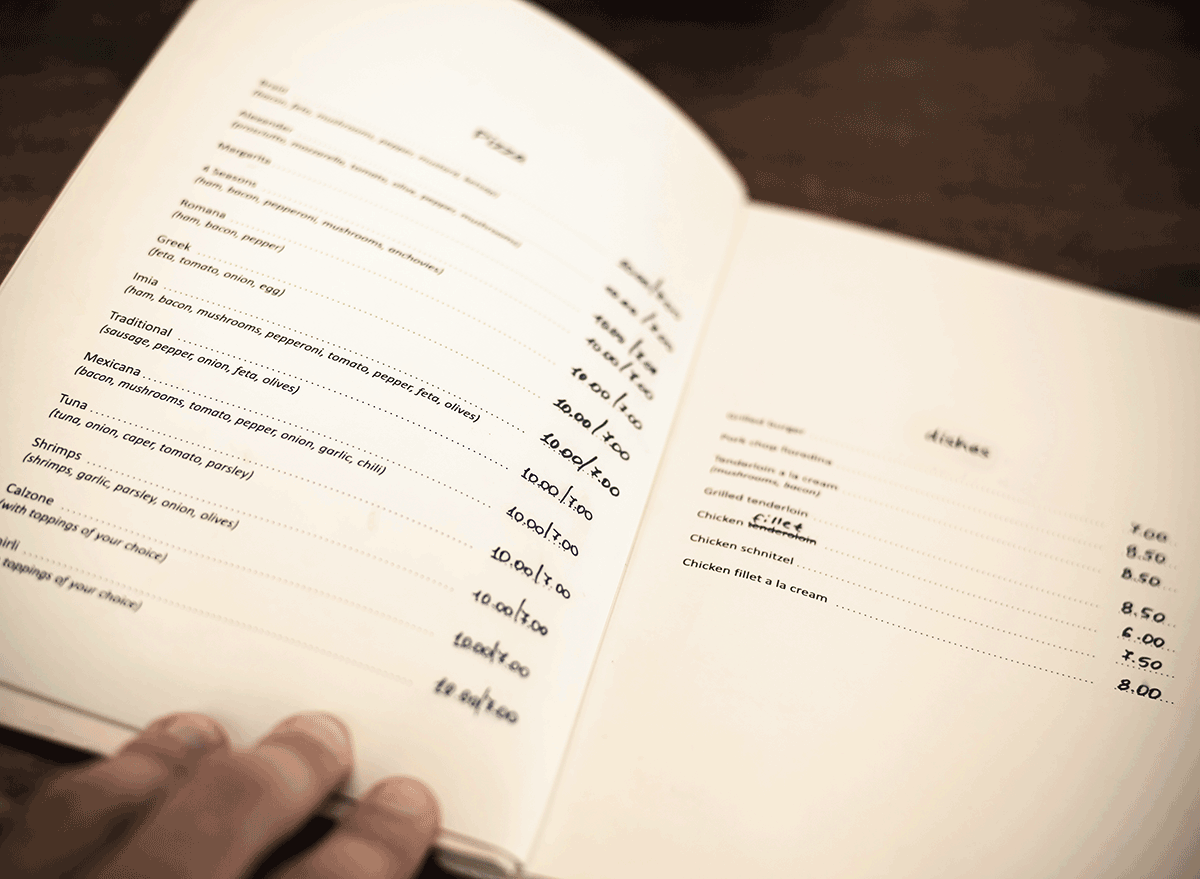 If you book a reservation at a nearby restaurant and notice your favorite menu item isn't on the list, try not to complain. To open their doors, maintain safety precautions, and make money, many eateries are operating on a smaller scale. As Trevor Gould, the director of operations for Broken English Taco Pub in Chicago, IL explains, they decided to scale down their menu to minimize the number of employees needed to execute service. "This gives our cooks and other employees space in the kitchen areas to prepare and run food without bumping into each other," he says.
Bare tables.
If you can remember to 'normal' times, try to recall what was on tables at restaurants when you took a seat. Perhaps a salt and pepper shaker, a place setting, some flowers, and so on. If you pay attention now, you'll notice most tables are clear of everything. This is the choice Ellen Lanahan, the co-owner of The Cellar Wine Bar in Corning, New York, to cut back on potential contamination. "We are only using laminated menus, so they are easy to sanitize after every table, and nothing is pre-set on the tables, so there are fewer items available for guests to touch," she says.
Specific entering and exiting protocols.
Though the flow of incoming and outgoing customers might not seem like a big deal, having patrons enter and exit in a specific stream reduces the amount of exposure they experience. That's why Daniel Bruce, the executive chef of the Boston Harbor Hotel in Boston, MA, has reconfigured the process. "All guests must now enter through the entrance located inside the hotel with the use of stanchions for social distancing measures. Then, they depart through the outside patio entrance. We are lucky to have the ability to do this, which reinforces our commitment to safety and builds trust with all our guests, as there will be less cross traffic," he says.