8 Restaurants Where You're Most Likely To Spot a Celebrity
Here's where to dine like an A-lister and possibly get a glimpse one of your favorite stars.
Celebrities, like all of us, love dining out or grabbing a quick bite to eat. Consequently, there are many blogs, Instagram feeds, and other social media channels that report on stars' dining habits. Celebs may even disclose their absolute favorite place to eat in interviews. 
We set out to see where the biggest stars have been dining recently so you could plan a night out and, potentially, spot one of today's biggest names. All of these restaurants are completely accessible to the public, so there's a chance you could run into someone famous if you visit one tonight.
If you want to spot a celebrity, like one of the Kardashians or Leonardo DiCaprio, get a table at one of these eight restaurants frequented by the rich and famous. 
Carbone — New York, New York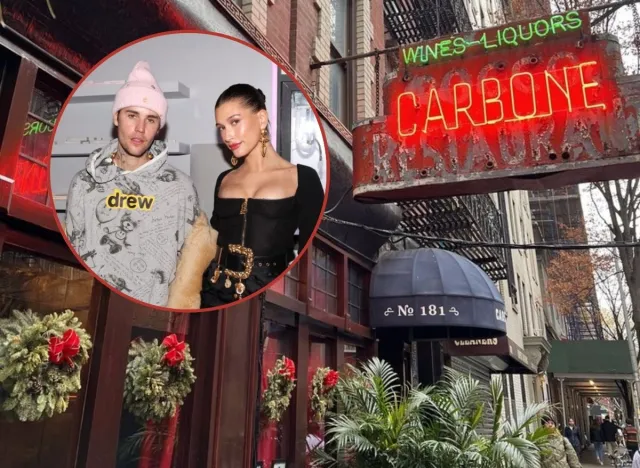 Located in the heart of the East Village in lower Manhattan, this quaint Italian restaurant is home to a famous spicy rigatoni vodka and untouchable Caesar salad prepared tableside. It's also a spot where many celebrities have enjoyed an evening meal, some have even been turned away.  
In the summer of 2022, Canadian pop star, Justin Bieber and his socialite wife, Hailey Bieber, attempted to snag a last-minute table inside the hot-spot restaurant. They were seen leaving shortly after being denied service for showing up unannounced and not having a reservation. However, this didn't stop the celebrity couple from trying a second time. This past January, the Biebers celebrated selling Justin's music catalog for $200 million with a much more successful trip to Carbone. 
According to Bazaar, the Kardashians and Rhianna can also be spotted dining there. Drake, Adele, and Jennifer Lopez also might show up at the spot.
Giorgio Baldi – Santa Monica, California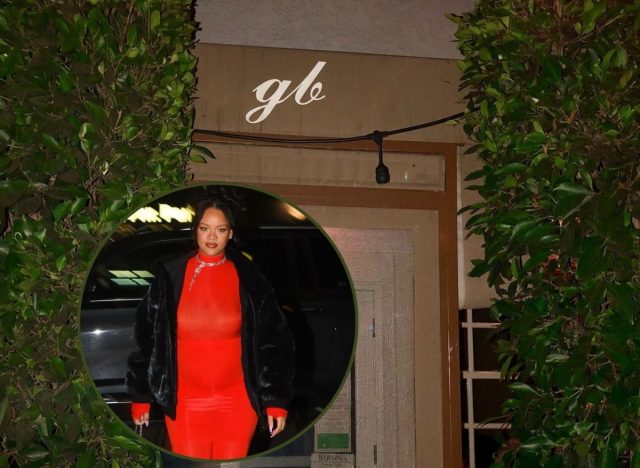 If you're a big Rihanna fan then you also have to take a trip to this popular L.A. restaurant. According to Insider, the beloved singer and songwriter eats here often, sometimes three times a week.
Giorgio Baldi is another renowned Italian restaurant, known for its traditional dishes and frequent flow of movie stars and music icons.  When Rihanna dines at Giorgio Baldi, she reportedly orders one of three items: ravioli, gnocchi, or spaghetti pomodoro with basil.
Casa Vega –
Sherman Oaks, California
Business is always booming at Casa Vega since its opening in 1956, especially since famous diners like Selena Gomez, Nick Jonas, and "Miss Congeniality" actress Sandra Bullock frequent the restaurant. The prominent Mexican spot serves up authentic food from family recipes originating in Tijuana, Mexico. 
"To me, the high-backed red booths of Casa Vega are like a hug," Bullock told Ventura Blvd, "They have hugged me while me and my kids have inhaled too many desserts. And they have kept me supported while I've inhaled too many mango margaritas with my friends."
Nobu — Malibu, California
While you can catch them on their hit Hulu reality show—or potentially at a Lakers home game—the Kardashians have also been seen dining out at this trendy spot several times. Nobu's Malibu location is the most frequented by the famous family, as it has a beautiful view overlooking the Pacific Ocean.6254a4d1642c605c54bf1cab17d50f1e
The modern Japanese restaurant has been featured on Keeping Up with the Kardashians more than once. Kylie Jenner even held her 18th birthday dinner there. But if you want to keep up with the Kardashian's dining habits, you'll have to spend big bucks on dishes like sashimi tacos and ribeye steak with truffle butter, but you'll also get the chance to see the famous family and many stars who frequent the L.A. area. Plus, the view really cannot be beat.
The White House Tavern —
Aspen, Colorado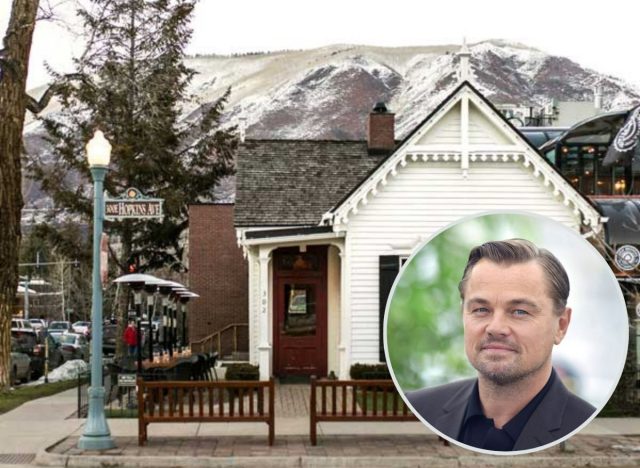 Skiing in Aspen can only go on for so long until someone needs a quick bite to recharge—which the legendary Titanic sweetheart, Leonardo DiCaprio, has been seen doing on quite a few occasions.
With a cozy setting away from the slopes, The White House Tavern offers a small-town atmosphere and an elevated American menu inside a 19th-century miner's cottage. DiCaprio reportedly has been seen ordering the restaurant's staple fries, sandwiches, and hand-crafted cocktails, according to Insider.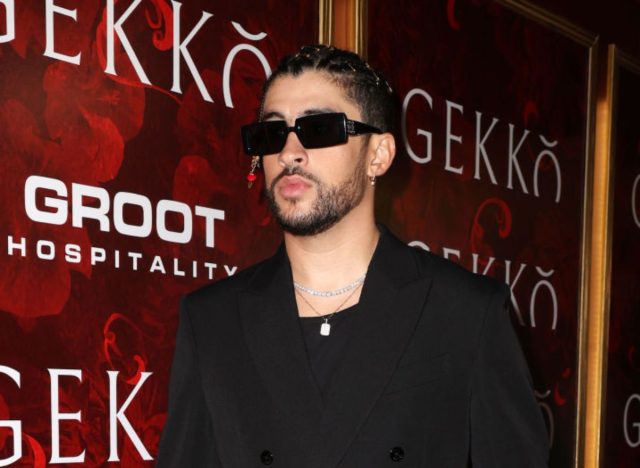 After claiming the top album of 2022 and selling about $3.4 million in music consumption (combining both unit/album sales and online streams), Bad Bunny went to one of his favorite cities in America to open his very own restaurant. The singer and songwriter told People that he wanted a place to enjoy himself and to be able to share his culture with others through food. 
Gekko, located in one of the most sought-after neighborhoods in the Miami area, creates an extravagant Japanese steakhouse experience by serving specialty sushi, steaks, and creative cocktails. If you dine at the Grammy Award-winning artist's restaurant, be sure to keep a lookout for his warm smile and order his ideal meal of choice, the Lobster Fried Rice. 
Casa Cipriani — New York, New York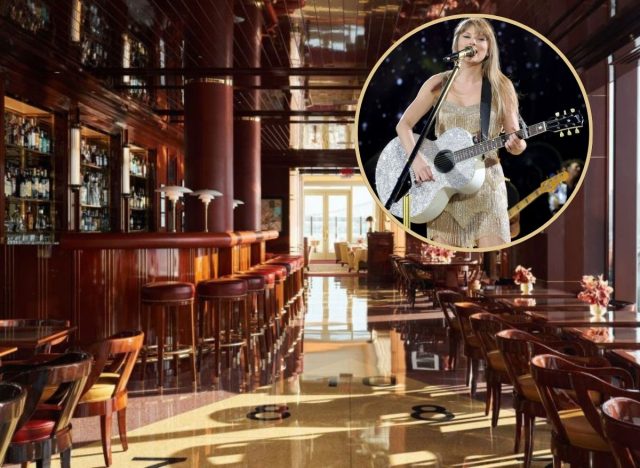 Taylor Swift may currently be on her Eras Tour around the U.S., but in her free time visiting New York, she's said to have one favorite restaurant she always has to dine at. The Casa Cipriani, both a hotel and an exclusive high-end restaurant, has also hsted various celebrities aside from T-Swizzle—like Drew Barrymore, John Legend, and even Elon Musk.
Earlier this year, Swift was spotted leaving Casa Cipriani with her close friends and also an extremely famous celebrity couple, Blake Lively and Ryan Reynolds. Although, beware, because entry to this restaurant experience has an initial fee of $2,000 for guests who are not annual members (which costs $3,900 a year, and you bet Taylor Swift is a part of it!).
Pizzeria Bianco — Phoenix, Arizona
Even stars making millions of dollars a movie and celebrity chefs who can cook anything like to indulge in a slice or two of pizza here and there. Pizzeria Bianco in Phoenix, Ariz. has been a popular spot for celebrities. most recently Paul Rudd, Joel McHale, and celebrity Chef Gordon Ramsey. 
"Amazing night at @pizzeriabianco with @joelmchale and #PaulRudd !! Amazing pizza and pasta," Ramsey wrote in his recent Instagram post about his visit to the restaurant.
Jordan Summers-Marcouillier
Jordan Summers-Marcouillier was born and raised in San Jose, California and now works as a writer in New York, NY.
Read more about Jordan