8 Fast-Food Orders Celebs Can't Live Without
Check out some surprisingly relatable A-list eats.
There has long been an association between celebrities and fast food, and in many cases that association comes down to… money. From movie stars to sports stars to, in our time, major influencers, celebrities have shilled for fast-food brands countless times. Think of Justin Bieber's endorsement for Tim Hortons or Shawn Mendes with a Chipotle Bowl as recent examples, or of the classic competition between Larry Bird and Michael Jackson that kept McDonald's on the mind a generation ago. But do celebs really eat fast food, and what are their go-to orders?
As thrilled as celebrities may seem with the fast-food chains with which they partner, we can never be sure if they genuinely like the food or if they just like the terms of the contract. So, let's put aside the endorsements, commercials, custom-designed meals, and all the marketing stuff. Instead, today we're looking at a few celebrities with a bonafide love for a given fast-food order. Because sure, movie, sports, and internet stars may go to fancy parties catered by upscale restaurants with Michelin-starred chefs, but no one can resist a great burger or taco now and then.
Shaquille O'Neal – Donuts from Krispy Kreme
For Shaq, the love of Krispy Kreme donuts is real. So much so that the former NBA star, who would reportedly eat an entire box of the donuts on occasion, even bought a Krispy Kreme location, per The Sports Rush. Sadly, the shop burned down (apparently as a result of arson) in 2021, but it is being rebuilt.
Anna Kendrick – Doritos Taco from Taco Bell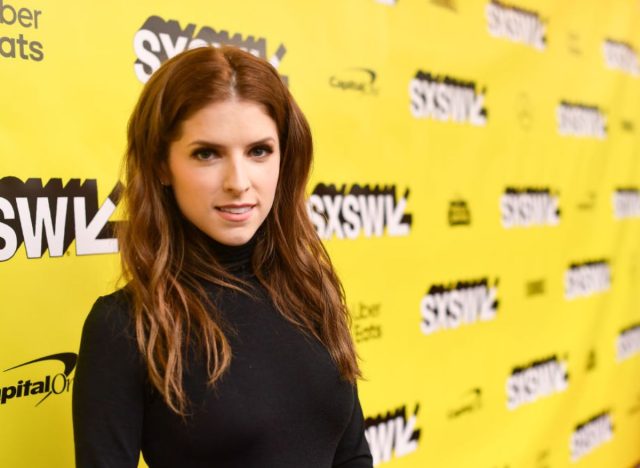 Anna Kendrick isn't acting when she extolls her love for Taco Bell, and she's not on the take, either: despite having no formal partnership with the chain, the actress has many times shared her love for Taco Bell, per Cheapism. Her favorite Taco Bell eat? The Doritos Taco.
Katy Pery – Cheeseburger from In-N-Out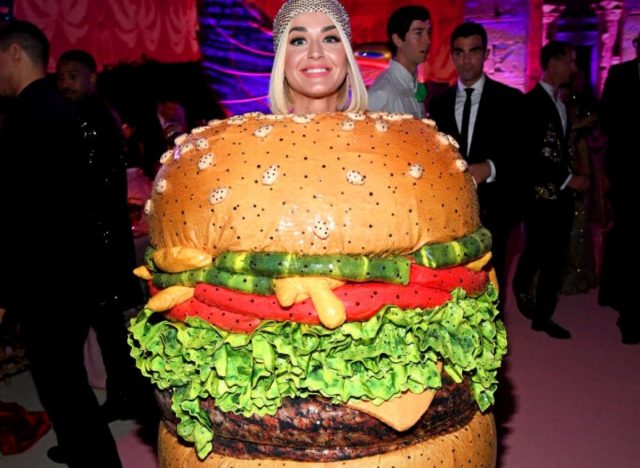 A well-known fast-food fan overall, Katy Perry has a special love for the burgers from In-N-Out. And per Observer, that love was cemented when she spotted actor Orlando Bloom grabbing a burger she had ordered from a table at a party. The incident led to them meeting and falling for one another. (Your experience at Taco Bell may vary.)
Barack Obama – Cheeseburger and fries from Five Guys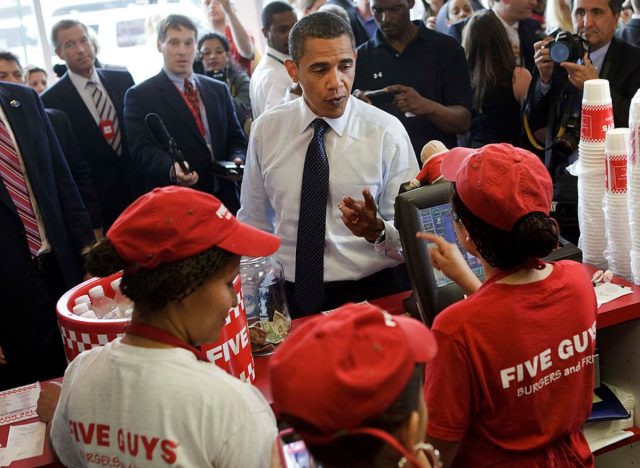 The 44th POTUS is a well-known lover of the cheeseburger, and per Insider, his all-time favorite fast-food meal is one with which many Americans can identify: a burger and fries from Five Guys. Fit and trim for a middle-aged man, we can assume he only indulges on occasion, but indulge he does—there's plenty of photographic evidence of that.
Adele – Chicken McNuggets, a Big Mac, and Fries from McDonald's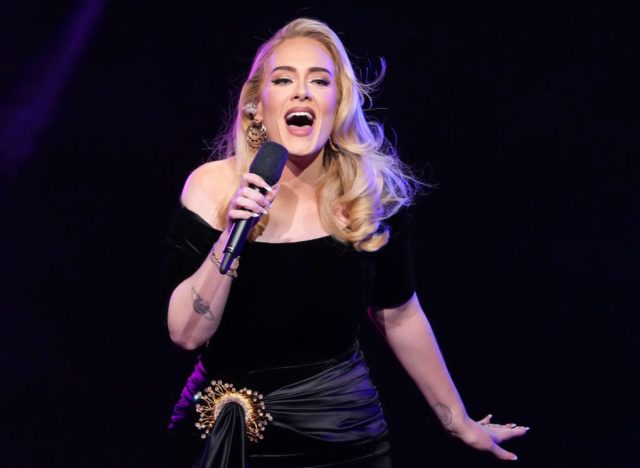 First, Adele wowed the world with her singing. Then she wowed her fans with her weight loss and fitness journey. But when she wants to enjoy some fast-food comfort eats, her go-to order is decidedly lacking in the "wow factor." And that's OK, because her go-to order of McNuggets, a Big Mac, and fries, per Insider, is quite relatable. She reportedly indulges in McD's almost every week.
Jennifer Lawrence – Cheeseburger from McDonald's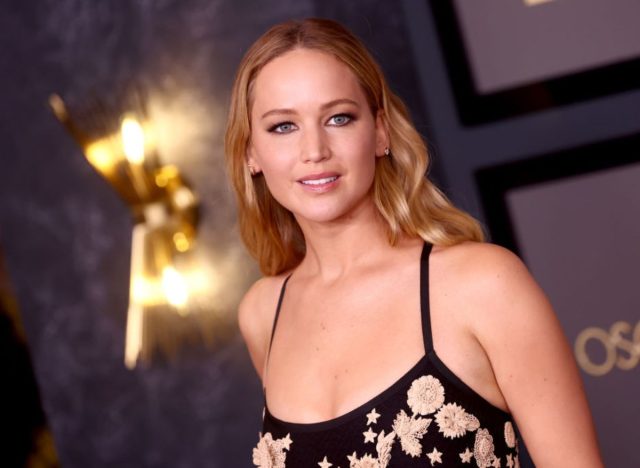 Actress Jennifer Lawrence is one of the more down-to-earth and relatable Academy Award winners out there, so perhaps it's no surprise that, per Cheapism, her favorite fast-food order is a classic cheeseburger from McD's. The star's all-time favorite food, though, is one you have to make yourself: it's chili pizza, per Cosmopolitan. And yes, that means a piece of pizza topped with a scoop of chili, or sometimes two slices of pizza used as sandwich "bread."
Kylie Jenner – Double-Double from In-n-Out
Kylie Jenner may not look like the kind of person who eats a Double-Double from In-N-Out—which mean two beef patties, two slices of cheese, toppings, and a bun—every day of the week and, well, she's not. But the socialite, heiress, and general media person is known to get a burger, fries, and a Coke from In-N-Out as often as once a week, per US Magazine.6254a4d1642c605c54bf1cab17d50f1e
Her sister Kim Kardashian is also a huge fan of In-N-Out. When her birthday trip to Vegas was canceled due to bad weather, last year, she took her crew to get In-N-Out instead.
Charli D'Amelio – The Charli from Dunkin'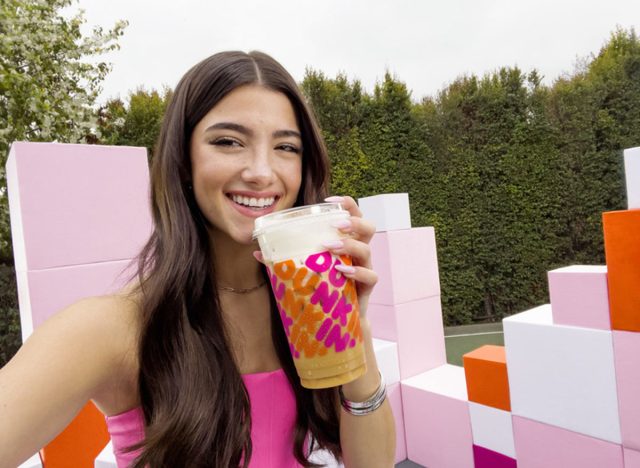 Here we have a rare case where it's safe to assume that the celebrity in question really does love the fast-food menu item in question. Teenage influencer Charli D'Amelio's love of drinks from Dunkin' was well-documented on her popular social media channels long before the chain approached her to partner up and invited her to create a custom beverage. So it stands to reason that "The Charli," which is Dunkin' Cold Brew coffee with whole milk and caramel swirl and sometimes with cream on top, per Food Network, really is her preferred order.
Steven John
Steven John is a freelancer writer for
Eat This, Not That!
based just outside New York City.
Read more about Steven