10 Weight Loss Snacks That Actually Satisfy, Recommended By Dietitians
Say 'goodbye' to hunger pangs and 'hello' to weight loss.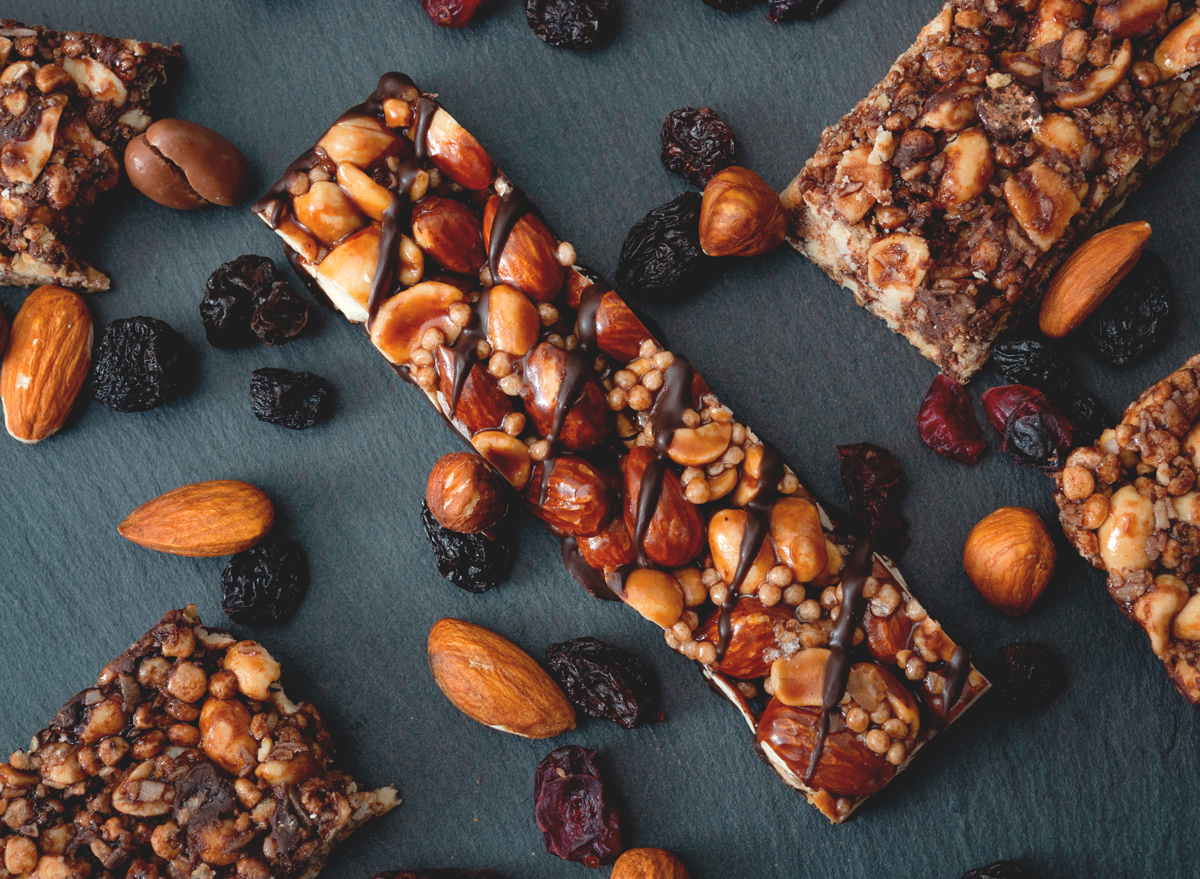 Anyone who's ever tried a traditional "diet snack" knows that there's just something about those tiny snack packs covered in "low calorie!" and "low fat!" claims that always seem to leave you raiding your pantry for something else to take the edge off—sending you on an overeating spiral sure to derail your weight loss efforts.
There's a reason many of these diet snacks aren't so satisfying. They lack the optimal amounts of nutrients like protein, fiber, and healthy fats, to help fill you up—without filling you out. Plus, many of these snacks don't actually deliver the flavor or texture you're craving. But by opting for snacks that include the right mix of nutrients and satisfy your cravings, you can enjoy a delicious treat and lose weight, too.
Here are a few of our favorite snack-time staples sure to keep your taste buds and your stomach satisfied—without sending your diet on a detour (Bonus: Some even help give your metabolism a boost!). Read on, and for more on how to eat healthy, don't miss 15 Underrated Weight Loss Tips That Actually Work.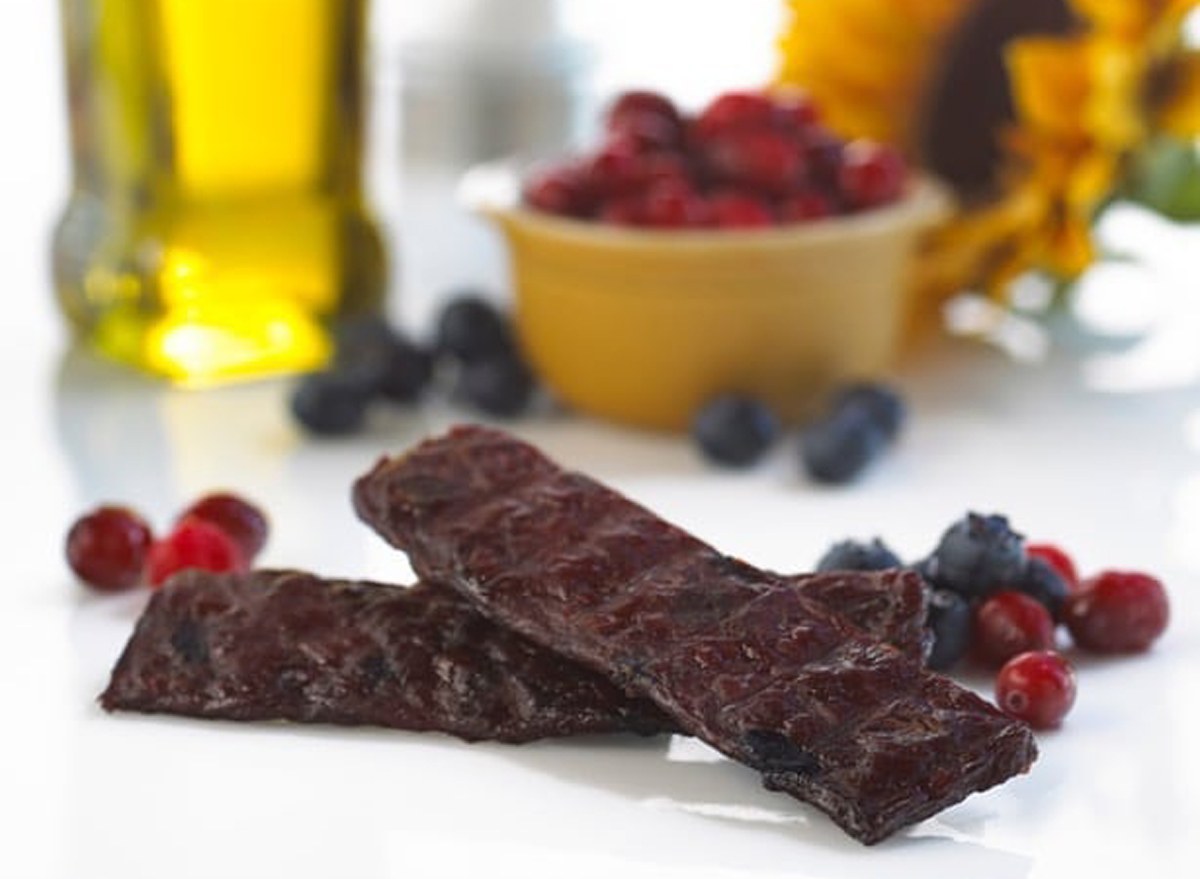 For a convenient, pocket-friendly weight-loss snack, opt for meat jerky. Research suggests bumping up your dietary protein while reducing the carbohydrate content in your diet can increase your metabolic rate while your body is at rest and when you're asleep. Meat snacks, in particular, are a great protein source if you're looking to lose weight because they're dried, which rids excess fat (and calories) and concentrates the protein.
Not all jerkys are created equal, though. Some are loaded with additives, chemicals, and sodium, all of which increase inflammation—a condition that's associated with weight gain. Look for meat snacks that are low in sodium and have nothing artificial (fillers, flavorings, colors, or chemicals). Preferably, they should be made of 100% grass-fed, antibiotic- and hormone-free beef or chicken.
We're fans of Simply Snackin' jerky, which meet all of the aforementioned requirements. They come in exciting flavors, like Teriyaki Beef with Pineapple and Black Bean Chicken Salsa. With a whopping 11 grams of protein in one 60-calorie chicken snack (an excellent calorie to protein ratio), energy dips aren't in this wrapper, only satisfaction is.
Move off the couch, potato chips. Chickpea snacks are the new tasty crunchy snack, and they may just give your waistline an edge. In one study, when calories were restricted, people who ate pulses (a fancy word for chickpeas, lentils, split peas or beans) four times a week lost 2.5 more pounds over eight weeks than their non-pulse-eating peers. And if you'd like to tighten your belt another notch, chew on this: chickpeas' protein fiber combo (which is MIA in potato chips) will help keep you feeling fuller longer, and prevent your blood sugar from spiking then crashing, which can leave you hungry and at risk of overeating.
To reap the weight loss-promoting benefits of chickpeas, we recommend Saffron Roads Bombay Spice organic chickpeas and Hippeas Vegan White Cheddar crunchy organic puffs. In a one-ounce serving of these snacks, you get four to six grams of organic plant-powered protein and three to five grams of filling fiber—in just 130 calories.
Read more: The Worst Bags of Chips You Should Never Buy6254a4d1642c605c54bf1cab17d50f1e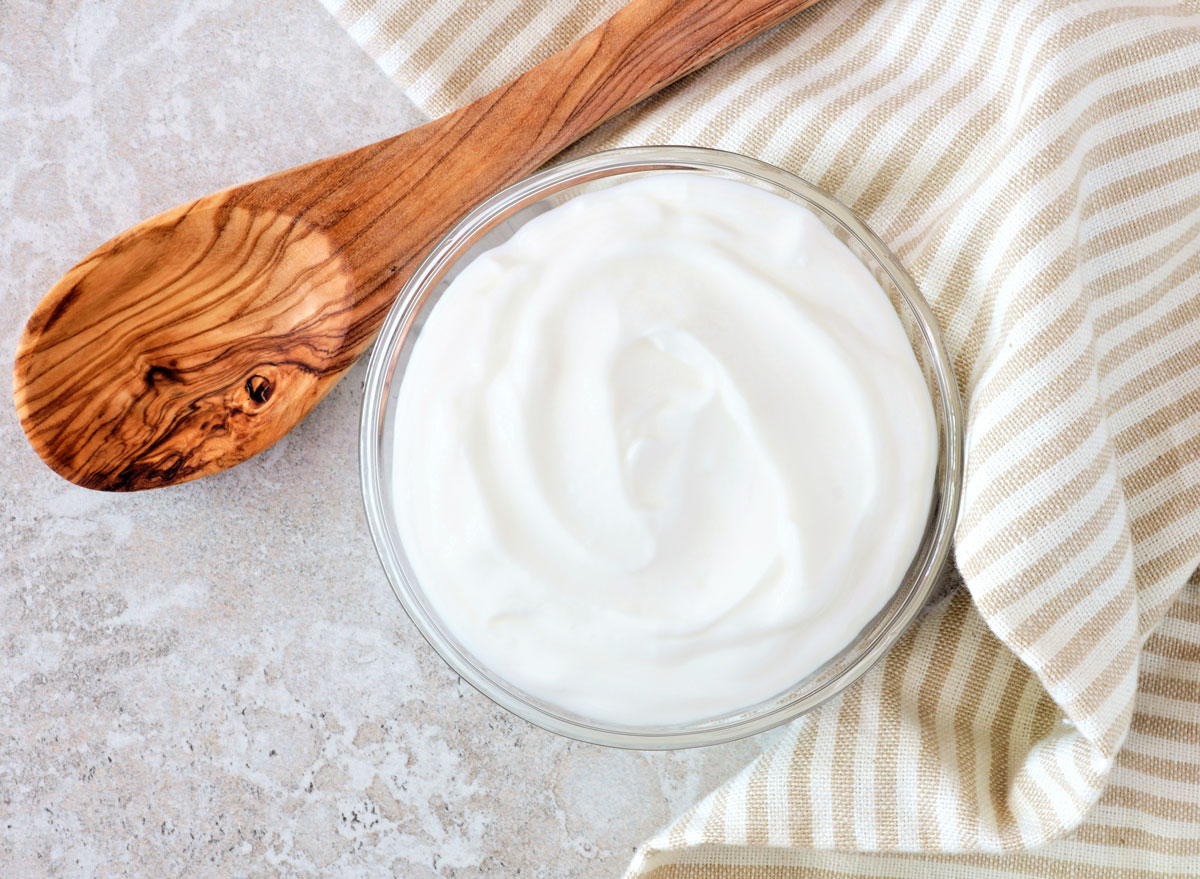 Greek yogurt goes down on most lists as one of the healthiest snacks whether you're looking to lose weight or not. It's a good source of vitamins and minerals, is a great substitute for high-calorie ice cream, and its protein helps to keep you feel full for longer.
Because some Greek yogurts are high in sugar, low in protein, and lack beneficial probiotics, it's important to shop for better-for-you options. We recommend Chobani Complete, a lactose-free yogurt that is just 120 calories, contains a generous 15 grams of protein, and is free from added sugar. Instead, it's sweetened with real fruit like peach, mixed berry, and key lime. As a bonus, Chobani Complete packs in 3 grams of filling, prebiotic fiber. Prebiotic fiber supports weight loss since prebiotics block the hunger hormone, ghrelin and positively effect satiety hormones and gut microbiota, which can greatly reduce excess calorie consumption.
Pistachios are one of the lowest-calorie nuts, but that's not the only reason they're a great pick for those seeking a healthy weight. Research suggests that cracking open pistachio shells may actually help you eat more mindfully: Something about seeing those empty pistachio shells piling up caused subjects in one study to eat fewer calories than their peers whose shells were removed from view. But both groups reported feeling equally full.
The satiety benefits don't stop there. This sturdy on-the-go snack boasts 3 grams of fiber and 6 grams of plant protein. Plus, about 90% of the fat found in these pistachios is unsaturated (the "good" kind), for a trio of nutrients that may help keep you fuller longer with each little green bite. Crack into all the satisfying benefits of pistachios with Wonderful in-Shell Pistachios: They come in crunch-worthy flavors like Sweet Chili and Sea Salt and Vinegar, as well as Roasted & Salted, Lightly Salted and No Salt.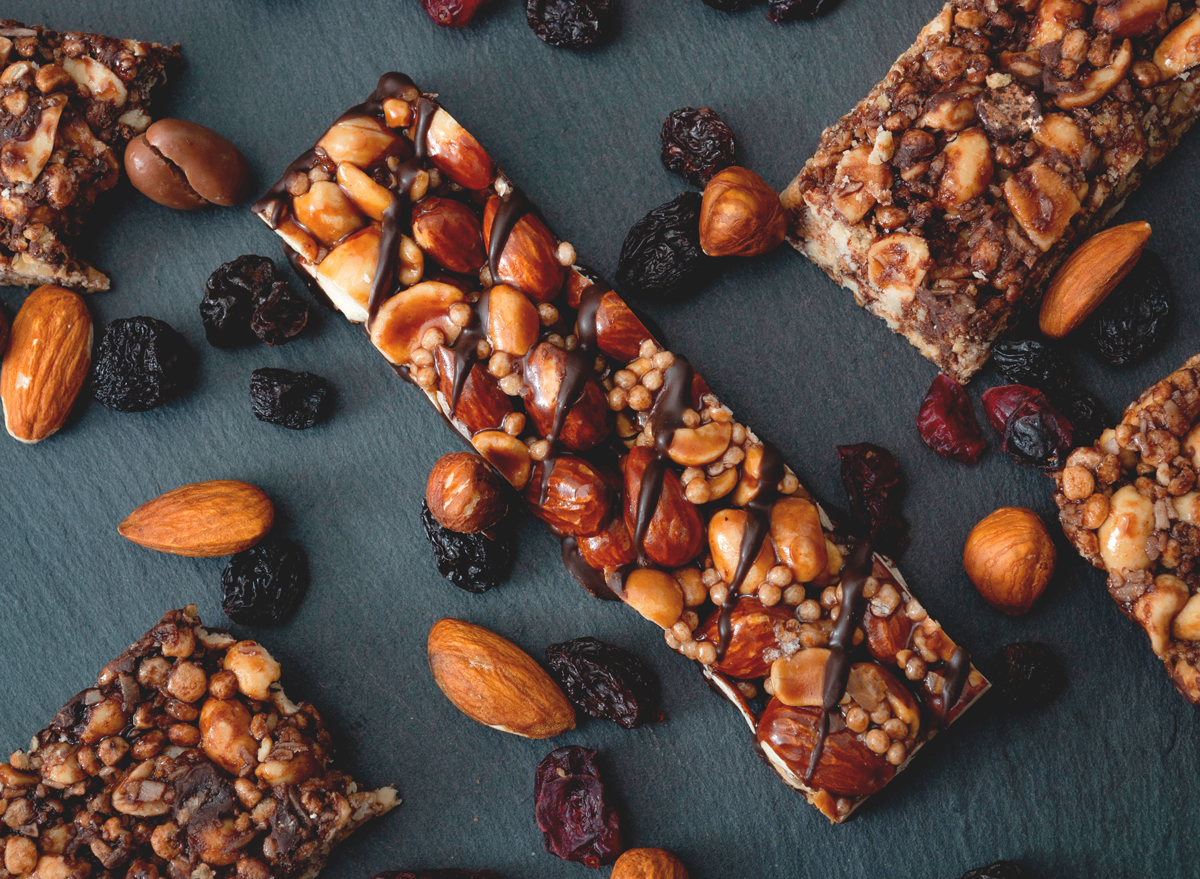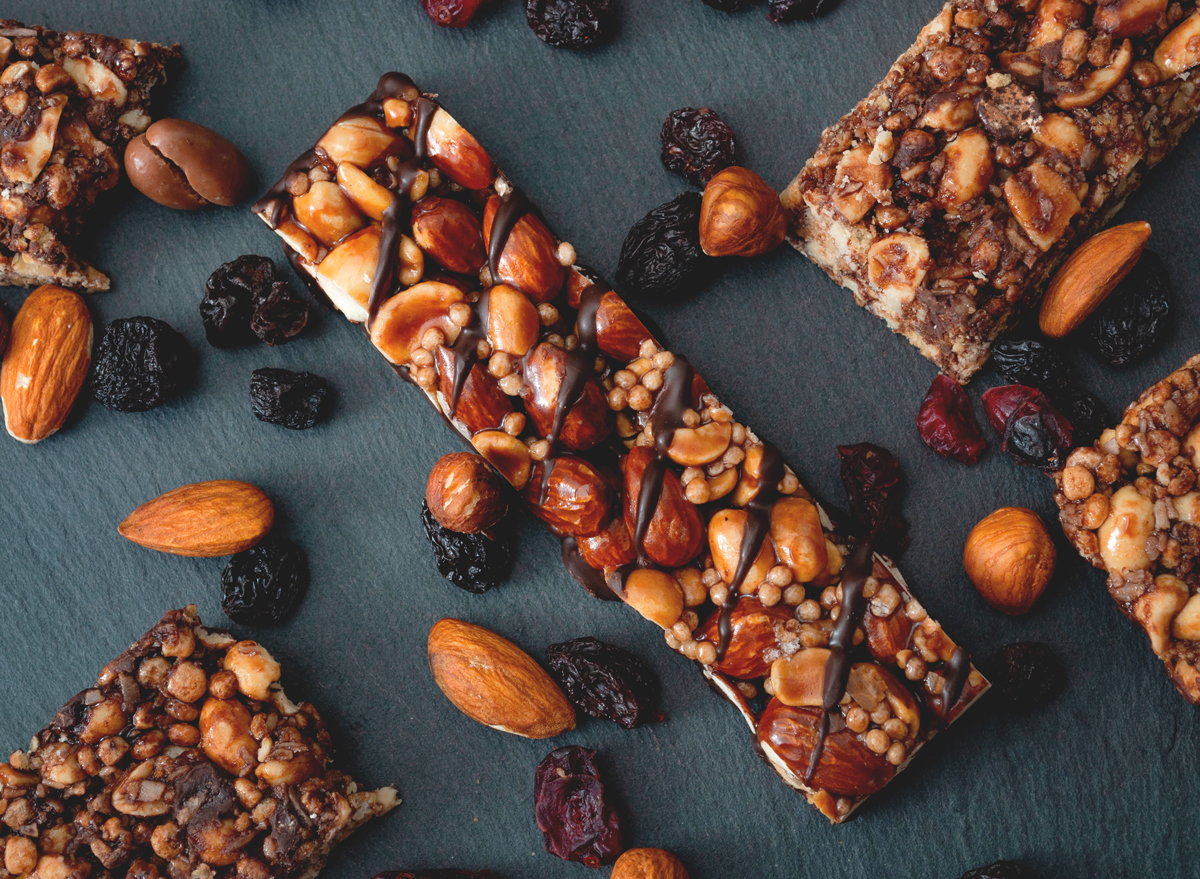 Time and again, research points to the benefits of consuming nuts when trying to lose weight. In fact, several studies have demonstrated an inverse association between higher nut consumption and lower body weight. Other studies have found that increasing nut consumption is associated with lower weight gain over relatively long periods of time. Experts contend that the healthy fats in nuts take longer to digest, which means you're less likely to need a second snack or a meal soon after consuming them.
Get in on the satiating benefits of nuts with the help of KIND. Their Dark Chocolate Nuts & Sea Salt Bars deliver 6 satisfying grams of protein and 7 grams of filling fiber—mostly from nuts—which means that they've got the right balance of nutrients to enable gradual digestion and leave you feeling fuller, longer. And chocoholics, you're in luck: These delicious bars are drizzled in just enough decadent dark chocolate to quell those sweet treat cravings, but with a portion-controlled, 180 calories and only five grams of sugar, they won't sabotage your slim-down.
The quintessential breakfast of champions also makes a great weight loss snack thanks to its low calorie count and high protein content. That's because eggs rank high on the satiety scale, meaning they do a great job of keeping you feeling full. Plus, research suggests that eating an egg with a meal can significantly reduce calorie intake over the rest of the day compared to eating a bagel.
While you can easily make your own hard-boiled eggs at home, for a precooked, pre-peeled version, we recommend Eggland's Best Hard-Cooked Peeled Eggs. Thanks to their proprietary all-vegetarian hen feed, Eggland's eggs have 25% less saturated fat, more than double the omega-3s and vitamin B12, and six times the vitamin D content than conventional eggs. This is of extra importance to those trying to slim down since research shows that getting adequate vitamin D can increase weight loss while reducing body fat.
Whether your goal is abs that show or a leaner body, protein shakes can be an easy way to get a decent amount of hunger-fighting protein at snack time. You'll want to avoid protein shakes that are loaded with sugar, additives, chemicals and boatloads of calories that would sooner expand your waistline than shrink it, and opt for healthy protein shake options.
We recommend Orgain's Chocolate Organic Protein Grass Fed Shake. At just 150 calories and a whopping 26 grams of grass-fed protein, this tasty treat can actually help with your weight loss efforts. In addition to the great calorie to protein ratio, this snack dishes out 750 mg of calcium, which is 60% of the recommended daily value. This matters because research suggests that increasing dietary calcium while restricting calories can significantly enhance weight and fat loss. Interestingly in this same study, those who increased calcium intake while in a calorie deficit also experienced increased fat loss from the trunk region of their bodies.
Related: The Best Store-Bought Protein Shakes, According to Experts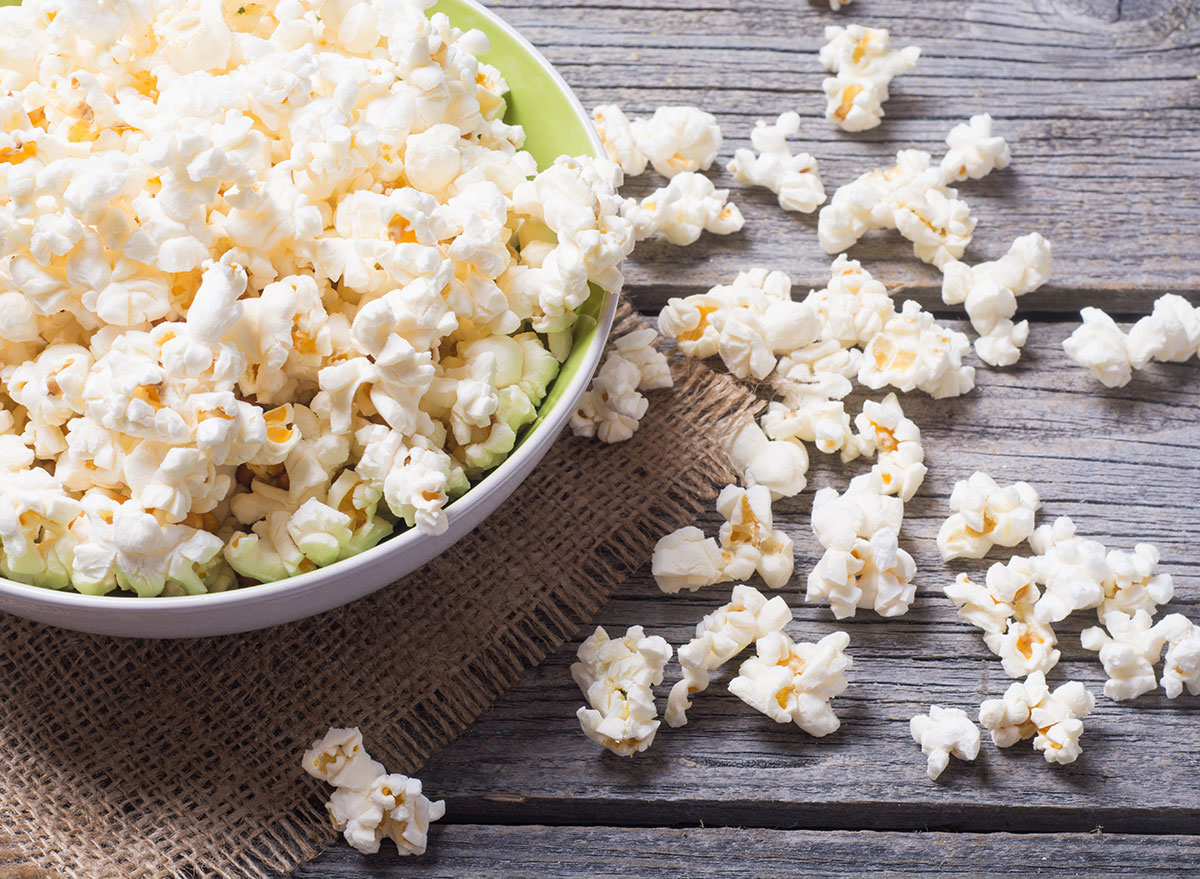 It's salty, it's crunchy, it's delicious, and it can help you lose weight. Research suggests that popcorn is more satisfying than chips and that choosing this whole-grain, high-fiber snack over chips at snack time can actually help you consume fewer calories at your next meal.
Healthy popcorn options are going to be air-popped and have few ingredients. These tend to be lower in fat and calories than your typical microwave popcorn bag that's covered in saturated fat-laden oils. Our favorite pick is Lesser Evil's Himalayan Pink Salt Popcorn, which has two grams of protein and four grams of fiber per 3-cup serving—all for about the same amount of calories you'll get in just nine potato chips.
Cottage cheese has been a staple of many weight loss diets for decades, and with good reason—it's packed with protein, low in carbs, and relatively low in calories. The predominant type of protein in cottage cheese is called casein; it's a type of dairy protein that is absorbed more slowly so it's better for stabilizing blood sugar levels, providing more sustained feelings of fullness and prolonging muscle protein synthesis after a workout for better growth of metabolism-boosting muscle. (Related: 14 Best Foods for Better Workout Results, According to Experts.)
Get in on the weight loss benefits of cottage cheese with organic and low-fat Good Culture single-serving cups of low-fat cottage cheese. In each 120-calorie serving, you get an impressive 19 grams of satisfying protein, making this tasty snack a great option when you're looking to shed a few pounds. Especially since it contains probiotics—live and active good-for-your-gut bacteria. Although the exact mechanism isn't completely understood, research suggests that probiotics can help with weight loss. The thinking is that probiotics positively impact the hormones that help to regulate appetite, fat storage and fat burning. Studies also suggest that probiotics may reduce inflammation, which is important since an inflamed body can lead to obesity.
If you've found yourself tearing through snacks feeling as empty as when you ripped open the first package, get ready to meet your match: lupini beans. Like all legumes, a diet that regularly includes lupini beans may help with weight control thanks to the fiber, protein, and slowly digested carbohydrates that they contain that have been shown to aid in satiety. And if you're really looking for the most filling bang for your bean buck, lupini beans really score with nearly twice the plant-based protein compared to most beans—and more fiber too.
Lupini beans have made their delicious debut at snack time, thanks to BRAMI's delicious spin on the lupini bean. BRAMI's beans are marinated in delicious Mediterranean-inspired flavors like sea salt and vinegar, rosemary and garlic, hot chili peppers, and chili and lime, so there's something for everyone. And their appeal goes well beyond their flavor: In just one, 60-calorie serving, these super snacks pack in a whopping seven grams of satiating plant protein, and five grams of filling fiber. For more ways to lose weight, try these 25 Best High-Fiber Snacks to Buy That Keep You Full.
Disclaimer: The Nutrition Twins have partnered with Simply Snackin', Wonderful, KIND, Eggland's Best, and Chobani. All thoughts and opinions are their own.
Tammy Lakatos Shames, RD, CDN, CFT and Lyssie Lakatos, RD, CDN, CFT
Lyssie Lakatos and Tammy Lakatos Shames, The Nutrition Twins®, are leading experts in healthy living with experience motivating, and empowering thousands to get healthier, happier, and into shape.
Read more about Tammy Lakatos Shames, RD, CDN, CFT