21 Healthy Grab-and-Go Snacks Perfect for Busy Days
Grab these portable protein snacks to fuel up and crush cravings on the go.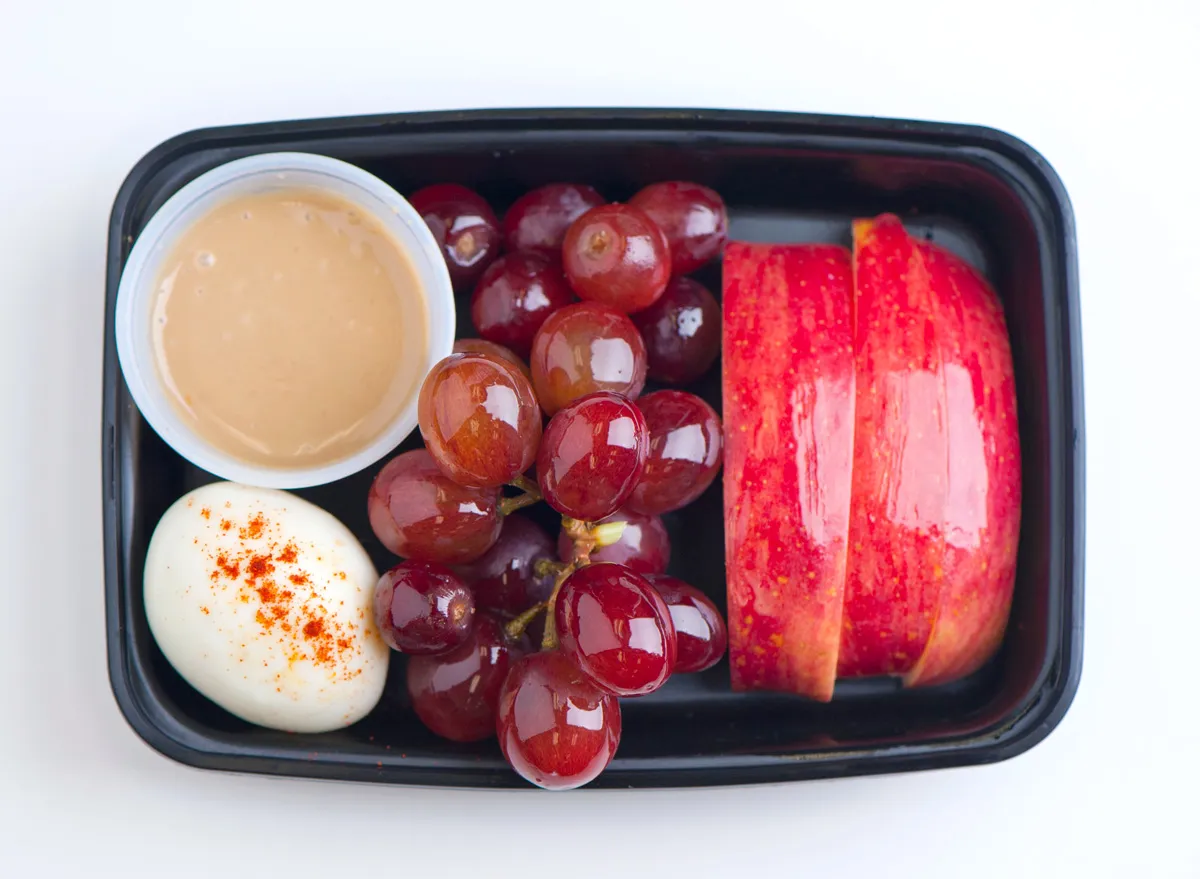 Whether you're a mom who needs a nutritious, on-the-go option for when she's waiting for soccer practice to wrap up or you're a student who is suddenly starving in the middle of a lecture, having some easy, healthy snacks on the go can be a game-changer for your busy days.
We've hand-picked our 21 favorites; keep them in your bag at all times to keep hunger at bay. And for more tips to fend off that hunger monster that's causing you to overeat, don't miss these 9 Healthy Foods That Turn Off Your Hunger Switch Fast.
Roasted Chickpeas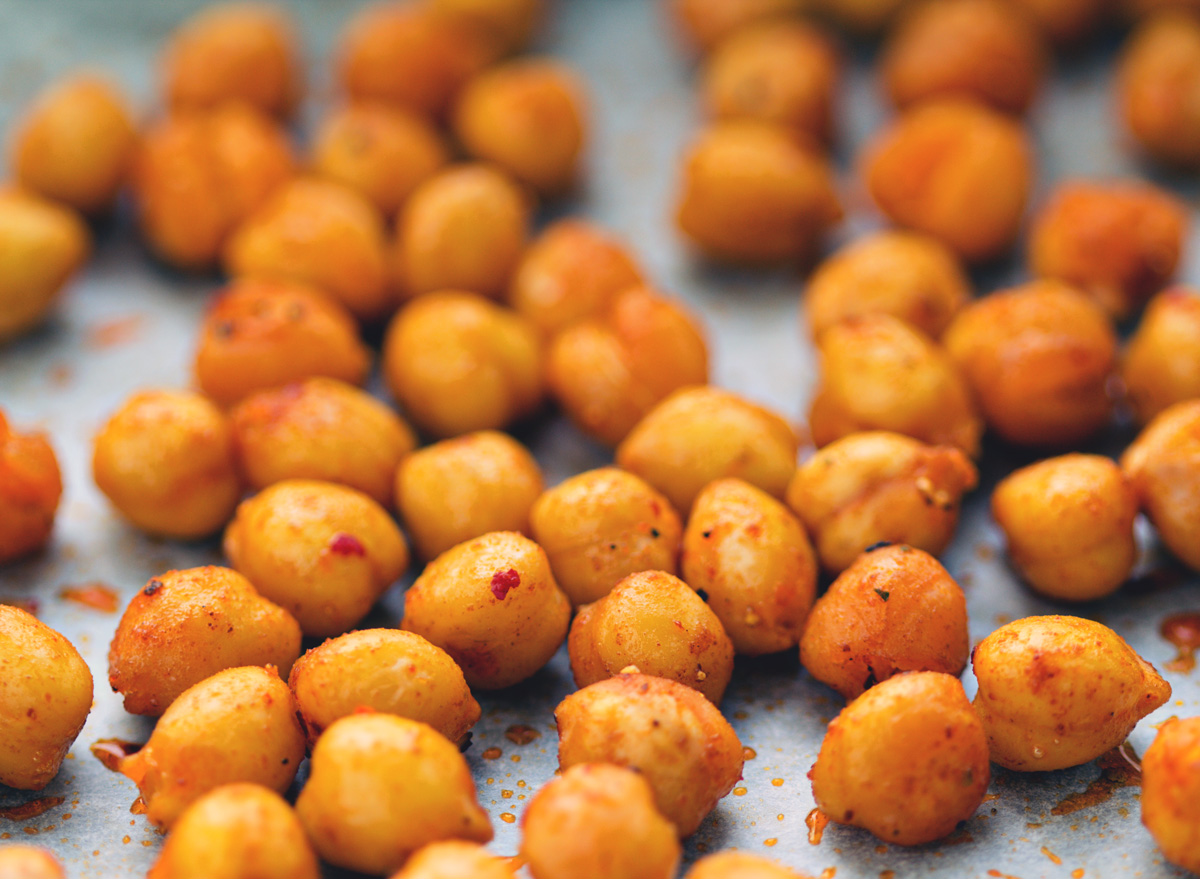 Chickpeas, the base ingredient of your beloved hummus, boast an impressive 50 grams of protein in one cup. Break that up into a smaller ½ serving and roast the seeds for 25 grams of protein snacking. Bonus: It also packs plenty of healthy fiber and carbohydrates, both necessary for keeping you going throughout a busy day.
STAY INFORMED: Sign up for our newsletter to get the latest food news delivered straight to your inbox.
Jerky
Jerky made from beef, chicken or turkey is both perfectly portable and packed with upwards of 28 grams of protein per 3-ounce portion. A vacuum-packed package of jerky doesn't take a lot of space and won't stink up your bag when you're on the go during the day. Just be sure you pick a low-sodium and low-sugar variety, as many companies add both to their products to amp up the taste.
Mixed Nuts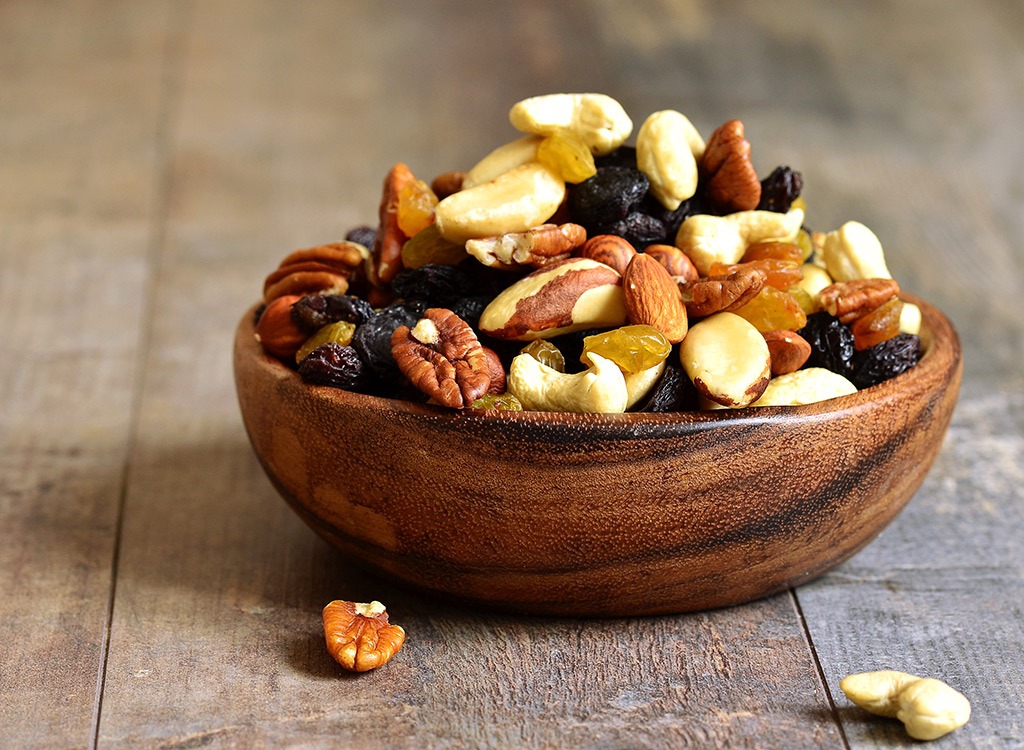 A portion of healthy mixed nuts—meaning varieties without added flavoring or salt—is a protein-packed snack that will last for weeks. Your best bet is to add an ounce of pistachios to a mix that includes peanuts to add an additional 6 grams of protein to your snack.
Single-Serving Greek Yogurt
Greek yogurt packs a huge protein punch in a small package, but it can turn into a sugar and calorie bomb if you don't pay attention to nutrition labels. A single-serve container of Greek yogurt (about 5 ounces) gives you 15 grams of delicious protein. Stick with unsweetened versions that contain little sugar (8 grams or less) and low amounts of fat.
Apples and Almond Butter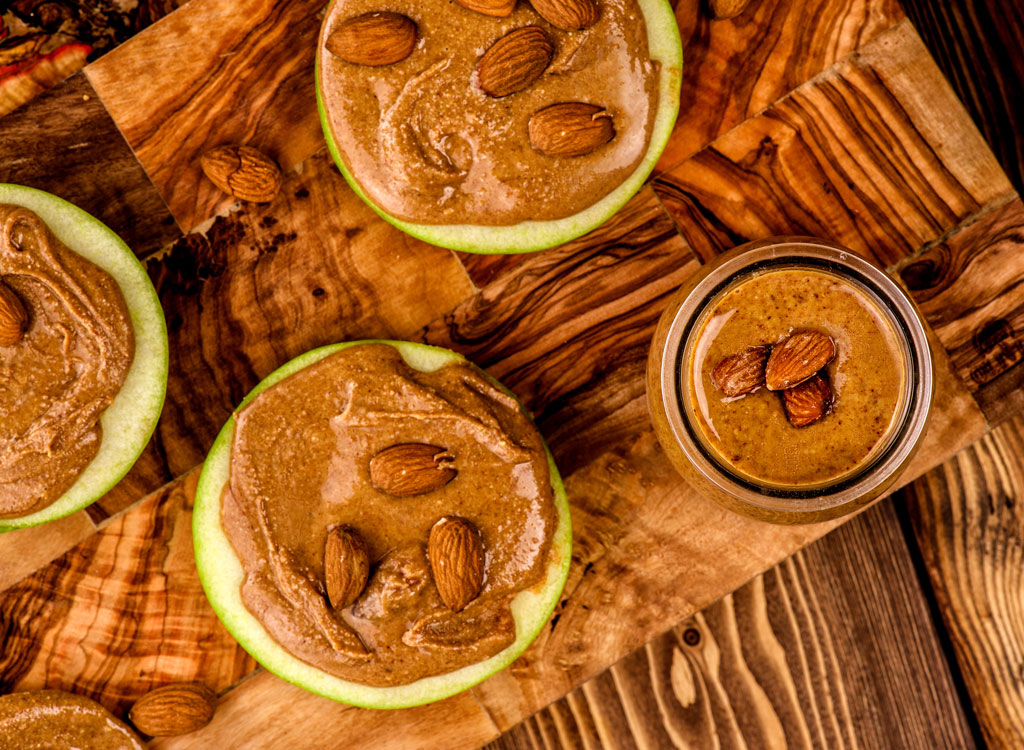 This snack is the perfect mix of sweet, savory, and protein. Simply cut up one regular apple and then dip in unsweetened almond butter. One serving of almond butter is approximately 2 tablespoons and works out to about 7 grams of protein.6254a4d1642c605c54bf1cab17d50f1e
Peanut Butter and Celery
Apples not your thing? Try combining celery with your favorite all-natural peanut butter to create a throwback snack that'll remind you of your days in elementary school. Simply cut up a couple of celery stalks and top with your favorite PB. One serving of the nutty stuff is about 2 tablespoons, which works out to about 7 grams of protein.
'Cheese' Popcorn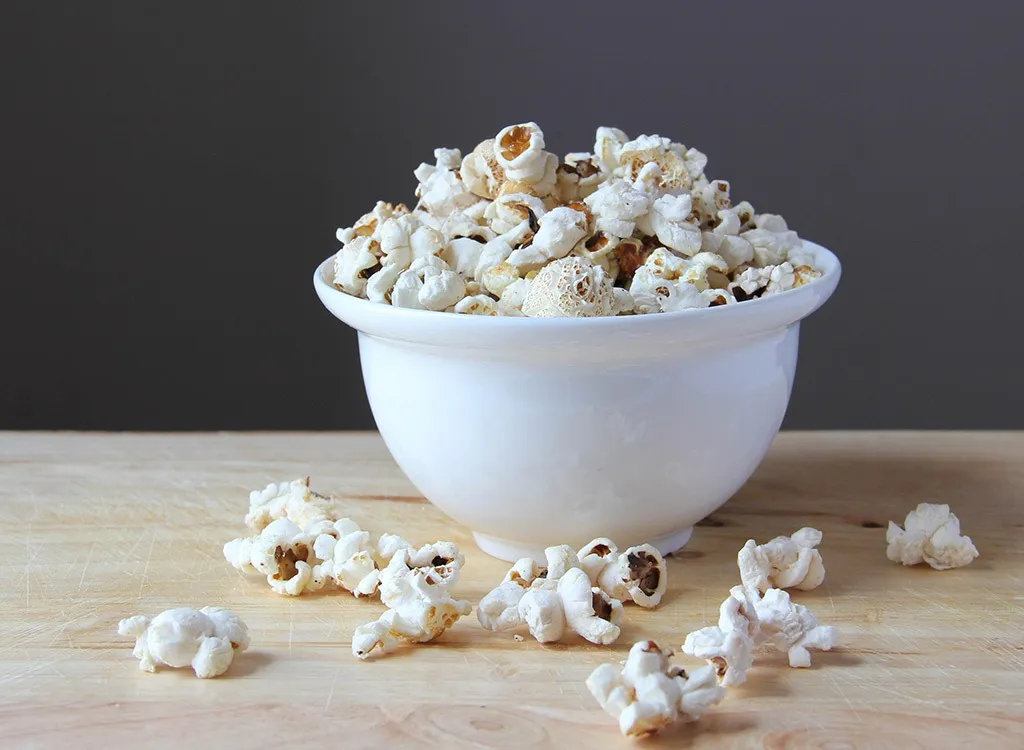 Surprised to find cheese popcorn on a list of healthy protein snacks? Well, sprinkling a bit of parmesan cheese over air-popped popcorn is nothing like the nightmare of movie theater popcorn. Popcorn is actually a great source of fiber and low in calories and you can add extra protein by sprinkling it with nutritional yeast, or "nooch," which is a vegan option that tastes like parmesan cheese. This gives it a cheesy taste with an extra 8 grams of protein.
Pumpkin Seeds
Pumpkin seeds are part of the "guts" that come out when you carve pumpkins, but they deserve just as much fame as the outer shell. The seeds are packed full of protein—a 2/3-cup of roasted pumpkin seeds boasts 8 grams of protein. Add a little extra taste with a dash or two of salt or chili powder.
Edamame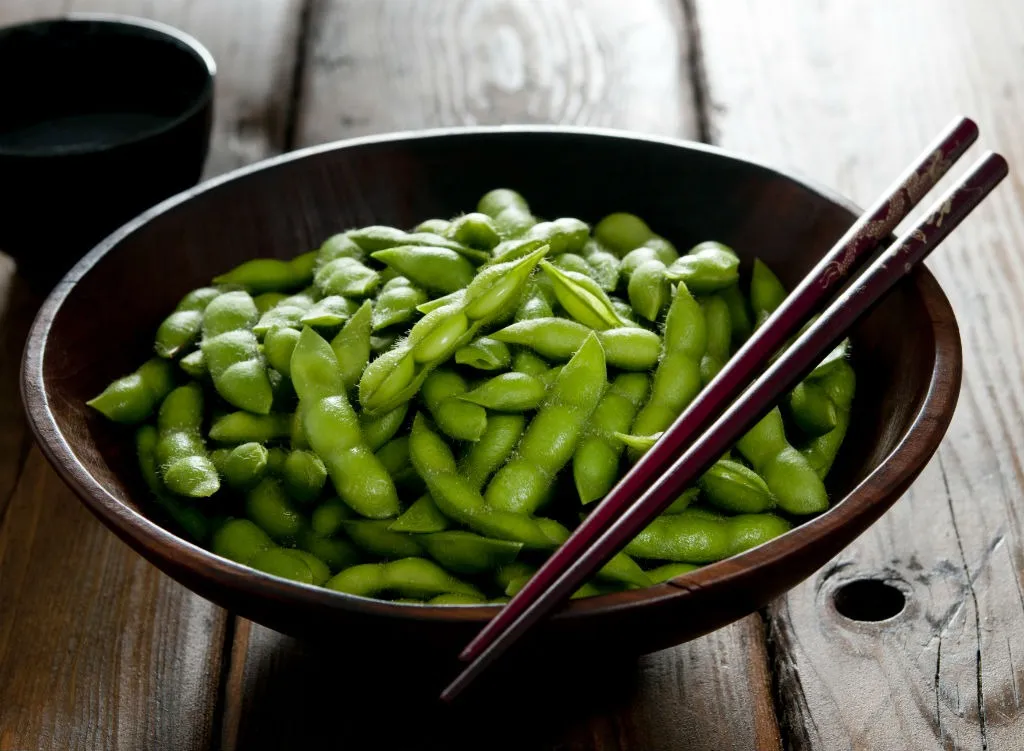 This sushi restaurant staple should make it onto your normal protein snack rotation. The reason: Every cup packs only a few calories, but 17 grams of protein. Many companies now make pre-packaged servings, making it easy to get the refreshing crunch on the go.
Hummus and Veggies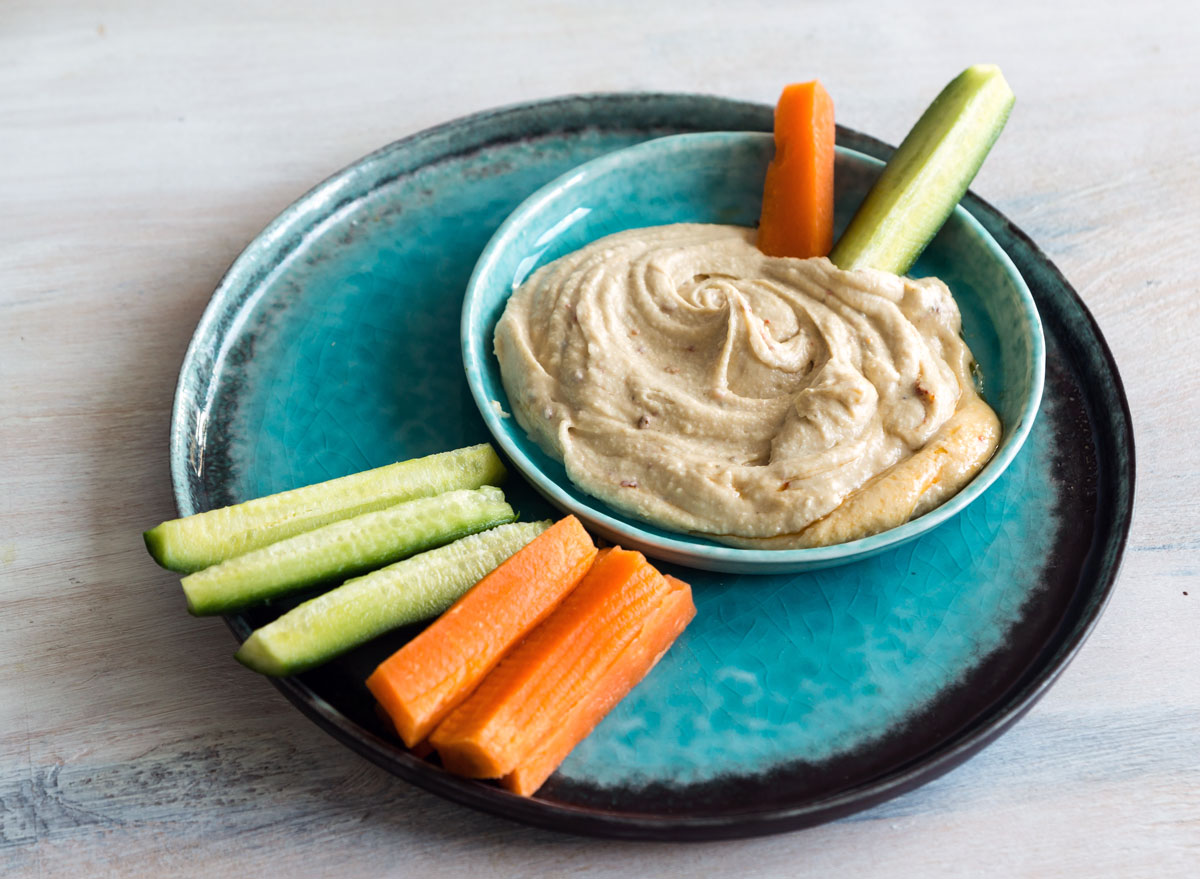 Hummus, created with chickpeas, is now sold in single-serving packages that you can grab on your way out the door. These 2-ounce packages clock in at 4 grams of protein, so just slice up some vitamin-packed red pepper, carrots or celery for a healthy alternative to gas station-bought potato chips and dip.
Almonds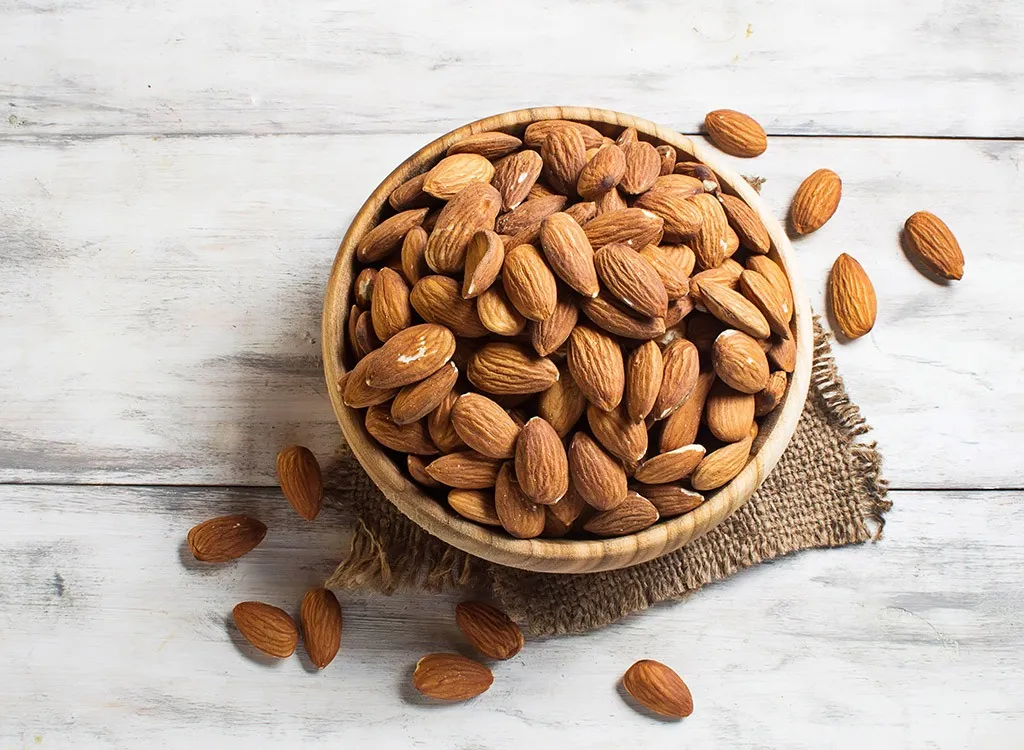 Almonds are now almost synonymous with a healthy diet—and for good reason, because an ounce serving of almonds packs about 6 grams of protein. Almonds on their own can be kind of bland, but roasted versions add more taste—just make sure there isn't of added salt or sugar.
String Cheese
Your mom was onto something when she gave you string cheese as a kid—it's both tons of fun to peel and it's a perfect portable protein snack (say that five times fast!). One stick of the stringy stuff is only about 80 calories with 8 grams of protein! In fact, string cheese is actually on the list of processed foods nutritionists approve of.
Tuna and Cracker Kits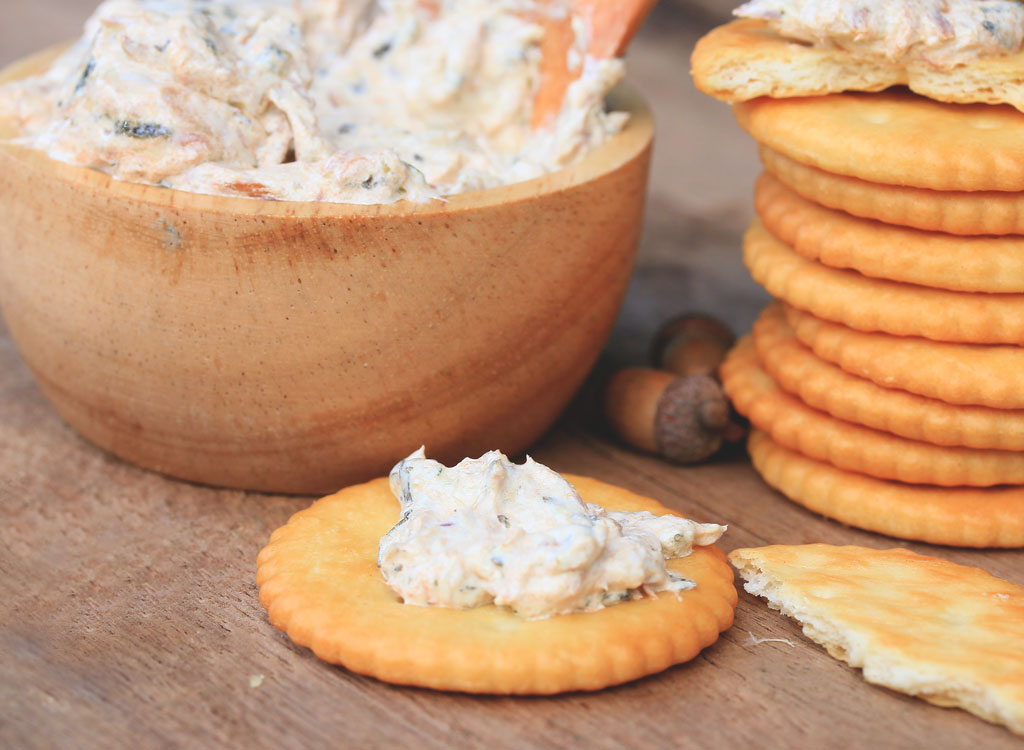 The popular tuna makers like Bumble Bee and Starkist now offer protein-filled tuna in pre-made kits that come with crackers and plenty of extra flavor in the form of seasonings like lemon and cracked pepper. These easy-to-tote packs boast upwards of 18 grams of protein, too.
Trail Mix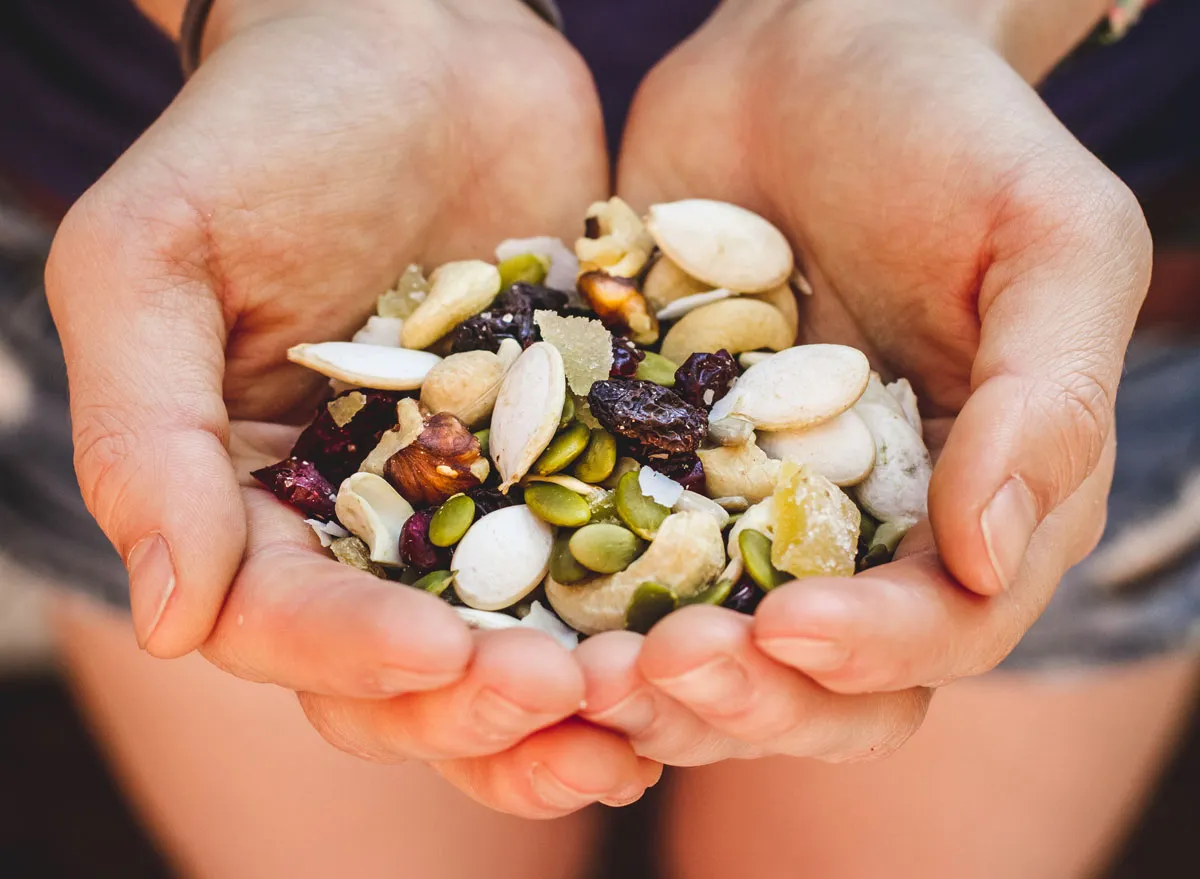 Trail mix is one of those snacks that can be healthy or extremely unhealthy depending on what you put in it. That said, a healthy trail mix made with peanuts, almonds, sunflower seeds, pumpkin seeds, and a few dried cranberries can pack a ton of protein per serving. Just make sure you're keeping those servings low so you aren't throwing down hundreds of extra calories for a snack. The oversized trail mix bags are one of the worst airport foods but otherwise not so bad if you keep it all in check.
Whole-Grain Protein Bars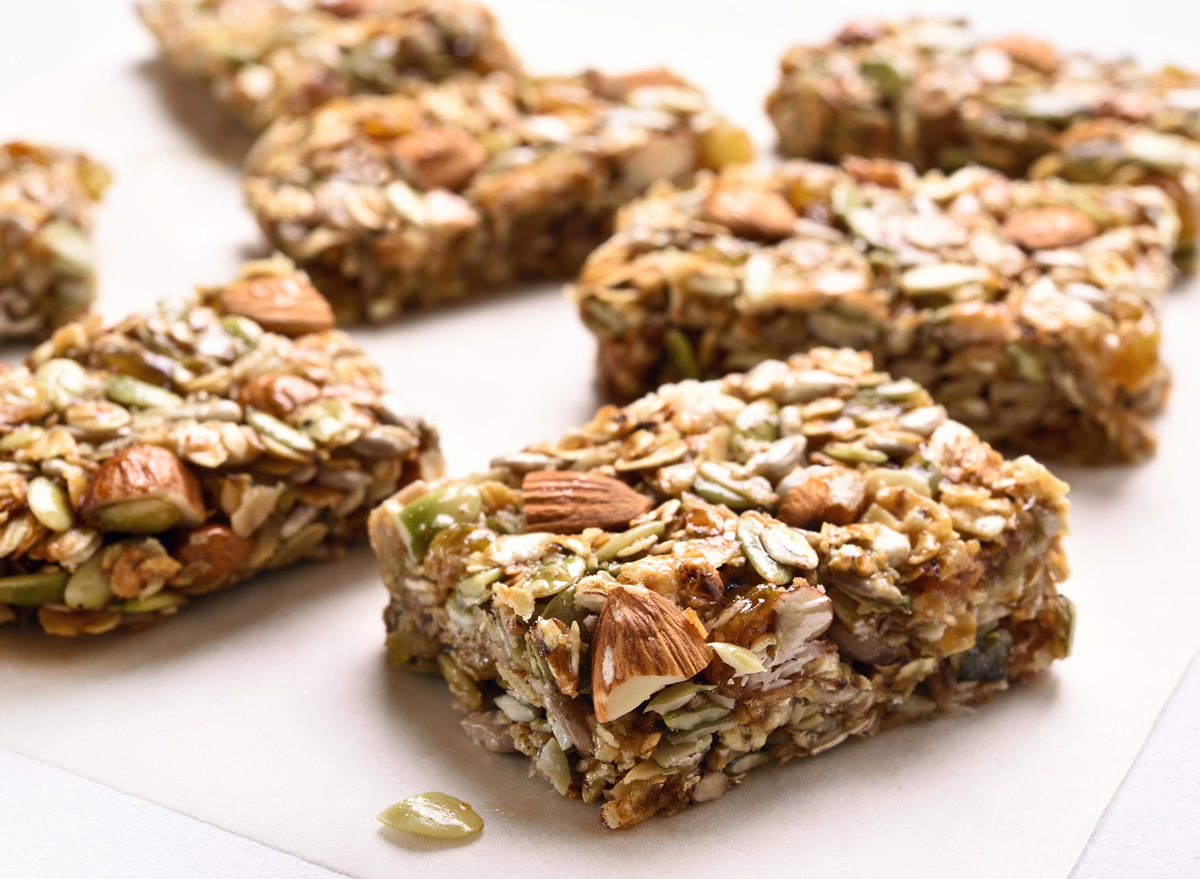 Protein bars are protein bars, right? Not at all. Companies have recognized that putting "protein" on the label is sure to make people think it's healthy, but many of these bars contain a whole bunch of sugar and other waistline-expanding ingredients. Instead, get your on-the-go protein fix with whole-grain bars that boast low sugar and more protein than carbohydrates.
Protein Shakes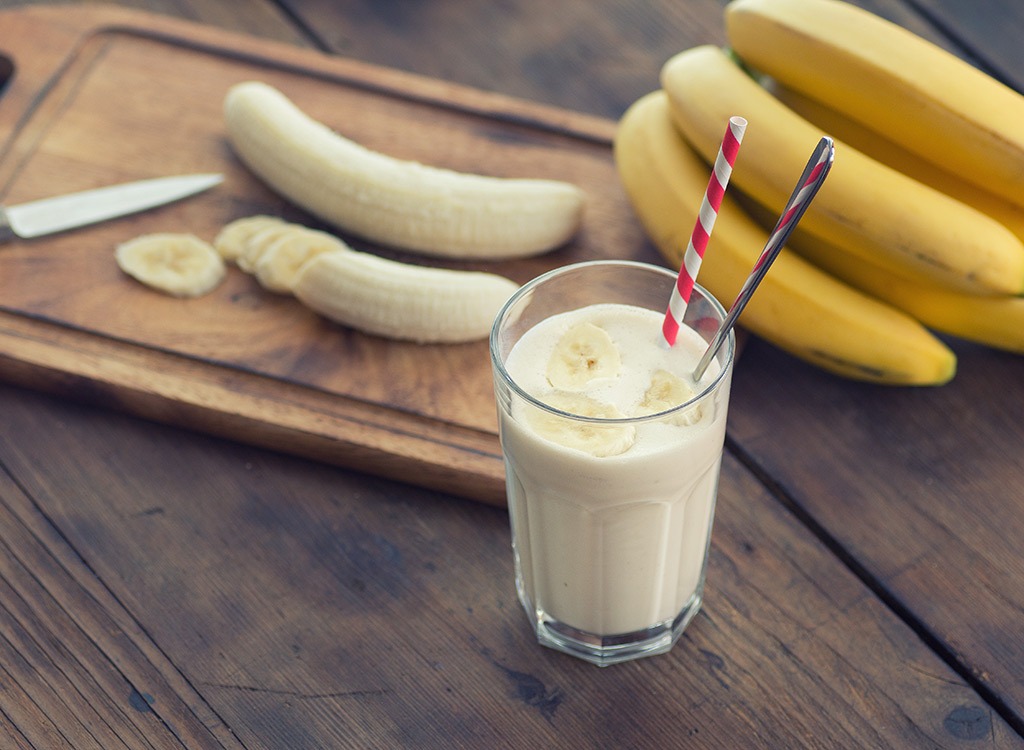 Whey and plant-based protein powders are popular with fitness-conscious people because they know the importance of staying up on muscle-building proteins. Powdered protein shakes make it super simple to get some protein in while on the go—just shake a scoop with water and you'll get 15-30 grams of protein in one fell swoop. Just be sure to pay attention to sugar counts because some companies add a ton of extra fillers to make their protein powders mimic milkshakes.
Single-Serve Cottage Cheese
We know, we know: Cottage cheese can be an acquired taste. But you're in serious luck if you love the curds: A one-cup serving of cottage cheese has an astounding 25 grams of protein. Many grocery stores now sell one-serving containers of it, making it easy to take on the go. Just be sure you pack it in a cooler because it's best enjoyed super cold.
Hard-Boiled Eggs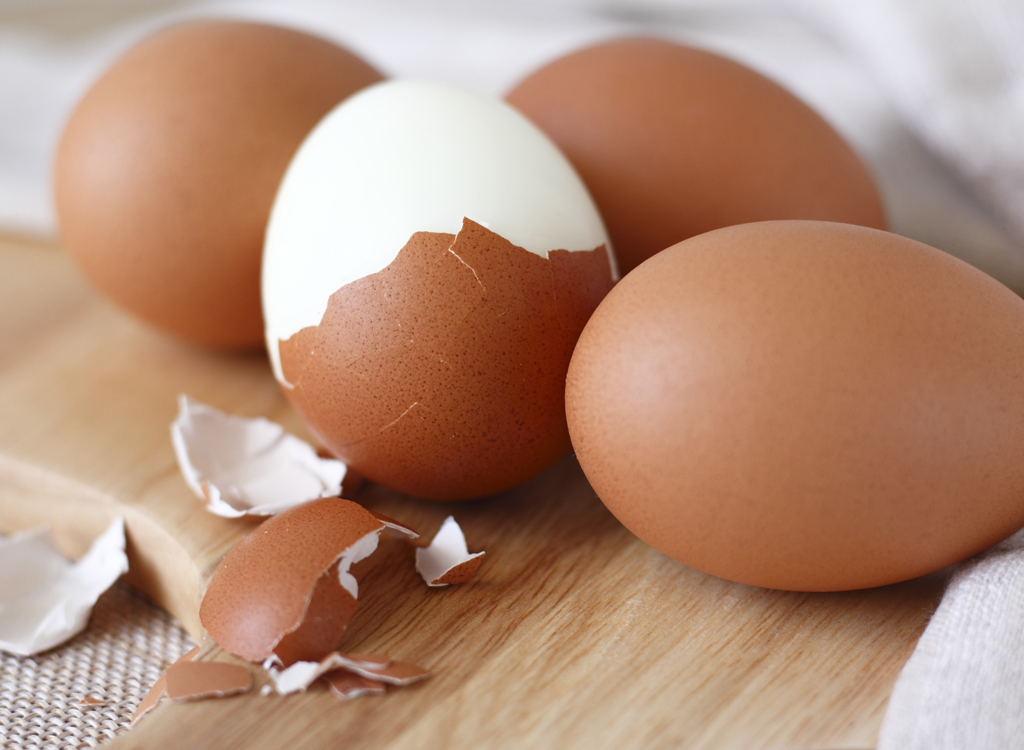 There's a real reason to love eggs: At 85 calories and a solid 7 grams of protein, hard-boiled eggs are an easy snack to take on the go. Egg whites might be the staple of a healthy diet, but don't get rid of the yolks. The yellow part of the eggs tastes good and also boasts a fat-fighting ingredient known as choline.
Single-Serve Oatmeal Cups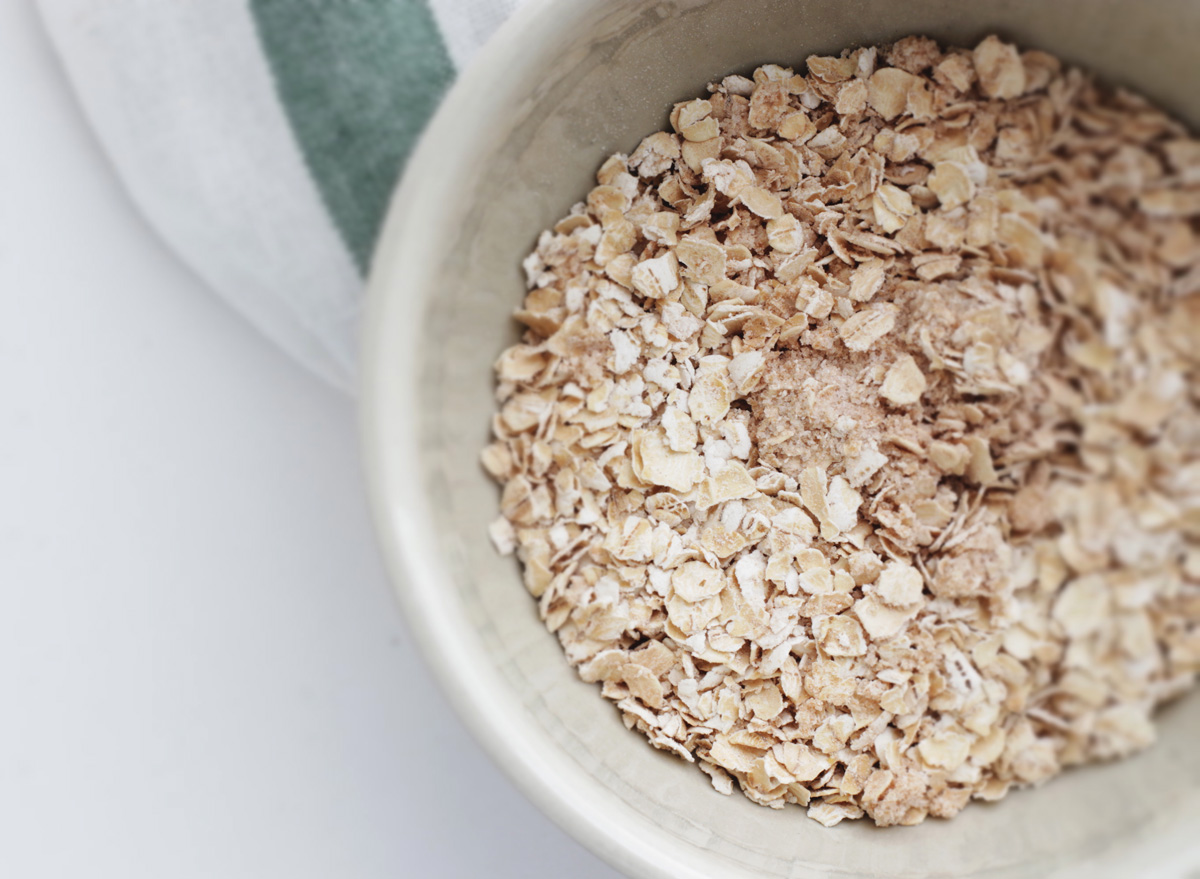 Oatmeal is one of the easiest things to tote along, thanks to individual-sized packets and cups now available in many grocery stores. Some convenience stores also sell the snack that clocks in at 6 grams of protein in a cup serving. Bonus: Many times these stores also have microwaves for customer use, so you can heat up your snack in a snap for a quick bite of oats while traveling.
Low-Fat Chocolate Milk
Chocolate milk has gained a bit of a reputation as a good post-workout recovery drink, thanks to both its taste and protein count. A cup of chocolate moo juice contains 8 grams of protein. Look for low-fat versions to keep the calories down without sacrificing the muscle-building protein.
Kefir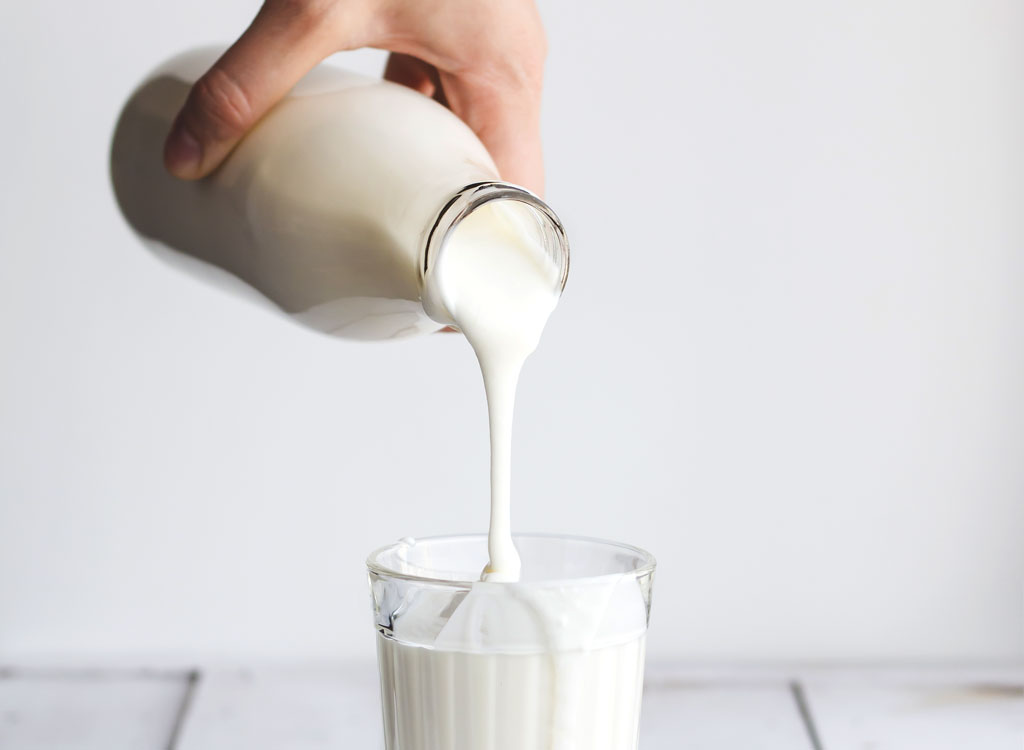 Kefir has gained a reputation as a good way to keep your gut in check, thanks to its fermentation process, but this milk-like liquid boasts an astounding 10 grams of protein per cup. Like cottage cheese, kefir can be something you have to get used to before it becomes your go-to protein booster. Luckily, many companies now sell kefir-based drinks infused with healthy ingredients to up the taste profile without sacrificing health. If you'd prefer another healthy, drinkable snack, try these Best Bottled Smoothies You Can Buy, According to Nutritionists.
Read more:
Costco Members Share The 15 Healthiest Snacks You Need Right Now
20 Discontinued Snacks May Never See Again