Secret Little Tricks for Walking More Every Day, Say Experts
After all, any walking is good walking. Here's how to fit more of it into your days.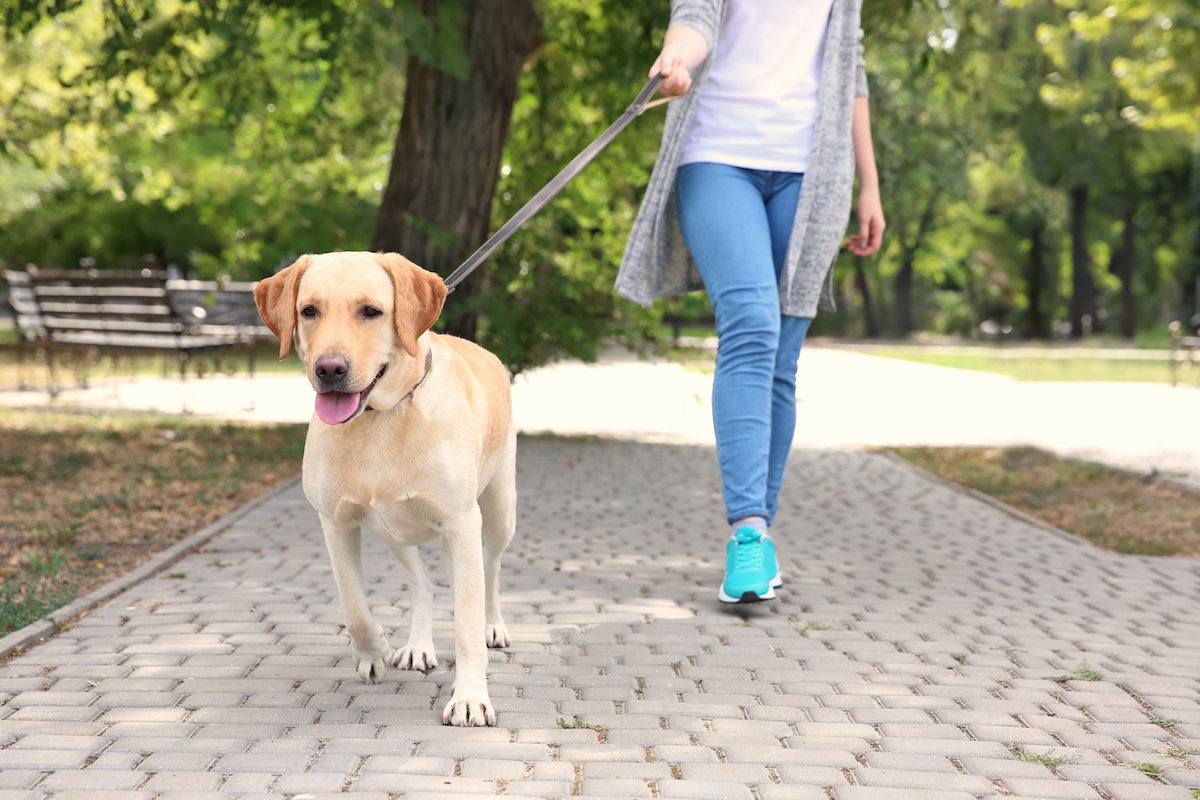 Whether you're on a track, treadmill, trail, sidewalk, stairwell, escalator, or simply the hallways of your office, any walking is good walking—assuming you're using proper form. And while health experts remain divided on any single number of daily steps you should aspire to walk, everyone agrees that more walking is never a bad thing. If you lead a busy life and you're looking for some clever ways for squeezing even more steps into your days, excellent news: We reached out to several top trainers and health experts for their best advice for doing so. So read on for their answers, and for more life-changing walking advice, make sure you're aware of The Secret Cult Walking Shoe That Doctors, Nurses, and Restaurant Workers Are All Totally Obsessed With.
Don't Walk 6,500 Steps Per Day. Walk 201,500 Steps Per Month.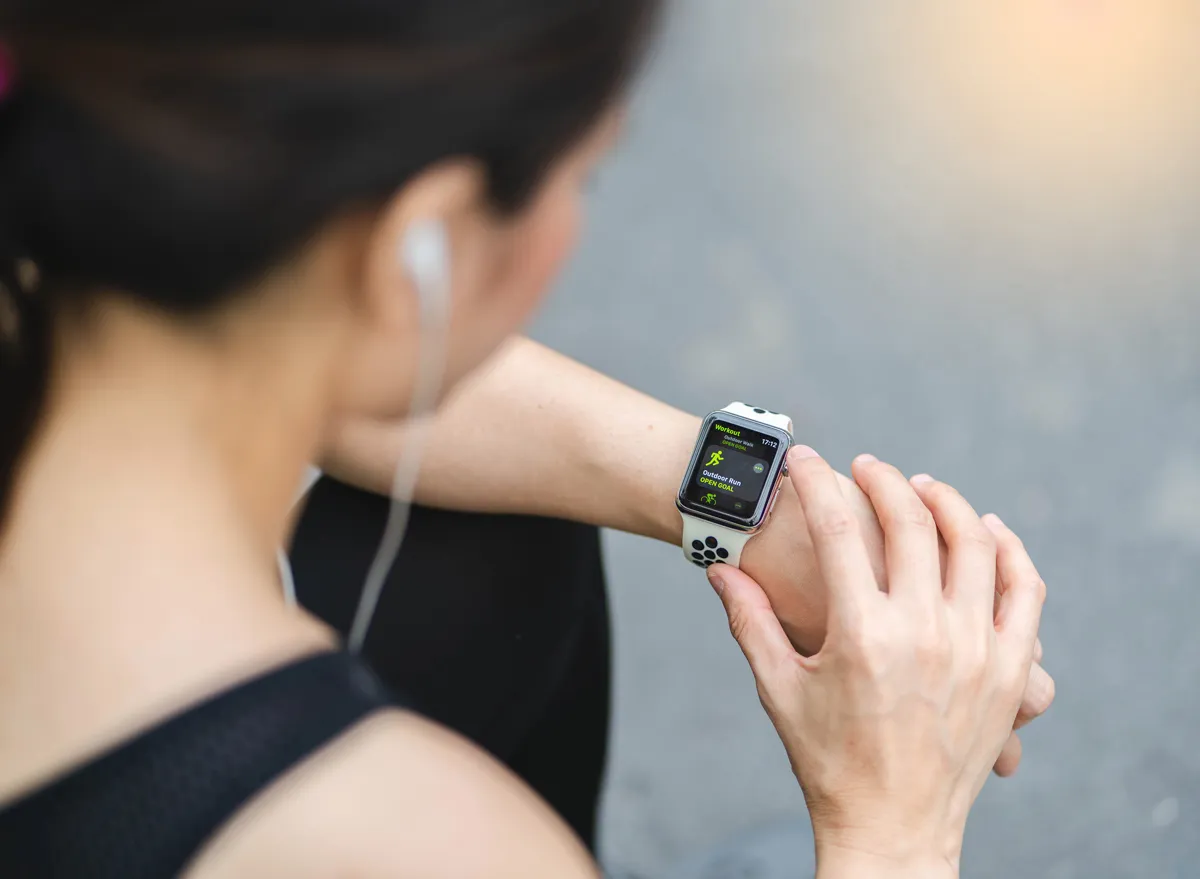 For years, health experts—and clever marketers—have told you that it's wise to get in a certain number of steps per day. While it's a worthy goal to hit a daily number, Melissa Morey CPT, RD, a personal trainer and registered dietitian at myRAteam, would advise you to think even bigger.
Set a monthly step count you want to achieve. Instead of setting a daily goal of 6,500 steps, set a goal to reach 201,500 steps over 31 days. You may find yourself going farther than you would previously as you chip away at the bigger number.
Also, she advises you to motivate yourself with a perk at the end if you meet or exceed your goals. "Set a reward for yourself, like a new paddleboard, or an item that you've been wanting to a long time," she says. "If you meet your goal every day then you earn your reward!" And if you love walking, make sure you know The Secret to Walking Your Way to a Lean Body, Say Experts.
Ditch the Music, Listen to Podcasts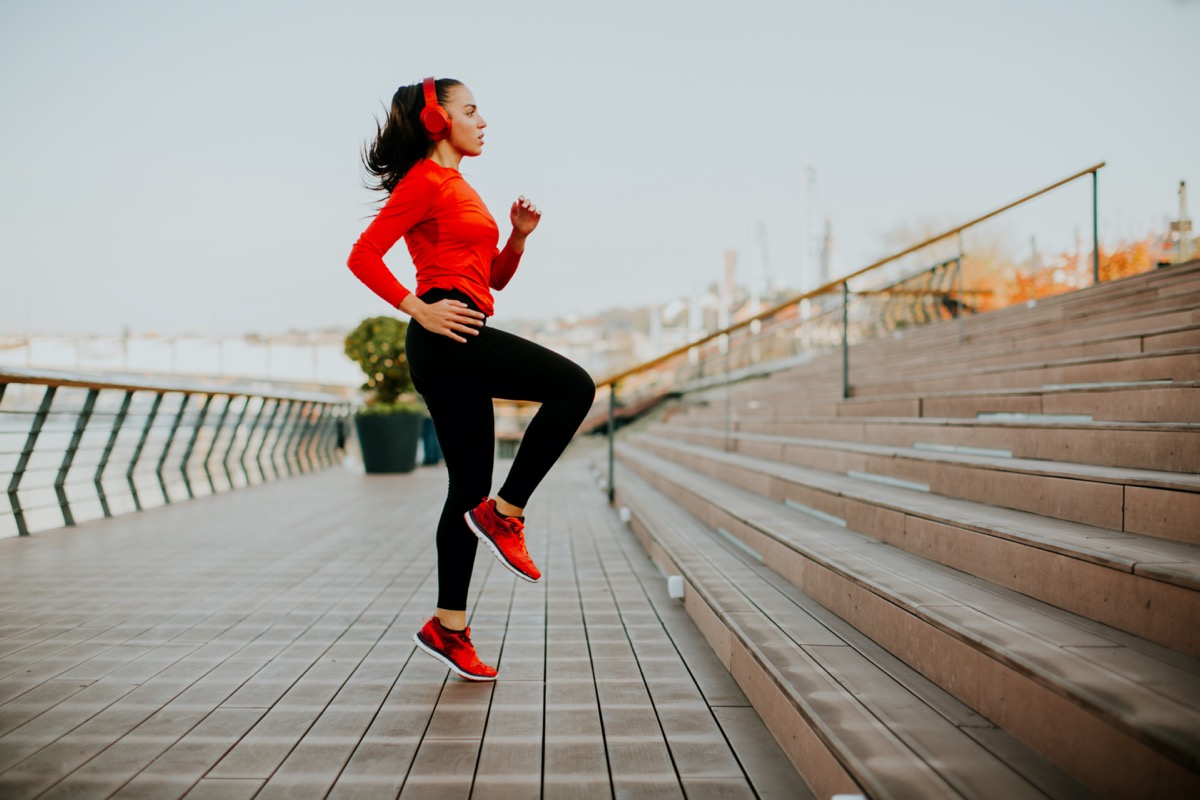 "When walking or running with music, we tend to try to match our steps to the rhythm and end up going too fast or too slow," says Steve Stonehouse, USATF Coach and Director of Education for STRIDE. "Or you've listened to the same songs hundreds of times. Instead, find an audiobook or podcast you love and get lost in a story."
In the end, Stonehouse says, there's a good chance you'll walk more. Songs last 3, 4, or 5 minutes at a time. Podcasts last much longer. By walking to a podcast, you'll be walking to time, and not necessarily distance. If you focus on walking for one hour, you'll likely get a longer and more fruitful workout than if you simply focused on walking for exactly 4 miles while listening to music.
If you get lost in an audiobook, you may find yourself more engaged, and you're more likely to keep going when you can't wait to hear what happens next. And for one amazing tip for getting even more out of your walks, don't miss The Secret to Walking for Exercise, Says Harvard.
Be More Deliberate While Working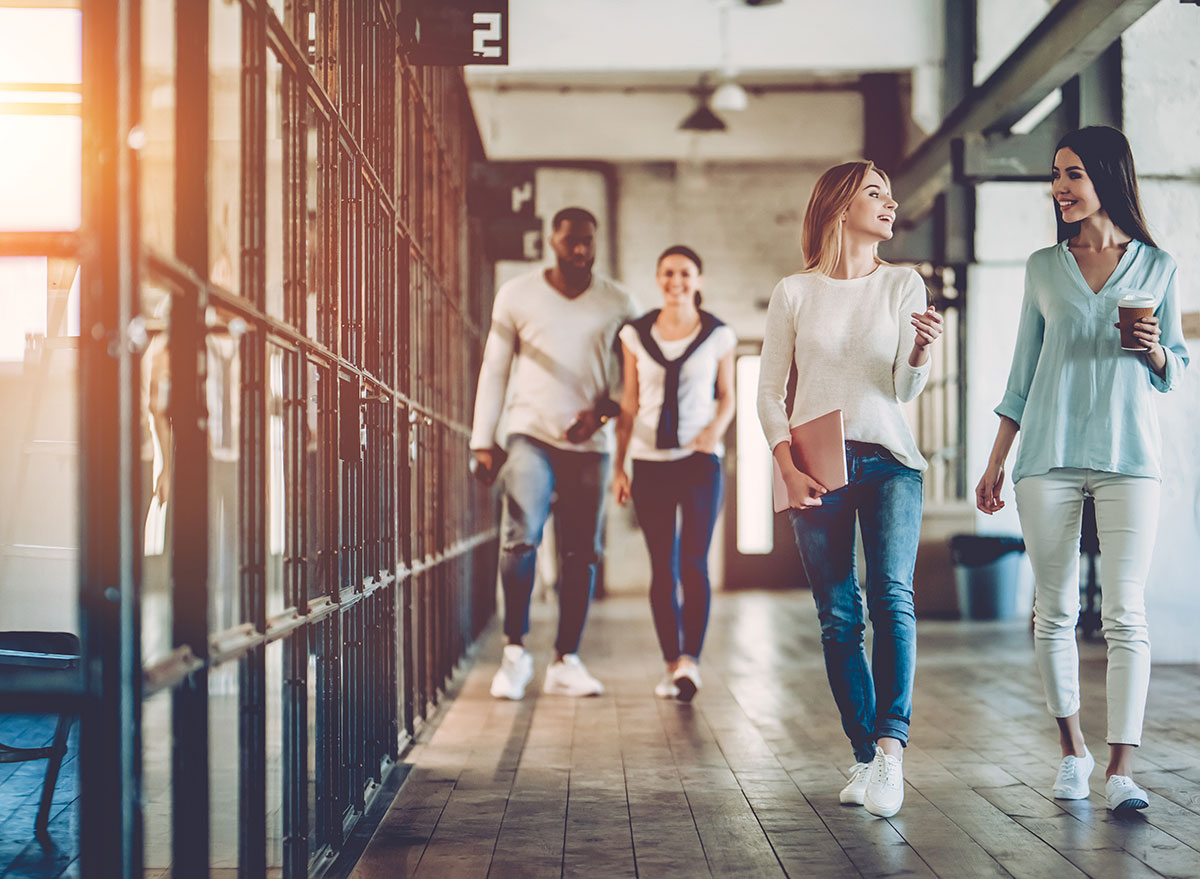 "Be deliberate with your time during work," says Lindsay Junk, President of YogaSix. "Try walking meetings or phone calls to eliminate distractions and be more present, but also so you get in some light physical activity. You'd be surprised at how far you can walk during a walking meeting if it lasts more than 30 minutes. If you need to take notes during the meeting, do it on your phone."
Take a Lap Around Your Home During Commercial Breaks
Just because you're watching TV doesn't mean you need to be totally sedentary. "March in place or do laps around the dining room table during each commercial break," says Kim MacDonald, MPT, DPT, a physical therapist at Crimson Therapies. She also advises you to make games with your children based on walking. "Make an adventure out of it with the kids by choosing a purpose of the walk: a new park to visit, finding certain flowers, berries, etc., or treasure hunting with objects in nature. Keep score who finds the most/or something first," she says.
Rescue a Dog
"Rescue a dog, and you'll have no choice but to walk it," says Jake Dermer, NASM CPT, a corporate wellness consultant and author of The Desk Job Survival Guide. "If you don't walk your pup daily, you'll have bigger problems than finding the motivation to walk."6254a4d1642c605c54bf1cab17d50f1e
Create a "Commute"
"The trick with introducing more walking is making it achievable—just promising yourself you are going to walk more makes it far too easy to make excuses to not do it," says Thomas Fultz, CEO and Founder of Coffeeble. "One of my tricks working remotely is to still have a 'commute' where I take a walk for roughly 30-40 minutes, even if it just circles back to my house. Not only does it make sure that I'm walking twice a day, but it also helps give me time to unwind and separate my home and work life, making it perfect not just for my physical health, but also my mental health."
Get a Treadmill Desk
"For less than $300 you can set up a discreet standing desk treadmill and burn over 300 calories an hour," says Tim Fraticelli, DPT is a physical therapist. It's a great way to stay active and burn calories without burning through your budget." For proof, see how this one working mom managed to walk 6,500 miles in a year—and lose 50 pounds—all while walking at her desk.
Declutter Your House More Often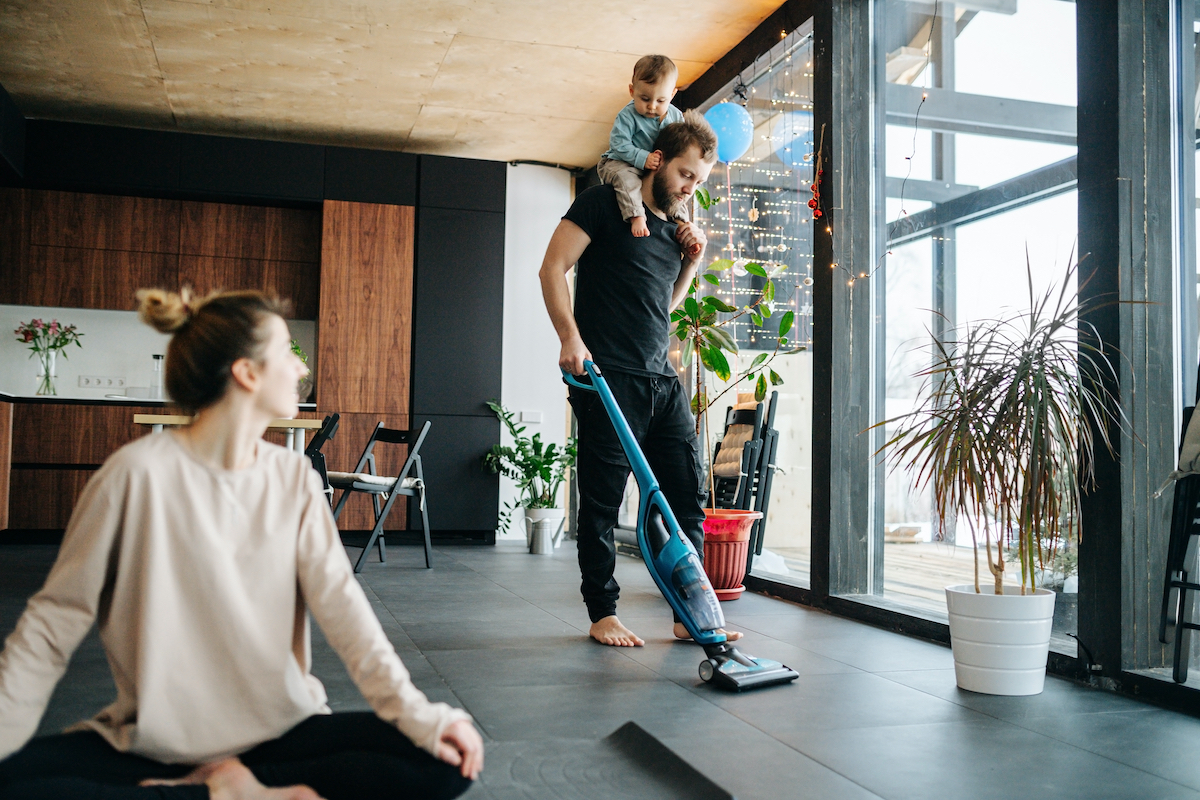 "De-cluttering the different rooms or spaces of your house gives you plenty of reasons to take more steps regularly," says Amber O'Brien, RD, from the Mango Clinic. "De-clutter your wardrobe, bedroom, and kitchen on a daily basis so that you don't find your walk like an exercise."
She also advises you to drink a lot of water every day. "Get yourself habitual of drinking lots of water and other fluids so that you have an excuse to walk to the bathroom," she says. "Plus, be sure to walk to the bathroom that is on another floor to increase the numbers of steps."
Set a Timer
Finally, the easiest and most obvious trick of all: Set a timer to get up and take short walks throughout your workday. "Make it a routine to take a 10-minute walking break every two hours of your workday," says Joshua Lafond, NASM PT, founder of Healthy Gym Habits. "This will not only help increase your metabolism but also improve productivity!" And if you'd like to sweat a little bit more while walking, see Why This Amazing Walking Workout Is Going Viral.
William Mayle
William Mayle is a UK-based writer who specializes in science, health, fitness, and other lifestyle topics.
Read more about William