Best Smoothie Habits to Shrink Belly Fat, Say Dietitians
Blend together a fat-burning smoothie with these expert tips.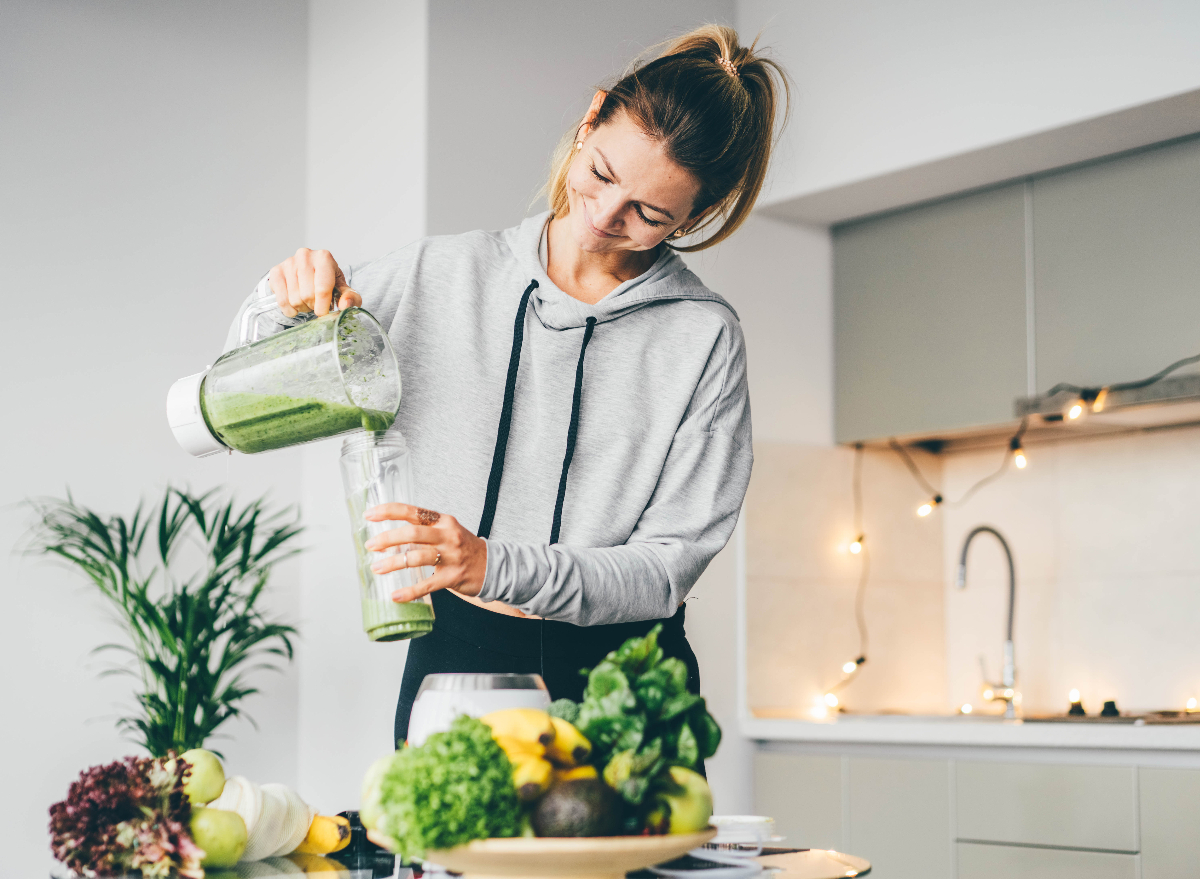 The amount of smoothie combinations you can throw in a blender is truly endless. But, if you're specifically looking to lose some abdominal fat, there are certain ingredients and food groups that can help with shrinking your waistline.
To better understand healthy habits for making smoothies that can help lean out your waist, we asked medical expert Lauren Manaker, MS, RDN, author of The First Time Mom's Pregnancy Cookbook and Fueling Male Fertility, to give us her best tips and tricks.
"Smoothies can help people eat more fruits and vegetables in a simple way," says Manaker. "Since 90% of Americans are not meeting their fruit and veggie needs, this can be a major positive."
Nevertheless, there are a few common mistakes people make when whipping up smoothies. According to Manaker, some mistakes include using ingredients with little nutritional value, over-serving on portions, and using ingredients with too much sugar.
"Smoothies can absolutely support weight loss, as long as they are a part of an overall healthy diet," she says.
Here are a few smoothie habits Manaker suggests that support a shrinking waistline, and for more healthy drinking tips, here's The #1 Best Juice to Drink Every Day, Says Science.
Use a variety of nutrient-rich ingredients.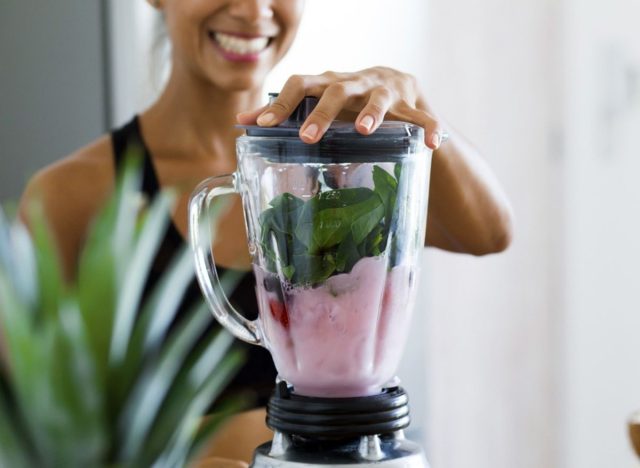 For anyone looking to lose weight, there are some main components recommended to build a substantial and healthy smoothie. Manaker explains that just blending loads of fruit into your concoction adds too many calories and won't help you reach those weight loss goals.
In fact, along with the fruit, she suggests including protein, fiber, and healthy fats, because they "give smoothies some serious staying power and can help people [from] feeling hunger pangs."
Some examples of other nutrient-packed ingredients can include nut butter, spices that target fat, or some form of plant-based protein. These types of ingredients create "a balance", according to Manaker, which in turn leads to a more well-rounded drink that can better support building a small waist.
"Many smoothies [that] don't contain any healthy fats or protein, can lead to a blood sugar spike when consumed," she explains. Blood sugar spikes can be a result of too much glucose and can hinder weight loss because the excess glucose that your body doesn't use for energy settles as body fat. Healthy fats and protein help stabilize blood sugar, slow digestion, and keep you feeling full, according to Joslin Diabetes.
Portion out the ingredients.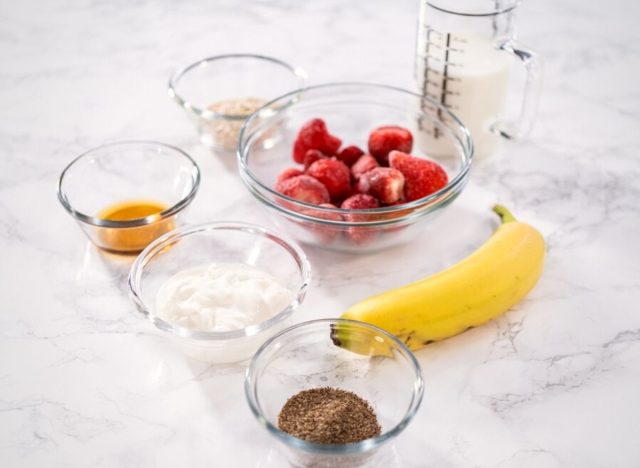 Drinking smoothies throughout the week can potentially support consistent weight loss, but as always, it is possible to have too much of a good thing.
"Some people don't realize that what they are drinking is actually 2 to 3 servings, which is more than what they probably need," says Manaker.
Manaker recommends the best way to make a smoothie to shrink belly fat is by, "​​measuring out your smoothie serving to make sure you aren't overconsuming." She suggests measuring the calories of your smoothie ingredients including fruits, nut butter, liquid ingredients, and more.
If you're not sure what your calorie goal should be to shrink that waistline, here's how many calories you need to eat in order to lose weight.
Be careful about high sugar content—even natural sugars.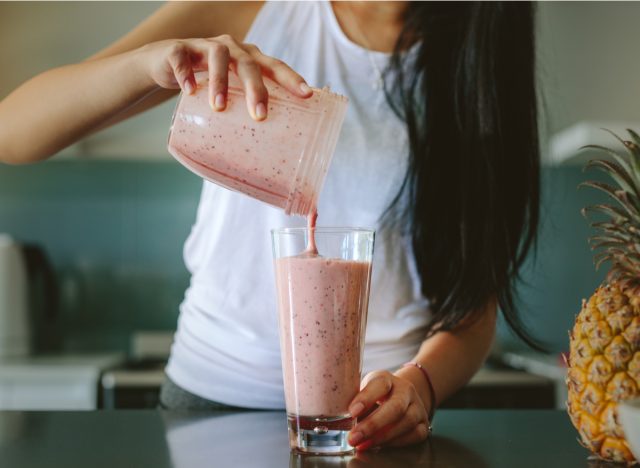 If your goal is to shed belly fat, then your daily sugar intake is going to play a big part. According to Manaker, some ingredients like "flavored yogurts made with added sugar can make for a sugar bomb once the smoothie is made," especially alongside the natural sugars from fruits and any added sweeteners.6254a4d1642c605c54bf1cab17d50f1e
Instead, unsweetened Greek yogurt is a great option to add to your smoothies for a thicker consistency and a source of high-protein that instantly helps with belly bloating, without a crazy amount of sugar.
"Adding 'natural' sweeteners like agave can add even more calories without much in the nutrition department," says Manaker. "I love using dates in my smoothies to add some sweetness with no added sugars."
Not only do dates carry powerful antioxidants, they can also potentially help you lose belly fat. Dates (in moderation) can be a substitute for white sugar, with nutrients and fiber, and help you better avoid refined/added sugars that contribute to weight gain.
Blend up this smoothie for a flat belly!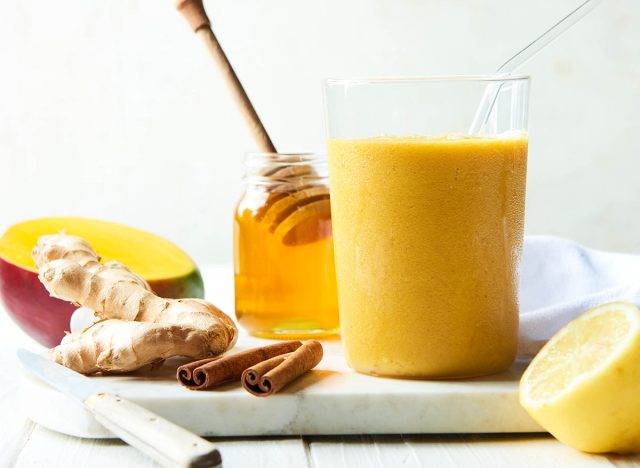 Now that you know the proper habits, here's a delicious smoothie from Manaker you can make at home! These high-volume, nutritious smoothies check off all your nutrients boxes to support a healthy immune system and guide potential weight loss. And if you're looking to build your own combination, here are Manaker's tips on how to build the best smoothie.
Get the recipe for her Super Immunity Smoothie.
For even more smoothie recipes, check out our 25 Best-Ever Weight Loss Smoothies.
Jordan Summers-Marcouillier
Jordan Summers-Marcouillier was born and raised in San Jose, California and now works as a writer in New York, NY.
Read more about Jordan