A playful way to try this uniquely nutritious cereal.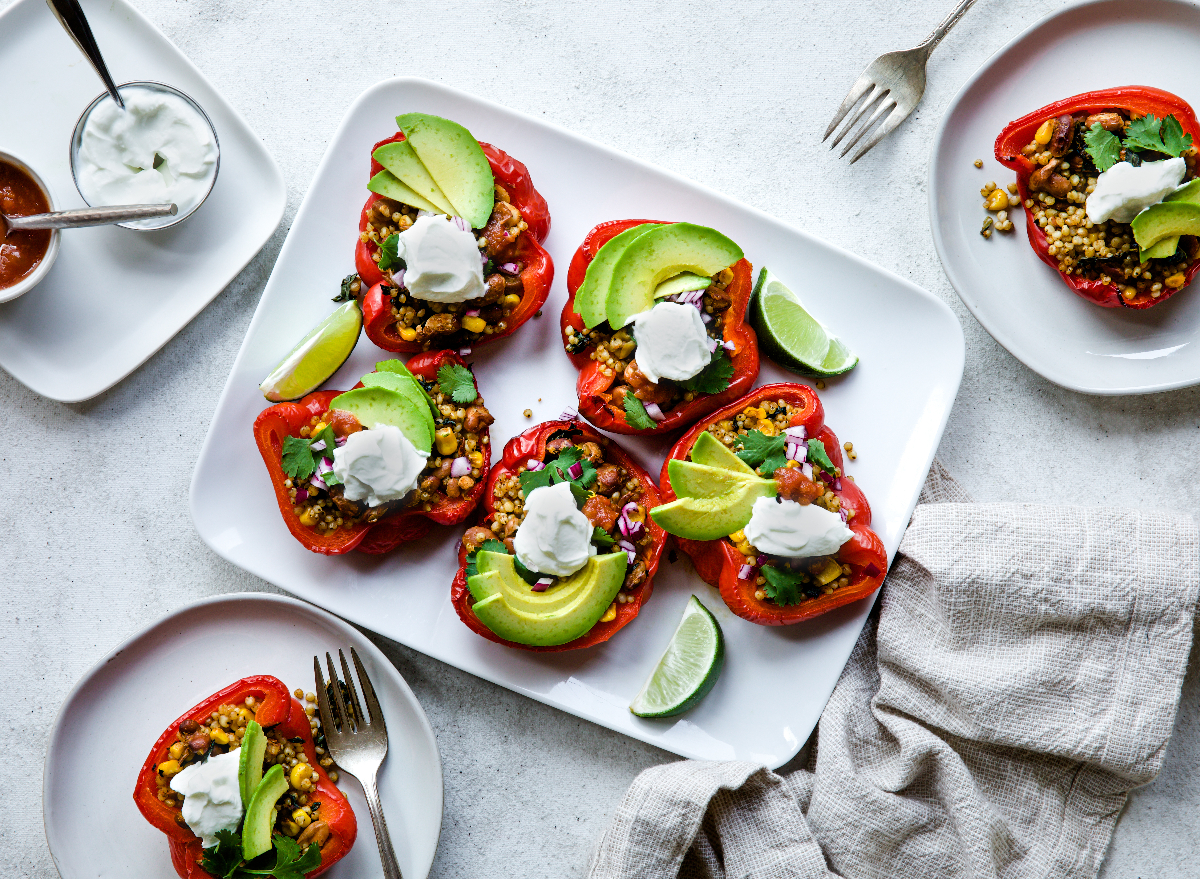 Sorghum stuffed peppers is a simple plant-based dish that is made with nutrient-packed ingredients like beans, veggies, and avocado. But the star of the show is the whole grain sorghum that gives this dish plant-based protein, fiber, and B-vitamins.
Bonus—it's naturally gluten-free and non-GMO.
Once these peppers are cooked and ready to eat, top them with some yummy toppings like avocado and salsa for a nutritious meal with some whole grain goodness.
This recipe was originally created for The United Sorghum Checkoff Program.
Serves: 4
You'll Need
1 cup whole grain sorghum, rinsed
2 cups low-sodium chicken broth
2 cups water
Cooking spray
4 large red bell peppers, halved and seeded
1/2 cup salsa
1 tsp garlic, minced
1 Tbsp nutritional yeast
1 tsp cumin powder
1 tsp chili powder
1 cup frozen corn kernels, thawed
1 15-ounce can pinto beans, rinsed and drained
1/2 cup chopped frozen spinach, thawed and patted dry with paper towel
1/4 tsp salt
¼ tsp pepper
TOPPINGS
1 avocado, sliced thin
4 sprigs fresh cilantro
1 ½ Tbsp diced red onion
1/4 cup plain Greek yogurt
4 lime wedges, sliced thin
¼ cup salsa
How to Make It
Add chicken broth and water to a saucepan and bring to a boil over high heat. Add sorghum and reduce heat to a simmer. Cover and cook for 60 minutes, or until sorghum is soft. Remove from heat, fluff with fork, and let cool, at least 10 minutes.
Preheat oven to 400 degrees F and spray a rimmed baking sheet with cooking spray.
In a large mixing bowl, combine cooked sorghum, salsa, garlic, nutritional yeast, cumin, chili powder, corn, spinach, and pinto beans. Mix until combined.
Stuff peppers with mixture until all peppers are full, place on baking sheet, and cover with tin foil.
Bake for 30 minutes. Remove foil and bake for another 10-15 minutes, or until peppers are soft.
Remove from oven. Top each pepper with a dollop of Greek yogurt, avocado slices, a dollop of salsa, red onion, and cilantro. Serve with a lime wedge.
Lauren Manaker MS, RDN, LD, CLEC
Lauren Manaker is an award-winning registered dietitian, book author, and recipe developer who has been in practice for almost 20 years.
Read more about Lauren