5 Soup-Eating Habits That Help With Weight Loss, Says Dietitian
Fall's favorite dish, done right.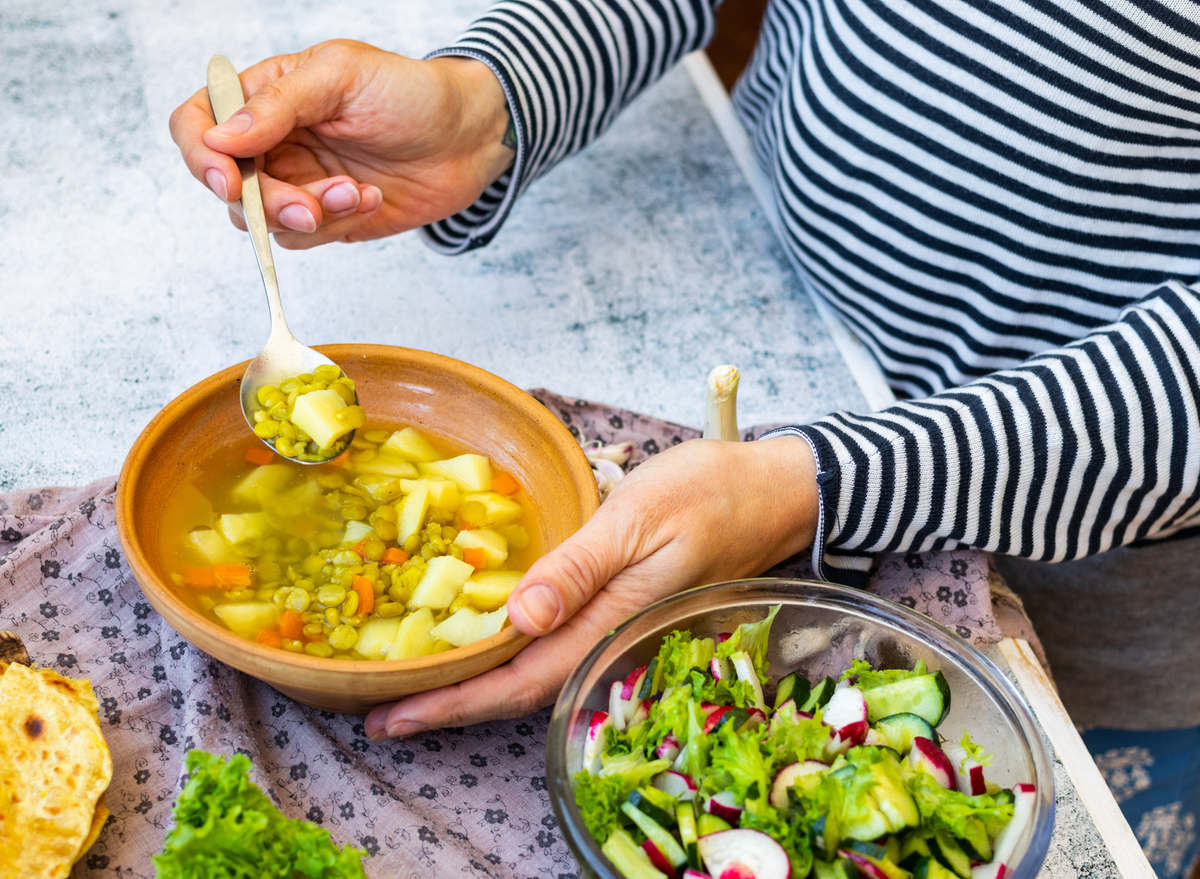 Leaves are golden and falling and there's a bite in the air that's chilly but also cozy in its familiarity. Mittens are making their way out of storage, Starbucks holiday cups have arrived, and more than anything this is all a sure sign of one key arrival: soup season. It's officially upon us.
We know and love soup season for all of its traditionally fall markers, but when you dig in beyond the simple joy of eating something hot on a cold day, there's a lot of nutritional value to explore.
"I always include vegetable-based soups into my clients' meal plans because they are filling, low calorie, and nutrient-dense," says Lindsey DeSoto, RDN, LD, owner of The Dietitian Momma.
But, like soup itself, the health factor with the dish can be variable. Before ladling out scoops of your favorite fall food, check out DeSoto's advice on how best to keep it nutritional—and perhaps even reap some weight-loss benefits. Then be sure to peruse our list of the 23 Cozy Soup Recipes That Are Perfect For Weight Loss This Fall.
Make your own broth or stock.
Knowledge is power: an old adage that applies to many things, including soup. The key here, DeSoto says, is being able to monitor what exactly is going into your broth.
"The first thing I always tell my clients is to watch the sodium content in pre-made broths," she says. "It's always best to make your own stock or broth to control the amount of sodium that goes in it and focus on enhancing natural flavors that override the need for salt."
If you can't make homemade broth happen, she says, at very least opt for sodium-free versions at the store.
Add texture.
We're talking veggies, beans, and lean protein. Not only is it fun to throw it all in the pot, a more diverse soup could also help promote satiety and keep you fuller longer, according to DeSoto. Interestingly, this health hack also comes down in part to the act of chewing.
"Purée style soups that require little to no chewing," explains DeSoto, "can leave you feeling unsatisfied and hungry."
Avoid creamy soups.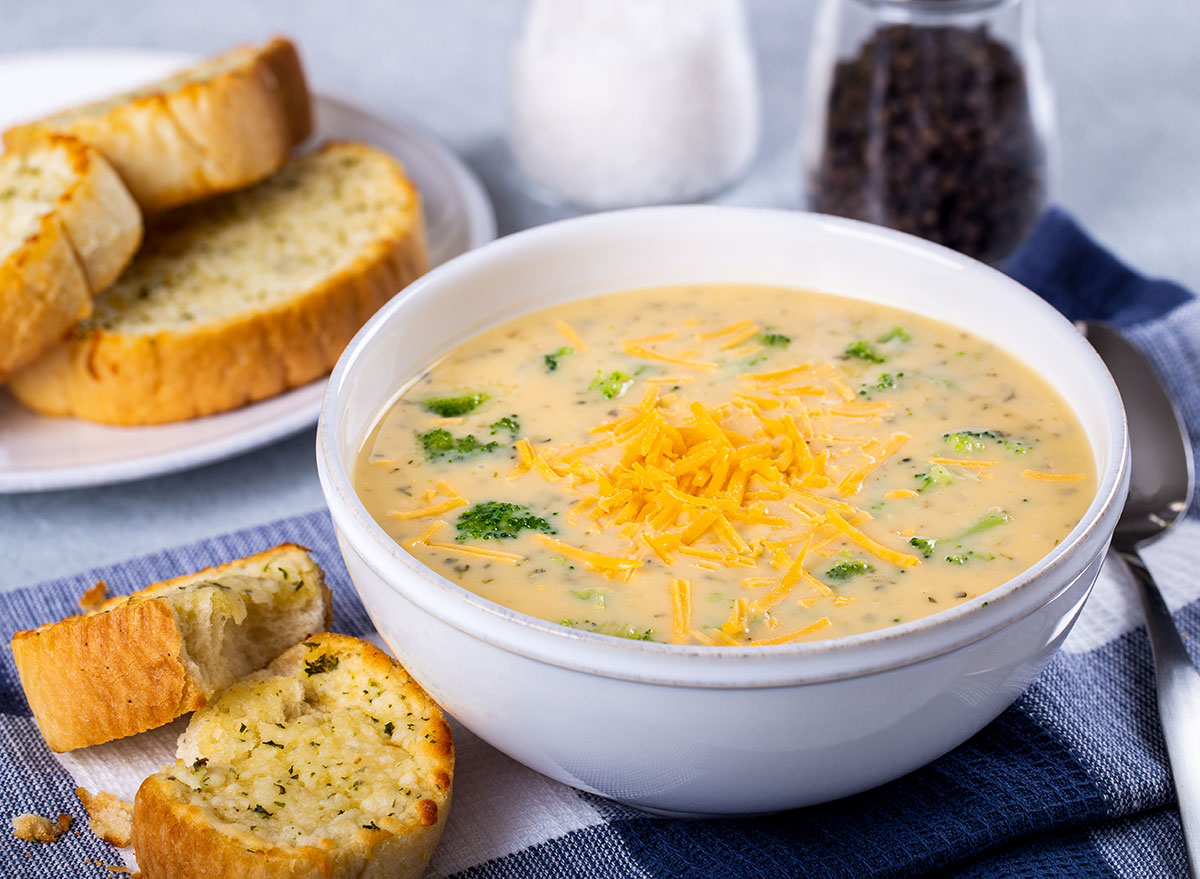 We know, we know. That broccoli-cheddar cream dream is pretty unrivaled. But, as DeSoto makes clear, "creamy soups are typically high in calories, saturated fat, and sodium. Choose clear broth-based soups to stay on track with your weight loss goals and fuel your body."
Unless, of course, it's a healthier version of your favorite cream-based soups—like this Best Broccoli Cheddar Soup Recipe.
Pack your soup with non-starchy veggies.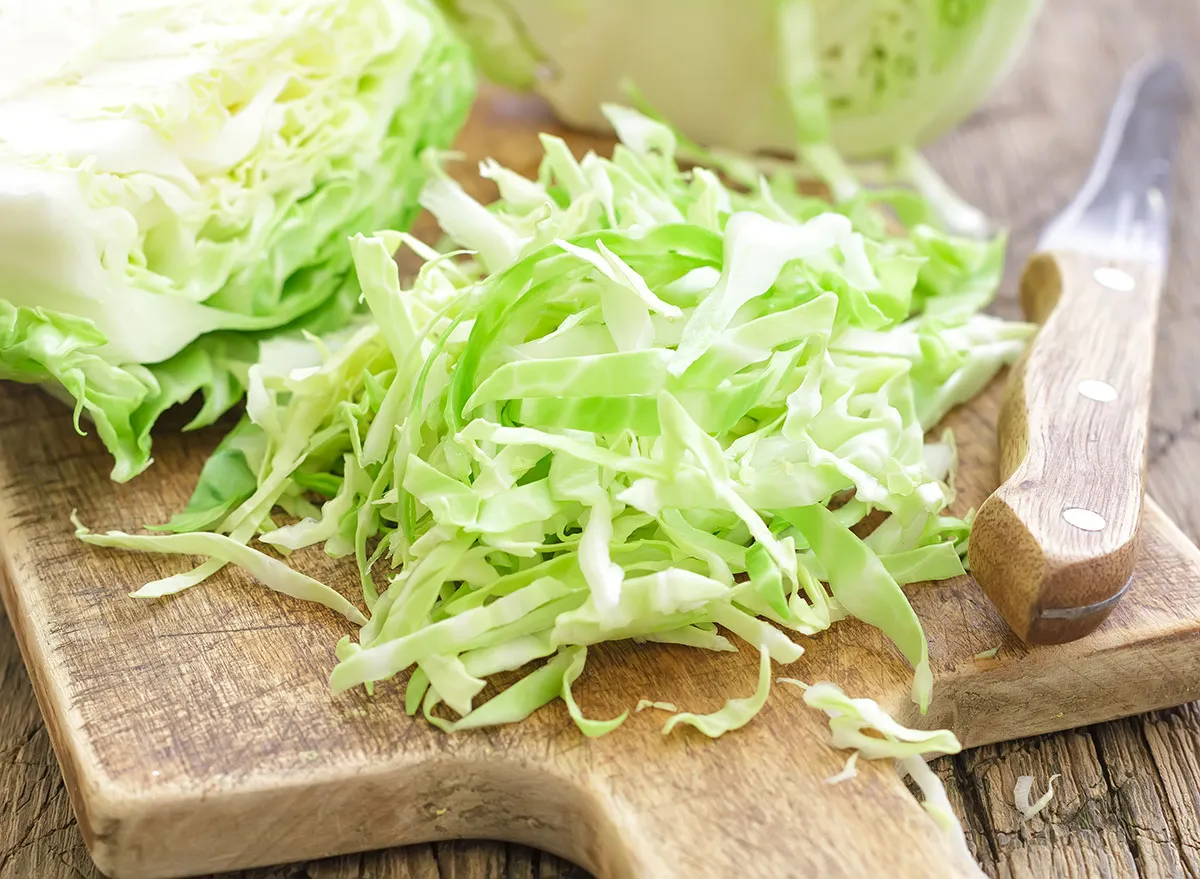 The great thing about this hack? Non-starchy veggies are typically already the ones we envision when thinking about a hearty, healthy soup. Cabbage, cauliflower, green beans, and celery, oh my!6254a4d1642c605c54bf1cab17d50f1e
"Non-starchy vegetables not only are low in calories, but they are also rich in vitamins, minerals, and antioxidants," says DeSoto.
All the more reason to load up that soup with a creative mix!
Frequently eat soup!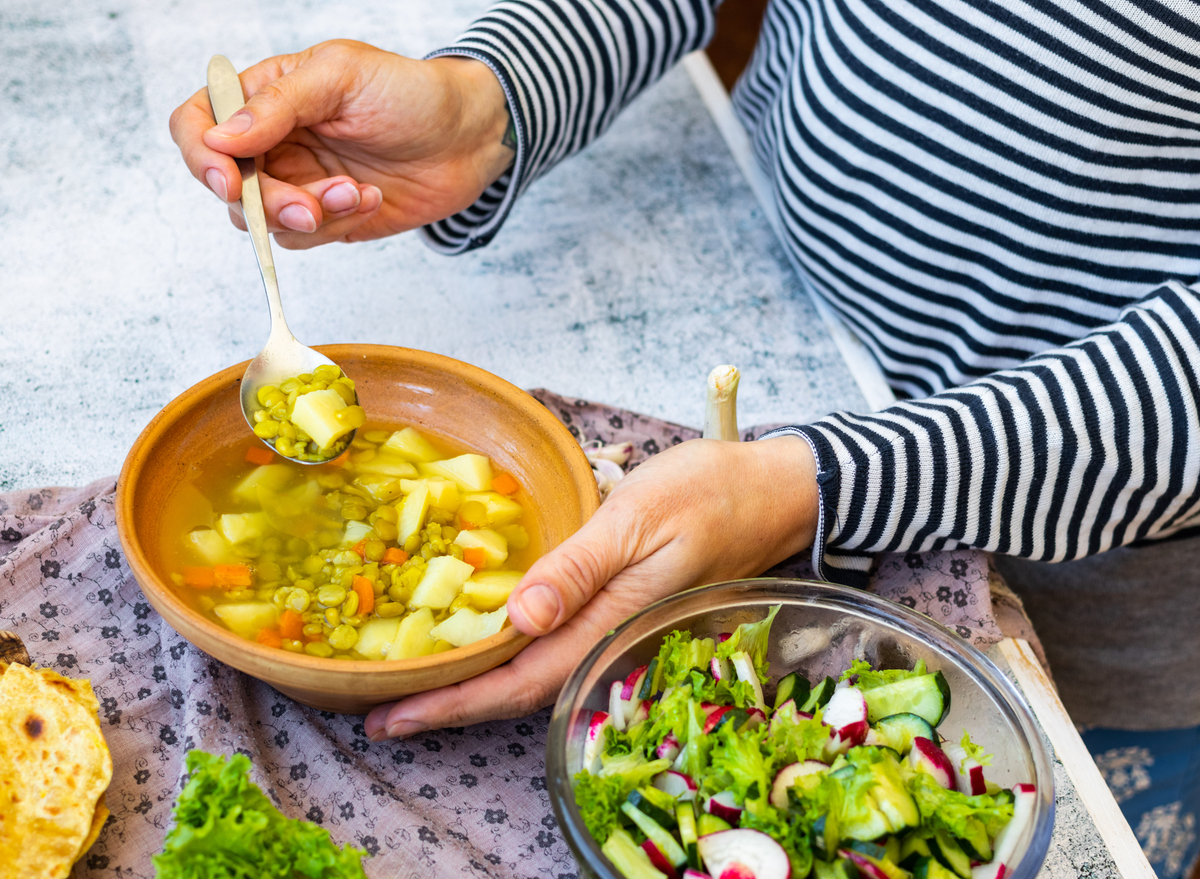 The great news, for soup lovers, is that the dish, in general, is associated with better health. DeSoto pointed us in the direction of a study that found that people who consume soup often tend to have "overall better diet quality and a decreased risk of obesity."
So, yes, start spooning that warm bowl not only because it's fall, but also in the name of good health!
For even more soup-eating tips, read these next: