One Easy Exercise Can Lower Your Risk of Heart Disease by 20%, Study Says
Give your heart health a boost by adding this exercise to your routine.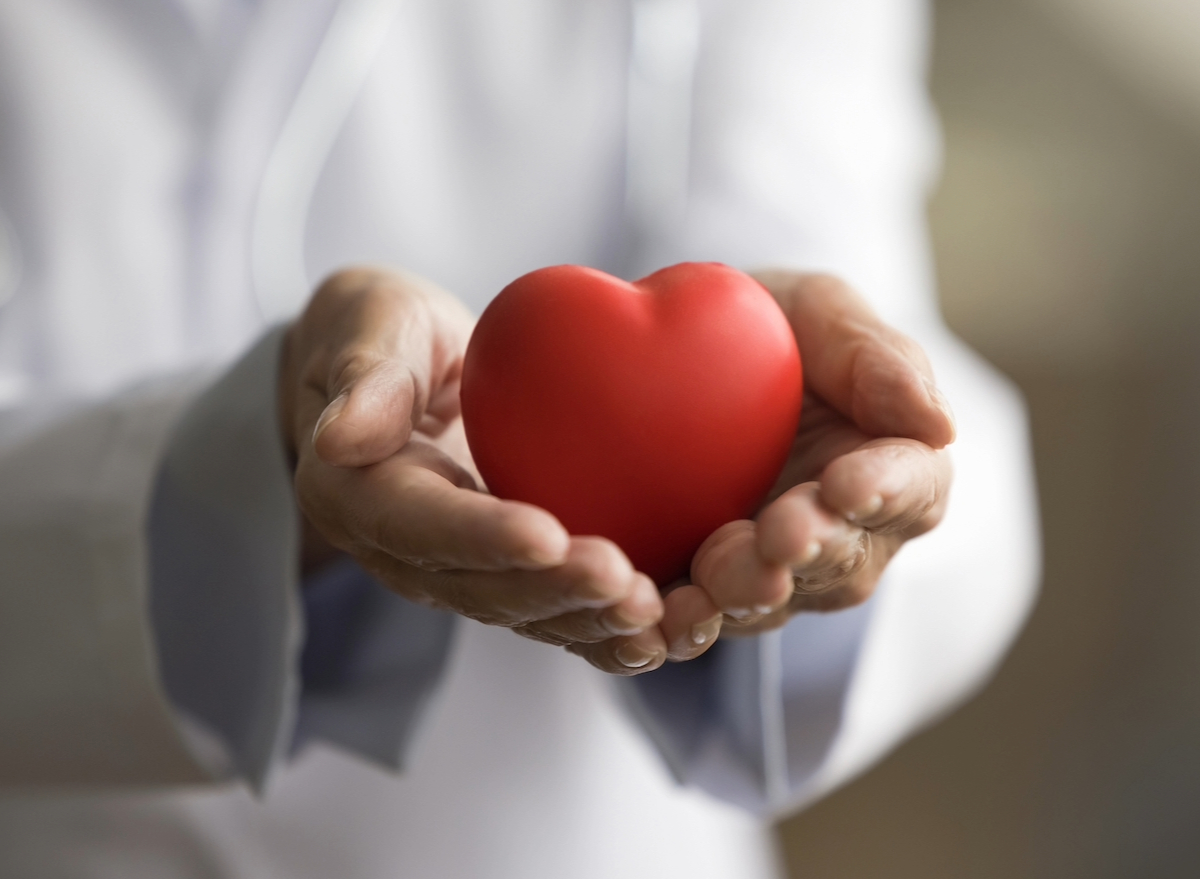 Cardio is king when it comes to heart health. There are various ways you can improve your cardio, such as eating the best foods, drinking for your heart health, and adding certain cardiologist-approved exercises to your daily routine. Although you might assume the latter means going for a run or heading out to an aerobics class, there are easy at-home exercises that are just as ideal. Now you can add something different to the mix. A new study published in Atherosclerosis reveals that simply climbing over 50 stairs each day can reduce the risk of heart disease by 20%.
You heard that right! So you may want to head to the stairs or your StairMaster to get in some extra steps. Keep reading to learn more, and when you're done, check out This Is the New 'Magic Number' of Days You Need to Exercise To See Results, Study Says.
The research:
The study obtained information from over 458K individuals, which included everything from stair climbing to sociodemographic info to lifestyle factors. The data was resurveyed five years following the baseline to assess the link between stair climbing and the risk of ASCVD (ischemic stroke (IS), coronary artery disease (CAD), or acute complications).
To put things into perspective, cardiovascular diseases are the primary causes of mortality worldwide, according to the World Health Organization (WHO). They are responsible for the deaths of 17.9 million individuals every single year. This is why cardio can be such a valuable addition to your lifestyle.
The outcome:
Follow-ups were performed around 12.5 years after the initial research and revealed that climbing over five flights of stairs each day decreased the risk of ASCVD by more than 20%. As for the individuals who were more likely to develop heart disease, the study noted that stair climbing "effectively offset" the risk, according to study corresponding author Dr. Lu Qi, HCA Regents Distinguished Chair and professor at the Tulane University School of Public Health and Tropical Medicine. Beyond that, compared to people who never took the stairs, those who started a stair-climbing habit, but didn't keep up with it, experienced a 32% higher risk of cardiovascular disease.
"Short bursts of high-intensity stair climbing are a time-efficient way to improve cardiorespiratory fitness and lipid profile, especially among those unable to achieve the current physical activity recommendations," said Qi. Noting that climbing stairs is a free and relatively accessible way to get exercise, Qi added, "These findings highlight the potential advantages of stair climbing as a primary preventive measure for ASCVD in the general population."
The benefits of stair climbing: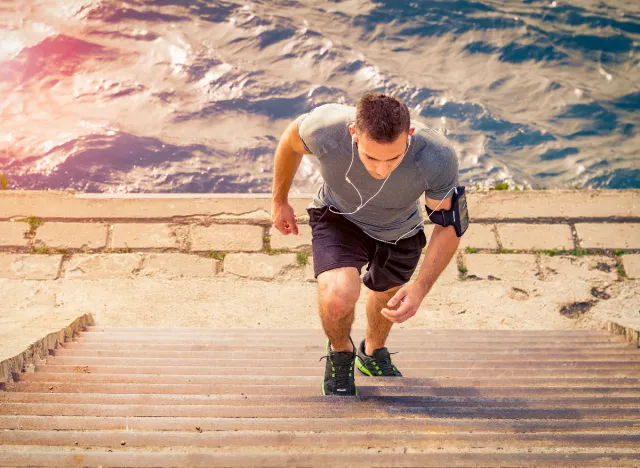 Eat This, Not That! reached out to Alexandra L. Kharazi, MD, cardiothoracic surgeon, CVTS Medical, who explains, "Risk factor modification is the key to reducing the risk of heart disease. This means working on the risk factors that lead to heart disease. The main risk factors are high blood pressure, high cholesterol, diabetes, and obesity. Walking up stairs is a form of exercise, as we have multiple studies which show that exercise regulates blood pressure, alters the balance between good and bad cholesterol, which reduces plaque build-up, and helps with weight management."
Limitations of stair climbing:
Of course, it's important to note that there may be limitations for some individuals who aren't able to take those extra steps or the stairs in general. There could have been good reason why some individuals in the study started and then stopped the process.
Dr. Bradley Serwer, interventional cardiologist and VitalSolution Chief Medical Officer, tells us, "The study does not tell us why there was a 32% higher rate of cardiovascular disease in those who stop climbing stairs, so we must speculate. If someone starts an exercise program, but then stops, this may be secondary to poor motivation, but may also be related to physical limitations. If someone starts an exercise program, but stops because they're having chest pain, that patient is at higher risk of having occult underlying coronary artery disease. The study does not delve into causal relationships, only shows associations."6254a4d1642c605c54bf1cab17d50f1e
Essentially, this new research establishes an association between lower rates of cardiovascular diseases and stair climbing. As with any study, there are many factors that have to be taken into consideration. "[For instance,] those [who] are in better shape and exercise on a regular basis are far more likely to take the stairs than someone that is out of shape and thus have lower rates of cardiovascular disease," Serwer explains. "Healthy lifestyle choices are often grouped together. Those who exercise regularly typically have better diets and have lower rates of smoking."
In addition, as you grow older, going up the stairs can be challenging. Cara Dobbertin, PT, DPT, tells Eat This, Not That!, "Navigating stairs can be difficult as we age, largely due to changes in our balance and coordination. One misstep can lead to serious injury."
Before you start climbing stairs to reap the heart-related benefits, it's always smart to consult with your doctor or medical practitioner. They'll be able to tell you whether this is an ideal exercise for you and how many stairs or flights you should or shouldn't be taking each day in order to give your heart a healthy boost. But it can certainly be an excellent complement to your weekly exercise regimen.
Desirée O
Desirée O is a freelance writer who covers lifestyle, food, and nutrition news among other topics.
Read more about Desirée
Sources referenced in this article