5 Best Steak Marinade Ideas for the Juiciest Steak Ever
Get ready for the most flavorful steak you've ever had!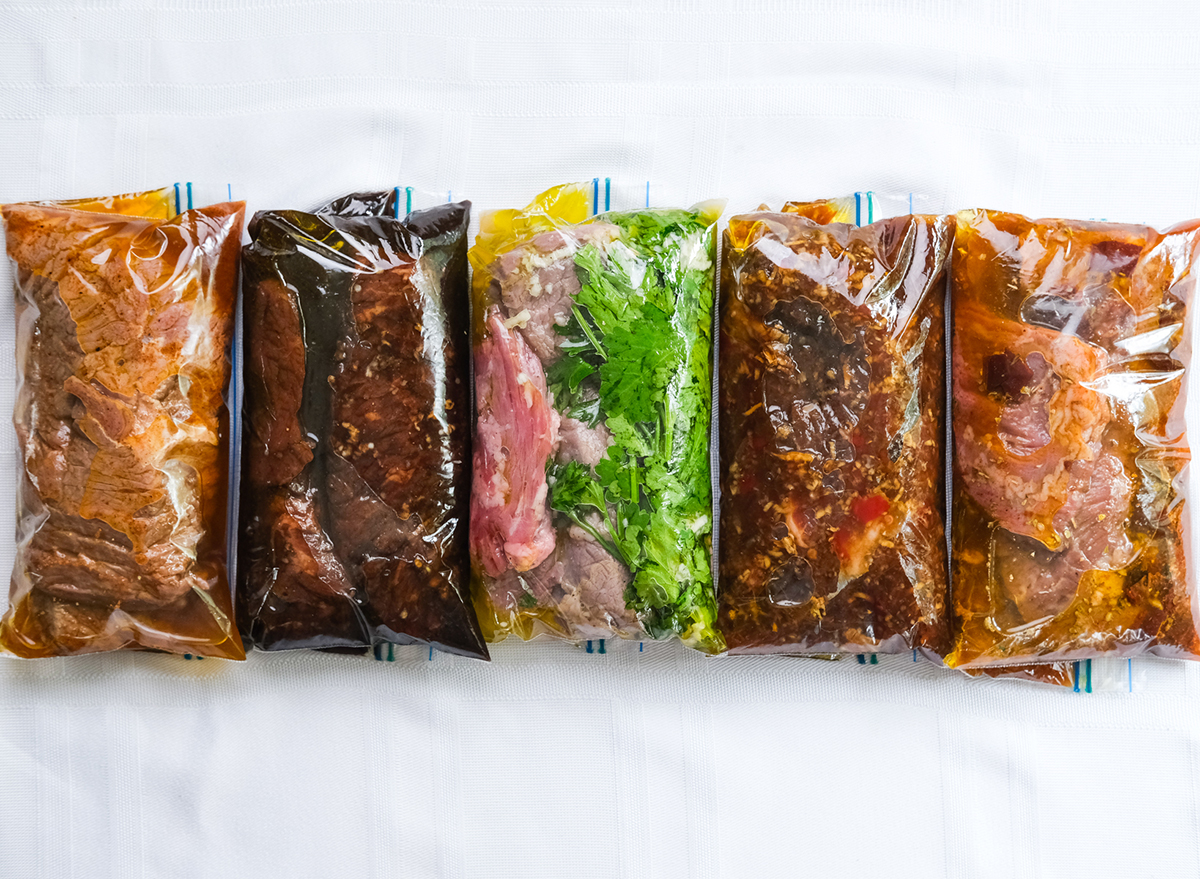 I admit, when it comes to steak, sometimes the only thing you really need is a nice rub—or simply seasoned with salt and pepper. But there are some times where you get sick of eating steak in the same way, and you just want to add a little flavor to your favorite meat. That's where these creative steak marinade ideas come to play.
When it comes to buying cheaper cuts of meat, having some marinades to really enhance the flavor of that steak makes your meals absolutely delectable. Especially if you're throwing that steak on the grill! This is why I put together five different steak marinade ideas to try if you decide to buy a few pounds of the cheaper steak at the store.
These steak marinades need at least 30 minutes to marinate but can last 5 days in the fridge. So if you decide to throw together the steak marinade during your meal prep at the beginning of the week, you can save that little bag of marinated meat for another day when you decide to fire up the grill.
Love marinades? Then you're going to obsess over these chicken marinade ideas as well!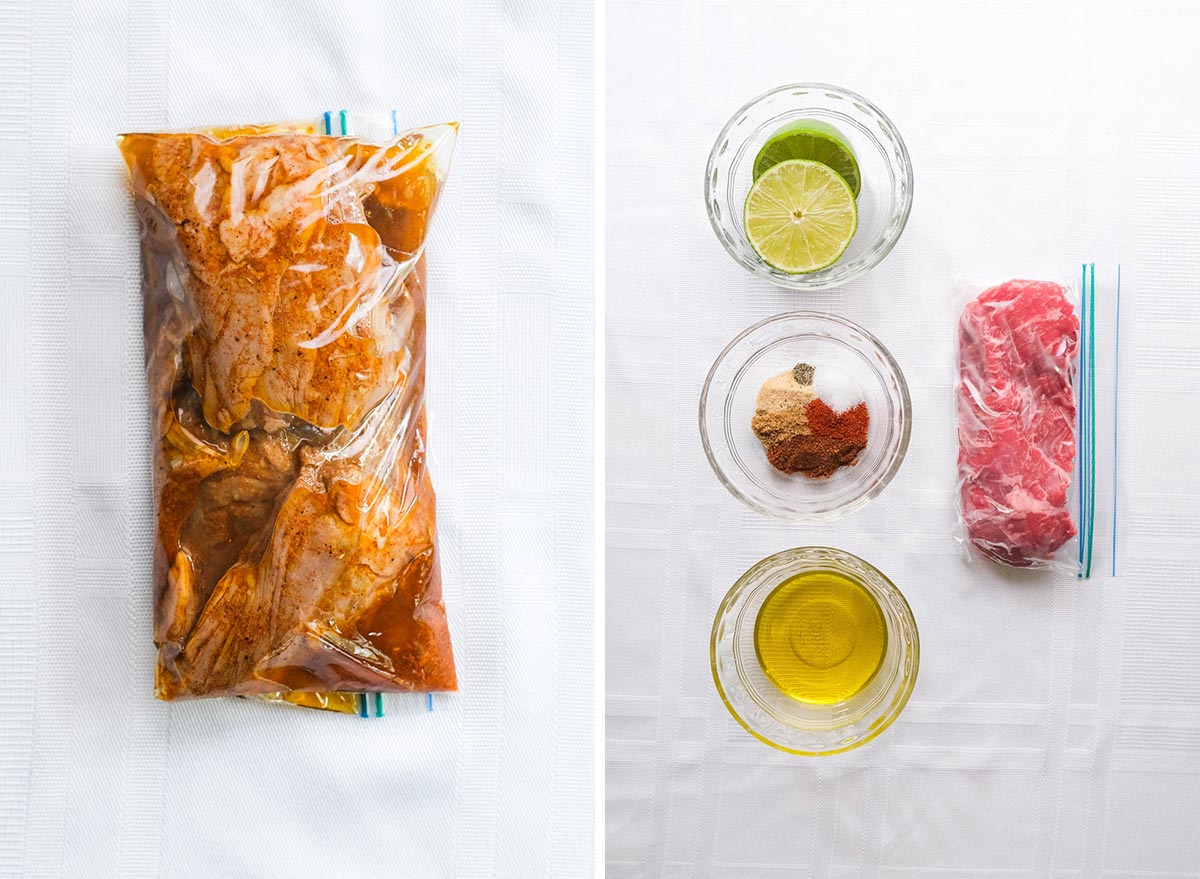 Fajitas are probably one of the easiest things to make for dinner, especially if you're making them on a sheet pan. Yet while chicken fajitas are the most popular to make, steak fajitas are also incredibly delicious. Prep your steak for fajitas with this fajita marinade!6254a4d1642c605c54bf1cab17d50f1e
Ingredients:
1/4 cup olive oil
1 lime, juiced
1/2 tsp. chili powder
1/2 tsp. paprika
1/4 tsp. cumin
1/4 tsp. garlic powder
1/4 tsp. salt
Dash of pepper
In the mood for some classic Italian? This balsamic marinade will work well with all of your favorite Italian flavors! Pair this steak with a Caprese salad, some fresh toasted Italian bread, and finish off the meal with some tiramisu.
Ingredients:
2 Tbsp. olive oil
1/4 cup Worcestershire sauce
1 tsp Dijon mustard
2 Tbsp Balsamic vinegar
1 garlic clove, minced
1/4 tsp. salt
Dash of pepper
Looking for more recipe ideas and cooking tips? Sign up for our newsletter!
While most steak marinades feature darker and richer flavors, a simple lemon and herb marinade is a lighter unique twist, especially for the summertime! Squeeze an entire lemon into the marinade with some olive oil, and a nice handful of fresh parsley and cilantro, which you can easily store with our guide to storing fresh herbs.
Ingredients:
2 Tbsp. olive oil
1 lemon, juiced
1/2 cup fresh parsley
1/2 cup fresh cilantro
1 garlic clove, minced
1/4 tsp. salt
Dash of pepper
Looking for a unique cut of meat to serve with some fried rice? This Thai chili marinade is it! Between the fresh ginger, garlic, and sweet chili sauce, this marinade is packed with flavor and absolutely delectable when it's grilled.
Ingredients:
2 Tbsp. olive oil
2 Tbsp. sweet chili sauce
1/4 cup soy sauce
1 Tbsp. fresh ginger, grated
1 garlic clove, minced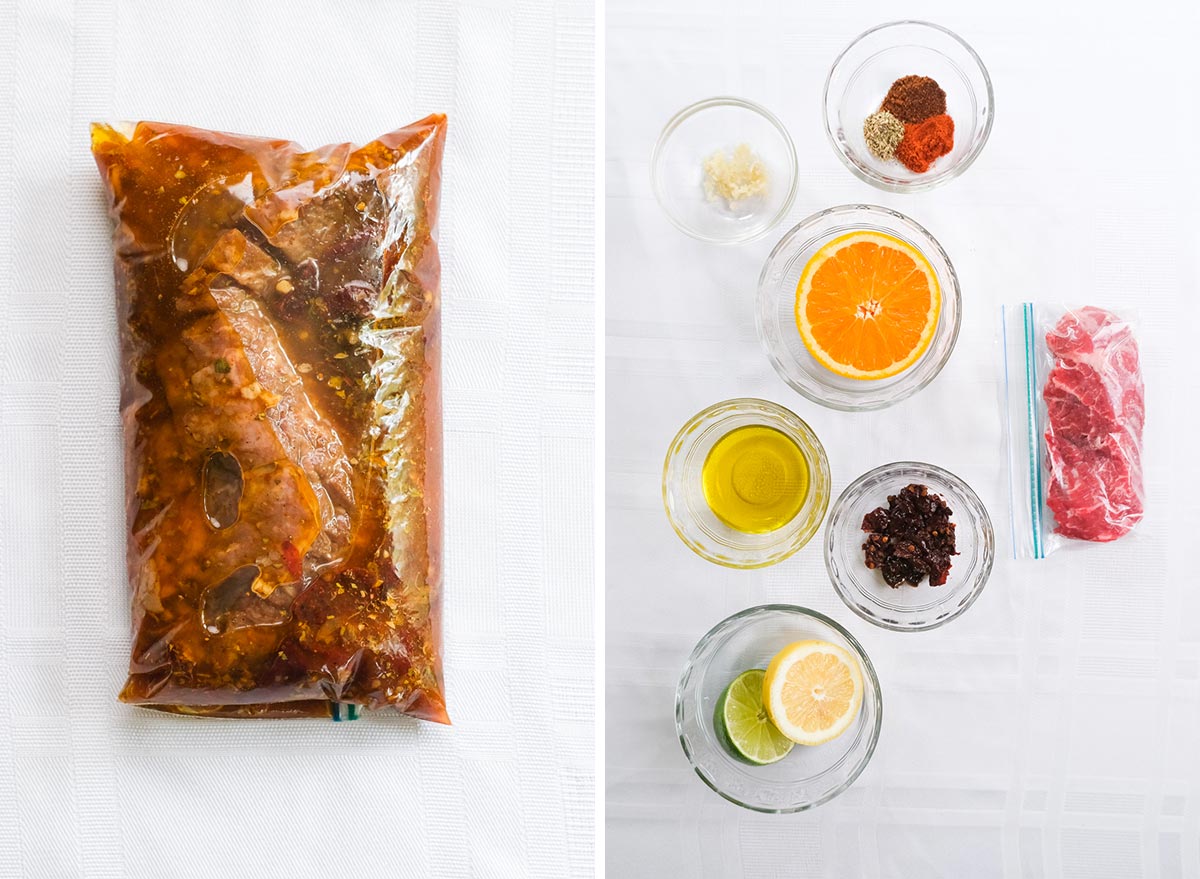 You could make pork carnitas in the slow cooker, or simply speed up the process and grill some steak for tacos using this Carne Asada marinade. It features lots of fresh citrus juice and spicy chipotle peppers to give you that Asada barbecue flavor you know and love.
Ingredients:
2 Tbsp. olive oil
1/2 orange, juiced
1/2 lemon, juiced
1/2 lime, juiced
1 Tbsp. canned chipotle pepper, sliced thin
1 garlic clove, minced
1/2 tsp. chili powder
1/2 tsp. paprika
1/4 tsp. cumin
1/4 tsp. oregano