23+ Best Healthy Fried Rice Recipes for Weight Loss
Quit take out for good with these delicious and nutritious recipes.
While you hardly ever hear the words "healthy" and "fried" in the same sentence, we're happy to highlight some of the tastiest and low-calorie options for indulging in some traditional fried rice. Skip the takeout—and the unnecessary calories—and opt for some easy at-home fried rice recipes. From brown rice and cauliflower rice to low-sodium sauce and fresh vegetables, these simple ingredient swaps will make dining in more delicious than ever.
Whether you're cooking for one or the whole family, these delicious and easy fried rice recipes will keep both your stomachs and your wallet full.
Chicken Fried Rice Recipe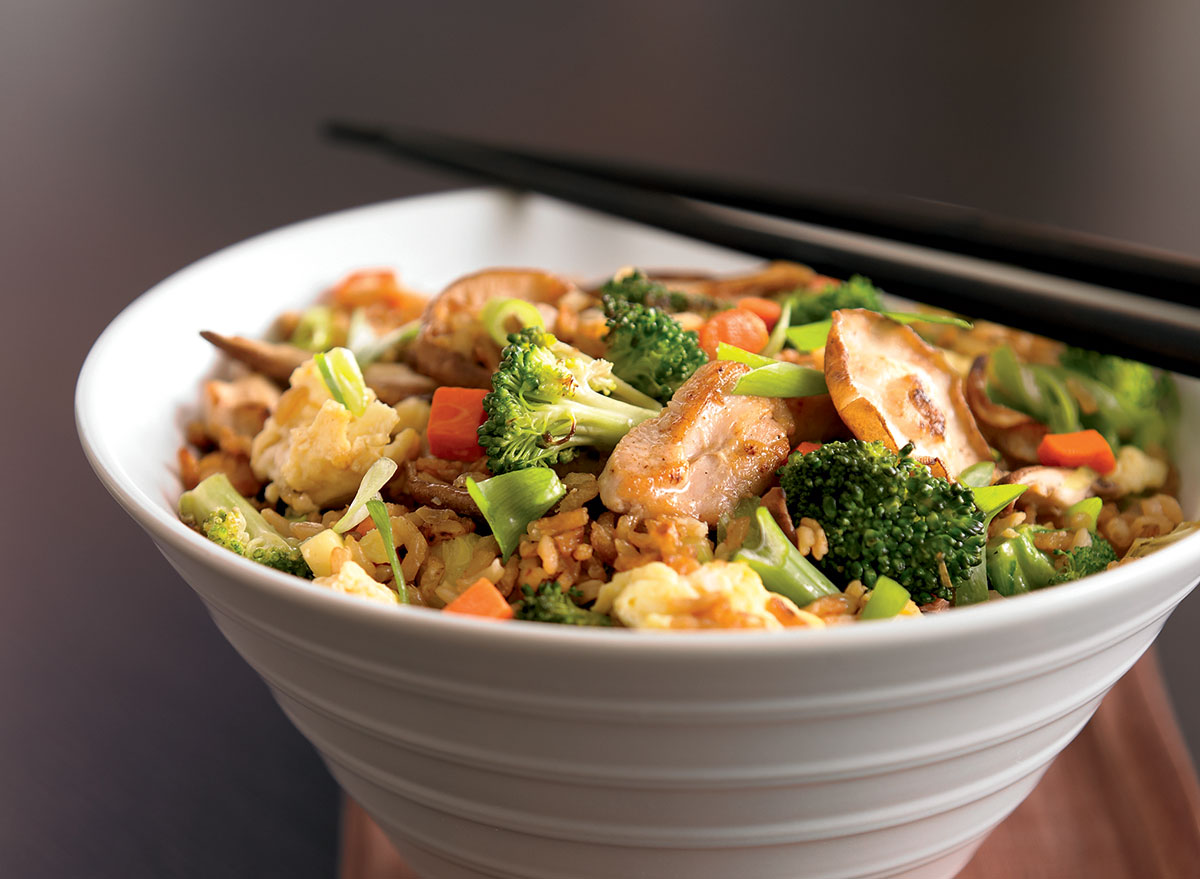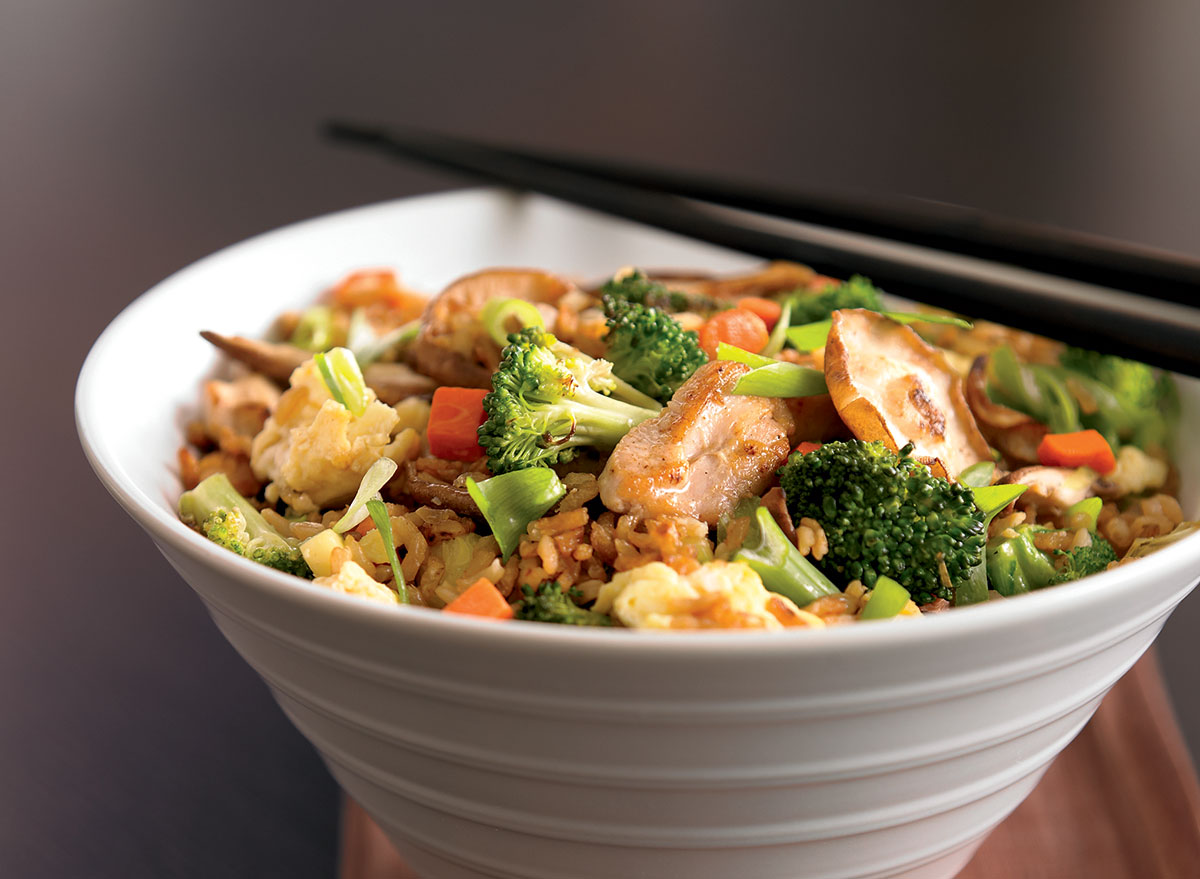 As far as fried rice recipes go, this veggie-filled dish is one of the healthiest options. Cut down on rice and focus on vegetables, including zucchini, carrots, broccoli, and mushrooms. Feed the whole family with this fresh and tasty fried rice.
Get our recipe for Chicken Fried Rice.
Vegetable Fried Rice Recipe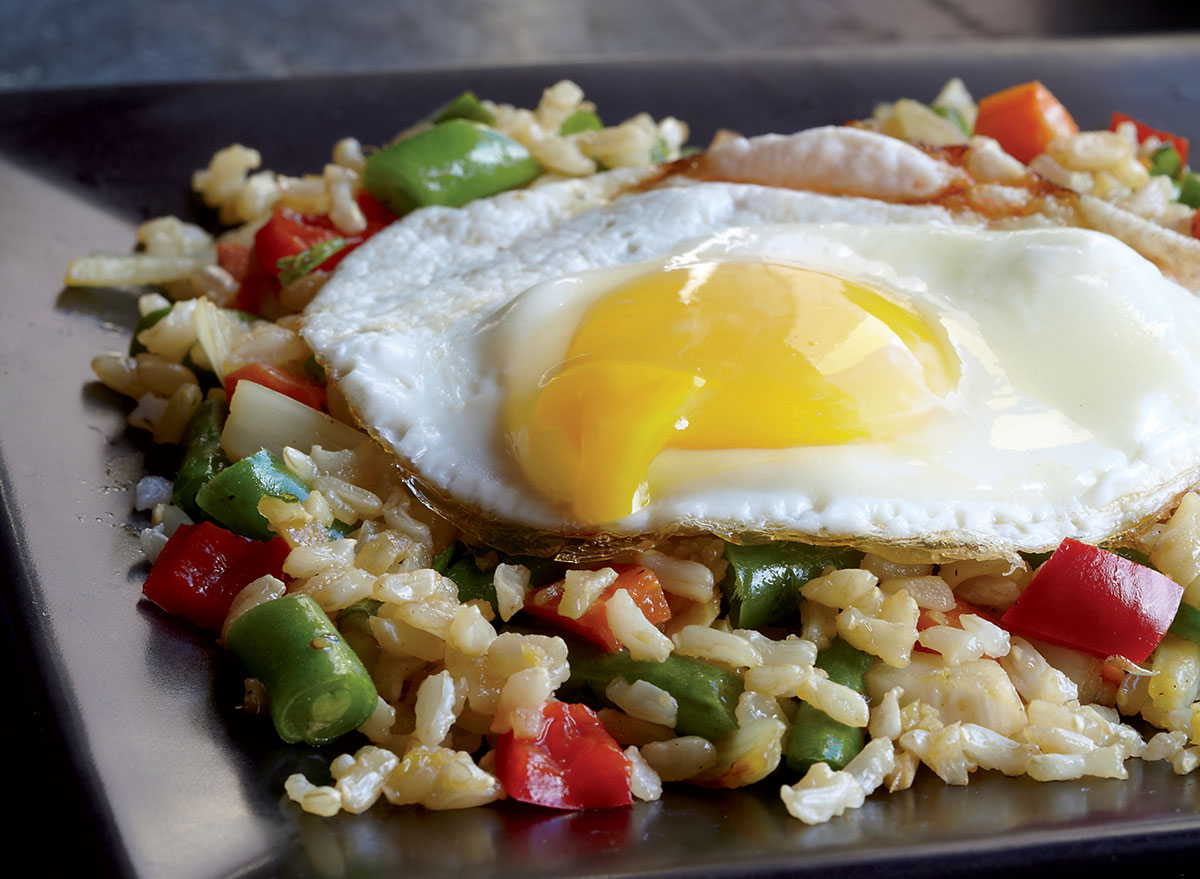 Arguably better than your average takeout, this recipe is topped with a fried egg. Cook up your fried rice as usual, but instead of scrambling the eggs directly in the rice, fry up an egg on its own to finish the dish.
Get our recipe for Vegetable Fried Rice.
If you're someone who worries about portion control, these fried rice cups are the perfect solution to overindulging. This recipe, made with precooked brown rice, is a quick and easy way to have a home-cooked meal on a busy weeknight.
Get our recipe for Fried Rice Cups.
15-Minute Cauliflower Fried Rice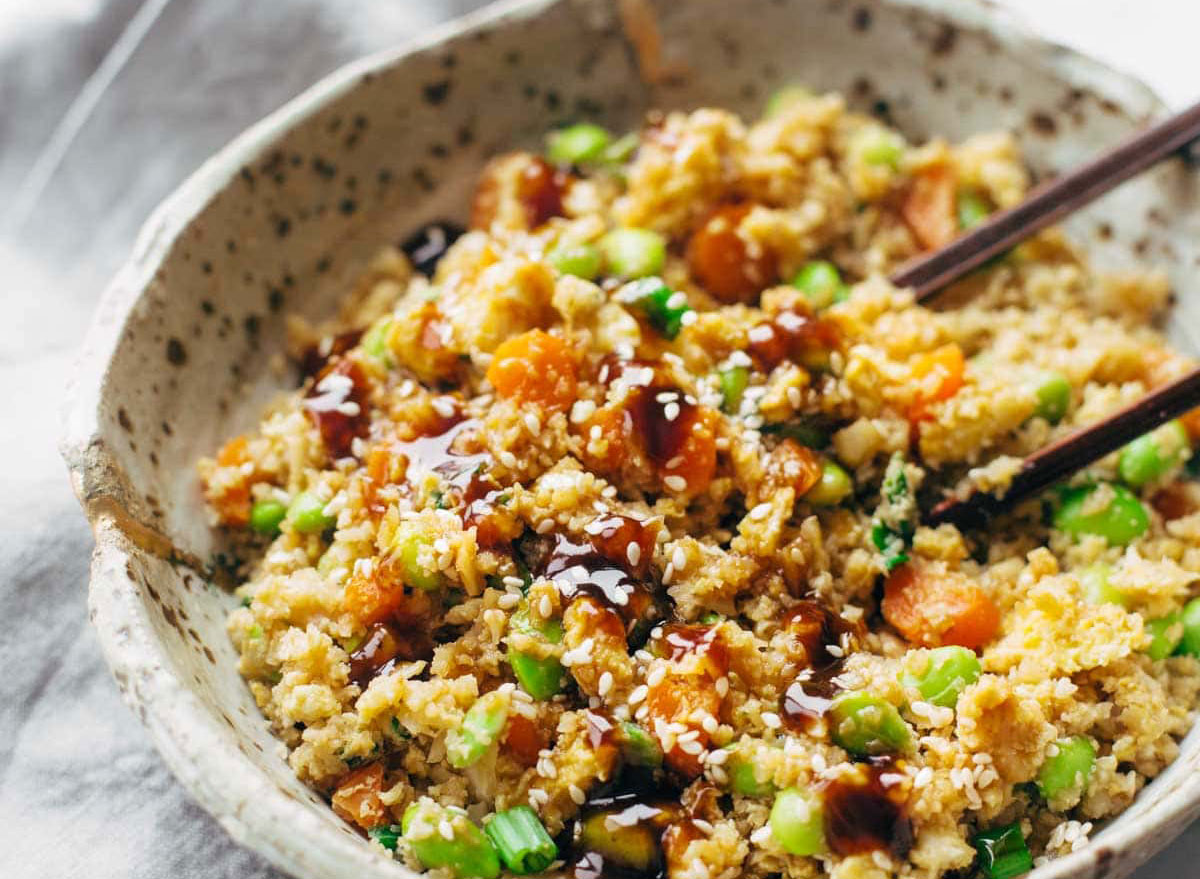 Move over white rice, cauliflower rice is our favorite new ingredient for fried rice recipes. Cauliflower rice helps eliminate calories without losing any flavor. Make your dish vegan-friendly by swapping eggs for scrambled tofu.
Get the recipe from Pinch of Yum.
Extra Vegetable Fried Rice
Load on the vegetables to make this fried indulgence worth the calories. Not only will the veggies add to the overall flavor, but the added color will be aesthetically pleasing.
Get the recipe from Cookie + Kate.
If you're in need of some added protein in your diet, this easy vegan recipe boasts 22 grams of protein. Made with baked tofu, vegetables, and brown rice, this two-serving dish is perfect for an at-home date night.
Get the recipe from Minimalist Baker.
Shrimp and Vegetable Quinoa Fried Rice
Sauteed in water instead of oil, this is one of the healthier fried rice recipes you can make! And with quinoa instead of rice and all fresh veggies, this popular dish will comply with most diets.
Get the recipe from Simply Quinoa.
Sesame Ginger Chicken Fried Rice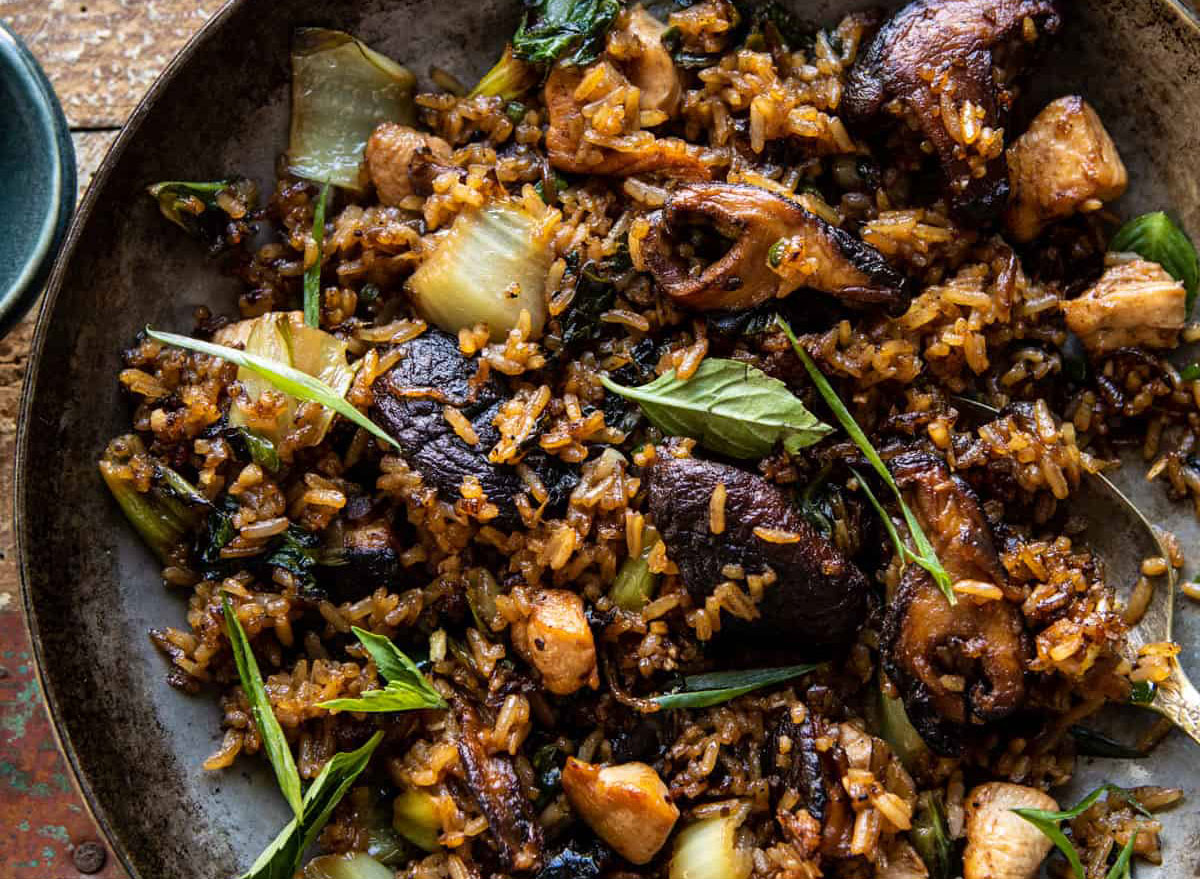 Craving something with a unique and exciting flavor? This recipe combines caramelized chicken, lots of ginger, chile flakes, and tons of delicious veggies. Break out of your dinner rut and dig into this sesame ginger chicken fried rice.
Get the recipe from Half Baked Harvest.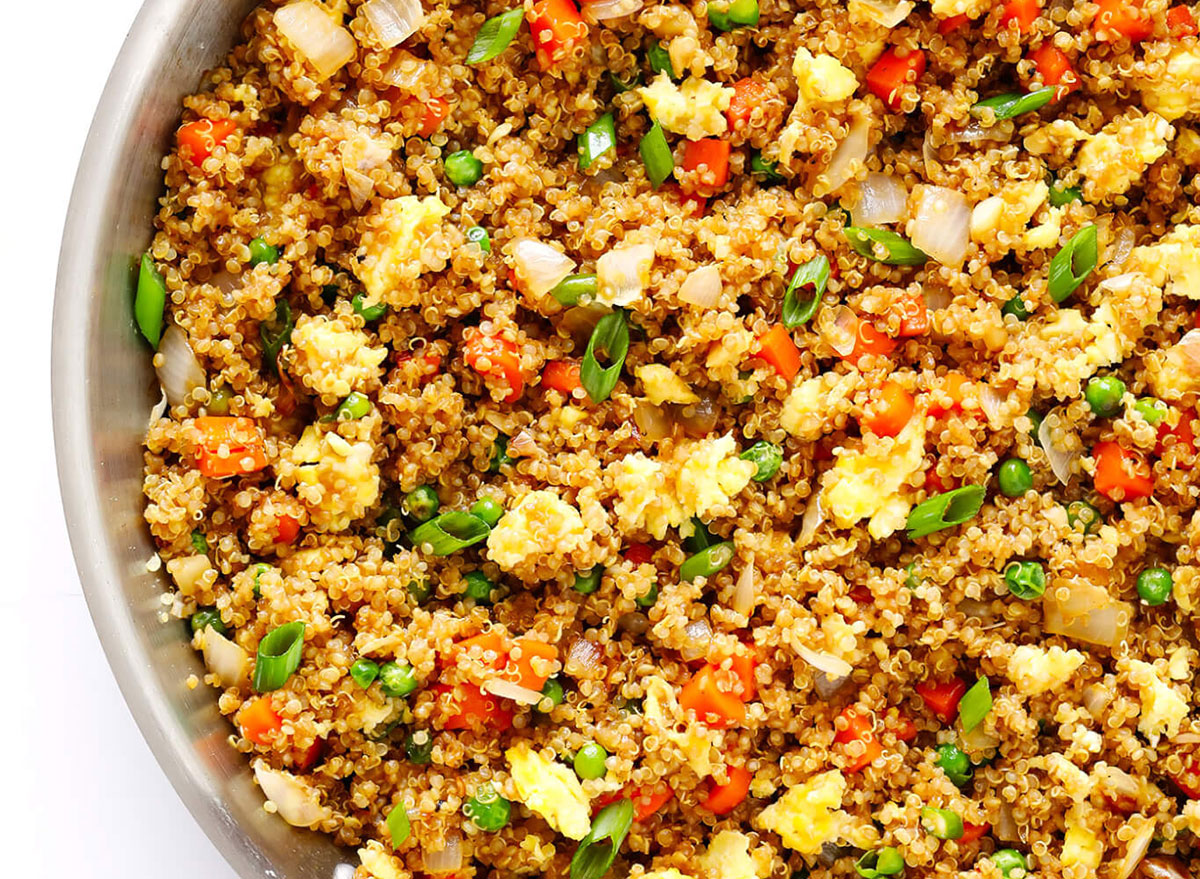 While not technically fried rice, this quinoa recipe has all the fried fun of the traditional dish without the added carbohydrates and calories. Serve it with your favorite vegetables and sauce. The best part? The quinoa substitutes so well that your friends and family will hardly taste a difference.
Get the recipe from Gimme Some Oven.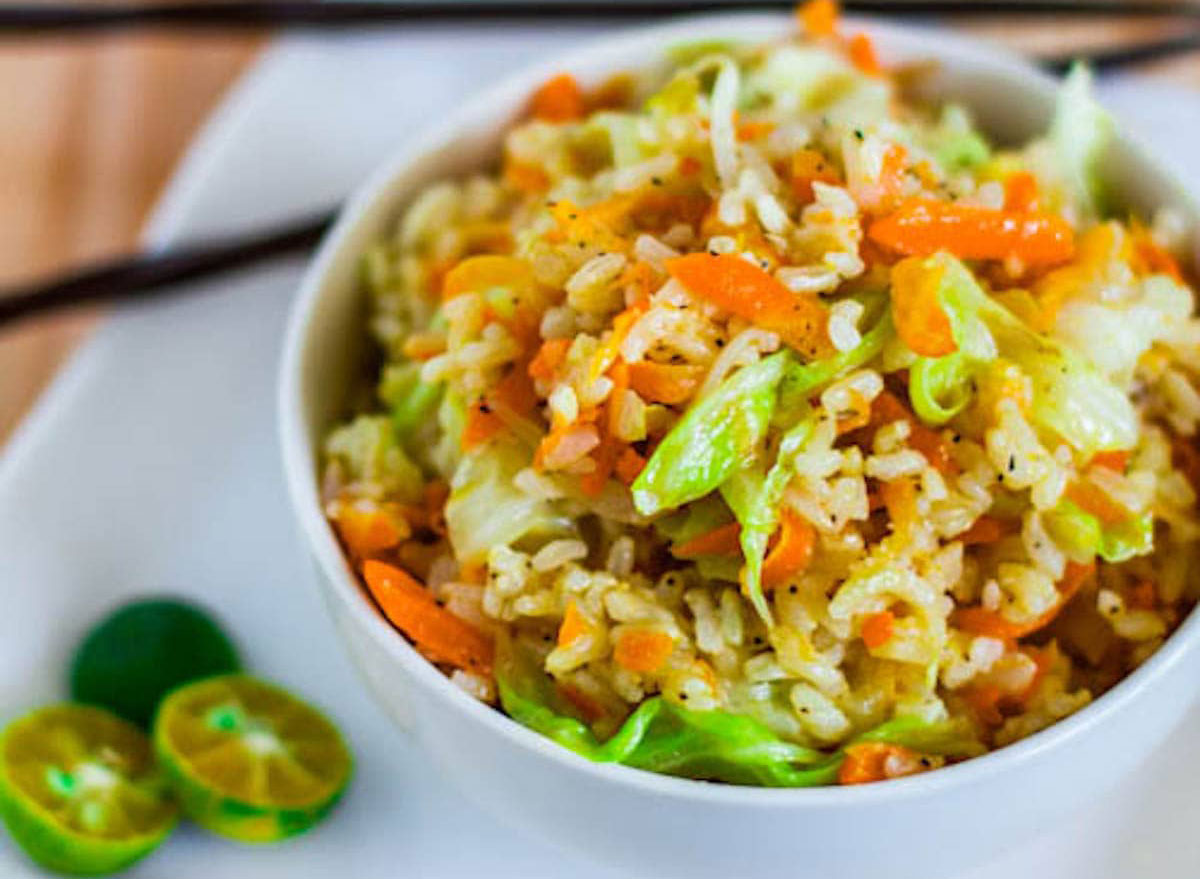 This highly customizable dish builds on a delicious, savory base: brown rice, carrots, and garlic. Add in any veggies you have on hand or pack on the protein with chicken or tofu. Regardless, this simple recipe cuts down on prep time and unnecessary calories.
Get the recipe from Pinch of Yum.
Just as good as your takeout staple, this grainless dish is made from sweet potato noodles. While the sweet potato rice takes a bit longer to create, the outcome will leave you both full and guilt-free.
Get the recipe from Inspiralized.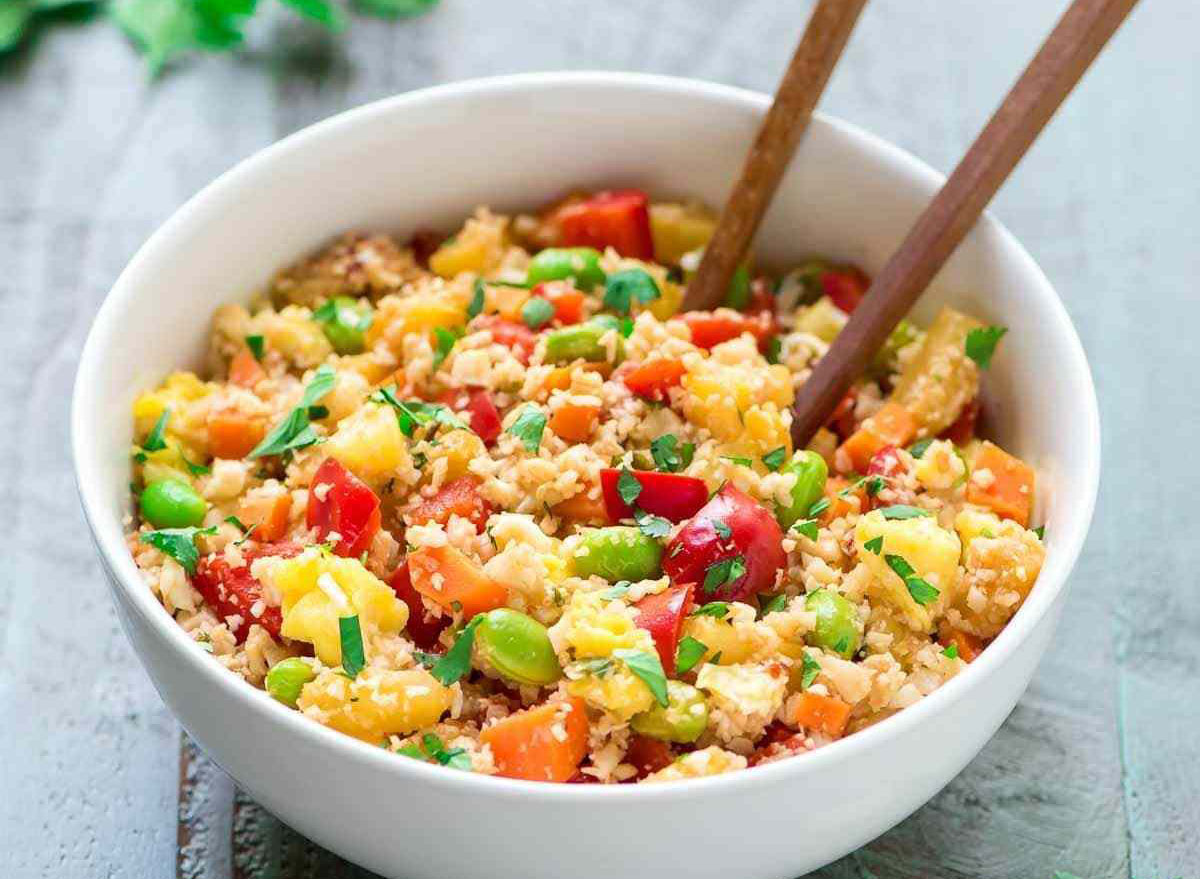 Another cauliflower fried rice recipe here, but with more color than you could imagine. Made with pineapple, bell peppers, carrots, and edamame, this dish is a party on your plate.6254a4d1642c605c54bf1cab17d50f1e
Get the recipe from Well Plated by Erin.
Healthy Kimchi Fried Rice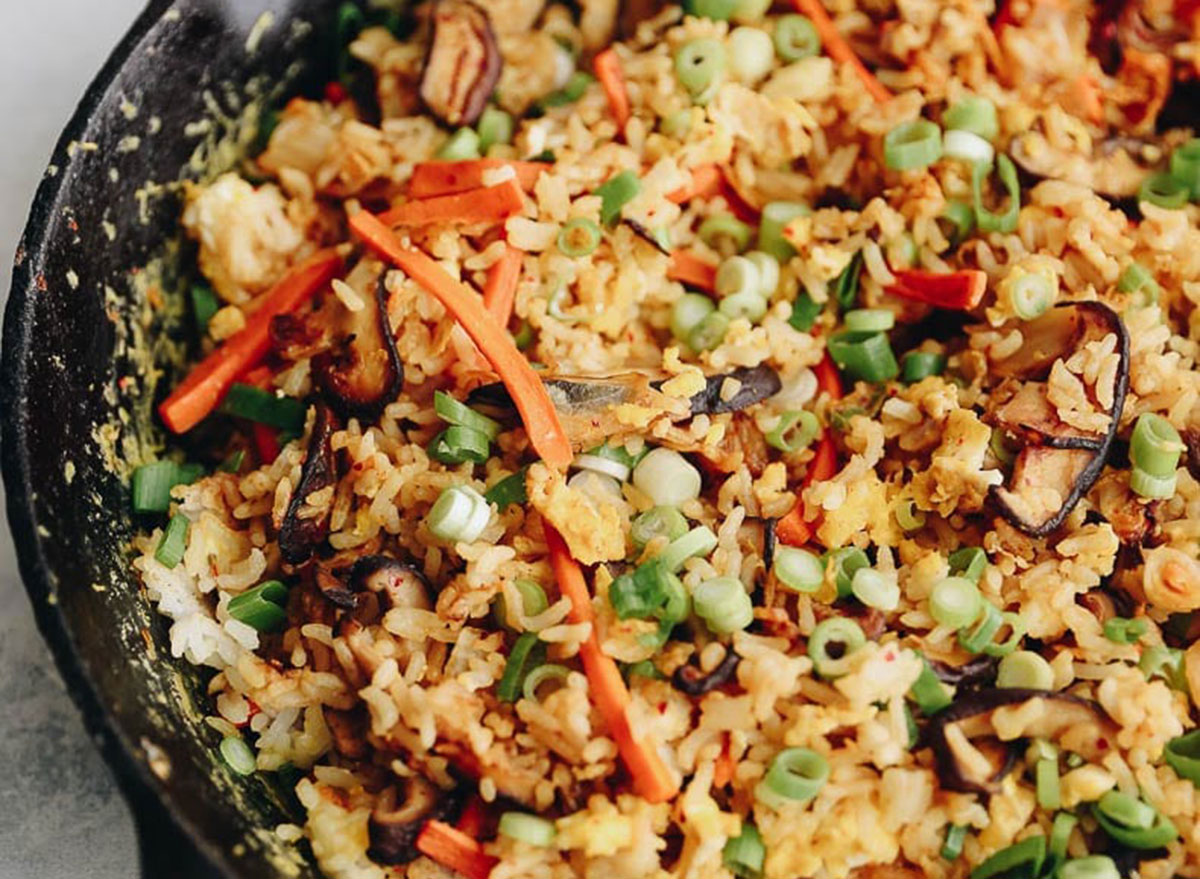 This one-pan kimchi fried rice recipe is delectable both day of and as leftovers. Kimchi, a staple of Korean cuisine, is made of fermented cabbage and spices, and promotes weight loss, fights inflammation, and helps regulate your immune system.
Get the recipe from The Healthy Maven.
Healthy Oven-Baked Sheet Pan Fried Rice With Chicken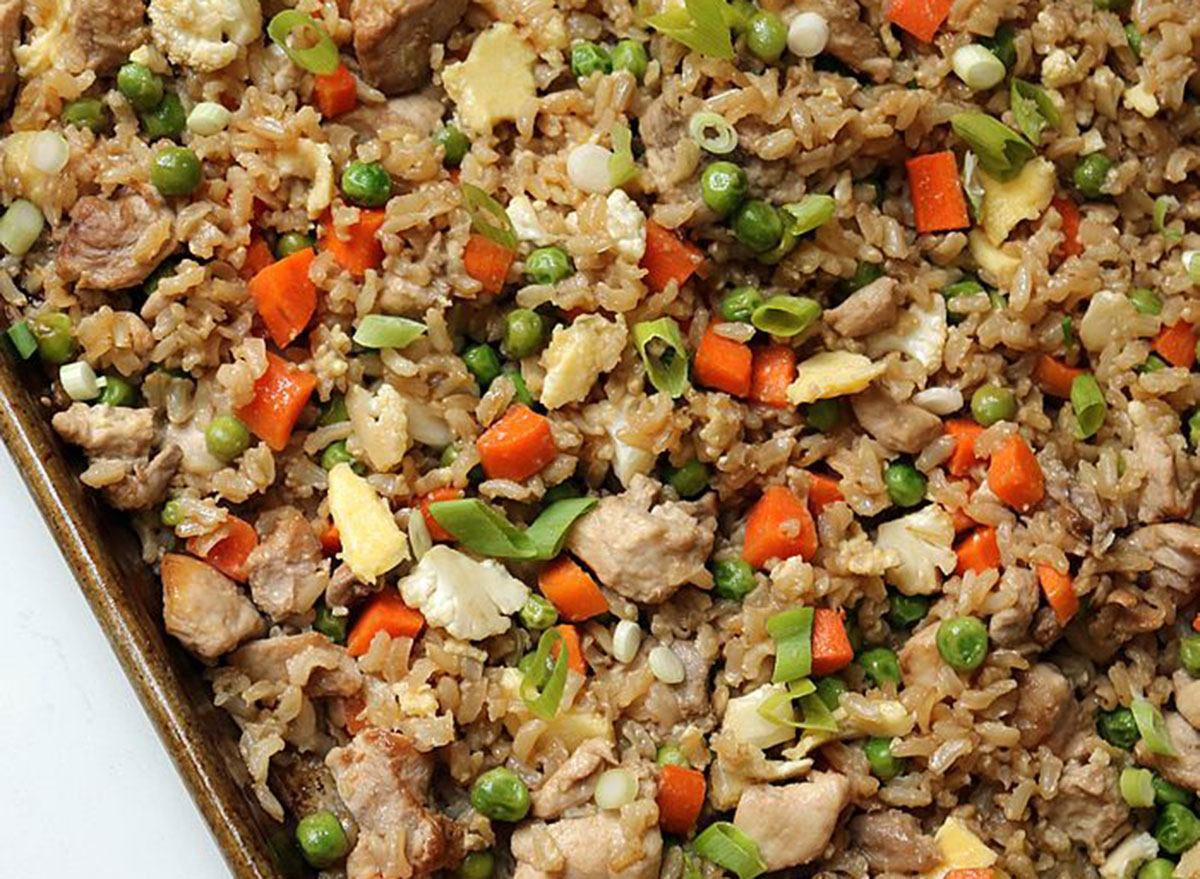 Instead of frying up your rice, try baking it in the oven. What's great about this recipe is that most of the prep work can be done in advance. Before dinner, bake all the ingredients for 25 minutes at 425 degrees Fahrenheit. Add whisked eggs in the center of the pan and bake for an additional 4 minutes before serving.
Get the recipe from The Yummy Life.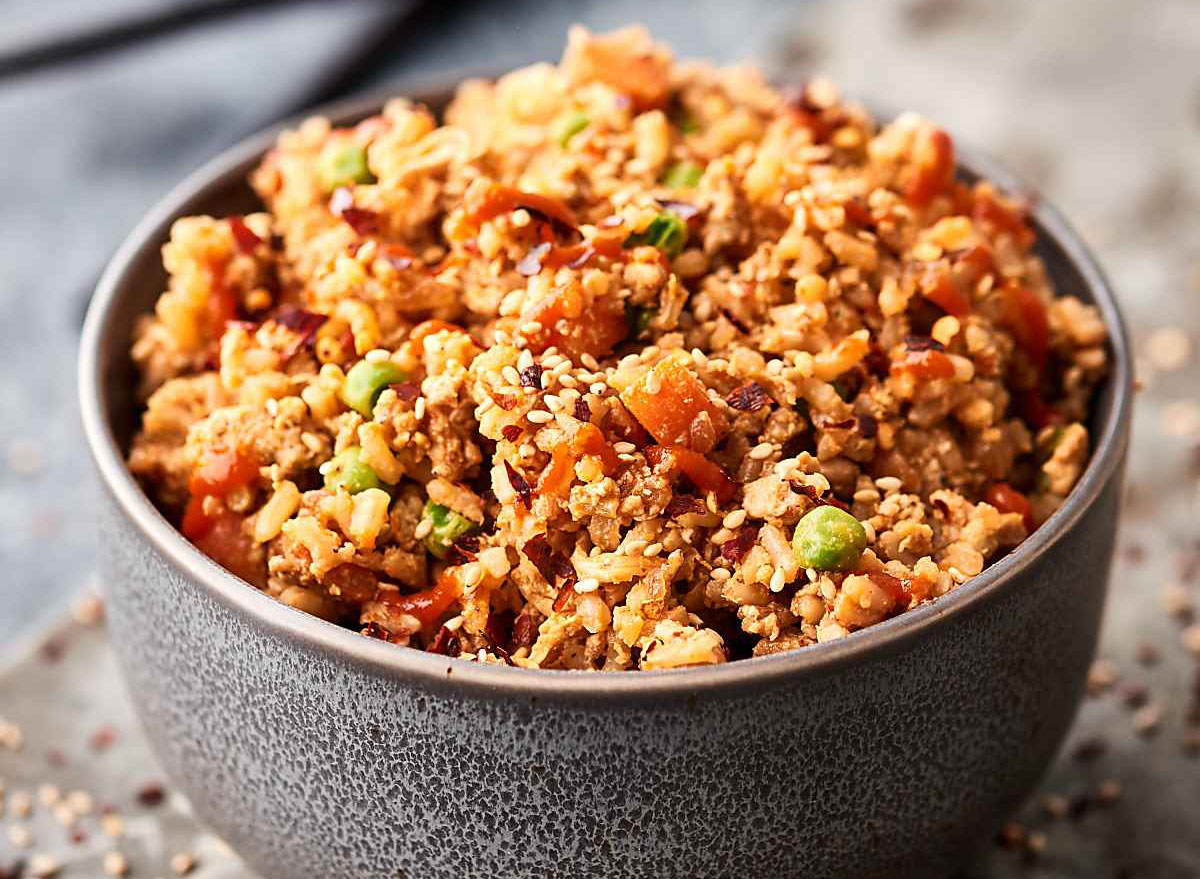 A healthy alternative to chicken, extra lean ground turkey is an appetizing substitute. Don't worry about missing out on flavor, this recipe is made with a chili garlic sauce, adding some heat to the traditional dish.
Get the recipe from Show Me the Yummy.
Shrimp Fried Cauliflower Rice
Combine fresh vegetables with frozen shrimp and cauliflower rice to create this simple and nutritious dish. Or, if you prefer to make your own cauliflower rice, pick up a head of cauliflower, cut it into florets, add those to a food processor, and pulse until it has a rice-like texture.
Get the recipe from Diethood.
Healthy Chinese Style Instant Pot Brown Fried Rice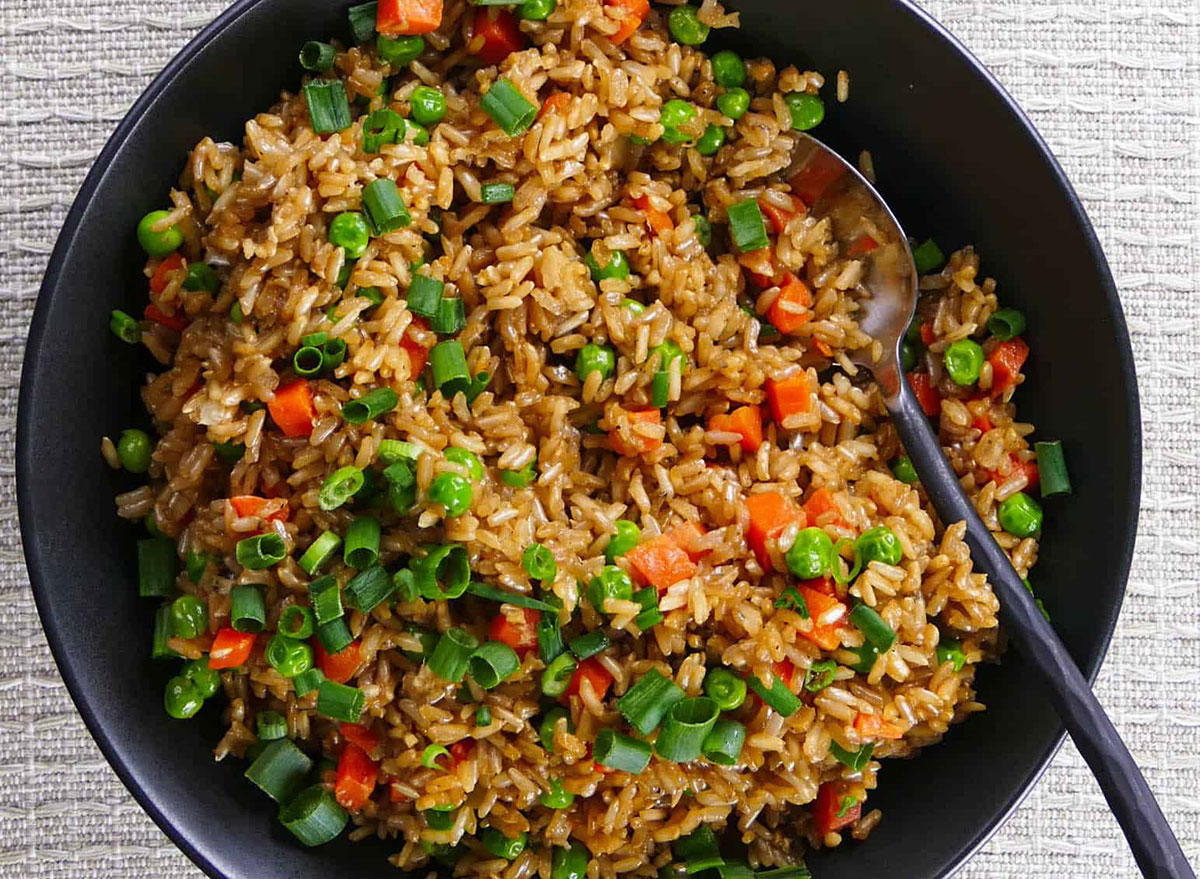 This fried rice recipe uses brown rice instead of white for added fiber. With instructions on how to cook fried rice using an Instant Pot, this recipe is great for creating consistently delicious rice. Add a little extra spice to your rice with sriracha on top.
Get the recipe from Paint the Kitchen Red.
Pineapple Cashew Fried Rice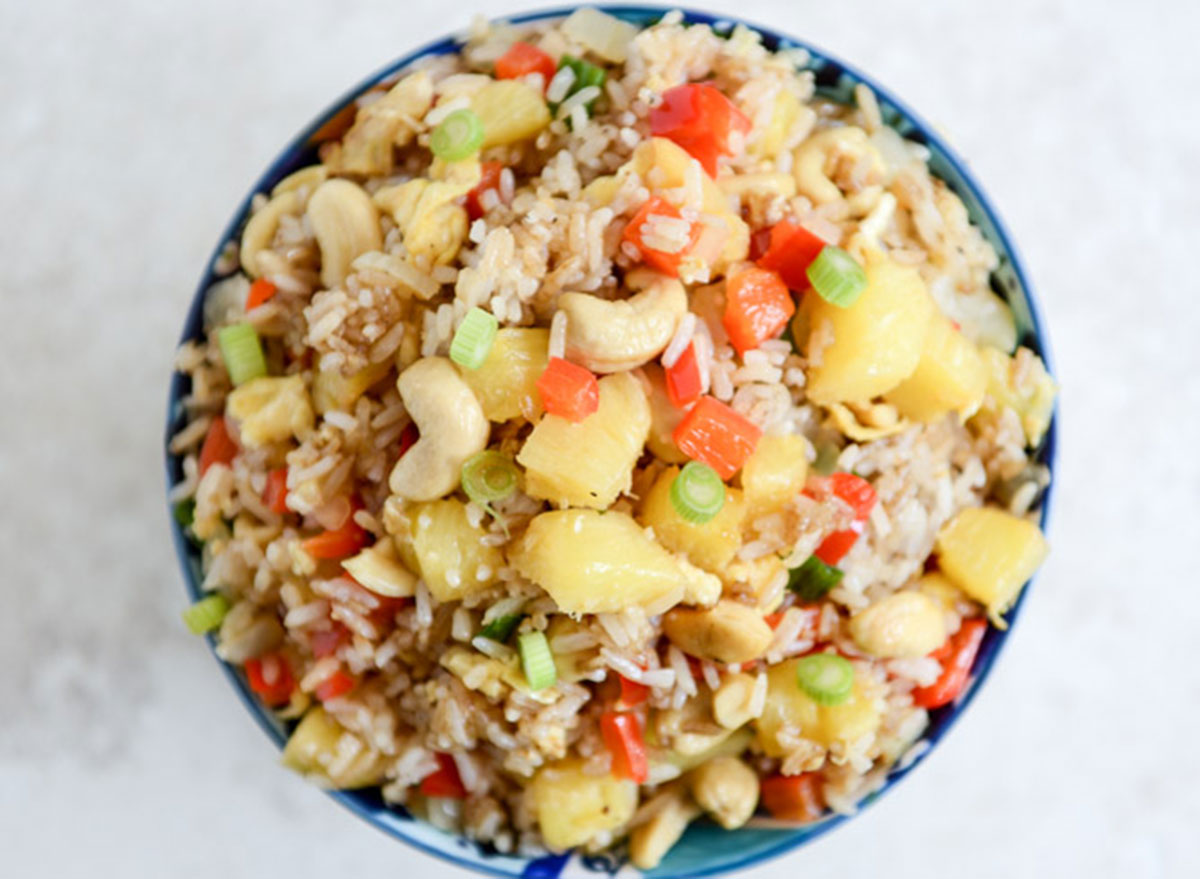 The pineapple, cashews, and coconut oil in this fried rice give it major summertime vibes. Eat it on its own or sprinkle in sauteed shrimp for even more flavor.
Get the recipe from How Sweet Eats.
Spicy Kale and Coconut Fried Rice
Made with kale, one of the most nutrient-dense foods, this fried rice is a tasty option for vegetarian chefs. Finished off cilantro, sriracha, and lime, this dish is filled with some major Thai flavor.
Get the recipe from Cookie + Kate.
Crispy Peanut Tofu and Cauliflower Rice Stir-Fry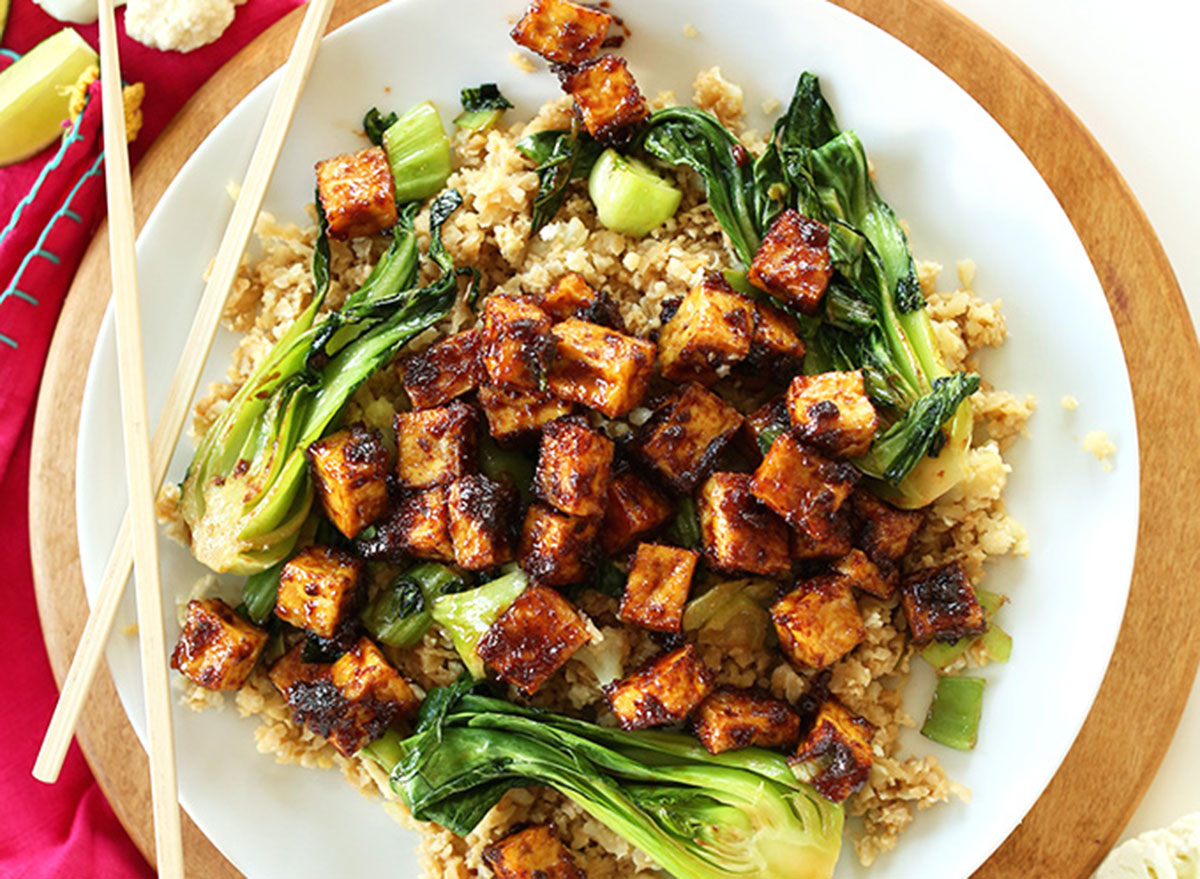 Come for the rice, stay for the baked peanut tofu. Pre-bake the tofu before sauteeing it in rice to add to the crispy texture. Once it's in the pan, mix in cauliflower rice, your veggies of choice, and enjoy this sweet and spicy dish.
Get the recipe from Minimalist Baker.
Chinese Cauliflower Fried Rice Casserole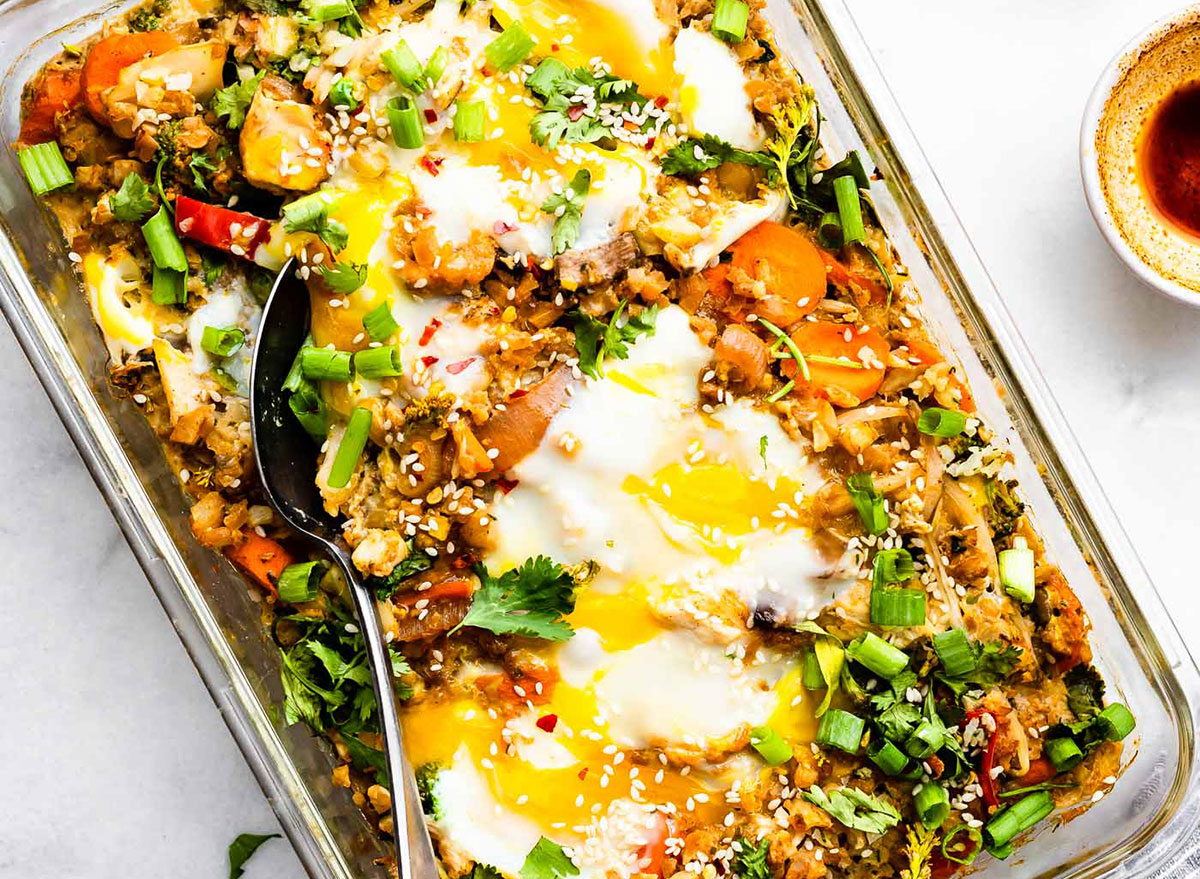 Grain-free and perfect for planning ahead, this fried rice casserole is about to be an essential recipe in your weeknight dinner repertoire. Yielding 4 to 5 servings, the casserole includes ginger, garlic, mung bean sprouts, and more.
Get the recipe from Cotter Crunch.
Chicken Fried Rice With Thai Peanut Sauce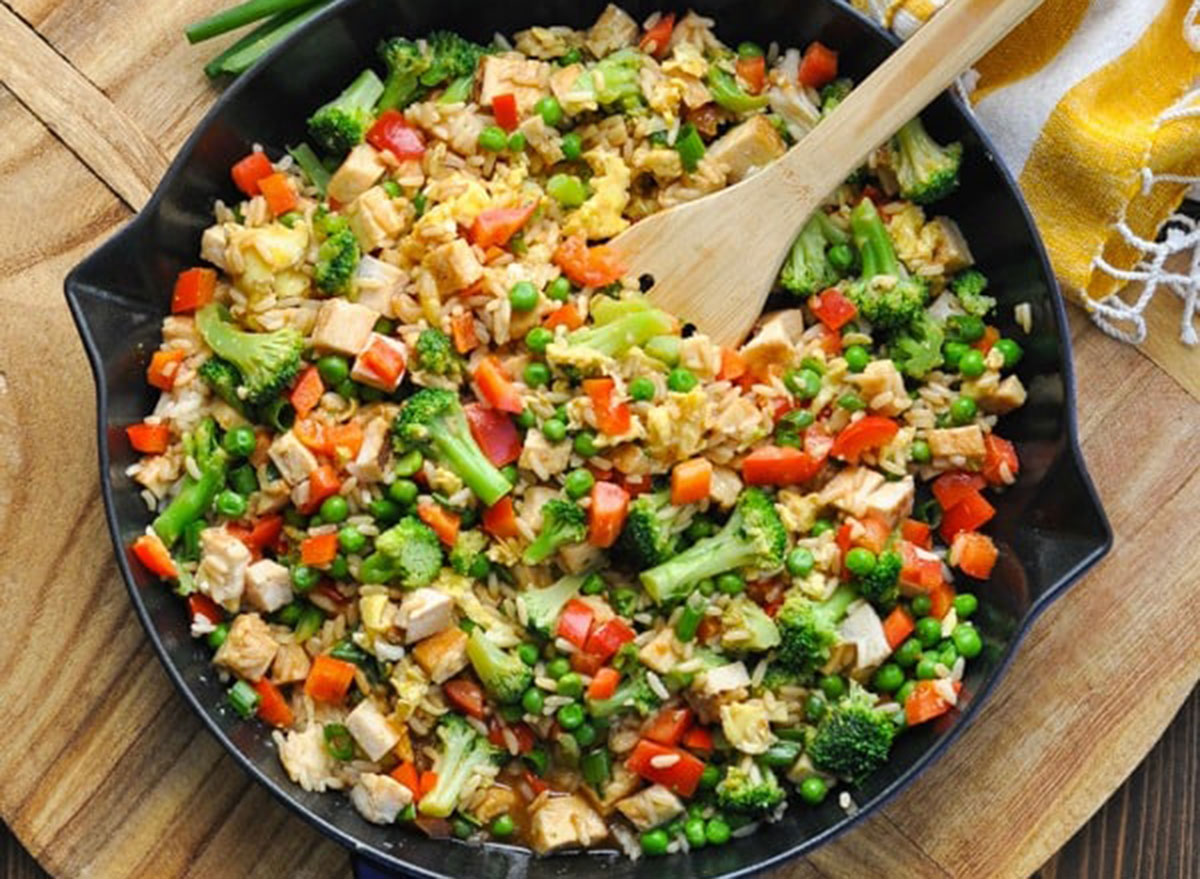 Peanut lovers can rejoice about this one-skillet, healthy fried rice recipe. Serve spring rolls, mandarin oranges, or dumplings on the side for a full-on Asian feast.
Get the recipe from The Seasoned Mom.
Honey Garlic Chicken Fried Rice
This easy-to-freeze dish will be a lifesaver on busy weeknights. Indulge in this savory recipe by using low-sodium soy sauce and protein-packed chicken breast.
Get the recipe from Inquiring Chef.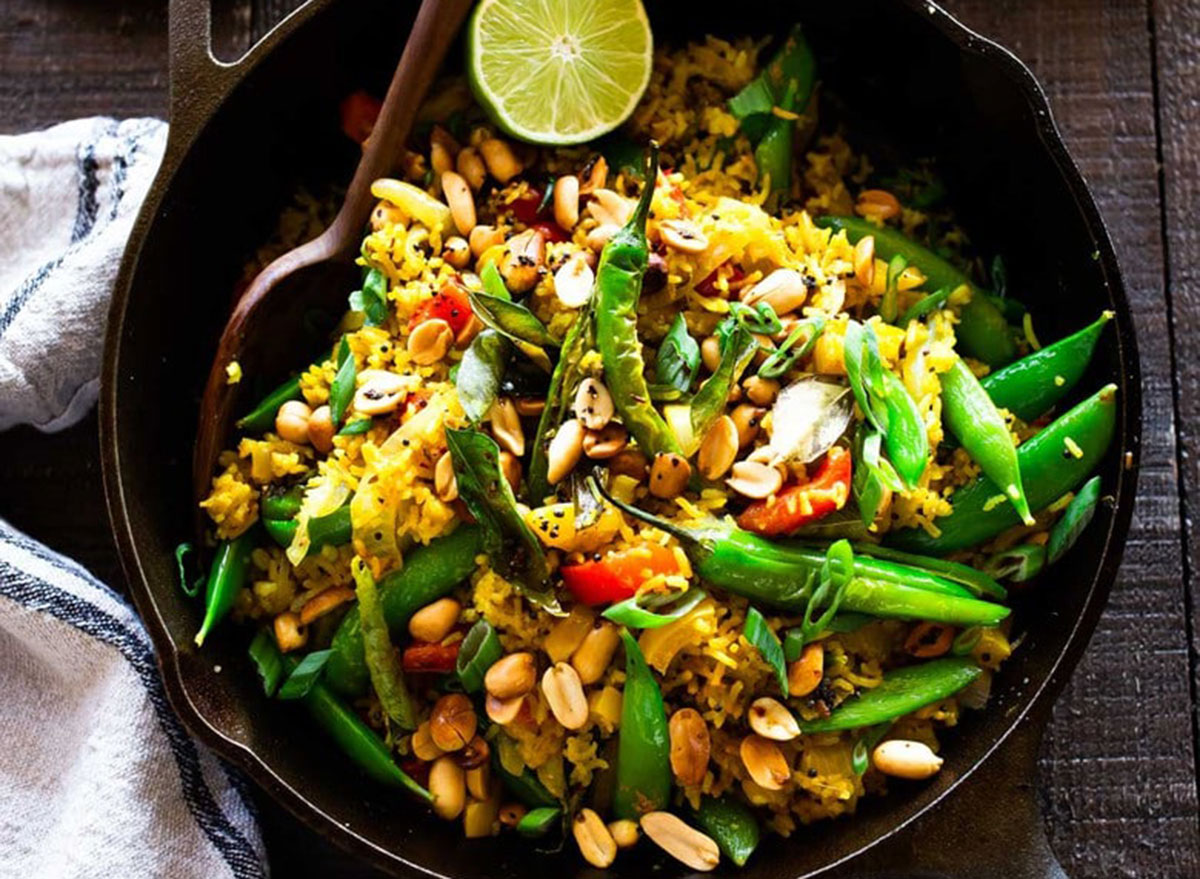 Infused with turmeric, this Indian fried rice recipe can quickly be created from leftover rice you have in the fridge. Add in snap peas, snow peas, bell peppers, asparagus, green beans, and shredded cabbage for a veggie-filled meal.
Get the recipe from Feasting at Home.
Meg Rotter
Meg Rotter is a Brooklyn-based writer and content producer, with bylines at Cosmopolitan, Hearst, and BRAVA Magazine.
Read more about Meg