11 Famous Steakhouses That Will Sell You Meat Right Now
These restaurants have turned into makeshift butcher shops.
The meat supply may be running low in your local grocery store, so it's time to get creative and look for alternative ways to procure your favorite protein. And what better place to buy your meat from than the holy house of top-quality meat—the steakhouse. Some of America's best steakhouses are opening the doors to their in-house supplies and turning into makeshift butcher shops. Yes, you can now order prime cuts of beef from several award-winning, famous steakhouses all over the United States. Here's what's on offer. And to get more food news delivered straight to your inbox, sign up for our newsletter.
The elegant Chicago establishment Swift & Sons has made their premium meat available for purchase via delivery or curbside pickup. You can choose from three types of precut steaks—6-ounce filet, 1-ounce New York strip, and 14-ounce ribeye—or several grilling kits, which include two of the steaks of your choosing and fixin's for a wedge salad side dish. On the other hand, here is what happens to your body when you stop eating meat.
St. Elmo Steakhouse, Indianapolis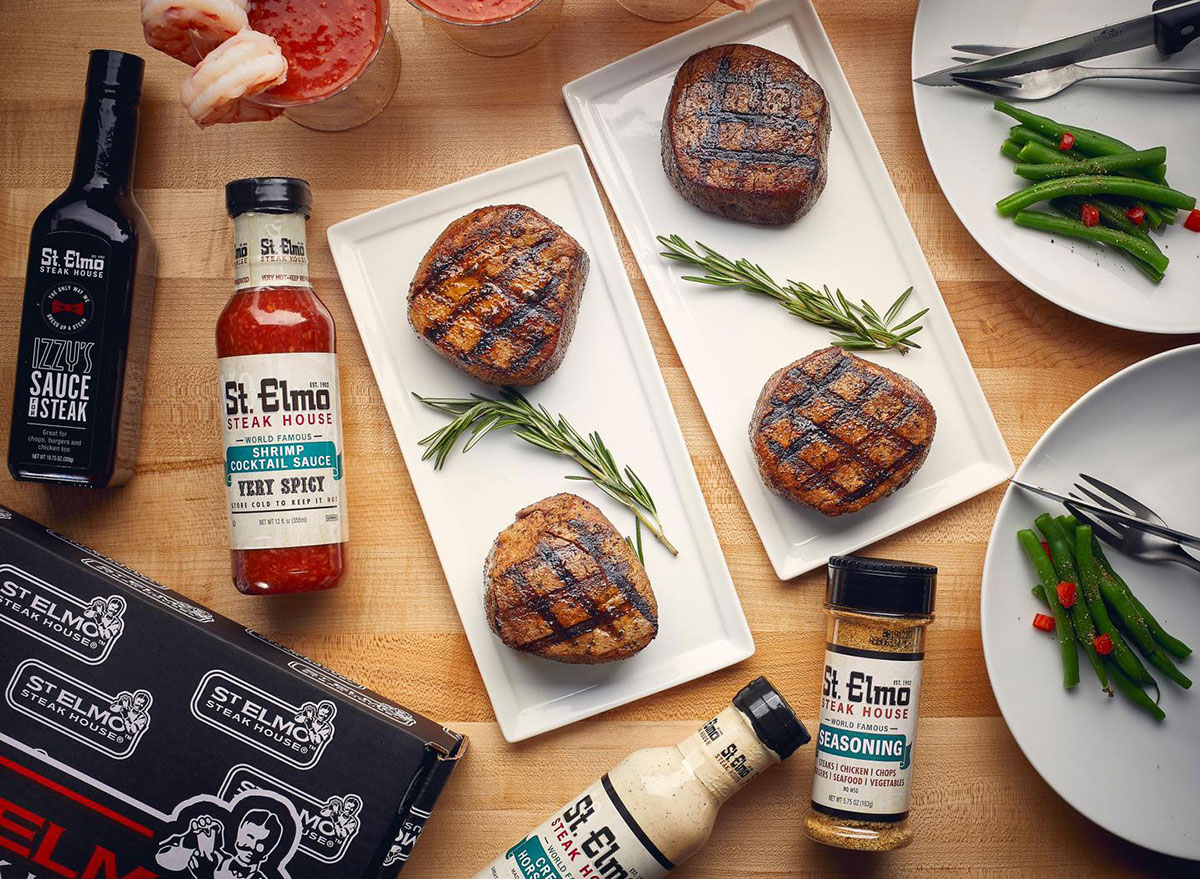 A classic on the Indianapolis restaurant scene, St. Elmo Steakhouse has been around, and served the same menu, for 117 years. During quarantine, you can order steak and shrimp dinner kits from their website, and recreate the magic of their famous aged pure black Angus NY strips and shrimp cocktail right at home. Several options for different-sized parties are available. You can also purchase their famous steak seasoning and sauces. Thinking of grilling? Check out these 24 essential grilling tips from top chefs.
Murray's in Minneapolis is offering grill kits for curbside pickup. They consist of four 14-ounce New York Strip steaks, their signature steak seasoning, and a bottle of wine. For special occasions, try their prime rib—you'll get a 10- to 12-ounce piece that comes with all the side-fixin's, including potato gratin and Ceasar salad. Individual high-quality wine bottles are also available for pickup.
Killen's Steakhouse, Pearland, Texas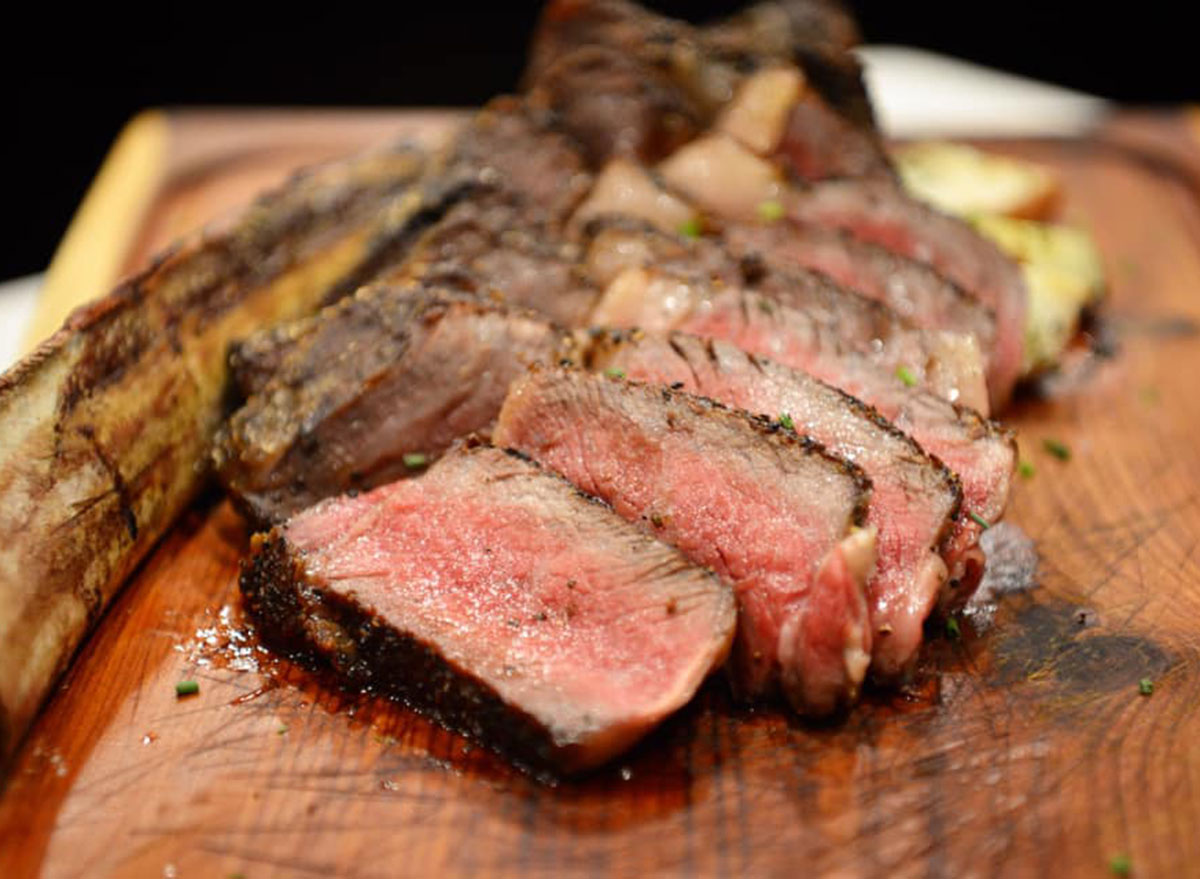 This high-end eatery in Pearland is known for its Gulf seafood and Wagyu beef steaks. And now you can get some of their offer, in the form of a butcher pack, delivered to your door via Chownow. Killen's Steakhouse currently offers individual and family butcher packs, with picks like Wagyu NY strip and Ribeye. And here's why wagyu beef is such a prized cut of meat.6254a4d1642c605c54bf1cab17d50f1e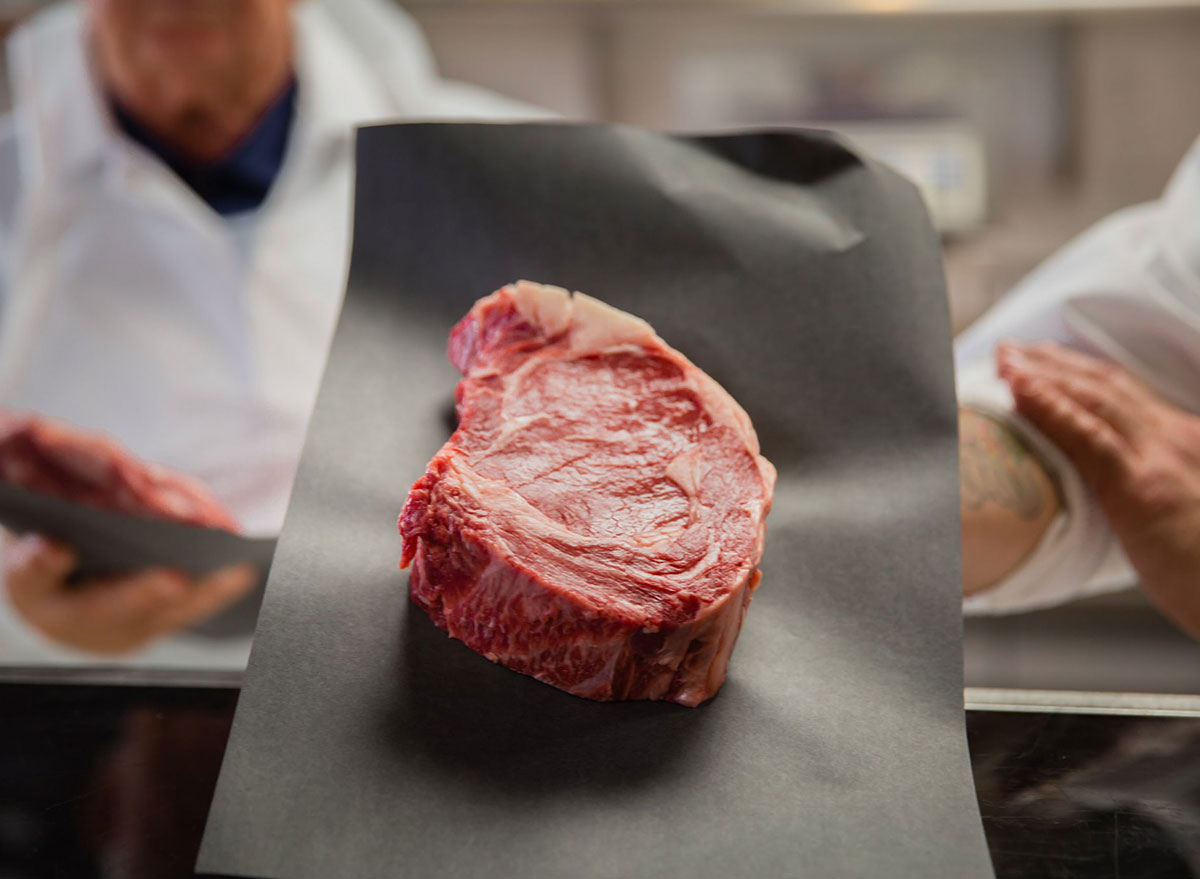 Graziano's, a group which operates five restaurants and six specialty meat markets across Florida, is offering pickup and delivery from several locations. True to their Argentinian heritage, the crew of Graziano's offers a huge variety of top-quality butchered meat, including individually-packed ribeye and tenderloin, as well as gourmet boxes that contain a variety of different cuts. Not to be missed—their offer of sausages and chicken cuts, too. Here's exactly what temperature every cut of meat should be cooked to.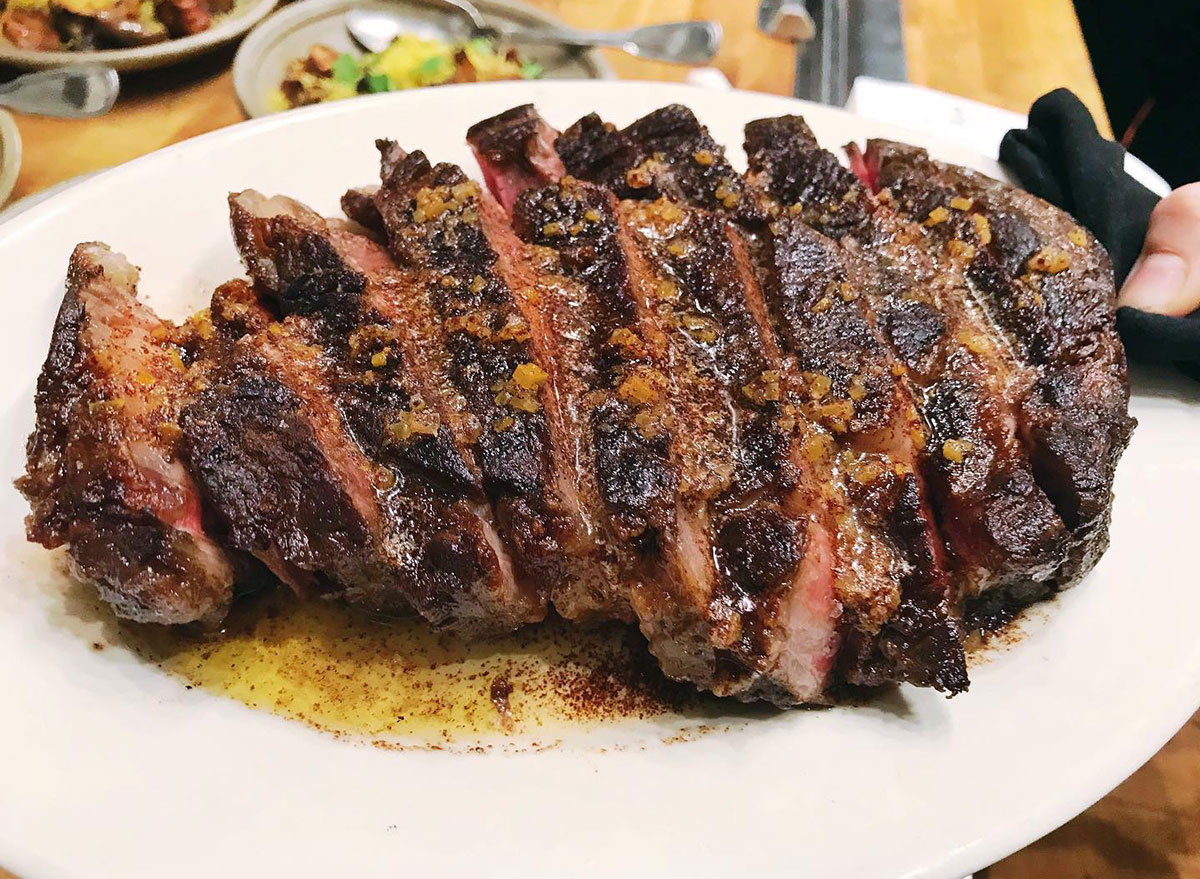 Bateau in Seattle relies entirely on its own supply of meat. The restaurant owns a few properties where they raise cattle and poultry, and are currently offering a limited daily supply of their grass fed dry aged cuts of beef. Also on offer are side dishes and accoutrements, some of which need to be prepared at home. Don't miss their burger kit for two, and their Boeuf box with enough meat to feed four. Here are some other ways you can buy meat during a meat shortage.
B&B Butchers and Restaurant, Houston
B&B Butchers and Restaurant is primarily a butcher shop, and secondly a restaurant. Their Houston and Fort Worth locations offer several butcher shop package specials, like Family Grill and Steak Kit Dinner for Two. The amount of meat you get in these kits is pretty generous and accompanied by beer and fresh produce. You can get them delivered via Doordash and Favor. Here are some grocery delivery services you can use right now to complete your meal.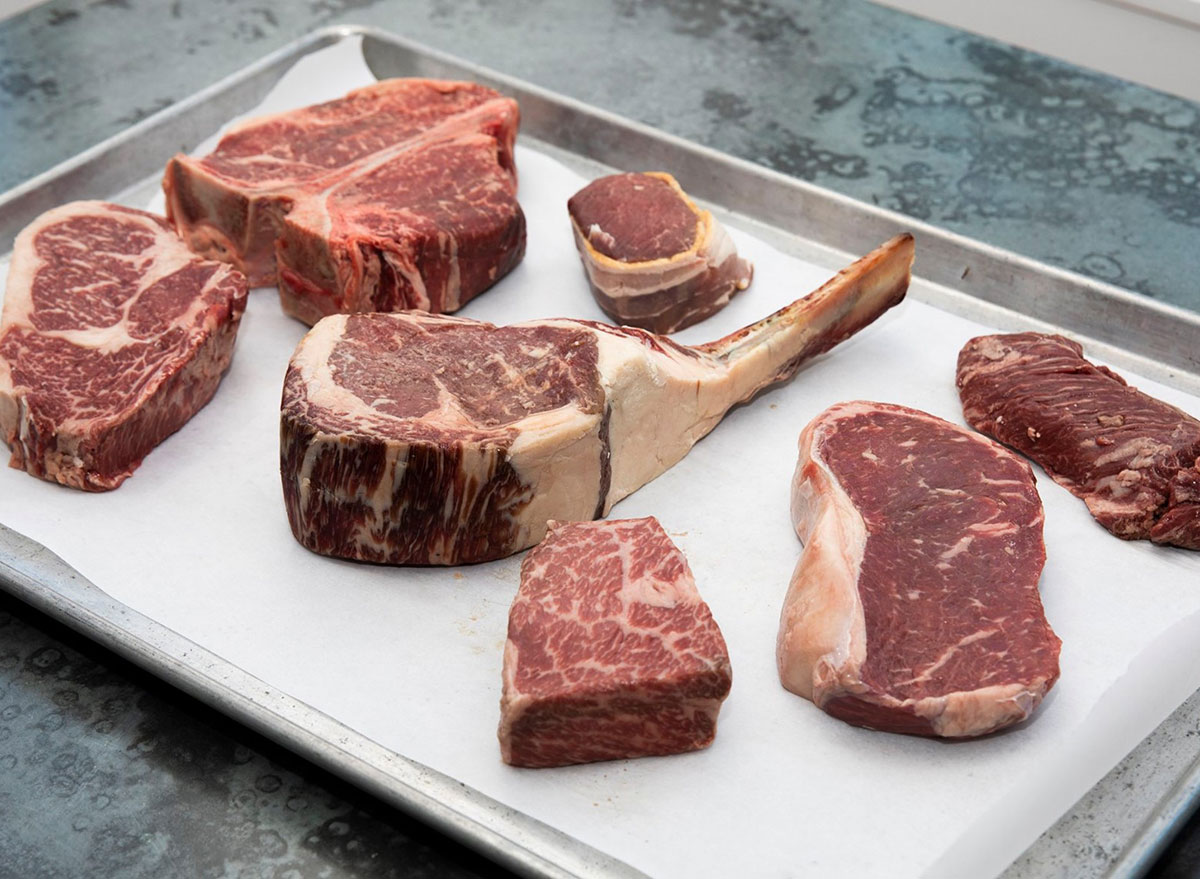 Georgia James is another Houston steakhouse currently doubling as a meat market. They're selling everything from ribeye and hanger steaks to bacon-wrapped tenderloin. But don't stop there—they'll also sell you a whole octopus. Bottles of wine and beer are available too, as are pre-made cocktails. Or make one of these delicious cocktails that bartenders are making at home right now.
Knife in Dallas is offering whole trimmed fillets, dry aged bone-in ribeyes, flat irons steaks, or coulottes. Most of their beef comes from 44Farms, an old-school black Angus producer in Texas.
Gwen in Los Angeles operates an in-house butcher shop and is selling a wide selection of cuts—from fancy 30-day aged bone-in ribeyes and Wagyu New York strips, to cheaper cuts like brisket and short ribs. Here are some grilling recipes you can make with your purchase.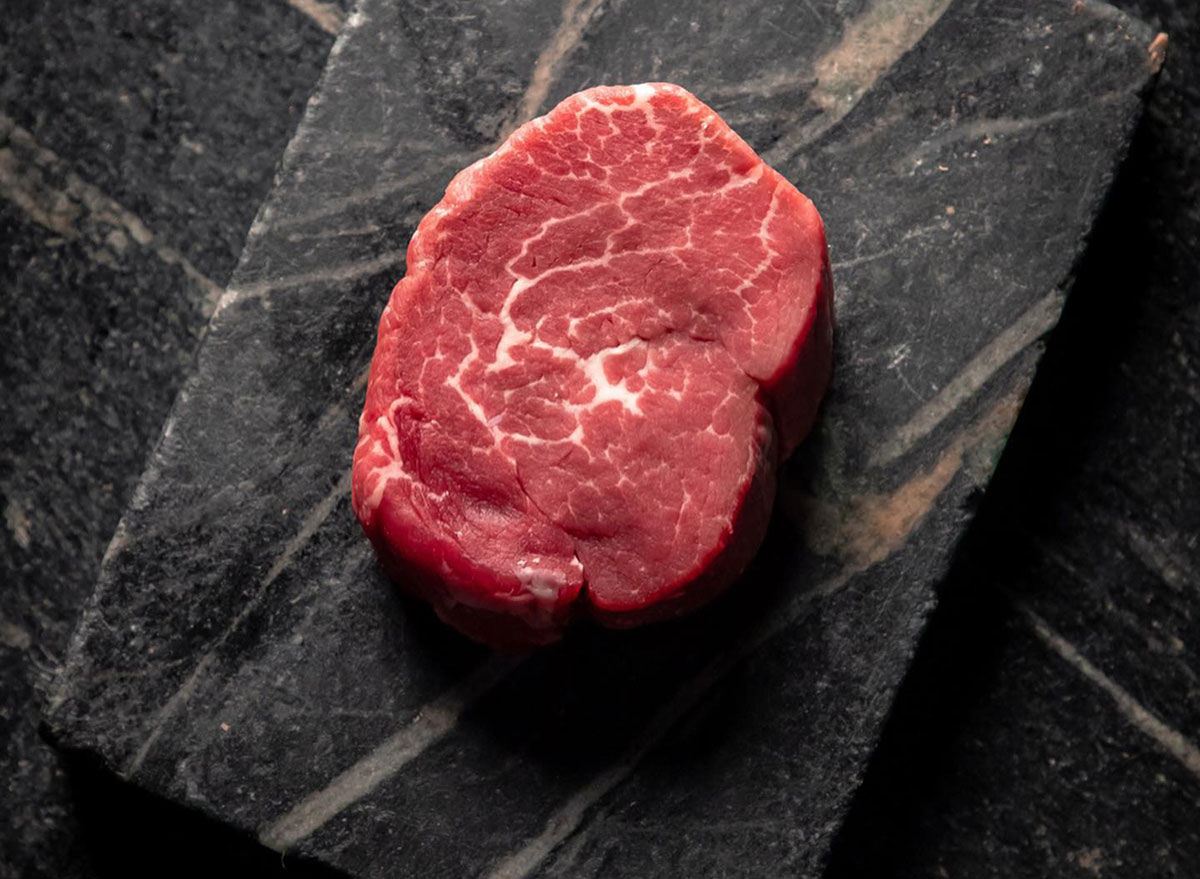 Korean steakhouse Cote, located in Manhattan's Flatiron area, is offering two different sizes of grill-at-home "steak care packages", complete with Korean side dishes and flaky sea salt, as well as a la carte options like prime ribeye. You can get them for pickup or delivery.
Mura Dominko
Mura is ETNT's Executive Editor, leading the coverage of America's favorite restaurant chains, grocery stores, and viral food moments.
Read more about Mura