7 Strict Rules That Five Guys Employees Have to Follow
With great burgers comes great responsibility.
Five Guys is a relative newcomer in the scheme of things. Whereas many American burger chains have been around since the 1950s, Five Guys has only been around since the late 1980s. But in that time, the chain has enjoyed a tremendous amount of growth and success. There are, according to the data company ScrapeHero, currently almost 1,400 Five Guys locations in the United States, and there are more than 1,700 Five Guys in total worldwide, including restaurants in Europe, Asia, and the Middle East.
How has the chain grown so successful? Well, having excellent burgers certainly doesn't hurt. Nor do the free peanuts. But another way Five Guys has seen itself thrive is by having a number of rules for its employees that are strictly enforced. Here are eight of the rules Five Guys workers have to follow if they want to remain in the burger business. Plus, don't miss I Tried Five Guys for the First Time Ever—Here's What I Loved.
Dress the part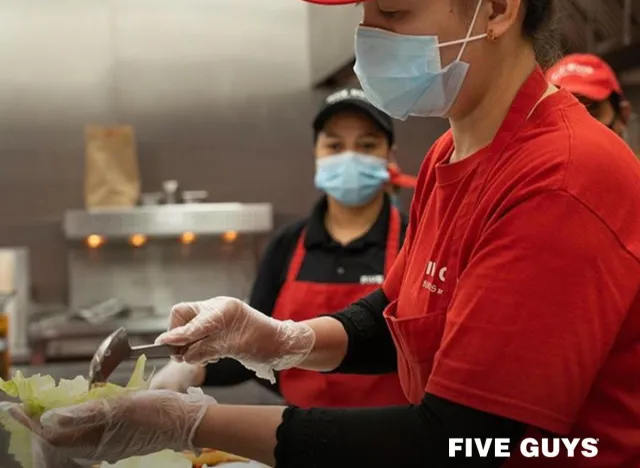 Five Guys has very specific rules when it comes to employee uniforms. All workers must wear either a red or black Five Guys shirt—red for crew members, black for management—and if a t-shirt is worn under it, that shirt must be white or black. And if the undershirt is long-sleeved, it must be black. Jeans are preferred by black pants permitted, while no shorts, leggings, or skirts are allowed. And a Five Guys hat or visor is required at all times.
Frozen foods are never acceptable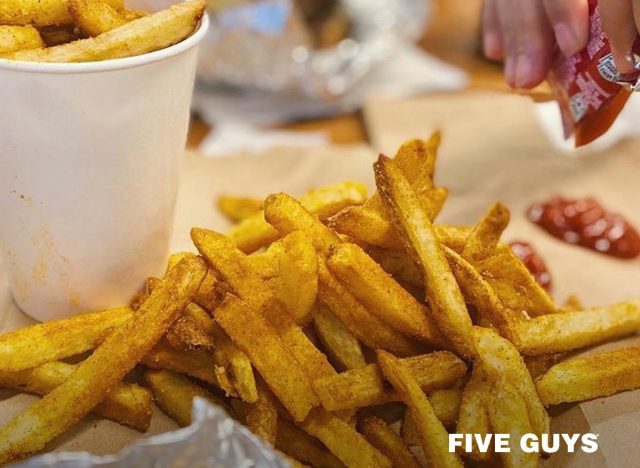 Five Guys is serious when it talks about never using frozen foods. As in the whole "There are no freezers in Five Guys locations, just coolers" quote from the company's site. And as in, per one former employee's comment on Reddit, if foods are ever delivered frozen, they are to be rejected and sent back and the staff had to prepare a report about the frozen foodstuffs.
There are no timers in the kitchen
Anyone who wants to man the grill at Five Guys has to go through lengthy training and they are expected to know how to cook a burger correctly.
That 30-minute break is unpaid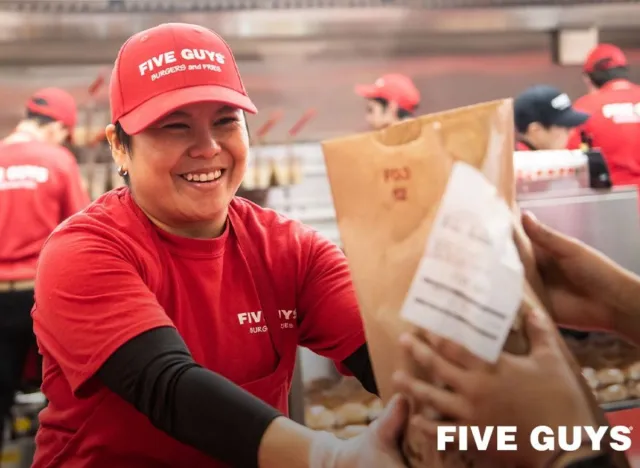 Depending on the location of the restaurant (rules vary by state to state), Five Guys employees who work a shift longer than five or six hours are mandated to take a 30-minute break, per Indeed. But that break is unpaid time off. On the other hand, workers at corporately-owned Five Guys restaurants do get a shorter 15-minute break that is paid.6254a4d1642c605c54bf1cab17d50f1e
Five Guys workers can only cook the burgers one way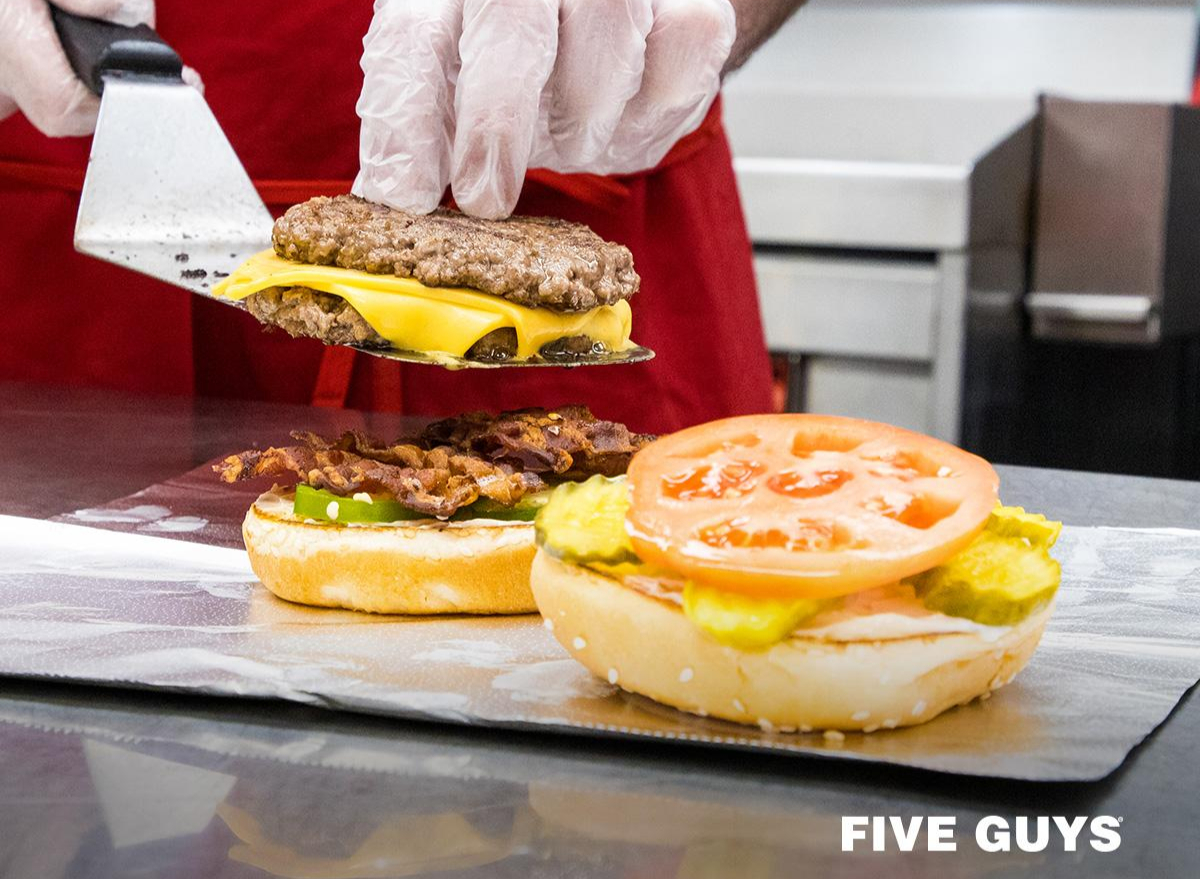 Never bother asking a Five Guys employee if you want a burger cooked medium rare or medium or anything, in fact, because per Taste of Home, they are never allowed to alter the way the burgers are cooked. All Five Guys burgers must be cooked to well done as a rule, no exceptions.
They have to give you all those extra fries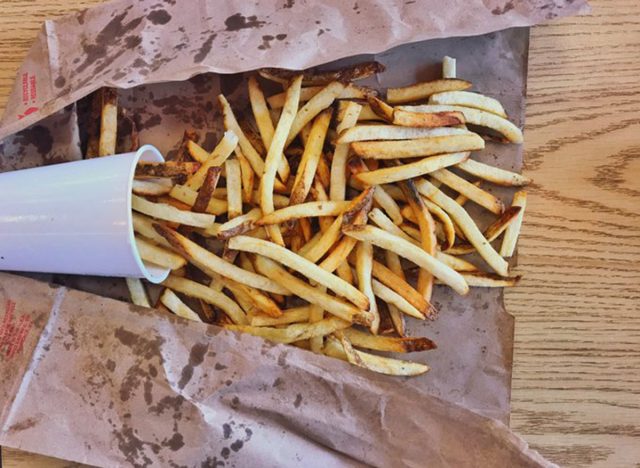 Five Guys gives out famously large portions of French fries, so much so that customers often think they lucked out and got a great deal. That's by design, per PopSugar: the idea is that customers will be thrilled by the huge portions and will come back again and again, whereas in fact employees are mandated to give out double-sized portions of fries because they are a low-cost, high-margin product that helps move costlier menu items like those burgers.
Employee meals must not cost more than $11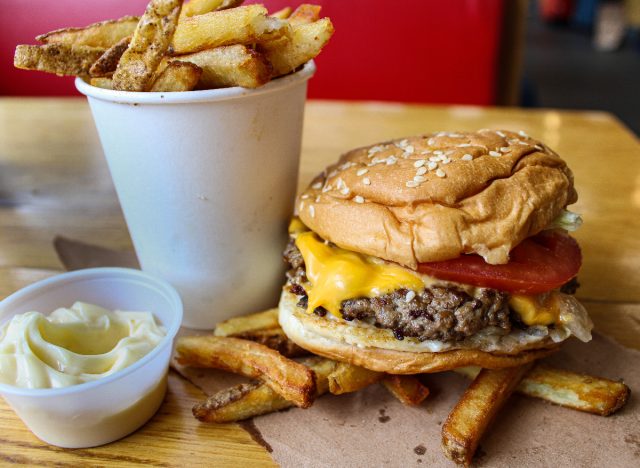 That is, an employee's meal eaten while he or she is on a break must not cost more than $11 unless the worker wants to pay for their food. Per the Five Guys Handbook, employees are only entitled to $11 worth of food per day. Which is actually rather hard to do, as only a few burgers cost less than that. (Though all sandwiches and hot dogs are less expensive than $11.)
Steven John
Steven John is a freelancer writer for
Eat This, Not That!
based just outside New York City.
Read more about Steven