10 Stunning Fast-Food Restaurants You Won't Believe Are Real
These locations serve up a different kind of fast-food experience.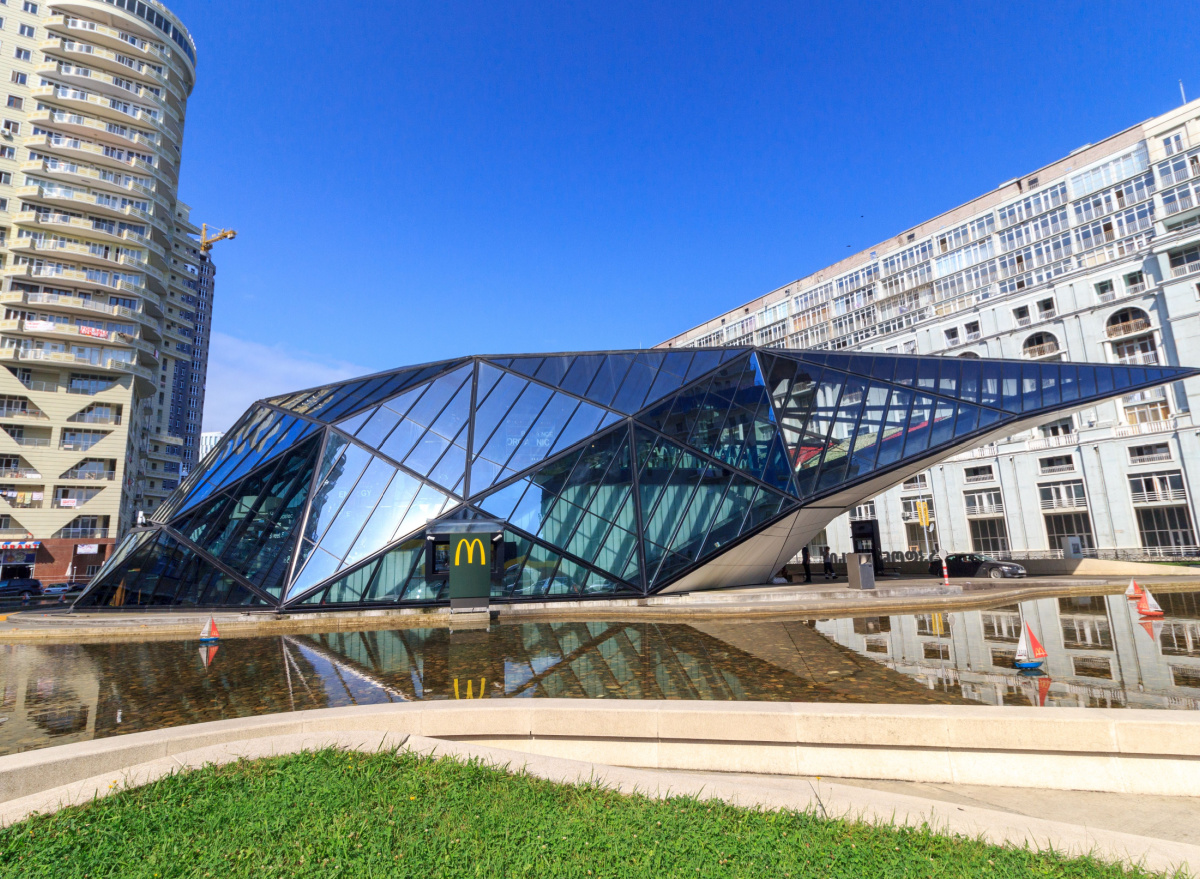 Before pulling into a fast-food restaurant, you pretty much know what the space is going to look like. McDonald's will have its golden arches front and center. Starbucks will be stamped with its green and white siren logo. And Taco Bell will likely have at least a few ringing bells depicted on the premises.
While fast-food restaurants generally offer a similar atmosphere across locations, there are some outposts that stand out from the rest. These places typically have a mix of striking architecture, scenic views, or unique dining features not commonly seen at other locations.
Around the world, there are several fast-food spots known for their head-turning appearances—and we rounded them up for you. Read on to discover some of the most jaw-dropping fast-food restaurants across the globe.
McDonald's in Melbourne, Australia
Melbourne is home to one of McDonald's most eye-catching restaurants, which is located on Queens Parade Street in Clifton Hill. Originally built as the United Kingdom Hotel, the building exemplifies the Jazz Moderne style of architecture and captures people's attention with its brick exterior, curved wings, and rounded balconies.
The two-story art deco building was designed by architect James Hastie Wardrop in 1937-38 and was added to Australia's National Heritage List in 1988 "because of its architectural and historical significance as an 'exemplar of the material culture of the late 1930s.'"
McDonald's in Batumi, Georgia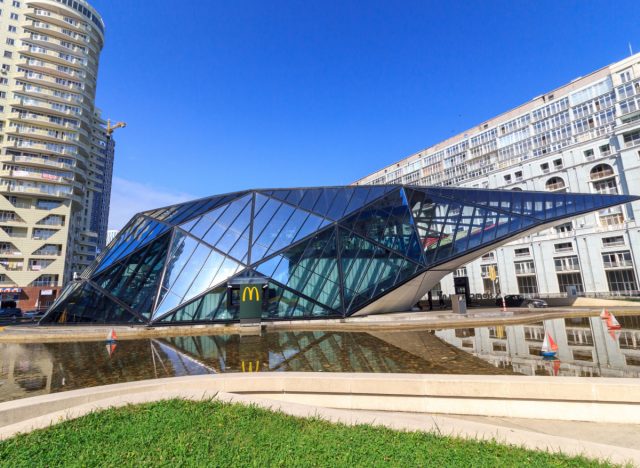 Batumi, Georgia, also known as the "Las Vegas of the Black Sea" is home to this modern McDonald's, which was awarded the Best Commercial Building of 2014 by the architecture website ArchDaily. The restaurant's exterior is decked out in 460 glass panels, and the entire building is surrounded by a reflective pool.6254a4d1642c605c54bf1cab17d50f1e
Despite being built on top of a gas station, diners can't see the fueling facilities, thanks to a layer of vegetation. According to the restaurant's architect Giorgi Khmaladze, this element "adds natural environment and acts as an 'ecological shield' for the terrace."
McDonald's in New Hyde Park, N.Y.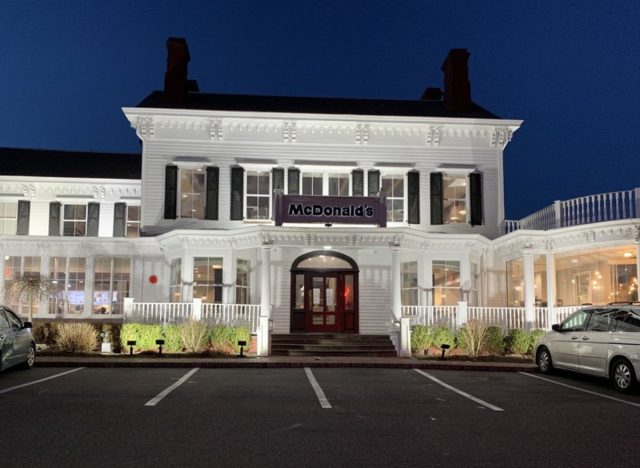 Talk about a McMansion! This McDonald's location was built in 1795 as the farmhouse of Joseph Denton, a descendant of one of the founders of Hempstead, N.Y. The house was converted into a Georgian-style mansion in the 1860s and eventually repurposed into a funeral home and later several restaurants.
Then, in 1985, McDonald's purchased the building, intending to demolish it. However, the local community objected to this plan and fought to keep the historic site. In 1988, the house was designated a historic landmark, which prompted McDonald's to agree to restore it and eventually open its restaurant in 1991.
Burger King in Helsinki, Finland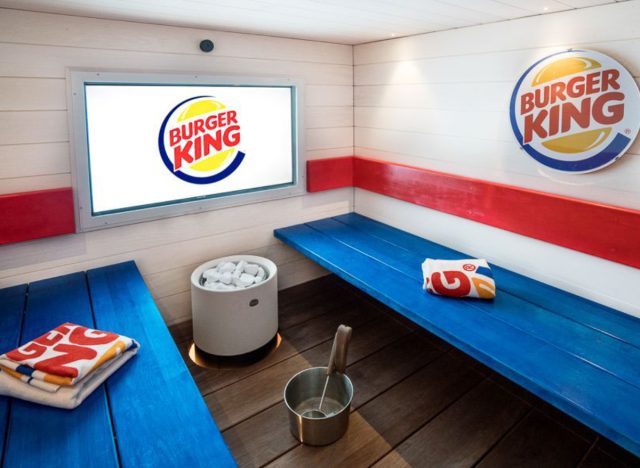 Relax and unwind…at Burger King? It's estimated that one-third of the world's saunas can be found in Finland, one of which is built inside a Burger King. Located in the country's capital of Helsinki, this unique Burger King location features a 15-person sauna (sporting the burger chain's signature colors), as well as a shower room, locker room, and media lounge complete with stereo equipment, a television, and a Playstation 4. If one sauna isn't enough, there's also a second one that holds 10 people and displays a 48-inch television.
While fast food is known for being cheap, this Burger King experience proves otherwise. In 2016, The Architect's Newspaper reported that three hours in the sauna costs $285, with this price including exclusive access to the other amenities, as well.
Pizza Hut in Giza, Egypt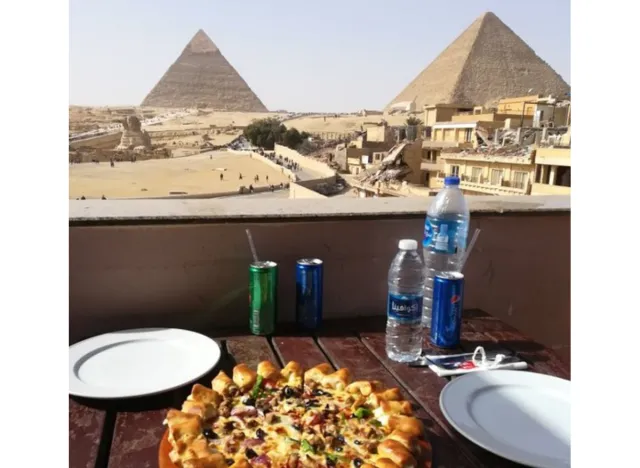 Fast food and stunning views don't typically go together, but this Pizza Hut, which is built on top of a KFC in Giza, delivers exactly that. The fast-food spot is situated directly across from the Great Pyramids of Giza, one of the seven wonders of the ancient world, which was built over 4,500 years ago. Also visible from the restaurant's rooftop is the Great Sphinx, one of the world's largest monuments.
Taco Bell in Pacifica, Calif.
Located right on Pacifica State Beach in California, this Taco Bell restaurant features ocean views, a surfboard parking area, a walk-up ordering window for customers with sandy feet, and an indoor-outdoor fireplace. The picturesque location went viral on TikTok in 2020 after one content creator posted a tour of the restaurant, highlighting the alcohol menu and outdoor patio. A year later, one couple paid $4,000 to have their wedding reception here.
KFC in Painted Post, N.Y.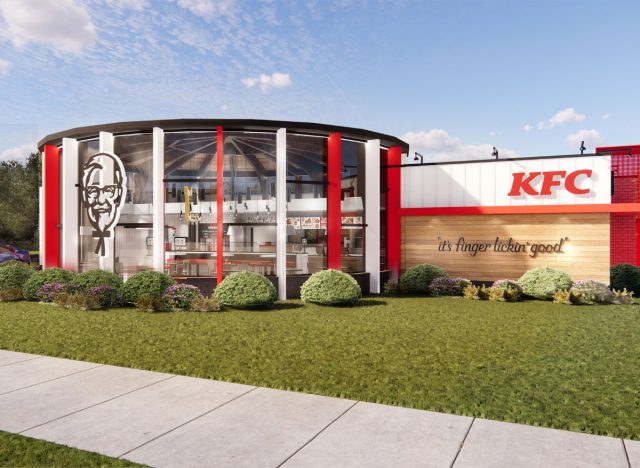 In May 2022, KFC opened what has been dubbed its "most beautiful" location in the world. Previously a bank building in Painted Post, N.Y, the restaurant—called the "Crystal Bucket"—has curved floor-to-ceiling glass windows designed to look like a KFC chicken bucket. There is also a cathedral wooden ceiling and a bank vault, which was transformed into a "vault" where KFC keeps the Colonel's secret 11 herbs and spices.
KFC in Baku, Azerbaijan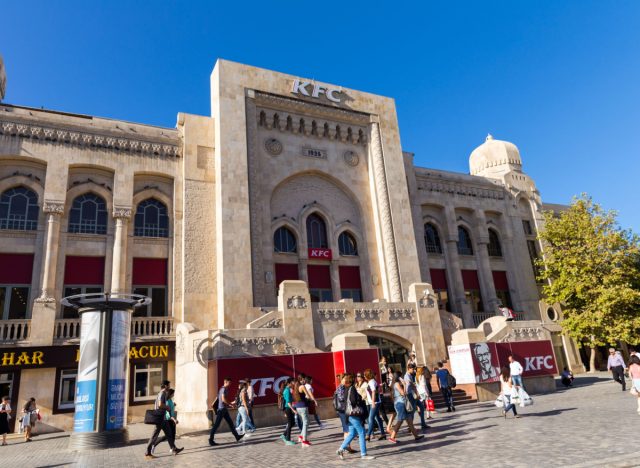 Aside from being the largest KFC location in the world, measuring more than 17,000 square feet, this restaurant was previously the Sabunchu train station. KFC's franchise partner in Azerbaijan, AFK Ltd, reportedly invested three million euros to restore the building. Constructed in 1926, the building features Moorish influences, such as a stone exterior and two domed towers on either side of the building.
Starbucks in Kyoto, Japan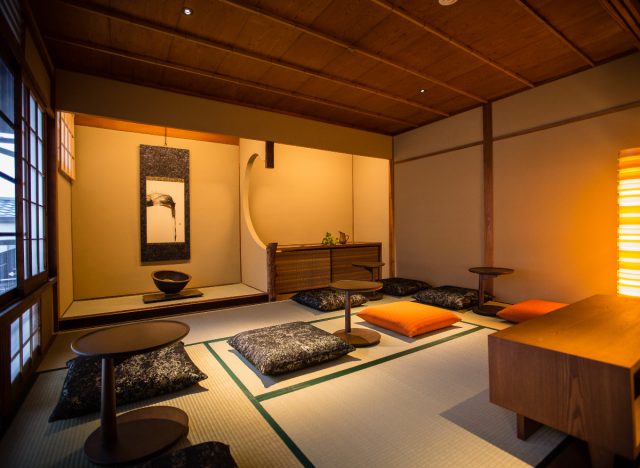 This Japanese Starbucks is located in Higashiyama, one of Kyoto's best-preserved historic districts. The coffee giant transformed a two-story 100-year-old townhouse into a coffeehouse with two floors of seating—one that is furnished with chairs and another with tatami mat seating that requires customers to remove their shoes. Other notable elements include traditional silk cushions, hanging scrolls, and gardens.
Starbucks in Amsterdam, Netherlands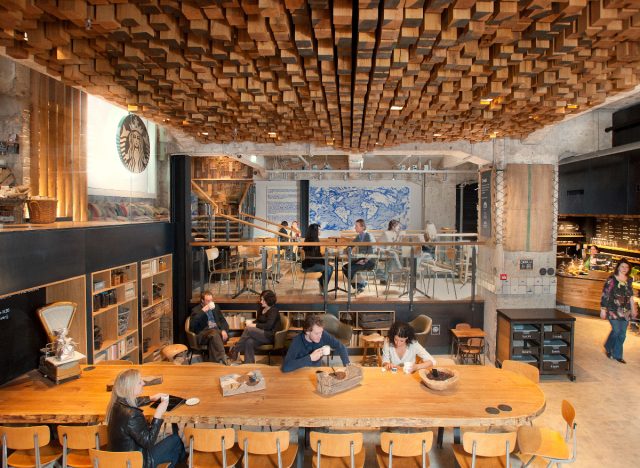 In March 2012, Starbucks opened its first European concept store in Amsterdam, which was constructed inside the vault of the historic Amsterdamsche Bank. According to the coffee chain, this location was built under strict Leed sustainable building guidelines with the goal of reducing the store's environmental impact. It also showcases local design details. Key features include a mural that celebrates the history of Dutch coffee traders, a wall with recycled bicycle inner tubes, and a ceiling sculpture made of 1,879 hand-cut wooden blocks.
Brianna Ruback
Brianna is a staff writer at Eat This, Not That! She attended Ithaca College, where she graduated with a degree in Journalism and a minor in Communication Studies.
Read more about Brianna