The Most Unique McDonald's Restaurants in the World
These weird and wonderful locations will leave an impression.
If you close your eyes and picture a McDonald's restaurant, it probably looks rather similar to the same thing the next person pictures, too. An exterior with either brick or painted tan walls, a dark brown roof, some Golden Arches swooping about somewhere–you know the drill. And of course, the relative uniformity of one McDonald's restaurant to the next is entirely by design: the similarity creates customer comfort. And triggers the immediate desire for Big Macs and fries and shakes on sight, too.
But if you travel around the globe, you'll find plenty of McDonald's restaurants out of the 39,000-plus worldwide locations that buck the whole uniformity trend entirely. From locations built into unique buildings originally designed to be anything but a fast-food burger joint to McDonald's designed expressly to work with some aspect of their locale (looking at you, Roswell, New Mexico), these weird, wonderful McDonald's locations will leave an impression that lasts for long after your last bite of Big Mac has been digested. Plus, don't miss 8 Worst Fast-Food Burgers to Stay Away From Right Now.

Taupo, New Zealand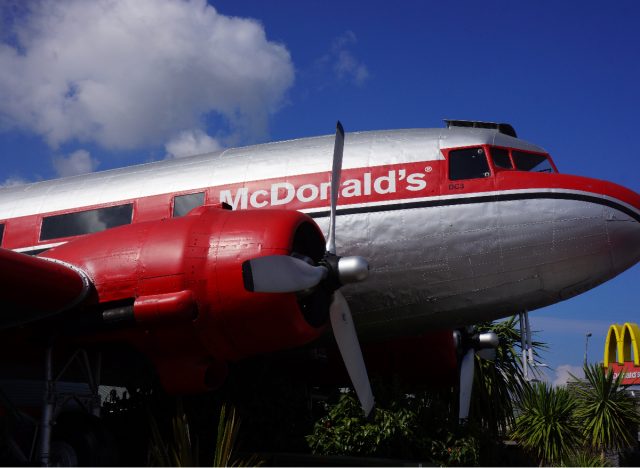 Ever wanted to eat your burger or McNuggets in a plane? You have two options: either carry your take out onto a flight, which of course requires the price of a ticket, or head to Taupo, New Zealand where there is a McDonald's with a dining room built inside a decommissioned DC-3 airplane, according to Business Insider. 20 people can be seated inside the fuselage at a time–the rest have to settle for the more standard McD's beside it.
Bray, Ireland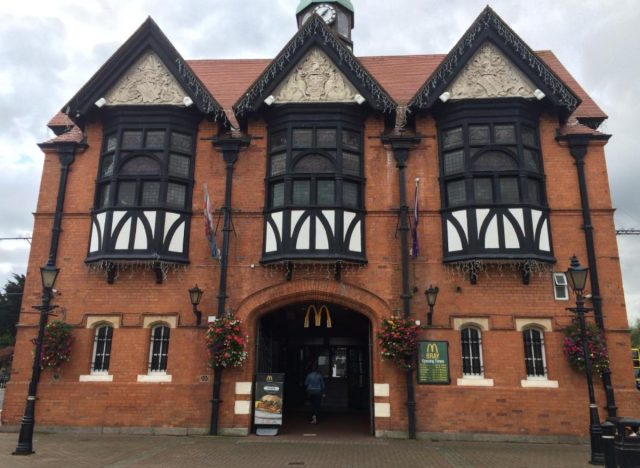 A McDonald's in Bray, Ireland has been routinely voted one of the most beautiful McDonald's in the world, and it's easy to see why when you take a look at the building into which it was built: a Tudor-style mansion from the 1800s. Tripadvisor reviews almost unilaterally praise the look of the restaurant, but many have panned the service and complained about frequent crowding.
Melbourne, Australia
Melbourne is a major city and thus, not surprisingly, is home to multiple McDonald's locations But the one worth a gander is found in the Clifton Hill suburb of the city, via Reddit. The stunning brick building features ornate Art Deco designs, and to add to the strangeness of it all, the McD's is right beside a working brothel.
Dallas, Texas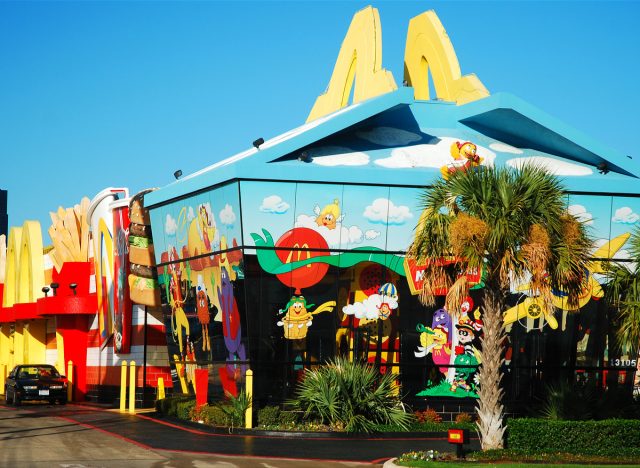 Dallas is home to lots of McDonald's restaurants, but it's the so-called Happy Meal location you need to see, according to KNUE. It is called that because it is shaped and decorated like a giant Happy Meal box. And inside, you will find upscale features like wooden booths and chandeliers.
Downey, California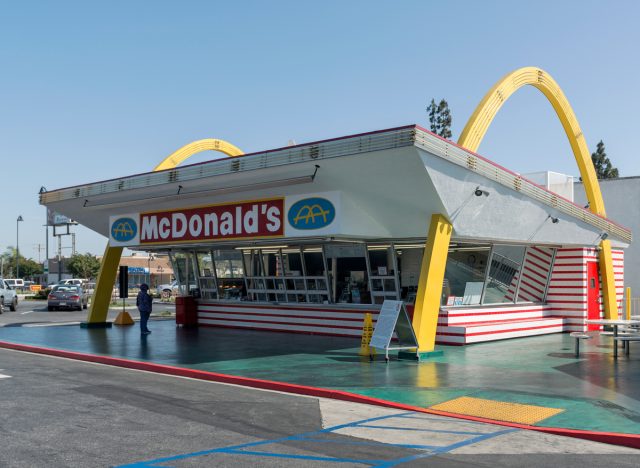 The McDonald's in Downey, CA may not catch your attention as much as a 19th-century mansion or giant Happy Meal, but what's notable about the location is that it's like catching a glimpse into the early history of the chain. This is the oldest operating McDonald's in the world, and one of only a dozen that still has the original single arch signs.6254a4d1642c605c54bf1cab17d50f1e
Lindvallen, Sweden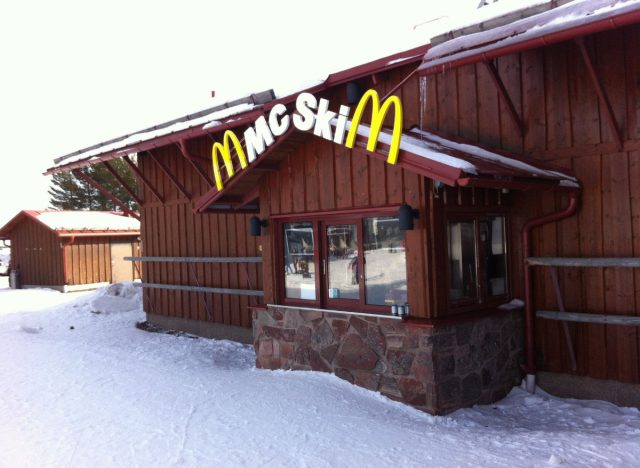 This McDonald's would be rather worth noting based on its looks alone, crafted as it is with a gorgeous wooden exterior that matches its Nordic environs. But what's truly wild about this McD's in Lindvallen, Sweden is that it's a McSki: you can literally ski up to an order window, place your order, grab your eats, and ski off again, via 12 Tomatoes.
Kristiansand, Norway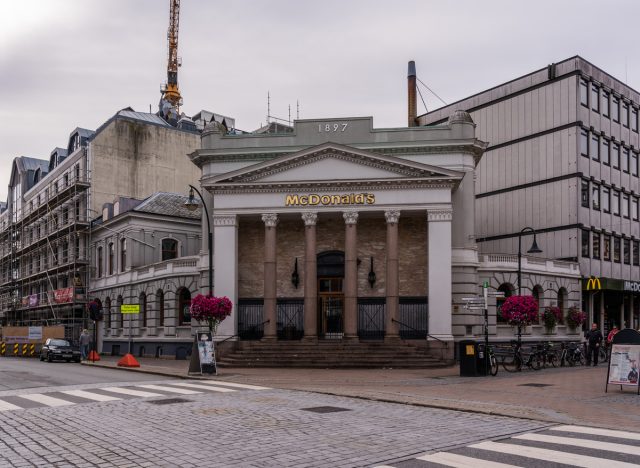 This may be the most imposing McDonald's you'll ever see, because before the McD's in Kristiansand, Norway was a fast-food restaurant, it was a bank. Thus the large, severe façade and the thick walls found inside and out the location, via Reddit.
Roswell, New Mexico
By now it's almost universally accepted that an alien spacecraft did not crash down near Roswell, New Mexico in 1947. But aliens and UFOs and such are still the town's claim to fame, so why wouldn't there be a McDonald's built in the shape of a flying saucer? The circular restaurant has metallic panels, bright exterior lighting, and a rocket-themed play place attached, via The Daily Mail.
Lijiang, China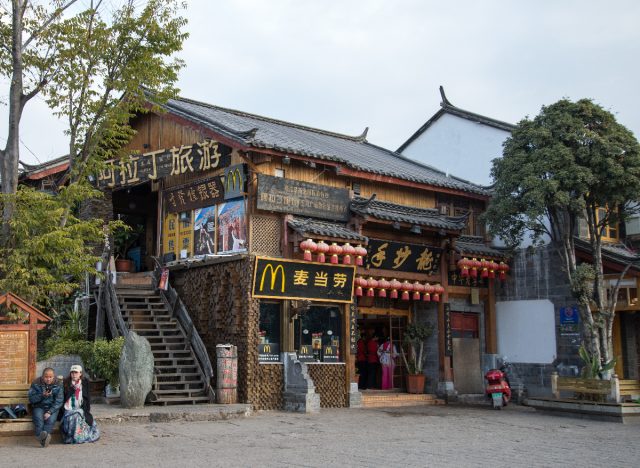 Easily mistaken for a centuries-old temple save for the small Golden Arches signage, this McDonald's in Lijiang, China is tucked into a building constructed in the Nakhi architectural style. The surrounding area is a UNESCO World Heritage site, via Love Food.
New Hyde Park, New York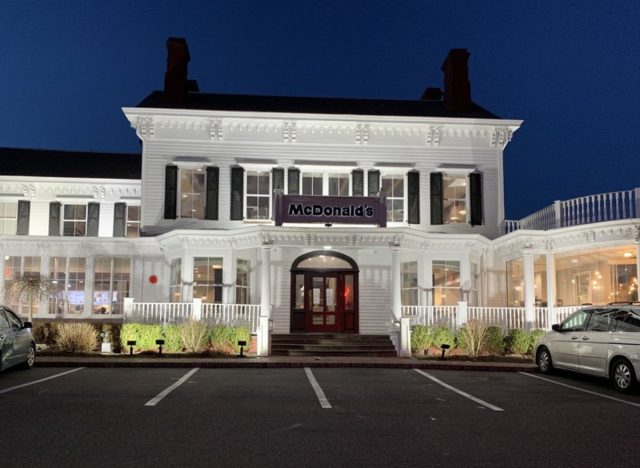 Celebrated as one of the loveliest McDonald's restaurants in America, this New Hyde Park, NY location–it's located on Long Island, a rather short drive east of New York City–is built into a mansion first constructed in 1795, according to Only In Your State. While the restaurant has undergone several renovations since then, it still looks very much like a manor home from another era.
Negev Desert, Israel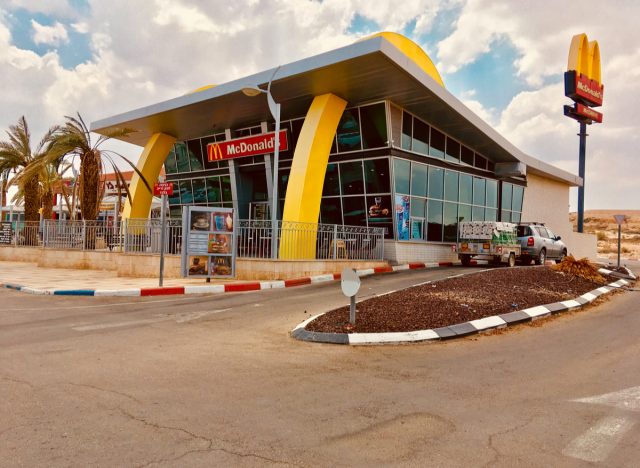 If you ever find yourself stranded in the harsh, arid, and sparsely populated Negev desert of southern Israel, you may be in luck: there's a McDonald's built out there in what really is almost the middle of nowhere. Amidst a landscape dotted with ancient ruins, sparse vegetation, and lots of sand and stone, this McD's is ready to serve and is quite well-reviewed on Tripadvisor, in fact.
For more about your favorite restaurants don't miss:
7 Secrets Applebee's Doesn't Want You to Know
15 Secrets Five Guys Doesn't Want You to Know
Steven John
Steven John is a freelancer writer for
Eat This, Not That!
based just outside New York City.
Read more about Steven