Is Subway's Halo Top Milkshake Healthier Than Other Fast-Food Shakes?
Subway added a new milkshake to its menu, but how does it compare to other shakes from fast-food favorites?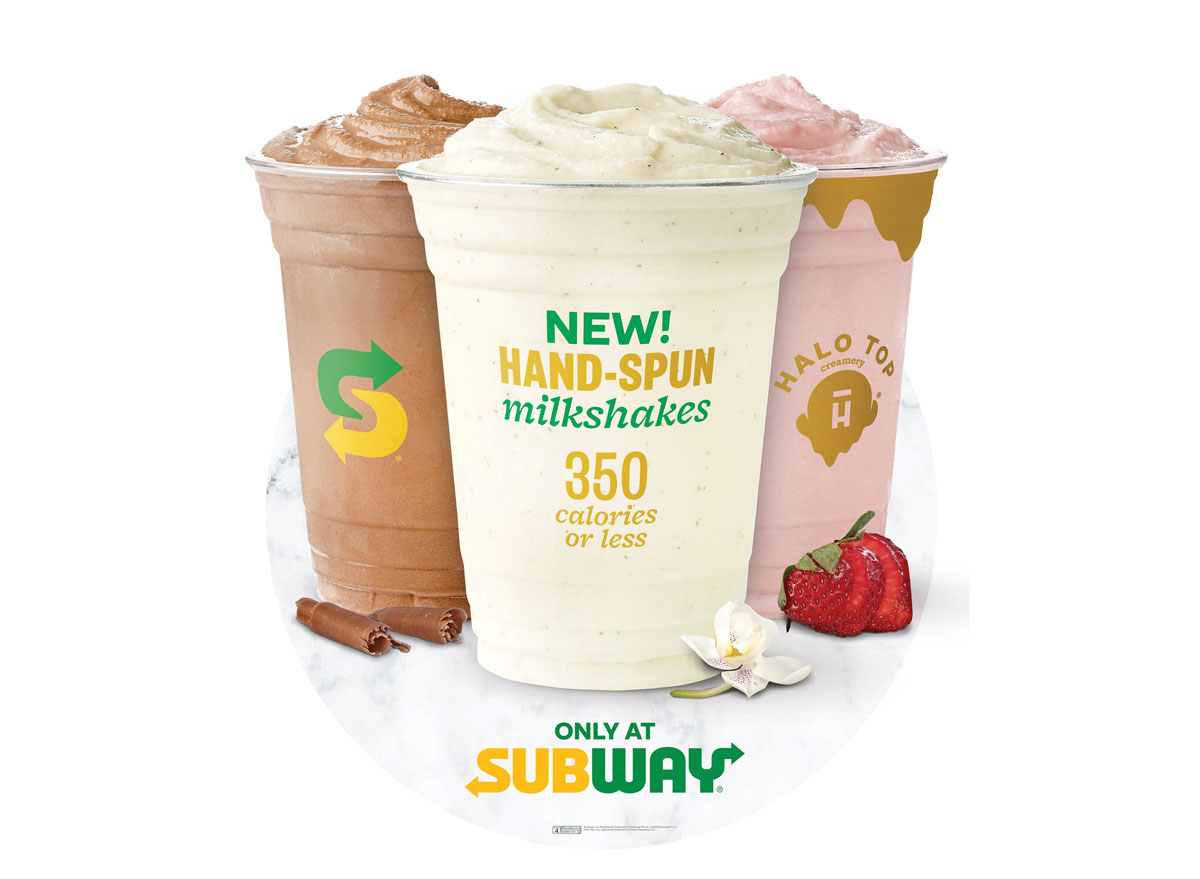 Can the words "healthy" and "milkshake" actually coexist in the same sentence, let alone the same phrase? Apparently, they can! Subway's recent collaboration with Halo Top Creamery is proving that hand-spun milkshakes actually can come in healthier options. All it takes is collaborating with the right kind of company.
What is Halo Top Creamery?
If you aren't familiar with Halo Top Creamery, this company has seen quite an increase in popularity. How could it not, when a whole pint ranges from a mere 280 to 360 calories? This is usually the calories you would see in a serving of Ben & Jerry's, which is only a quarter of the whole pint!
Halo Top also prides itself on having a high protein content per pint. Each pint has 20 grams of protein in it, which is high compared to what you see in an average protein bar.
So are these milkshakes healthier?
While the full nutritional information for these hand-spun Halo Top milkshakes has yet to be released by Subway, what we know so far is pretty impressive. In a recent press release, Subway revealed that each milkshake is 350 calories or less, has a whopping 20 grams of protein, and will account for 30 percent of your daily calcium intake. All coming from a dessert. There will be three simple (but delicious) flavors to choose from: vanilla bean, chocolate, and strawberry. It has also been reported that the shakes have between 27 and 28 grams of sugar in them (they did during the test period, as Women's Health noted).
With the calorie and sugar count being so low and the protein count being so high, Subway's new hand-spun Halo Top milkshakes are already proving to be the better option, especially when you compare it to other fast-food milkshakes on the market.
"We are passionate about creating delicious new menu items for our guests that can't be found anywhere else," said Len Van Popering, Subway's Chief Brand and Innovation Officer, in Subway's recent press release. "We share Halo Top's values that taste does not need to be sacrificed to create better-for-you options."
How does the Halo Top milkshake compare to others?
To fairly assess milkshakes from other fast-food chains, we specifically looked at vanilla milkshakes from each company. Typically we would gather information for a small vanilla milkshake, unless the company only offers one size for their hand-spun shakes.
Here's the ranking of fast-food milkshakes from worst to best—and where the Halo Top milkshake fits in!
Shake Shack Vanilla (One Size)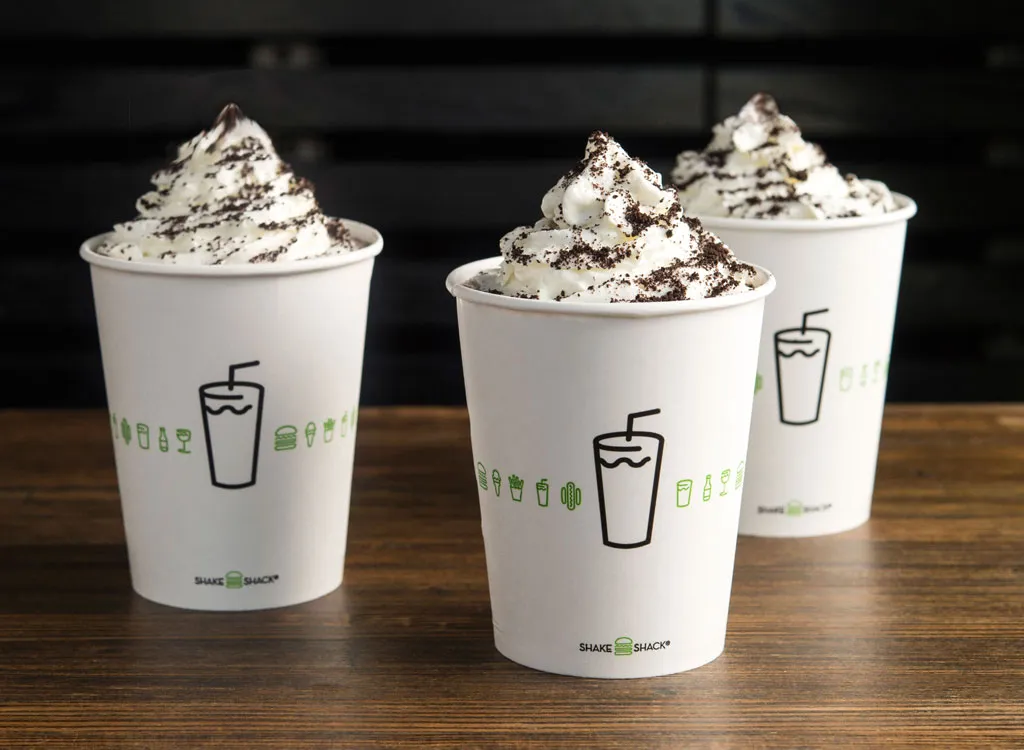 680 calories, 36 g fat (22 g saturated fat), 430 mg sodium, 72 g carbs (0 g fiber, 71 g sugar), 18 g protein
While Shake Shack is known for its shakes, it comes in at the "worst" in terms of milkshakes for your health. Although Shake Shack's vanilla shake has 680 calories, it has 18 grams of protein—which is pretty close to the Halo Top milkshake's protein count…but for almost double the calories, of course. But never fear, it still has less sugar than the Starbucks limited-time Tie-Dye Frappuccino.
Sonic Vanilla Shake (Small)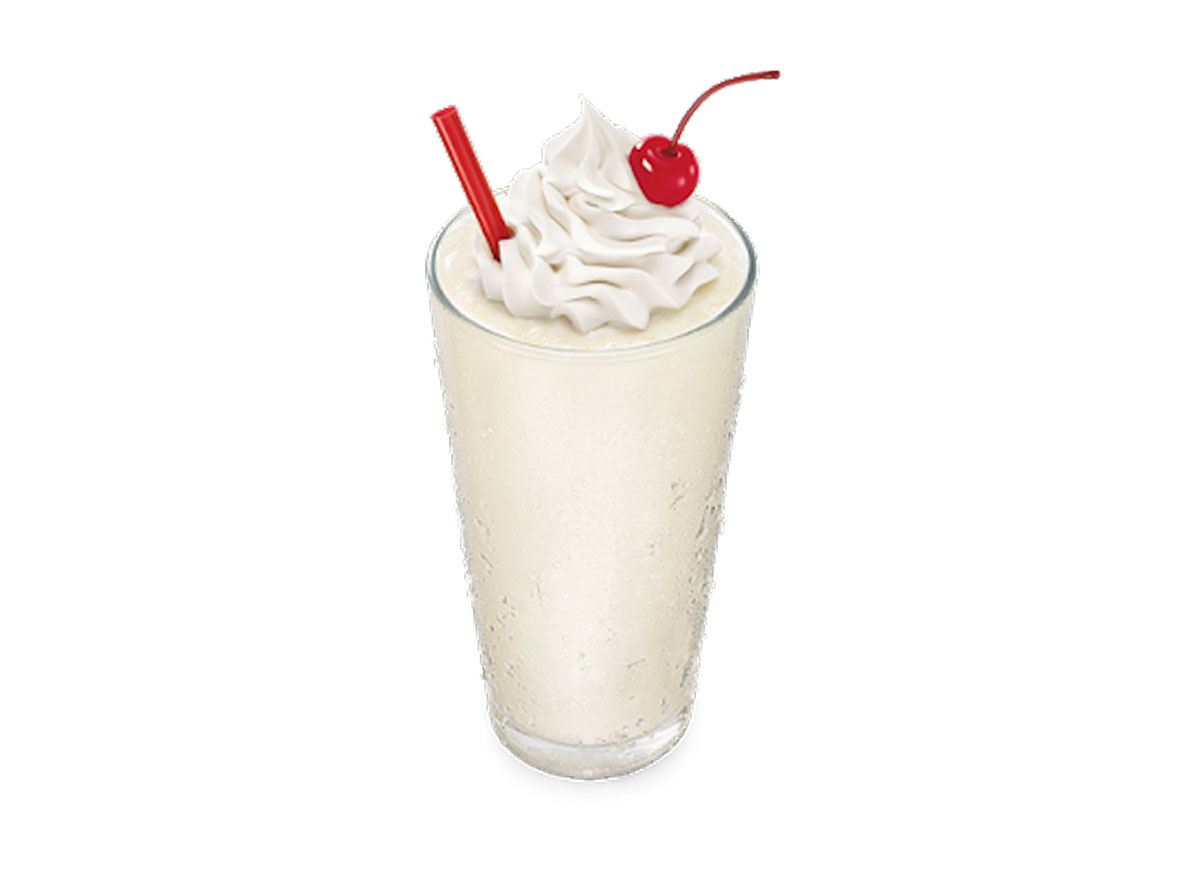 650 calories, 36 g fat (24 g saturated fat), 340 mg sodium, 71 g carbs (0 g fiber, 49 g sugar), 10 g protein
Your favorite drive-in spot may have a higher caloric vanilla shake, but that sugar content is surprisingly low. Sonic's vanilla shakes have a higher fat content compared to most of these milkshakes, but with a lower sugar content as well. While this wouldn't be deemed a healthier milkshake, it certainly will have you feeling less of a sugar crash later.
Burger King Vanilla (One Size)
580 calories, 15 g fat (10 g saturated fat), 420 mg sodium, 98 g carbs (0 g fiber, 85 g sugar), 14 g protein
Burger King's milkshakes may not be the worst in calories, but that carb count sure is high for one dessert! It even has more carbs than some of those decadent cheesecakes at the Cheesecake Factory.
Dairy Queen Vanilla Shake (Small)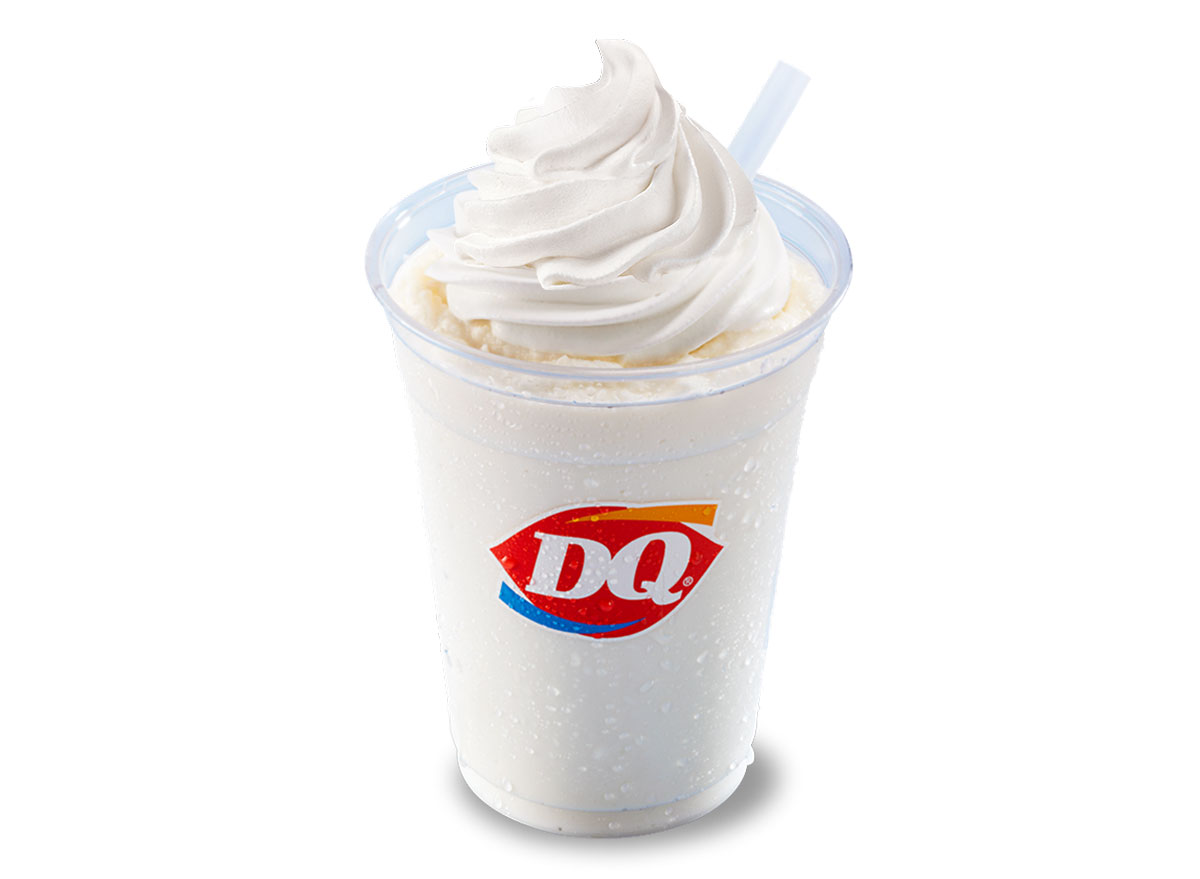 6254a4d1642c605c54bf1cab17d50f1e
520 calories, 19 g fat (14 g saturated fat), 200 mg sodium, 73 g carbs (0 g fiber, 65 g sugar), 13 g protein
While 520 calories may not sound like much, that 65 grams of sugar is staggering for the small size. While this milkshake may be high in terms of calories and sugar, that doesn't stop us from getting a simple vanilla cone at Dairy Queen, which we rated the best fast-food vanilla ice cream out there!
Chick-fil-A Vanilla Milkshake (Small)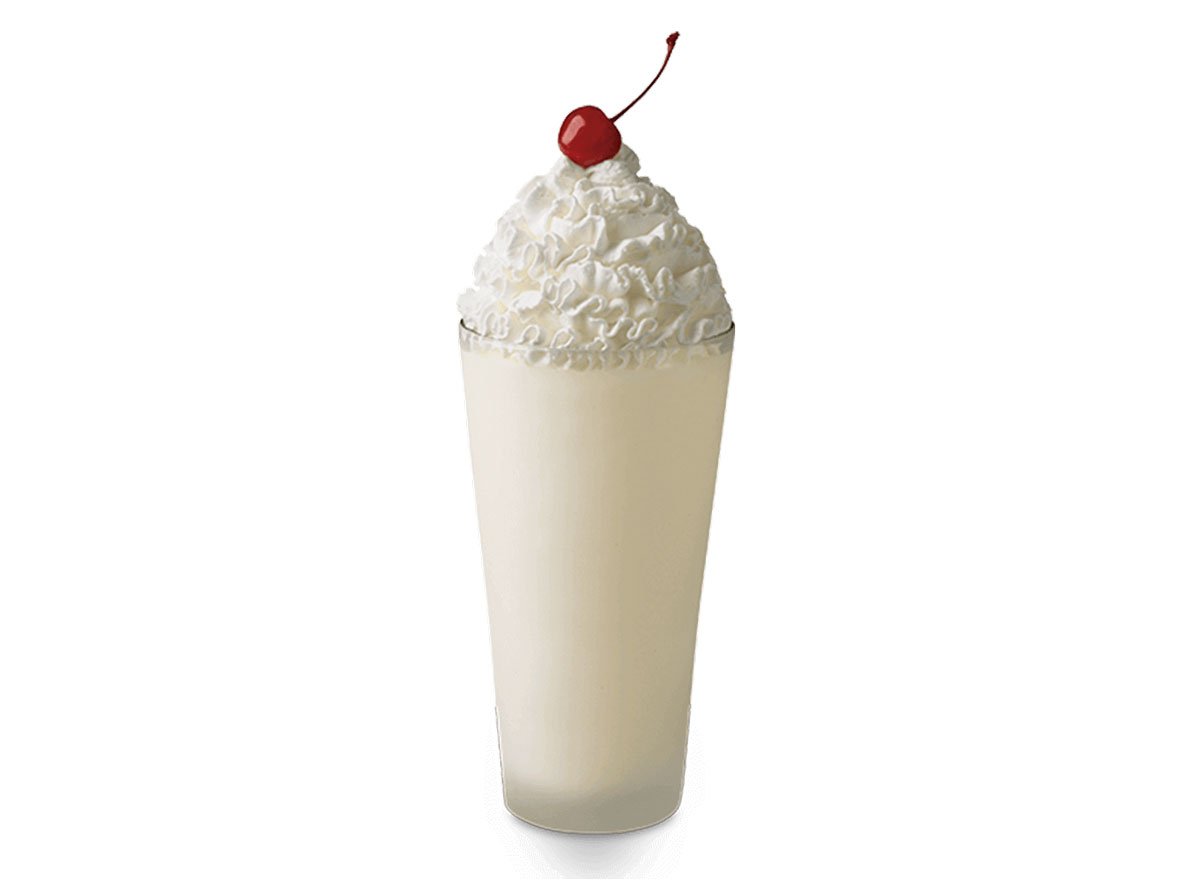 520 calories, 22 g fat (13 g saturated fat), 370 mg sodium, 72 g carbs (3 g fiber, 59 g sugar), 12 g protein
While the calorie count is the same as a small DQ vanilla shake, the overall carbs and sugar are actually lower, so if you had to choose between the two, Chick-fil-A may be the better option.
McDonald's Vanilla Shake (Small)
490 calories, 14 g fat (9 g saturated fat), 230 mg sodium, 79 g carbs (0 g fiber, 59 g sugar), 11 g protein
Before the invention of the Halo Top milkshake, one of the best shakes on the market has actually been the McDonald's shake. Halo Top has it beat in the protein department, but in terms of calories, McDonald's surprisingly comes in second.
Subway Halo Top Vanilla Milkshake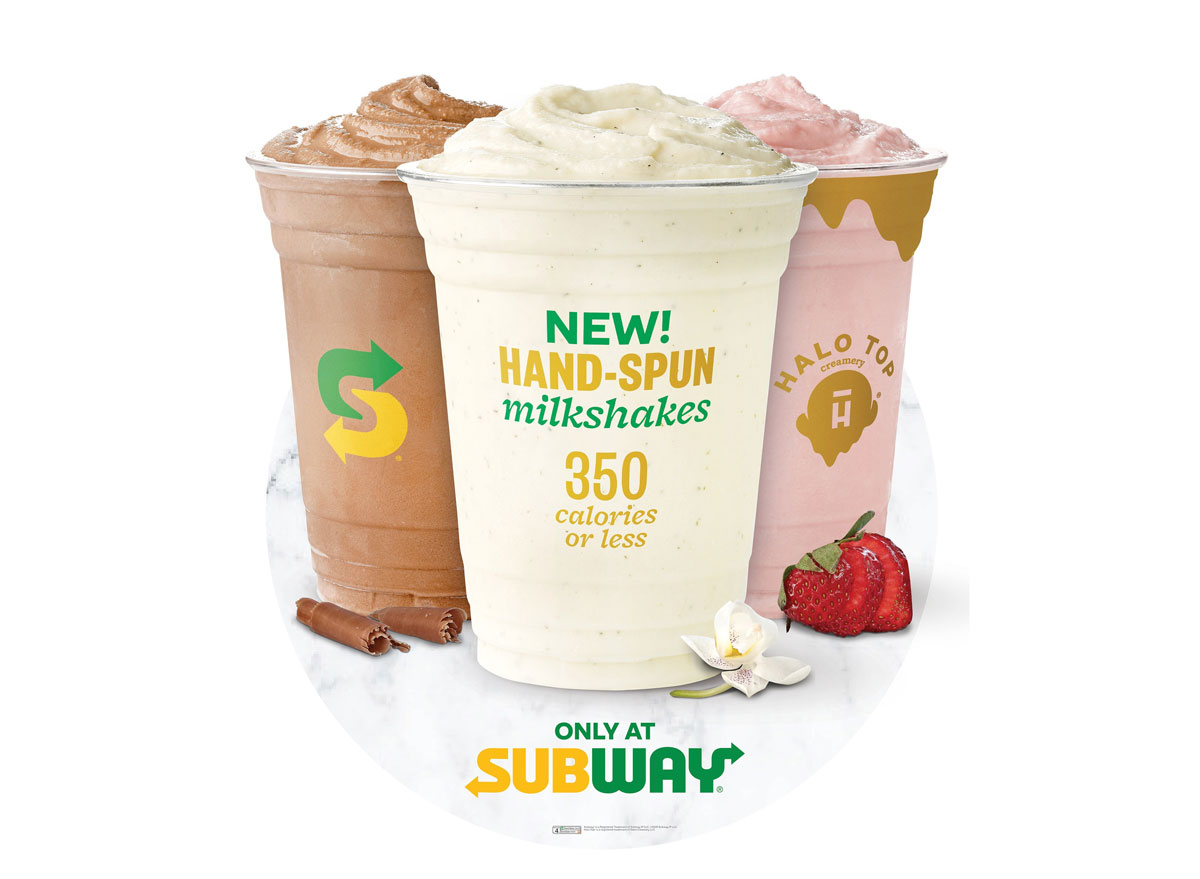 340 calories, 9 g fat (5 g saturated fat), 440 mg sodium, 61 g carbs (9 g fiber, 28 g sugar), 22 g protein
There you have it. Subway's newest Halo Top milkshakes are the best choice for milkshakes out of them all. Plus, if you look at Halo Top's Vanilla Bean pint, there are only 24 grams of sugar in the entire container. The vanilla shake is reported to have 28 grams in the milkshake, which is a full 31 grams less sugar than the McDonald's version that sits at number two on this list!
Subway is offering Halo Top Milkshakes in six markets between July 22 and Sep. 4, 2019: Colorado Springs, Colorado; Hartford, Connecticut; Longview and Tyler, Texas; Salt Lake City, Utah; Toledo, Ohio; and West Palm Beach, Florida.
Speaking of low-calorie ice cream, did you know Aldi's has a low-calorie ice cream that's half the price of Halo Top?