This Chain Restaurant Is Secretly the Best Bang for Your Buck
Here's how to hack a healthy, money-saving Subway order.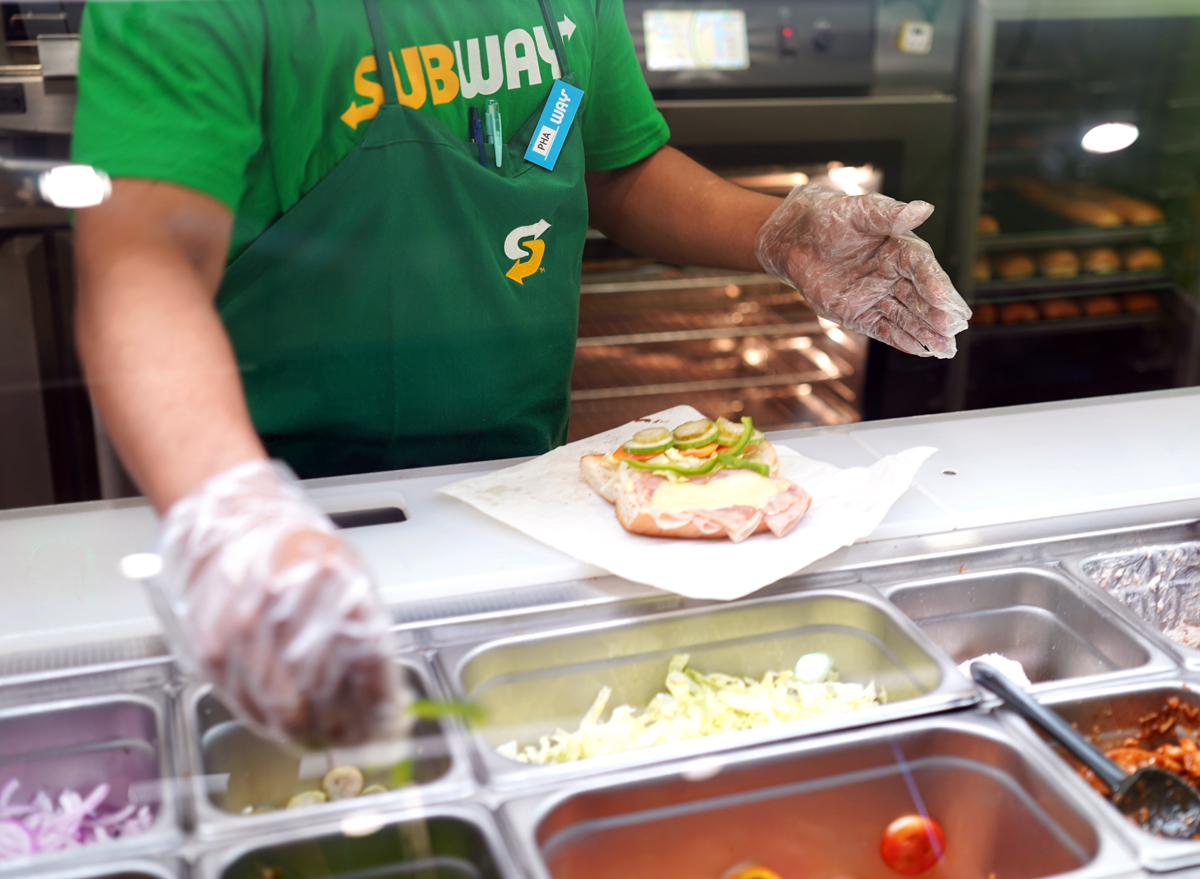 The coronavirus pandemic has many of us limiting the time and money we spend dining out. At the same time, it's also impacted the way we shop for food, including limiting the number of trips we're willing to make to the grocery store and putting a damper on the large selection of fresh meat and produce we'd become accustomed to. It's no wonder fast food has been enjoying a bit of a renaissance. And that's a good thing, at least if you know this little secret we happen to know about Subway. It turns out that when it comes to healthy eating, the most popular sandwich chain in America is secretly the best bang for your buck.
And for more, don't miss these 15 Classic American Desserts That Deserve a Comeback.
Subway is committed to providing affordable, healthy food
Subway, which got its start in 1965 when an industrious kid was looking for a way to pay for his college education, has long been committed to delivering healthy food at prices its customers can afford, says its CMO, Carrie Walsh. The menu is known for its nutritional info transparency, and Subway shuns preservatives and artificial colors and flavors, offering a virtually endless combination of fresh and healthy ingredients that rarely set you back more than $8 per 12-inch sandwich. Upping the savings ante, the "Buy 2 Footlongs, Get 1 Free" deal has now taken over where the Five Dollar Footlong left off. Not to mention, here's why you can feel safe dining in at a Subway restaurant, notwithstanding the pandemic.
That Subway offers some of the best sandwiches for your money is no secret, and if you're going the sandwich route at Subway, here's every Subway sandwich ranked for nutrition, along with our secret hack for getting even more bang for your buck. But today, we're here to sing the praises of Subway's salads, all of which offer extraordinary value and none of which appear on our list of the 25 unhealthiest restaurant salads.6254a4d1642c605c54bf1cab17d50f1e
The game-changing Subway salad hack
It's also no secret that you can nix 170 calories from any Subway sandwich order simply by turning it into a salad (you can also try these other diet-wise tips to increase your calorie-saving, Subway-ordering savvy). But that's just one of the reasons you might want to consider going the Subway salad route. In fact, right now, we can't stop obsessing over the fact that Subway's salad menu offers an amazingly fresh, value-priced alternative to the whole rigamarole that goes into buying your salad ingredients at the supermarket and then chopping and arranging your salad at home.
Subway's salads are a great value—just take a look at the math
Consider, for a moment, the Subway Veggie Delite salad. For $6.10, you get around 300 grams (about a cup and a half) of fresh, brightly colored produce (including lettuce, spinach, tomatoes, cucumbers, black olives, green peppers, and red onions) that's already been washed, dried off, chopped, and dressed with oil, vinegar, oregano, salt, and pepper. You can also add a slice of cheese for no extra charge and a generous helping of guacamole for another dollar.
To make that same salad at home, assuming you already have the oil, vinegar, and spices on hand, you'll have to purchase a head of lettuce, some spinach, a tomato, a cucumber, a can of sliced black olives, a green pepper, and a red onion. If you want cheese, that will cost you extra. If you want guacamole, you'll have to either buy some premade or buy an avocado and make homemade guacamole. By our calculations, this haul will run you somewhere between $10 and $15. And if the benefit of grocery shopping is having food on-hand for another day, you're out of luck because much of what you've purchased (such as the tomato, the green pepper, the onion, and the avocado) can only be used for the one salad.
Of course, that doesn't even take into account the possibility that what you bring home from the grocery store might not be as fresh as you expected. For example, while we're fans of bagged salad, it's not always fresh. But at Subway, as with all chain restaurants, you're buying not just the meal, but also the reputation, which means you have every reason to expect that the salad you buy on any day you buy it will be made with only the freshest ingredients.
Feeling hungry yet? Here are 8 diet expert-approved Subway orders to get you started.
And for more, check out these 108 most popular sodas ranked by how toxic they are.
Lauren Cahn
Lauren Cahn is a food, health, and culture writer whose work has appeared online and in print for Reader's Digest as well as Health Digest, Huffington Post, Taste of Home, and others.
Read more about Lauren