10 Best Protein Bars You Can Buy at Target Right Now
A registered dietitian shares her top picks.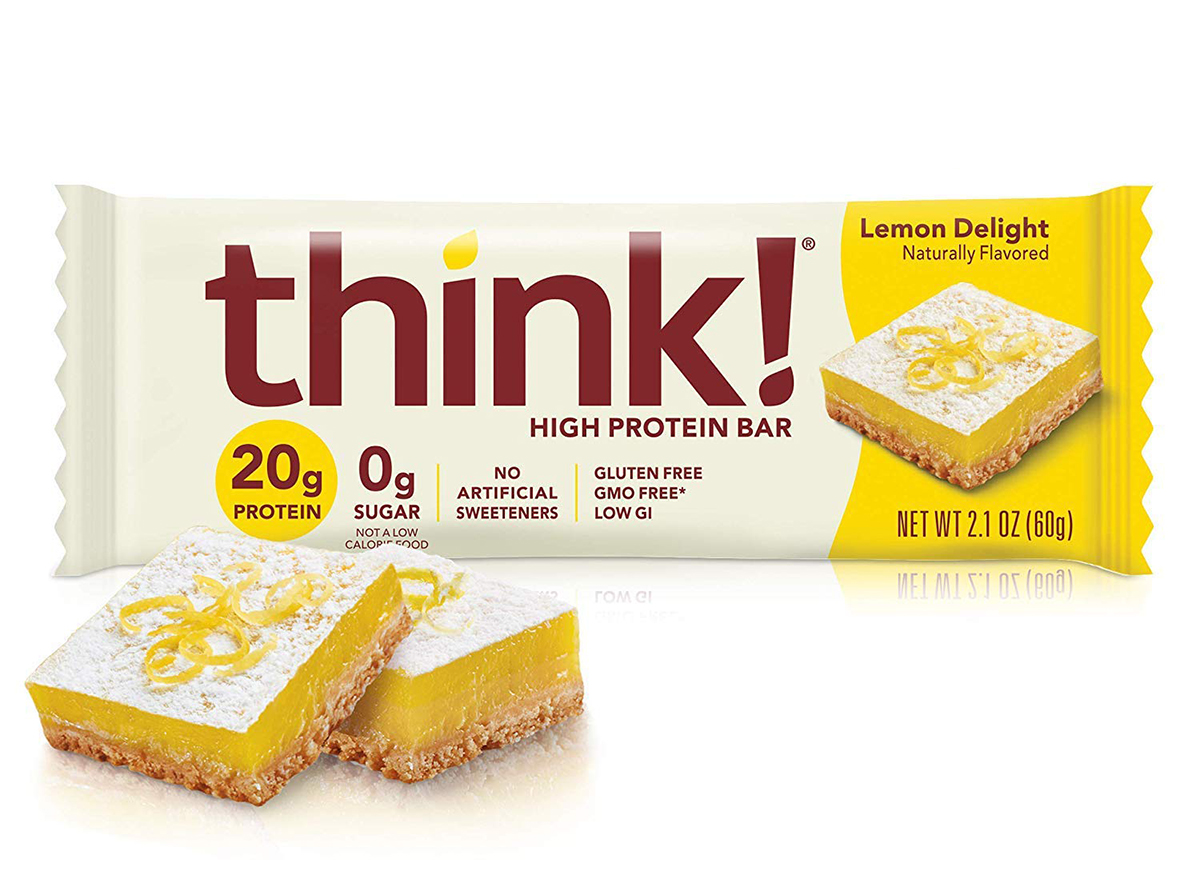 Whether you're looking for an on-the-go snack or a tide-over on those days you just don't have time to do lunch, protein bars are here for you.
Although they sound like sugary treats with flavors like chocolate peanut butter and glazed donut, protein bars aren't just "healthy" candy bars. A good protein bar should be enough to satisfy you—whether that's with the sugary hit you crave or with enough sustenance to keep you energized. Plus, it's easy to find solid ones at a store many of us frequent: Target.
"You should look for over 10 grams of a higher quality protein from a less processed source ('pea protein' vs 'soy isolate,' for example)," says Beth Warren, RDN, founder of Beth Warren Nutrition and author of Secrets of a Kosher Girl. She also suggests less than 10 grams of sugar, ideally from a natural source.
Luckily, you can get lots of great protein bars right at your local Target. Below, we've rounded up 10 protein bars you can find during your next shopping trip. Then, don't miss 5 Healthy Costco Food Court Orders, According to Registered Dietitians!
RXBar Chocolate Sea Salt Protein Bar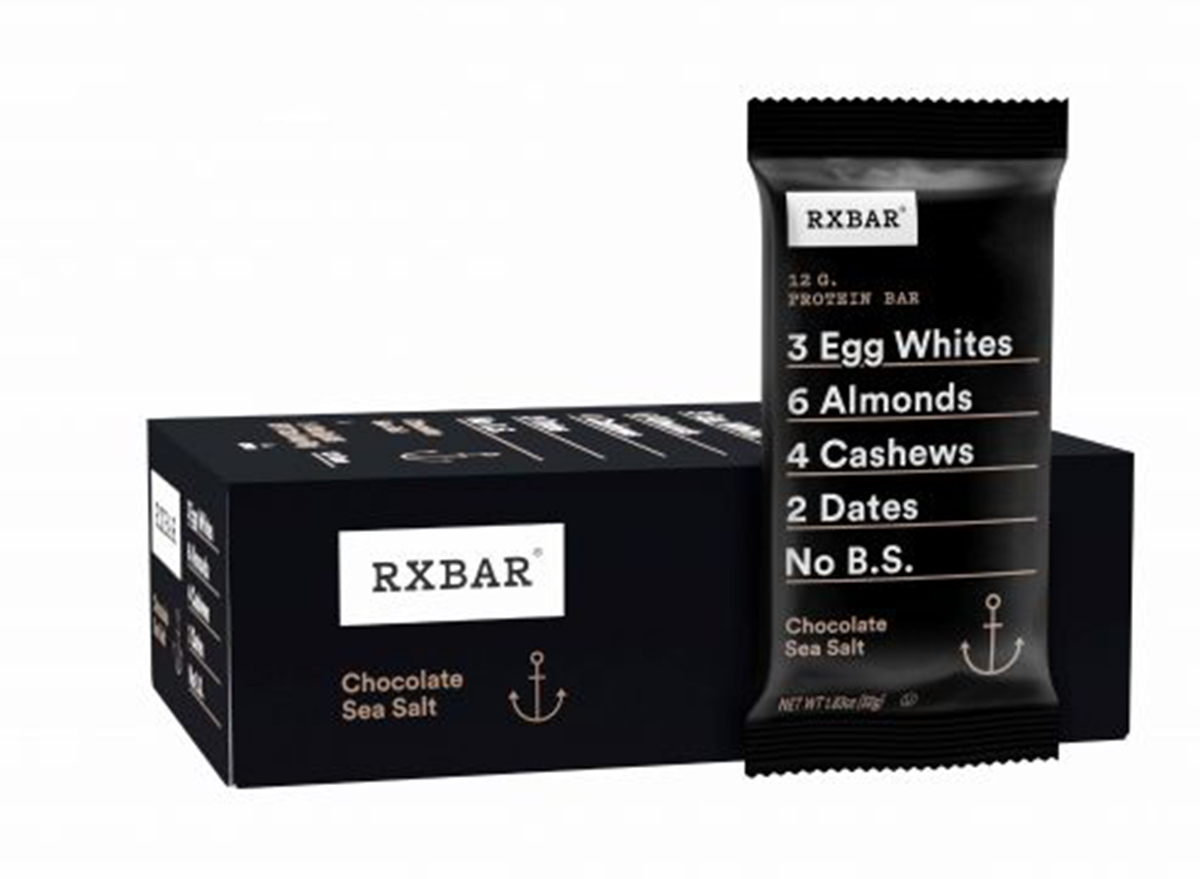 210 calories, 9 g fat (2 g saturated fat), 260 mg sodium, 23 g carbs (5 g fiber, 13 g sugar), 12 g protein
RXBars are nutritionist-approved. Warren loves that these bars have a high-quality protein source from whole food ingredients and are sweetened with all-natural sugars. This flavor is made with egg whites, almonds, cashews, and dates, as well as rich chocolate and a hint of sea salt and comes in at 12 grams of protein per bar.
Kind Breakfast Protein Peanut Butter Banana Dark Chocolate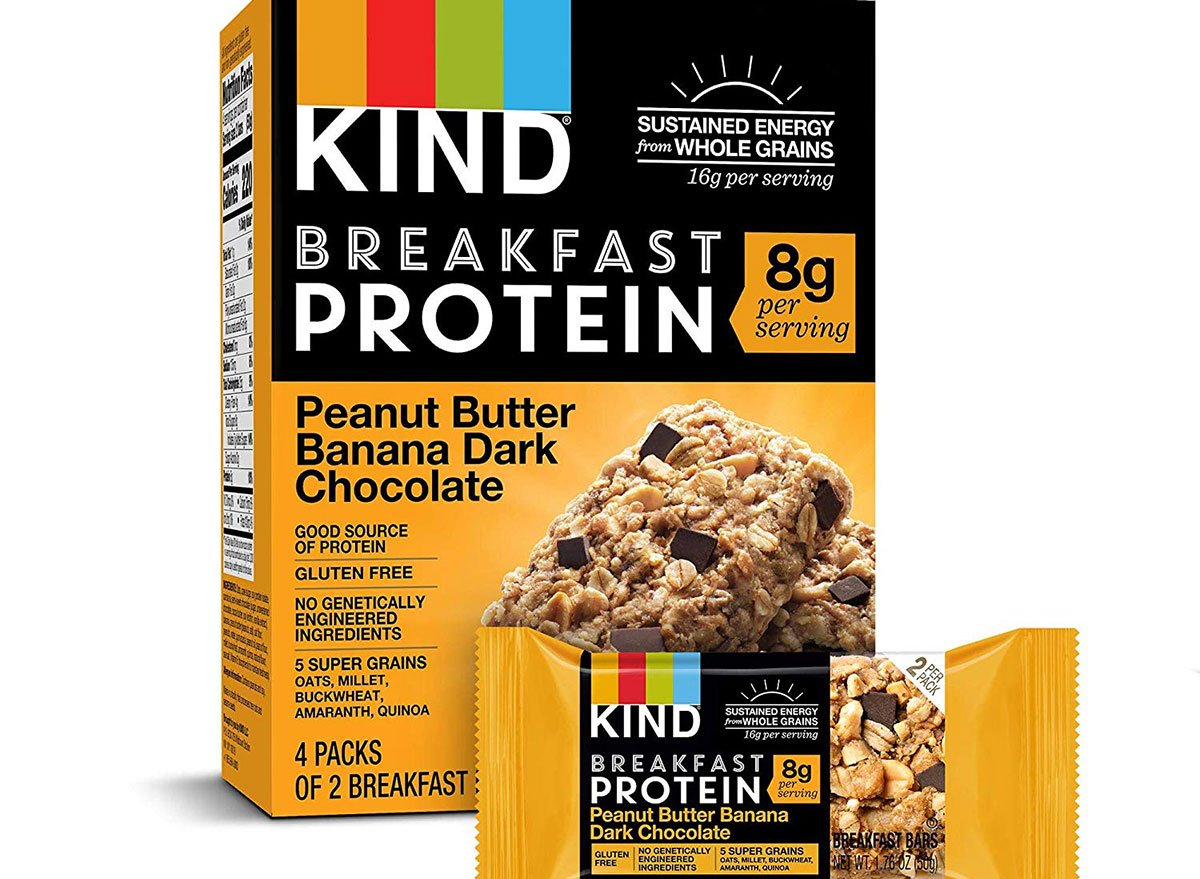 220 calories, 11 g fat (2 g saturated fat), 135 mg sodium, 25 g carbs (4 g fiber, 9 g sugar), 8 g protein
Looking for a grab n' go breakfast bar? These protein bars from Kind are a good option. While they aren't super high in protein coming in at just 8 grams, Warren likes that these aren't as processed as some other bars on the market. What's more, these bars have a peanut buttery, chocolately, banana taste that'll keep you satisfied until lunch.
Quest Protein Cookie Chocolate Chip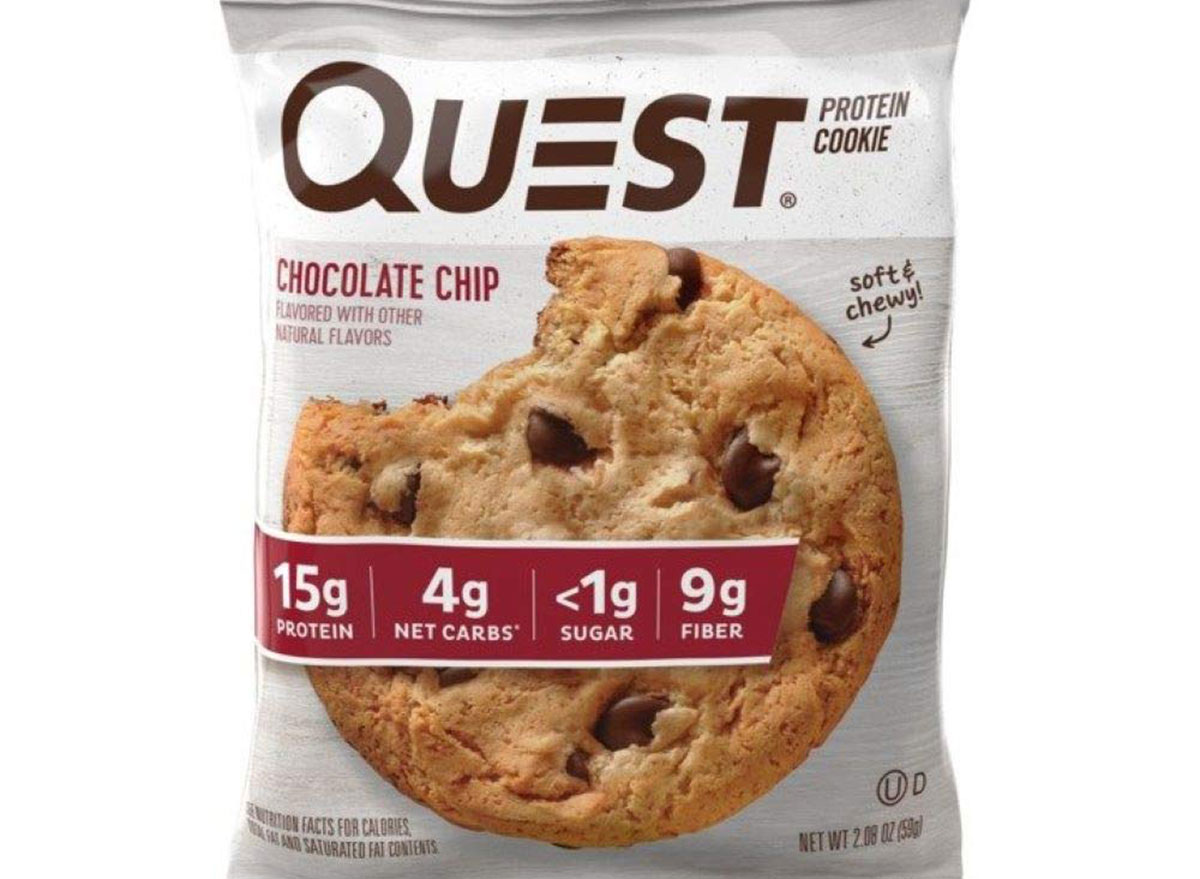 250 calories, 17 g fat (10 g saturated fat), 220 mg sodium, 19 g carbs (9 g fiber, <1 g sugar), 15 g protein
Who needs a protein bar when you can have a protein cookie? Quest cookies are a tasty treat with an extra kick of staying power thanks to protein and fiber. Just be careful.
"They do add sugar alcohols, which can cause bloating and stomach upset in some people," Warren says.
Clif Builder's Chocolate Mint Protein Bar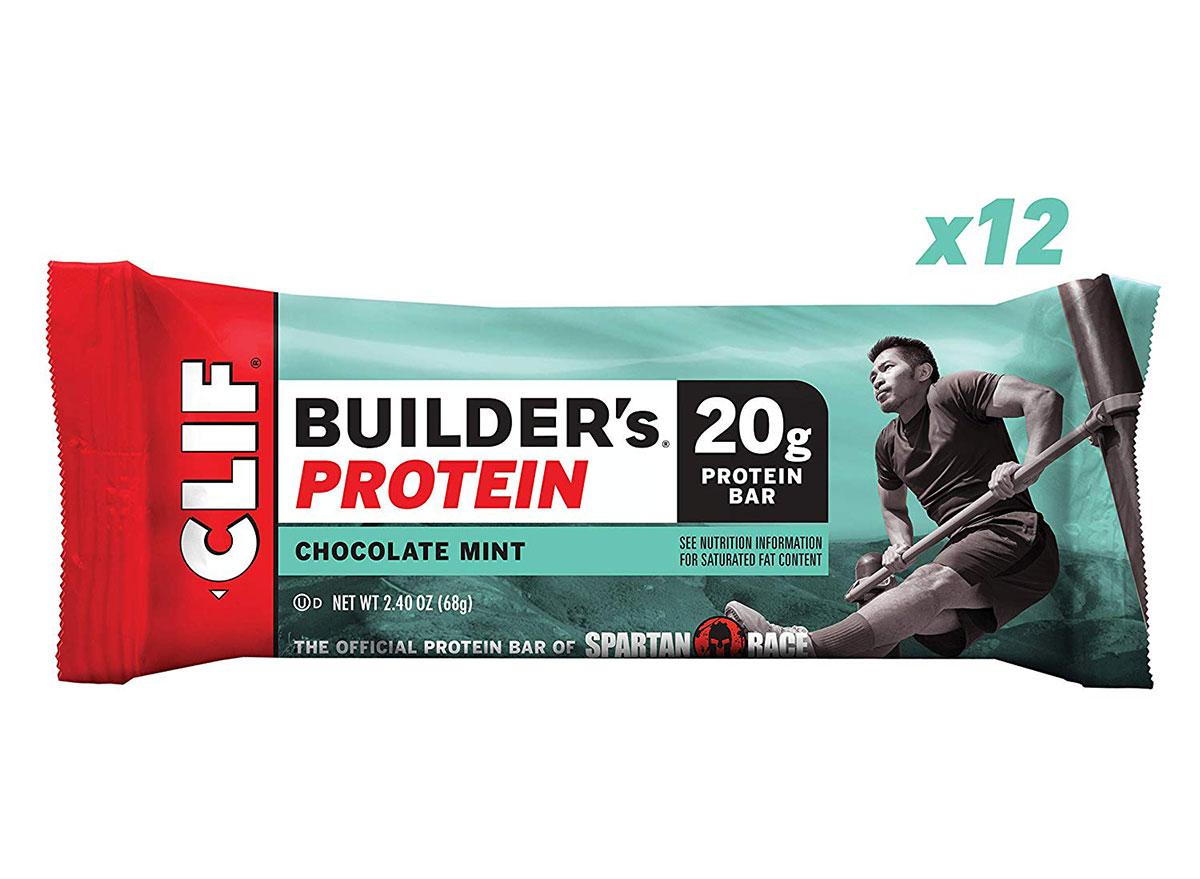 280 calories, 9 g fat (6 g saturated fat), 200 mg sodium, 31 g carbs (3 g fiber, 17 g sugar), 20 g protein
Cliff bars are a favorite among protein bars—and that's because they simply taste great. The chocolate mint version is a bit high in sodium coming in at 200 milligrams, Warren says. However, if you're not closely watching your salt intake or are being overly mindful of how much you're consuming each day, it shouldn't be a problem to munch on one of these.
This bar is also pretty high calorie, she says, too, and while she likes a bar that uses more whole-food ingredients, for those who are Cliff bars fans, these chocolate mint bars are worth a try as they pack in 20 grams of protein.
GoMacro Peanut Butter Chocolate Macrobar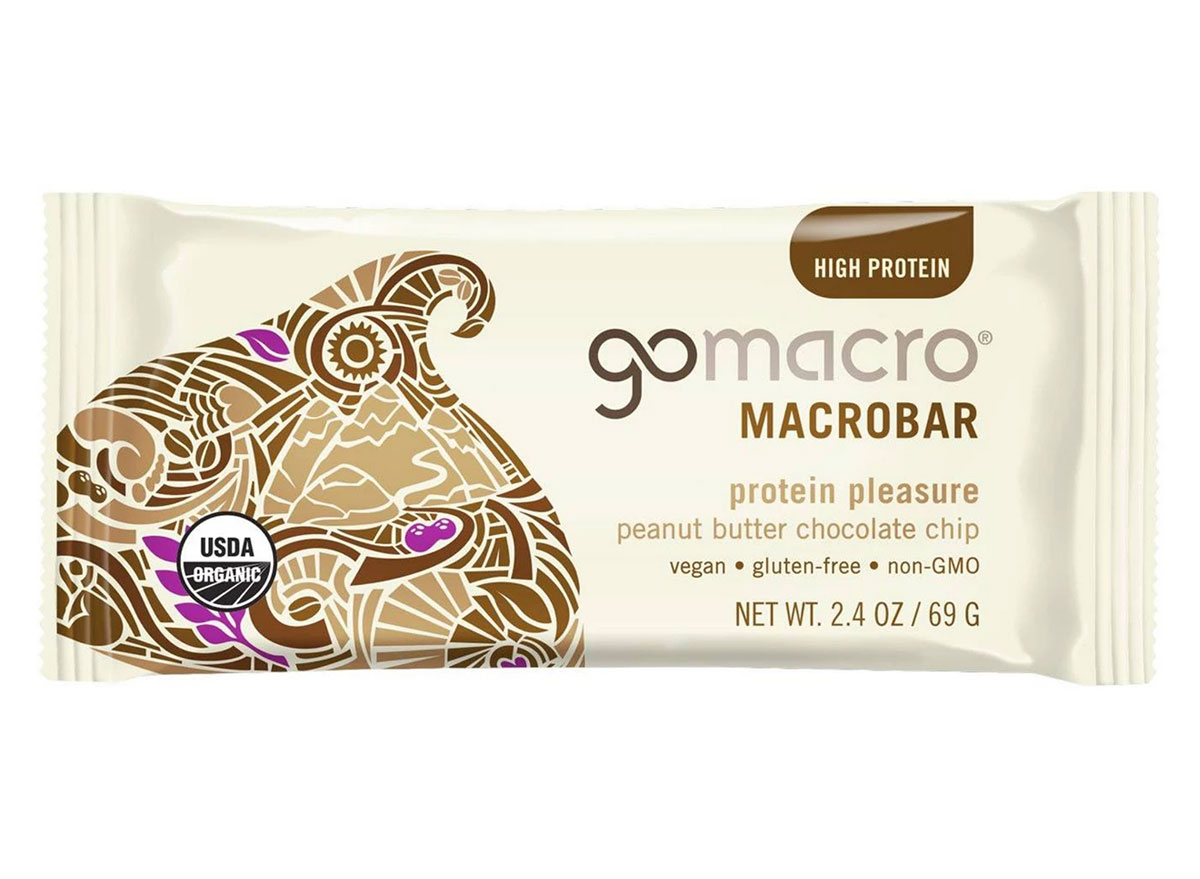 6254a4d1642c605c54bf1cab17d50f1e
290 calories, 11 g fat (2 g saturated fat), 10 mg sodium, 39 g carbs (2 g fiber, 14 g sugar), 11 g protein
Eleven grams of protein for a bar that is also vegan and gluten-free? Add this one in your shopping cart during your next Target run.
think! High Protein Lemon Delight Bars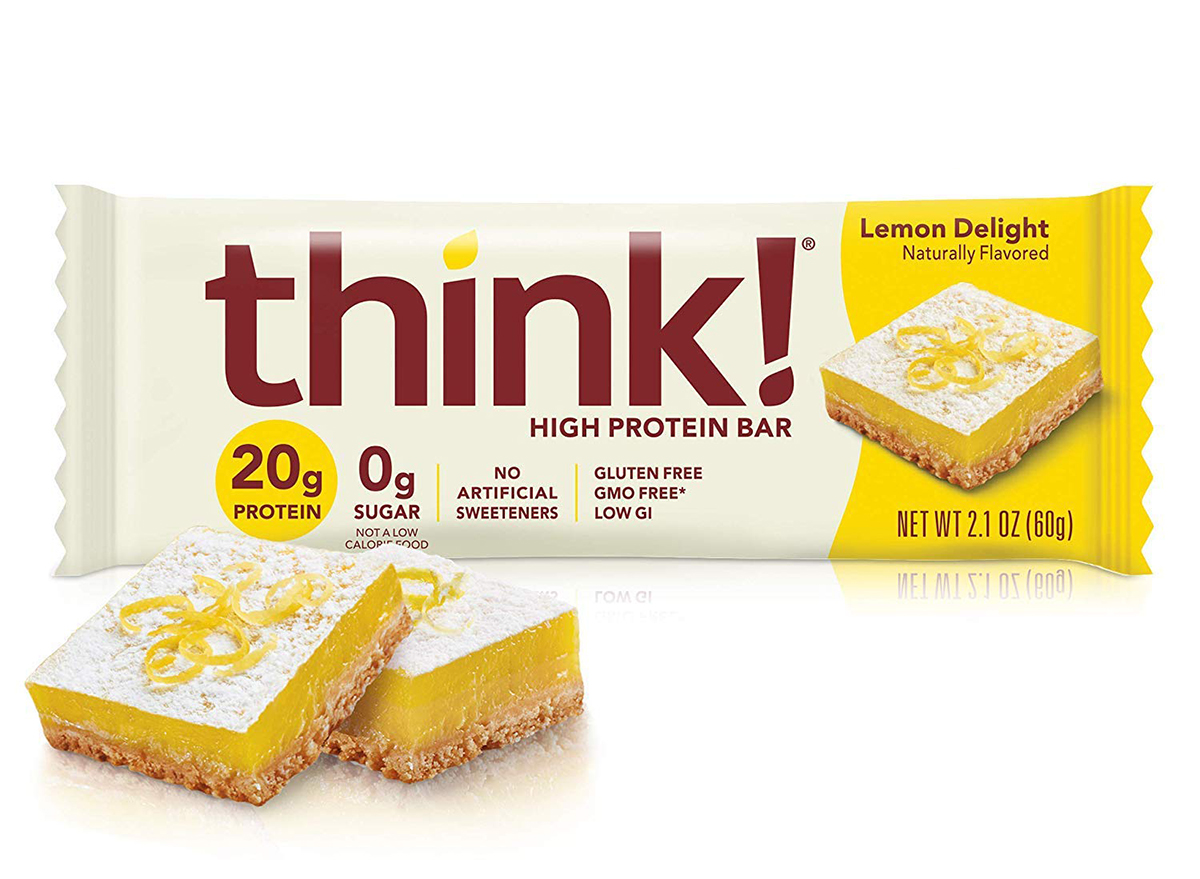 230 calories, 9 g fat (3.5 g saturated fat), 230 mg sodium, 24 g carbs (0 g fiber, 0 g sugar), 20 g protein
Lemon delight sounds, delightful! And these bars sure are a tasty treat with a big punch of protein—a full 20 grams! And there are zero grams of sugar in these treats, too.
Don't miss What Eating Added Sugars Does to Your Body.
ONE Protein Bar Maple Glazed Donut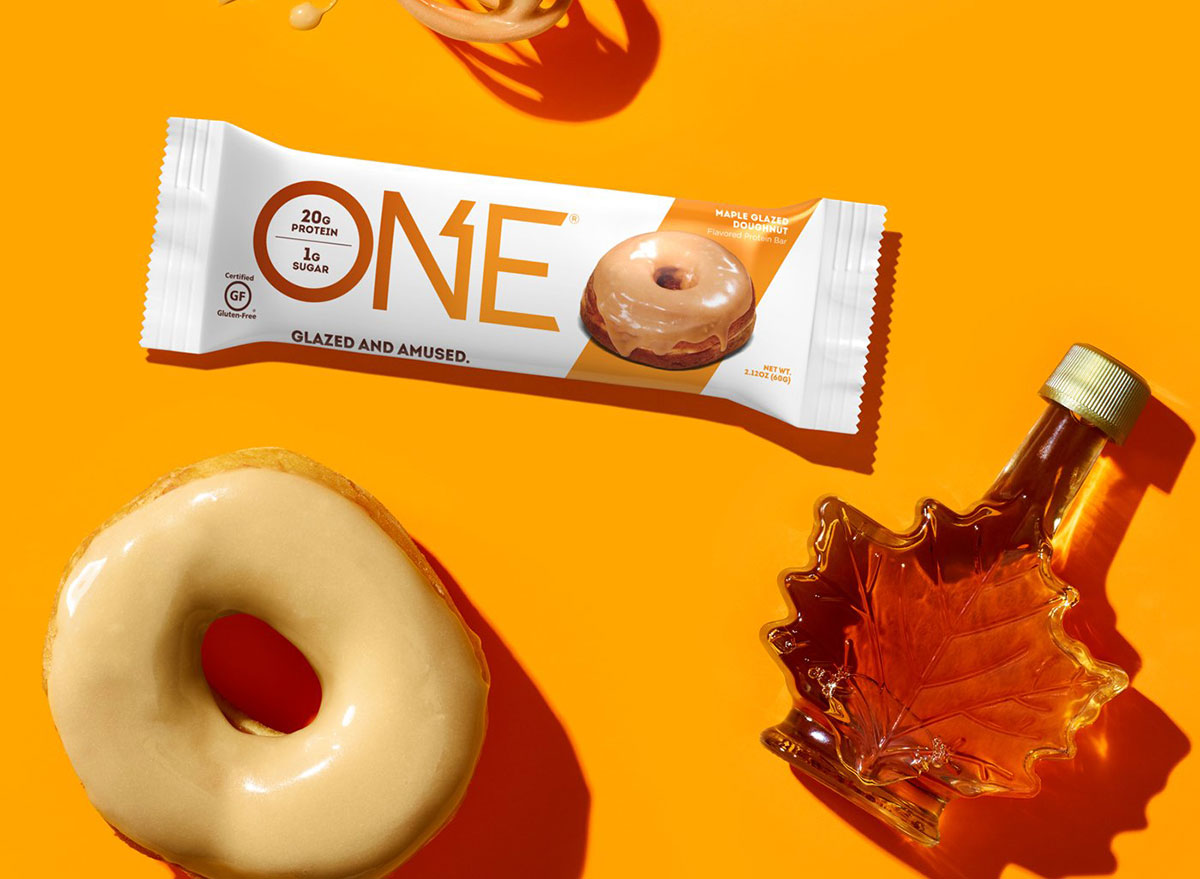 220 calories, 8 g fat (6 g saturated fat), 95 mg sodium, 23 g carbs (10 g fiber, 1 g sugar), 20 g protein
A protein bar that tastes like a donut? What else would you want for breakfast? These ONE protein bars meet Warren's high protein, low sugar criteria, but fall flat on her wish for whole food ingredients. If you're looking to satisfy your sweet tooth though and still get your protein fix, then this is the bar for you. It's better than succumbing to eating an actual donut, right?
Check out "Healthy" Foods With More Sugar Than a Krispy Kreme Donut, Says Science.
think! High Protein Creamy Peanut Butter Bars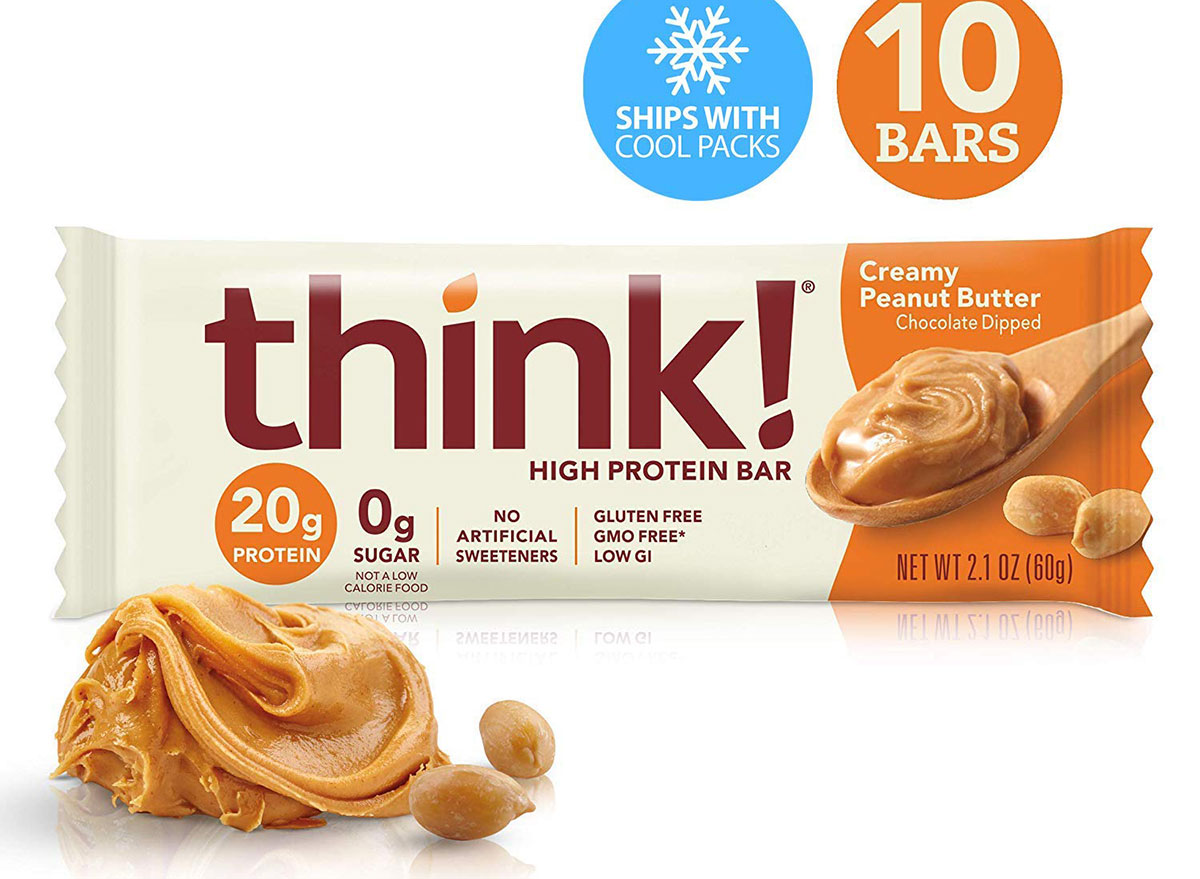 230 calories, 9 g fat (3 g saturated fat, 0 g trans fat), 260 mg sodium, 22 g carbs (1 g fiber, 0 g sugar), 20 g protein
Chocolate-covered peanut butter is a classic protein bar mashup and these think! bars deliver with a solid serving of 20 grams of protein.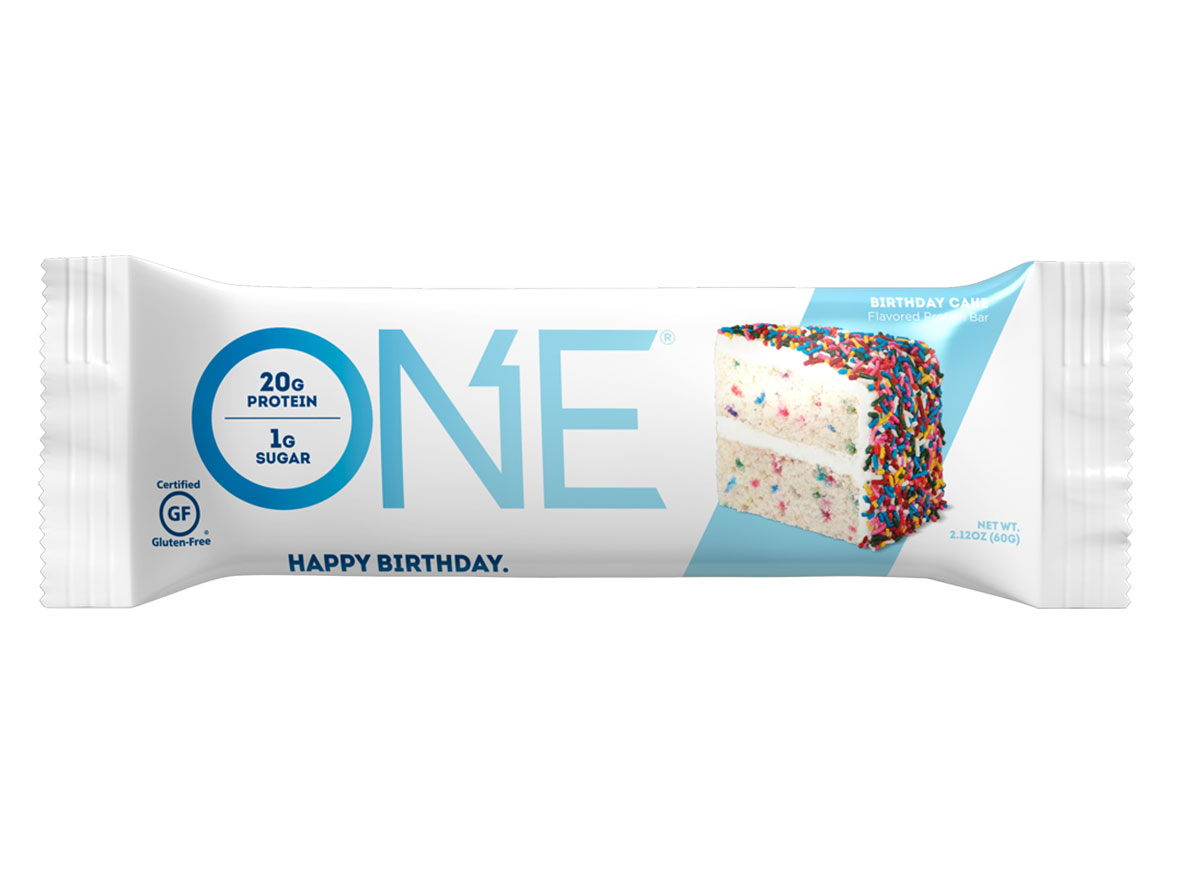 220 calories, 8 g fat (6 g saturated fat), 140 mg sodium, 23 g carbs (3 g fiber, 1 g sugar), 20 g protein
It doesn't have to be your birthday to enjoy this bar. And while you might think you're eating a slice of cake, this bar packs 20 grams of protein. It also contains polyunsaturated and monounsaturated fats which can help reduce harmful LDL cholesterol.
Power Crunch French Vanilla Creme Protein Energy Bar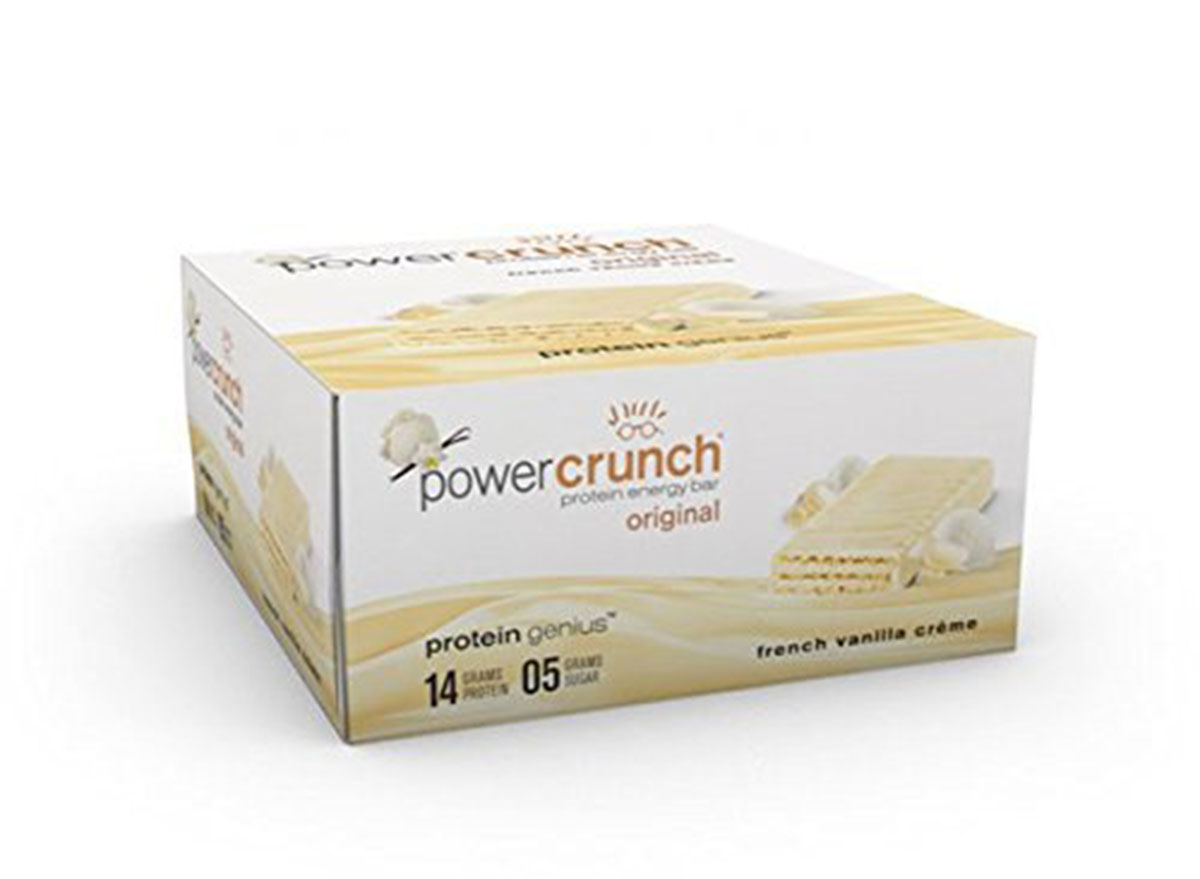 200 calories, 13 g fat (6 g saturated fat), 100 mg sodium, 8 g carbs (1 g fiber, 5 g sugar), 14 g protein
French vanilla is a bit out of the regular wheelhouse for protein bars, but you'll be glad to give this one a try, especially since each bar has 13 grams of protein. Power Crunch uses whey protein though, so beware if you're lactose intolerant!
For more, be sure to check out Popular Foods With More Protein Than Beef.