I Cooked Texas Roadhouse Butcher Shop Steaks at Home—Here are My Thoughts
This classic steakhouse will ship you steaks to cook at home, but is the quality even good?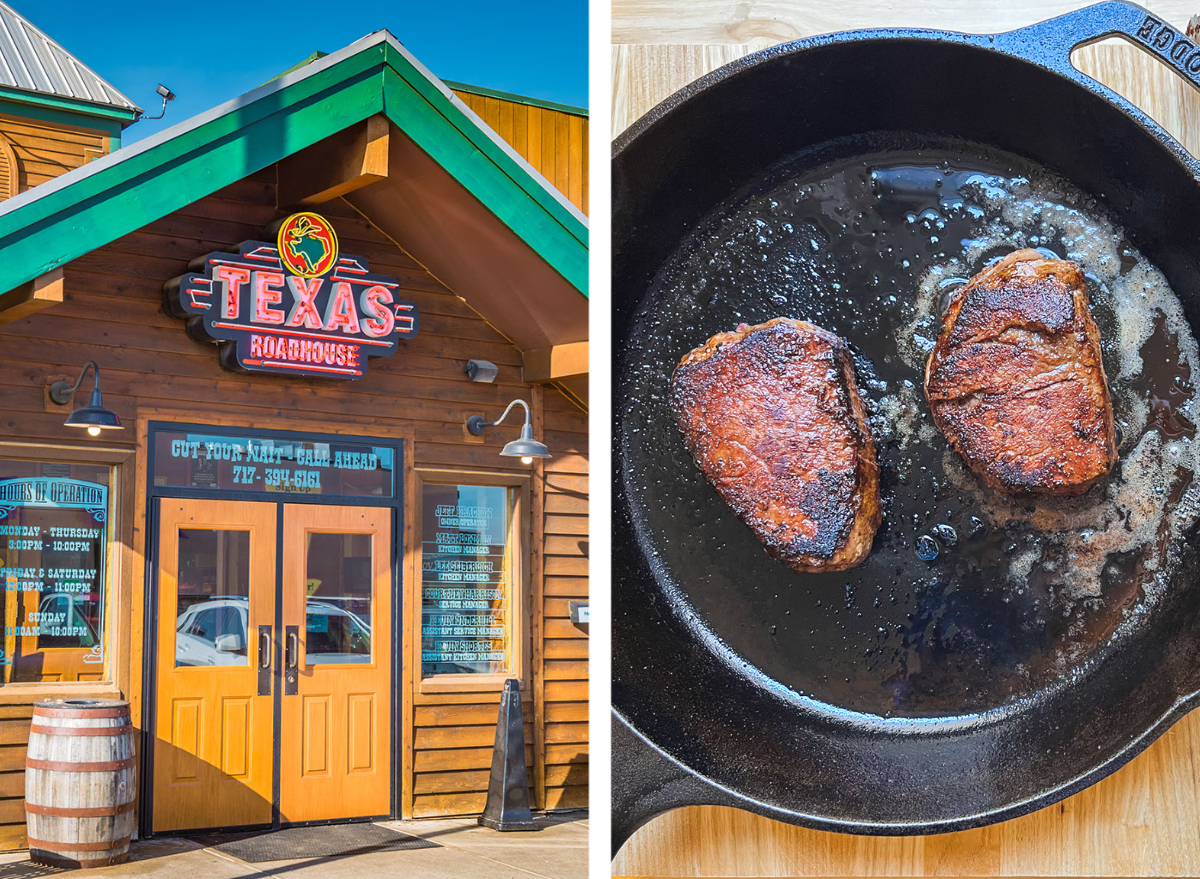 Every now and then, I get pretty strong cravings for some of my restaurant favorites. Panera, Buffalo Wild Wings, and of course, nothing beats the happy hour and date night deals at Applebee's. But this time, I had a specific craving for Texas Roadhouse. Unfortunately, this classic chain steakhouse isn't anywhere within New York City lines—so I had to get creative. Which is how I came across the glorious Texas Roadhouse Butcher Shop.
That's right—Texas Roadhouse will actually ship you their USDA Choice steaks right from their in-house meat cutters. They sell five different cuts of steak that you can order at different sizes, each package coming with four or six steaks per pack. You can choose from filets, New York strips, boneless and bone-in ribeyes, and filet medallions ranging from 6 ounces to 20 ounces in size. Steaks are delivered with a small container of their famous Steak Seasoning, and specific instructions on how to cook your steak to perfection.
Texas Roadhouse Butcher Shop also sells over on Amazon and ships within about a week's time. So I ordered a box for myself and dreamt of juicy steak all week long.
Buying Texas Roadhouse steaks is a lot easier than you think.
The steaks arrived packaged with dry ice and styrofoam to keep them perfectly frozen. Upon opening the box, I found a specific list of instructions is displayed on the inside, letting me know how to properly thaw and cook the steak that I ordered. I ended up choosing four 6-ounce Filet Steaks, two of which I put in the freezer for future use and two to defrost for 24 hours in the fridge.6254a4d1642c605c54bf1cab17d50f1e
Once defrosted, I did exactly what the instructions said (let the steaks come to room temperature, doused them in Steak Seasoning) and because I don't have a grill, I ended up following the cooking recommendations from Texas Roadhouse Butcher Shop on how to cook your steak over a cast-iron skillet (with a small tweak of using butter instead of oil). So I fired up the stove.
The instructions recommend taking the steaks off the stove 5 degrees before your desired doneness, so I made sure to take it off at 135 in order to get it at 140 for a perfect medium-rare. The steaks sat for five minutes, and then, I dug in.
It's the juiciest steak I've ever had.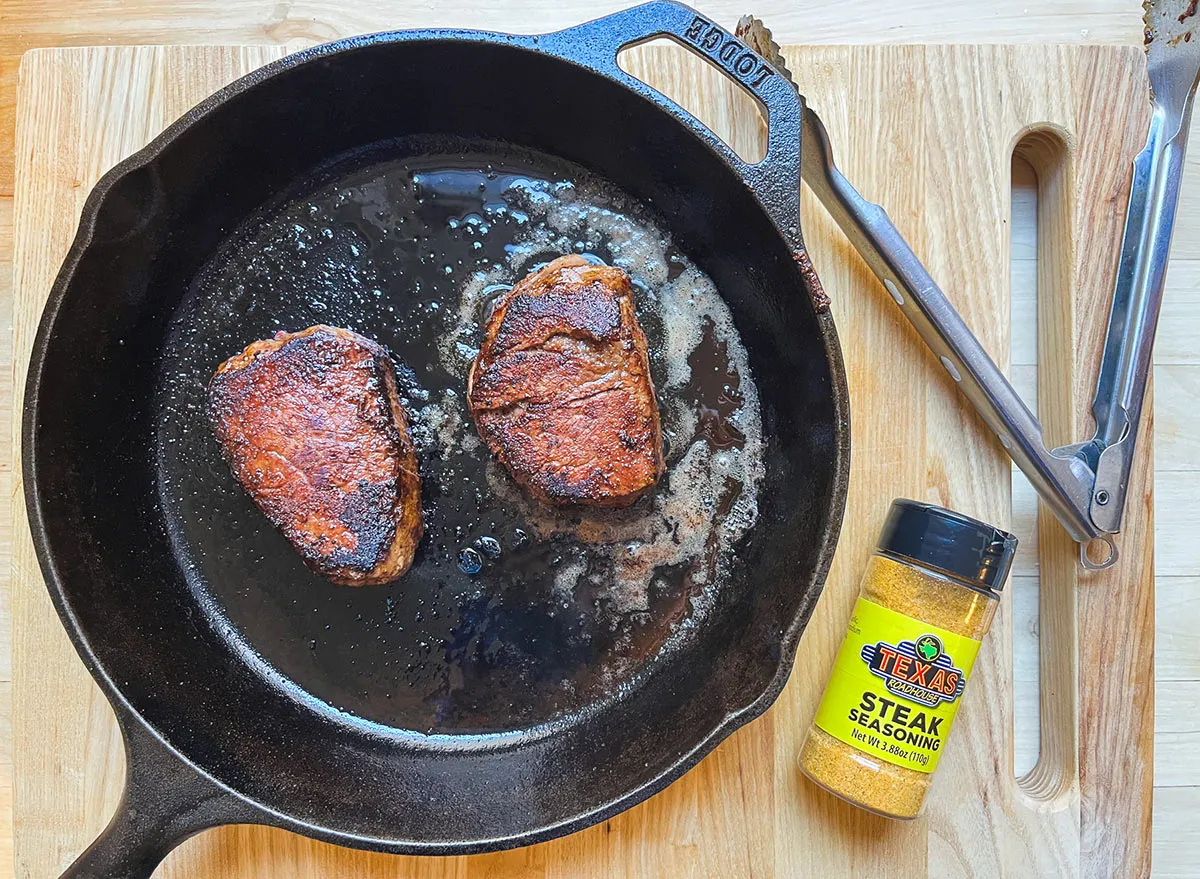 First bite? Amazing. Second bite? Still amazing.
I do admit that I was skeptical at first. Cooking steaks at home has never been a great experience for me. The steak I grab at the store is either too cheap and doesn't have the texture I desire, or I end up overcooking it and the texture is like eating rubber. Because of this, I ignore cooking steaks altogether. So if these Texas Roadhouse Butcher Shop steaks could make a steak dinner at home actually a pleasurable experience, then I'm sold.
And, lucky for me, it was. These steaks were out of this world incredible. Perfectly caramelized on the outside, juicy on the inside. The texture of the steak was so soft, I couldn't believe it didn't go through a round of sous vide before searing it on the stove. It made me seriously wonder what kind of voodoo Texas Roadhouse must do to these steaks in order to have the texture so perfect.
The caramelized crust on the outside of the steak definitely came from a combination of cast-iron cooking and the Steak Seasoning. I took a closer look at the seasoning ingredients and noticed that sugar was the first listed ingredient for it, hence why the outer edges of the steak were slightly crispy and sweet. While sugar is the top ingredient, there isn't enough in it for it to be detrimental at all to your health goals, so I'm a big fan—and will definitely be using it again.
Turn your home into a fancy steakhouse.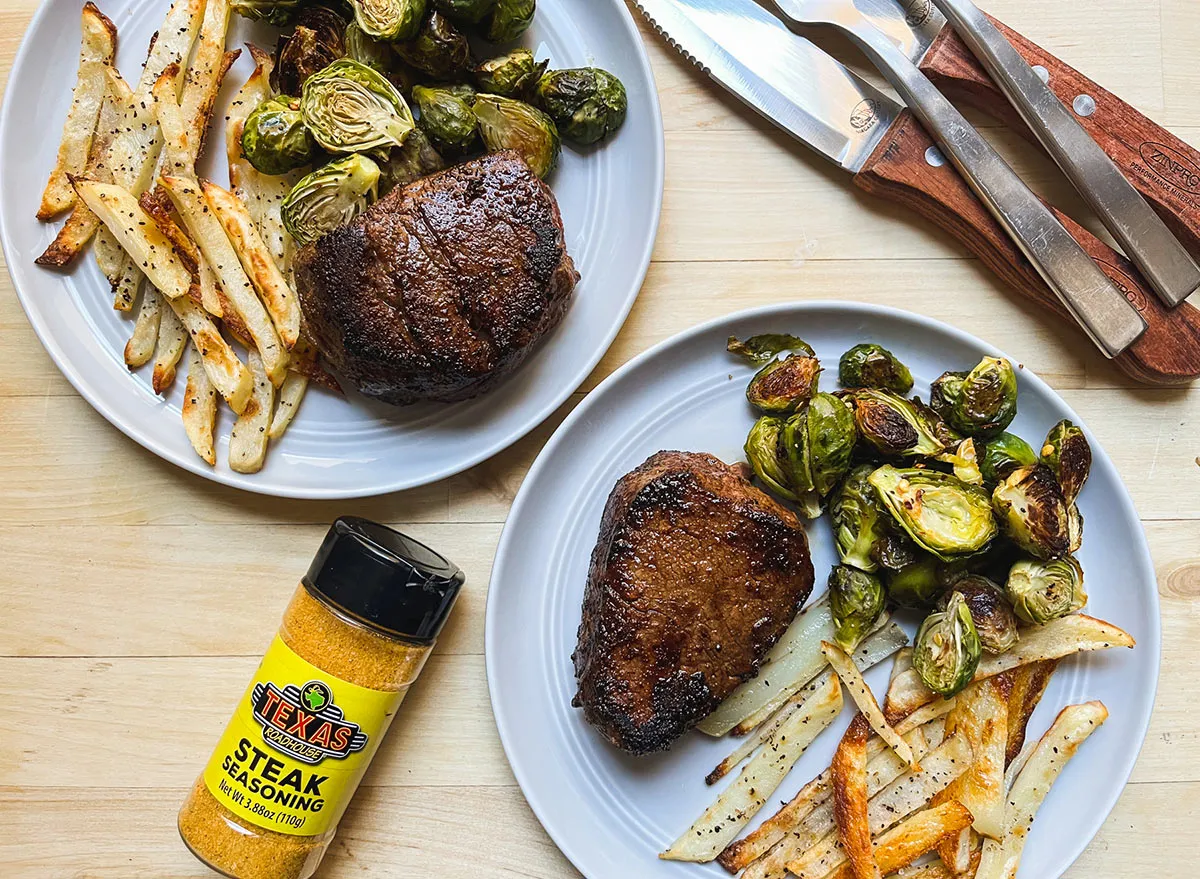 While a trip to Texas Roadhouse sure is a treat, we all know that going out to a restaurant can cause us to overeat and—unfortunately—overconsume calories. Yes, it's important to treat yourself every once in a while, but when I just have a craving for a juicy steak, it's nice to know I don't have to make a trip out of the house in order to have a steakhouse quality meal.
Cooking at home can significantly decrease the number of calories you end up consuming, especially if you serve your Texas Roadhouse steak with some crispy roasted vegetables. I ended up serving our filets with a side of roasted Brussels sprouts and extra crispy oven-baked fries. Because in my opinion, every steak should be served with a side of fries.
For even more taste tests, read these next: