The Top Swap at Taco Bell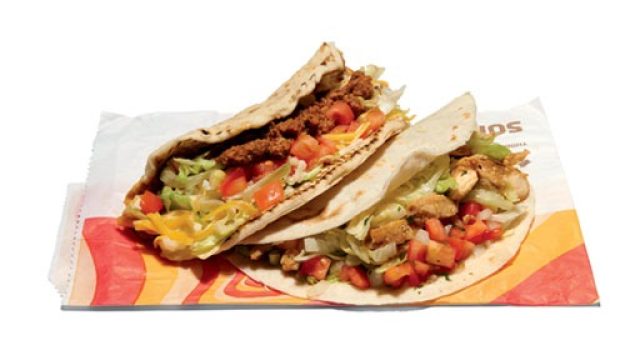 "Taco Bell breakfast" is sort of like "ax-murderer babysitter." It's an inherently bad idea, proven by the insane products the Bell brought out in its attempt to start charging you money earlier and earlier. Waffle Taco is all we have to say, really. But the Bell wasn't satisfied with ruining all three meals—the chain tried to invent the Fourth Meal, which is something you eat after a late night of doing whatever works up your appetite. Limit yourself to lunch and dinner, and keep the wee hours sacred.
Eat This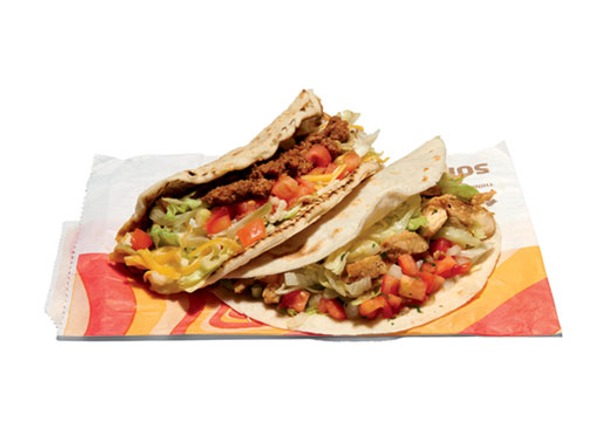 Beef Gordita Supreme and Fresco Chicken Soft Taco
| | |
| --- | --- |
| Calories | 530 |
| Fat | 16.5 g |
| Saturated Fat | 6 g |
| Sodium | 950 mg |
Not That!
Express Taco Salad with Chips
| | |
| --- | --- |
| Calories | 580 |
| Fat | 29 g |
| Saturated Fat | 10 g |
| Sodium | 1,380 mg |
More substantial than a taco and lower in calories than a burrito, the Gordita is the perfect compromise at Taco Bell, and with just 150 calories each, a steak or chicken Fresco taco makes a solid sidekick. Just don't substitute the Beef Gordita Supreme for the Cheesy Gordita Crunch, or you'll add an extra 190 calories to your meal.
ALL NEW FOR 2015! Enjoy All Your Favorite Foods—And Watch the Pounds Disappear! Click here to buy the new Eat This, Not That! book, the authoritative guide to all your favorite restaurant and supermarket foods.
Inspired by
The New York Times
best-selling book series,
Eat This, Not That!
is a brand that's comprised of an award-winning team of journalists and board-certified experts, doctors, nutritionists, chefs, personal trainers, and dietitians who work together to bring you accurate, timely, informative, and actionable content on food, nutrition, dieting, weight loss, health, wellness, and more.
Read more