9 Best Trader Joe's Appetizers, According to Our Editors
Find all kinds of finger foods and enticing small bites at the specialty grocer.
The product recommendations in this post are recommendations by the writer and/or expert(s) interviewed and do not contain affiliate links. Meaning: If you use these links to buy something, we will not earn a commission.
From cheese and snacks to desserts and grab-and-go foods, Trader Joe's offers so many low-cost, high-quality items to keep its fanbase returning regularly. In terms of appetizers, the popular specialty grocer comes in clutch yet again.
You can find all kinds of finger foods and other enticing small bites to whet the appetite, including many easy, ready-to-cook specialties in the freezer section that would take forever to make your own, if you even dared to try.
Several editors here at Eat This, Not That! are regular TJ's shoppers, and each of us has his or her own go-to starters that never fail to please. Here are seven of our favorite Trader Joe's appetizers right now.
Mini Chicken Tikka Samosas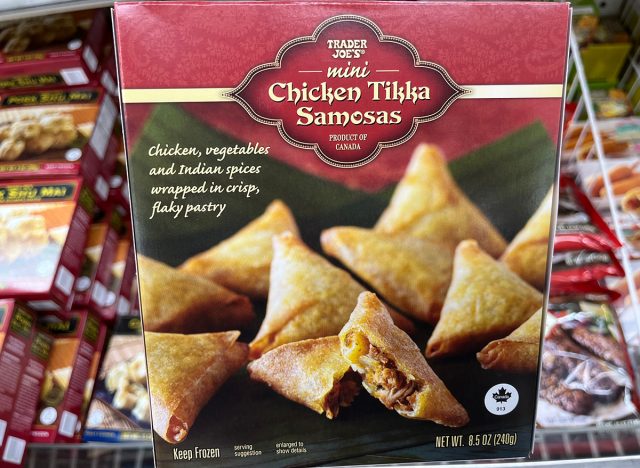 If you're looking for small bites with big flavor, check out the Mini Chicken Tikka Samosas, available in the freezer section for just $3.99. These tasty, tiny, triangular-shaped savory pastries are ready in about 15 minutes and come out of the oven super crispy. Each little pocket is jam-packed with shredded chicken and diced veggies. The meat is perfectly spiced: flavorful and tingly on the tongue but not overpowering. You get 12 pieces in every box, which is plenty for a family of four or a small group of friends. Or, even just for yourself. I easily housed a whole dozen in a single sitting.—Chris Shott, Deputy Editor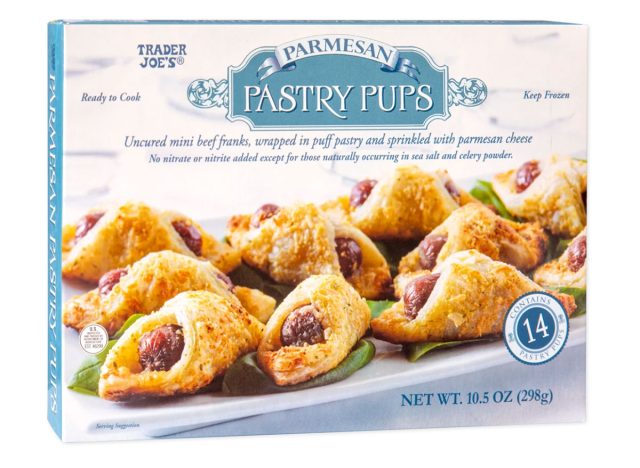 I've tried many, many Trader Joe's items over the years, but there are only a few I love so much that I make sure to pick up a package during every single TJ's trip. The pastry on these Parmesan Pastry Pups is incredibly flaky and bakes up golden brown every single time, while the mini hotdogs and sprinkles of parmesan cheese provide the perfect balance of savory, salty flavors. Serve these with your favorite mustard to make them even more next level.—Zoe Strozewski, News Writer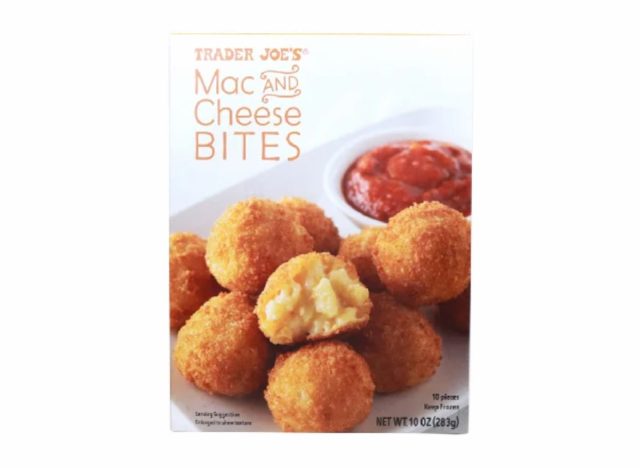 Fried foods are already addicting on their own, but these little nibbles are on another level of goodness. TJ's did a perfect job combining macaroni and cheese with a crispy, seasoned crust. If you're a fan of the Fried Macaroni and Cheese at The Cheesecake Factory, then these are little dupes that you can make at home for only $3.99!—Jordan Summers-Marcouillier, Editorial Assistant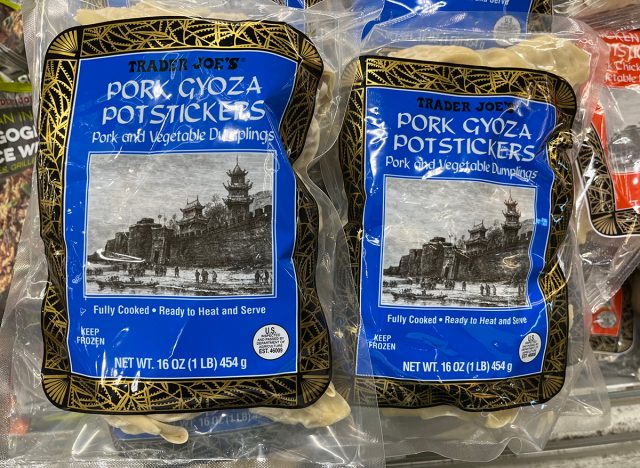 A long-standing favorite from the freezer section, the Pork Gyoza make a rich and satisfying starter. The one-pound bag includes about 21 dumplings for $3.99, which is less than I usually pay for five at my favorite local ramen shop. And when prepared properly—which is pretty easy to do (just pan-fry for a few minutes, then cover and steam for a few more)—they're just as good, too!—Chris Shott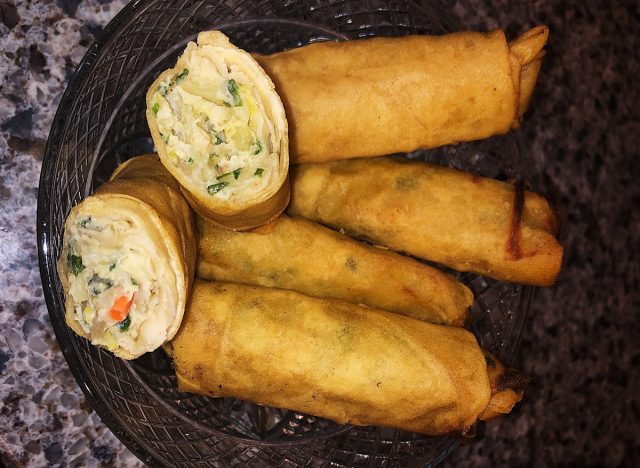 Trader Joe's Chicken Spring Rolls, priced at $4.49, may not be the most exciting option in the retailer's freezer section, but this product has been consistently delicious every single time I've tried it. Whether baked or heated in a pan, the spring roll wrapper always comes out shatteringly crisp. The chicken and veggie filling is also packed with savory, aromatic flavors from the ginger, garlic, and basil. These are great served with some simple soy sauce or sweet chili sauce.—Zoe Strozewski6254a4d1642c605c54bf1cab17d50f1e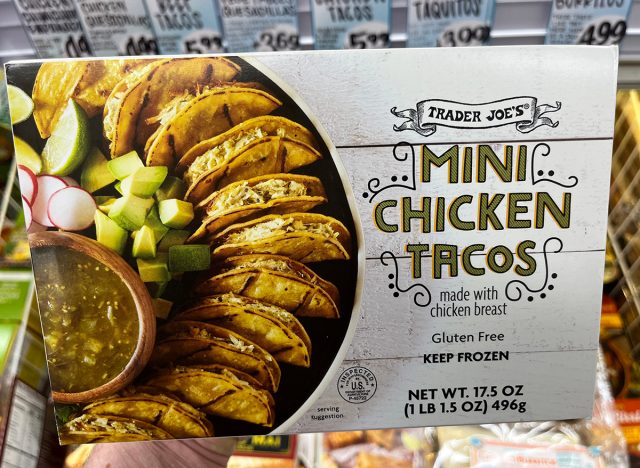 Whether I need a last-minute lunch or a pre-dinner snack when I have friends over, these tacos always have my back. The chicken is tender and flavorful, no matter how you cook the tacos. However, I prefer throwing these in the air fryer because then the tortillas get a nice outer crunch that I can't get enough of. Plus, they go great with a small side of my favorite salsa.—Jordan Summers-Marcouillier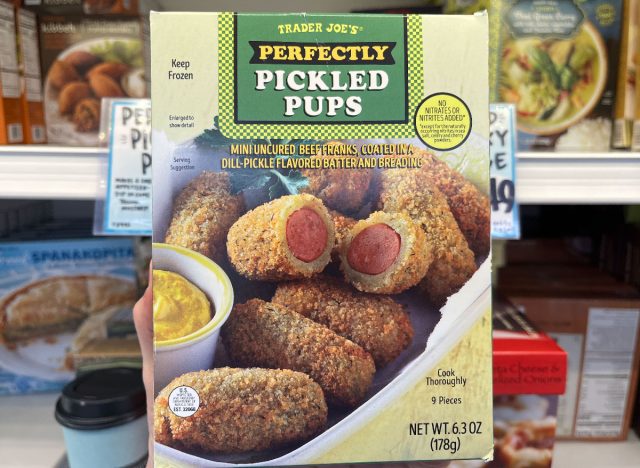 Trader Joe's has a special knack for picking viral-worthy ingredients and then figuring out countless ways to integrate them into multiple products. Consider the retailer's resounding success with its Everything But the Bagel Seasoning, which now seasons virtually everything in the store's repertoire, from chips and crackers to nuts. Lately, TJ's has been on a big dill kick, rolling out items like Dill Pickle Mustard and Dill-Icious Seasoned Cold-Smoked Salmon.
Perfectly Pickled Pups are one of the newest additions to spotlight the flavorful green herb. I was initially skeptical of this silly-sounding snack, but then I remembered that dill pickle relish is a natural pairing with hot dogs, so I gave it a try. The flavors are nicely balanced: not too bready, not too meaty, and not too pickle-y, either. It's a fun, flavorful twist on the prototypical pigs in blankets for just $4.99.—Chris Shott
Creamy Cauliflower
Jalapeño Dip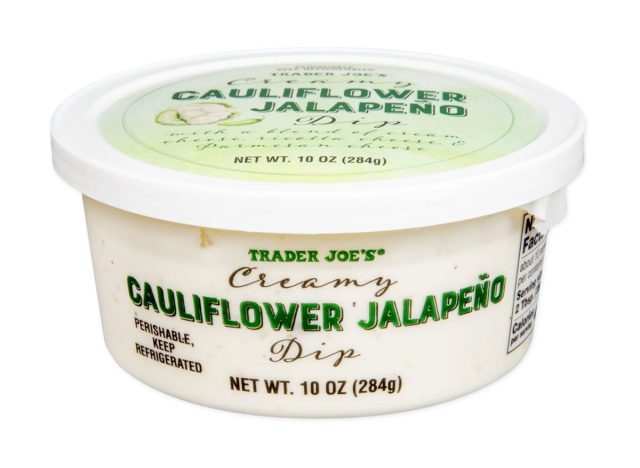 If I'm having guests over, I always throw Trader Joe's Creamy Cauliflower Jalapeño Dip in my cart! Don't let the mention of cauliflower discourage you—the ingredients list includes cream cheese, light cream, ricotta, and parmesan, too. It's super smooth and creamy without being overly cheesy, and the jalapeños add the perfect touch of spice.—Marisa DiPaolo, Social Media Director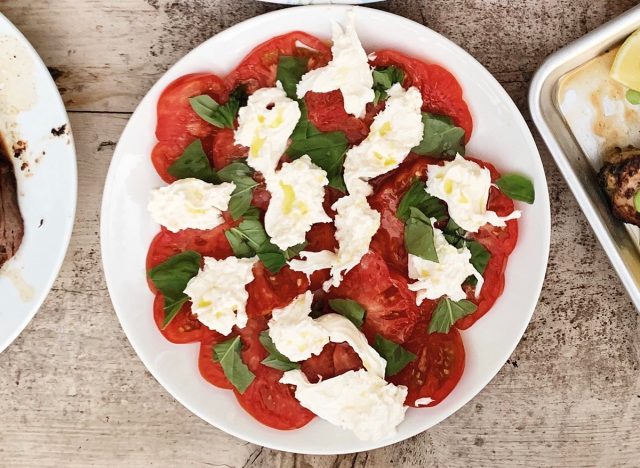 This burrata tomato basil appetizer, consisting entirely of Trader Joe's ingredients, is a crowd pleaser every time I make it. It's basically an easier, creamier version of bruschetta since you don't have to dice the tomatoes up finely! It's six main ingredients: Trader Joe's Burrata, Trader Joe's Campari Tomatoes, Trader Joe's Ciabatta Baguette, basil, garlic, and Trader Joe's Trader Giottos Balsamic Glaze. I slice the tomatoes in half, salt them, then layer on basil, and torn burrata. Drizzle on some balsamic glaze and a touch of olive oil, and serve with rounds of grilled ciabatta baguette rubbed with olive oil and garlic. I'm always thankful TJ's packs two burrata balls in each container because they go fast!—Olivia Tarantino, Managing Editor